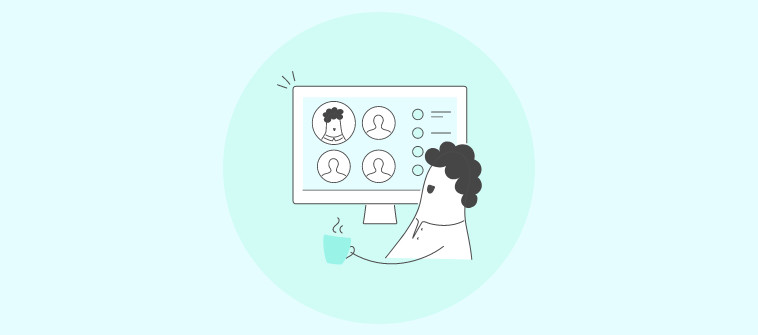 Managing remote teams is not a walk in the park. With geographically dispersed team members, it can be challenging to bring team members together and keep them rowing in the desired direction.
And to top it all, the uncoordinated work hours of each team member and their unavailability when you need to connect with them can make you a tad bit constrained.
Itching for a solution?
Well, remote team challenges are bound to arise. So, what do you need for smooth project delivery? You need to ace the balancing act of managing each team member's individual work hours and assuring on-time completion of work allocated to them.
Incorporating a few proven strategies can make things easier for you. Also, adopting a remote team management tool empowers you and your team to stay informed of where your project stands.
In this blog, we will look at some challenges of working with remote teams, strategies, and tools you can integrate into your remote project management practices.
What Is A Remote Team?
Ever wondered which offices the people sitting in a coffee shop and working on a laptop belong to? Well, most likely, they are part of a remote team, working their way up the corporate ladder
from where they want to!
So, what is a remote team?
A remote team comprises team members who work together to fulfill shared business goals. Like any other on-site organization, these goals are accomplished within the set timeline and budget.
But, wait! What's the catch here?
The catch is that these team members work together but from different locations. They may be spread in different cities, countries, or even continents!
Of course, effectively managing a remote team comes with its own set of challenges. But, its benefits far succeed its downsides. The data below is worth noting:
Looking at these figures, it is clear that the time for successful businesses to be run by global teams is here!
Challenges of Managing a Remote Team
As a project manager, you must be familiar with the everyday challenges of managing a remote team. Understanding these challenges will equip you with better strategies for cultivating a positive remote work culture.
1. Working Across Different Time Zones
This can undeniably be touted as one of the most significant problems with managing a remote team. When team members are working across different cities, countries, and continents, how do you find a time interval when everybody is available at work?
Well, scheduling difficulties for remote teams are bound to arise. Sometimes you may not find a convenient time for all, and sometimes you may have to reschedule meetings for unavoidable reasons.
2. Lack of Clear Job Expectations
The first step in ensuring remote team members adhere to your work expectations is to lay out these expectations right from day one.
Define the standard work hours for everybody in the team. Ensure that they log in at the set time without fail. Also, define the quality and quantity of work expected from them at the end of the day. This will help accomplish a fixed volume of work daily regardless of team members working from different time zones.
Also, communicating and responding to queries on time is essential to executing successful projects. Thus, you should establish clear expectations about the response times of team members. For this, convey the precise timing by when team members should respond to you and other team members if contacted. For example, team members should respond to any query within the first two hours of their time at work.
3. Low Productivity Owing to Irregular Working Hours
When working remotely, team members often work at irregular hours. Sometimes they may sit in the early morning and at night at other times. Also, they may work during the day but get up to take frequent breaks in between. This may prevent them from focusing on their work entirely, resulting in low productivity.
Another reason contributing to low productivity is laziness. No matter how much you try, it is bound to creep in when working from the comfort of your home. You may be distracted by the people around you or even be tempted to finish off a series that you were watching previously.
Read More: 7 Best Apps to Keep Your Team to Stay Focused and Block Distractions
4. Poor Communication Within the Team
Communication is the key to success in any business. But when working with remote employees, you will find poor communication as one of the biggest hindrances to achieving your business goals. This happens mainly because of two reasons. First, your team members are working in different time zones. Second, they can't communicate as frequently and efficiently as they would when working in the office.
Besides these, various other challenges, such as social isolation and lack of face-to-face interactions, emerge in remote work.
Read More: 10 Surefire Ways to Improve Team Communication
5. Lack of Team Spirit While Working Remotely
Not establishing a positive company culture may act as a barrier to smooth team communication and efficiency.
No personal interaction with team members or managers often leads to a state of anonymity. This may lead to a feeling of isolation that may further result in a demotivated workforce that is untroubled to put in extra efforts for better work output.
Conquering these challenges is not a cakewalk. You should take every step carefully to make remote work smooth and fuss-free for your employees.
10 Tips for Managing a Remote Team
Follow these best practices for managing a remote team effortlessly.
1. Create a Daily Meeting Schedule
Not sure how to manage a remote team?
To manage a remote team, start by creating a schedule of daily meetings.
Conduct these meetings to plan the day's work. For example, have a meeting in the morning to allocate tasks to your team members.
At the end of the day, discuss the progress of the tasks. You can elaborate on what went well and the challenges encountered during the process. For this, leverage tools like Google Meet, Zoom, or MS Teams to connect with your team through audio and video calls.
2. Eliminate Micromanagement
The next on the remote team management tips list is dealing with micromanagement.
While you do need to incorporate consistent communication, what you need to stay away from is indulging in micromanagement.
Frequently popping in their inbox to ask what they are working on or where the task allocated to them stands is bound to hit a nerve someday or the other.
Remember to follow a fixed schedule of asking them for updates to be more acceptable to your queries and suggestions.
3. Define Expectations Early On
Be honest and transparent with your team and set expectations early. Do not bombard them with work that they can't complete in-office hours.
The right way to go along is to make goal-setting a collaborative process where you and your team's opinions are taken into account. So, discuss with them how much they can achieve realistically and then set goals.
For example, you can list out the tasks at the beginning of every quarter. Set a definite timeline to complete the tasks so that the responsibilities are equally distributed amongst your team members.
4. Use Online Productivity Tools
Online productivity tools like DeskTime help you and your team be laser-focused on their work and stay productive throughout the day. The app gives you a glimpse of the number of hours spent at work, hours away from work, screenshots of the documents and websites opened, and much more.
This way, your team members know that their activities are being tracked and will focus their efforts on assigned work. Also, this will help you to gain insight into your team member's work hours and allow you to manage your remote team without distracting them.
5. Give More Flexibility for Better Output
The key benefit for team members to work remotely is being flexible. This means that team members will indulge in personal and professional work at the same time.
Therefore, you need to give them the flexibility to complete the work at their own pace conveniently. Do not micromanage everything they do. Let them work freely and keep track of whether they are meeting the defined deadlines.
6. Use the Right Way of Communication
Team Collaboration is a significant challenge, especially when working in a remote setup. If not handled right, the remote working environment may lack coordination and collaboration altogether.
From taking an overview of a project plan to discussing work progress, you would find various reasons to contact them. Thus, constant coordination via email, meetings, and calls is crucial to keep team members on the same page.
Prioritize the communication platform based on the urgency of the work. Discuss immediate tasks using audio and video calls and manage non-priority tasks via emails.
Checkout: 15+ Best Collaboration Tools for Remote Teams
7. Adopt the Right Team Management Tool
Using the right tool makes remote team management easy and effective. With it, you don't have to worry about assigning, prioritizing task, or tracking tasks every single minute.
A robust collaborative platform enables you to:
Coordinate schedules and manage deadlines
Assign users and define due dates
Prioritize tasks and set task dependencies
Share files and attach them to specific tasks
Organize tasks under dedicated sections
Get rich insights into KPIs and team performance
Customize workflows with just a few clicks
These are just a few advantages of integrating a management tool into your practices. The more you use a tool, the more you'll realize the ease with which a tool takes over and ensures smooth project delivery from start to finish.
8. Equip Your Team with the Right Resources
Ensure that your remote teams have all the resources they need to work smoothly. Provide them with laptops, high-speed internet connection, and mobile phones strictly for office work.
While some of your team members might already have these things, there might be others who don't have access to these resources. As a manager, it's your responsibility to provide your team with everything they need to work effectively.
Read More: 10 Project Manager Roles And Responsibilities
9. Build Team Spirit at Work
Thanks to the monotonous schedule, employees can quickly get stressed while working remotely. You need to put extra effort into keeping them motivated and driven. That's the only way to help them achieve their full potential and deliver excellent results.
It is undeniable that working remotely can result in social isolation. Nothing can match the chit-chat coffee or post-lunch sessions in the office. To bridge the gap, you must hold team meetings once in a while to simply chat about how everybody is doing, what are their hobbies, or what's the weather like where they are located!
Also, you must encourage your team members to create informal chat groups using tools like Google Hangouts, Slack, or Microsoft Teams. This is a great way to communicate regularly and keep the bond alive.
10. Celebrate Success Virtually
Just because you are not working at the office does not mean you can't celebrate wins together. An occasional celebration is needed to boost the morale of your team members and keep them driven. Arrange virtual success meetings every fortnight or month to share project success and client appreciation.
Appreciate your team members and their work efforts often. It can be a simple appreciation email or a message on the group chat. Let everyone know who is doing the hard work and getting things done. This will act as an inspiration for others as well.
These are a few remote team management tips you can integrate right away into your project management practices for smooth-sailing projects leading to enhanced business results.
3 Real-Life Examples of Companies Managing a Remote Workforce
Quora is a popular Q&A platform that aims to share knowledge. Here, people ask questions, and these are answered by people sharing their experiences or insights concerning the question asked.
The company has adopted a remote first policy. Under it, it has allowed nearly all of its employees to work remotely. For those, who would like to come to the office sometimes, it has converted its office into a co-working space for them.
Adam D'Angelo, Quora's CEO and co-founder, while announcing the remote-first policy, said, "Surprisingly, despite growing up as a company centralized in a single location, despite years of investing in culture and processes built on that assumption, despite the stress people are feeling from the state of the world, despite the distraction involved in adapting to that world, despite the burdens facing parents with small children and no schools or childcare, we have been very productive. And many of us have actually been more productive than before."
He continued to refer to factors such as commute time and ability to focus on validating his decision of going remote-first, even after the covid-19 pandemic ends.
While going remote, Spotify, an audio streaming and media services provider company, offered its employees to choose the way they wanted to work.
Their 'My Work Mode' model allowed their employees to work from home, from the office, or in a combination of both.
The company also offered support in terms of location preferences. Also, if an employee is located with no Spotify office, they are willing to provide them with a coworking space membership.
Dropbox is a file hosting service company. It helps store, sync, and manage files across different devices. Using it, people can collaborate with files and documents from anywhere, anytime.
The company opted for a 'virtual first' approach, stating that remote work would be the primary kind of work experience for all their employees. However, it did emphasize in-person collaboration once the pandemic ended.
It also mentioned that it would convert its existing office spaces into Dropbox Studios, which team members could utilize for collaborative purposes.
These companies prove that you can make remote work actually work for your business!
Lead Your Remote Team to Success
Managing a remote team can be as easy as handling on-site team members. All you need to do is acknowledge the challenges and take proven steps to eliminate them at the earliest. After all, you're getting access to an exceptional pool of talent and skills by working with people who have the potential to outdo quality standards in their dedicated field of work.
So, follow the above-mentioned best practices for managing a remote team supported with a robust tool. This helps you and your team members to work in sync with one another, track and prioritize tasks, and participate in discussions to set up your projects for consistent success.
Do you want a free Project Management Software?
We have the #1 Online Project Management Software for effective project management.