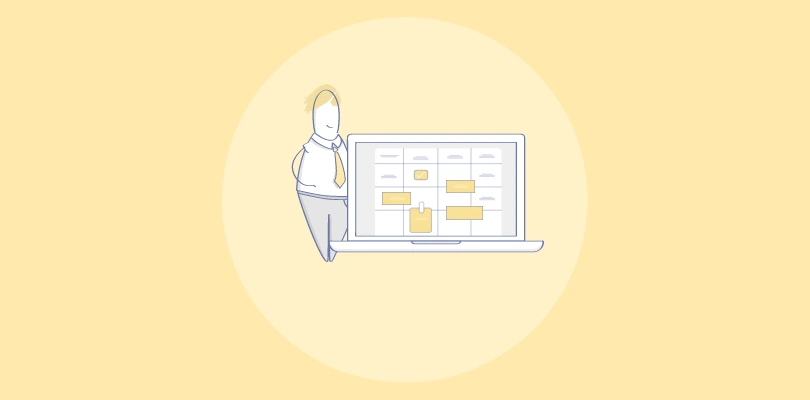 Are you wondering what's missing despite scheduling tasks and delegating them to team members? Or are you grappling with meeting deadlines even after identifying workflow gaps and optimizing them timely?
Work management is not as easy as it seems. Simply dishing out tasks to team members will serve no purpose. Also, the best control efforts fail when you do not have a long-term plan for project execution.
But guess what? The right steps toward work management can help you organize work and catapult your team's productivity to the next level.
This blog will explore what work management stands for, its benefits, and the steps you need to take to set up your business for success from day one.
What Is Work Management?
Work management involves structuring work with clear-cut timelines, priorities, and dependencies. It is designed as a combination of task management capabilities with calendar features and communication channels to ensure that teams are connected, and work is getting done. This helps streamline processes, increase efficiency, and improve collaboration between team members. With this, the software also helps establish work consistency while identifying loopholes within workflows.
Simply put, an ideal work management software helps you:
Boost team productivity
Improve organizational performance
Optimize resource utilization
Increase business profitability
Benefits of Work Management
Next up, we'll delve into the benefits that come with incorporating a work management process into your workflow.
The key benefits include:
It ensures that resources are optimally distributed, eliminating resource burnout or overutilization.
It helps track accurate time spent on tasks and projects for better future planning.
It simplifies work processes and facilitates transparency across teams and departments.
It helps increase productivity and encourages collaboration across departments.
It enables easy task delegation and real-time progress tracking.
It provides work flexibility to adapt to evolving business needs.
It improves overall organizational efficiency.
Work Management vs. Project Management
While work management and project management may seem similar, they are quite different from one another. Let's see how!
In project management, you plan for a specific project to make it a success. It involves bringing together resources to complete a project within a set timeline. Note that it includes only people connected to the project, such as project stakeholders, project managers, assigned team members, etc. Also, since project management is done for a specific project, it aims at the short-term goal of accomplishing that particular project and meeting project expectations.
On the other hand, in work management, you plan for overall business workflows and processes. It involves overseeing and managing work tasks, usually on a continuous basis. It includes everybody in the organization as it aims to control the overall operations of the company. Also, it seeks to achieve long-term business goals and objectives.
Thus, project managers work diligently to achieve project tasks within strict timelines. And work managers focus on optimizing workflows over more extended periods.
For business success, both concepts go hand-in-hand. Embracing project and work management will help you see the big picture to strategize and bring efficient work habits to everyday operations.
A Step-by-Step to the Work Management Process
You can ace the work management process by following simple steps. Let's take a look at these.
1. Identify Tasks & Activities
The first step for work management is to identify the tasks and activities required to complete the work. For this, you identify the purpose and the scope of the work. What are the tasks that will lead to the desired outcome? List them down and set your project in motion.
Read More: What is Scope Creep and Learn How to Manage Them

2. Build a Resource & Timeline Plan
Once you have listed the work, you must also identify the resources needed to complete the work and the time estimates for the same. Refer to previous work done. This will lend you a better understanding of what resources will be needed and within what timeline you will be able to complete the said deliverables.
3. Schedule Work from Start to Finish
Now that project planning is done, it's time to schedule work and delegate tasks to people. Schedule tasks for the day, week, or month and start assigning responsibilities to people. This gives them a sense of ownership and responsibility, enabling them to achieve their goals on time.
4. Execute the Action Plan
It's finally time to start working! During this time, team members can start working on and executing the action plan. The team may need to collaborate actively for smooth work completion. Also note that you must prioritize tasks as required so that the most urgent work gets completed first, without any scope for delay.
5. Follow-up on Progress
Here is where project managers check in to follow up with the people working on the scheduled work. Are tasks on the right track for timely completion? Do you need to step in and push some team members to achieve their tasks faster? If you feel the teams are lagging behind, you must act proactively and guide them to achieve their work within the specified time.
6. Perform Work Analysis
Once your work is completed, there's one last step that you need to take before you sit back and relax. Yes, it's a work analysis. The work analysis is crucial to delve into what worked for your teams and how you could improve for future work planning and delegation. Spot workflow gaps during project execution, document them, and keep these in check while brainstorming for future tasks and schedules.
How to Leverage Work Management Software?
The way we manage work has changed significantly in recent years, thanks to advances in technology. These days, CEOs and project managers need to be able to use work management systems to stay organized and get things done efficiently.
Let's take the example of ProProfs Project to understand how to use a work management software to simplify your work management process.
To start with, set up your project dashboard by adding tasks, setting deadlines, and assigning team members.
Watch this quick video to understand how you can add tasks to your project.
Once the dashboard is set up, you and your team will be able to visualize your project timelines and task responsibilities. This visual dashboard makes it easy to distribute resources optimally and delegate tasks effectively.
This dashboard also lets you track how much time team members spend on a task or the overall project.

Simply click the little timer icon in the Time column and the timer will start. The time will be updated once they stop the timer post completing their task.
Now, while managing work, your team members need to connect with each other to discuss tasks. For this, ProProfs Project lets you use @mention to loop in team members to a particular task, subtask, or discussion to attract their attention immediately.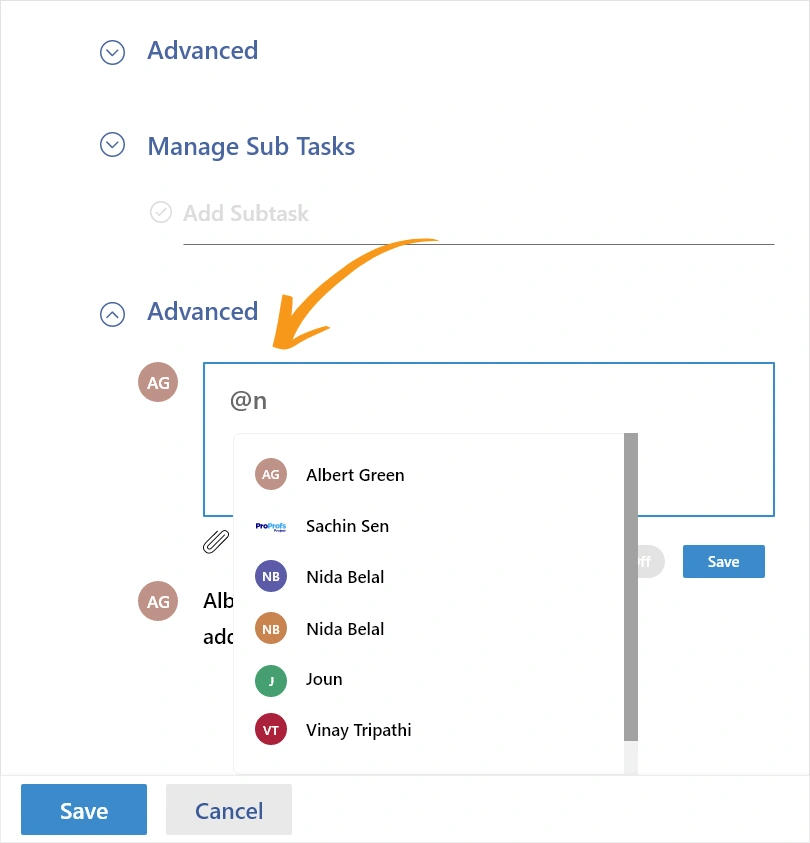 After mentioning the concerned team member, click on 'Add' and then 'Save' the changes.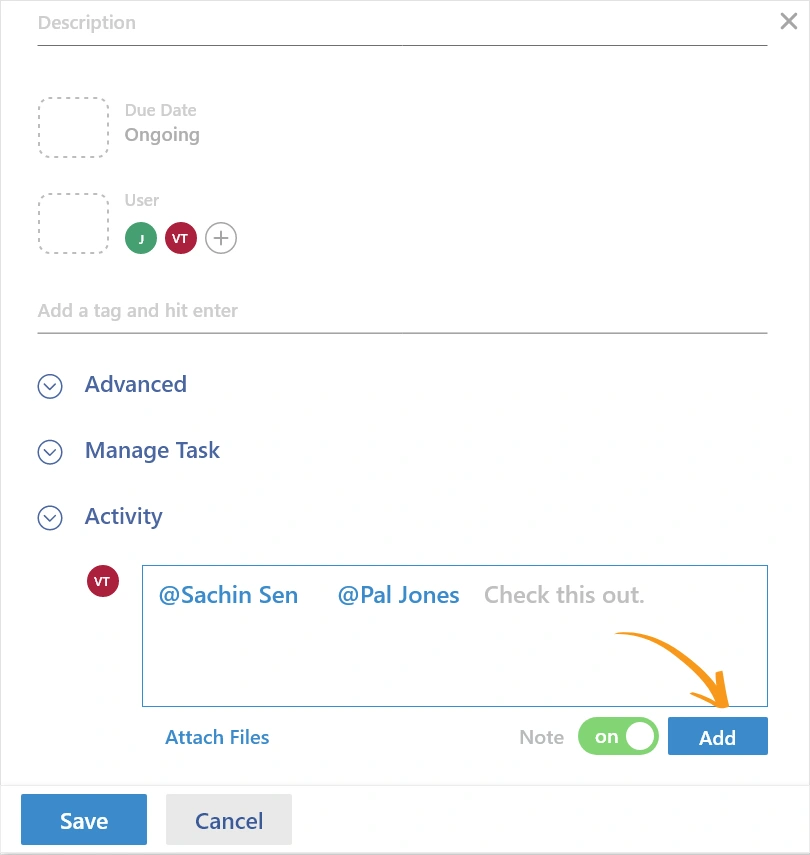 This is how it will appear to the mentioned team members: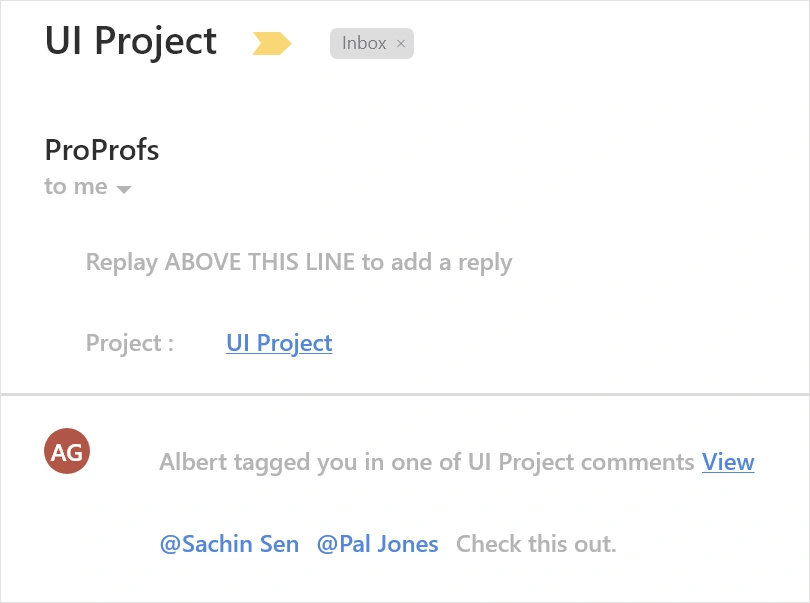 Apart from this, using a tool also lets you share relevant files with team members and update them with real-time task progress or changes.
Besides this, another great feature that an ideal tool offers is that it provides insightful analytics and reports to aid decision making.
Here are some key reports that ProProfs offers:
Summary Reports
Project Profitability Reports
Timeline Reports
Time Reports
Comment Reports
Also, this is how you can access project reports in ProProfs: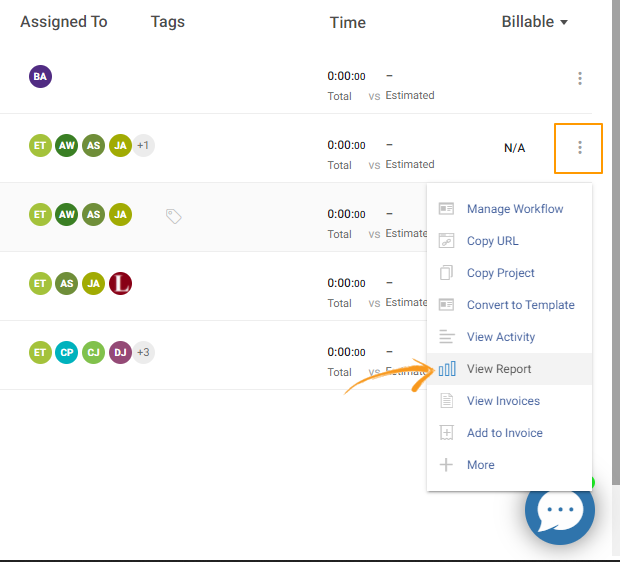 Read More: Top 15 Work Management Software in 2023 (Features, Pros & Cons)

Knock out Chaos with a Robust Work Management Tool
Aren't all project managers always stressing about being productive at work 24/7? But what happens when your to-do list starts to feel like a never-ending cycle of little never ending tasks? That's where work management systems come in.
With the help of work management software, you can finally take control of your workflow and get things done. Not only will you be more productive, but you'll also be able to manage your time and priorities better.
Work management is no small task, and leveraging a tool will only sail your boat faster. So, knock out chaos and manage your everyday work flawlessly!
Do you want a free Project Management Software?
We have the #1 Online Project Management Software for effective project management.