Manage Projects Online, Delightfully
Easy to use online project management
tool you'll love
Plan Work & Always Deliver on Time

Collaborate & Get Work Done Delightfully

Set Due Dates, Track Progress & Prioritize Projects

Discussions & Sharing

Track Time, Clients & Invoices

Delightful Reports & Analytics
What is Project Management Software?
Project management software is an all-in-one solution to all your project management needs, right from planning to execution, and completion. An online project management tool also lets you collaborate with your team on the go to keep everyone on the same page. Easily share task feedback, generate insightful reports, and take your next action from a single dashboard to drive your projects to success.
Key Benefits of Project Management Software
Gain 360° visibility of your projects with ProProfs Project
Easily bridge the communication gap and collaborate in real-time with different departments to share ideas, files, and discuss projects to avoid unnecessary delays.
With 24x7 remote access, get real-time status of your projects and never miss a deadline. Prioritize tasks for effective task delegation & enhanced productivity.
Generate smart reports & advanced analytics to identify potential bottlenecks and enhance your risk mitigation strategies.
Works Great for All Project Management Needs
Customize ProProfs Project to suit your industry-specific needs
ProProfs offers all you need to streamline your team communication easily. Give feedback using task comments, stay informed regarding project updates with email notifications, plan projects with teams using a shared calendar, and share files on the go with online project management software.
Intuitive Dashboard Views
Switch between List, Gantt, Kanban, & Calendar views
ProProfs lets you change the look and feel of how tasks list in a few exciting ways. For example, the calendar view that gives you the flexibility to manage timelines by simply stretching them. Gantt chart view that allows you to get a clear view of tasks and subtasks along with their timelines for a month, week, and even a quarter. Use Kanban to visualize tasks as columns and cards. The most-used, List or Classic view gets you a high-level view of all your tasks.
List view for a bird's-eye view of everything

Gantt charts to cascade tasks

Kanban for a drag & drop experience

Calendar for the scheduler you
List view for a bird's-eye view of

everything
Gantt charts to cascade tasks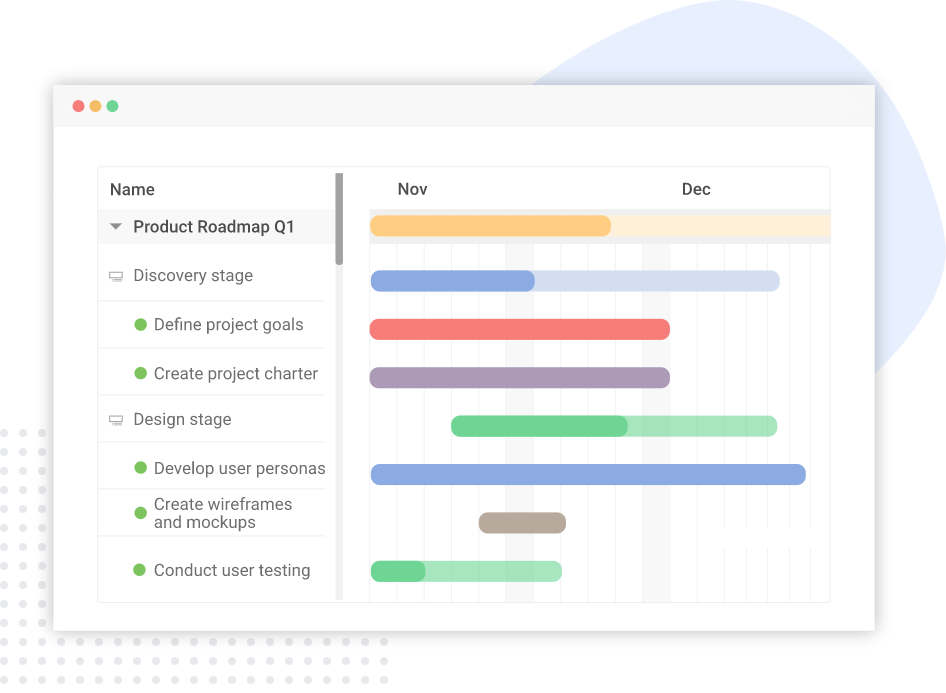 Kanban for a drag & drop

experience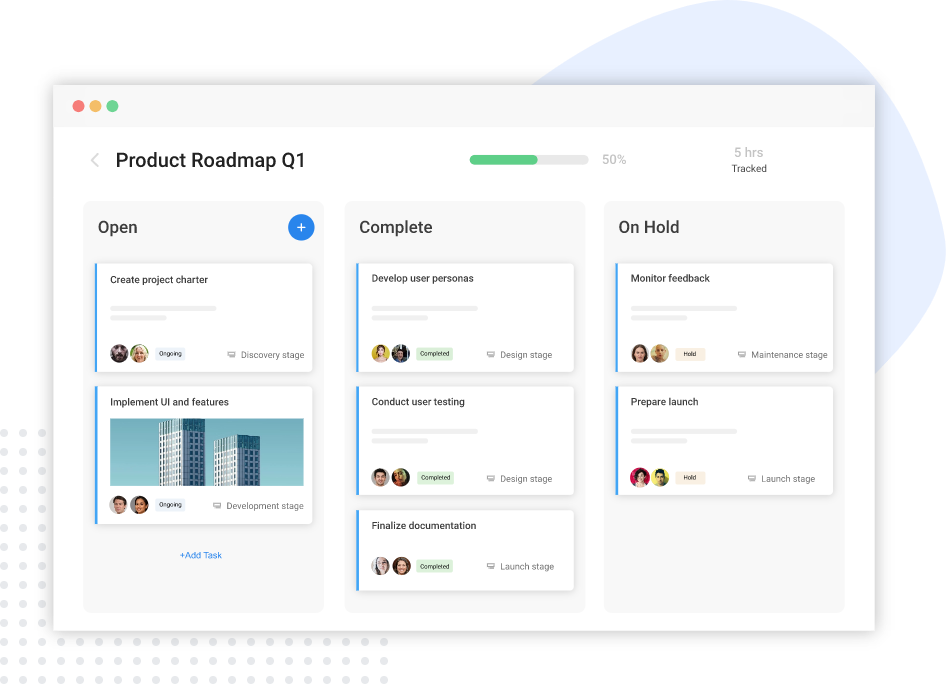 Calendar for the scheduler you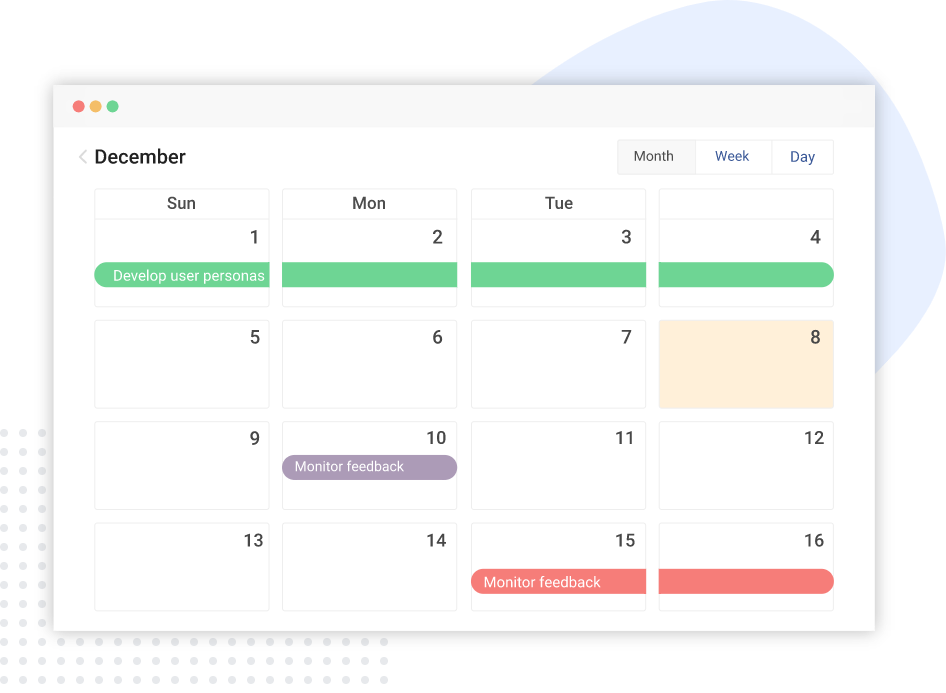 Collaborate & Get Things Done, Delightfully!
Switch between List, Gantt, Kanban, & Calendar views
Keep both in-house and remote teams on the same page with a powerful dashboard. ProProfs online project management system promises effective collaboration by streamlining communication across departments. Enjoy timely notifications and stay updated about the latest developments & covered milestones. With Task comments, witness a smooth exchange of information and avoid messy email threads.
Collaborate with your team in one place
Stay updated with real-time notifications
Avoid messy email threads with comments
Bring teams on a single dashboard
Set Deadlines, Track Progress & Prioritize Projects
Prioritize your projects and never miss a deadline
Keep your deadlines intact by setting due dates for each project. Divide large tasks into subtasks to make the execution easier & error-free. Drag & drop projects for an ideal prioritization and track their progress with our easy-to-use project management software available for both Android & iOS. Receive updates in real-time with quick email alerts.
Set project start & end dates
Prioritize projects with a drag & drop
Track project progress with mobile app
Receive real-time updates
Discussions & Sharing
Communicate seamlessly with file sharing & task comments
Share project files easily and connect our project management online tool with Dropbox, Google Drive, Box, etc. to make communication within teams seamless. Leave feedback using task comments and discuss bottlenecks right there. Collaborate with your team anytime, anywhere, with threaded replies.
Share project files on the go
Connect with G-Drive, Dropbox & Box
Leave task comments & discuss roadblocks
Join discussions anytime, anywhere
Track Time, Clients & Invoices
Manage billable & non-billable hours for smooth client billing
Calculate billable & non-billable hours effortlessly with timers. Our web-based project management software lets you create timesheets to keep the record of how much time is spent on each project. With automated invoicing, make client billing painless. Also, add your brand touch to each invoice by exploring customization options.
Track time easily
Set up timesheets for each team member
Generate accurate invoices on the go
Customize your bills in no time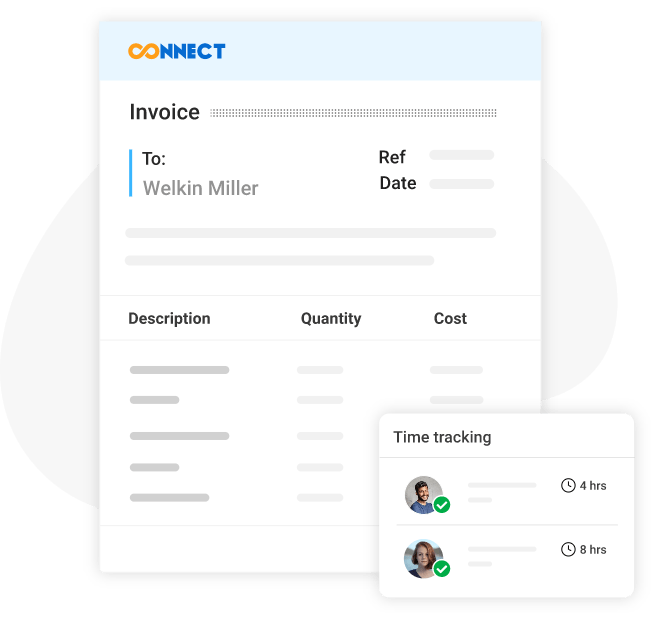 Delightful Reports & Analytics
Generate delightful project reports with powerful analytics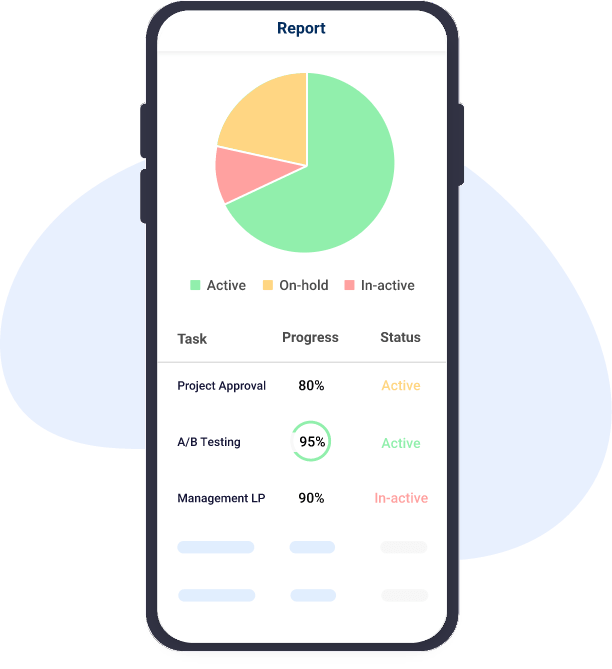 ProProfs Project enables you to generate delightful reports by offering powerful analytics. Reports include a summary of your project status, a breakdown of tasks, and when they are due, along with Gantt Charts and financial summaries. You can also share reports with external stakeholders with a secure URL.
Generate presentation-ready reports
Keep all stakeholders updated
Get timeline reports for each task
Make project progress transparent
All Your Projects, in One Glance
Track all your projects on a single dashboard
Take one look at your projects page and see all of your projects as they happen. See the status, progress, how much time has been spent, whether your team has questions on anything – all in one quick glance with our simple project management software.
Access projects in a single view
Add users to any project in no time
Drag & drop projects to prioritize
Access anywhere, anytime
Assign Tasks to Your Team Members
Manage the project flow by assigning tasks effectively
Assign primary and secondary tasks properly to your project team for enhanced workflow. Enjoy seamless file sharing and have meaningful conversations with your project team by using ProProfs Project, easy to use project management software that promises a delightful user experience.
Assign & manage tasks easily
Plan with a shared calendar
Prioritize tasks & reallocate resources
Collaborate to deliver projects faster
Assign Tasks to Your Team Members
See & track all your projects as a bird's-eye view. Plan & schedule tasks, assign resources, and define priorities with ease.
Track billable hours on projects, tasks, and sub-tasks. Improve delivery & budget estimates over time.
Get started quickly with expert-designed templates for various use cases, such as bug-tracking, project scheduling, and so on.
Remain informed on the go with instant email notifications about assignments, task updates, and due dates.
Leave feedback as task comments. Tag @users to trigger personalized notifications and attach ready designs, docs, and links.
Visualize project progress using intuitive views like Gantt, Kanban, and Calendar, and switch to the one you like most.
Access presentation-ready reports on project progress, team performance, project expenditure, and more.
Automate your client billing process. Generate hassle-free invoices and customized reports using various filters.
Customize project dashboards to suit evolving project needs. Use our drag-and-drop workflow builder to create unique dashboards.
We Believe Software Should Make You
Happy
We are building a
100-year company
with
awesome human support
We are building a 100-year company with a mission to DELIGHT customers. People think we're crazy to offer phone, chat, and email support. We still do it. When it comes to awesome support & building delightful software, we go the distance - try it, and you will love it.
Everyone should give it a try!

I love ProProfs user experience. The interface is easy to use yet packed with powerful settings.

Professor Daniel Stein

Director of Technology Initiatives, Touro College

Excellent Customer Service!

ProProfs support is one of the best I have experienced. They truly care about their customers and deliver resolutions fast.

Bill Wisell

Health Licensing Coordinator, Nebraska Department of Human and Health Services
ProProfs is a Recognized Leader in Project Management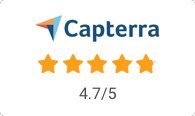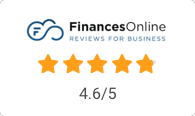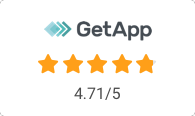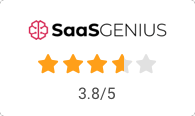 Try ProProfs Project Software for Free
Deliver delightful projects within deadlines & budget