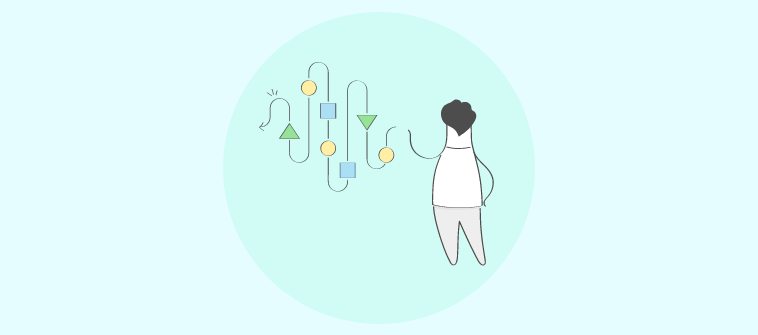 Facing task scheduling, team collaboration, or progress monitoring challenges while working on projects? Maybe all you really need to do is to organize projects.
Yes! Sometimes the simplest of things can ease the most complex processes.
Project organization is critical to a project's success. A disorganized project means there is no framework on which tasks have to be completed in which order. And this has rippling effects on team coordination, project visualization, progress tracking, and more.
In this blog, we will delve into the 14 project organization tips that can help you manage multiple projects and deliver high-performing deliverables.
How to Organize Projects at Work
Organizing projects at work requires you to pay attention to the minor details of project management. If your projects fail to move ahead as planned, you're ignoring these very details while planning and executing work.
Here are 14 proven ways to organize projects and ensure project success effortlessly.
1. Let Your Expectations Be Known
Let your project-related expectations be known in the kickoff meeting so your team knows from the beginning what standards they have to set and meet.
Make sure you discuss these three things in the first interaction for an ideal start: 'Quality of deliverables,' 'Tasks with high importance,' and 'Teams from other departments for coordination.'
By doing this, challenges related to team management get resolved greatly because your project executives automatically start managing their pace of work once they understand the critical project factors.
In short, the sooner you let your team know your expectations, the better it will be to organize projects from the beginning.
2. Define the Scope
For project success, you must define project scope to your team upfront. It will give team members an idea of the odds they are against.
Explain these things for smooth work progress:
Deliverables: What outputs and outcomes have been promised?
Costs: What budget do you have set for the project?
Timeframe: By when are you supposed to complete the project?
Resources: What resources are available at your disposal?
Stakeholders: Who is accountable for which task?
Organizing projects at work would become a breeze by providing accurate information on these factors because your team will show up more confident and empowered to deliver projects.
3. Set KPIs & OKRs
If you wish to understand how to organize tasks and projects at work, you must be ready to understand some key metrics of project. These metrics will give you an insight into which aspect of your project execution needs more attention.
Is your team underperforming? Do you need a better system for project tracking? Do you require an enhanced budget monitoring system to complete projects within budget?
This analysis will equip you with the right data that will help you develop more efficient workflows. This, in turn, will result in more productive team members who are on top of what needs to be done and how things are progressing.
Read More: Critical Chain Project Management
4. Use a Ready-to-Use Template
Using a template is one of the best ways to organize projects and tasks. A template provides a ready layout of how you can create tasks and organize them.
First, you can select a template that complements your project requirements. You may choose from an IT project template, a sales plan template, an event planning template, and so on.
Once you have selected a template, start tweaking it to suit your needs.
Customize task names, add users, and set the timeline within which the task must be accomplished. Use tags to define a task's priority. Also, setting dependencies between tasks will allow you to establish a clear-cut workflow.
Overall, templates offer you a quick, organized solution to get started with project execution within minutes.
5. Create a To-Do List
To organize a project, it is crucial to create a schedule so that every task gets adequate attention. Generally, small tasks fall by the wayside or get forgotten during peak hours, which further hampers the project development process.
Thus, a to-do list is instrumental as you can tick off tasks one by one after completing them.
You can also create and assign tasks immediately to avoid confusion regarding who will work on what and when. It helps you follow the established project plan and attain the desired number of deliverables with top-class quality.
6. Set Time Frame for Each Task
If you are familiar with the importance of the project management triangle, you must know how much time sinks can affect your business growth.
To organize projects like a pro, you must set timelines for each task, so your team doesn't take things lightly and executes the plan appropriately.
"Time isn't the main thing. It's the only thing."
— Miles Davis
So, set a time frame for each project task and convey the expected quality of deliverables.
Remember, setting unrealistic time limits in the name of more productivity could lead to adverse results. So, never push your team members beyond what they can deliver and set achievable goals for everybody.
7. Delegate Tasks Efficiently
Concerns like 'how to organize and manage multiple projects' won't arise if you delegate tasks efficiently. The optimized delegation will stop your projects from derailing and ensure your team members take ownership of the assigned task.
When you work with a responsible team, your chances of staying two steps ahead of competitors improve automatically.
Another benefit that perfect task delegation offers is better employee retention. Understandably, a project team should know how to cope with high-pressure situations. But it would help if you comprehended that giving work in large chunks decreases morale and results in burnout. So, organize tasks and delegate them effectively for desired project results.
Read More: Essentials of Task Delegation in Project Management
8. Prioritize Your Tasks
Prioritizing tasks is another tip on 'How to organize work projects?'
Organizing projects at work gets frustrating when you have a horde of tasks at hand but have no idea where to start. This way, you sometimes fail to give time to success-defining tasks, resulting in compromised baselines.
So, prioritize your tasks as per their criticality and start executing them step by step. It helps you during each phase of the project and ensures the timely completion of deliverables.
9. Follow the Drill
Once you organize workflows and delegate responsibility, ask your team members to follow the drill as outlined. This will reduce the odds of making mistakes and pave the way for quality work.
We understand you surely would want to streamline operations for more efficiency. But taking too many chances is not good either. So, stick to the established plan of action throughout project execution.
Besides following the drill, you must respond positively if a project executive comes up with a strategy for improving efficiency. If it's good, give it a nod. If not, rule it out politely.
All in all, share your project plan and make sure that your team adheres to work guidelines.
10. Measure Project Progress Regularly
Project cost, scope, schedule, etc. are some crucial factors you must consider while creating a roadmap for your team.
Therefore, reviewing project progress against your plan in real time is essential. If you spot a roadblock too late, your project might go off track, striking your business's integrity in the future.
Keep a tab on the following things while reviewing your project's progress:
Are all resources effectively distributed?
Is there any team member who is unlikely to meet deadlines?
Are the milestones getting completed on time?
11. Deploy a Reliable Project Management Software
The best way to organize multiple projects is to deploy a robust project management software like ProProfs Project, a tool that helps plan projects and make project organization a breeze.
Project management features that empower you to organize projects are:
Sections: Using the tool's dashboard, you can categorize tasks into dedicated sections.
Custom fields: Organize and locate anything you are looking for using custom fields.
Task prioritization: You can use tags to define task priorities.
Task dependencies: You can set up dependencies between tasks. This does not allow team members to start a task until its parent task has been completed.
Gantt charts: Gantt charts offer rich insights into the project progress in an organized manner.
Alerts & notifications: Alerts and notifications help stay updated about new project developments.
Interactive project views: Kanban, List, and Calendar views let you visualize and plan things proactively.
Time tracking: Time tracking enables you to optimize time and boost team productivity daily.
Automated invoicing: Hassle-free invoicing ensures that you generate monthly invoices with accurate billable and non-billable hours.
These features are non-negotiable when it comes to organizing, visualizing, and delivering projects effortlessly.
Read More: Project Time Management: Process & Strategies
12. Conduct Team Meetings Periodically
Conducting regular team meetings is crucial. These meetings are an excellent opportunity to communicate and get any project deviations on track.
Undeniably, sometimes you enjoy smooth project progress, and sometimes you struggle due to frequent setbacks. These meetings will dive into and discuss the ups and downs faced during project execution. Thus, with these lessons learned, you and your team can chart out the best measures that can avert these undesirable circumstances in the future.
Overall, these meetings will lead to a healthy conversation on what worked, what didn't, and what steps they can take to organize and execute their projects better.
13. Anticipate Risks
Want to deliver projects without a flaw? You must plan and organize projects taking the potential risks into account.
Thinking of crossing the bridge when it comes? Not when it comes to risk management. Anticipating risks cannot be neglected because even the tiniest risk is enough to derail your projects and cause project failure.
Hence, you need to anticipate risks before project initiation. For the same, you can check out the closure reports of your last projects, summon top-performing executives to get insights into potential risks and frame the best strategy to dodge a risk on time.
Also, it is imperative to understand that you cannot identify some risks earlier, especially if you have a new project at hand. Thus, creating a risk management plan is very important, which prepares you to deal with unfamiliar scenarios.
14. Be Agile During Project Execution
To organize projects, you must be agile. But what does that mean? It means that you must be on your toes and proactive in integrating any feedback received from your clients and other stakeholders.
So you divide the entire project into sprints. You define the deliverables you will achieve within each sprint and assign responsibilities to team members. The team commences work on a sprint and meets regularly to discuss progress and roadblocks.
Being agile and open to continuous improvement of deliverables ensures that your customers are satisfied with the project outcome.
Drive Efficiency With Project Organization
Organizing a project isn't easy, as you encounter several challenges during the development process. But approaching each hiccup as it comes and being prepared to handle any situation equips you with the vigor to deliver high-quality projects.
The above-discussed project organization tips will help you get in the boat and row towards success. So, organize projects and manage projects better right from the start!
---
FAQs
Q. How do you organize project ideas?
The whole write-up was all about ideas to organize a project, so here's a quick overview:
Let your expectations be known

Define scope

Follow the drill

Review project progress as per your plan

Deploy unrivaled project management software

Set time frame for each task

Conduct team meetings periodically

Delegate tasks efficiently

Anticipate risks

Create a to-do list

Prioritize your tasks
Q. How to organize a project team
Keeping your project team organized is not an arduous task as long as you delegate tasks properly and communicate your vision clearly. Your team will take ownership of tasks if you lead from the front in the pursuance of attaining project goals.
Do you want a free Project Management Software?
We have the #1 Online Project Management Software for effective project management.