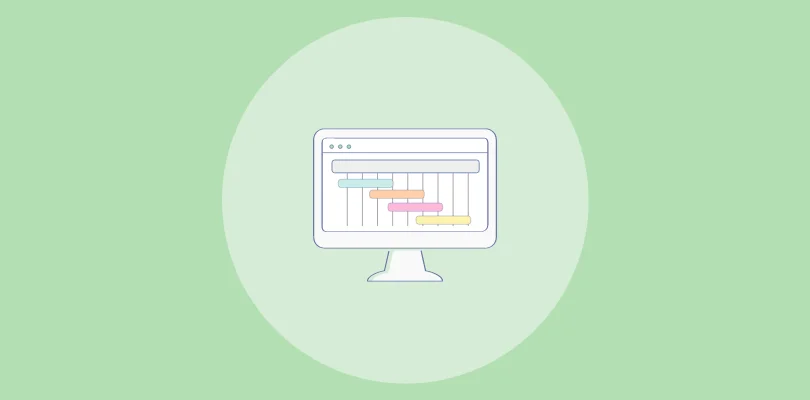 Without a structured timeline, project managers encounter missed deadlines, forgotten task priorities, and omitted crucial tasks almost every day.
Have you also felt like you're biting off more than you can chew? Creating a project timeline can change the game for you. Following a timeline, you can organize work and approach it with a clear sense of direction.
Using it, you can manage anything that comes your way – personal or professional. You can log in a personal event, so you only schedule a work activity on a different date. This ensures that you schedule your work accurately without ever impacting your personal life. Also, working with a timeline helps maximize efficiency and boost productivity from start to finish.
In this blog, we will explore what a project timeline is, its types, and its benefits. We will also learn how to create a project timeline.
What Is a Project Timeline?
A project timeline is a structured roadmap of project tasks, deliverables, and events. It follows a fixed sequence and indicates every work item's start and end dates.
You can prioritize tasks and even set dependencies, ensuring everything is well aligned. This also helps avoid any overlapping tasks throughout the project. You can add milestones to your schedule and monitor progress effectively using pre-decided checkpoints. Moreover, you can establish a transparent and accountable work culture by delegating tasks to team members right in the beginning.
Timeline planning allows team members to coordinate their efforts and move forward in an organized manner. It is a single source of information that centralizes all project tasks, priorities, dependencies, and milestones in one place.
A project schedule includes:
Project tasks and events
Start and end dates
Duration of each task
Project milestones
Assigned team members
Benefits of a Project Timeline
Let's look at the proven benefits of a project timeline.
Improved time management: Timeline planning helps team members know all their assigned responsibilities within a project. This allows them to prioritize tasks and manage time to deliver work within the defined timeframe.
Keeps everyone aligned: Having a centralized system to track task schedules allows everyone to move in the same direction. It also helps everyone be on the same page with what work is completed and what is pending.
Helps adapt to real-time changes: Working with a project planning timeline helps adjust to the project schedule and intimate everyone involved in real-time. This eliminates any discrepancy due to new project requirements and helps integrate changes smoothly into the existing schedule.
Improves task tracking: You can track project tasks and events effortlessly with a clearly laid-out schedule. No more scrolling through endless pages and timetables. One project schedule is everything you need to monitor progress on the go.
Read More: Top 25 Time Management Software to Grow Your Business
Types of Project Timelines
There are three common types of project timelines – A Gantt chart, a PERT chart, and a linear timeline.
You can select the one that complements your project type and needs best.
Gantt Chart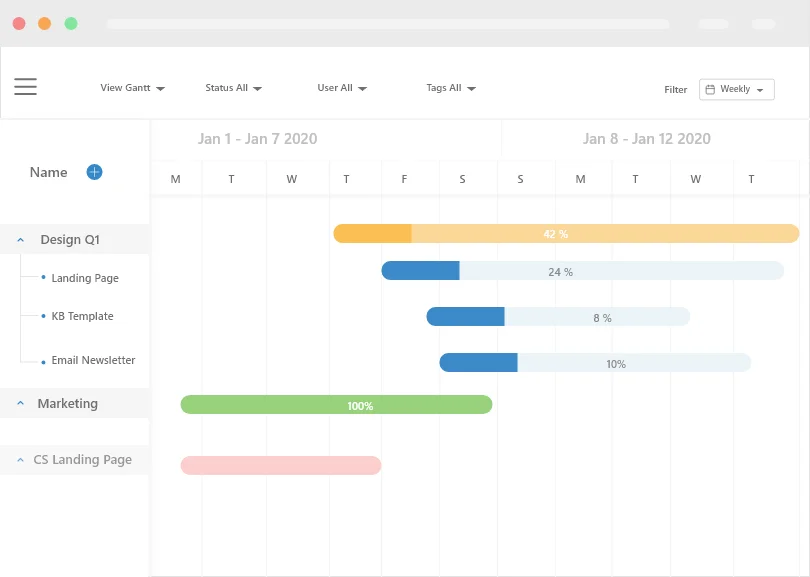 A Gantt chart consists of a vertical column of task names to the left and horizontal progress bars to the right of the dashboard. The bars display each task's timeline and indicate the progress made under each. Using the Gantt chart, you can quickly check for overlapping tasks and assess whether you need to step in and re-adjust schedules for smooth project completion. The Gantt chart also offers a baseline monitoring feature that allows you to capture a task's start and end dates. This is a reference point that you can refer to for comparing estimated vs. actual project schedules. This way, you can analyze team performance and create better time estimates for future projects.
Read More: Advantages and Disadvantages of Using Gantt Chart
PERT Chart
PERT stands for Performance Evaluation and Review Technique. A PERT chart is a graphical representation of a project's schedule. It is a free-form diagram involving boxes or circles to denote project tasks and events. These boxes or circles are connected via arrows to indicate the flow of the activities. Thus, these charts depict dependencies between tasks and events, establishing a clear route of project execution.
Linear Timeline
A linear timeline has a string of tasks and events lined up in chronological order. It displays the sequence of events right from the start, providing a clear picture of what needs to be done and when. Users can instantly grasp where their project stands and which activities are in line to achieve the desired outcomes.
Read More: 16 Best Productivity Tools to Make the Most of Your Time at Work
6 Steps to Create a Project Timeline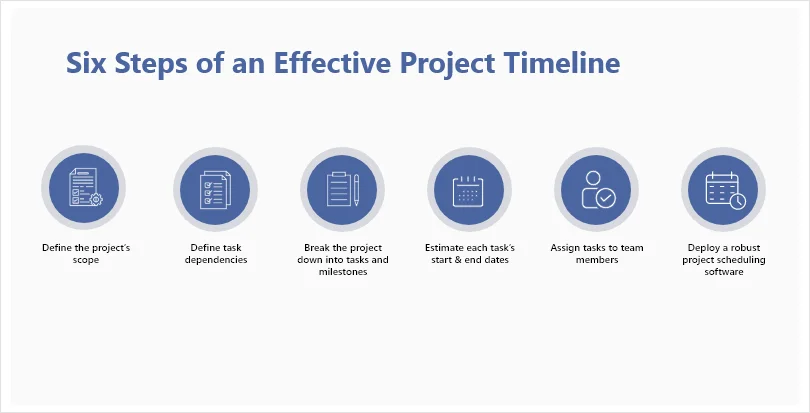 Follow these six steps to build a work timeline to deliver successful projects effectively.
1. Define the Project's Scope
The initial step in developing a project timeline is to define the scope of the project. For this, first, define the deliverables of a project. Defining the deliverables will set a boundary for your project, ensuring that you do not end up working on things you did not initially discuss with the client. Thus, this will help you keep project scope creep in check.
The number of deliverables will help you identify the resources required to accomplish these deliverables. So you can identify the manpower, equipment, and budget needed to achieve the set deliverables within time.
2. Break the Project down into Tasks & Milestones
Once your scope statement is ready, it's time to break down your project into manageable chunks. Identify the tasks from start to finish. What tasks will lead to the completion of the project and deliver the required deliverables to the client?
Once the tasks are outlined, also establish the milestones of the project. The milestones can be a particular task or a date that you can refer to track progress and overall success.
For example, suppose you're handling a marketing campaign. In that case, creating the first campaign draft for the client for approval can be one milestone, while getting approval on the drafts can be another milestone. These milestones indicate an important event in the project's lifecycle, ensuring smooth execution.
3. Define Task Dependencies
Next up on your timeline creating a checklist is to define task dependencies. A schedule has multiple tasks under it. Not all tasks can continue to run simultaneously. Some tasks must be completed first so that you can initiate other tasks.
For example, you cannot send a newsletter for client approval until the content, and the design teams have created it. Similarly, you can only optimize a campaign once you have launched it.
Thus, while creating a project schedule, clearly lay out which tasks you need to complete first and which are dependent on other tasks for their initiation.
4. Estimate Each Task's Start & End Dates
A project planning timeline is incomplete without setting time duration for tasks. Start putting an estimation for the time duration for each task and subtask. Also, remember to include a buffer while setting task durations, keeping urgent tasks and new requirements into account.
For example:
Writing a 500-word article will take the team member around 3-4 hours.
Designing the campaign logo will take the designer about 2 hours.
Getting approval from clients on deliverables will take about a week.
So when you sit down to calculate the timeline of a project, estimate all tasks and calculate the time your team will take to complete the entire project.
5. Assign Tasks to Team Members
Now that your task timeline is set, delegate responsibility by assigning tasks to team members.
Note that every team member will have their own pace and working style. Delegate tasks keeping a team member's efficiency into account. Don't measure team performance by assessing how quickly your high-performing employees deliver work.
6. Deploy a Robust Project Scheduling Software
You've broken down the project into manageable work items, allocated a timeline for each task, and assigned tasks to team members. You now need a system where you can log in these details and track progress in real-time.
Adopting an efficient project scheduling tool such as ProProfs Project helps create project timelines and access data within seconds.
You can set up a project dashboard using the tool by adding tasks and filling in relevant data.
For example, in the below screenshot of the ProProfs dashboard, you can visualize the task data at a glance. It clearly outlines the task name, the start and end dates, the progress percentage, the users, and the tags of a specific task.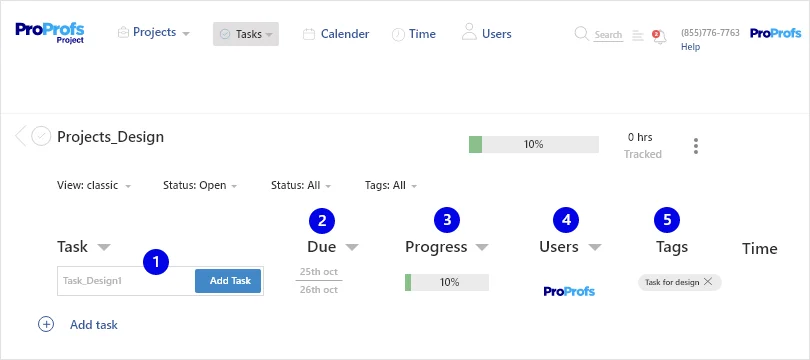 Once you do this for all your project tasks and subtasks, you can visualize the scheduled work items and monitor progress in real-time using Gantt, Kanban, and Calendar views. Switch to a view you like with a click and ensure that nothing slips through the cracks.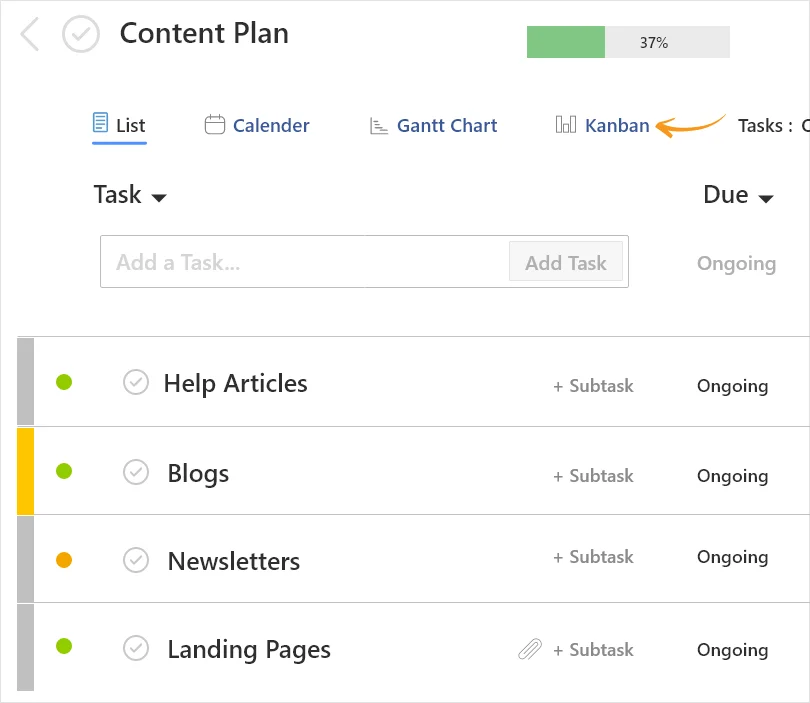 Project Timeline Examples
Here are a few project timeline examples to help you understand the scenarios where work flows smoothly with a structured timeline.
Product Development & Launch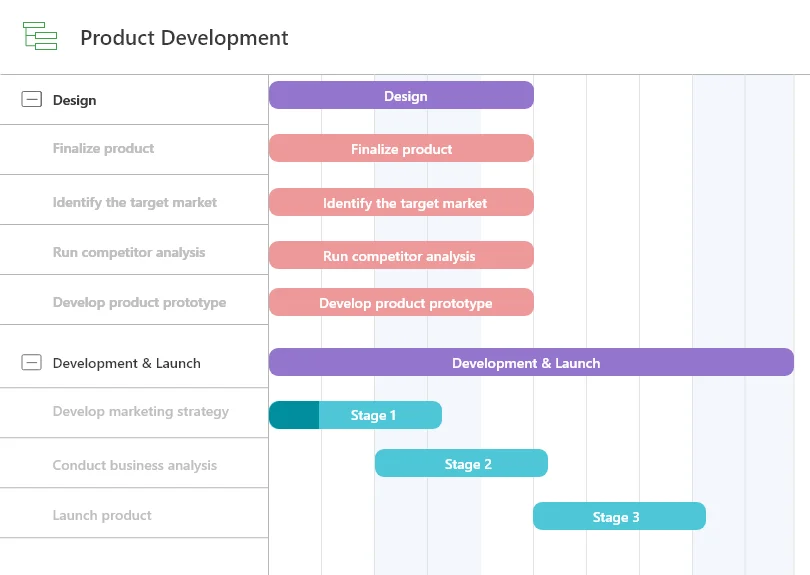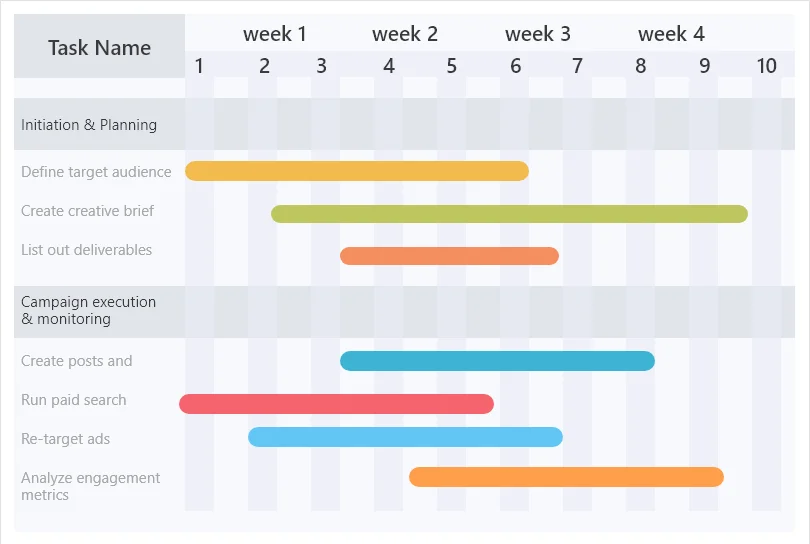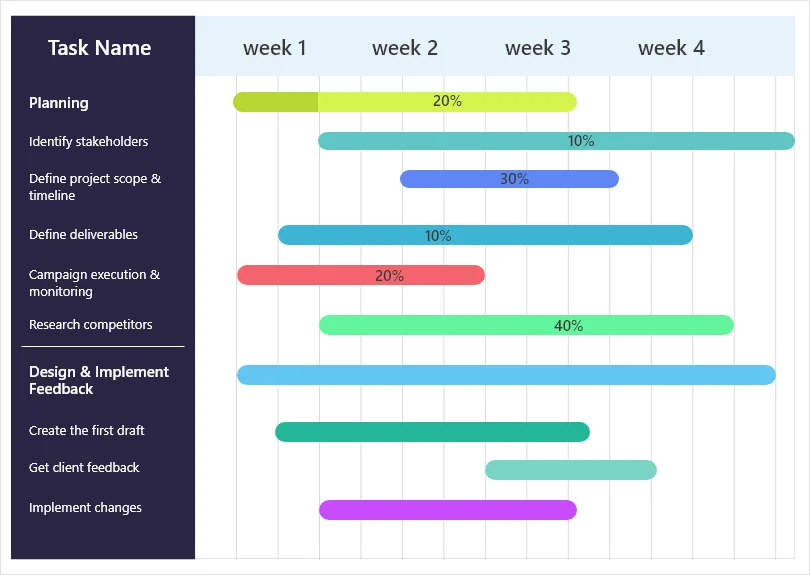 Read More: 15 Gantt Chart Examples for Project Management
Fast-Track to Project Efficiency with a Reliable Timeline
Creating a project timeline is a sure-shot way to establish a concrete path of project execution. You can create tasks, set milestones, assign resources, and monitor progress in real-time. A quick timeline scan helps ascertain what's less of a priority and what you must address immediately.
So no more scribbling critical due dates on paper that you can never get your hands on when needed or jotting down tasks in multiple places like sticky notes, online notes, and more. Using a project scheduling tool such as ProProfs Project is all you need to create, update, and monitor project tasks from start to finish. Try its 15-day free trial version to see if it suits your project and team needs.
---
FAQs:
Q. Are project timelines flexible?
Yes, project timelines are flexible. The timelines can be adapted to evolving project requirements in real time, helping everyone stay on the same page with the updated timeline.
Q. What are milestones in project timeline?
Milestones within the project timeline indicate important tasks, events, and checkpoints in a project's life cycle. Project managers and team members can refer to these milestones to monitor progress and efficiency throughout the project.
Q. When should a project timeline be created?
It's important to create a project timeline at the project's initiation. This lays the foundation for smooth project execution and timely project delivery while maintaining process transparency throughout the project's lifecycle.
Do you want a free Project Management Software?
We have the #1 Online Project Management Software for effective project management.