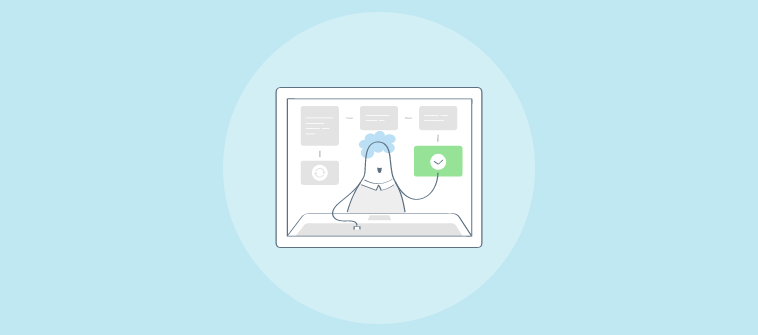 What key factors help you select or reject a project portfolio for your business?
The cost-benefit analysis? Or the impact it will have on your overall business goals and objectives?
While the approach may vary from project to project, how you plan, execute and deliver the project remains constant.
The success rate of every project depends on the right planning and execution strategy after onboarding. And you can support your strategy by adopting good project portfolio management software. PPM software lets you build action plans, manage resources, optimize business processes, and scale with ease. Overall, it gives you an organization-wide overview of things and lays the groundwork for efficient project portfolio management.
In this blog, we will look at the top project portfolio management software along with its key features, pros, cons, and pricing.
What Is Project Portfolio Management Software?
Project portfolio management (PPM) software offers a centralized solution to manage and track multiple projects together. It gives you a detailed view of all your projects, allowing you to easily plan activities across projects, manage resources, and lead the entire portfolio to successful completion.
While this software helps you see the big picture of how your portfolio is progressing, it also gives a peek into every single activity happening. This way, you can analyze the progress of multiple projects and make practical decisions along the way. Also, the tool lets you assess which projects are more feasible and profitable at the same time. This allows you to cherry-pick projects that can help you achieve your larger business goals.
A few key features of PPM software include:
Gantt charts, Kanban board, Calendar, and List views
Project reports
Task comments and file sharing
Alerts and notifications
Timers, timesheets, and invoices
List of Best Project Portfolio Management Software
Here is a list of the top-rated project portfolio management solutions to help you manage multiple projects, optimize workflows, and improve team collaboration.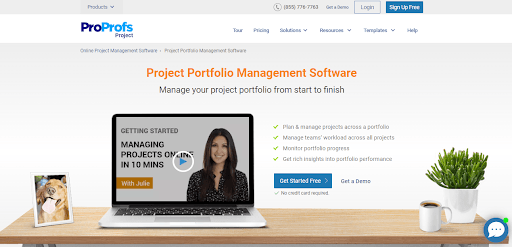 ProProfs is a modern project portfolio management software. It enables you to manage activities across numerous projects and deliver projects from a single collaborative workspace. You can effortlessly create, prioritize, and track tasks using interactive Gantt charts, Kanban boards, Calendar view, and List view. You can also generate daily, weekly, and monthly reports on all your projects to track the overall progress of your project portfolio.
Key Features of ProProfs Project:
Use drag and drop to arrange and sort tasks
Use file sharing and task comments to collaborate in real-time
Leverage built-in reports to unlock insights into project status and progress
Get real-time alerts and notifications to keep teams updated
Manage billable and non-billable hours for smooth client billing
ProProfs Project Pros:
You can prioritize crucial tasks using tags and automate repetitive ones that take up more time.
The tool's task comments allow team members to discuss roadblocks, give feedback, and provide suggestions instantly.
Eliminate manual follow-ups with real-time task statuses.
Enable time tracking to track employee productivity effortlessly.
Get data-driven insights into team performance and project progress via project reports.
ProProfs Project Cons:
It would be nice if the tool could support additional third-party integrations apart from Zapier.
It lacks a good mobile application.
3rd party integrations allowed: Yes
Suited for: Small to large-sized businesses, Enterprises, Personal Projects, Remote Teams
Price:
Priced at $39.97 per month.
Read Also: How to Implement Strategic Alignment In Project Management


One of the popular tools for portfolio management, Smartsheet offers on-demand data analysis that supports you in your decision-making. You can gather requests via its intake feature and plan things out collaboratively. Its widget-based view allows you to visualize portfolio data at a glance.
Key Features of Smartsheet:
Integrate with Slack, Google Workspace, Jira, and more.
Its ready-to-use templates help you commence projects instantly
Automate time-consuming tasks to save time and effort
Attach files to tasks
Track employee productivity with an activity log
Smartsheet Pros:
Leverage automated reporting to prioritize tasks and focus on what's important.
Monitor portfolios using Gantt, Grid, Card, and Calendar views.
Use Baselines to compare and analyze performance against established metrics.
Track trends using comprehensive Chargeback Reports.
Access Document Builder and Proofing to connect and collaborate with team members within the tool.
Smartsheet Cons:
It has a high learning curve.
It lacks good team collaboration features.
Does not offer time tracking without integration.
3rd party integrations allowed: Yes
Suited for: Medium to large-sized businesses
Price:
Starts at $0.
Read Also: 15 Best Smartsheet Alternatives and Competitors of 2023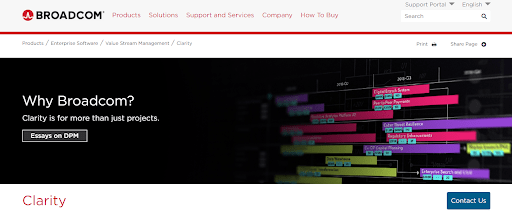 Clarity, another among the tools for project portfolio management, lets you plan your value streams using multi-dimensional roadmaps. You can set a Baseline for your roadmap and analyze data before and after a specific stage during project execution. This helps assess progress accurately.
Key Features of Clarity:
Use drag and drop to make changes to the dashboard
Switch to swimlanes to get more clarity on portfolio data
Save Views to refer back to later and compare to ongoing project status
Add key metrics to your dashboard task bars
Automate to-do checklists within seconds
Clarity Pros:
Access a single consolidated view of an employee's assigned tasks and schedule.
The tool lets you filter available resources to help you allocate new tasks to them quickly.
Forecast financials and create accurate budgets for future projects.
Clarity Cons:
Its mobile version is not available.
Its navigation can be cumbersome initially.
It is not an easily scalable solution.
3rd party integrations allowed: Yes
Suited for: Small to large-sized businesses
Price:
Get in touch with the company for a quote.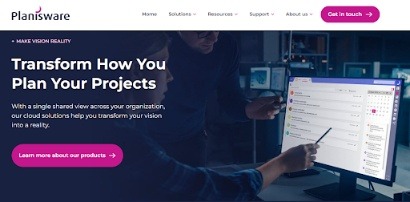 Planisware is a management-focused project portfolio management tool that offers cost scheduling, risk management, and collaboration features. Suitable for businesses of all sizes, the software's machine-learning capabilities allow for more accurate and faster project movement.
Key Features of Planisware:
View portfolios on detailed Gantt charts
Optimize resource allocation with capacity planning
Monitor project spending with cost-to-completion tracking
Access historical project data and real-time forecasts
Prioritize portfolios as per existing need
Planisware Pros:
Powerful, robust, and highly configurable tool.
You can use analytics and reports to improve decision-making and increase end-to-end visibility.
The tool allows you to manage resources and prioritize portfolios from one centralized location.
Planisware Cons:
Minor software errors can be improved from time to time for a seamless user experience.
Needs better third-party integration.
Customer support is not very responsive.
3rd party integrations allowed: Yes
Suited for: Medium to large-sized businesses
Price:
Get in touch with the company for a quote.

Adobe Workfront is one of the top-rated project portfolio management tools. It connects people and data across the company and helps you manage work to achieve measurable results. Its useful insights into portfolios, programs, and projects, allow companies to prioritize work, detect bottlenecks, manage risks, and deliver the right results.
Key Features of Workfront:
Automate workflows on the go
Use time tracking data and key metrics to measure team productivity and performance
Integrate seamlessly with useful external applications
Commence projects instantly with professionally-designed templates
Automate task assignments to save time and effort
Workfront Pros:
Easy to use and easy to configure software with the best support team.
Centralize incoming requests and re-prioritize work with effective demand management.
You can automate the review and approval process with the tool's automated handoff solution.
Workfront Cons:
It has a steep learning curve.
Search functionality can be improved.
Needs enhanced project visualization solution.
3rd party integrations allowed: Yes
Suited for: Medium to large-sized businesses, Enterprises, Remote Teams
Price:
Get in touch with the company for a quote.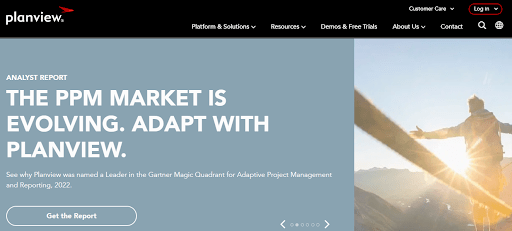 Planview is an end-to-end project and portfolio management software that assists businesses in transitioning projects from the request phase to project execution and delivery. It offers portfolio and lean management, strategic and financial planning, lean and agile delivery, and more.
Key Features of Planview:
Track portfolios using interactive Gantt Charts and Kanban boards
Manage and organize project files in a secure and easily accessible place
Compare the actual time spent on a task against estimates
Integrate with Microsoft Teams, Dropbox, Google Drive, and more
Prioritize tasks and projects to direct immediate attention to them
Planview Pros:
Easy to navigate and clean interface.
It provides industry-specific solutions for product developers, service providers, and finance professionals.
Planview can consolidate all product, service, and project ideas and requests from employees, consumers, and partners and classify, align and build scenarios for them.
Planview Cons:
More advanced reporting features could be added.
It has a high learning curve.
File management needs to be enhanced.
3rd party integrations allowed: Yes
Suited for: Large-sized businesses, Enterprises
Price:
Get in touch with the company for a quote.
Read Also: Everything You Need to Know About Critical Chain Project Management


If you're looking for a feature-packed platform to manage your portfolios, Proggio might suit your needs. Its interactive dashboards let you gain access to ongoing project workflows and optimize resources across various tasks. You can also access the financial metrics of projects for efficient budget control.
Key Features of Proggio:
Track key performance indicators with Saved views
Sort and access data the way you want using customized fields
Integrate with your favorite apps seamlessly
Prioritize projects to get important work done faster
Keep stakeholders informed with board sharing
Proggio Pros:
Project maps enable you to track project schedules, resources, and project deliverables effectively.
Store and manage every little detail related to your project portfolios using its information feed.
Achieve your goals with dedicated focus with goal setting and OKRs.
Proggio Cons:
It lacks advanced reporting functionality.
Too many features can be slightly overwhelming to use.
Attaching files to tasks and assignments is not very easy.
3rd party integrations allowed: Yes
Suited for: Small to large-sized businesses, Personal Projects
Price:
Starts at $0.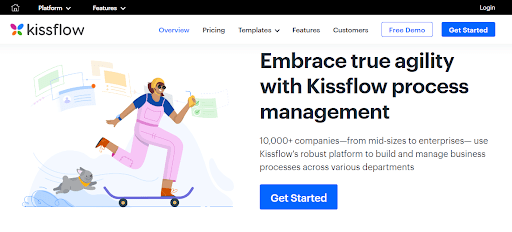 One of the best project portfolio management software for a team of all sizes, Kissflow lets you streamline your processes from start to finish. You can add tasks, assign them, and create branches for workflows for a crystal-clear path of project execution. Customize workflows to integrate changing project needs, leading to faster project implementation.
Key Features of Kissflow:
Control permissions for project dashboards
Get client requests with custom forms
Manage and store files with file management
Make workflow adjustments with easy drag and drop
Visualize projects with multiple project views
Kissflow Pros:
Summarize large data instantly with built-in, in-depth reports and analytics.
Receive instant notifications for task updates.
Leverage polls, surveys, and announcements to gather relevant data and manage projects better.
Kissflow Cons:
Poor customer support system.
Users complain of bugs while using the tool.
The app experience is not very impressive.
3rd party integrations allowed: Yes
Suited for: Medium to large-sized businesses, Enterprises, Remote Teams
Price:
Starts at $10 per month.
Rating on Capterra: 4.3/5
Rating on G2: 4.3/5
KeyedIn is an excellent tool that supports your project management framework through different stages. It gives you complete clarity into resources and provides key insights into resource capacity vs. demand, capacity by role or resources, and confirmed and provisional demand to help you distribute resources optimally.
Key Features of KeyedIn:
Prioritize projects based on their importance
Stay up-to-date with crucial information with scheduled reports
Track employee efficiency with time tracking
Manage task files with document management
Keep external users in the loop with easy access to project dashboards
KeyedIn Pros:
Control project costs and budgets with financial tracking.
Monitor projects with comprehensive Kanban and Gantt views.
Keep everything aligned with time, expense, and resource tracking from a single platform.
KeyedIn Cons:
Poor user interface.
Customizing the tool is challenging.
Notifications can be improved.
3rd party integrations allowed: Yes
Suited for: Small-sized businesses, Personal Projects
Price:
Get in touch with the company for a quote.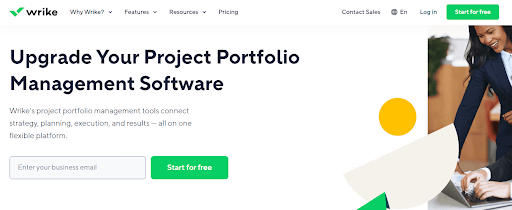 Wrike is a versatile project portfolio management software that helps unify team efforts and deliver successful project portfolios. You can improve project forecasting and make smarter decisions with real-time insights into KPIs. This helps plan your resources, timeline, scope, and budget accurately, minimizing risk while maximizing efficiency.
Key Features of Wrike:
Use request forms to capture budget, priority, and risk
Use ready-to-use templates to get started instantly
Integrate with popular third-party apps
Access project data from anywhere, anytime via mobile or desktop
Customize workflows the way you want
Wrike Pros:
Get increased visibility into your portfolios with Gantt and Kanban views.
Trigger automated workflows to avoid repetitive work.
Manage team workload across different portfolios with resource and workload management.
Wrike Cons:
Lacks good filtering options.
Task prioritization is not easy.
UI can be a bit overwhelming owing to too many features.
3rd party integrations allowed: Yes
Suited for: Medium to large-sized businesses, Enterprises
Price:
Starts at $0.
Read Also: 15 Best Workload Management Tools for Teams in 2023

How to Choose the Best Project Portfolio Management Software
Project portfolio management software functions as a real-time workspace that allows you to keep an eye on the big picture while efficiently carrying out day-to-day tasks. If you are looking for the best project portfolio management software to support your projects, the following are some essential features and functionalities to consider before making a decision.
1. Planning & Scheduling Capabilities
Choose a project portfolio management software that allows you to plan tasks, delegate them to team members, and set clear deadlines. This way, you can plan the project's start and end date, determine the duration, and track the resources assigned to each task. The right tool lets you oversee all the ongoing project activities at a glance without switching between screens.
2. Team Collaboration Features
Clarity, transparency, and open communication within the team are critical to project success. An efficient project portfolio management software allows team members to collaborate with each other to address roadblocks and discuss real-time progress. To collaborate on tasks, team members can use task comments and share relevant files on the go.
3. Actionable Project Reports
Project reports allow you to keep track of the project's progress and the team's overall performance. Top-rated project portfolio management tools offer data-driven reports that give you a peek into how your projects are progressing, how much time is spent on which projects and tasks, etc. Also, you can obtain these reports whenever you need them — weekly, monthly, or yearly.
4. Time Tracking
Time tracking is critical to track how team members spend their time at work. Here, a robust project portfolio management tool lets you gain insight into which team members are involved in which project tasks and activities. This also aids team managers in measuring a team's productivity through the number of hours it spends on a particular project.
5. Resource Management
A significant part of handling portfolios involves managing resources. As a manager, you distribute resources across all projects. But things seldom go as planned. This means that you might have to reallocate resources midway through project execution.
Simply put, you allocate a couple of resources from Project A to Project B. This is because you realize that you must bring more resources to Project B to complete its deliverables within the defined timeline.
Read Also: 15 Best Resource Management Software & Tools Of 2023

6. Risk Management
No project or portfolio is clear of risks. What can make things easier is that you stay prepared to face any risk. Using interactive project views can help you spot gaps in workflows timely. This further helps you take corrective action and manage potential risks proactively.
7. User-Friendly Navigation
A good PPM tool is simple to use. It takes little to no time to install and set up. The best thing is that both beginners and professionals can use this tool. It means that even if you don't know how to code, you can take advantage of its features. Thus, a short learning curve guarantees that the team quickly gets accustomed to using the software.
8. Price & Long-Term Affordability
It's critical to understand whether setup, training, and support services are included in the software cost. Besides, the price plans should offer the best value for money for the features the tool provides. Also, assess whether the tool will be affordable for your business in the long term, through the highs and lows.
9. Free Trial & Good Reviews
The best way to find out whether a tool works well for your business is to put it to the test before investing in it. Fortunately, most PPM software offer a free demo or trial period. Go for the trial version of some tools that you're interested in and see if the tool is a good fit for your project needs.
In addition, to better understand the utility and functionality of a PPM software, look at the user reviews online. User reviews will give you an exact idea of the advantages and demerits of the software, the problems customers face while using it, and which features work well and which don't.
10. Vendor Support
While using a tool, you come across instances where you struggle to use a its specific features correctly. Here, you may require dedicated support. You need a system that offers a strong 24/7 customer support. This way, you can reach out for help at a time of your convenience and move forward without a big halt.
Also, sometimes you need to integrate with external tools to leverage more functionality. Vendor support comes in handy for assisting you to seamlessly integrate with these third-party applications.
Why Is Project Portfolio Management Software Important
Adopting the right PPM practices can significantly reduce your workload while giving you the results you want. And supporting your practices with a robust tool helps you manage multiple projects easier to get work done faster.
1. Align Projects with Company Objectives
Every business undertakes various projects to meet its strategic objectives. Project portfolio management helps you delve into the various elements of project execution and plan work for impactful outcomes.
But when you have numerous projects lined up, how do you decide which project to prioritize first or which one will bring more revenue to meet the long-term goals?
Project portfolio management software emerges as a way to resolve this problem. It helps you centralize and manage the organization's projects to ensure strategic alignment with company goals. It helps you put things in perspective and aids you in making practical decisions based on your company's vision.
2. Reduction in Project Management Failure Rates
Your key project management skills, like effective communication, time management, and leadership, will help you manage teams and projects at every stage. Project portfolio management enables you to be proactive in handling potential barriers.
Here, project portfolio management tools ensure that project managers have exactly what they need to track KPIs, thereby increasing the likelihood of project success. These tools provide a centralized system to work, allowing you to address issues such as mismanaged resources, exceeding budget, delays in the project, and missed deadlines.
3. Make Well-Informed Decisions
Project portfolio management provides deeper visibility into different aspects of your project portfolio so that you can make the right decisions on time. It provides a peek into some key areas, such as:
How each project is progressing
The roadblocks different project teams face
Which area requires your immediate attention, etc.
Here too, using PPM software helps bring all your projects under a single roof. This way, it is easy to spot problems across project workflows and fix them quickly right from the tool's dashboard.
4. Track Progress of Your Portfolio
Another significant benefit of project portfolio management is that it helps you track progress in real-time. You can support your progress visualization capabilities with PPM software.
PPM software helps you track the progress of multiple projects on a single dashboard. It allows you to track individual project progress through every stage, identify improvement areas, and prevent project delivery delays.
A PPM tool for guidance gives project managers a bird's eye view of pending tasks and how much time it takes to complete a particular project.
Drive Better Business Performance With a Robust Project Portfolio Management Tool
To effectively manage project portfolios, you need a systematic approach to managing the different elements of a project. Project scope, resources, timeline, budget, priorities, and risks are only some of these key elements.
You can initiate dynamic decision-making for your projects only when you have a stronghold of the real-time visibility of key elements. Without this transparency, you're driving without a map.
By now, you must have decided which tool complements your project and team's needs. But if you're still confused, then here's our best pick! ProProfs Project is an all-in-one solution to track multiple projects on a single platform. It lets you monitor the pulse of your project in real-time. This ensures that you're on top of everything that's happening in your project, and nothing slows you down.
Kissflow is a versatile, collaborative tool that helps you manage your projects and scale your business smoothly. Also, Planisware is an excellent tool if you're looking for one source of truth to plan, prioritize, and track your portfolios.
---
FAQ:
Q. What's the difference between Project Management and Project Portfolio Management software?
Project management software focuses on planning and managing a project's tasks, resources, and deadlines. On the other hand, project portfolio management software focuses on managing a portfolio of projects. This involves assessing the overall business performance to make informed and strategic decisions.
Q. How do you implement project portfolio management?
Project portfolio management involves collecting data, evaluating project outcomes, prioritizing projects, creating roadmaps, and much more. It aims to view the business performance holistically while ensuring the overall business objectives are achieved at the earliest.
Q. Who Uses Project and Portfolio Management Software?
Anyone who is looking to deliver projects on time and within budget while ensuring that wide-range business goals are met efficiently can use project and portfolio management software. These goals may include increasing sales and profitability, improving brand recognition, etc
Q. What Are the Key Tips to Achieve Project Portfolio Management Success?
A few tips to achieve project portfolio success include:
Set and define business goals and objectives
Specify key business and project metrics
Validate project feasibility
Use the right tools to simplify overall management
Prioritize projects based on their level of importance
Do you want a free Project Management Software?
We have the #1 Online Project Management Software for effective project management.