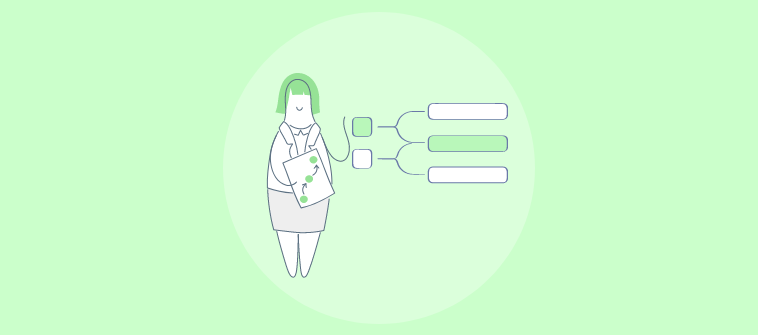 As a project manager, you build actionable plans that have a company-wide impact on project execution and accomplishment.
You are single-handedly responsible for delivering projects in line with expected outcomes. This involves adjusting existing workflows and molding them to adjust to real-time requirements. Things become even trickier when managing work across cross-functional teams and departments.
Here, a robust agile tool helps you ride out the waves as they come. Using the best agile project management software for your business, you can quickly respond to evolving requirements and smoothly switch from one task to another as per the priority level. Thus, project management should be managed through the lens of change management.
In this blog, we will look at what agile project management is, its importance, top agile project management tools, and more.
What Is Agile Project Management?
Agile project management refers to managing projects by breaking them into smaller time durations called sprints. These short sprints can last from a few days to a few weeks.
It follows an iterative approach to handling projects. This involves continuous improvement by scheduling releases after each sprint. You need to outline work and responsibilities in short cycles and review results regularly.
The agile methodology thrives on transparency and adaptability, catering to the customer's requirements with a definite sense of ownership of the assigned work.
Its key phases include:
Envision: In this phase, you identify key project stakeholders and chart the expected deliverables. This forms the foundation for your project to sustain itself throughout its lifecycle.
Speculate: Here, you curate the action plan that everyone on the team will follow. You define the features you need to accomplish, the timeline for completing the project, the priority tasks, the milestones that will help you access progress quickly, and more.
Explore: This phase involves assessing whether resources are optimally distributed, whether you have taken all potential risks into account, or whether you need to create alternate plans that will come of use according to the feedback received.
Adapt: This involves receiving feedback from concerned stakeholders or customers and adapting your workflows and processes to the project's immediate needs.
Close: In this, teams ensure they execute the deliverables in line with the expected results. Also, teams reflect on lessons learned and consider those points while creating workflows for future iterations.
Moving forward while keeping these critical phases in mind will equip you to start with a comprehensive plan of action and hit the ground running!
17 Best Agile Project Management Software
Agile project management is not an easy feat. You have to add new tasks, prioritize new ones, monitor progress in real-time, and customize workflows throughout the project's life cycle. The right agile software enables you to do all this and more effortlessly. So, let's dive in and explore the 17 best agile project management software for agile project success.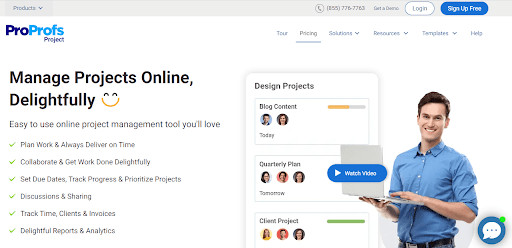 ProProfs Project is a modern agile planning tool that helps you plan, schedule, organize, and track projects on a single platform. With advanced agile project management functionalities, it is excellent for project and team managers looking to manage large, complex, and ever-evolving projects. Overall, the tool enables agile teams to maintain their pace while moving from one sprint to the next.
Key Features of ProProfs Project:
Generate presentation-ready reports on project performance
Create reliable invoices with accurate time tracking
Leave feedback via task comments
Share files on the go
Use the drag-and-drop action to adjust workflows
Receive real-time notifications for task updates via mail
ProProfs Project Pros:
Jump-start your workflows with professionally-designed templates for various use cases such as project scheduling, bug tracking, and more.
It is one of the best all-in-one agile management tools, perfect for teams of all sizes and industries.
The tool lets you create and prioritize new tasks, enabling you to respond quickly to market trends.
Monitor projects via intuitive Gantt, Kanban, Calendar, and List views.
You can customize project dashboards on the go to cater to new project requirements instantly.
Set up baselines to compare estimated and actual project schedules. This gives you a better perspective on setting future project timelines.
ProProfs Project Cons:
Lacks advanced integration options.
Needs better milestone tracking ability.
3rd party integrations allowed: Yes
Suited for: Small to large-sized businesses, Enterprises, Personal Projects, Remote Teams
Price:
Starts at $39.97/month.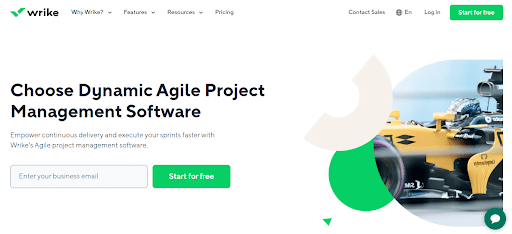 Wrike, one of the best agile project management tools, is a popular choice for teams looking to schedule new task requirements and track evolving projects efficiently. With Wrike, you can share task and project information, @mention people to loop them into conversations, and access live editing features for seamless collaboration throughout the project.
Key Features of Wrike:
Manage incoming requests with customizable intake forms
Keep stakeholders informed with automatic status reports
Access project data via the web, desktop, and mobile apps
Be prepared to implement changes quickly with custom workflows
Trigger automated workflows to save time on repetitive tasks
Wrike Pros:
The tool is flexible and versatile, allowing you to embrace change and deliver projects as expected.
Get started with ready-to-use templates such as "Agile project management tools," "Actionable items," "Incoming projects," and more.
Wrike Cons:
Too many notifications can be overwhelming for users.
Integration capabilities can be improved.
3rd party integrations allowed: Yes
Suited for: Large-sized businesses, Enterprises, Remote Teams
Price:
Starts at $0.
Read Also: Top 20 Wrike Alternatives for Easy Project Management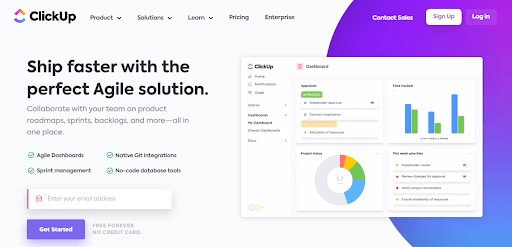 ClickUp, among the simple, visually-appealing agile tools, lets you adapt quickly to incoming requests and deliver high-quality work with every sprint. Regardless of your agile preferences, ClickUp has what you need to manage the entire lifecycle of your projects and is particularly well-suited for remote teams.
Key Features of ClickUp:
Turn bug submissions into actionable tasks using intake forms
View where a task stands with Custom Statuses
Access native integrations for GitHub, GitLab, and Bitbucket
Limit work in progress using Kanban board workflows
Track team members' productivity with a native time-tracking ability
ClickUp Pros:
Unify team communication with ClickUp Docs. Using these, you can document bugs and jot down meeting minutes quickly.
Roll unfinished tasks into future sprints by automating sprint point assignments.
ClickUp Cons:
The tool offers too many features, making it challenging to navigate the tool initially.
Mobile application could be more useful for staying updated on the go.
3rd party integrations allowed: Yes
Suited for: Small to medium-sized businesses, Remote Teams
Price:
Starts at $0.
Read Also: 16 Best ClickUp Alternatives & Competitors (Features+Comparison)


Another popular software for agile project management, Asana is loaded with tons of features to help your agile teams reach the finish line faster. You can assess team bandwidth and assign new tasks accurately with workload management. Also, you can monitor work across projects with List, Board, and Calendar views.
Key Features of Asana:
Use the Kanban board to visualize workflows from start to finish
Organize tasks into different sections
Set task priorities as "Low," "Med," and "High"
Set critical project checkpoints as milestones
Access ready-to-deploy workflows with task templates
Asana Pros:
Its user-friendly UI makes it easier for teams to set up new workflows and iterate faster.
Its Workflows Builder allows you to create automated processes based on a trigger action.
Asana Cons:
Lacks good time-tracking ability.
You cannot assign a task to multiple users. This can be restricting for tasks with more than one assigned user.
3rd party integrations allowed: Yes
Suited for: Small to medium-sized businesses, Personal Projects
Price:
Starts at $0.
Read Also: 21 Best Asana Alternatives For Project Management Software for 2023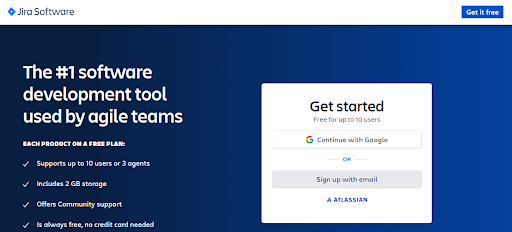 Jira is an agile tracking tool perfect for agile testing and project management. Built specifically for issue tracking and bug tracking, it is the go-to tool for coders and software developers. Its robust project visualization capabilities enable you to stay on top of work around the clock and move quickly from one sprint to another with utmost ease.
Key Features of Jira:
Manage work with Scrum and Kanban boards
Deliver work as promised by quickly rescheduling tasks with custom workflows
Automate any task or project within seconds
Map dependencies between teams to manage workflows
Know where your project stands from anywhere, anytime via mobile access
Jira Pros:
You can break down work, prioritize tasks, and deliver work continuously with backlog management capabilities.
Gain insight into team activity via rich project reports.
Jira Cons:
It has a steep learning curve.
Lacks useful collaboration features.
3rd party integrations allowed: Yes
Suited for: Large-sized businesses, Enterprises, Remote Teams
Price:
Starts at $0.
Read Also: 15 Best Jira Alternatives to Simplify Project Management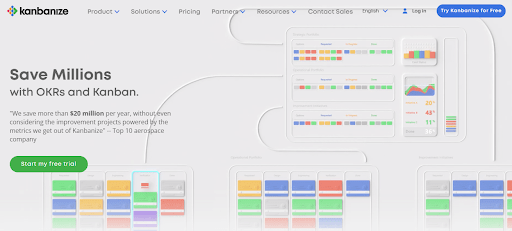 Kanbanize is perfect for implementing agile projects with maximum efficiency and ease. Its Kanban board gives you a clear overview of all your workflows and the tasks within each workflow. This way, you know which task is at which stage of completion. The board also gives you insight into potential gaps, enabling you to adjust strategies if required.
Key Features of Kanbanize:
Tailor workflows to suit the project and team needs
Predict projects schedules accurately with robust forecasting
Link different teams and management boards to manage dependencies
Divide workflows into sub-columns for better visualization
Track project tasks with throughput charts
Kanbanize Pros:
Its flow efficiency analysis chart lets you analyze how fast work items flow through each stage.
Use Card Templates to work with predefined project properties and hit your goals faster.
Kanbanize Cons:
Needs to incorporate more project visualization functionalities.
Lacks reporting capabilities.
3rd party integrations allowed: Yes
Suited for: Large-sized businesses, Enterprises
Price:
Starts at $149/15 users/month.
Read Also: Agile Software Development Life Cycle (Ultimate Guide 2023)p

Planview AgilePlace, formerly Planview LeanKit, is an online project management tool for agile processes. It offers a virtual card and signboard system that takes care of what, when, and how much to produce. The tool is best known for optimizing the workflow as requirements evolve.
Key Features of Planview AgilePlace:
View tasks and subtasks in parallel tabs
Leverage out-of-the-box Kanban board templates
Access robust reporting and analytics to make informed decisions
Send targeted email notifications for approaching tasks
Integrate with third-party integrations for greater functionality
Planview AgilePlace Pros:
Project managers and team members can easily plan and track tasks in a collaborative workspace.
The tool integrates well with other popular software, making it a good choice for enterprise usage.
Planview AgilePlace Cons:
Mobile application needs better functionality.
Needs advanced reporting capabilities.
3rd party integrations allowed: Yes
Suited for: Large-sized businesses, Enterprises
Price:
Starts at $20/user/month.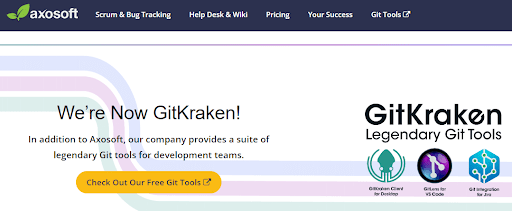 Axosoft, now known as GitKraken, offers a tabular view of multiple tasks, user stories, bugs, and issues in one place. The tool is perfect for agile project planning, offering beautiful graphs that help you assess the project's progress in real-time. The tool also lets you add new customers/clients to project dashboards. This enables project managers to seek regular feedback and adjust project roadmaps.
Key Features of Axosoft:
Edit item cards to tailor them to your project needs
Track key metrics with custom dashboards
Turn emails into support tickets instantly
Create unlimited Wiki pages for documentation
Use Axosoft's custom portal to create and edit helpdesk tickets
Axosoft Pros:
Its Release Planner helps you view team capacity and assign work accordingly, enabling smooth, agile implementation.
Leverage its Card View to schedule item cards while monitoring work in progress throughout the various sprints.
Axosoft Cons:
Mobile application needs significant improvements in terms of navigation and notifications.
It has a clunky UI.
3rd party integrations allowed: Yes
Suited for: Large-sized businesses, Enterprises
Price:
Starts at $105/5 users/month.
Next up on the agile management tools list is Pivotal Tracker, one of the best agile project management software for team collaboration. It provides a shared view of team priorities, enabling you to direct your focus toward the most important tasks immediately. Its Tracker calculates your team's performance depending on their previous work and lets you schedule future tasks more accurately.
Key Features of Pivotal Tracker:
Access Burnup, Cumulative Flow, and Cycle Time reports
Receive notifications for project status updates
Loop team members into conversations with user mentions
Use drag and drop functionality to adjust workflows
Seamless third-party plugins
Pivotal Tracker Pros:
The tool's dashboard allows you to create a "story" that defines each actionable task. And each story stacks up to build the project's lifecycle.
Its multi-project workspaces allow you to visualize your projects side by side and adjust workflows and responsibilities using drag and drop.
Pivotal Tracker Cons:
It's not an easily scalable tool.
Offers a dated UI.
3rd party integrations allowed: Yes
Suited for: Small to medium-sized businesses
Price:
Starts at $0.
Read Also: 10 Project Manager Roles And Responsibilities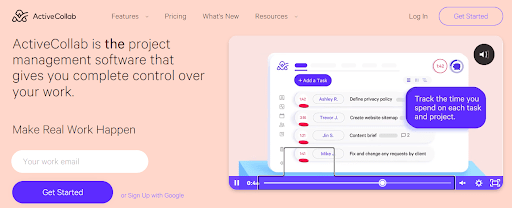 ActiveCollab is a powerful, agile project management tool that offers complete control over your daily work using List, Gantt, and Kanban views. Users can easily track task dependencies and progress through each stage in a well-organized manner. You can even offload repetitive tasks by setting Recurring tasks.
Key Features of ActiveCollab:
Access unlimited tasks, discussions, and notes
Get started with the project immediately using templates
Stay within budget with Expense Tracking
Create instant invoices using the tool
Integrate with Slack, Zapeir, etc.
ActiveCollab Pros:
You can select multiple tasks and edit their properties together via Batch Edit.
Keep an eye on time spent on tasks using Personal Timesheets, Stopwatch Time Tracker, Project Level Time Tracking, Task Level Time Tracking, and Time Reports.
ActiveCollab Cons:
There's no option to disable unnecessary notifications.
Search functionality needs to be improved.
3rd party integrations allowed: Yes
Suited for: Small to large-sized business
Price:
Starts at $9.5/3 member/month.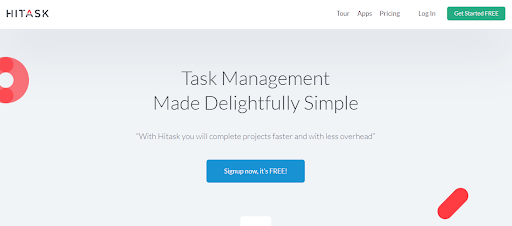 Hitask, one of the user-friendly tools for agile project management, offers a space where project and team managers can easily plan, coordinate, and track project tasks. Its shared calendar lets you get an overview of your team events at a glance. Besides, you can collaborate with team members via Team Chat and resolve roadblocks without leaving the tool's dashboard.
Key Features of Hitask:
Attach files to tasks and projects
Control who can view and edit tasks with selective sharing permissions
Enable email and mobile push notifications
Create daily, weekly, monthly, and yearly repeating tasks
Access project data via iPhone, iPad, and Android
Hitask Pros:
Track time spent on tasks with accurate time reports.
The tool instantly notifies you when a team member updates or completes a task.
Hitask Cons:
Customer service could be more impressive.
Needs more integrations to leverage additional features for managing agile projects.
3rd party integrations allowed: Yes
Suited for: Small-sized businesses, Enterprises, Personal Projects, Remote Teams
Price:
Starts at $0.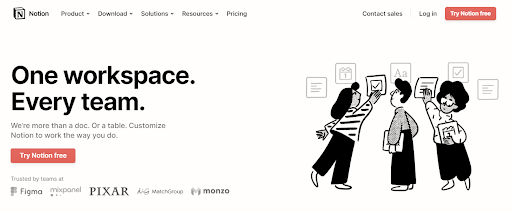 If you're looking for a simple project management tool for agile workflows, Notion is your best bet. It is one of the easiest software to plan projects, assign tasks, track progress, and deliver projects on time. Using Notion, you can customize workflows to build roadmaps that cater to your unique project and team needs.
Key Features of Notion:
Tailor the dashboard using the drag-and-drop functionality
Manage Meeting notes using the tool
Integrate your favorite third-party tools
Upload and manage files for tasks and projects
Create open and closed Teamspaces for collaborative project management
Notion Pros:
Visualize workflows as "Not Started," "In Progress," and "Complete."
Leverage ready-made templates to tweak workflows and start your agile work within seconds.
Notion Cons:
They don't offer page analytics.
The tool has difficult navigation, especially for beginners.
3rd party integrations allowed: Yes
Suited for: Small to medium-sized businesses, Personal Projects
Price:
Starts at $0.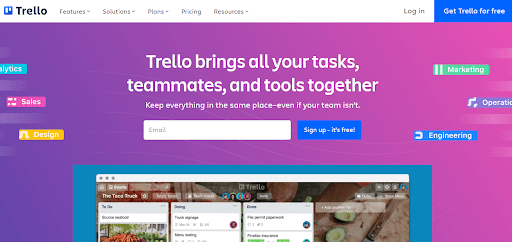 Trello is one of the best agile project management tools for teams looking specifically for a Kanban-style dashboard. The tool provides a single source of truth for team members' responsibilities, pending tasks, and more. You can stay on top of project workflows and assess whether your project is moving forward as planned.
Key Features of Trello:
Customize workflows as you like
Bring in more features with secure third-party Power-Ups
Get started with ready workflow blueprints via templates
Monitor work using Board, Timeline, Table, and Calendar views
Manage work with advanced checklists
Trello Pros:
Its Trello cards hold all information related to a task – its users, due dates, attached files, and more.
Its no-code automation capabilities let you create rules and commands to trigger actions, saving time and effort.
Trello Cons:
Integrating with other apps is challenging.
Limited collaboration features.
3rd party integrations allowed: Yes
Suited for: Medium to large-sized businesses, Remote Teams
Price:
Starts at $0.
Read Also: 15 Trello Alternatives in 2023 (Both Free and Paid)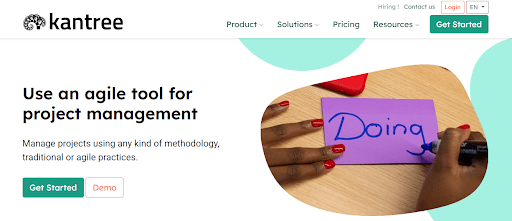 Kantree is a flexible work management platform that supports you in organizing agile tasks, regardless of which agile methodology you follow. Unleash collective intelligence, showing how long a task will take to complete or to be informed if a particular team member is overloaded.
Key Features of Kantree:
Add WIP limits to manage work throughout the project's lifecycle
Get reminders for approaching deadlines
Use customizable project templates to start with a ready workflow
Automate custom workflows to save time and effort
Keep things on track with reminders and recurring tasks
Kantree Pros:
Access cumulative flow diagrams, cycle times, burndown charts to assess team efficiency and improve processes.
The visually appealing interface allows you to organize tasks and manage work smoothly.
Kantree Cons:
Comment management within tasks needs improvement.
Customer support is not responsive.
3rd party integrations allowed: Yes
Suited for: Large-sized businesses, Enterprises
Price:
Starts at $7.38/user/month.
Read Also: 6 Reasons to Opt for Agile Methodology for Mobile App Development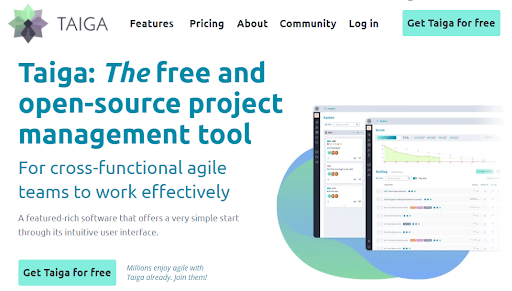 Taiga is an excellent agile project management tool that offers 360° visibility into work, key metrics, and progress. Its real-time reports help identify gaps that hold back your team, allowing you to tweak workflows and processes for maximum efficiency. Overall, the tool lets you set up project dashboards quickly and deliver work as scheduled.
Key Features of Taiga:
Prioritize the work that matters most
View the burn-down chart to assess the progress
Improve navigation with filters and search functionality
Receive notifications for task updates
Define clear team roles and permissions
Taiga Pros:
Access the sprint task board with swim-lanes for greater workflow transparency.
The tool offers a user-friendly interface, enabling faster tool adoption.
Taiga Cons:
The tool can be clunky at times.
Lacks time-tracking ability.
3rd party integrations allowed: Yes
Suited for: Small to large-sized businesses, Personal Projects, Remote Teams
Price:
Starts at $0.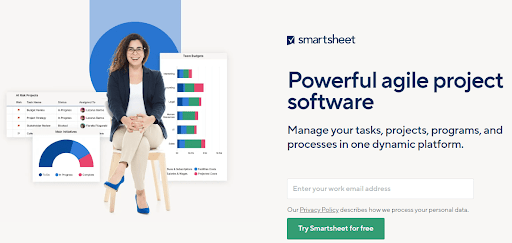 One of the modern tools for agile project management, Smartsheet enables high-functioning teams to build product roadmaps, set milestones, and track sprints effortlessly. With a plethora of features, a simple learning curve, and a user-friendly interface, Smartsheet is a model tool for agile teams looking to excel at their projects while delivering high-quality work on time.
Key Features of Smartsheet:
Set up dependencies using the Gantt chart
Use the Agile Backlog and Sprint Planning template for a quick start
Prioritize backlog within seconds
Extract real-time reports on key project metrics
Automate repetitive tasks to save time
Smartsheet Pros:
With Smartsheet proofs, you can quickly review and approve content without leaving the tool.
You can automate routine and manual tasks to direct your best efforts toward high-level tasks.
Smartsheet Cons:
Mobile notifications need improvement.
Its UI can be clunky at times.
3rd party integrations allowed: Yes
Suited for: Medium to large-sized businesses
Price:
Starts at $0.

The last tool on our list of agile project management tools is MeisterTask, a secure platform that lets you adapt quickly to changing customer requirements. You can use its Gantt-style Timeline to plan, schedule, and track projects from start to finish. You can even switch to its Kanban boards, which are great for visualizing tasks across workflows.
Key Features of MeisterTask:
Visualize progress using Kanban boards
Monitor team activity with the tool's built-in time-tracking capabilities
Set up automation for handling repetitive tasks
Store relevant files and links on the platform
Keep things organized with multiple checklists
MeisterTask Pros:
Its mobile application offers real-time notifications that help keep users up-to-date with progress on the go.
Access data-driven reports to collect and analyze data on project performance.
MeisterTask Cons:
Collaboration features are limited.
More integrations can be incorporated in the future.
3rd party integrations allowed: Yes
Suited for: Large-sized businesses, Enterprises, Remote Teams
Price:
Starts at $0.
Why Do You Need Tools for Agile Project Management?
Did you know that agile projects generally are 28% more successful than traditional ones?
While weighing a tool, there are some critical agile project management benefits that you must consider. Let's look at these benefits below.
1. Clear Sprint Goals
While working on an agile project, sprint goals may get lost if not defined initially. This may lead to unclear objectives because team members need a clear direction to move forward.
For this, you need to convey definite sprint goals and objectives that are specific and measurable. And it becomes essential to set clear roles and responsibilities along with task timelines for each team member. This way, everything is clear regarding what needs to be done and when.
Adopting a software for managing agile projects helps simplify task delegation and fulfill work on time. Using the best tools for agile project management help establish project workflows along with task priorities and task dependencies. Thus, a detailed sprint dashboard holds all information related to a task that you can refer to anytime, ensuring your team never goes off track.
2. Improved Team Collaboration
Agile projects demand seamless team collaboration.
Poor team collaboration can cost you:
Misunderstandings regarding work to be accomplished
Low team morale
Friction, even conflicts, between team members
When it comes to team collaboration, even the slightest hiccup can impact the overall sprint execution.
To support team collaboration, an agile software offers robust features such as task comments and file sharing that help team members connect in real-time. Thus, a software helps bring team members together and execute sprints as scheduled.
3. Real-Time Transparency
Sometimes, team members are unaware of mid-project execution changes or project updates affecting the end result. Also, miscommunication with clients and other stakeholders can affect project execution and the organization's relationship with the stakeholders.
The best way to tackle this is to infuse transparency among team members, clients, and other project stakeholders.
Deploying agile platforms help keep everybody in the loop from anywhere and anytime. It offers a comprehensive overview of all the ongoing and scheduled projects, tasks, and subtasks.
This detailed insight helps everyone follow up and analyze whether team members are completing tasks as scheduled. If not, you can immediately take corrective action and prioritize the work that you need to accomplish first.
4. Efficient Resource Management
Without a resource tracking system, monitoring each team member's utilization and productivity can be challenging. Overseeing the work of every team member, seeing how they are working, whether they are meeting their goals on time, and understanding their pain points are some of the things you need to stay updated on.
An agile tracking tool offers a single dashboard that allows you to monitor project execution from start to finish. You can also use its time-tracking capabilities to monitor how much time each team member spends on various tasks during the day.
Overall, an agile tool provides a clear picture of how resources are utilized throughout the project. This also allows you to rearrange resources to ensure that no specific resource is overburdened or underutilized.
5. Continuous Improvement of Workflows & Processes
Agile projects imply evolving areas of improvement and shifting priorities. So you must continuously review and adapt to these changing requirements as you proceed.
An agile project management software supports this flexibility and allows you to customize existing workflows easily. Using its analytics, you can spot potential risks on time and change strategies accordingly.
Read Also: Hybrid vs Agile Approach: Which is Better for Efficient Project Management

How to Choose the Best Agile Project Management Software
We've curated a list of the key criteria to consider when looking for the right tool for your agile projects. Let's take a look at it.
1. Sprint Views to Monitor Progress
A good agile tool for online project management has interactive sprint views such as Gantt, Kanban, List, and Calendar. You can set up your sprint workflow on its dashboard by creating sprint tasks and subtasks.
You can assign these tasks and subtasks to team members to clearly define responsibilities. Using the tool, you can also create milestones as checkpoints that help measure progress made on a sprint.
2. Workflow Customization
One of the most important things you need to execute an agile project successfully is the ability to customize workflows.
Ideal tools for agile project management let you customize workflows on the go. They allow you to tweak workflows to make changes to task assignees, due dates, priority levels, and dependencies. So, as requirements change and deliverables evolve, you have a clear-cut workflow that supports you in your project execution journey.
3. Analytical Reports
Analytical reports come in handy when you need instant, actionable data on how your project is progressing.
Using the best project management software for agile projects, you can access presentation-ready reports that give insight into key project metrics and team performance. This data further lets you cross-check if your current execution strategy leads to the desired sprint goals.
4. Task Prioritization
Leveraging the agile methodology means catering to tasks as they arise. Confused? An agile methodology means you have tasks to attend immediately. With a tool, you can prioritize tasks within seconds while establishing responsibility to team members. This way, the concerned team member knows what they need to focus on first and what can be sidetracked for later.
5. Task Dependencies
It's always a good idea to set dependencies between tasks. It helps define a clear structure of how work will flow from one task to another. This ensures that everyone knows the project execution schedule from sprint initiation to completion. So users know which task has to be completed before moving on to the next. This eliminates confusion regarding task timelines and helps accomplish work on time.
6. Ease-of-Scalability
Proven agile platforms are easy to scale. They are flexible enough to integrate more projects as your company grows. These adapt quickly to complex projects and are capable enough to handle more team members operating the tool at once. This is important because, as an organization, you cannot waste time and effort in switching to another tool as the scale of your operations increases.
7. Collaboration Capabilities
While implementing an agile methodology, team collaboration is imperative. It facilitates easy change of workflows and allows you to integrate the requirements for sure-shot project success seamlessly. Here, a tool helps keep everyone connected and on the same page with how things are moving forward.
Good agile management tools allow you to:
Plan the agile project execution process using a shared calendar
Comment on tasks, give instant feedback to relevant team members
Get email notifications regarding any project updates
Share files with team members, clients, and other stakeholders on the go
8. Time Tracking Capabilities
With agile workflows, it can be challenging to track time effectively and assess how you are utilizing resources. Are they overwhelmed with frequently changing requirements? Is any resource lying idle? Do they have the bandwidth to take up priority tasks?
Analyzing these questions will enable you to assign work optimally across team members. And this is only possible when you track time spent on various tasks by team members.
Lead Agile Projects with the Best Agile Project Management Software
A smooth agile methodology is adapting to and implementing quick processes leading to desired project output.
So, it's best to break their entire lifecycle into smaller sprints if you have complex projects or projects with high customer involvement. Working in sprints equips you with proper workflows that cater to evolving requirements head-on.
Thus, effective project management is essential, and the right tools can make all the difference.
The tool's mentioned in our list of agile project management tools are built to boost productivity following the agile workflow. While selecting a tool for your business, evaluate factors like team size, project type, etc., to make an informed decision.
If you leave the question for us, we would love to go with ProProfs Project to manage agile projects effortlessly. It is one of the best agile project management software for teams looking for a simple yet all-in-one solution for agile project requirements. But if you're looking for an excel-like interface, Smartsheet might fit your needs. Also, Jira is an excellent tool for managing agile tasks within software development teams.
Do you want a free Project Management Software?
We have the #1 Online Project Management Software for effective project management.