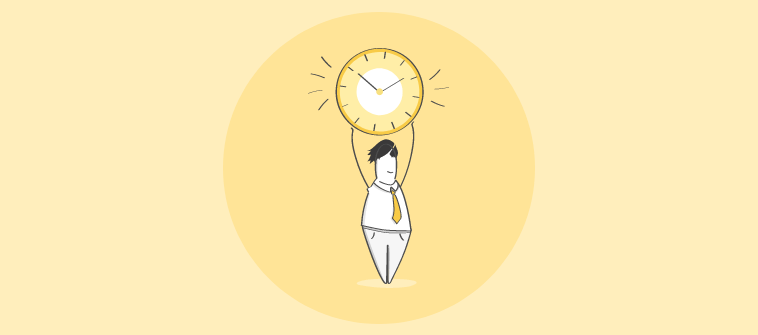 Do you find yourself constantly switching between team members for real-time task updates? Have you goofed up work hours while reading client emails or creating client invoices?
If your answer is yes, we know exactly what you need.
You need a comprehensive system for clocking your team's productive hours without breaking a sweat.
This is where project management time tracking comes in. It helps monitor accurate work hours with minimal effort. It also helps manage project resources and timelines better. Using it, you can create reliable invoices, and planning precise time estimates for future projects is hugely simplified.
By incorporating adequate time-tracking tips supported by a tool, you're on solid ground for stress-free project management and faster project completion.
So, let's explore the benefits of integrating time tracking into your project management practices. We'll also look at proven tips and tools you can leverage for improved productivity and project outcomes.
What Is Project Management Time Tracking?
Project management time tracking refers to tracking how much time team members take to complete a particular task.
As a project manager, this offers you deep insight into which tasks your team members are working on and how much time they take to accomplish them. This lets you assess whether work is progressing as desired or if there is a need to re-evaluate the project execution strategy. It also helps create invoices for clients when work is billed by the hour.
Thus, time tracking for project management is a savior for keeping work on track while monitoring employee hours effortlessly.
Why Is Time Tracking for Project Management Important?
You might wonder, 'Why do I need to track time?' or 'Won't time tracking for project management lead to micromanaging?'
The truth is, it can lead to micromanaging, and we understand that's the last thing you want to do as a project manager.
The answer to why time tracking for project management is essential can be understood as follows:
Time tracking for project management provides insights into how your team is getting work done. "Are they taking frequent breaks?" or "Are they juggling too many tasks at once?" This will enable you to allocate tasks better in the future.
It helps keep team members accountable as they know that time and their activities at work are being tracked. Though it's never a good idea to micromanage anyone, the time-tracking data will help you spot why a certain team member is lagging. This will equip you to help the team member to perform better.
The time-tracking analysis will also help you understand which tasks take more time than others. This will enable you to create accurate estimates while setting deadlines or prioritizing tasks.
These are the primary reasons why time tracking for project management is inevitably necessary.
Your everyday management practice will get a leg-up when you support it with a robust project management tool with time tracking.
Now, let's look at some key benefits of time-tracking software in project management.
Read More: Top 25 Time Management Software to Grow Your Business
6 Benefits of Time Tracking Software in Project Management
Here are some hard-to-miss benefits of effective project management time tracking.
Let's begin!
1. Instant Performance Insights
One of the key benefits of project management with time tracking is gaining insights into team performance.
With time tracking, you can do away with constant supervision and save time and effort in tracking performance. Access data on which team members can get more done. For this, you simply have to open an individual's time sheet and track the number of tasks they could complete within a specific time.
Of course, the quality of work has to be considered apart from the quantity. But, with these timesheets, you will get a fair idea of your team's top performers.
2. Smarter Team Management
"Time management is a misnomer. The challenge is to manage ourselves."
-Stephen Covey
Doesn't that sound right?
It surely does. The key to time management is managing our time at work, and effective time utilization will follow!
As a project manager, one of your many KRAs include allocating team members across multiple tasks and projects. This allocation is done in such a way that each team member is optimally allocated to tasks.
So, how do you go about it? Add tasks, set deadlines, and allocate these tasks to the team members. Well, this arrangement is not as easy as it looks.
As a project manager, it is your key responsibility to ensure that no team member faces burnout. With this, it is also vital to assure that no team member is sitting idle.
So, to start with, analyze the capacity and capabilities of each team member. Then, create tasks and assign them to individuals. Also, while setting up deadlines, make room for a buffer time that you may utilize in case you need to make adjustments in task responsibilities along the way.
Besides using a tool, you get data-driven performance reports that instantly help you understand team dynamics. This saves you from micromanaging your team members' every move from one task to another which may disrupt their flow of work and output.
3. Accurate Project Timeline Estimation
A good project management time tracking system helps gain a holistic view of which type of tasks take up more time than others. It also gives you an understanding of which team members need more time to accomplish specific tasks.
For example, a relatively new team member might need a little more time to work on a website's landing page since it demands more research and expertise.
With insights like these, you can create better estimates for project completion, preventing delays or employee burnout at any stage of project execution.
Read More: Top Time Management Strategies For Efficient Working
4. Hassle-Free Invoicing
What according to you is a project manager's most dreaded part of project management and time tracking?
Yes, you're right. Client invoicing!
And, why do you think that stands true? Well, client invoicing is no small task. The tool generates invoices for the client based on the number of productive hours the team members have put into a specific project.
Using the right project management time tracking tool, you simply have to set the pricing for a project, and the tool will take care of the rest.
You can also use some Advanced settings in a tool to leverage more features for invoicing.
The resulting invoice will look somewhat like this:
This invoice can be shared with clients instantly via a link.
5. Greater Employee Accountability
Time tracking for project management is crucial in establishing team member accountability.
When team members know that their work time and activities are being tracked in the background, they are more likely to give their best during the day and even exceed expectations. This will invariably lead to better accountability at work.
6. Better Business Results
The long-term benefits of each above will lead to improved business results.
Set transparent workflows and enable greater work visibility to get the best out of a project management time-tracking solution. This further leads to better focus and effortless teamwork and resource management, resulting in sure-shot business profitability.
And as Megan Auman says,
"Profit is not something to add on at the end; it is something to plan for in the beginning."
So, brace yourself for tremendous success and profitability, equipped with the right tools and project management time tracking strategy in your arsenal.
Read More: The Timely Entrepreneur: 5 Strategies Entrepreneurs Should Follow
How to Effectively Track Time in Project Management
"Time flies. It's up to you to be the navigator." – Robert Orben
It's time you become a smart navigator! Here are six tips you can use to streamline processes and optimize your daily tasks and activities.
1. Create a Time Tracking Framework
First things first: Create a time-tracking framework.
Creating a time-tracking framework means setting up a crystal clear format for the office hour schedule. For this, you need to answer a few questions and reflect.
Does your organization follow a hybrid work model? If yes, then you'll be going for a flexible way of working. In this, you must define a specific period during the day when everyone has to be available for work.
Does your organization include remote employees? If yes, then you need to set precise timings when they should be working along with non-remote employees without fail.
Is your organization on-site? If yes, define the exact office hours, say 9 a.m. to 6 p.m. In this, also determine when employees can take a break, say 1 p.m. to 2 p.m., for lunch.
Similarly, reflect on your unique work model and analyze the time-tracking model that will complement your work needs. This way, you will be able to implement both project management and time tracking without interrupting either.
2. Encourage Team Members to Track Time
If your team members are new to tracking time while working, you must make them understand why you are integrating time tracking for project management.
This will avoid discrepancies, and they will embrace time tracking everyday without resentment.
Also, once this is done, familiarize them with the tool you will use to track their work hours. Choose a tool with a simple onboarding process and subsequent navigation. This will promote adoption, and you can seamlessly integrate time tracking in no time.
3. Leverage Time Blocking in Your Workflow
"Either run the day, or the day runs you." – Jim Rohn
Block scheduling refers to dividing the day into categories of tasks to be accomplished at a time. For example, set a specific time, say 10 a.m. to 11 a.m. for reading and replying to emails, 11 a.m. to 12 p.m. for strategizing, 12 p.m. to 1 p.m. for outreach work, etc.
Setting a specific time for working on a particular task will facilitate smooth operations and eliminate any confusion regarding which task has to be completed by when. Remember to keep this schedule adjustable depending on urgent/important requirements.
Clearly, project management with time tracking can help you manage time better and give you even more significant benefits with smooth block scheduling.
Read More: Project Time Management: Process & Strategies to Improve Time Management
4, Adopt the Right Time Tracking Tool
Blending the best project management and time-tracking practices can give exceptional outcomes with an online time tracking project management tool.
An ideal tool, such as ProProfs Project, lets you set up a Timer to track time spent on each task effortlessly. You can even set up Timesheets for individuals to track their productive hours.
Team members can start and stop the timer manually. They can even describe what they worked on in that particular task. Note that Timers for subtasks are grouped in the parent task.
Using Timesheets, you can view all time entries and when team members added them at a glance.
Apart from time tracking, a robust tool also:
Helps schedule your daily tasks with clear-cut deadlines
Sets clear task responsibilities by assigning team members to tasks and subtasks
Helps prioritize tasks and set dependencies of work
Provides real-time alerts and notifications for task updates
Helps visualize progress via Gantt chart, Kanban, and List views
Offers task comments and file-sharing capabilities
So, to revamp your project management time tracking abilities, onboard a reliable tool right away!
Read More: Top Practices for Prioritizing Project Work for Your Team

5. Allow Everyone to Get Used to Time Tracking
It's easy to forget to start the reminder when working. And it's only halfway through that one realizes they didn't log their productive hours.
Take it easy. Don't go all guns blazing on your employees for not logging their accurate hours at work. Build a daily habit. You can even shoot an email for the first few days reminding them to check whether their timer is 'on.' It will only take about a week to get used to checking the project management tool with time tracking before starting work, and you'll never have to bother again with inefficiency and unnoticed productive hours.
6. Analyze & Optimize
It will help you dive deeper and analyze which team member can complete more work in less time. This will throw light on high-performers and accordingly delegate work optimally.
The data will also help analyze which team members struggle to complete work on time and which tasks are lagging. This way, you can direct your efforts to help them in their journey and see them emerge as top performers too!
Read More: Pragmatic Time Management Tips for Productive Work From Home

Build Transparency into Workflows with Robust Time Tracking Capabilities
Project management time tracking not only eases your everyday team and work management efforts but also aids team members in staying accountable for their time at work. Using reliable time tracking data, you can extract accurate hours put in by an employee. This helps monitor how much time they spend on a task on average and analyze whether their productivity is at its best. These accurate employee hours also help generate invoices that come in handy when work is billed by the hour.
So, integrate the above tips with a robust time-tracking tool and get on the right foot today!
Do you want a free Project Management Software?
We have the #1 Online Project Management Software for effective project management.