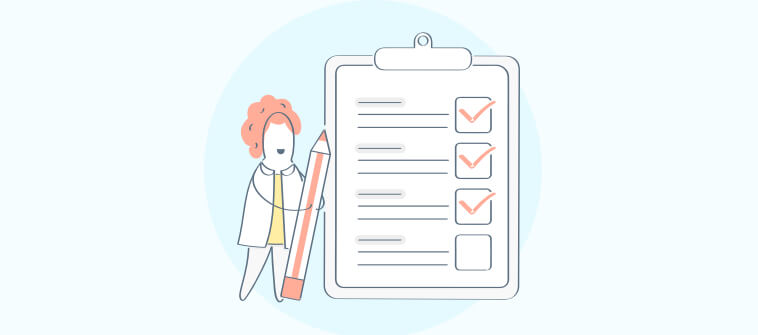 Workload can become overwhelming when you have a pile of tasks and the deadlines are approaching quickly. You know that you have to prioritize tasks, but the real challenge arises in addressing the 'how' – How to prioritize tasks.
You ask such task prioritization questions when you've been pilled with incoming urgent tasks where each one of them has been labeled as important.
And when multiple tasks land upon your desk, prioritizing work becomes a huge challenge even for project managers. That's not all. Prioritizing work tasks becomes a more daunting challenge when managers and their team members are asked for rework on completed tasks. You will be surprised to know that 80% of companies spend at least half of their time on rework.
It is during these times you end up asking yourself the question, "how to prioritize tasks at work?"
Don't worry, you're not the only one facing this challenge. Many managers and their team members face the same situation every now and then at their workplace. That's why to help you maneuver seamlessly through this situation, we've prepared a quick guide on how to prioritize tasks for you. This guide will capture the following information.
Without further ado, let's get started with the guide below.
What is Task Prioritization?
Task Prioritization is where you have to complete or organize tasks in order of their importance or urgency. This is where you need to tackle first the important tasks at hand and later on deal with regular tasks of the day. With the help of task management software, prioritizing tasks becomes a piece of cake. You can set their deadlines and add users who will be able to deliver those tasks on time.
What's more, you can add color schemes to tasks on the basis of their importance. A lot of task management tools allow you to do this to help you complete them on priority.
Why is Task Prioritization Important?
There's no denying that the importance of prioritizing tasks must be felt by those who lose track of them in the first place. It's true that urgent requirements do leave us in a bind where it is hard to choose what's important and what can be dealt with later. But this is where we do feel the importance of prioritizing tasks the most. That's because prioritizing workload can help you gain benefits like:
Avoid stalling the progress of urgent tasks and meeting their deadlines successfully

Avoid later corrections from clients and other project stakeholders

Keep team productivity intact as their attention wouldn't be divided due to multiple tasks at hand

Manage ongoing tasks at the same time without halting their progress
Such benefits of prioritizing work tasks help you understand why it is important in the first place.
How to Prioritize Work with 5 Proven Methods
Now that we understand the importance of how to organize tasks effectively, it is time we check out a few methods that enable you and your team members to do so efficiently. These methods will help you in prioritizing tasks, therefore, choose any of them as per the nature of your project and your work style.
1

. Eat the Frog
It may come as a surprise to you, but don't worry, you aren't supposed to eat a frog for real to make your projects successful.
"If it's your job to eat a frog, it's best to do it first thing in the morning. And If it's your job to eat two frogs, it's best to eat the biggest one first."
— Mark Twain
In the world of work management, it means you must work on complex tasks first before anything else.
How does this method work?
This is the order in which you should prioritize your tasks:
Tasks you don't want to work upon, but actually need to do.

Tasks you want to work upon and actually need to do.

Tasks you want to work upon, but actually don't need to do.

Tasks you don't want to work upon, and actually don't need to do
Generally, we run away from those tasks that are hard to do. But the Eat-the-Frog method helps in prioritizing work tasks by encouraging you to complete the hardest assignments first, so the rest of the day passes smoothly. This is one way for you to answer the question "how to manage priorities".
2. Eisenhower Decision Matrix
Eisenhower decision matrix, a task prioritizing method, slightly differs from the Eat-the-Frog method, as it lays more emphasis on the urgency factor.
In 1954, Dwight D. Eisenhower, former US President, said, "I have two kinds of problems: the urgent and the important. The urgent are not important, and the important are never urgent."
His statement led to a 4-box system for prioritizing workload. You can really enjoy an ideal project execution process with this task prioritization matrix, as it draws your attention towards urgent & important tasks first.
The classification of tasks in the Eisenhower decision matrix follows like this:
Urgent AND Important: Do It Now
Important, But NOT Urgent: Decide When To Do It
Urgent, But NOT Important: Delegate It
Neither Urgent Nor Important: Do It In The last Or Delete It
3. ABCDE Method
Concerns like 'How to prioritize tasks at work' take place when you have equal-priority assignments at hand. This is where Brian Tracy's ABCDE method comes for your rescue.
How can I use this method? Just follow these simple steps and enjoy smooth task prioritization:
Develop a list and give each task a letter from A to E based on their criticality

Give a number to each task having the same letter to set the work order

Repeat the process until all tasks get respective letters and numbers
Remember that tasks with letter A must have your first priority, while you can eliminate the ones with E (if possible). You cannot start work on the new letter until the previous ones are done properly.
4. Ivy Lee Method
Every project has a myriad of tasks, and this puts concerns like 'how to manage priorities' in the back of your mind.
It feels very discouraging when you try hard, but don't see much reduction in the number of project tasks by EOD. As a consequence, it slows you down while working, and that could jeopardize promised deadlines.
Here, take the Ivy Lee method into consideration and learn how to organize tasks effectively. This is how it works:
Write down six tasks that you would like to work upon tomorrow

Prioritize those six tasks on the grounds of importance

When you arrive the next day, take up your first task and stay focused until it gets finished. Afterwards, begin with the next one

Give each task undivided attention and work in way that results in timely completion

Repeat this process every working day
5. Buḇḇle Sorting
It is always important to ask yourself time and again, "how important is this task in comparison to other tasks?" Not only does it help you understand your important tasks at hand but also sort them faster that helps you maintain your productive streak hassle-free.
This same question is perfect when you perform the buḇḇle sorting process to prioritize your work effectively.
All you have to do is lay down your tasks in a horizontal grid like this:

Once you lay them down like this, you need to determine which one of these are more important and sort them on the basis of their deadlines. This will help you understand your priorities and picture them in the following manner:

These 5 methods will definitely help you with task prioritization. Let's go one step further and see what more you can try.
5 Effective Ways to Execute Prioritized Tasks
If better project execution was your intention behind learning how to prioritize work, the following tips are what you need to ace this goal:
1. Use Feature-rich Task Management Software
Businesses have been enjoying great stability while working on projects, with well-developed task management applications. Tools like ProProfs Project offer a delightful user experience and empower you with amazing features, such as:
Task priorities:

Prioritize your tasks with drag-and-drop functionality and also add new team members for perfect execution

Task comments:

Avert the hassle of messy email threads and leave comments on tasks directly to streamline the operations

Gantt charts:

Check out the progress of your tasks & subtasks via Gantt charts and do prioritization on the go if needed

Email notifications:

Stay updated with the advancements in task progress with quick email alerts

File sharing:

Enable your team to share required files for the proper execution of prioritized tasks
Read Also: What is Task Management & How Does Software Help?
2. Explain Job Responsibilities
Project managers generally end up with questions related to 'How to organize tasks effectively' when they lose control over projects.
Of course, you cannot enjoy a favorable situation every time, but leaving loose ends in the first place and then scratching your head over poor task progress will further reduce your chances of being successful.
So, before hopping to the project execution phase, explain job responsibilities to ensure your team carries out prioritized tasks properly.
Here are a few more tips to follow:
Discuss the importance of each prioritized task with a positive attitude in the project kickoff meeting

Welcome each individual to ask task-related questions for the sake of clarity

Explain why sharing timely updates are important for project completion
In case any project member requests additional training, use reliable employee training software and provide the possible assistance.
3. Give Your Best Shot at Preventing Time Sinks
Task prioritization is done with the purpose of keeping project deadlines intact, right? But there is one more thing you have to do for successful project delivery: 'Prevent Time sinks.'
Read more: Time management working from home
Let's check this example for better understanding:
Suppose you have set priorities for 6 tasks and assigned them to one project member with the hope that the job would be done within a week. Leaving something on hope is the first mistake you make towards project failure.
It is possible that the delegatee spends more than the required time to complete one task, which would delay the execution of others. It's just like dominoes in which the fall of one piece triggers the fall of others.
Now you can understand why setting realistic timelines for ideal task execution is important. Here are some tips to consider:
Understand each task's complexity and then set time estimates

Check on the task progress at regular intervals and lend a hand if needed

Use

WBS

for the timely completion of complicated tasks
Read Also: Task Management Tips for Improved Productivity
4. Develop a Master List for Task Organization
Prioritization is mainly done to set the order of primary tasks, but does that mean you can overlook secondary tasks?
Nope!
You cannot take 'Task organization' lightly, be it concerned with primary or secondary tasks.
Let's say, you have got 4 months to complete a project. And you haven't organized secondary tasks.
What will happen then?
It will create unnecessary problems during the execution phase and take the project off the track.
Don't know how to organize tasks effectively? Here are a few tips to take into account:
Develop a Master List that comprises all tasks needed to be completed within the given project timeline

Create 4 Monthly Lists, considering the aforementioned example. And then, add tasks from the master list as per their criticality factor

Go one step further and create weekly lists out of each monthly list. Later, add a blend of complicated and trivial tasks with the objective of maintaining workload

At last, breakdown weekly lists into daily lists, so each project executive knows which tasks need to be worked upon and by when
With a Master List in place, you not only create an ideal roadmap for your team but also make your job regarding task organization easier.
5. Create a Central Repository of Solutions
Task execution seems like an uphill task, especially when a competent project member leaves the team. Filling the void is not easy, as you have to provide training to the new employee first.
Plus, it won't be easy for the newcomer to get in the groove, as he/she may forget ground rules and make mistakes while working on assigned tasks.
Even your regular team members can seek clarity at times for better task execution. So, it would be great if you go the extra mile and use well-developed knowledge base software like ProProfs Knowledge Base to develop an organized library of solutions for your employees. Key features of this tool:
Ready-to-use templates let you create a central repository of resolutions quickly

Embed multimedia to ensure the enriching user experience

WYSIWYG Editor to make data modification process effortless

Insightful analytics and reports help you identify topics that have maximum searches
In short, make things easier for your team, and they will return the favor by being more productive during the task execution process.
In case you don't know how to identify the most important topics for your knowledge base, simply ask them from your employees by conducting a survey via tools like Qualaroo.
Are You Ready to Bridge Success Gaps With Task Prioritization?
By mastering the art of prioritizing tasks, you can accomplish quality deliverables within the stipulated time. You can even say that task prioritization is the difference between successful and failed projects.
Besides laying stress on the importance of prioritizing tasks, we have also explained 5 effective execution ways so that you can bridge the success gaps without moiling.
We have suggested you to use a well-developed task management application, but zeroing in on one could be problematic, given that too many tools are available in the market.
FAQs
---
Q. How do you set goals and priorities?
The best way to set goals is to follow SMART criteria, because your team can work smoothly if your targets are Specific, Measurable, Achievable, Realistic, and Time-Bound. As far as priorities are concerned, you can set them by simply having a word with clients regarding expectations.
Q. How do you handle multiple tasks?
Handle multiple tasks without breaking a sweat by following these methods:
Eat the Frog method

Eisenhower Decision Matrix

ABCDE Method

IVY Method
Q. Why is prioritizing important?
Task prioritization is important for perfect project execution. If your tasks are not prioritized and organized, you are likely to get change requests from clients in the later stages. It will also affect the quality of deliverables and jeopardize deadlines.
Do you want a free Project Management Software?
We have the #1 Online Project Management Software for effective project management.