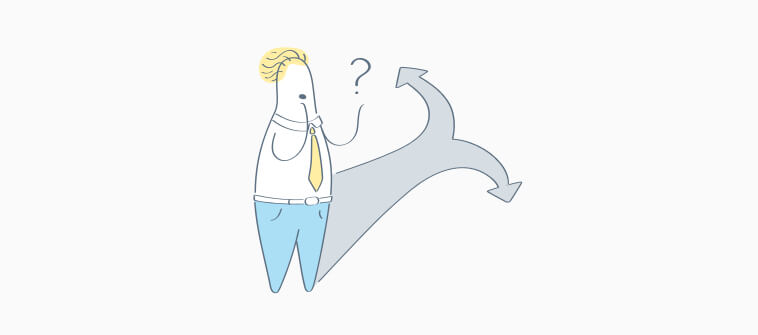 Life is full of surprises. Even if you meticulously account for every penny in your project, risks will present themselves, and you will feel like your project is having the rug pulled out from under it. Unfortunately, none of us have superpowers and we can't predict the future. But with this guide to risk management, we can help you prepare for it.
Risky Business: What is a Risk Management Plan?
A risk management plan is put in place by project managers to reduce risk in the project. The aim is to minimize any negative impacts on your roadmap, project deadlines, and budgets. This can come in the form of any unplanned event that can affect any area of the project, from the team to technology.
According to a 2015 study, only 15% of projects are meeting their deadline, and only 30% are finishing within budget. If you want to beat the statistics, having a risk management plan in place can help you do that.
How to Build a Risk Management Plan
Now you know what a risk management plan is, you're probably thinking "How do I put a risk management plan in place for my project?"
While every project and business will be slightly different there are some simple steps that all businesses can follow when developing a risk management plan:
1. Identifying Your Risks
Gather all the stakeholders in your project. Managing stakeholders is key as statistics from Workamajig show that 29% of projects fail because of poor communication.
Once you have all your stakeholders in one room, use this opportunity to communicate where risks may occur in the project openly. You can use previous business reports, project documents, or send out a questionnaire to your employees to help you with this process. Apart from talking with your team, you might also consider surveying external stakeholders (such as customers) to get valuable feedback.
Every person on the project will have a different perspective of where risks may occur due to their role and responsibility. Using all the stakeholders helps to make sure all bases are covered and manage expectations.
2. Analyzing Risk
Every project will have risks, and often, they creep up on you. You need to be vigilant throughout your project, so you are ready for any risks when they occur.
Establish the time and money value that each risk may cause your project. Analyze your identified risks and the impact they will have on your project.
3. Identifying Triggers
As a team or in groups identify the warning signs for each risk you have. Think of three triggers for each risk and document them. When you are aware of the triggers in the first place, you can come up with ways to nib the problem in the bud.
4. Finding Resolutions
Start thinking about preventative measures to put in place that will help stop your risks from arising. These measures can both – actions to be taken in the events during risk management and ways to improve or enhance your project so that risks are less likely to be encountered.
For example, to ensure optimum team communication throughout the project, you can think about including team collaboration software within the business.
5. Develop a Resolution Action Plan
To use the collective ideas of the team, you will need to come up with a plan of action. You will have to establish what your risk resolution will be. More serious risks will have to be resolved or dealt with quickly and efficiently. Risks with lower impacts, you may simply be able to monitor without having an action plan in place.
6. Accountability
The final thought in your risk management plan should be to assign each risk to an owner. Teams or team leaders will take on responsibility for their own risks and be asked to carry out risk resolution.
The goal of your risk management plan should be to help you identify and monitor risks while being proactive in prevention. Having clear steps and open communication in your team is essential. If your team is not all available to sit down in one location at the same time, you can use video conferencing software to keep everyone present and in the loop.
Setting up a risk management plan also gives your team the opportunity to make suggestions to improve a project. For example, by adding productivity tools that can be vital in keeping a project running smoothly, project scope can be drastically improved.
At the end of the day, as a project manager, you are there to give the team the resources and instructions they need to keep the project on time and in the budget. By setting up a risk management plan, you can bring your whole team together so they have a better understanding of the entire job scope, along with their individual role. Having a plan in place will help you beat the statistics and ensure a successful project, with 92% of CEOs agreeing that understanding project risk is important or critical to long-term success.
Risk Management Plan Templates You Can Use to Get Started
If you are a project manager who has not developed a risk management plan before, the above can seem a little overwhelming. Not to worry though, there are a bunch of handy templates out there to help get you started. Here are some of our favorites: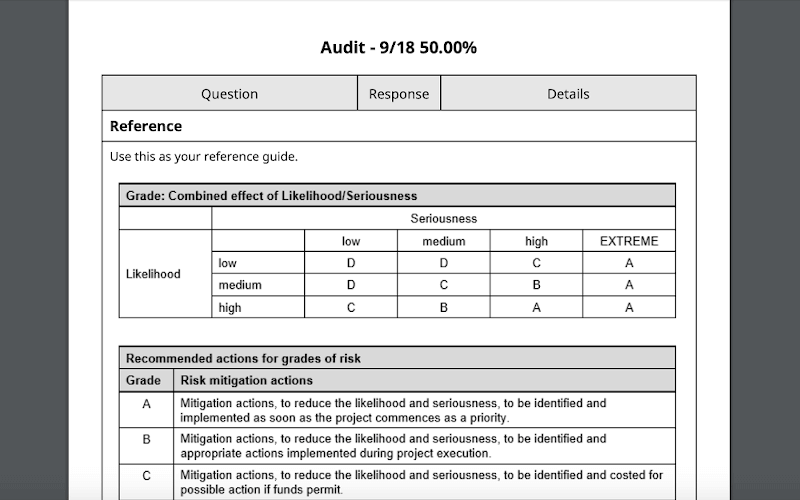 This template helps you to identify, control and monitor risks. It is customizable for your business needs.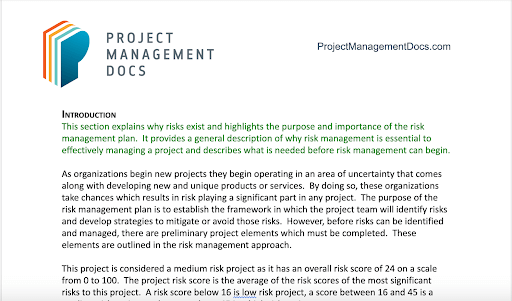 This in-depth template is mostly text. While visuals are great, they are not for everyone. If you prefer the written word, this template is for you. It gives clear instructions on how to fill out each section, with examples, and can easily be used for all kinds of businesses. It also allows you to quickly and easily switch out their branding and logo with your own.
Risk Management Template – SmartSheet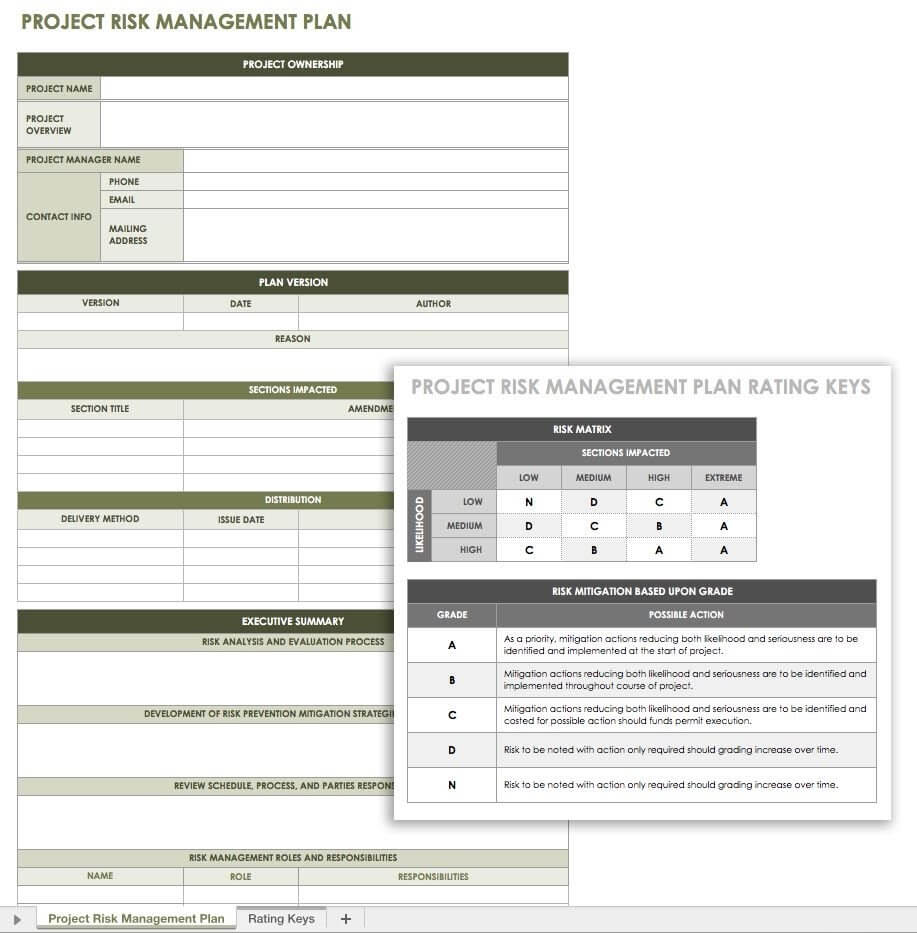 If you are a spreadsheet kind of person this is the template for you. Not everyone likes working in a Word Doc, and sometimes using a spreadsheet can be the most effective way to present information. If you are adding numerical information and doing calculations, using a spreadsheet can speed up your process. You can add and remove sections and make it compatible with your business and project.
Risk Management Template – Australian Government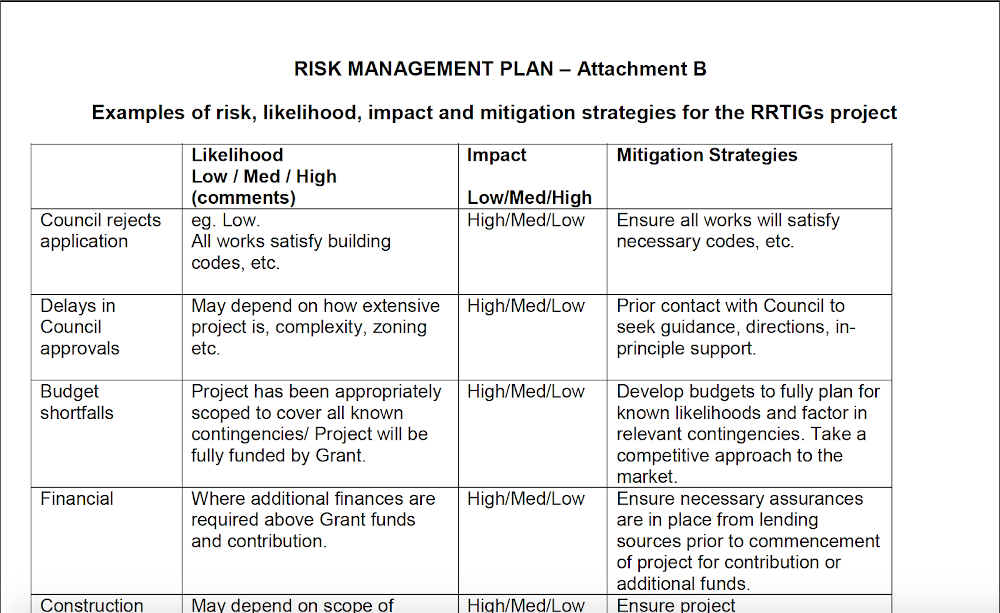 The Australian Government has an excellent risk management template. It is very simple to use, dividing risks into likelihood, impact, and mitigation. It is simple to follow and you can easily find the information you are looking for due to the table structure. You can add color coding for creating impacts such as green for low and red for high.
You can add as many rows as you would like for all the risks your project has. There is also a more indepth table on the following page where you can add extra details about each risk, its source, and your treatment strategies.
Templates are a great place to start with setting up a risk management plan. You can quickly understand what information you need to gather and use collaborative documents to share knowledge with your team.
Final Thoughts
Effective risk management plans can help keep you within budget, get your teams working more efficiently, and improve accountability within your projects. As a project manager, it is your job to put out the fires.
However, you need help with this, or preferably, you need to help put in place preventative procedures, so the fires don't start at all.
Anticipating risk and having a plan in place will allow your team to work more effectively and remain flexible. Your life will become a lot easier as when problems arise (which they inevitably will), you will already have a solution in place to tackle them.
Do you want a free Project Management Software?
We have the #1 Online Quiz Maker Software for effective project management