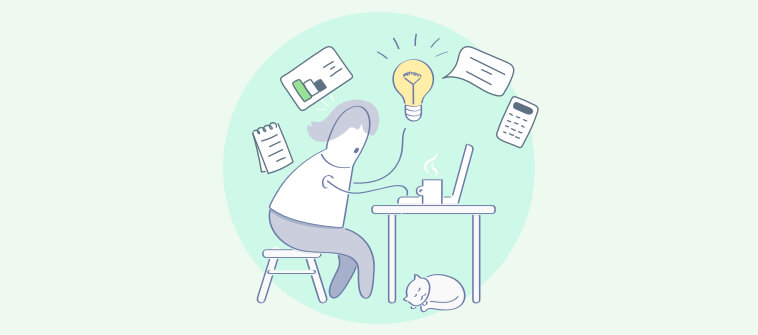 Employees have always been the lifeblood of businesses, as they unlock the door of success by combining their dedication with multitasking skills. This is the main reason why companies, especially global ones, strive to maintain healthy relationships with their top-performing employees.
Can you guess the major factor that keeps employees connected with brands, besides a good salary package?
Seeking some sort of hint? OK, here are four options to choose from:
Friendly work policies
Incentives
Annual trip at some exotic location
Quarterly parties
Still, thinking? You gotta be kidding me, as the first option is the right answer!
Employees can compromise with the last three options, but not with the first one. The reason being is friendly to work policies set employees' minds at ease and encourage them (indirectly) to stick around.
Out of hundreds of policies, employees love WFH (work from home). However, only some companies allow it, while others refrain from remote work due to productivity-related concerns.
According to combined reports by Buffer and AngelList, 3,500 remote tech workers have stated that WFH brings many benefits like flexibility related to work schedule, no commutation, etc.
Since the outbreak of COVID-19, companies have no other choice than letting all employees work remotely. How has this move impacted the productivity of organizations? Earlier, business growth dropped due to 100% remote work, but companies have arrested the fall at the right time by exploiting unrivaled project management software like ProProfs Project. Features that help to maintain the progress of business projects are:
24/7 accessible reports to check team performance
Gantt charts to analyze the progress of business projects
Time tracking to keep a record of productive and non-productive hours
Automated invoicing for error-free client billing
Now, you know how companies are maintaining their productivity. So, let's discuss how employees can keep their credibility intact by following below-given work from home tips:
First thing first, dedicate a space at home, which takes you to work from home. It might not be welcoming for you, but it brings with it a significant boost in the mindset and productivity while keeping you away from the distractions at home.
Television is the best example in this context. I am telling you this from my personal experience, as it was taking me hours to complete small tasks. After scratching my head for one or two days, I realized that I wasn't doing justice with my job due to distractions. As a result, I set up a small workstation for a quick turnaround, and now I am pretty much on track with my goals.
#2 Embrace Technological Tools
Technology has revolutionized the way of living, as we can work in tandem with those colleagues that are at the other end of the world.
At times of pandemics like COVID-19, work from home is the only option employers and employees are left with. Thereby, considering technological/productivity tools as a helping hand has become the need of the hour. Here are some ideas you can take into account:
1. Use project management software
Both employers and employees need project management software more than ever. It keeps challenges of remote work at bay. Features like task comments, email notifications, file sharing, Gantt charts, etc. So, yes, use it to maintain/uplift your productivity
2. Video conferencing
Communication errors have always been considered as the major drawback of remote work. However, this demerit is fading off, thanks to the emergence of powerful communication tools. Google Meet and Zoom are one of those video conferencing tools that let both employers and employees collaborate.
3. Collaborate on documents
For businesses, maintaining records is extremely important, as your client can ask you for any specific document. Due to the pandemic of COVID-19, work from home is the last but the safest option for us. So, to maintain productivity, remote workers have to collaborate on documents at times. Hence, use Google Docs and avoid work-related complications.
4. Timers
Keeping a close eye on the clock is fundamental, especially when you are home quarantined. That's why businesses across the globe have invested a good chunk of money in time management applications.
For instance, ProProfs invested in DeskTime to empower its employees with a time management tool and measure their productivity.
Tip: Use Google calendar to set reminders, alerts, and events.
Read more: Time Management Tips for Productive Work From Home
#3 Add Short Breaks to Your Routine
Working straight 9 hours is grueling, primarily when you work remotely. It is so because we all take short breaks at the office, except for a lunch break, to release the work pressure, right?
So, add short breaks to your routine and inform about the same to echelons. Here are a few suggestions to use break time effectively:
Indulge in light stretching to avoid back pain and neck strain issues
Share a few jokes, even silly ones with your family members, to share laughs in these testing times.
Enjoy a cup of tea or coffee
Watch the news or repeat telecast of your favorite Tv show (only during the lunch break of 1 hour)
Piece of Advice: Do some exercise or yoga before starting your day, as it is the key to getting endorphins (happy hormones) released. A good start will keep you going throughout the day.
Recommended Read: 10 Tips For Time Management to Enhance Productivity
#4 Stay Disciplined
Millions of employees are working from home due to the COVID-19 epidemic, but only a few of them are making a difference for their employers. The reason being is wage-earners not habitual to remote work isn't maintaining discipline as much as they do in the office.
Starting work late, taking unscheduled breaks for a long duration, etc. are a few activities that put you into the category of 'Less productive.' Besides, you will continue to struggle when things get back to normal.
Regardless of where you are working from, discipline is the key to retain work-life balance. In case you are interested to know more about work-life balance, do check out episode 14 of the Goal Talk Podcast.
Take a shower and get dressed. Treat it like a real job.
— Barbara Larson, a professor at Boston's Northeastern University, on remote work.
It may sound non-relatable, but your attire plays a significant role in overall productivity. It changes your way of perceiving things psychologically. If you are in the right outfit, your mood and attitude will automatically swing towards work. All in all, maintain the same dignity you keep in the office if you want to work remotely in an effective manner.
#5 Keep Children in Your Work Plan
Everybody loves to be with their family, but dedicating enough time to professional life is also instrumental for significant growth. Focussing on work is extremely tough when growing kids are around you.
They surely try to involve you by playing or doing some cute activities, and it's a matter of time when you fall prey to them. That's where your productivity is compromised.
The best way to stick to your work without upsetting your kids is to involve them in your work plan. For instance, if you are taking a lunch break from 1 p.m. to 2 p.m., handle your children at that time. And let your better half handle kids for another 1 hour. That's how you can control them for 2 hours.
Involve them in household chores and let them enjoy free play too. You can also spend quality time with them in the evening when you are done with your work.
Apart from this, you can create a timetable for your children, which comprises info on how long they are supposed to watch TV, study, etc. A schedule is a life when you are at 24*7.
Are you ready to up your game during the COVID-19 outbreak?
Of course, if you're trying your hands at WFH for the first time, you may encounter productivity-related issues. But don't let this lower down your morale. Just see the positive side of remote work, and things will automatically come back to normal.
Keep one thing in mind that WFH promises work-life balance, as all it demands is proper discipline from you. It also encourages you to take ownership and boosts your performance to the next level. I agree that working in a home environment could be a challenge, but you can hit desired productivity levels if you follow the mentioned work from home tips.
As we know, circumstances have been awful since the outbreak of COVID-19. Therefore, find ways to keep you and your family entertained, without compromising on your productivity. Stay safe and work hard!
---
FAQs
Q. How do I prepare to work from home?
Well, if it's the first time you are working remotely, preparing yourself mentally is very important. Home conditions pose several distractions, which could hamper your productivity to a large extent. Hence, training yourself psychologically for WFH is instrumental.
Here are some tips:
Establish your workspace
Embrace technological tools
Add short breaks to your routine.
Stay disciplined
Plan the day for your kids too
Divide the household chores
Q. How to Stay Physically and Mentally Healthy While COVID-19 Has You Stuck at Home
Everybody loves to be at home, but staying 24 hours in one place could be very annoying at the same time. So, to keep yourself physically and mentally fit during COVID-19 pandemic, you should try these methods:
Eat well: Consume healthy foods and provide your body the required nutrition to maintain the glow on your face and stay fit.
Fitness: Hitting the gym isn't an option, so try exercises like pushups, skipping, etc. at your home to maintain your fitness. Besides, you can explore YouTube to learn and try new activities.
Sleep: A good sleep is enough to keep stress and anxiety at bay. So, do your eyes a favor by limiting your time dedicated to online streaming platforms.
Q. How to Manage Work While Doing Work from Home during Covid19
I have already told you how to manage work while doing WFH, haven't I? Never mind, here's a quick overview:
Establish a schedule
Get dressed for work.
Create a comfortable workspace
Don't compromise on your working hours.
Take scheduled breaks
Set boundaries between work and family
Do you want a free Project Management Software?
We have the #1 Online Project Management Software for effective project management.