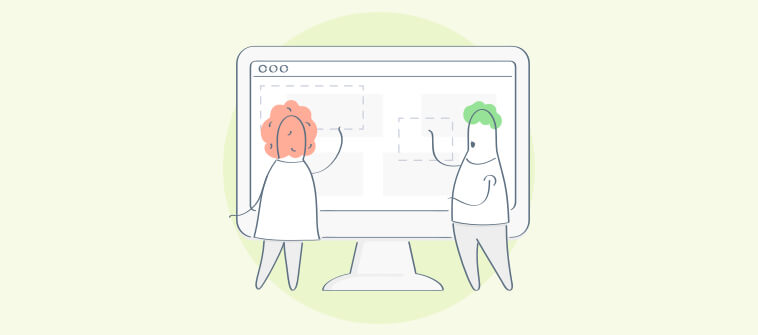 Imagine this:
You take up a new project with a new client.
You set up meetings to understand and plan the project execution strategy.
You adopt project management software to ensure workflow is streamlined and all project deadlines are met.
But, you overlooked a few factors:
The software didn't have a reporting feature, making it difficult to track team productivity and project execution.

The software was a little over budget, so expenses were an issue now.
So, what was the problem?
The project plan can be perfect, the execution can also be perfectly aligned, but without choosing a project management software that is not only best, but suits your company's needs is essential for successful project execution.
Now, we come to the main question at hand – how do you choose the right project management software for your company?
That's exactly what we will talk about in this blog.
Before we dig into the process of selecting project management software that ranks #1, it is essential to know why and what do you need in a PM tool. So, let's take a look!
Selecting Project Management Software That's #1: Why is it Important?
There can be various reasons why selecting project management software that stands out of the crowd is important. Some of the reasons include:
Tracking tasks

and their progress

Making

t

ask delegation

relatively easy and less time consuming

Tracking the latest client updates

Saving time so that teams no longer have to skim through long email chains

Simplification of invoicing
Other than the why, some raise "is it fit for my business?" question. It may sound obvious, but it's an investment after all. And to know which buyer category your business falls into is just the first step. Let's have a look
Individual/Small Business

:

Collaboration

is one of the pivotal aspects responsible for making a project successful, whether you're a remote developer or someone working in a small organization with employee strength up to 50. Also, scheduling various tasks becomes simple.

Medium Enterprises

: In organizations with 100+ employees, one responsibility that tends to consume a lot of time from a project manager's schedule is

task delegation

. Since there are many employees participating in a project's completion, therefore, it is important to integrate the use of an easy project management tool that helps you assign tasks easily.

Corporations/Large Enterprises

: In a corporation, the main task that keeps a project manager on his toes is a resource and budget allocation. Here, a manager needs to make sure that budget estimates to allocations are recorded at every stage of a project. Missing a single entry may cause an organization huge losses.
Once you've recognized the buyer category your organization belongs to, you'll need to understand the "what you seek" aspect next. This also sets criteria for buying project management software.
---
Read More: What is Common Project Management Software Features?
---
Criteria for Choosing the Right Project Management Software
Setting criteria for selecting project management software isn't that hard. It can be understood from what you, as a manager, expect from the software. Let's view some of the many aspects that can help you set up criteria for selecting project management software that rightly suits your organization easily.
✓ Easy Set-Up
It's important from day-1 that the project management tool put to use comes with easy set-up. This helps to save time and motivates the team to get on with their tasks right away.
To gauge this, check its usability. Is it easy to learn? Is there an option to import existing data sets? Look into its compatibility with your hardware and operating system. If you're picking something cloud-based, all the better.
Project management software is supposed to make processes smoother by facilitating data management, communication, and others. While a learning curve is to be expected whenever new tools are incorporated into your team's workflow, it's still important to pick something that has as little friction as possible.
✓ One Dashboard to Rule Them All
Like scattered files in an office, different projects and their details saved in different locations of your computer can look messy. This unorganized pattern tends to surpass the project deadlines. To curb this problem, it is important you look for a tool that helps you view all existing and completed projects on one dashboard.
✓ Project Team Management
Another criteria that organizations need to set before they buy project management software, is to see if it will help them set up and manage project teams. That way, you can monitor their performance and assign tasks accordingly.
✓ Collaboration Is the Norm
It is important that your shortlisted project management tool provides an environment for employees to collaborate better. This not only encourages teamwork but also helps every team to complete tasks before/on time.
Once the criteria are set, it will become easier for you to choose the best project management software. Let's explore some of the key aspects that help you buy project management software hassle-free.
Choosing The Right Project Management Software: 6 Factors to Consider
You need to consider various factors when planning to buy project management software that's the best for your organization. Some of the factors that play a pivotal role when choosing the right project management software for your organization are given below.
1. Software Usability
Another factor that needs your attention is software usability. To check this, you should question the software's fit to your project in various ways.
Can you drag and drop your tasks according to their priority?
Is document storage possible with the software?
Can you provide access to clients and teammates to view a project's progress?
And will the software generate multi-currency invoices?
Looks like a long list of questions, doesn't it? But it's important that you have the answers to these before you invest in project management tools. Software usability should allow you and those using the product with you to drag and drop tasks, document storage, access control, file transfer, and more.
So, when you look into the specs of a project software, make sure that it provides a better usability experience.
2. Cloud-Based Project Management Software
With more than 60% of the businesses integrating the use of the cloud-based solution, you cannot afford to stay behind.
Cloud-based software is known to provide many benefits to its users. Here are some of them:
A cloud-based project management software provides your team a central workspace that can be accessed anytime, anywhere. Collaboration can be performed seamlessly.

Reliable access is what you seek when planning to invest in cloud-based software. No matter where you are – in a meeting with stakeholders, a much-awaited networking event, or relaxing on a Sunday at your home, you can easily gain access to information in minutes. You do not have to wait for Monday to arrive and open your local computers to gain information related to a project.

It's a low-maintenance technology that is easy to use and meets all functional needs. You hardly spend time offline to install the latest updates and understand system requirements.

It's cost-efficient according to 82% of companies that switched to a cloud-based tool to save money.
3. Check out Software Reviews

Want to know the product better? That's simple, just compare reviews online. It has become an effective method to choose the best project management software. But this method is more effective if you decide not to test and try the product yourself. And that's okay.
Going for the trial period can be a time-consuming process and you'll have other work at hand as an urgent requirement. So, it's better to choose project management software reviews as the next right option.
4. Software Security
Always consider the security features of Project software provided during its use. It's okay if you're not sharing sensitive information with your clients and other stakeholders. But it's always good to be safe and invest in a product that provides great security features that help you protect your data easily.
5. Software Pricing Plans
In a project, you're bound by time, quality of work, and money. The same is true when you are planning to buy project management software. You are looking for a tool that you are able to work with within a short span of time and doesn't burn a hole in your pocket. But there are some who after setting a budget tend to exceed it.
In such a situation, it's important to ask the "how" question.
How to select software that's pocket-friendly? It's important that you also compare different pricing plans provided by the companies. This can turn out to be a fruitful plan for start-ups and individual users.
So if you've been facing problems in purchasing a simple project management software that meets your expectations, then the guide above can help you choose one easily.
ProProfs Project offers a "Forever Free" plan. Start your free 15-day free trial today!
6. Consider Your Options
Besides choosing cloud-based software, never skip on making comparisons between the existing options available in the market. This is quite a pivotal factor that, as a buyer, you shouldn't overlook. To compare, it's always better to sign up for no-obligation, free trials. You can easily explore all the features and compare them with others.
Free trials are efficient in helping you understand whether the product meets your expectations or not. If you've missed something, no worries. Add some of your team members to understand what all features can be beneficial to manage all tasks and project management software comparisons better.
Another important thing to look for when choosing a project management software is its features.
It is extremely important for you to check all the features while selecting a suitable project management software to make sure it has all the tools needed to execute your projects efficiently and hassle-free. Let's see a few features you need to have in a PM tool.
Choosing Project Management Tool: Must-Have Features to Look Out For
When it comes to must-have features, it is important to sit back and think:
What exactly do I need to make sure all projects are executed properly and meet the set deadlines?
Well, to make your job easy, we have compiled our own list of key features for you to look out for when choosing the right project management tool:
1. Time Tracking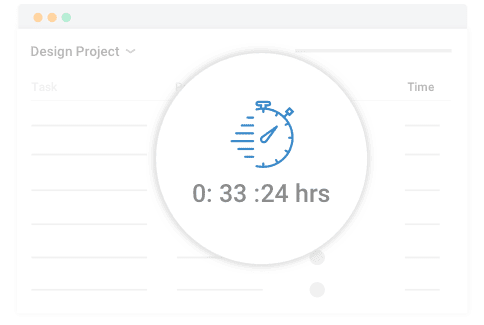 With various teams working on multiple projects, it can become really stressful to keep track of all the deadlines. But, there is a way out.
A project management software that offers the time-tracking feature allows you to:
See who is working on what

Track time spent by each team member on individual tasks

Make sure all deadlines are met
2. Shared Calendar
One of the best ways to keep all team members on the same page is to plan projects as a team. Now, what's better than a shared calendar to do so?
Robust work management technology such as ProProfs Project features a shared calendar that allows you to:
Get an outlook of the current day, make sure teams know what they need to work on

Visualize your milestones with your team, keeping everyone on track

Track individual milestones to make sure deadlines are met

Sync the ProProfs shared calendar with your main calendar tool such as MS-Outlook

Know what is overdue and which tasks need to be prioritized among the rest
3. File Sharing
Proper management of project documents is another really problematic issue that most teams and managers face. They are a hassle, aren't they?
And, without a project management tool, it becomes hectic to manage these files. So, choose a tool that offers a file-sharing feature as it allows you to:
Store all projects files on one platform

Manage individual files easily

Share multiple files with your team members in real-time
4. Team Collaboration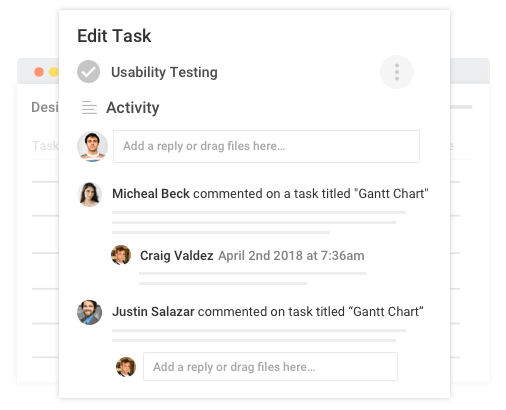 Imagine you start working on a new project. You have created the perfect plan and you have briefed your entire team about how the project needs to be executed. But…
What happens if there is a sudden change in plans?
What if your team member fails to meet the clients' expectations?
How will you oversee project execution efficiently?
Choosing the right project management software tool like ProProfs Project can make it really a breeze to instantly collaborate with your team. Along with file sharing and shared calendar capabilities, the software allows you to:
Give feedback using task comments

Stay in the loop via email notifications

Set alerts for approaching deadlines
5. Report Generation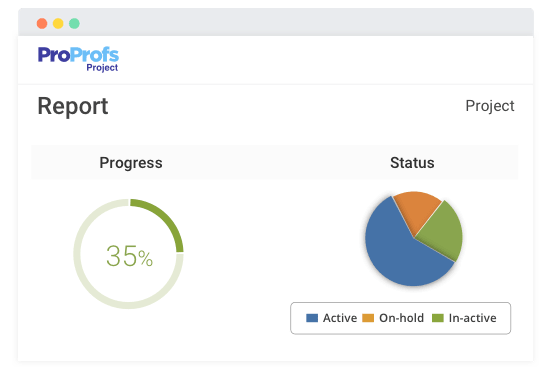 Collating documents and creating detailed reports is another tiresome and time-consuming tasks most managers dread of doing it regularly. So, the ideal way to tackle this issue is by selecting project management software that offers a report generation feature.
Always look for a tool that allows you to:
Chart your work progress using Gantt charts

Monitor work progress with detailed reports

Track task status to plan the next phase of project execution

Share files with clients to keep them in the loop
6. Invoice Generation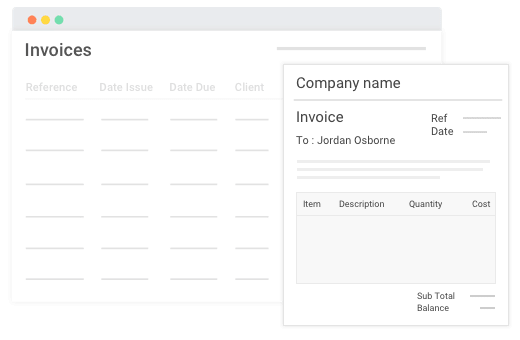 Along with reports, creating accurate invoices without the possibility of mathematical errors is not always the case. It is always possible to have some errors when creating invoices or even forgetting to bill your clients!
The best safeguard against this is to use leading accounting software such as QuickBooks alternatives that support projects and flawless invoicing. There are many QuickBooks alternatives as well that you can choose for the purpose.
The invoicing feature in project management software helps you to:
Create accurate invoices within seconds

Automate the process to timely bill your clients

Collate all financial summaries on the go

Share invoices with clients and team members easily
PM Software Evaluation: Get the Right one Onboard to Streamline Project Execution!
Choosing the right PM software that offers all the needed features to manage not only your projects, but also your teams, resources, clients, and files all on one platform helps in:
Meeting project deadlines effortlessly

Improving team performance

Monitoring work progress efficiently

Streamlining project execution
…So, get the right project management software onboard and make sure you choose a tool that offers all the features mentioned in this chapter of our PM Guide.
---
Summary Questions:
Now that you have a little idea about project management software, let us cover a few basic questions asked about PM software:
Q1. What is the software used for project management?
Project management software is a tool used in project management for efficient project planning, initiation, execution, and closing. It also takes care of stakeholder management, resource management, and invoices.
Q2. What are the key advantages of using project management software?
The key advantages of project management software include instant collaboration, task management, stakeholder management, project management, team performance monitoring, billing clients easily, etc.
Q3. How do I choose project management software?
Choosing the right project management software can be tricky. You can choose the right project management software for your organization by identifying your organizational issues, what you need in software, defining your deployment budget, and then doing the research needed to make an informed decision.
---
Do you want a free Project Management Software?
We have the #1 Online Project Management Software for effective project management.