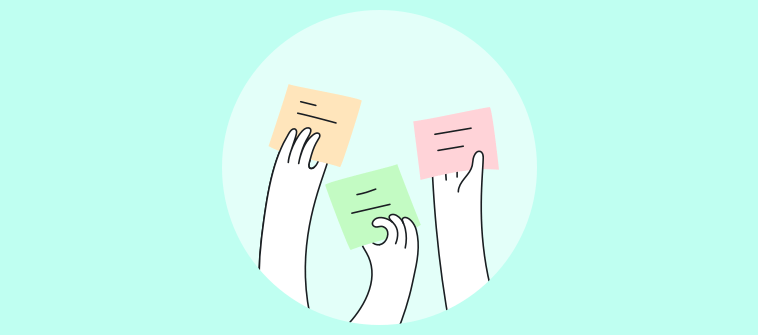 An enterprise comes with its unique set of challenges. The bigger the enterprise, the bigger are the challenges. As a project manager, if you have ever found yourself at the crossroads of either delivering quality projects while surpassing the deadline or delivering average quality within the defined deadline, then you're not alone. This is one of the many common enterprise project management problems.
Other common enterprise management problems include complex project workflows, team miscommunication, and conflicting priorities. Most often, you will find yourself trying to fit a square peg in a round hole. When managing projects for large-scale businesses, such problems become part and parcel of your everyday work life.
To ease your workflow, you must have a well-laid project management plan in place to approach every challenge confidently. But, what's even more important is a powerful tool that can drive your efforts in the right direction and help you accomplish the desired goals.
But, getting the right tool that fits your business is not as easy as it looks. It requires intensive research, analysis, and comparison at various levels to choose the project management software that meets your unique project requirements.
Here we will look at the 15 best enterprise project management software that enable successful project deliveries.
Let's dive in.
What is an Enterprise Project Management Tool?
An enterprise project management tool helps streamline the workflows of multiple projects involving large teams. It enables project management at a company-wide scale, leading to greater coordination and better communication across departments. The tool helps in planning, managing, and executing a portfolio of projects while keeping all team members on the same page with the progress and developments.
Do You Need Enterprise Project Management Tools?
Did you know that project management challenges cost businesses $109 million for every $1 billion invested in a project?
Let's admit it. Project management for enterprises is not a walk in the park.
Regardless of how much time and effort you put into project management, things won't work out as planned if you don't have a solid tool in place.
Investing in an enterprise project management tool is the first step in the right direction.
If you see these telltale signs, consider getting yourself a project management tool right away.
Lack of process visibility
Unrealistic project objectives
Inaccurate resource allocation
Inconsistency in processes
Frequently missed deadlines
Team miscommunication
Must-Have Features of Enterprise Management Systems
Let's take a look at some key features that your tool must have for sure-shot success at enterprise level project management.
1. Portfolio Management
Portfolio management refers to managing projects, processes, and resources to accomplish pre-defined strategic objectives. It helps enterprises in getting a broader perspective of the project scope and its return on investment. For identifying and analyzing the path along with the loopholes of a project's life cycle, implementing project portfolio management through a good tool is the way to go.
2. Resource Management
A resource may be tangible or intangible such as manpower, facilities, equipment, and time. These are prerequisites for completing a project and demand the best allocation techniques for their optimized utilization. A tool should enable smooth resource planning, scheduling, and monitoring of resources for successful and timely project delivery.
3. Time tracking
The best enterprise project management tool provides a framework for solid time tracking. It helps you track and measure individual productivity. Such a tool offers an intuitive dashboard that provides insight into which employee is working on which task at any given time in just a glance. Always keep an eye on whether your projects are progressing as per the set timeline and get more done hassle-free with effective time tracking.
4. Budget Management
Budget management involves effectively managing the money involved in delivering a project. An ideal project management tool helps oversee that projects do not go over budget by displaying real time analytics of a project's budgetary needs and expenses incurred. It allows you to track project budgeting at every phase of the project and take action in case of a budget overrun.
5. Insightful Reports
A tool, equipped with reporting abilities ensures that you have easy access to the overall project information at your fingertips. To get actionable insights into employee productivity, team workload, and project progress, you need a built-in reporting mechanism that offers a quick overview of the project as and when you need it – weekly, monthly, or yearly. This enables you to track project performance in real-time, proactively compare the desired and the actual results, and consequently, take corrective actions.
6. Collaborative Features
Ideally, an enterprise project management tool has features that foster collaboration within teams and departments. These include seamless file sharing, feedback sharing, and messaging ability. Such tools have interactive dashboards that further enhance communication by offering a single place for coordinating all projects and tasks. This leads to faster project execution and, ultimately, successful project delivery.
7. Project Planning and Scheduling
When handling multiple enterprise-level projects, you are bound to face challenges such as task management and delayed deadlines. This is exactly where project planning and scheduling comes into play. Planning and scheduling a project ensures that everyone in the organization is aware of scheduled tasks and projected deadlines. Thus, an accurately defined project plan and schedule help team members stay on track and execute projects successfully within the project timeline.
Criteria: How To Choose The Right Enterprise Project Management Software
Selecting a good tool involves considering a few things that ensure that you go ahead with only the best tool for your enterprise.
1. Feature-Rich
An ideal tool has solid project management features such as project visualization, automatic reminders, and insightful reports. Ensure that the tool has all these features and more to enable smooth workflow across teams and departments. This will help you deliver projects successfully and on time.
2. Honest & Recent User Reviews
Select a tool based on genuine user reviews. Try to ensure that the person publishing the review offers an honest review of the tool. Also, look out for reviews that have been published recently, preferably in the last two years. Such reviews build trust and reliability for the tool in question.
3. Listed on Top SaaS Websites
Research well about the tool that you wish to go ahead with for your enterprise project management. Discover more about its capabilities on top SaaS-based review sites. Being renowned for their genuine reviews and recommendations, such sites bring authenticity to the tool's competency in enabling multiple smooth-flowing projects in the enterprise.
4. High Ratings
Select a tool with consistently high ratings across SaaS websites. A good enterprise project management tool boasts of high ratings in ease of use, automation capabilities, and mobile-friendly functionality among others. These ratings are given by previous or current users of the tool.
5. Reasonably Priced
Apart from having advanced features and enabling the best project management in an enterprise, a tool should be easy on the pocket. An overpriced tool will eventually start digging your pockets and end up being abandoned in the long term. So, look for a tool that is affordable and fits your budget.
6. Trial Version
Deploying a tool can be a daunting task if it does not complement your project workflow and scope. As a best practice, get a hands-on experience of a tool yourself before you go ahead and onboard it across teams. Here, a tool's trial version comes in handy, ensuring informed decision-making while selecting a tool.
Read More: 14 Best Product Roadmap Software to Streamline Project Management
List of Best Enterprise Management Tools
The top enterprise project management tools help you keep your finger on the pulse of your projects. While there are a plethora of such tools that promise excellent performance, picking one out of so many can be extremely challenging. That's why we've curated this list of the top 15 enterprise management tools to help you make a practical decision.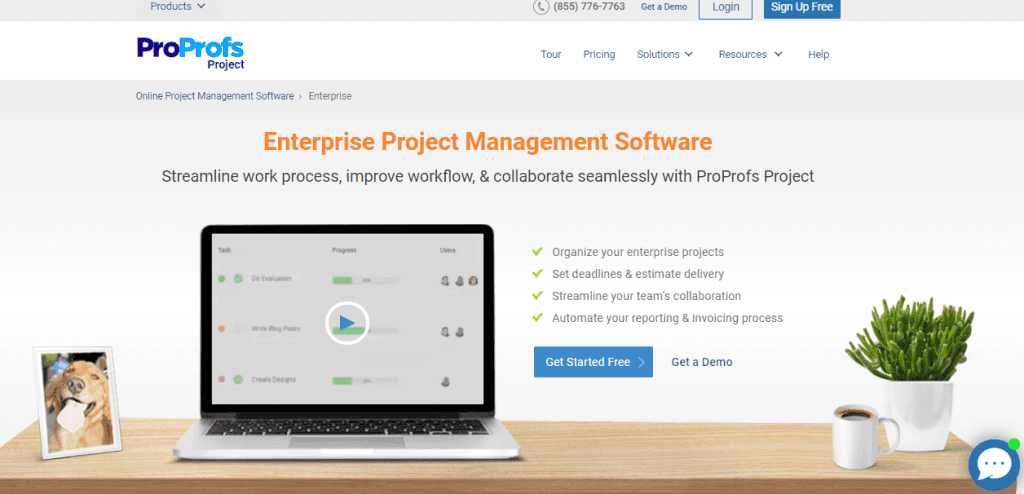 ProProfs Project is an all-in-one enterprise project management tool. It helps streamline project management and increases collaboration among team members for faster project delivery. A user-friendly tool with a short learning curve, ProProfs Project offers a single dashboard to monitor projects and tasks, automate workflows, and track progress. You can create tasks, assign resources and define deadlines for multiple projects within minutes without changing screens. Regardless of how many and how large your projects are, this tool has the potential to accomodate all project activities and give you a 360° view of where your project is heading.
Features:
Task comments for instant feedback
Automated invoice generation
On the go file sharing
Real time alerts and notifications
Time tracking capabilities
Insightful reports to monitor project performance
Pricing:
Starts at $39.97/month.
What we liked: Excellent task and project management capabilities.
What could be better: Integrations can be better.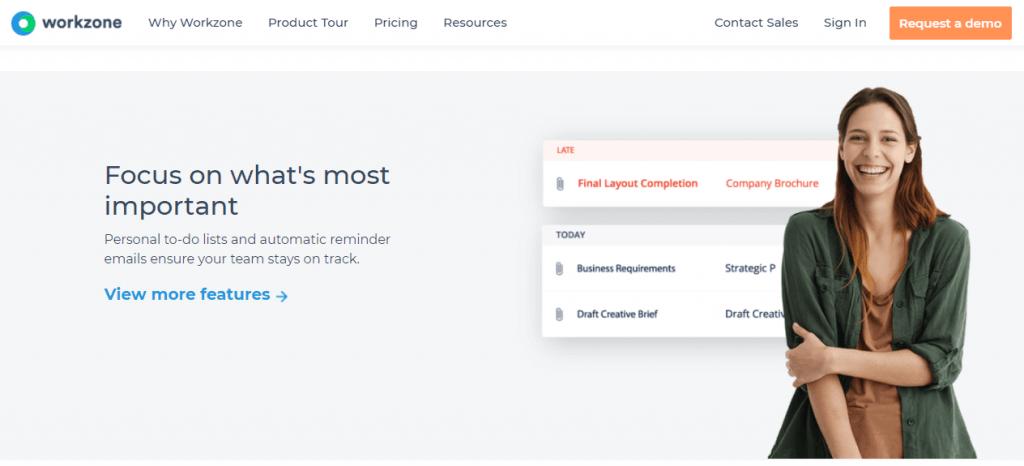 Workzone has a simple and intuitive layout. It helps teams collaborate seamlessly for task and project completion. You can measure team productivity with Gantt charts and ensure that projects get delivered on time. The tool's easy and endless customization capabilities help make personalized workflows for a specific team or project. This enables a smooth-flowing project that complements the pace of all team members.
Features:
Flexible permissions
Personal to-do lists
Automatic task reminders
Project templates
Advanced reporting capabilities
Pricing:
Team – $24/user/month
Professional – $34/user/month
Enterprise – $43/user/month
What we liked: Gives multiple project overviews in a glimpse.
What could be better: Mobile version.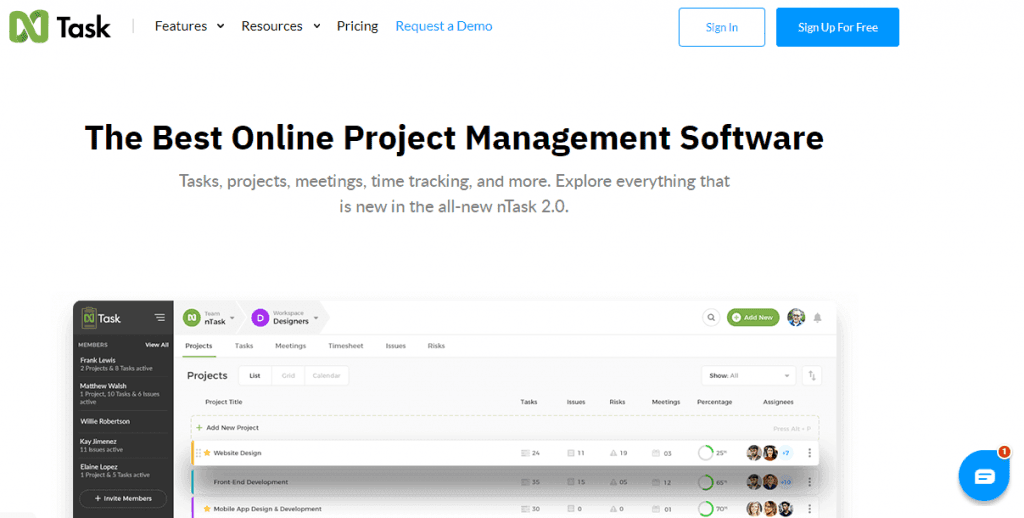 nTask offers a comprehensive project management solution for enterprises. It brings together team members to effectively manage and deliver projects on time. The tool has solid task management capabilities that enable you and your team to work smarter and faster. You can create tasks and allocate resources efficiently. Also, the tool helps all team members stay on the same page with task dependencies and project due dates.
Features:
Custom roles and permissions
Custom tool onboarding
Access to dedicated account manager
Dedicated cloud access
Effective risk management
Pricing:
Basic – $0
Premium – $3.99/user/month
Business – $11.99/user/month
Enterprise – Available on Request
What we liked: Exceptional task management capabilities.
What could be better: Document sharing.
Read More: 11 Best Product Management Software in 2022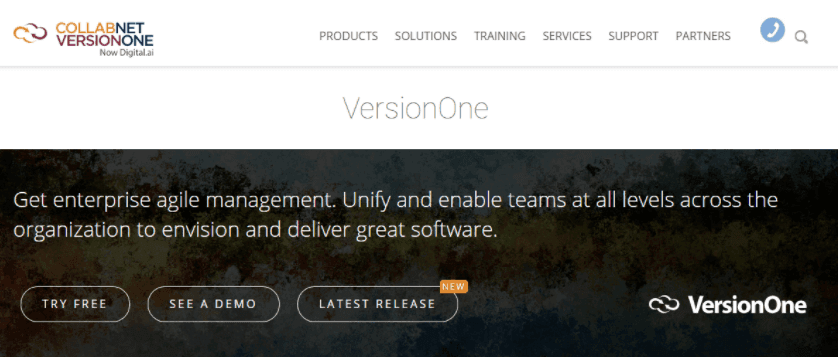 VersionOne is one of the easiest enterprise project management tools to work with. It helps manage agile projects with its powerful application lifecycle management ability. This allows stakeholders to stay on the same page as the team members and effectively track projects and tasks across the enterprise. Team collaboration is a walk in the park with VersionOne's project visualization and workflow reporting capabilities.
Features:
Integrated DevOps
Kanban board project visualization
Simple and intuitive dashboards
Access to timesheets
Drag and drop functionality
Pricing:
Team – $0
Enterprise – $29/user/month
Ultimate – $39/user/month
Catalyst – $175/user/month (20 user pack)
What we liked: Its customizable dashboards are a relief for managing large-scale projects.
What could be better: Customer service.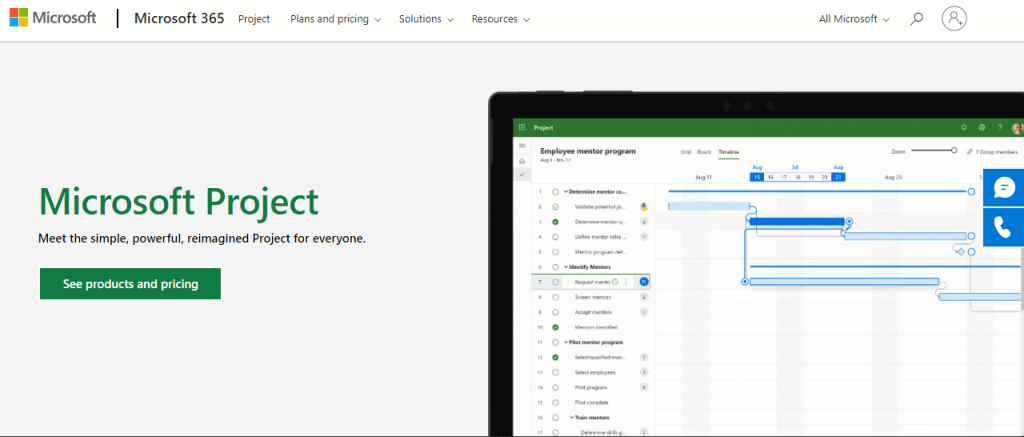 A simple yet powerful tool, Microsoft Project is an excellent tool for enterprise project management. Its scheduling capabilities help you add tasks, allocate resources, and set deadlines in no time. Also, you can prioritize tasks so that important and urgent ones do not get lost amid a plethora of everyday enterprise tasks. Gain insight into your organization's processes with the tool's interactive roadmap that conveys which tasks are overdue or on track.
Features:
User-friendly interface
Greater transparency into project status
Better collaboration across departments
Resource management
Portfolio optimization
Pricing:
Project Plan 1 – $9.63
Project Plan 3 – $28.89
Project Plan 5 – $52.97
What we liked: The tool enables effortless collaboration.
What could be better: Learning curve.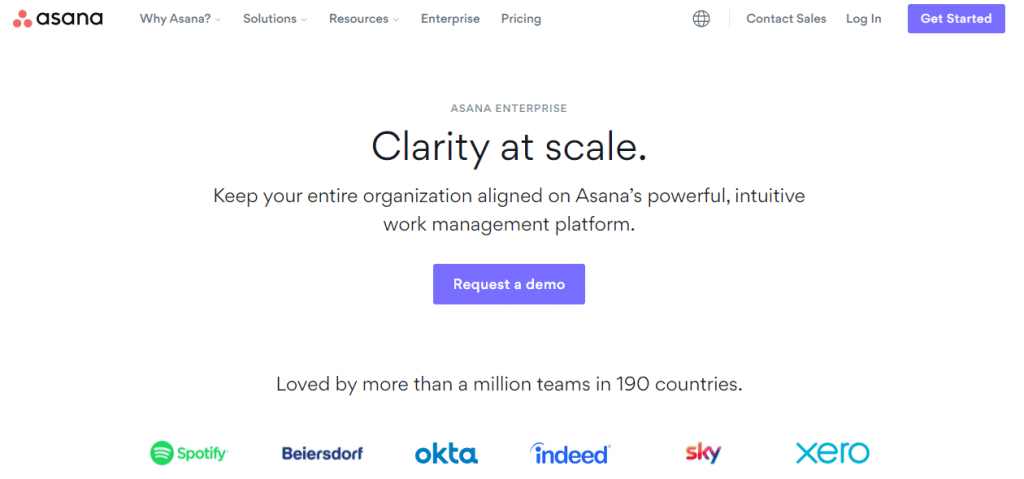 Asana, an enterprise work management software, offers 360° visibility into projects, tasks, and resources of an enterprise. It lets you have more control over everyday processes while enabling team collaboration at the same time. You can create hundreds of tasks, allocate resources and define deadlines in just a few clicks. Also, you can give instant feedback to team members in task comments. The tool's milestone tracking feature ensures that your teams are always on track with expected project timelines.
Features:
Unlimited dashboards
Simple and intuitive dashboards
Personalized customer support
Time tracking
Safe and secure platform
Pricing:
Basic – $0
Premium – $13.49/user/month
Business – $30.49/user/month
What we liked: The tool has a short learning curve, making it easy-to-use across the organization.
What could be better: Third-party integrations.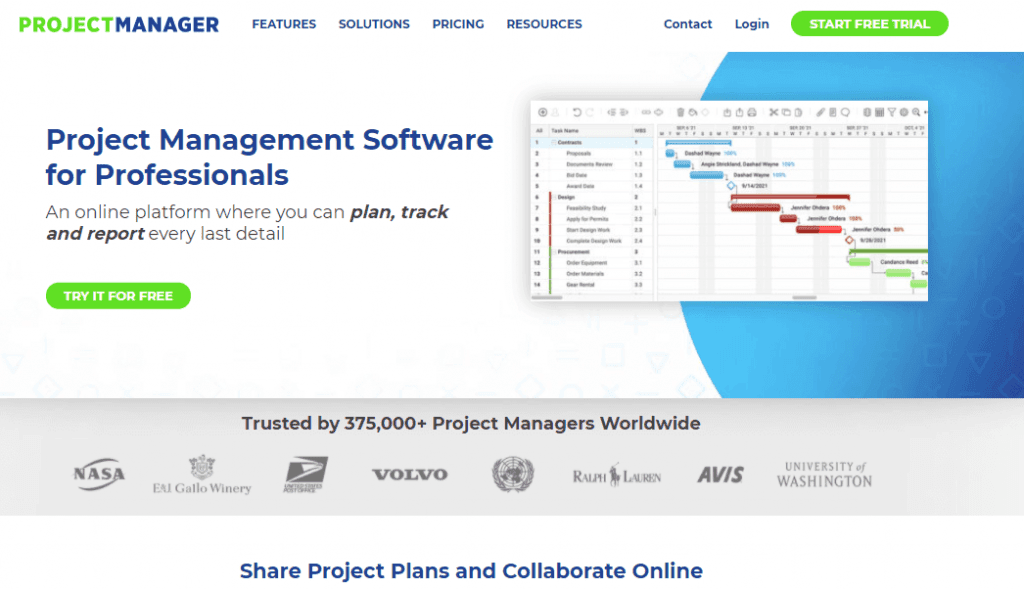 Monitor resources and track project status in a single view with ProjectManager, an enterprise solution software. The tool lets you collaborate with team members across the organization and streamline project activities. It enables the smooth workflow of numerous tasks and projects simultaneously. Leverage this enterprise project management system to organize everything on a single dashboard and keep a constant check on how your projects are progressing.
Features:
Advanced integrations
File sharing ability
Priority support
Multiple project views
Portfolio status reports
Pricing:
Starter – $0
Team – $14/user/month
Business – $25/user/month
Enterprise – Available on request
What we liked: Effortless task creation and scheduling ability.
What could be better: Templates.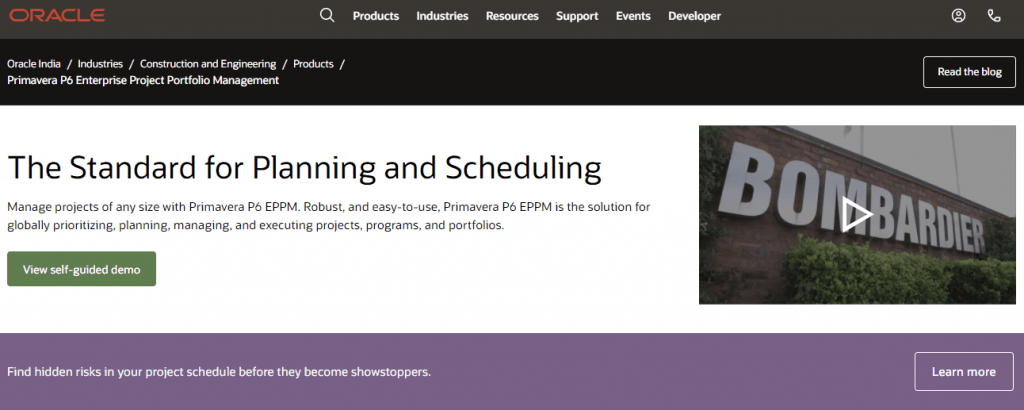 If you want to get an overview of everyday project tasks, Primavera might work well for you. The tool has a short learning curve and lets you improve collaboration across teams and departments. One of its best features is that it offers resource forecasting and resource optimization for your projects. This prevents under-utilization or overallocation of resources, directing team efforts where it is required at any given point of time. Also, you can avoid schedule overruns with Primavera's scheduling capabilities.
Features:
Easy-to-use
Portfolio management
Resource management
Enhanced visibility into project status
Real time project status updates
Pricing:
Primavera P6 Professional
P6 Professional – $3904/user
P6 Enterprise – $4270/user
Progress Reporter – $1464/user
Primavera P6 Enterprise
P6 Professional – $3904/user
P6 Enterprise (P6 web app + P6 Professional) – $4270/user
Progress Reporter – $1464/user
What we liked: Its resource allocation ability is excellent.
What could be better: Integrations with third party applications.
Read More: 14 Best Resource Management Software & Tools Of 2022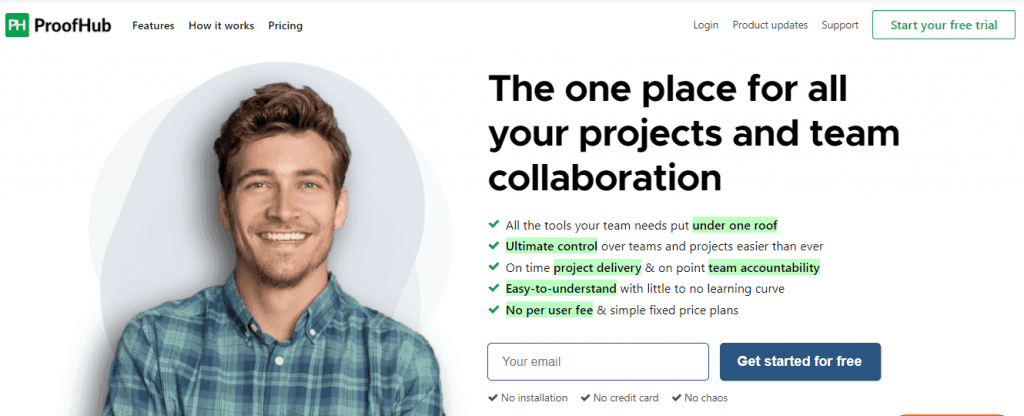 Proofhub lets you keep your entire organization on the same page with multiple projects' status. The tool offers excellent collaborative features that enable a smooth transition from one project to the next without compromising the quality of even the smallest task. With custom workflows, you can easily customize each project's workflow as per your team's needs. This enables a free-flowing project with more efficient and motivated team members.
Features:
Insightful project and resource reports
Time tracking
File sharing ability
Group chat and discussions
Ready-to-use project templates
Pricing:
Essential – $50/month
Ultimate Control – $99/month
What we liked: Workload management capabilities.
What could be better: The tool's interface.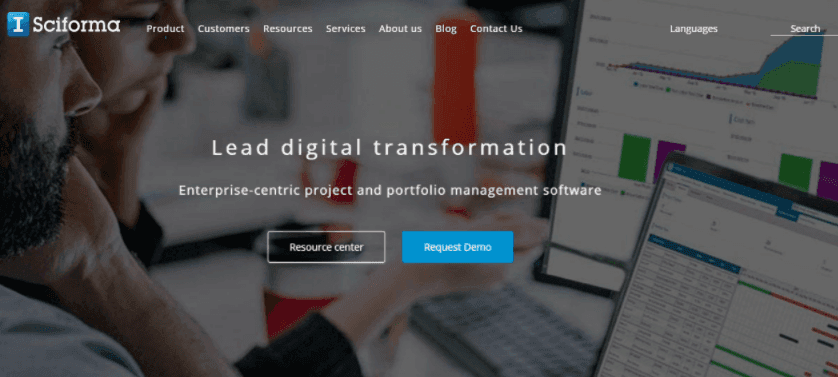 Sciforma is a centralized platform that enables enterprise-centric productivity. It connects team members from across the organization so they can work together to achieve a common business goal. With its work breakdown structure, you can easily assign tasks, allocate resources and define deadlines to accelerate the project delivery process. Also, the tool brings greater transparency into overall project activities with its robust resource and portfolio management ability.
Features:
Simple and intuitive platform
Resource management
Portfolio management
Analytics that enable informed decision making
Task prioritization
Pricing:
Available on request
What we liked: It has great workload management capabilities.
What could be better: Project overview display.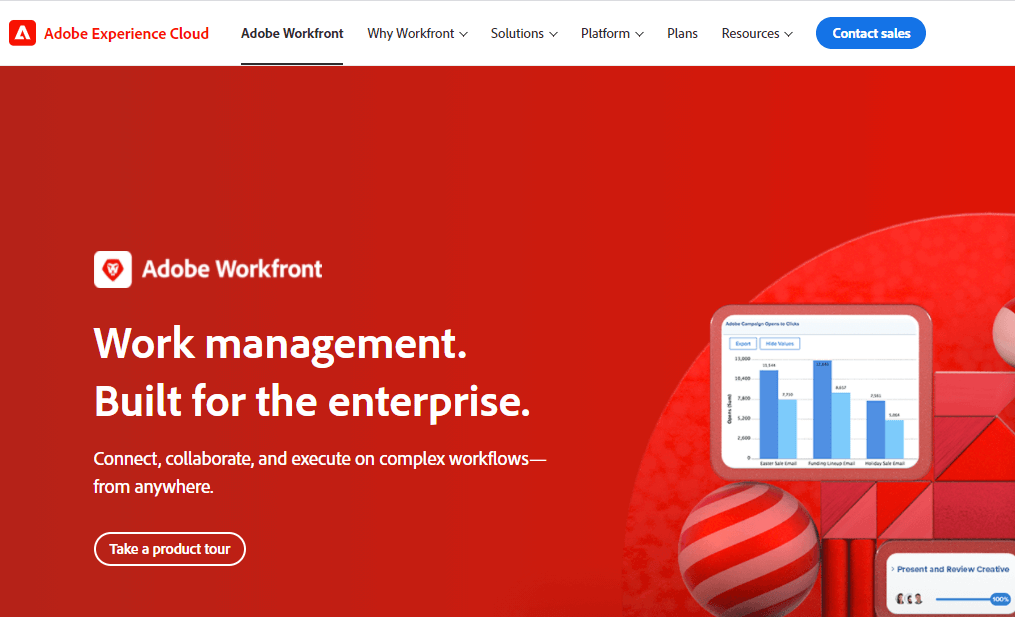 Workfront lets you successfully execute complex projects by adding tasks, assigning resources, defining deadlines, and prioritizing tasks in just a few steps. The tool offers exceptional workflow automation and custom forms that ease managing multiple projects at scale. You can even analyze performance with accurate project status visualizations and intuitive reporting dashboards.
Features:
Resource management capability
Demand management capability
Premium integrations
Intelligent reports and analytics
User-friendly platform
Pricing:
Pro – Available on request
Business – Available on request
Enterprise – Available on request
What we liked: Incredible collaborative features for large team sizes.
What could be better: Dashboard customization.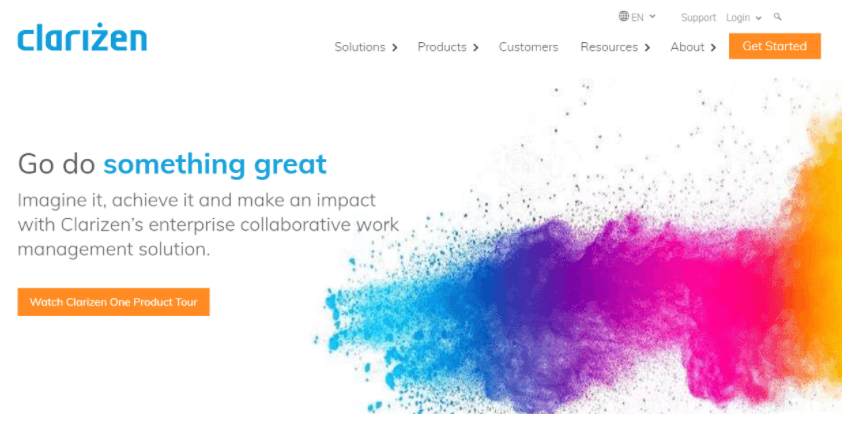 Clarizen is a flexible software that simplifies enterprise project management and lets you manage small and large projects with equal ease. The tool's proactive approach to accomplishing tasks ensures faster project completion. You can plan, strategize and execute multiple projects from its simple and intuitive dashboard. As a project manager, you can work smarter and effectively move projects towards their successful completion with Clarizen.
Features:
Automation capabilities
Real time project progress tracking
Smooth collaboration across teams
Access to custom fields
Insightful project reports
Pricing:
Unlimited edition – Available on request
Enterprise edition – Available on request
What we liked: The tool's customization features are useful for enterprises.
What could be better: Mobile version.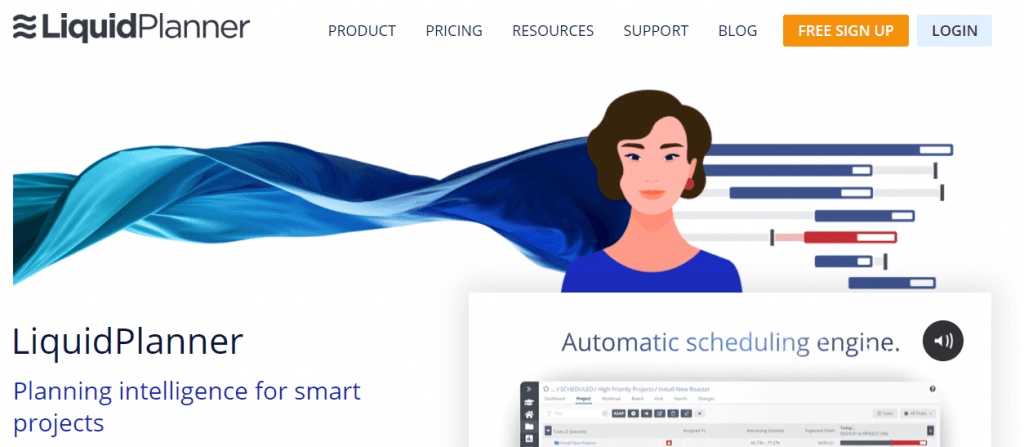 LiquidPlanner is a versatile project management tool that unifies teams across the organization and helps them complete projects successfully. The tool offers excellent collaborative functionality that brings teams together for accomplishing tasks and activities within the defined time frame. Its automatic scheduling capability provides the most accurate forecasting related to multiple projects running simultaneously in the organization.
Features:
Task prioritization
Timesheet views
Integrated time tracking
Easy email integration
Incredible customer support
Pricing:
Free – $0
Essentials – $29/user/month
Professional – $39/user/month
Ultimate – Available On Request
What we liked: the tool's custom filtering ability for easy access to project information.
What could be better: Tool navigation.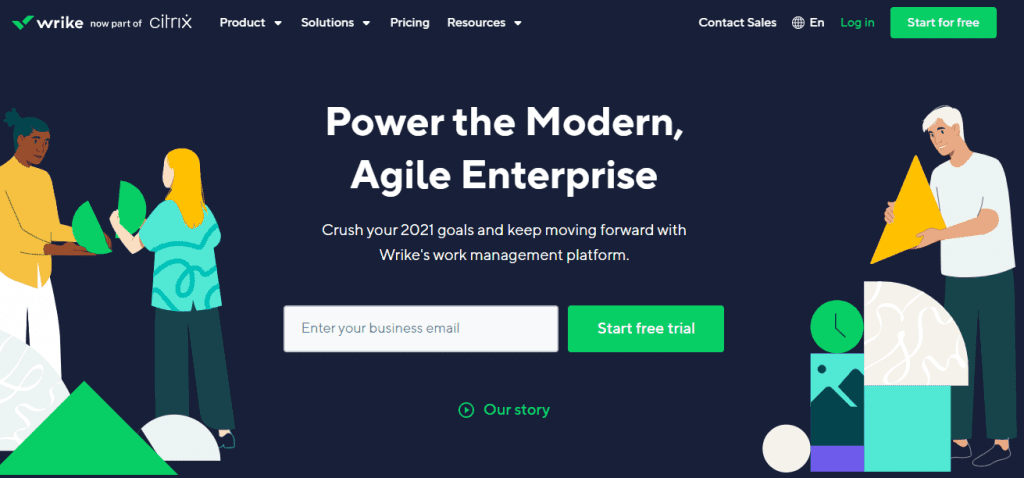 Wrike provides a complete project management solution for enterprises. It helps teams effortlessly meet deadlines with robust task and subtask management. Also, you can utilize its resource management capability for accurate resource allocation. This enables efficient project management and optimum utilization of the available resources. Get your hand on the tool's powerful and interactive dashboard for visualizing projects and staying on track always.
Features:
Custom workflows
Automation capabilities
Gantt chart project visualization
Workload charts
User-friendly interface
Pricing:
Free – $0
Professional – $9.80/user/month
Business – $24.80/user/month
Enterprise – Available on request
What we liked: Effective project progress monitoring.
What could be better: Pre-built templates.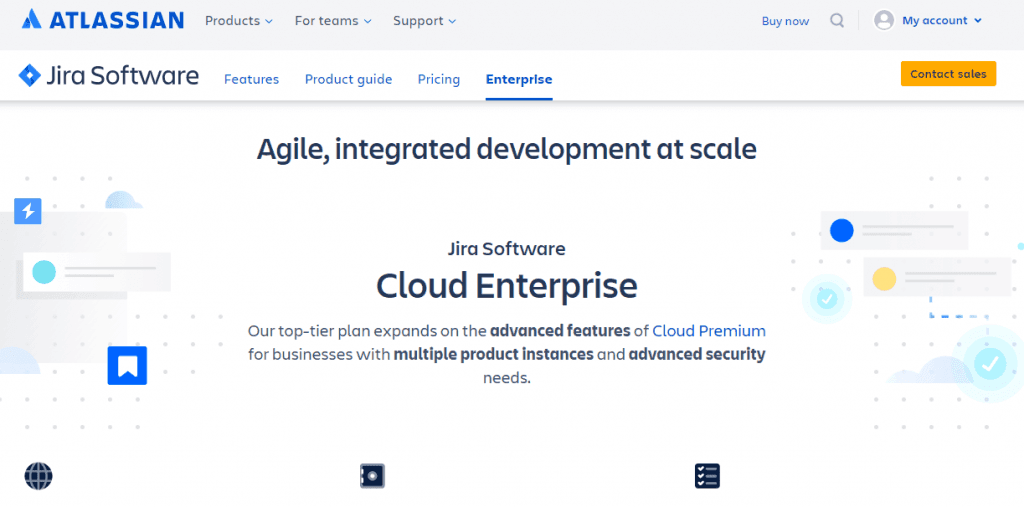 Jira helps you drive your team towards functional scalability effortlessly. The tool's customizable workflows allow you to customize the workflow as per your team's pace and capabilities. Its automation functionality offers easy task creation, resource allocation, and dependency settings, taking unnecessary work off your table. The tool provides seamless change management that helps you adapt to new processes in no time.
Features:
Capacity planning
Great customer service
Enterprise-grade security
Single sign-on
Easy-to-use project management tool
Pricing:
Free – $0
Standard – $7
Premium – $14
Enterprise – Available on request
What we liked: Its change management functionality.
What could be better: Third-party integrations.
Read More: Agile Software Development Life Cycle (Ultimate Guide 2022)
Comparison of Enterprise Management Systems
| Software | Team Collaboration | Workflow Management | Resource Management | Time Tracking | Reporting Capabilities |
| --- | --- | --- | --- | --- | --- |
| ProProfs Project | Y | Y | Y | Y | Y |
| Workzone | Y | Y | Y | Y | Y |
| nTask | Y | Y | Y | Y | Y |
| VersionOne | Y | Y | Y | Y | Y |
| Microsoft Project | Y | Y | Y | Y | Y |
| Asana | Y | Y | Y | Y | Y |
| ProjectManager | Y | Y | Y | Y | Y |
| Primavera | Y | N | Y | Y | Y |
| Proofhub | Y | Y | Y | Y | Y |
| Sciforma | Y | N | Y | Y | Y |
| Workfront | Y | Y | Y | Y | Y |
| Clarizen | Y | Y | Y | Y | Y |
| LiquidPlanner | Y | Y | Y | Y | Y |
| Wrike | Y | Y | Y | Y | Y |
| Jira | Y | Y | Y | Y | Y |
Do you want a free Project Management Software?
We have the #1 Online Project Management Software for effective project management.