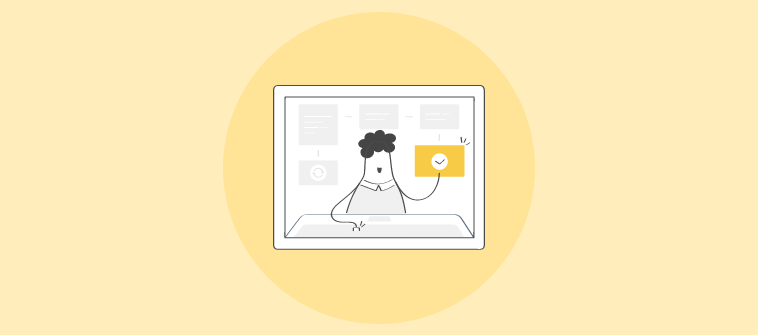 As a project manager, you build actionable plans that have a company-wide impact on project execution and accomplishment.
You are single-handedly responsible for delivering projects in line with expected outcomes. This involves changing existing workflows and molding them to adjust to real-time requirements. Things become even trickier when managing work across cross-functional teams and departments.
Here, a powerful agile project management software helps you ride out the waves as they come. Using it, you can quickly respond to evolving requirements and smoothly switch from one task to another as per the priority level. Thus, project management has to be dealt with through the lens of change management.
In this blog, we will look at what agile project management is, its importance, and more.
What Is Agile Project Management?
Agile project management refers to managing projects by breaking them into smaller time durations called sprints. These short sprints can last from a few days to a few weeks.
It follows an iterative approach to handling projects. This involves continuous improvement by scheduling releases after each sprint. In this, you need to outline work and responsibilities in short cycles and review results regularly.
The agile methodology thrives on transparency and adaptability, catering to the customer's requirements with a definite sense of ownership of the assigned work.
Its key phases include:
Envision: In this phase, you identify key project stakeholders and chart out the expected deliverables. This forms the foundation for your project to sustain itself throughout its lifecycle.
Speculate: Here, you curate the plan of action that everyone in the team will follow. You define the features needed to be accomplished, the timeline within which the project is to be completed, the priority tasks, the milestones that will help you access progress quickly, and more.
Explore: This phase involves accessing whether resources are optimally distributed, whether you have taken all potential risks into account, or whether you need to create alternate plans that will come of use according to the feedback received.
Adapt: This involves receiving feedback from concerned stakeholders or customers and adapting your workflows and processes to the project's immediate needs.
Close: In this, teams ensure that the deliverables were executed in line with the expected results. Also, teams reflect on lessons learned and ensure that they consider those points while creating workflows for future iterations.
Moving forward while keeping these critical phases in mind will equip you to start off with a comprehensive plan of action and hit the ground running!
Why Do You Need a Software for Agile Project Management?
Now, let's dive right in and understand why you need an agile tool for online project management.
1. Realistic Sprint Goals
Often, while working on an agile project, sprint goals may get lost if not defined at the start. This may lead to unclear objectives because team members have no clear direction on how to move forward.
For this, you need to convey definite sprint goals and objectives that are specific and measurable. And it becomes essential that you set clear roles and responsibilities along with task timelines for each team member. This way, there are no discrepancies regarding what needs to be done by when.
You can adopt a software for managing agile projects to simplify task delegation and fulfill work on time. Using a tool helps establish project workflows along with task priorities andtask dependencies. Thus, a detailed sprint dashboard holds all information related to a task that you can refer to anytime, ensuring you never go off track.
Read More: Agile Software Development Life Cycle (Ultimate Guide 2022)

2. Improved Team Collaboration
Agile projects demand seamless team collaboration. Projects are bound to suffer if there's inadequate or poor team communication.
Poor team collaboration can cost you:
Misunderstandings regarding work to be accomplished
Low team morale
Friction, even conflicts, between team members
Clearly, when it comes to team collaboration, even the slightest hiccup can impact the overall sprint execution. Thus, the software helps bring team members together and execute sprints as scheduled.
Read More: Team Collaboration Strategies You Need to Adopt Right Now

3. Real-Time Transparency
Sometimes, team members are unaware of mid-project execution changes or project updates affecting the end result. Not only that, but even miscommunication with clients and other stakeholders can affect project execution and the organization's relationship with the stakeholders.
The best way to tackle this is to keep transparency among team members, clients, and every other stakeholder associated with a specific project.
Deploying the right agile project management software helps you see all project details on a single platform and lets all the people associated with the project access that information from anywhere. It keeps you up-to-date with how things are going.
This insight further helps everyone follow up and analyze whether tasks are being completed as scheduled. If not, you can immediately take corrective action and prioritize work that needs to be accomplished first.
Read More: 17 Best Agile Project Management Tools in 2022
4. Efficient Resource Management
Without a resource tracking system in place, it can be challenging to monitor each team member's utilization and productivity. Overseeing the work of every team member, seeing how they are working, whether they meet their goals on time, and understanding their pain points are some of the things you need to stay updated on.
A robust agile project management software offers a one dashboard view that allows you to monitor project execution from start to finish. You can also use its time tracking feature to monitor how much time each team member spends completing one task and whether or not they met the set deadline.
Overall, it provides a clear picture of how resources are utilized throughout the project. This allows you to rearrange resources to ensure that no specific resource is overburdened or underutilized.
5. Continuous Improvement of Workflows & Processes
Agile projects imply evolving areas of improvement and shifting priorities. You must continuously review and adapt to these changing requirements as you proceed. An agile project management software supports this flexibility and allows you to customize existing workflows easily. Using its analytics, you can spot potential risks on time and change strategies accordingly.
Read More: Choose Agile Project Management Software for Mobile App Development
How to Choose the Best Project Management Software for Agile Project Management
Convinced about adopting a tool but confused about how to choose the best project management software for agile projects for your business?
Don't worry. We're right here to give you a leg up!
We've curated a list of the key criteria to consider when looking for the right tool for your agile projects.
1. Sprint Views to Monitor Progress
A good agile tool for online project management has interactive sprint views such as Gantt, Kanban, List, and Calendar. You can set up your sprint workflow on its dashboard by creating sprint tasks and subtasks.
You can assign these tasks to team members to clearly define responsibilities. Using the tool, you can also create milestones as checkpoints that help measure progress made on a sprint.
2. Workflow Customization
One of the most important things you need to execute an agile project successfully is the ability to customize workflows. An ideal agile project management software lets you customize workflows on the go. It allows you to tweak workflows to make changes to task assignees, due dates, priority levels, and dependencies. So, as requirements change and deliverables evolve, you have a clear-cut workflow that supports you in your project execution journey.
3. Analytical Reports
Analytical reports come in handy when you need instant, actionable data on how your project is progressing. Using the best project management software for agile projects, you can access presentation-ready reports that give insight into key project metrics and team performance. This data further lets you cross-check if your current execution strategy is leading to the desired sprint goals.
4. Task Prioritization
Leveraging the agile methodology means catering to tasks as they arise. Confused? An agile methodology means you have tasks to attend immediately. With a tool, you can prioritize tasks within seconds while establishing responsibility to team members. This way, the concerned team member knows exactly what they need to focus on first and what can be sidetracked for later.
5. Task Dependencies
It's always a good idea to set dependencies between tasks. It helps define a clear structure of how the work will flow from one task to another. This ensures that everyone knows the project execution schedule right from sprint initiation to completion. So users know which task has to be completed before moving on to the next. This eliminates confusion regarding task timelines and helps accomplish work on time.
6. Ease-of-Scalability
The right agile project management software is easy to scale. This means it is flexible enough to integrate more projects as your company grows. It adapts easily to complex projects and is capable enough to handle more team members operating the tool at once. This is important because, as an organization, you cannot waste time and effort in switching to another tool as the scale of your operations increases.
7. Collaboration Capabilities
While implementing an agile methodology, team collaboration is imperative. It facilitates easy change of workflows and allows you to integrate the requirements for sure-shot project success seamlessly. Here, a tool helps keep everyone connected and on the same page with how things are moving forward.
A good agile project management software allows you to:
Plan the agile project execution process using a shared calendar
Comment on tasks, give instant feedback to relevant team members
Get email notifications regarding any project updates
Share files with team members, clients, and other stakeholders on the go
8. Time Tracking Capabilities
With agile workflows, it can be challenging to track time effectively and how your resources are utilized. Are they overwhelmed with frequently changing requirements? Is any resource lying idle? Do they have the bandwidth to take up priority tasks?
Analyzing these questions will enable you to assign work optimally across team members. And this is only possible when you track time spent on various tasks by team members.
Read More: Hybrid vs Agile Approach: Which is Better for Efficient Project Management
Lead Agile Projects with the Right Project Management Software
A smooth agile methodology is adapting to and implementing quick processes leading to desired project output.
So, it's best to break their entire lifecycle into smaller sprints if you have complex projects or projects with high customer involvement. Working in sprints equips you with proper workflows that cater to evolving requirements head-on.
Support your strategy with robust agile project management software, like ProProfs Project, and you're guaranteed to deliver projects in the easiest way possible. The right tool lets you plan, create, and accomplish agile projects regardless of the number of team members working on them. It also allows you to monitor key metrics that help you execute an agile project.
Do you want a free Project Management Software?
We have the #1 Online Project Management Software for effective project management.