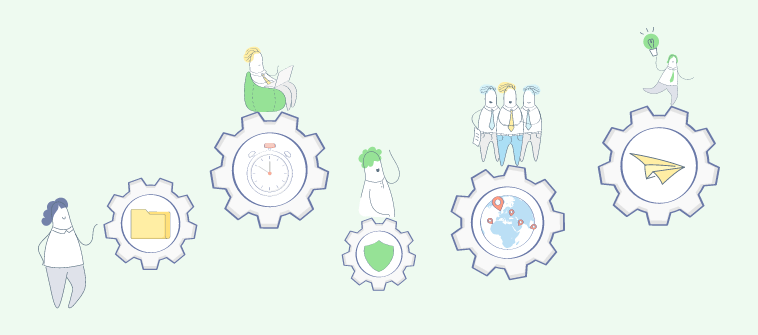 Has this ever happened to you?
You've worked hard to land that big client that would change your company's fortunes.
You've got an elaborate project plan, enthusiastic stakeholders, and you can't wait to dip your hands into the project and deliver stellar results.
However, when it comes to your deliverables, nothing goes as planned.
Your developers keep waiting for the green light from your designers. The designers can't get a hold of senior stakeholders to approve the design plan. You seem to have all the teams, but you can't get them to work well together.
This is the fate of many delayed and derailed projects. Dig deeper, and you'll find that the culprit is mostly the same: poor team collaboration.
This blog sheds light on some remarkably effective team collaboration strategies that can help you achieve business success.
10 Strategies for Effective Team Collaboration
Collaboration is the cornerstone of a successful organization. If your team members can complement each others' skills and knowledge and work in sync with one another, they are collaborating.
There is no fixed recipe for collaboration. You'll find that every organization has its own approach to helping employees collaborate. Some depend on advanced project collaboration software. Others rely on old-school collaboration habits.
On that note, we'll discuss ten team collaboration strategies that can transform your business. Let's dig in:
1. Change the Perception of Collaboration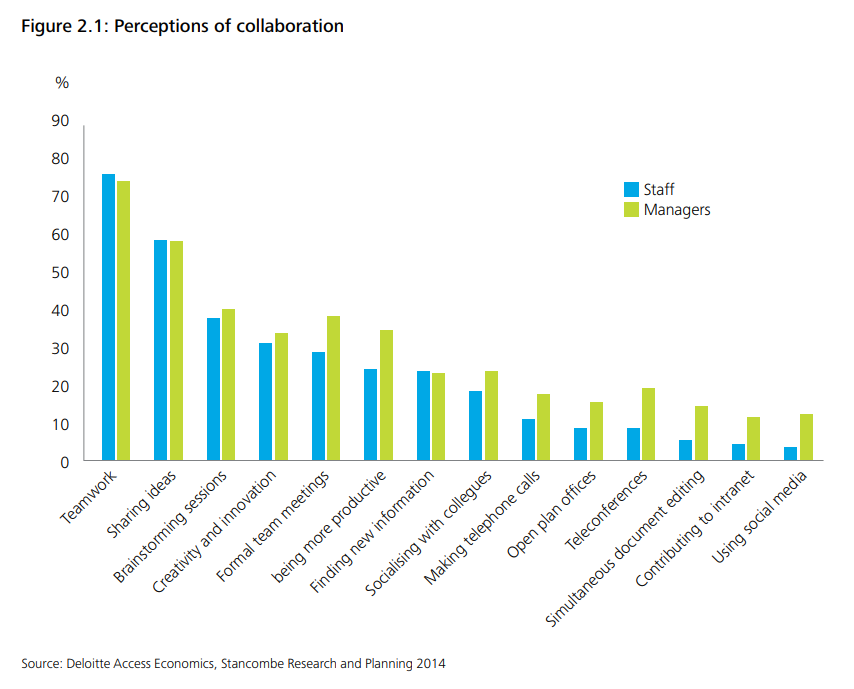 According to a Deloitte
whitepaper
, one of the biggest obstacles to effective collaboration is how managers and staff perceive the concept. For example, managers see collaboration as more formal, while team members see it as a part of socializing.
This difference in perception affects how both managers and team members approach collaboration. Getting them on the same page, therefore, should be a top priority.
Adopting collaborative project management methodologies, such as Agile, Scrum, Hybrid, or whichever suits your organization's needs, is the right approach. These methodologies emphasize clear roles and standardized management practices. This can help your teams collaborate better.
Key Takeaway:
Create a 'collaboration charter.' This document should define your official stance on collaboration, best practices, and organizational culture. Encourage staff and managers to share suggestions on the collaborative practices so that they can be refined further.
Read More: Top 5 Ways to Bring About Team Collaboration
2. Align Collaborative Practices with Project Requirements
Not every project needs the same level or type of collaboration. A process-focused project demands clear task distribution and on-time delivery. On the other hand, an innovation-focused project requires better communication to ease brainstorming.
As the Harvard Business Review notes, collaboration is suitable for some tasks and unsuitable for others.
For example, a status report lists creating UI/UX framework as an upcoming milestone. Since this requires significant brainstorming, you would want to focus more on communication, and that's why you might ask managers to facilitate communication among relevant teams.
Key Takeaway:
Instead of using the same collaborative practices in every project, pick the ones that match your requirements. This way, your collaborative practices would always be in-sync with your milestones. You can change practices as the project requirements change.
3. Promote Collaboration System Through Reward System
Collaboration, like most things in business, follows a top-down trajectory. What happens at the top of the corporate trickles down to the bottom. If employees see top executives as not prioritizing collaboration, they'll be less likely to invest in it.
As Harvard Business Review notes:
"The perceived behavior of senior executives plays a significant role in determining how cooperative teams are prepared to be."
If you want to build a more collaborative workplace, promote it through a reward system. Your employees must see, hear, and feel those at the higher level prioritize collaboration.
It should be reflected in your company's vision, best practices, and even promotions. If employees see their collaboration-focused colleagues get rewarded, they'll be more likely to follow suit.
For example, note how pharma giant Merck lists collaboration as one of its key values.

Novartis, another leading pharma company, also lists collaboration as its primary value.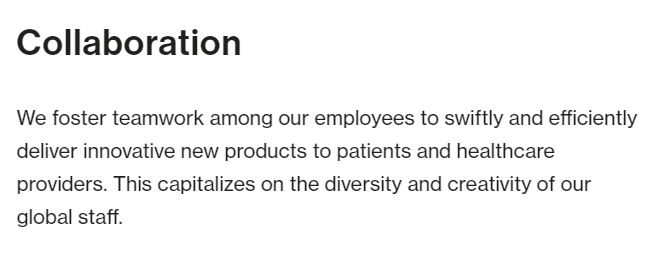 Key Takeaway:
Make sure all teams give importance to collaboration and see teamwork as a big advantage when working on a project. This not only improves team performance but also enhances the teams' chances to meet project deadlines easily.
Read More: Effective Tips to Cultivate a Collaborative Work Culture
4. Collaborate From the Start
There are two common pain points in most projects:
Team members and managers don't agree on the project's goals and deadlines

Team members don't agree on their assigned roles in the project
What's the end result?
Delayed projects and dissatisfied employees. So, is there a solution to this problem?
Yes!
A simple way to solve this problem is to collaborate right from the start of the project, which is from the goal setting and role assignment phase.
Instead of dictating what needs to be accomplished, when, and by whom, get your team members involved. Ask them what goals they can accomplish and how much time they will need for that. Then ask them what role they'd want to take in the project.
One study even found that collaborative goal setting helps team members feel more involved and satisfied. It can also improve performance since team members often know their limits and capabilities.
Further, asking team members the role they'd want to take up can improve career satisfaction. For example, a developer who wants to learn a new programming language can take on a project that provides this opportunity.
Key Takeaway: Such collaboration extends far beyond communication and task management. It changes the way your organization and employees work. The results can be profound and lasting.
5. Create a Sense of Community
A sense of community in the workplace is essential to keep your employees motivated and driven. They feel good about the work and want to stay with your organization for a long time.
When employees feel that their presence matters in the team, their voices are heard, and opinions are valued, they instantly feel like a valuable part of your organization. On the contrary, when they feel their opinions don't matter, they are likely to feel like an outsider, and that's when your team starts disintegrating.
Therefore it's crucial to have a work environment that feels warm, comfortable, and challenging at the same time. You can start off by a not-so-formal morning session where team members discuss their tasks of the day, goals to be achieved, and tasks that will require collaboration with other colleagues.
This sets a positive tone for the entire day. Your employees don't feel overwhelmed with work. They are able to collaborate, work happily, and deliver quality work on time.
Key Takeaway:
Make employees feel that they are part of a community that respects them, values their opinions, and gives them a comfortable work environment.
6. Creativity Can Work Wonders
One of the important team collaboration best practices is to create opportunities for creativity in the workplace.
A collaborative team is more creative. It tends to involve everyone and take into account multiple suggestions and opinions on a particular task. That helps the team become more creative and come up with innovative ideas.
Organizing brainstorming sessions is a wonderful way to bring out the creative side of your team. They give team members the opportunity to challenge the ideas of their colleagues, speak their minds freely, and give their best to a particular project or task.
Also, while organizing these sessions, ensure that you give a heads-up in advance. This will give your team enough time to prepare for the meeting.
Key Takeaway:
Giving your employees the room to be creative enables them to interact with colleagues, understand their perspectives, and work in alignment with one another.
7. Have a Compelling Cause
There should be a shared cause, a common aim, that drives all your team members to work together and give their cent percent to a project. For that, you need to give your team a compelling reason to work collaboratively on a project and meet deadlines.
This will keep them driven and excited to work with one another to achieve common goals.
Without a shared cause, your team members might lose the enthusiasm to work, and that makes it difficult for them to collaborate on projects. They start questioning the end result of putting in hard work and collaborating with colleagues. When they don't find a proper answer, they are likely to get demotivated.
Therefore it's crucial to have a clear cause that encourages your team members to stay driven and work in alignment with one another.
Key Takeaway:
Convey to your team about why you want them to work together on a project. Show them the benefits it will bring to your team and to the entire business. Explain to them why the project matters to you and your organization.
8. Communicate Your Expectations Clearly
Conveying expectations is crucial to ensure that all your team members stay on the right track. Team members must be clear about their roles and responsibilities and the position they hold in the team.
This will help them fulfill your expectations better, without stepping in someone else's shoes, creating unnecessary conflicts. They will know what they are accountable for and what others are supposed to. This will help your team members work in collaboration with others without any hassles.
Therefore it's essential to set clear expectations from the very beginning. You can convey them during the onboarding process to make new hires aware of their roles and the fact that they are supposed to work collectively with other team members.
You can even inform them about the roles they are expected to perform single-handedly and the ones for which they will need to work collaboratively with colleagues. This will give them more clarity around the tasks for which they will be personally responsible and the ones that will require collaboration.
Key Takeaway: Have clear expectations around what you want each team member to work on and how you want that to be done – at a personal level or by collaborating with colleagues. This will help you streamline the work and also encourage collaboration in the team.
9. Encourage Your Team to Socialize
Create opportunities where your team can socialize after work hours. This is great for team building.
Such informal meetings give your team members the opportunity to indulge in some casual conversation and get to know one another better. They can build meaningful relationships based on common interests. This camaraderie helps them when they are at the office, working on tasks and projects together.
Besides, they start perceiving one another as humans with different interests, rather than just employees working for an organization.
Team building is not restricted to offsite events. It can happen anytime, anywhere, even in the office. Casual morning coffee chit-chats or evening walk conversations also help to strengthen relationships.
When employees bond at a personal level, it reflects in their work too. They are able to collaborate and work together with minimum conflicts.
Key Takeaway: Encourage your team members to socialize in the office as well as outside the office and help them build friendly relationships. The stronger their bond, the better they will be able to collaborate at work.
10. Select the Right Team Collaboration Tool
Long-term collaboration cannot happen if you simply stick to a few team collaboration strategies. You need to go one step further and adopt the right mix of tools that can keep your team on the right track.
This is also a good practice if your entire team or even half of it works remotely. Communicating, coordinating, and achieving goals on time becomes a breeze if your team has the support of the right tools.
You don't have to spend a bomb on getting the right tools. Identify your needs and shortlist the tools that are right for you. Besides focusing on their features, you should keep a check on their cost and select the ones that fit in your budget.
Here are some of the decent team collaboration tools you might want to use:
Slack is a powerful business communication tool that allows your team to share messages and files easily. It makes team collaboration and communication faster and easier. They don't work like emails. Instead, your team members can instantly call or message one another, share files, and do a lot more right from their workstations.
The best part is you can integrate it with various other tools such as Google Drive, Office 365, Zoom, Salesforce, and many others. These powerful integrations expand the potential of Slack and help you make the most of this tool.
Price: starts at $2.67/month.
Read More: 20 Best Project Collaboration Software of 2023
A simple and feature-packed team collaboration tool, ProProfs Project, keeps your team members connected while they are working on projects. From planning projects and assigning tasks to tracking progress and managing bills, there is so much your team can do with this tool.
Besides, teams can use it to share files, comment on tasks, prioritize projects, and get real-time updates on any changes. The best part is it comes with a mobile app that makes it all the easier for teams to use this tool effectively.
Price: starts at $2/user/month.
Troop Messenger makes you rely less on lengthy email threads and more on chat collaboration through its advanced team collaboration features for improving work productivity. Messages are synced evenly across all platforms making the remote teams work from anywhere on any device.
Everything is searchable in Troop Messenger! Right from the unread messages filter to the text search of the chat area. Therefore, it saves most of the team's time in finding the things that they want.
You can integrate Google Drive, Dropbox, and many other integrations to work right within the Troop Messenger. Its intuitive UI helps the users quickly reach the features that they need for work collaboration.
Price: Starts $2.50/per user/per month.
A cloud-based team collaboration tool, Filestage is ideal for streamlining the feedback and approval process. Teams can use it to add comments, track reviews, get approval, and complete work on time. The software helps teams manage the content review process. It keeps the long email threads at bay, giving teams a stress-free, collaborative environment to get and give feedback.
What more? The tool allows you to create customized workflows where stakeholders, clients, and colleagues are informed of any progress, asked for suggestions, and kept updated of any changes in the work process.
Price: starts at $89/month.
Flock is not your regular messaging tool. It's much more than that. It's an easy-to-use tool that takes communication and collaboration to a whole new level. This team collaboration tool organizes all your communication and applications on a centralized platform.
File sharing, video conferencing, or messaging – you can do anything and everything with this one-of-a-kind collaboration software.
Staying connected and working together is a cakewalk with Flock.
Price: starts at $199/user/month.
Another great tool for business communication, Hangouts, offers messaging, voice, and video calls options for your team. Connect with colleagues in private or create a group and allow your team members to chat, share files, give suggestions, and work in a collaborative way.
The best part is it works great on mobile phones as well as laptops, so your team can use it anytime, anywhere, and stay connected always.
Price: starts at $8/active user/month.
A popular video communication software, Zoom allows your teams to launch online meetings, conduct or take part in webinars, call as well as chat with colleagues from any device – desktop, laptop, or mobile phones.
This team collaboration tool delivers one consistent experience to your team members. It's easy to use and offers a variety of features such as High definition voice and video quality, screen sharing options, voice detection, private and group chats, group collaboration, and many others.
Zoom is one of the best tools to deliver immersive experiences and make collaboration easier for your teams.
Price: starts at $179.20/year/license.
Implement the Right Team Collaboration Strategies
Collaboration is the cornerstone of a company's success. When teams work closely, they are bound to be more innovative and deliver better results.
To increase collaboration at your workplace, you need to see which strategy fits your requirements. You can have a mix of three or four strategies, depending on your collaboration goals.
You can start by changing the way your managers and other employees perceive collaboration. Keep collaborative practices in sync with your project requirements and improve collaboration by adopting a reward system.
Give employees the space to show their creativity and encourage them to socialize during and after office hours. Besides, ensure that you have the right collaboration tools in place. Go for tools that streamline your work and allows all teams to communicate and collaborate on a single platform.
FAQs
---
Q. What are the three important skills for teamwork and collaboration?
As a team manager, you need to trust your team and give them space to communicate and collaborate. Empathizing with your team, maintaining transparency, and listening actively to each team member's concerns play a crucial role in improving teamwork and collaboration at the workplace.
Do you want a free Project Management Software?
We have the #1 Online Project Management Software for effective project management.