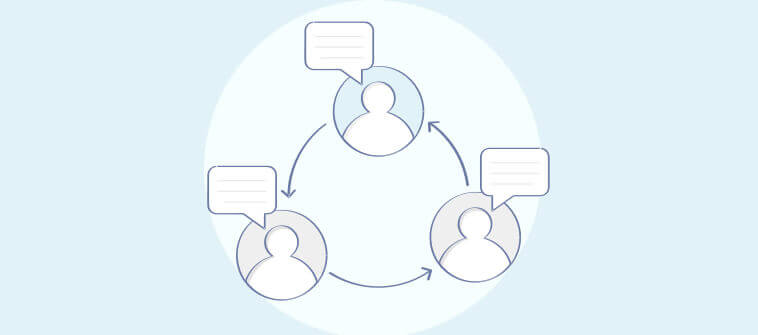 No matter what industry you belong to, there must have been a time where you would have sat with your team member to work on team communication strategies.
Trust me, you're not alone. Around 80% of employees feel stressed due to ineffective company communication. Due to lack of strategies for effective team communication, we see employees facing problems like:
Lack of clarity in task implementation

Email overload

Balancing external and internal news

Lack of instant feedback to help them improve their work
This list of challenges can go on, however, it is clear that as a team lead or a business owner you've already identified them all. That's why you've landed on this blog looking for solutions that help you improve team communication efficiently.
Don't worry, we've got 10 proven strategies lined up for you to improve team communication and boost employee productivity hassle-free.
Let's dive in.
10 Strategies to Improve Team Communication Internally
When done right, effective internal team communication can help you deliver excellent projects on time and within the budget. It helps to identify problems at an early stage, nip them in the bud and pave the way for better results. Let's dive deeper into the strategies that can help you improve team communication:
1. Know Your Team's Expectations with Anonymous Surveys
One of the first things you should do to improve team communication is to understand your employees. To work towards building effective team communication skills, you need to learn what your team members think and where their expectations lie. While some may be outspoken, others may not be as expressive as them.
This is where you can introduce anonymous surveys in the team to help them become more vocal with their thoughts. This is also a great strategy to capture internal team feedback that a lot of your members may not be able to offer face-to-face.
Please note that anonymous surveys do not reveal information like the respondent's name, therefore making it easier for them to openly express their opinions better.
Once the results are out, the manager will be able to understand each member's expectations of the work process. This will help them come up with better engagement and collaboration strategies, enabling members to open up to each other before and during ongoing project tasks.
Learn More: 9 Proven Tips to Create an Anonymous Survey
2. Implement an Open-door Policy
Having an open-door policy is a great way to establish a bond of trust with all your employees. It indicates that team managers are open to addressing their teams' questions, complaints, or suggestions.
It even encourages your team members to approach you without any hesitation and discuss issues or ideas with clarity. What's more, this strategy enables you to take all necessary measures to keep all your projects on track.
Besides bringing work-related transparency, open-door policy brings several benefits, such as:
Boosting team morale

Improving the overall work quality

Creating more collaboration opportunities

Helping to identify employee performance issues in early stages

Reducing team conflicts
Listening intently during these meetings is a great way to make team members feel heard and valued. Be sure to affirm and express appreciation for the time they took to approach you. This way, they'll be encouraged to continue communicating with less hesitation.
Open-door policies promote open discussions regardless of the chain-of-command. Small organizations may find this easier to implement than bigger ones. When you have a huge team, it's an excellent way to execute this to make upper managements' schedules visible and open for anyone and everyone.
3. Conduct Intra-team Communication Properly
Managers are aware of how important it is for them to conclude meetings on a positive note. For that to happen, they have to make sure that all the attendees get a chance to share their opinion. Only then are the managers able to arrive at an ideal conclusion where everyone agrees to a certain point.
It is also during these meetings that effective team communication skills are of the essence that's because not every internal team meeting goes as smoothly as we believe it should. Some may put forward their ideas with a strong conviction that they may end up dominating others and this can result in missing out on other valuable ideas.
Being a manager, here's what you can do to conduct intra-team communications properly:
Explain to your team members why contribution from everyone is important. It would help you increase participation and involve in a meaningful dialogue.

Implement the 'No interruptions' rule so that everybody can express themselves properly while sharing any ideas.

Give introverts topics like 'How to improve task execution,' 'How to boost productivity at work,' or anything else to prepare. This practice would help them deal with their nervousness and encourage them to give voice to their ideas during meetings.
Read Also: Why Is It Important to Have a Project Management Communication Plan in Place?
4. Clarify Roles and Responsibilities
One of the best practices for team communication in project management is to clarify job roles and responsibilities among all team members. That's because when every team member knows about their role, they not only involve in meaningful conversations but also collaborate aptly to achieve quality results.
Role ambiguity can lead to increased team conflicts, resource and time wastage, negative work environment, and other such problems.
That's why it is important to divide roles and responsibilities correctly. You can take into account the following tips while taking care of this task.
Assign tasks according to the skillset of each team member. It'll help you achieve quality results within your estimated time and also increase the job satisfaction of your team.

Discuss your expectations properly so that every individual understands the importance of their job role and works accordingly.

Don't micromanage because it will develop a sense of fear among team members, which may not let them work as per their job responsibilities.
5. Share Feedback at the Right Time
Did you know that 60% of employees like to receive feedback on a daily or weekly basis? This number jumps up to 72% in the case of employees who are aged under 30.
This survey result should be enough to understand why you should increase the frequency of giving feedback to your project team members regularly. Giving feedback at the right time has always been important, even if it's a negative one.
Positive feedback gives employees the confidence to keep up the good work and find new ways to achieve quality results quickly, while negative feedback helps them identify areas where they need to improve on.
Both feedback can help your team members become better versions of themselves.
Here's how to facilitate the exchange of feedback and enjoy effective team communication:
Always use a friendly and respectful tone when sharing feedback with a team member in an open discussion.

Before discussing work-related mistakes, make it very clear that your objective is to improve quality standards, not criticizing them. It will help your team to accept negative feedback without feeling bad.

Say it openly that you can also make mistakes and encourage team members to share their feedback with no hesitation. It would represent you as a courteous manager and make the bond with your team stronger.
Read More: How to Build High Performing Teams (10 Ways)
6. Deploy a Project Management Application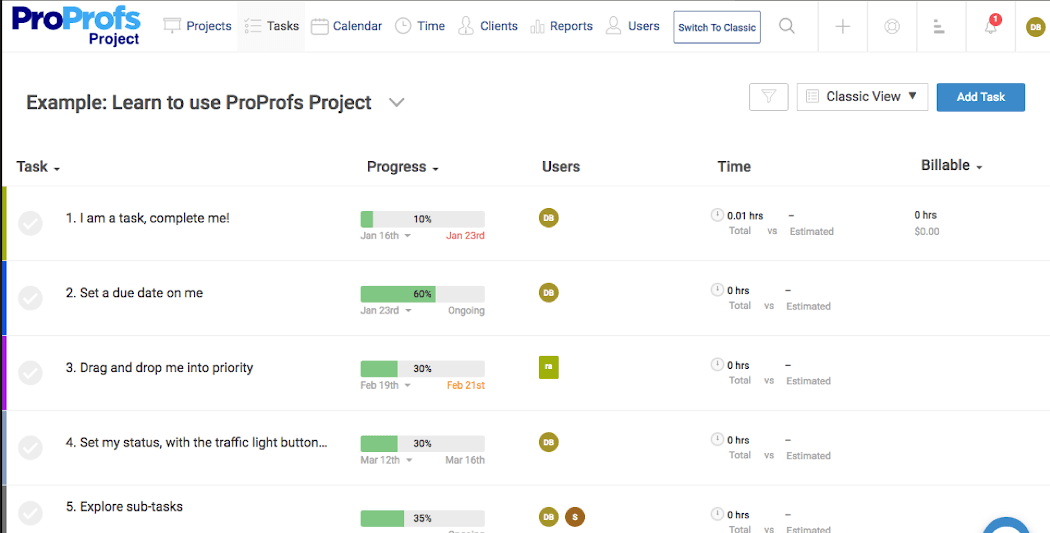 Deploying a reliable project management application could be one of the best moves to improve team communication. A feature-packed PM tool ensures work-related transparency and paves the way for smooth internal communications.
Let's use ProProfs Project as an example and see how it helps project managers and team members improve team communication.
You can use the 'task comments' feature to share your feedback on every task. Besides keeping the hassle of messy email threads at bay, it enables all the concerned individuals to make required changes quickly

Whenever you leave a comment or add a user to a new or existing task, the concerned project member receives an automatic email notification. Thanks to swift email alerts, all team members stay on the same page and do a proper discussion with you before shifting their work priorities

You can generate project reports with a couple of clicks to have a meaningful conversation with your team

With a shared project calendar, your team will have clarity about assigned tasks and subtasks, which, in turn, allows them to communicate their doubts quickly
It was all about the ProProfs Project, but if you want more options in terms of PM tools, then you should take a look at this list of the 20 best project management software.
Check Out: Buyers Guide: How to Choose the Project Management Software
7. Let Your Team Take Breaks
When you have tight deadlines to meet or have multiple assignments at hand, you would like to find new ways to increase the productivity of your team.
Does that mean you should force them to stick to their desks?
The answer is Big NO!
Such moves can trigger negative work environments, conflicts, high employee turnover rates, poor team communication, and so on.
Understand that your employees are as it is exhausted mentally because they're already giving up on breaks to meet targets on time. We suggest that you should squeeze in opportunities for short-breaks for your team that help them become more productive. Studies also suggest that the most productive employees work for straight 52 minutes and then take a break for 17 minutes.
Besides boosting productivity, short breaks could help your team in many ways such as:
Increasing job satisfaction

Restoring focus and motivation

Multiplying the chances of successful collaborations
8. Find Opportunities for Improved Team Socialization
The most effective way to improve team communication is to promote comradeship. We believe you could also relate to the fact that internal communications go seamless when the feeling of friendship takes the place of hesitation.
Besides a positive work environment, you can also expect your team to deliver quality results. The reason being is when team members start discussing task-related concerns openly, there's a strong possibility that they come up with some ideas to complete their assignments with quality results.
Being a manager, you should also socialize with your team members at times. It leads to two outcomes:
One, you strengthen the team spirit

Two, your team tries to involve you more while working on complicated issues. This helps you preempt time sinks and accomplish expected results
Here's how you could socialize with your team:
Conduct small fun activities periodically. It will bring freshness in the work environment and build stronger relationships with team members

Take your team out for lunch at the end of the quarter or month and enjoy with them (without bringing work into your talks)

Never hesitate to go to your team's workspace for sharing a few laughs. It will show your friendly side and make your team more comfortable with you
9. Introduce Email Management System to Streamline Work Requirements
Team communication strategies simply don't imply that you need to improve one to one conversation with each other. Communication needs to improve on various other platforms too.
Did you know that an American worker receives 126 emails on average each day?
Woah, 126 emails a day is a lot. It can take a lot of time for one person to resolve them, especially when it is addressed to multiple members of a team. This is where you need to think from productivity status too. You can't let your project team members spend so much time on internal and external communication emails. You need a solution like an email management system that enables them to manage important conversations and send answers to priority project emails instantly.
If you've created different team email ids for different project teams, then an email management solution will help you out. You can add them to one dashboard and help out different members of a team to identify which project email has been taken off by another member. This will help them reduce double efforts on an email and improve their productivity too. What's more, you can make team communication more transparent and help others keep a track of how project communication is taking place with clients and internal stakeholders too.
Learn More: How to Set up and Configure Your Help Desk Inbox
10. Keep Your Central Knowledge Repository Updated for Better Communication
There are certain project processes that should be documented and kept for newcomers to study when they join the project team. This is where you can add a knowledge base to your list of software solutions that helps you streamline communication for basic project processes even in your absence.
But for your project knowledge repository to work effectively for all newcomers, it is important that you keep it updated regularly based on the common challenges you face and they can be tackled in the absence of a team lead. What's more, you can only keep the editorial access to your project knowledge repository open for managers and senior team members who've managed through tough times during a project. They can update the content of the repository when they've come up with a new solution to deal with one of the common challenges.
Read: What Is an Internal Knowledge Base – All Basics Covered
Improve Team Communication with Effective Strategies
Conveying important information at the right time is important, no matter whether you are working with remote or in-house teams. With strong team communication skills, you not only keep deadlines intact but also increase your chances of receiving quality deliverables.
We have shared 10 surefire team communication strategies so that you could enjoy work-related transparency, prevent conflicts, and increase employee retention.
Some of these strategies also promote the use of various tools like survey maker, knowledge base, help desk and project management tool to help you streamline team communication effectively. In case you are interested in learning more about any of these tools, then give us a call at (855) 776-7763 and learn how each of them can meet your business requirements effectively.
FAQs
---
Q1: How can you encourage communication at the workplace?
There are multiple ways in which you can encourage team communication at your workplace. Some of these strategies are inclusive of:
Keeping yourself open to hearing out what they have to say during meetings and 1 on 1 conversations

Opening your workplace to friendly conversations that encourages your team members to be more transparent about their thoughts

Hosting team building activities like games where they have to engage with other teams
Q2: How can I fix communication issues at the workplace?
Poor communication is a challenge that most workplaces face even today even after the addition of multiple tools to help them out. But here's a list of a few strategies that you can use to fix poor communication issues at your workplace.
Let your team members know that it's safe to communicate about various issues with you

Always seek proactive feedback to overcome unforeseen loopholes in your project

Avoid micromanaging each task to give your team members the breathing space during their work

Set team expectations in terms of communication
Q3: What is effective workplace communication?
Effective workplace communication can be described as the ability to exchange ideas and pivotal project information within the organization hassle-free. This is where you need to send important information to the right person to make sure you avoid any bumps during your project process.
Do you want a free Project Management Software?
We have the #1 Online Project Management Software for effective project management.