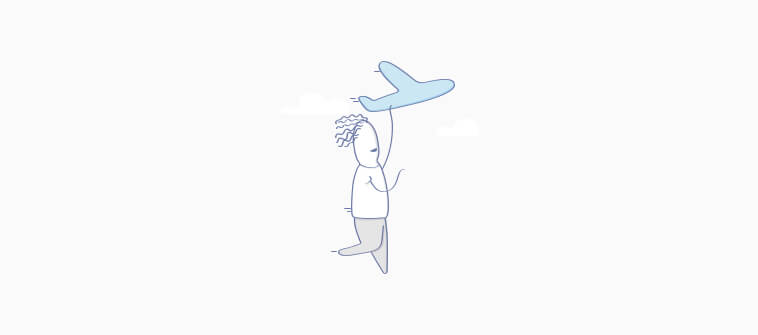 Don't we all love to maintain good relations with our clients? Yes, be it a big or small project, we strive hard to achieve excellent output and look forward to enhanced business growth.
But reality reveals a different story altogether. According to a study, only 37% of projects are delivered in time.
Your final project will never be completed in time if you lose track of your different project deliverables. But what exactly are project deliverables in the first place?
Project deliverables are outputs created during various stages of a project. It can take the form of a final product or service, an initial project blueprint, test document, project closure report, and more.
It is crucial to ensure that every deliverable that goes to the client is flawless and satisfactory. You need to closely monitor the project during its different phases and present the deliverables to the client in the correct format.
This blog gives you detailed insights into project deliverables, ways to present them to your clients, and tips to manage your deliverables with ease.
What Are Project Deliverables?
Project deliverables refer to the specific project outputs that you strive to generate within a given timeframe and budget. It could be a project document, business report, website, product, and more. Different stages of a project have distinct deliverables.
For example, a basic project blueprint attains significance during the planning phase, while a project closure report takes center stage in the last stage of a project.
Client-based businesses get projects once they agree to meet the desired deliverables. Simply put, the success of project deliverables are the factors that decide the longevity of client relationships.
Read More: Critical Success Factors in Project Management
Deliverables in a project come in different forms. Let's see how.
Examples of Project Management Deliverables
The project deliverables are generated at different stages of a project. Your project plan and blueprint are the deliverables in the planning stage of a project. Similarly, the lessons learned document acts as a project deliverable in the project closure stage.
Also, project deliverables differ from industry to industry. Let's understand with the help of some examples.
1. Project Deliverables in the IT industry
IT (Information Technology) projects deal with IT infrastructure, computer and mobile technology, website development, and more. Imagine you take up a project of building a website for a third-party client.
Here, the project deliverables take the form of a client specifications document, design document, website content, testing document, bug analysis report, and overall project report. All these deliverables are created sequentially during the project lifecycle.
2. Project Deliverables for a Content Writing Project
Imagine you are writing content for a high profile client. You may have to write blogs, landing pages, video scripts, and other types of web content.
For example, if you are writing blog content, the project deliverables start with an initial content brief document. Here, you take into account your niche audience, writing style, font considerations, and more. Once you have written your content, you submit it in a doc file. This becomes another deliverable. Then, the client proofreads your work and gives you feedback. The inputs become part of your final project report.
But, project deliverables are also different for both internal and external stakeholders.
External VS Internal Deliverables
Depending on whom you are creating a deliverable, you can classify them as external or internal deliverables. While internal deliverables cater to the needs of the in-house project teams, external deliverables are outputs to be delivered to external stakeholders like your clients and customers.
Let's explore these concepts in detail.
1. Internal deliverables
Let's take a scenario. Imagine you have taken up a big project to deliver a mobile application for a client. The project team is huge, consisting of multiple resources from different departments. In this case, you may divide the group into sub-teams, and each of them works on another project task.
There is a need to coordinate between the teams via regular meetings. At the end of each meeting, you may share a MOM (minutes of the meeting) doc, which acts as an internal deliverable. Similarly, preliminary notes and brainstorm sessions concern only the internal stakeholders, and clients have no say in this aspect.
2. External deliverables
Let's continue with the same example discussed above. When it comes to external deliverables, these are the items that you share directly with your clients during your project lifecycle. You start with a preliminary design document giving an overview of how you will be working on the mobile application.
Once your client gives the go-ahead, you come out with the final deliverable, the mobile application. Along with the product, the user manual document also acts as another crucial deliverable in the project.
In many projects, new inputs get added during different life stages, leading to changes in the final deliverables.
Can Project Deliverables Change During a Project?
Project scope creeps or new project requirements can occur at any time of the project. It could be due to many factors like budget overshoot, resource crunch, new client requirements, and more. As a result, final project deliverables might need revisions due to last-minute changes in a project.
For example, imagine you are working on a software project for a third-party client. You have completed more than half of the coding part, and a new requirement gets added. Here, you may have to work on the new idea and create codes for the latest requirements. In such a scenario, you may end up taking extra time to come out with the final deliverable item.
Read more: How to Identify Project Scope
How to Present Deliverables to Stakeholders
Deliverables can arise at any stage of a project. Your client might want to see a status report of each task: who is working on a sub-task, will it be completed before the deadline, will it overshoot the budget, and many more.
It can get challenging to build a deliverable report from scratch as it is tough to enter different project variables and make a statistical analysis manually. That's when you need the help of robust project management software like ProProfs Project. You can easily present your deliverables in the form of task summary reports, timeline reports, status reports, etc.
Let's understand these reports in detail.
1. Task Summary Report
Task summary reports give an overview of all the project tasks and their progress in a simplified format. You get to see the project status, deadline, task owners, etc., on a single dashboard. This quick information makes it easy for your clients to plan the budget, resources, and additional requirements.
Furthermore, you can even customize your reports by using filters like tag, status, date range, and so on.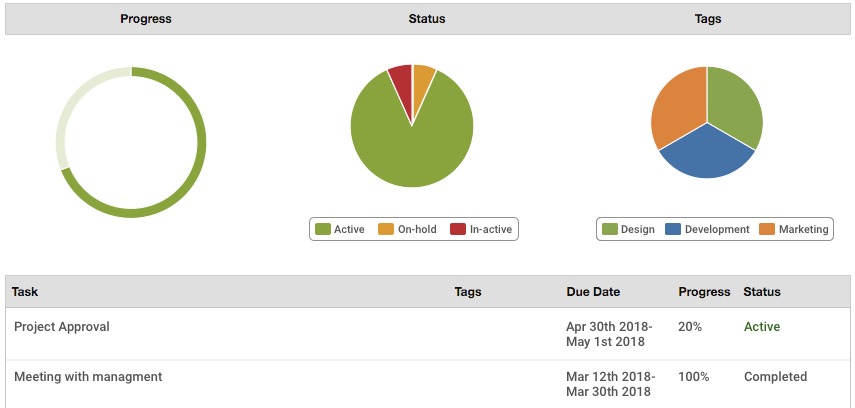 2. Timeline Report
With the help of timeline reports, your clients get to know the detailed start and due date of a project. They can quickly make changes and plan in advance if the timeline points to a missing milestone. Also, different colors are used to identify different tasks in a project, and you can quickly reallocate the tasks based on client requirements.

3. Time Report
The time report gives you an idea of the time spent on each task in the project. In this way, the client gets to know the overall productivity of a team. If the productivity is high, you have more chance of bagging higher-level projects next time. Also, you can train your team members better to increase their work efficiency over a period of time.

4. Invoice Report
With an invoice report, you have a detailed record of the client payments and ensure that your resources are paid on time. Most of the project management software lets you opt for notifications when the payment date is nearing. You can set email reminders for your clients and maintain the financial transparency of your project.
With specific tips and tricks, you can easily manage your project deliverables and win your client's trust.
How to Manage Project Deliverables Like a Pro
Managing project deliverables is significant because your business's credibility and client relationships are at stake. With thorough planning, you can ensure that there is flawless delivery at every stage of your project.
Here are some sure-fire ways that will help you manage project deliverables like a pro:
1. Be Thorough With the Project Planning Stage
The way you start project planning dictates how likely you are to accomplish the promised deliverables. The project planning phase can get challenging due to vague targets, lack of resources, poor budgetary allocation, etc. In the end, you end up with unfinished projects and unsatisfied clients, and slow business growth.
To avoid the above scenario, ensure that you define your project requirements clearly: Is it for an internal or external stakeholder? Do we have to hire extra resources? Is there a need to upgrade our software? And more. Have transparent communication with your stakeholders and discuss each of the deliverables. Also, make sure that you take a clear approval before starting with the requirements.
2. Be Clear Whether Deliverables Belong to Internal or External Stakeholders
Clearly distinguish between internal and external deliverables to maintain project workflow and prevent all sorts of confusion. External stakeholders are clients and customers who expect you to bring the desired project deliverables to the table. On the other hand, internal stakeholders are project executives who source deliverables from different departments to complete their job.
Remember the success of one determines the success of the other. Therefore, you must ensure that your internal stakeholders get deliverables on time so that you don't have to upset external ones. You can easily do this by tracking the time spent by your resources on each task using reliable project management software. Also, with the calendar and Gantt chart view, you can see the timelines for different project tasks on a real-time basis and plan in advance.
3. Don't Get Confused Between Process Deliverables and Project Deliverables
Project deliverables are the results you promise to deliver to clients, while process deliverables are the path you pursue to attain project deliverables. For example, the final product prototype can be your project deliverable because that forms a concrete output that your client asked for. In contrast, your team meeting reports tracking your project progress form the process deliverable. This is just for the reference of the internal teams.
Understanding the difference between process and project deliverables ensures that you submit the relevant deliverable to the client at the appropriate time. Else, it can hamper your brand image and slow down your growth. Your clients may be in two minds when they want to approach you next time for a potential project.
4. Deploy a Project Management Software
Creating projects from scratch can get challenging if you have numerous clients with varied requirements. It is a time-consuming task to track each resource's work, finalize invoice payments, and check your team's overall productivity.
That's when you need robust project management software, which can lend you a helping hand during the project development process. Ensure that you keep certain features in mind while searching for an ideal project management software for your business.
Intuitive dashboard to see all the project details in a single place
Gantt charts to track the project timelines effectively
Team collaboration features such as task comments, file sharing, tagging, etc.
Automated invoice management to ensure timely generation of billing reports
5. Keep Your Project Executives on the Same Page
Often, people from various departments of your organization come together to work on a single project. Everyone has a different style of functioning and can offer varied ideas. If they are not clear about the project objectives from the start, the chances of generating flawless project deliverables drop significantly.
Hence, strive hard to keep your project executives on the same page if you desire strong client relationships. Send them real-time notifications if there is a delay in project tasks. Encourage them to comment on tasks if there is any confusion. In this way, you can ensure that there is complete clarity with seamless team communication while executing the project.
Generate the Best Project Deliverables!
Generating the best project deliverables is necessary for maintaining good client relationships and your organization's long-term success. Deliverables could be anything ranging from a small internal pdf to a sizeable final product.
Make sure that you submit the deliverables in the correct format. Don't forget to differentiate between your internal and external stakeholders. Right from day one, keep everyone on the same page and update any last-minute changes. Lastly, the adoption of project management software can help you keep track of the project planning process.
Do you want a free Project Management Software?
We have the #1 Online Project Management Software for effective project management.