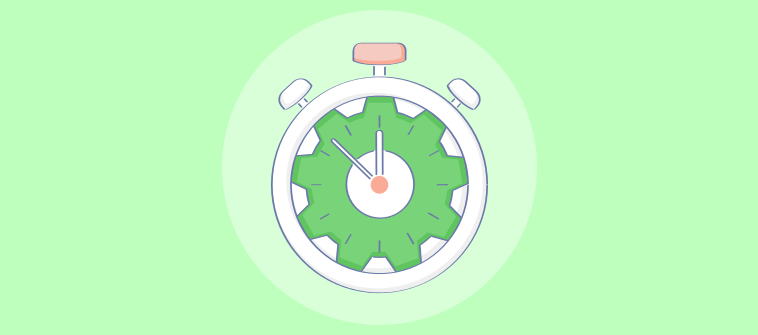 If you ever thought of finding ways to measure employee productivity, you are not alone in your quest. Work productivity measurement is one of the most important elements of modern business management.
Productivity is not always easy to justify, but it is necessary for operational improvement in the long run. It helps organizations identify employee strengths and weaknesses, set benchmarks, detect the areas for improvement and identify top performers.
Now, many entrepreneurs believe that high productivity is a direct consequence of getting more done. However, mind you, productivity is not about how much time people spend at work. Spending more time on something doesn't mean they are more productive.
James Clear says: "We often assume that productivity means getting more things done each day. Wrong. Productivity is getting important things done consistently. And no matter what you are working on, there are only a few things that are truly important. Being productive is about maintaining a steady, average speed on a few things, not maximum speed on everything."
So, before we jump into the different ways to measure employee productivity, let's take a look at why it is important to do so.
Why Do We Need To Measure Employee Productivity?
Some believe that measuring productivity is only a secondary thing. As a matter of fact, it is vital. Measuring productivity can bring changes to how your company functions. In business, measuring productivity is important for understanding problems and providing the best workplace environment to your employees.
1. Help employees grow
Regular productivity checks make the work more transparent. So, if your employees make mistakes, as an employer you can lend them a hand and give feedback. Constructive feedback is a must. In a study about giving negative feedback, 92% agreed that if negative feedback is delivered appropriately, it is very effective at improving productivity.
People want to know how they are doing. When you track their progress, they become more mindful. As a result, they will be more satisfied with their work and more focused on their objectives within the company.
2. Understand the company's performance
Measuring employee productivity is a great way to measure your company's performance. After all, the success of your company depends on the sum of individual efforts and hard work of your employees. Regular feedback gives you a glance at how your organizational strategy and culture influence engagement and performance. With it, you'll be able to make your company a more enjoyable place to work.
3. Culture of recognition
You'll be able to make fair compensation decisions and your top employees will get the recognition they deserve. Also, your low performers could use training and feedback so that they can improve. In addition, this helps with employee morale and making sure your employees don't think that low performers are tolerated without consequences since this can cause frustrations.
4. Consistency in the company's profitability
When your employees work well, the company's profits boom. Keeping that in mind, measuring productivity is quite handy when an issue comes up in the organization. It is very easy to determine where things went wrong and improve them before losses occur. When you calculate the productivity of your business, you can spot where to make changes in your budget. Sometimes, some processes can cost more than necessary, but you wouldn't be aware of it unless you've gathered productivity data over the course of time.
If we want to have a functional system, measuring productivity is the way to go. With it, we can easily implement changes and make the transitions less stressful.
How to Measure Employee Productivity?
By now you can see the importance of measuring productivity and increasing the productivity of the employees at the workplace.
One of the most famous and widely-used ways of measuring the success of an organization, a team, or an employee is using the employee productivity formula. The idea is to compare the input to the output. The formula is:
output unit / input unit = productivity
However, you can adapt to it, depending on the industry you are working in. For example, you can easily calculate the productivity of an employee or the efficiency of a machine.
Now, let's look at a few of the best methods for measuring employee productivity:
1. Use an Employee Productivity Calculator
The employee productivity calculator will help you measure work productivity based on the number of employees and/or hours dedicated to work. Enter your data and the results will show the productivity per employee or hour.
For example, you have a company with 56 employees who work about 160 hours/month and make a profit for your company of $200,000. Based on that information and by using the calculator, you will see that the productivity per employee would be $3571,41, or $1250,00 per hour.
Bear in mind that the productivity formula works wonders, however, it does not take into account the time your employees spend on administrative work, personal development, or any similar tasks that don't contribute to the company's revenue.
In addition to the employee productivity formula, there are other methods you can use.
2. Quantitative Method
This method works because it's simple and time-saving. It is based on measuring productivity by the number of products an employee makes during a particular period of time.
You can calculate productivity by using productivity software, revealing the number of products an employee makes in a given time period. Measure the output by the volume or the quantity of products, or by the financial value of the products produced in a given period.
However, when using this method you should also include factors that cannot be controlled, such as time spent waiting for broken equipment to be fixed, job training, or waiting for materials to arrive.
3. Task Tracking
Many entrepreneurs believe that rather than counting the hours spent at the office, leaders should calculate employee productivity by measuring the number of tasks they complete.
Now, if your business is using excel spreadsheets to track projects and tasks, you might want to look to automate this process. There are many project management solutions that can help you track the work of your employees in a streamlined manner.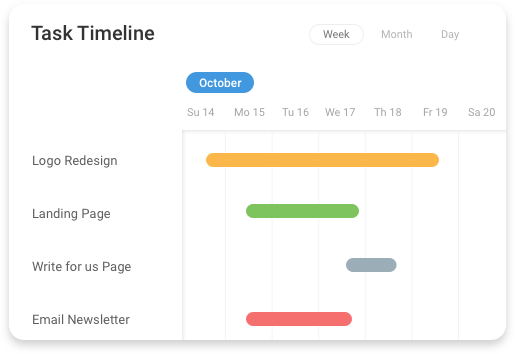 For example, with ProProfs Project, you can assign tasks to relevant employees and plan all your projects, tasks, and sub-tasks using a shared calendar. Managers can easily see who is working on what and monitor the progress of tasks via Gantt charts.
Read More: A Step By Step Guide To Project Planning
4. Objectives Method
The 'objectives' method evaluates productivity based on how well your employees are able to meet their objectives. If you want to make this method work, you first need to set clear and individual goals for your employees, as well as provide all the information and tools they need to complete those goals.
To ensure accuracy, the actions of the employees must be regularly noted.
You should also regularly meet with your employees to discuss their progress and to solve problems if any. When you measure productivity throughout the year, the employees stay focused. The annual review then shows how much progress was made toward the goals and how many goals were delivered in time.
5. Profit Is Productivity
In business, profit is everything. So, it makes sense to measure productivity based on the profit your company makes. The productivity = profit measurement measures how much profit the company earns for every penny it spends on the employee's salary.
A lot of small to midsize companies are measuring their productivity simply in terms of the profit gained. After all, at the end of the day, what's the point of your team working hard if it is not able to generate any profits?
This method is also a little flexible. For instance, employees can play around with creative ideas and work at their convenient time or place as long as they bring in the profits.
6. Daily Catch-Ups
Many employers just want their employees to stay on top of their game. To do that, they organize everyday stand-ups so that everyone can give an update on what they are doing.
For some, this strategy works wonders and helps them feel validated for their work, but for others, it can be overbearing. If it is not done in the right way, it can create a feeling of micromanagement.
How to Measure Employee Productivity in the Service Industry?
When it comes to the service industry, it is important to know the way the service is delivered and the level to which the service impacts the customer experience. There are many ways in which you can measure employee productivity in the service sector, and with it, to improve productivity with development or training activities.
For companies in the service sector, the quantitative method for measuring productivity is not the most successful one. The best way to do this is to consider factors that will vary based on companies, employee roles, or sectors.
Quality
quality beats quantity here. The service sector is based on customer experience and not on products. So, the professionalism and patience of a customer service representative are more important than the number of calls they've had in an one-hour span.
Goals
You can measure productivity by how employees meet their goals. The level to which employees meet the goals shows their level of business productivity.
Engagement
Engagement does not guarantee employees' productivity, however, if the employees are engaged they will want to perform at their best, and they will be able to do so a lot better than those who lack engagement.
You could try using time tracking software. As a tool, it would help employees boost their performance. The time tracking reports help team members to understand how much time they spend on the activities, where their time flies, and which websites hinder their productivity.
Try out some of the following tools:
ProProfs Project is an online project management tool. It allows the management to delegate tasks, track progress, organize projects, and create reports. It has advanced features such as Gantt charts, project calendar, and time tracking. It generates reports that show the number of productive hours that the team members have spent during their work. Also, the software can track the tasks that were responsible for reducing the employees' productivity.
As an automatic time tracking software, DeskTIme tracks time by projects and calculates costs based on the employees' hourly rates. Also, it is used to plan employee shifts, generate reports for customers or in-house use, store contact information, calculate overtime pay, and the project tracking feature helps to check who is working on what.
Trello is a collaboration tool. As such, it organizes projects into boards. Trello shows what's being worked on, where something is, and who's working on what. All the projects and tasks are easily visible.
Measure Productivity & Reward Your Employees
Productivity is not an imaginary concept; if your team puts in the work, the results will show. Your employees are crucial in driving your company forward and it is important to reward your most hardworking employees.
The productivity measurement methods discussed in this blog give a glimpse into the value your organization brings to the market and the economy.
By consistently measuring productivity, you will identify problem areas in your business and you'll be able to solve them more easily. In fact, you will be able to support the employees to work on their weaknesses and eventually allow them to become the best version of themselves.
Do you want free project management software?
We have the world's most versatile project management system starting at $0
Frequently Asked Questions (FAQs)
Q. What factors increase productivity?
The factors that can increase employee productivity are:
Amount of capital available to each employee
Education or training of the employees
Experience of the employees
Use of the latest technology
Q. What are the three key types of productivity?
Labor productivity (also called employee productivity, refers to the amount of work done per hour)
Material productivity (refers to the amount of output produced in terms of per unit input of materials)
Capital productivity (how well physical capital is used in offering goods and services)
Q. How do you measure employee productivity at home?
To measure the productivity of your remote employees, you can leverage a project management system. You can easily track their completed or ongoing tasks as well as the hours spent at work. You can even calculate billable hours and generate invoices for your clients.
Q. Are remote employees more productive?
According to a recent study, remote staff members work 1.4 more days per month than their office-based counterparts, resulting in more than three additional weeks of work every year. Benefits such as flexible work timings, fewer distractions (such as traffic), work-life balance, etc., all contribute to higher levels of productivity among remote workers.
Do you want a free Project Management Software?
We have the #1 Online Project Management Software for effective project management.