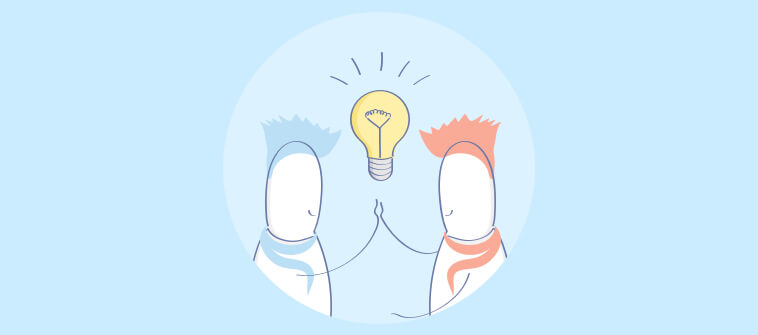 Managing creative teams has always been a tricky job because you need to give your team freedom to try new ideas and take risks, while at the same time, pushing them is also important to get the job done on time and within scope. In short, it's a constant balancing act.
However, many companies put unnecessary pressure on their employees to be more productive rather than creative at work.
According to reports, 80% of employees in the U.S. and U.K. feel that companies prioritize productivity over creativity. This number jumps up to 85% in France.
This practice only yields problems because if you don't give creatives enough time to showcase their skills, they are unlikely to complete their assignments in one shot. It could also reduce their morale, which, in turn, leads to a high employee turnover rate.
So what's the solution to creative team management?
Pay attention to the following tips and learn the art of managing creative employees.
1. Promote Teamwork
Creative employees always crave time because there are times when they lose a couple of precious hours while working on one idea.
Time sinks could jeopardize deadlines and also lead to poor budget management. The key to putting brakes on the increasing number of unproductive hours is to promote teamwork. When creative team members work together, they complete time-consuming tasks at a great pace.
In the right environment, with the right leader setting the tone, I think teamwork undoubtedly fosters ideas and creativity. I'm a firm believer in the concept of compounding strengths, where if everyone on the team plays to their strengths, those strengths compound at a higher rate of return. — Cody Royle
Besides boosting productivity, teamwork brings many amazing benefits, such as:
Facilitates idea generation

Boosts employee morale

Brings positivity to the work environment

Creates more learning opportunities

Encourages to take calculated risks

Increases job satisfaction
To gain these benefits, you can try these suggestions:
Appreciate strong team performance with rewards to keep your employees motivated for collaborative work

Share your inputs from time to time so that project goals can be obtained within the estimated timelines

Every employee has some strengths and weaknesses, so create groups where one can make up for the other's weak spots. It will promote camaraderie and make task execution less stressful
Leading creative teams can become a cakewalk if you put these suggestions into action.
Read Also: Project Leadership: What Is It and Which Skills Are Required?
2. Give Timely Feedback
Leading creative teams can be feedback is something that helps employees from any field improve their work performance. But it could be tricky in the case of creative employees, as you cannot give negative feedback based on your personal opinion. It is possible that your perception doesn't match with your team's point of view while reviewing their work.
Not getting the point?
Let's take an example for more clarity: Every painting says something, but it is not necessary that you always understand its message. You can't blame the artist for this, as it's you who is not viewing the painting from his point of view.
So what should I do after receiving completed assignments?
Ask a few questions to yourself while reviewing your team's work, such as:
'Is it what your client wants?'

'Is it technically sound?'

'Does it match the guidelines you have in place?'
If the answer is positive to all of these questions, approve your team's work. It would also give you clarity on when to give feedback and on what.
Let's imagine two scenarios to understand the importance of timely feedback.
Scenario 1: You're happy with your team as they've met your expectations
Don't hold yourself back, conduct a team meeting, and give positive feedback. It will instill confidence in your team, encourage them to take more responsibility, and decrease conflicts.
Scenario 2: You're not happy as your team has left loose ends
As illustrated in the image, no one likes to give negative feedback. But this is not a good practice because negative feedback could help your team identify the areas where they should improve. It also ensures that the same mistakes are not repeated, which promises better quality work.
Note: Both positive & negative feedback can help your creative team in enhancing their work performance if you mind your tone and words.
3. Deploy a Well-Developed Project Management Application
Do you know when managing creative teams feel like an arduous task?
When the deadlines of two or more creative projects are clashing or close to each other. This kind of situation tests your potential as a creative project manager, as you have to maintain the quality of deliverables and reduce time sinks as much as possible.
Sounds tough, huh?
Well, you could deal with such tough scenarios if you have a feature-rich project management application in place. Well-developed PM tools ensure transparency and help you boost productivity by facilitating collaboration, task management, project tracking, communication, and time management.
Let's take an example of ProProfs Project to understand why you need a reliable online project management tool and how it can help you manage creative teams
ProProfs Project gives a delightful experience while tracking the progress of creative projects and also calculates the time your team is taking to complete each delegated task. You can even save all important files on its platform so that team members can access the required data anytime.
It also supports Gantt charts that enable you to check the progress of your creative project along with all associated tasks and subtasks in one glance. For more details, watch the video 🙂
Want to know about other powerful PM tools? Take a look at the list of 20 Best Project Management Software.
4. Conduct Brainstorming Sessions
Managing creative teams seems like an uphill task when they hit mental blocks. It leaves all your creative projects struggling, therefore, it is very important for you to set your team's mind at ease so that new ideas keep flowing.
Sanctioning leaves could be one way to let your creative employees deal with mental blocks. Make sure this move doesn't lead to high absenteeism, as that has some serious consequences like low productivity, increased backlogs, high work pressure, and so on.
An ideal solution to mental blocks is to conduct brainstorming sessions from time to time. It not only would help you keep creative projects on track but also increase the possibilities of doing high-quality work.
Here are a few tips on how to conduct brainstorming sessions properly:
Encourage Your Team to Share Maximum Ideas: Welcome your team to share every small idea that they think it would work. You have to adopt a quantitative approach because you can develop quality strategies by simply refining and merging your team's ideas. This is one of the best ways of managing and leading creative teams.

Don't Pass Judgement:

Avoid sharing your negative feedback during the idea-collection phase because it is possible that attendees start holding themselves back after hearing it.
Share Your Plan:

Reveal how much you are impressed with the ideas. Also, discuss how you are going to refine and combine them to develop effective strategies for your creative projects. Besides boosting team morale, it is possible that you receive some valuable suggestions on making the most of each idea.

Involve an experienced coach: Get someone with a proven track record of helping teams overcome their work challenges. By getting someone from outside of the organization will help identify blind spots in
your team's productivity and get some fresh ideas."
Don't doubt the effectiveness of brainstorming because it brings amazing benefits like out-of-the-box ideas, increases collaboration, and boosts team building.
Here, I would like to discuss one incident that happened a few days ago:
A new feature called 'Kanban Boards' is going to be introduced in ProProfs Project soon, so we required new ideas on how to make our current customers familiar with this feature. Sameer Bhatia, CEO of ProProfs, called up both content and product teams for a brainstorming session. After the discussion of 20-25 mins, we had so many exciting ideas. Out of them, we finalized 3 ideas that we think can delight our customers.
Before you ask me about those finalized ideas in the comment section, I must tell you they are confidential 🙂
But one thing I can say for sure is brainstorming sessions can do wonders for all your creative teams.
5. Prevent Creative Burnout
The best way to do creative work is to work in short bursts because new ideas flow smoothly when your mind is relaxed.
Don't take this for granted because you would trigger the consequences of creative burnout if you continuously push your team. Such as:
Low job satisfaction

Increases conflicts

More mistakes

Time sinks

Mental stress
Here are two major ideas on how to prevent creative burnout
Give your team freedom: Monitoring your team's performance is important, but doing micromanagement will only increase the pressure, which might not let them think creatively. So, let your teamwork with more freedom. Here's what you should do:
Be more open about remote work

Allow creatives to take risks if it's really worth it

Let them have a word with clients if change requests are coming continuously
Giving the much-needed freedom and flexibility is a great way to manage creative people in your organization.
Develop an inspiring work environment: A workspace speaks volumes about how your creative employees are going to perform. If they experience positive vibes while working, they are likely to up their game and deliver quality results. Here's what you should do to create an inspiring work environment:
Put plants at an appropriate place as they boost employee productivity by

15%

Bring life to empty walls by adding a few artworks

Create chill-out zones where your employees can play games, have snacks, or do anything to reduce work stress
Read Also: How to Retain Employees in an Organization
Ready to Bring the Best Out of Your Creatives?
Managing creative employees is not an easy task, because factors like tight deadlines, change requests, and a shortage of resources could discourage them and affect the workflow negatively.
As a manager, you should stay positive and solution-oriented so that you can help your team during unpleasant scenarios properly.
Understanding how your team operates is also significant, as that would enable you to offer the required freedom. You should also develop a work culture where everybody feels free to communicate their problems and ideas. It will help you manage creative teams easily.
We hope you will implement all the shared tips to effectively manage your creative employees. It would be great if you bring well-developed PM software into your operations. Besides helping you with team management, it will facilitate project tracking, internal communications, client billing, and time tracking.
FAQ
---
Q. How do you manage poor staff performance?
When you notice poor performance at work, do not take strict actions right away. Talk to your employees personally and bring this to their attention. Give them time to improve, but do not wait for too long. Before things go out of control, have a team discussion, understand the challenges faced by employees and come up with a performance improvement plan.
Q. What makes a great creative team?
A great creative team comprises skilled employees who like to think and work differently. This team is full of creative ideas and has a holistic understanding of your brand and the industry you work in. They like to work collaboratively, take risks, and listen to others' opinions to develop the best ideas.
Q. What are the qualities of a creative leader?
A creative leader is an intellectual, creative, and fearless person. He is someone who likes to think beyond the ordinary, take risks, and be a constant source of inspiration for everyone in the team.
Q. How do you determine if candidates are a fit for the team?
To check how well candidates will fit in a creative team, focus on their technical, creative, and soft skills. They should have a mix of all these skills if you want them to work in sync with others and make substantial contributions. They should be risk-takers, creative thinkers, and collaborative workers.
Do you want a free Project Management Software?
We have the #1 Online Project Management Software for effective project management.