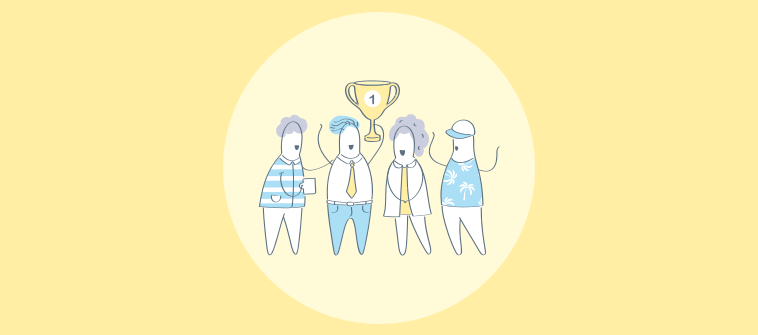 "Coming together is a beginning, staying together is progress, and working together is success."
-Henry Ford
A high performing team in the business world is much like a high performing team in sports. Think about it. Unless every team member is putting in their best effort towards winning the game, the team is bound to underperform. Like this scenario, an underperforming team in an organization is bound to fail at daily tasks and projects. The secret to team success is enabling each team member to outperform their capabilities while tightly holding on to the collective team goals.
A high-performing team has the potential to scale your business to unprecedented heights. On the other hand, an underperforming team is uninvolved, lacks accountability, and grapples at the slightest issues.
So how do you build high-performing teams to enable results that are rewarding in business?
Knowing your co-workers, establishing effective communication, and setting SMART goals help foster a culture of zeal and productivity towards work. Also, onboarding a good team management tool can make a world of difference. It ensures highly engaged team members and positions your business for long-lasting success.
In this blog, we'll look at the characteristics and ways of building high-performing teams. We will also look at few tools for team management that aid team building for guaranteed success.
Let's explore.
What is a High Performing Team?
A high-performing team consists of goal-focused people who share complementary skills and direct their expertise towards a common business goal. They work together, innovate, and support one another to deliver unmatched performance and produce exceptional results. Such a team is consistent in its efforts and proactively outperforms expectations.
This group of go-getters easily adapts to the requirements of a specific project with no compromise on the expected quality of work. Their excellent collaboration is what makes them a high-performing team.
Characteristics of High Performing Teams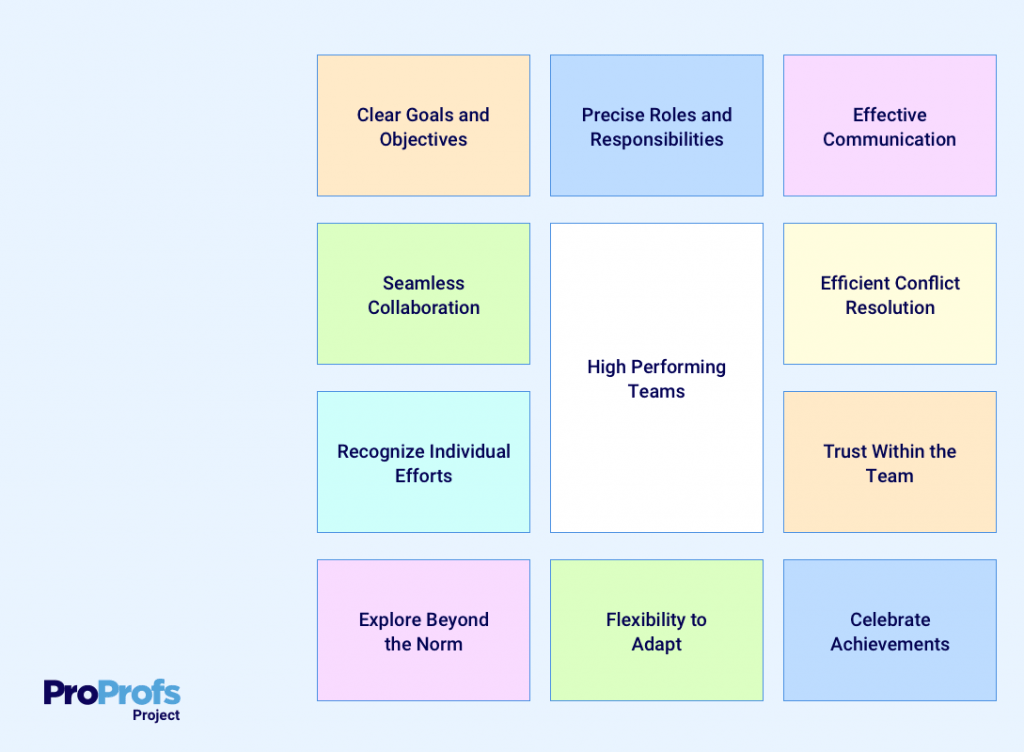 Here, we'll look at the characteristics of high performing teams.
a. Clear Goals and Objectives:
A high-performing team has clearly defined team goals. With these collective goals in sight, each member of the team has a better potential to succeed at assigned tasks and priorities.
b. Clear-Cut Roles and Responsibilities:
With clear-cut roles and responsibilities, each team member contributes to building a high-performing team. Clarity of roles promotes a culture of accountability, ensuring a seamless flow of project tasks and activities.
c. Effective Communication
Effective team communication is possible with a culture of open communication. When each team member is comfortable with expressing their opinions clearly, the foundation for a high-performance work team is built.
d. Seamless Collaboration
Building a successful team is not possible without ensuring smooth and continuous collaboration within the team. Team members must connect with each other to enable free-flowing projects with effortless collaboration.
e. Efficient Conflict Resolution
Managing teams for high performance involves resolving conflicts. Conflicts can soon turn into productivity barriers if not resolved on time. A high performing team knows how to handle conflicts and not let them impact the work. Such teams keep the lines of communication open which makes it easier to resolve conflicts as soon as they arise.
f. Recognize Individual Efforts
A high-performing team is built through each team member's contribution. All members of the team take challenges head-on, deal with failures together and even celebrate wins as one big family. They recognize and appreciate one another's effort, thus creating a collaborative and connected work culture.
g. Trust Within the Team
Trust within the team is the basis for effective team collaboration. Creating an environment that nurtures mutual trust and respect for all team members helps in building high-performance teams.
h. Explore Beyond the Norm
High-functioning teams enable each team member to be as efficient as team leaders. Such teams take ownership of their work and are thrilled to explore outside of their defined work territory. They are willing to take on new challenges that can turn them into better professionals.
i. Flexibility to Adapt
A great team adapts to any work scenario. They approach challenges with a positive mindset and get into action as per the requirement of their work. The team's flexible nature helps them stay focused and give their best shot at work, regardless of the situations and challenges.
j. Continuous Learning and Development
For successful project execution, team members have to adapt to ever-evolving work dynamics. For this, a structure of continuous learning and development is a must. It helps employees to imbibe a new skill set, building a capable and an efficient team that is ready to embrace new challenges at work.
Ways to Build High Performing Teams
It's not surprising that 97% of employees and executives believe a lack of alignment within a team directly impacts the outcome of a task or project.
Building a high-performance team is not a one-day job. It requires fostering an environment that enables each team member to come together to work as a team.
We have listed some key approaches you can take to build high-performing teams.
Let's have a look at them!
1. Find the Right Team Members
Picking the right team members for a project is not easy. Not every person will have the required skill set for all projects. Since each project is unique, it requires a unique skill set too.
For this, carefully observe and analyze an employee's skills and abilities. Look out for confident, disciplined, and knowledgeable employees. Such team members are accountable for their work and most frequently end up exceeding expectations.
2. Learn About Your Employees
Before you sit down to choose team members for a project, you must ensure that you understand your employees. While selecting a team for a specific project, you must be certain of the skills that a particular team member will bring to the project.
Interact with employees and get to know them better. Learn what governs their way of thinking and approaching a situation. This equips you with the ability to determine a team member's capabilities and accordingly assign tasks and delegate responsibilities.
3. Help Underperforming Employees
Once you identify an underperforming employee, spring into action. All you have to do is take corrective measures on time to help such employees perform to the team's standards.
Find out the areas where the employee is facing challenges. Discuss the issue with the employee and determine how you can help. Bridge the gap by providing consistent and quality feedback on their previous and current work.
Turning an underperforming employee into a top performing one is not impossible. A little extra effort and attention and you have a high-performing team member ready to conquer the next task.
4. Set a Shared Business Vision
According to Hypercomtext's 2022 State of High Performing Teams report, unproductive employees are 2.8X more likely to not know their goals.
Define the common business goals for your team. This eliminates confusion and sets a clear path for achieving the desired results.
Clearly establishing the project goals also brings a common sense of purpose. It aligns each member of the team to a shared path that drives performance and leads to project success. A shared business vision positions the team to indulge in action planning and chart a sure-shot plan to achieve set goals and objectives.
Besides, you can set measurable goals that keep employees on the right track and help them work as one unified team.
5. Set SMART Goals
Set SMART goals for your team right at the beginning of the project. 'SMART' stands for specific, measurable, achievable, realistic, and time-based.
SMART goals keep the team focused and consistent. This improves their productivity and helps them give full attention to the work at hand. It is a proven technique that specifies what is to be achieved, by when, and how. The clarity provided by SMART goals is a huge help as it keeps the team away from all distractions and pushes them to focus on what's really important.
With clearly laid project goals, a team can better attain the set objectives within the defined timeline.
6. Create a Positive Work Environment
Build a positive team culture that oozes positivity.
A positive workspace encourages communication and collaboration among team members. It helps build mutual trust and respect within the team, leading to better employee performance and a happier work environment.
In a positive work culture, team members take a proactive role in building positive relationships. They practice open communication and willingly make efforts to interact with team members across the organization. Also, a positive team culture supports the employee at every stage and values their contribution in accomplishing the overall business goals. Further, giving feedback is key to enabling the desired work environment. It positively contributes towards an employee's improved performance, leading to a company's rapid growth and achievements.
7. Keep Your Eyes Open for Signs of Conflict
You're bound to encounter conflicts within teams at work. Each team member is different, and situations may arise that cause conflicts at the workspace.
As a project manager, be proactive in spotting a conflict between two team members or even groups of people. Watch out for body language or behavioral changes. Get ready to take immediate action at the earliest signs of a conflict. You can also talk to the concerned people and instill a sense of oneness in them regarding the organizational goals.
To resolve developing conflicts, listen actively to the individuals, come up with a practical solution and direct them to a shared business goal.
8. Invest in Employee Training and Development
We agree that you must have hired the best resources for executing your projects. All of them may boast of the most coveted skill set and expertise in the industry.
However, the training and development of an employee doesn't stop at any stage of their career.
You should frequently train employees to inculcate better skills in them and help them gain more industry knowledge to deliver improved performance at work.
9. Hold Team Building Activities
Conducting team-building activities is a proven way to build essential skills in employees while keeping it fun and engaging at the same time.
Such activities cultivate the desired skills such as logical reasoning, leadership, motivation, and creativity in team members. Not just this, they also bring employees closer and help them understand one another at a much deeper level. This bond reflects in their work too.
Such activities provide a much-needed break from work while giving team members a chance to interact and engage with each other through fun, team-building activities.
10. Adopt a Team Management Tool
A high-performing team should be well aligned to project goals and objectives. For this, it is essential that team members have a clear overview of real-time project status.
Onboarding team collaboration tool is just what you need to bring your team together to collaborate on a project.
A team collaboration tool enables high-performing employees to connect and communicate on project activities effortlessly. It provides them a platform that lets them achieve set targets with clearly defined project metrics.
Key Principles of Building High-Performance Teams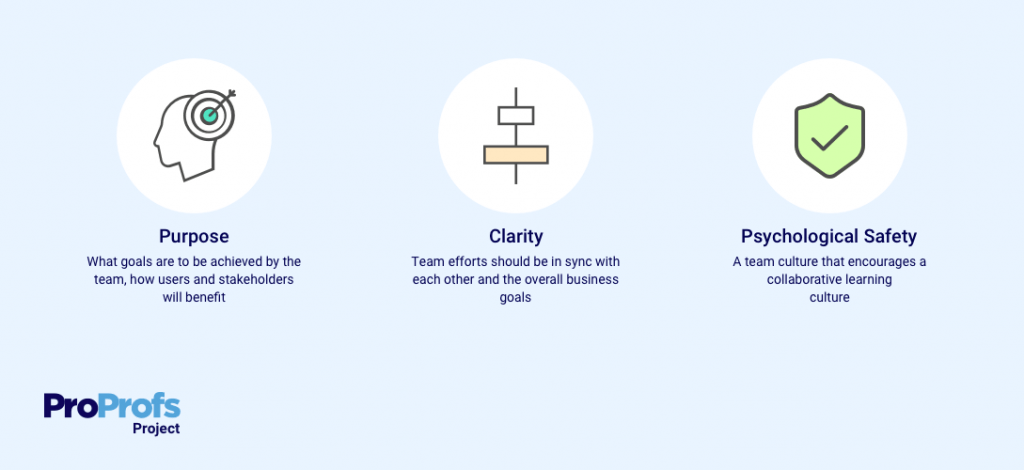 Here are the top 6 principles that you must consider while building high-performing teams.
Establish open communication within the team for smooth information flow.
Set clear goals and objectives. These keep team members on track and ensure desired outcomes within the set deadline.
Define each team member's unique roles and responsibilities to prevent overlapping of work.
Appreciate each team member's efforts. This encourages them to perform better and consistently deliver results beyond expectations.
Delegate work and responsibilities based on priorities. This ensures that team members accomplish the most important tasks first.
Foster a culture of trust and respect for each member of the team, building relationships that are as strong as an ox.
Tools That Can Help in Building High Performing Teams
The secret to building a high performing team lies in harnessing the power of a good team management tool, enabling team members to streamline their project activities.
Here's our pick of the top 3 team management tools.
ProProfs Project is a robust team management software that gives a clear picture of how your project is progressing. You can use it to allocate work to team members and monitor the stage they are at with the help of Gantt Charts, Kanban boards, and more. The tool helps teams collaborate and stay on the same page with instant messaging and document sharing. It offers insightful reports for task status, resource management, and time tracking that ensure that you are always on top of the project workflow. Also, it helps teams streamline work in a better way by keeping a constant track of their assigned tasks, pending tasks, and approaching deadlines with real-time project updates. Moreover, you can send instant feedback to team members through task comments to achieve better outcomes.
Features:
Real-time alerts and notifications
On-the-go team management with project views
Task and resource allocation automation capabilities
Built-in reports
Seamless file sharing
Pricing:
Essentials – $2/user/month
Premium – $4/user/month
ProProfs Collaborate is a Question & Answer software platform that offers instant collaboration for teams over chats and discussions. You can start a conversation even with a specific person with private messages and chat. If you want to eliminate long threaded discussions over emails and untraceable docs, ProProfs Collaborate is your best bet. With this tool, you can organize discussions by threads and topics, making them easy to get back to. It's great for keeping teams together by providing them with a single platform to ask and answer questions.
Features:
Instant notifications
Access files and documents
Consistent knowledge exchange
Centralized information sharing
User-friendly interface
Pricing:
Available on request
Zoom is an excellent platform for teams to collaborate over audio and video calls. It brings teams together to connect and communicate with one another within seconds. The tool offers features such as sharing reactions, hand raising, participating in polls, and sharing music or videos for enhanced team interaction. You can even message publicly or privately to a specific person during a group call. Besides, the tool's screen sharing option enables holding presentations with team members in real-time.
Features:
HD video and audio
Mobile-friendly
Safe and secure platform
Record meetings
Team chat
Pricing:
Basic – $0
Pro – $14.99/month/license
Business – $19.99/month/license
Enterprise – $19.99/month/license
Read More: 14 Team Communication Tools for Fast-Growing Organizations
Build High-Performing Teams for Guaranteed Business Success
"The strength of the team is each individual member. The strength of each member is the team."
-Phil Jackson
An organization is built through its teams. And each team is built through its team members. As a result, it becomes all the more important to harness the true potential of each team member by motivating them to perform to their optimum capability.
As businesses scale, teams and team members within a team increase. Thus, to manage an ever-evolving business environment, it is essential to deploy a good project management tool and employ tactics that help strengthen the team's performance. As a project manager, these are a few basic measures that you can take to build high-performing teams that can take your business to new heights.
Do you want a free Project Management Software?
We have the #1 Online Project Management Software for effective project management.