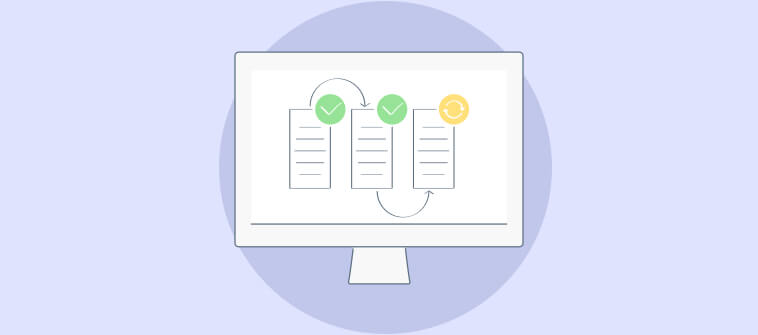 Do you know most of the organizations have a 70% project failure rate?
Usually, it is considered that a low budget is a prime reason why maximum projects fail, but that's not true every time. According to a report from Gartner, projects funded over 1 million dollars have a 50% higher failure rate than ones budgeted below $350,000.
Ok, ok, let's not create more suspense. Actually, project failure is a result of mistakes made during the project execution phase.
If we focus on the project execution gaps, these are the major ones:
A lack of common vision

Unrealistic timelines

Disengaged project members

Ineffective corporate governance

Uninspiring project leadership
That being said, it's time to discuss what project execution is and which tips you should follow to avoid project failure. Let's roll now:
What is Project Execution?
Project management has four phases that include Initiation, Planning, Execution, and Closure. Out of these, the project execution phase is the most crucial and longest phase in which you put your plan into action and strive to accomplish expected deliverables.
During the execution phase of project management, you keep a tab on several processes. Such as:
Time Management

Cost Management

Quality Management

Change Management

Risk Management
When you keep all these processes in check and implement your project execution plan appropriately, you enjoy some amazing benefits. Such as:
Better budget control

Improved client relationships

Engaged project members
Now we have covered the basics, so let's discuss — 5 tips you should follow during the project execution process to gain the aforementioned benefits.
5 Strategic Tips to Improve Project Execution
1. Set Milestones
If you realy want to reap benefits from your project execution strategy, setting milestones properly is imperative.
When you set the most crucial tasks as milestones, you basically divide your project into stages. It gives you clarity on how many project activities you want to complete in a particular time frame.
Another benefit is that your team gains confidence when they accomplish one milestone, which, in turn, helps them perform better in the remaining phase of the project.
Here's how you should set project milestones:
Discuss expectations properly: Before hoping to the project planning phase, get in touch with clients and discuss what expectations they are having. It will give you clarity about those tasks that should be set as milestones
Keep the frequency in mind:

Don't set every task as a milestone because that would not encourage your team to strive to accomplish them

Focus on your timing:

Make sure you don't place milestones close to each other, as your team may not give equal attention and leave loose ends during the project execution phase, consequently
2. Be Serious About Change Management
Source: Smartsheet
Change management is a crucial part of project management because if stakeholders are not happy with the deliverables, they will share their inputs so that you can deliver the expected results.
However, project managers put change requests on the back burner, which as a consequence, affects their project execution strategy later on.
How?
Well, sticking to the current project activities is a good move to maintain the workflow, but you have to be sure that there is no dependency between those activities and change requests. Otherwise, you may have to rework, and that is not good as far as resource utilization and project execution are concerned.
The jaw-dropping fact is 80% of companies report that they rework at least half of their time.
So, if you really want to excel during the project execution phase, take change management seriously. Here are a few tips you should keep in mind:
Always discuss expectations of all stakeholders thoroughly so that the desired deliverables can be achieved during the project execution phase

Prioritize change requests as per their criticality. Also, explain the reason behind the received changes, so your team executes tasks more precisely.

Create an employee handbook by using a

reliable knowledge base application

so that your project team follows all the ground rules during the execution process. It'll prevent mistakes, and that would reduce the odds of receiving change requests
Read Also: Change Management in Project Management- An Ultimate Guide
3. Call for a Team Meeting When It Is Really Needed
'How would you react if we say you should reduce the frequency of conducting team meetings?'
Bombard us with questions in the comment box?
Get curious why we've said that??
Let us surprise you with one report that says Fortune 50 companies lose more than $75 million per year due to poor team meetings.
Another study found that 91% of employees daydream during regular meetings, while 39% simply doze off.
Of course, we aren't trying to convey any message that you should stop conducting team meetings, but it is important to understand that unplanned meetups often break the momentum of the project execution process and also result in time sinks.
Here's how you should conduct a team meeting:
Jot down all minor project-related information and explain it to your team at once, to reduce the frequency of unnecessary meetups

Keep the end time in mind because if meetings are stretched unnecessarily, the effectiveness of the discussion would go down. So, stick to the point and also make sure all team members don't go off-topic, as that's the key for a healthy discussion

Conduct stand-up meetings if you have to call your team for a brief discussion. It would keep all attendees engaged and get you valuable inputs quickly.
4. Deploy a Reliable Project Management Application

Deploying a reliable project management tool (PM Tool) has become the need of the hour for firms struggling to improve their project success rate. The reason being is a feature-packed PM tool helps you execute your project execution strategy appropriately so that you can reap the desired benefits.
You would be surprised to know that the number of organizations relying on spreadsheets to manage their projects dropped from 74% to 67% between 2017 and 2018.
Quite a drop, huh?
Actually, PM software adoption rate is on the rise, as companies have understood that they can skip project slippage by investing in the right tools.
Here are a few reasons why you should invest in a reliable project management application
Your project members could easily collaborate when every small information, right from the percentage of completed work to overdue tasks to the project delivery date, is available.
Generally, project managers make execution-related mistakes when they try to work on multiple projects simultaneously, or deadlines of two or more projects are pretty close to each other. But with a reliable PM tool, they can easily keep track of the progress of multiple projects and take necessary measures for the proper execution of plans.
We always believe that you could execute your projects appropriately if your team members communicate crucial information at the right time. You could make internal communications seamless by choosing a PM tool that supports multiple viewing options like Gantt chart, Kanban board, and so on.
Check out the Best Kanban project management software
It would give your team clarity regarding the current task progress, which, in turn, encourages them to convey crucial information aptly.
These are some of the major benefits of investing in a feature-rich project management application. You may like to give ProProfs Project a shot, as it gives immersive user experience thanks to its user-friendly UI and attention-grabbing features. Check out this video for better understanding 🙂

5. Keep a Close Eye on Performance Metrics
During the project development phase, you can encounter some unexpected complications that not only arrest the momentum but also make you doubt your project plan. It often results in missed deadlines and represents you as a bad project manager.
Therefore, it gets crucial for you to identify and rectify performance-related issues in the early stages. The best way to do that is to keep a close eye on the related metrics. Such as:
Resource Utilization:

It shows how much time team members are spending on a project. This metric helps you analyze billable vs. non-billable activities.
Utilization Rate = (Hours worked) / (Total available hours)
Planned Value:

It's a great metric to evaluate your project performance. It is the estimated cost of planned project activities.
Planned Value = (Planned percentage of tasks that are yet to be done) x (Project budget)
Earned Value:

It shows how much value you've gained from the money invested in a project.
Earned Value= (Actual percentage of the work you've completed) x (Project budget)
Schedule Performance Index (SPI):

It clearly shows whether you are ahead or behind of your project schedule.
Schedule Performance Index = (Earned Value) / (Planned Value)

If SPI is greater than 1, it means your project is ahead of schedule or vice versa. However, if SPI is equal to 1, this implies that your project is progressing exactly as per your schedule.
Found these metrics insightful and want to learn about more? Check out this blog: Project Management Metrics Every Manager Needs to Track
Ready to Make Your Projects Successful Now?
Project execution has never been an easy task because one mistake could take your project off the track. In addition, if you manage to secure quality results in the given deadlines, clients start having higher expectations from you, which indirectly puts more pressure while working on new projects.
The only way to deal with such ever-evolving expectations is to always stay on top of your game.
Sounds difficult?
Don't worry, you can win half of the battle by simply sticking to the basics. We have shared some effective tips that would help you execute your projects effectively.
It is highly recommended to incorporate a feature-packed project management application. It would facilitate project tracking, team management, report generation, internal communications, and more.
---
FAQ
Q. How can you measure project execution?
You can measure project execution by keeping track of its schedule, quality, and overall performance. Keep a check on its cost and also monitor how well it's meeting stakeholder expectations.
Q. How do I keep my project on schedule?
List down all your tasks, prioritize them, set timelines, and keep track of project progress to ensure that timelines aren't missed.
Q. What are the major steps in executing a project plan?
Start by setting milestones, assigning tasks to your team members, setting timelines, and monitoring task progress regularly.
Q. How do you write a project execution plan?
While writing a project execution plan, ensure that you take into account all important elements such as project scope, goals, schedule, quality expectations, delivery dates, and team members involved.
Do you want a free Project Management Software?
We have the #1 Online Project Management Software for effective project management.