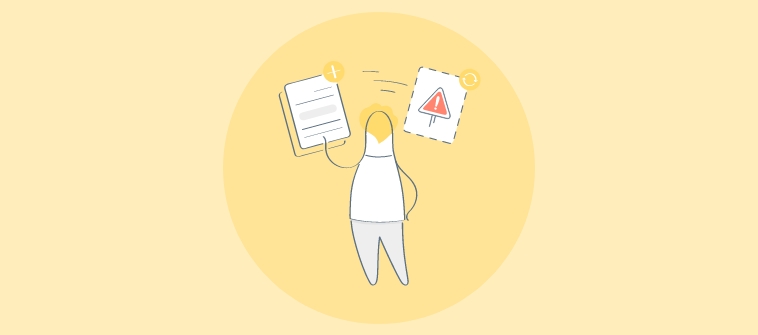 What establishes the success or failure of a project is how well you, as a project manager, can identify the early warning signs of project failure.
Think about it. When the last project you worked on failed, didn't you go back to its execution phase and realized what was a clear warning sign of impending failure? Most often, you will get these signs of failure well in advance and at a stage where they are reversible.
Identifying these signs on time is what distinguishes 'smart project management' from merely scheduling and tracking tasks as a project manager.
Being able to respond quickly to potential problems is the only solution to control possible failures. You may deploy a solid project scheduling tool to track where your project is headed. Besides, you can master some smart moves to tackle early warning signs and overturn the impact of poor project planning and tracking for good.
Read on to find out how to spot early warning signs of project failure and tackle them effectively.
8 Most Vital and Early Warning Signs of Project Failure
Planning and analyzing how your project is progressing in real-time can help avoid any detour from the set project management path, resulting in undesirable project outcomes.
On the other hand, by neglecting any warning signs and thinking that it is too late to act, you're setting your business up for what is called the 'set-up-to-fail syndrome' i.e. you're simply letting the poor management effects unfold right below your nose!
So, as soon as you spot a sign, be ready to hit the nail on the head. Draw from previous experiences, analyze what worked and what didn't in a similar situation, and revert any potential damage to your project. Because if you spot a warning sign on time, you may ultimately do away with any impact that may lead to unintended project failure.
Here, we'll look at the top warning signs of project failure and what you can do to keep a project from going off track.
Warning Sign 1: Unclear or Unrealistic Project Goals
Among all the reasons why projects fail, one that crops up every time is setting unclear or unrealistic project goals and objectives.
When starting on a project, it is not only important to understand what needs to be done, but it is also important to understand how to do it efficiently and within the set deadline. If not done correctly, team members may start procrastinating or feel burned out with unrealistic objectives to achieve.
How to tackle it?
Define project scope and manage project expectations efficiently.
Set goals before the project is in full swing.
Hold one-on-one meetings with individual team members and help them understand their role in the project.
As a result, you and your team members would have a definite roadmap to follow that prevents them from derailing the project.
Warning Sign 2: Bad Time Management
Implementing a project within a set deadline is like a ticking time bomb, and if the time exceeds, projects fail.
Many project managers estimate project execution time solely by considering past experiences, but that isn't the right way. Every project is unique and, during its execution, there is always a possibility that project managers will face a different set of challenges.
More often than not, getting timelines wrong can lead to a flawed schedule and increased risk; something that you can avoid with careful planning.
How to tackle it?
Adopt a project scheduling software. For example, ProProfs Project helps bring transparency among the three tiers of project management (executives, team members, and managers) and the client.
It allows you to create well-defined project schedules by adding tasks, assigning resources, and setting deadlines.
You can set task dependencies and prioritize tasks to effectively manage time and deliver the urgent or important tasks first.
Plan your projects carefully, allotting adequate time to each task such that no team member is underutilized or overburdened.
Always have all your team members in the loop and make sure everyone is on the same page, meeting all set deadlines perfectly.
Read More: Effective Time Management Tips for Project Managers
Warning Sign 3: Poor Communication in the Workplace
One of the biggest reasons for project failure is a lack of communication in the workplace. Communication in the workplace flows both from the project manager to the team members and from the team members to the project manager.
Any hindrance in communication will impact smooth project execution that may even delay deadlines or lead to inefficient project outcomes.
For example, a team member might come up with bloated project schedules with no baseline or clarity at all. As a result, the schedule changes as per existing requirements.
How to tackle it?
Hold team-building activities that are a great way to develop strong team connections.
A project scheduling tool also allows team members to give instant feedback via task comments and share files on the go.
Schedule regular meetings for status updates.
Encourage team audio and video calls over instant messaging.
Have an open-door policy, so that team members do not hesitate to come up with any issues or probable solutions to problems.
Read More: 10 Surefire Ways to Improve Team Communication
Warning Sign 4: Inadequate Resource Allocation
Do you find yourself re-scheduling resources midway through the project because it demands more workforce to accomplish the subsequent tasks effectively?
This is where the problem starts. To complete one project, you end up disturbing the work schedule of another which can cause it to be neglected and ultimately result in project failure.
How to tackle it?
It is essential to plan and ensure resource allocation is performed without any glitches.
Abruptly assigning team members to new tasks can deter them from performing their new tasks to the best of their abilities.
To oversee where your resources are engaged, you may use a project scheduling tool that helps track time and ascertain which tasks are taking up most of the team member's productive hours at work.
Also, multi-tasking can cause quality issues on the part of the team member as they are unable to direct their undivided attention toward one specific task at a time.
Warning Sign 5: Poor Project Monitoring
If you think that just setting up the project schedule and allocating resources will lead to project success, then you are mistaken. Once you are done with project scheduling, you must keep an eye on how the tasks are progressing.
View your projects from different perspectives. Track the overall project progress as well as task progress. Also, keep track of key project metrics.
How to tackle it?
Utilize a good project scheduling software that offers project visualization features.
Gantt charts, Kanban boards, Calendar, and List views are some of the best project monitoring views.
Generate project reports that help gain insight into KPIs instantly.
Match the set project goals and objectives with the ongoing progress. Check whether you see your team accomplishing the deliverables on time and within budget.
Read More: Project Leadership: What Is It and Which Skills Are Required?
Warning Sign 6: Unhealthy Client Relationship
Keeping your client happy is extremely important for delivering projects as desired. At the same time, you must also not be exerting yourself to remain in the good books of your clients.
The relationship must be friendly and respectful, leaving no room for feeling trapped by either of you. A healthy working relationship facilitates a smooth project run and better project outcomes.
How to tackle it?
Set the tone clear right at the beginning. Determine how much involved the client can be in project execution.
Take the project brief in writing. This will ensure that the deliverables decided at the start of a project are not contested at any project phase.
Communicate with your client at fixed intervals to give them the project status update and receive any feedback if necessary.
Understand where your client is coming from. Try to know them beyond their professional selves. Bond on common interests with each other. This will enable both of you to cultivate a cordial relationship and work on projects more delightfully.
Read More: Tips & Tricks: Keep Your Client Updated
Warning Sign 7: Eluding Conflict Resolution
Nothing cripples a project more than loopholes in communicating with each other. Along with improper communication, conflict resolution is one of the top reasons why projects fail.
Most project managers still use emails to communicate with their team members and if any member feels that there is any ambiguity in the mail or tone, it can lead to a conflict. If someone is unable to understand the email; it's a recipe for project failure.
How to tackle it?
If you can, communicate and resolve issues face-to-face. A face-to-face interaction, such as in a video call, helps address each conflicting issue elaborately without causing confusion while communicating on messages or even audio calls.
Practice active listening to hear out what your co-worker has to say. Try to understand their point of view and take immediate steps to minimize potential misunderstandings and conflicts.
Embrace conflicts, analyze their root cause and pave out future paths for faster resolution within teams.
Read More: Conflict Resolution in Project Management: Complete Guide
Warning Sign 8: Difficult Stakeholders
A stakeholder is anyone who has invested in the project you are executing. Thus, focusing all your time, energy, and efforts on your team and project and overlooking your stakeholders is another common reason for project failure.
A stakeholder can be a thorn in the bush if he is either barely involved or overly involved. A barely involved stakeholder expects you to deliver the final product sans any regular inputs and feedback while an overly involved stakeholder frequently jumps into everyday project execution, annoying both the project manager and the team members.
How to tackle it?
Identify all the stakeholders and keep them in the loop by giving constant updates related to work progress.
Set a fixed channel of communication through which they may give feedback on ongoing tasks at fixed intervals
Popular Project Failure Examples and Lessons to be Learned From Them
From the above graph, it is clear that 77% of high-performing companies do not undervalue project management but adhere to high alignment to proven management strategies.
However, we do have some project failure examples by esteemed companies, groups, and people that we can analyze and learn from.
Let's look at some of these bad project management examples and try to understand what they did wrong and what we can take away from them.
Sydney Opera House's new building was set to be built by the Danish architect Jørn Utzon. Interestingly, a project that was scheduled to be completed within four years with a budget of AUS $7 million ended up taking fourteen years to complete at a cost of AUS $102 million. The project was not only mismanaged financially but also managed irresponsibly as a whole.
Lesson to Be Learned
It's not hard to think why it took so long to complete the architecture. Yes, there was no plan in place. Then, there was no project manager who could track how things were proceeding and take corrective actions at the earliest. There was only one person who was assumed to take all decisions that relate to the design, construction, or development of the monument. This caused the project cost to rise up by over 1400%!
Ford did extensive research on Edsel's car model and even studied the personality that the car would boast. But, it took a little longer than it should have and could unveil the car only in 1957. The result? The market did not respond well to the new model as it had moved to buy compact cars by then.
Lesson to Be Learned
Undoubtedly, the Edsel must have been a great car, but it didn't release when there was a demand. There was clearly no defined schedule for project research and take-off, resulting in delayed deadlines. Also, the company lacked a system that facilitated communication so that teams could collaborate and discuss the relevance of things unrolling in the market.
Read More: Why Is It Important to Have a Project Management Communication Plan in Place?
The Titanic story, when viewed from the project management lens, shows how faulty decision-making cost the lives of hundreds. Its three key stakeholders, JP Morgan, White Star Chairman, and Harland and Wolfe Chairman placed 'luxury' before 'speed' for profits. The decisions made and the conflicts faced during the design and construction stages and even during the sea trials led to uncontrollable scope creep, leading to one of the biggest ship disasters.
Lesson to Be Learned
Firstly, there were no clear guidelines on stakeholder involvement. While stakeholder approvals are mandatory, operational functionality is something that cannot be compromised on, especially when the project is a ship voyage. Also, there were no set safety communication channels in case the ship faced an issue mid-journey. Any calls made asking for help were brutally ignored.
Building the Airbus A380 required production facilities from across the world to manufacture parts of the aircraft. When it was finally time for installation, these parts were bought in one place. But to everyone's dismay, the parts did not fit together. This was a big blunder that cost the company $6 billion and pushed the project ahead by two years.
Lesson to Be Learned
Since the teams were working remotely, it became increasingly important to prioritize communication at every step to coordinate everybody's efforts. Teams working on Airbus A380 did not set clear goals and tasks that would have enabled everyone to understand what is supposed to be achieved and by when. Without this, it would undeniably have been difficult to report discrepancies for better project outcomes.
Virtual Case File (VCF) wished to modernize its outdated infrastructure by updating the FBI's IT infrastructure which was primarily done on paper. They started in 2000 and made some progress but soon abandoned the project due to scope creep, specialization changes, and excessive micromanagement, resulting in system failure.
Lesson to Be Learned
The process of updating the system was unsuccessful as there was no proper planning done to determine the specific project management that will be followed during project execution. This caused chaos while working as there were no defined steps of project implementation. Besides, there was no solution using which they could monitor data and progress to ensure things were being achieved as planned.
Read More: Project Management Pitfalls and How to Avoid Them
Stay One Step Ahead With an Efficient Project Scheduling Tool
Don't waste a good mistake, learn from it. – Robert Kiyosaki
So, when executing a project, keep in mind the eight early warning signs of project failure as mentioned in this blog post along with the poor project management examples, and try to eliminate all these mistakes from your project management lifecycle.
The ideal way out is by choosing a simple project scheduling software that helps to manage multiple projects, teams, and tasks on a single dashboard. One such software you can try out is ProProfs Project. From defining project goals to generating insightful reports, you can do it all hassle-free!
Do you want a free Project Management Software?
We have the #1 Online Project Management Software for effective project management.