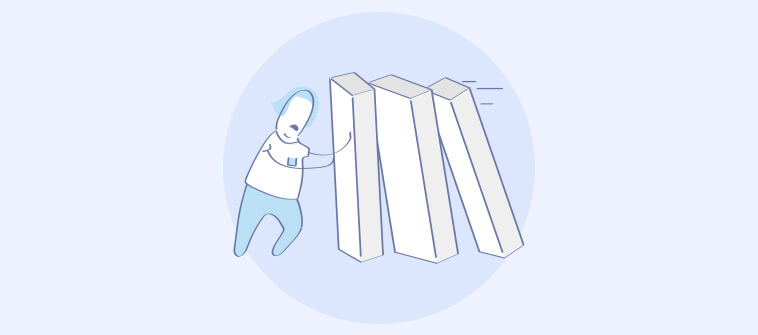 Risks and change requests are two factors that can jeopardize the project management triangle. But there is a third hidden factor that takes you closer to project failure: 'Silly mistakes.'
Success does not consist in never making mistakes but in never making the same one a second time. — George Bernard Shaw
You encounter different types of obstacles during each phase of the project development process. Different sorts of obstacles might derail you from the right path, but it is essential to keep your guard up in each stage. Project management pitfalls could trigger problems like budget overrun, missed deadlines, etc. and these are enough to break client relationships and put your business's credibility into question.
If industry reports are anything to go by, poor management of requirements has led to the failure of 47% of projects.
We have compiled the top 11 project pitfalls along with their solutions in this write-up for you to sail smoothly during your journey. So, let's commence:
Table of Contents [Hide]
1. Lack of Communication
Meaningful conversations with your project team at regular intervals could be decisive in the pursuit of success. The importance of proper communication cannot be taken for granted, because if your teams in different departments don't share project-related updates with each other, then keeping a record of deliverables would become a challenging job.
Of course, when you encounter too many problems during the execution phase, you will summon stakeholders for a serious discussion. Instead of finding out the reasons behind setbacks, you will witness how well each member plays the blame game. It will influence camaraderie negatively and finally results in project failure.
Solution: Conduct team meetings and welcome project executives to share their opinion on how the quality of deliverables can be improved. It will reveal hidden mistakes and empower you to resolve proactively.
Read more: Identity Early Warning Signs of Project Failure
2. Poor Project Planning
One of the major project management pitfalls, improper planning, makes sure that you end up with unacceptable deliverables. It's not tough to understand that if you don't set off the right foot, how could you complete your project management journey on a successful note?
Thus, map out your project plan in such a way that paves the way for perfect execution. It will help you keep the iron triangle in check.
Solution: Solicit inputs from experienced project executives and check out closure reports of your previous successful projects for righteous planning. It will help you identify the loopholes way before they occur during the course of your project.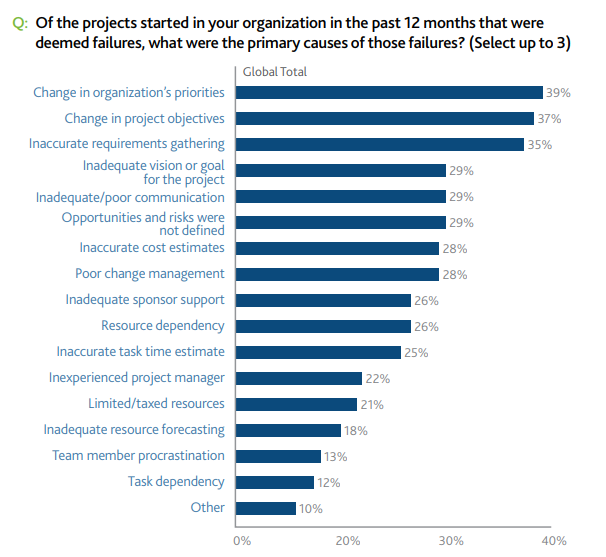 3. Not Creating Smaller Segments of Complicated Tasks
Every project comprises unadorned and intricate tasks, and you must delegate them properly for perfect execution, right? But, there is one thing you need to comprehend: Mistakes are bound to happen when you work on a complicated task, regardless of how well you try during the execution.
Mistakes, even small ones, open up the possibilities of rework, which, in turn, results in missed delivery dates or compromised project quality.
Solution: Break down complex project tasks into smaller segments and give proper time to your team for perfect execution. Substantial time and micro-planning leave little to no room for mistakes.
4. Unrealistic Targets
It is true that you need to test your limits to be successful in the project management world. But, at the same time, it is also instrumental in understanding that pushing your team members too much will only yield problems.
As a consequence, the quality of deliverables will be compromised, employee turnover rate will multiply, and so forth. In short, setting unrealistic targets will turn your project management journey into a nightmare.
Solution: Always conduct a kickoff meeting and clearly reveal your expectations to the team members. Invite project executives to share their opinion about targets and take necessary steps in case some valid points come to light.
5. Inexpedient Risk Management
Risks have always been an inevitable part of projects, unfortunately. Therefore, risk mitigation should be done on priority. Sometimes, however, project teams or higher-ups take small risks for granted because they want to stick to their plan of delivering deliverables before the stipulated time.
Instead of getting benefits, this practice brings big problems to the table in the later stages. It happens because small risks ignored in the first place turn into complicated ones with every passing stage.
All in all, inexpedient risk management is one of the project pitfalls that could fail.
Solution: Calculate risks as much as possible by monitoring closure reports of your last projects. You can even involve your top-performing project executives in the evaluation process for better insights
6. Not Deploying the Right Project Management Software
Another project management pitfall that increases the chances of failure is not having the right tools in the arsenal. At present, the significance of unparalleled project management software like ProProfs Project is booming, because it soothes pain points of managing big projects.
How so?
Well, you get access to indispensable features, which cut your job related to project management into half. For instance:
Time tracking lets you keep a record of productive hours

Insightful reports keep you updated regarding team performance

Calendar view allows you to plan things proactively
Solution: Choosing the right project management tool could be tough, as there are many applications available in the market. So, evaluate your business's requirements to make the right call. Besides, you can check out these 20 Best Project Management Software & Tools for 2020.
7. Unclear Job Roles and Undefined Responsibilities
Being a project manager, you must know the real forte of each team member. It will help you set job roles appropriately. Every person possesses a different skill set; thereby, doing an evaluation is fundamental.
Apart from unclear job roles, undefined responsibilities are a project management pitfall that drives your business towards its end. It goes without saying that when your project executives don't know the work they're accountable for, they are unlikely to complete their assignments properly.
Solution: Hold a meeting and invite each project executive to come forward and share how they would like to proceed during the development process. It will help you set job roles and responsibilities aptly.
8. Wrong Estimation of Time and Budget
For client-centric businesses, it is essential to deliver deliverables in accordance with SLAs. Thus, setting correct time and budget estimations is instrumental, because a wrong assessment will put your project team under the pump and jeopardize the quality of deliverables.
Bad time estimations will get you delivery complaints from clients, while poor budget estimations will result in less ROI or loss.
Solution: Evaluate the complexity of the project and consult with your team before setting timelines. As far as budget is concerned, scrutinize the cost of resources and keep the intended profit in mind.
9. Not Having Plan B
I know it feels good when you have significant experience under your belt. But it's important to not be overconfident, as unexpected mistakes will take place and derail your projects, consequently.
As already mentioned, risks are very much part of projects. It's a matter of time when they turn the table and put you in the state of concern. So, yes, having a contingency plan in place is central to project success.
Solution: Make sure extra resources are available to cope with unpleasant scenarios and keep workflow intact. Identifying star performers who can go that extra mile during contingency situations proves useful.
10. Low Investment Money for Big Projects
Nothing could be more eye-pleasing than witnessing soaring profit levels. But reducing investment money for big projects in the name of profit is a bad business practice.
Insufficiently funded projects always struggle to meet desired quality standards and have little hope of being successful.
To put it briefly, you just try your luck by setting low investment money for big projects.
Solution: Dedicate enough money and personnel, regardless of the project size. The right kind of investment goes a long way throughout the scope of project even during the risk phase.
11. Lack of Trust
Trust is the foundation of any good work, because when you put your faith in team members, then they dedicate everything to raise the bar while working. But when an insecure project manager calls the shots, the trust factor vanishes.
With a lack of trust, you may complete your business project on time. But there will be a sense of negativity in the workforce having low morale, and this will create unexpected problems for you while working on future projects.
Solution: Raise the spirits of your team members when clients give positive and good feedback. Tell them to prepare project-related questions and then involve them in a video conference call with clients on Zoom or Google Meet. Besides securing better insights, it will establish a bond of trust.
Conclusion:
Handling projects has never been easy, as you confront several challenges during the development process. Plus, project management pitfalls make life more difficult, and this could be the reason why most of the businesses outsource non core projects.
We have brought project pitfalls to light so that you can wipe out success gaps proactively. But the important tip to takeaway from here is:
Small mistakes can create big problems and open up possibilities for clients to roast you. So, taking your chances unnecessarily is not a sagacious move.
Perhaps this is the secret that sets star performers and performers apart. We'll be happy to know about any other project pitfalls that ruined your plans, let us know in the comment section.
Thanks for reading!
Frequently Asked Questions
Q. What is a common pitfall?
We brought the spotlight on 11 project pitfalls, but the most common one is setting unclear job roles and undefined responsibilities.
Q. What should project managers avoid?
Project managers must ensure that their team doesn't take things lightly because overconfidence generally makes executives make those mistakes that can take projects off the track.
Q. What pitfalls of small business should you avoid?
Every project management pitfall is enough to bring any business to its end. Besides avoiding the aforementioned 11 project pitfalls, small businesses should employ an extra cautious approach at every stage of the project.
Do you want a free Project Management Software?
We have the #1 Online Project Management Software for effective project management.