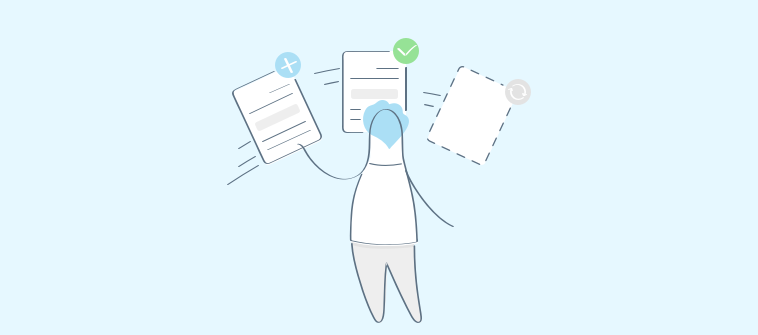 Being a newbie in the project management field can suck big time, especially if you have no clue on how to go about a certain process. It becomes worse when you are expected to deliver just like your predecessors when you don't even know where to begin!
But do not panic. We are here to help!
Here is a project management guide that is built with you newbies in mind. We understand that there are a lot of challenges you face at work while managing a project. However, to tackle them head-on, it is important that you keep yourself updated with the basics. So, before diving into the concept of project management, let's take a look at 'what exactly is a project'.
What is a Project?
A project is a temporary endeavor to create a unique product or service, and it comes with a specific start date and due date. To accomplish the goal of a project, a specific set of operations need to be performed by the team managing it. Further, it is not necessary that a project is conducted by people who usually work together. A project team can consist of people who may come from different organizations and may even work across multiple geographies.
This short-term endeavor comes with the following aspects before it gets initiated. These include (but not inclusive of):
Specific timeline

Defined scope

Estimated budget based on timelines

Defined and available resources like human capital
So whether you are building software to improvise your services as a brand, working on an upcoming business event, managing your marketing strategies to boost sales or putting your efforts to build a building or a bridge – they all can be defined as projects.
Now it is time we take a look at 'what is project management'.
What is Project Management?
Project management is defined as a disciplined approach of initiating, planning, strategizing, executing, monitoring and communicating, and providing final deliverables to client within a set timeline.
However, Project Management Body of Knowledge or PMBOK defines project management as "The application of knowledge, skills, tools, and techniques to meet the project requirements."
Project management is equipped with a handful of crucial premises that are as follows:
Do not view project management as a small task.

While managing a project, adhere to the given start and end dates.

The management process includes using tools like project management software to track, monitor and measure the completion of tasks by team members. Managers are also recommended to use Gantt Charts and PERT Charts.

While managing a project, managers have to frequently use ad-hoc resources rather than full-time, dedicated resources.

Implementing a thorough project management approach can help managers spot loopholes or scope creep that ensures the chances of success are higher.
The Project Management Life Cycle Covers Five Different Activities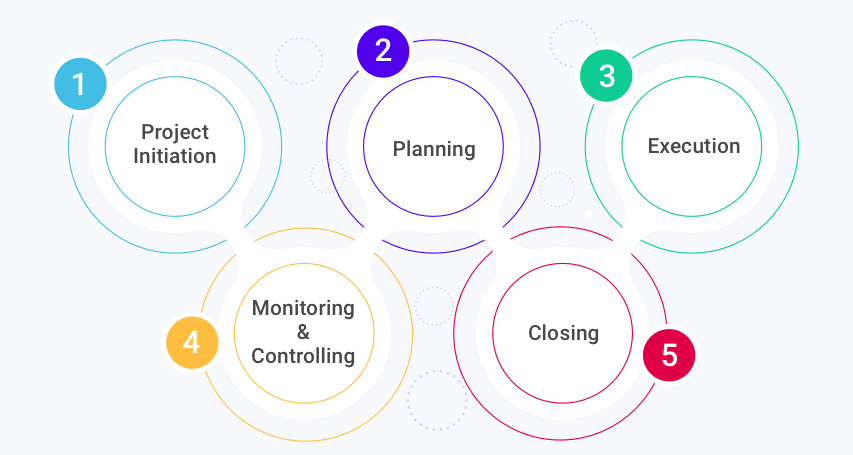 Project Initiation

During initiation, managers work on a project definition summary, understand the objectives while keeping the client's business in mind, and build a structured project management organization. They also have to evaluate the project score, analyze it for risk, create cost and budget estimates, and plan for human resources.

Planning

Managers get a grip of project workflow, create a plan, and break down work with defined milestones.

Execution

Once the plan has been created with a start and an end date, managers move on to the execution phase. A simple project management software can help them to stay updated with the progress of an ongoing project and assign work to different team members for ensuring timely completion.

Monitoring & Controlling

During this stage of project management, managers need to test, monitor and control the end-result of the project, and make required tweaks wherever necessary.

Closing

In the final stage, project managers analyze the project team results, document project closure for clients, and account the used and unused budget allocated.
Besides these stages, managers have to acquire knowledge on project management for the following 10 areas:
Integration of required technology

Estimated time and actual time required

Estimated and actual implementation costs

Quality of the final output

Procurement of resources needed

Human resources allocation (both in-house and remote project team members)

Regular and real-time communication

Risk management

Stakeholder management
So no matter how big or small your project is, you have to look into all of the above-mentioned aspects. Being a manager you have to remember that project management gets shaped due to its unique goals, resources procured, and the set schedule.
We hope that you are now aware of the concept of project management and what does it entail.
Summary Questions:
Now that you have a little idea about project management, let us cover a few basic questions asked about project management.
Q1. What are the basics of project management?
PMI or Project Management Institute has identified nine areas of knowledge within project management. They include integration management, scope management, time management, cost management, quality management, human resource management, communication management, risk management, and procurement management.
Q2. What are the key elements of a project management framework?
There are six key elements of a project framework, including initiation, planning, executing, monitoring, controlling, termination.
Q3. What are the three main elements of project management?
A very important thing to know. The three main components of project management, also known as the project management triangle, are time, cost, and scope. Nowadays, a fourth aspect to this is also considered by some companies – that is

quality

.
Q4. What are the characteristics of a project in project management?
A project is unique, temporary in nature, complicated, and specific.
Q5. How do you classify projects?
You can classify projects on the basis of size, complexity, application, and type.
Do you want a free Project Management Software?
We have the #1 Online Project Management Software for effective project management.