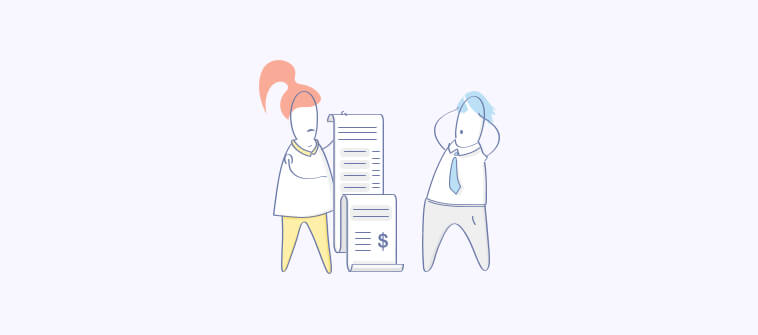 Every new project comes as a delight to client-centric companies, as they get a golden opportunity to uplift their business growth. However, the factor that decides whether they will thrive or fail at the end is their project management efforts.
It is very important to put in all the efforts with all your heart into a project because to meet clients' expectations regarding deliverables. A half-heartedly done project is more than enough to weaken your relationship with clients. Two or more instances of poor performance and the client is ready to say goodbye for once and for all.
Plus, negative word-of-mouth sets off, which further makes sure you don't get any new clients. Basically, your business will be in a tottering position due to poor project management.
If industry reports are anything to go by, 17% of IT projects fail in such a manner that puts the company's existence in jeopardy.
In a nutshell, Project Cost Management is all about keeping expenses in check without compromising on productivity during the project life cycle. Handling project management costs properly is deemed as the most crucial factor of the project's life cycle. It is because if you don't keep the money flow in control while handling projects, you are likely to find yourself in any one of these two scenarios:
'Expecting more money from clients' or 'Witnessing a significant drop in the profit levels'.
Handling project cost is crucial for the overall successful delivery of the project. If you are confused about how project cost management works, then you are at the right place. Let's clear all your doubts and start with the basics.
What are Project Management Costs
Project management costs involve all the money you need to shell out for completing crucial project management tasks – initiation, planning, execution, controlling, and completion.
Generally, there are two types of costs that you need to take care of while handling projects. Such costs are:
Direct cost
Direct cost is all about those expenses that you have to bear for the sake of bringing resources vital for project completion. For instance, materials, equipment, workforce, etc.
Indirect cost
Indirect cost is not directly related to project completion, but it is essential for organizations working on projects. In simple words, indirect costs are the factor that keeps profit levels in a healthy state. For instance, quality control and utilities.
Usually, small companies compromise with their profit due to their incompetencies related to cost management of projects. Simply put, both cost overrun and loss go hand-in-hand.
Processes You Need To Follow For Seamless Project Cost Management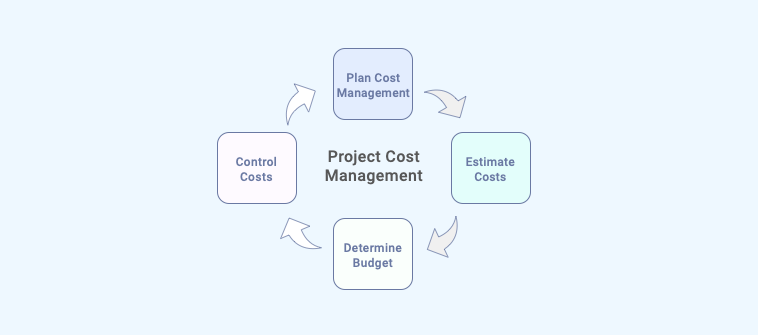 1. Plan Cost Management
During this process, you determine the budget, calculate costs, and take care of expenses during the project development cycle.
2. Estimate Costs
This process is all about estimating costs related to tools, materials, equipment, etc. Basically, you analyze the capital required for the completion of each project activity.
3. Determine Budget
As we have already mentioned, direct and indirect costs are part of every project's life cycle. Thus, you have to estimate both these costs separately and accurately. In this process, you draw the line and sum up all cost estimations to come up with the overall project budget.
4. Control Costs
This process is self-explanatory. Once you have decided on a budget for a particular project, you must stick to it for the sake of maintaining your business's bottom line and client relationships. During this process, you strive to keep the project expenses in check and complete the project within the set budget.
Do Project Management Tools Help To Preempt Cost Overrun?
The cost management in project management is indeed, but you don't have to be sweating when you have a prodigious project management tool like ProProfs Project in place. The specialty of this tool is that it offers all those features that let you do perfect cost planning in project management. Such as:
Precise

tracking enables you to meet

timelines with aplomb.

Smart reports give you insights into those factors that can demand unnecessary expenses.

The luxury of creating task dependencies paves the way for seamless team communication.

Accurate billing ensures there will be no monetary differences between you and your clients.
Techniques to Preempt Budget Overrun During Project Cost Management
1. Use work breakdown structure
The most effective way to secure flawless project cost management is to use the work breakdown structure (WBS), a classic methodology to accomplish project success.
The significant benefit of using WBS is you get clarity on what you need to do and by when. In the work breakdown structure, you divide the project into small segments for assigning tasks properly. Due to this, you enjoy the perks of proper project planning, which also comprises cost saving.
So, yes, you can say WBS is the key to perfect cost planning in project management.
2. Develop a Contingency reserve
Being a business owner isn't easy, as you never know what the next situation is going to be. Therefore, it is better to be prepared for any type of scenario, instead of resting on laurels.
In a nutshell, developing a handy contingency reserve ensures that the project stays in the budget even when some aspects go haywire.
So, always look to contingency when your aim is smooth project cost management.
3. Let your Employees Stick to one Project
To handle every project perfectly, you must take care of every small aspect. Usually, SMEs face the hassle of poor project cost management because they don't manage their workforce aptly.
Repeatedly switching employees between multiple projects makes a terrible impact on the deliverables. At last, the hassle of budget overrun takes place, and your whole cost planning in project management goes in vain.
So, let your employees stick to one project so that they can complete tasks as per the decided time.
4. Solicit Suggestions Regarding Time Estimates
The best way to ensure appropriate cost management of projects is soliciting suggestions from project executives regarding time estimates. This factor shouldn't be taken for granted because your employees know how much time a crucial task can take. Thus, you should ask for opinions before promising the project delivery time to clients.
By and large, project managers estimate the time on their own. Sometimes, they hit the bull's eye, but when they fail to do that, then you have to spend more than your anticipations because you have to bring more resources to complete projects on the promised time.
Hence, ask for time estimates from your project executives before making any promise to clients.
5. Never Rule out Performing Change Control
Handling multiple projects is tough because of the changes you need to make during their lifecycle. During the project execution, you have to add, change, or eliminate activities to ensure success.
So, it is vital to perform change control so that wastage of time and resources can be averted. What does change control mean? It is all about documenting changes before initiating the projects. The major benefit is you smoothen the further progress and use your resources efficiently.
So, don't underestimate the significance of change control in contemplation of proper cost management of projects.
6. Stay Attentive, Regardless of Project Size
The best business practice recommends never dropping your guard, no matter how comfortable you are in the situation. Don't neglect this, as it's just a matter of time when a trivial issue transforms into a critical one.
In general, business owners consider cost management for small projects isn't a worthy practice, and this mistake costs them heavily in the later stages. It is because the odds of carelessness are increased when small projects are in progress. As a result, the probability of unnecessary expenses goes up.
Hence, stay attentive even when you are handling smaller projects, as that's the key to flawless cost management in project management.
7. Track in Real-time
Having an unrivaled project management software is instrumental in monitoring the budget appropriately. This is important as far as the task of managing costs is concerned.
In case you're not monitoring real-time data, you are unlikely to act swiftly to obliterate glitches. Thereby, the chances of budget overrun will increase.
So, bring a competent project management software on board that has the functionality of real-time data tracking into your business operations. Need some suggestions regarding this? You can try out ProProfs Project, a tool to learn about your projects in and out.
8. Don't act like a Slowpoke
As we know, there have always been consequences of our actions. You reap the rewards when you play your cards to perfection and vice versa. So, never act like a slowpoke whenever you discover a discrepancy in project cost.
The slower you react, the more money you lose later. Hence, act immediately to get things back in control.
9. Communication is the Key
Seamless team communication is the key component to complete a project within a set budget. As we discussed earlier, there are times when you have to make changes in project activities to meet the client's expectations. Your project executives should discuss such changes actively to maintain the workflow.
Ineffective communication not only ruins cost planning in project management but also multiplies the chances of project failure. Goes without saying, team communication is one of those factors that can elevate your business longevity.
The prominence of team communication almost gets doubled when there's a task dependency between two or more teams. At this point in time, ProProfs Project is worthy of discussion as this management tool can help you keep project teams on the same page.
Features of ProProfs Project that pave the way for flawless team communication are:
Internal notes and labels.

Task dependencies

Task assignment

Set milestones
10. Scrutinize Strengths and Weaknesses of Team Members
The success of a project heavily relies on the skillset of your teams. Therefore, it is significant to know the strengths and weaknesses of team members, who are going to work on projects.
After assessing the skills of project executives, task assignment should be done. The major benefit of doing this is your team members won't feel actual work pressure. As a positive outcome, you secure swift task completion and better time management.
Needless to say, when your teams start completing assigned tasks before deadlines, there will be no hassle related to project cost management in the future.
11. Identify and wipe out potential risks
Last but not least, risk management is one of those crucial practices that lead to project success.
Risks are part of every project, unfortunately. And they can make an appearance at any time to jeopardize the whole lifecycle of the project. Besides hampering project progress, risks create a situation for you to spend more money than your budget. This significantly disturbs your project cost management.
Therefore, such potential risks should be identified beforehand so that things can be kept smooth in further stages.
How to Identify Risks in Projects?
Well, you can use the work breakdown structure to learn about the risks your projects are carrying. Instead of depending on WBS, you can take these steps into account as well:
Conduct meetings with your project teams and welcome them to share thoughts with regards to risk assignment.

Analyze your previous project work with the purpose of learning about those factors that you missed to rectify.

Try horizon scanning.

Perform root analysis.
With these infallible techniques and the experience of your project managers, you are likely to foresee maximum risks, which need to be taken care of before they result in project failure.
All in all, you need to realize the importance of risk management before it gets too late. Multinational companies always pay special attention to it, thereby, enjoying perfect project cost management.
Final few words:
In the business world, money is deemed as the driving force, which is true by all means. Companies hand over projects to third party firms so that they can save some portion of their capital, while the latter strives to complete projects in the promised budget to secure economic benefits.
It is very important to remember that project cost management is the factor on which your client relationships rely. If you have read the information mentioned above with caution, you must have already understood how cost management of projects determines business growth.
We have also discussed some techniques to avert the hassle of cost overrun. Hope you keep them in mind and implement while working on projects.
---
In case you have any other queries, here we have answered some frequently asked questions for you:
Q. Why is project cost management important?
Proper cost management is significant not only for project success but also for the stability of business growth. It is crucial for smooth project execution, for profitability, for preventing budget overrun, for effective project management.
Q. What is involved in project cost management?
Project cost management involves everything, right from planning to execution, so that an appropriate budget can be set for each project. As a positive outcome, the project success rate improves, so do the profit levels.
Q. How can project management reduce costs?
As we know, there are so many factors included in each project. Hence, if you properly manage all your projects, you are most likely to avert unnecessary expenses. It is useful as far as the business's bottom line is concerned.
Q. How is project cost calculated?
Calculating project costs is not easy, especially when you are supposed to handle complicated and big projects. The key to coming up with the right budget is to divide the project into work units. After that, you need to determine the cost per unit for proper estimates.
Do you want a free Project Management Software?
We have the #1 Online Project Management Software starting at $0