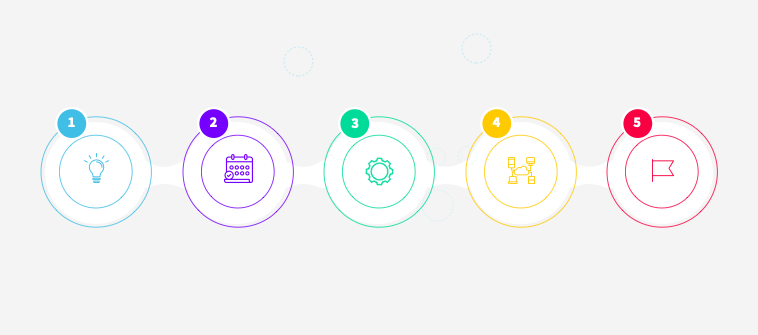 Project Management is the art of coordinating resources and directing working groups to execute components of work so that each group delivers components that can be tied together into a wholesome deliverable (contracted scope of work) within schedule and budget.
— Project Management Institute
In simple terms, the Project Management process is the art of managing all components of a project from starting to closure using a structured scientific methodology. According to the PMBOK guide, which is considered the bible for project managers, project management is scientifically done by managing project documents through 49 processes that are grouped into five project phases.
Let's learn about the whole process while discussing 5 project management steps of a project life cycle.
1. Initiating
Initiation is the very first phase of project management, and it is all about measuring the value, benefits, and feasibility of the project. The main tools used in initiation are the business case document and the benefits management plan.
The business case gives a high-level picture of what the project is all about and why we need it.
The benefits management plan talks about how and when the benefits of the project can be reaped.
These two documents are created and analyzed by the project sponsor and project manager, along with other key stakeholders to decide whether the project is needed or not.
The processes in this phase are:
Develop Project Charter

Identify Stakeholders
If the project proves to be viable, a new document called project charter is created, which will include all inputs from the business case and the benefits management plan. Project charter serves as an approval for the project and authorizes the use of corporate resources for the project.
Stakeholders are also identified in this phase. Most part of this process happens without the project team, i.e., only the project sponsor, project manager, and few stakeholders get involved.
2. Planning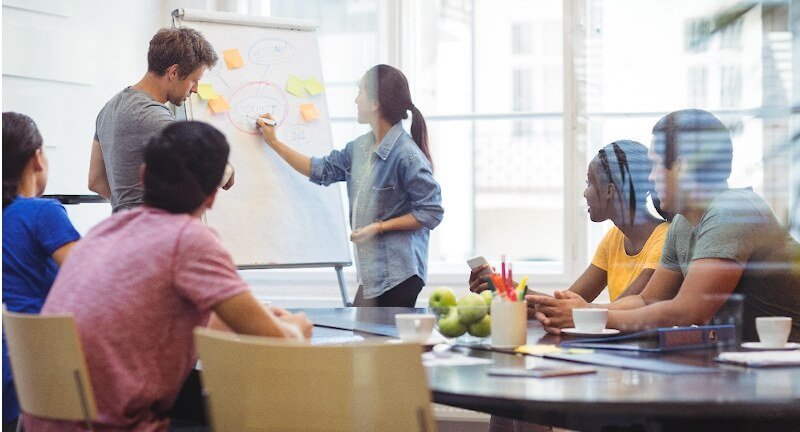 Once the project is approved in the initiation phase, the next thing to do is planning. Project managers sit along with the team to plan ahead at the appropriate level of detail. A project manager does most of his work in planning, and out of the 49 processes laid out in the PMBOK guide, 24 processes come under planning.
This process does the planning for different parts and components of the project by bringing them all together and iteratively planning the project. Planning includes creating strategies for managing, scope, schedule, cost, quality, resources, risk, communications, procurement and also making a plan for stakeholder engagement.
Project planning focuses on developing a roadmap that the team has to follow by setting goals and milestones. Project goals must be:
S.M.A.R.T. (specific, measurable, attainable, realistic, timely)

C.L.E.A.R. (collaborative, limited, emotional, appreciable, refinable).
Your project plan must include these:
Scope: At first, an overall project scope management plan is created. It is then used to collect requirements from customers and to define the scope. The scope is then broken down into smaller deliverables call work packages, and they are aligned into a hierarchy called Work Breakdown Structure (WBS).
Schedule

: After defining the scope and breaking it down into work packages, activities are defined for each work package. The activities are then sequenced, and the duration required for each activity is estimated. After that, a complete schedule for the project is developed.
Cost

: A cost management strategy is first made, after which the cost for each work package is estimated. The estimates are then summed up, and some reserves are added to it to create the project budget.
Quality

: A strategy for managing quality is made, which needs to be followed throughout during the execution of the project.
Resource

: An overall resource management strategy is made. Both physical resources and human resources are estimated for each activity defined for the work packages.
Communications

: According to the project management institute, a project manager spends 90% of his productive time communicating. So, here, a plan for how communications are to be sent out is created.
Risk: This is an integral part of planning. Risks are identified after creating a risk management strategy. Risks are then assessed and prioritized relative to each other. Not all risks warrant a response. There might be risks that may not impact the project much, and such risks are ignored. After the relative risk assessment (aka Qualitative risk assessment), risks may be assessed based on actual cost or impact values. The second level filter is not a mandatory process and may be skipped in the project manager's discretion. Once risks are prioritized, the response plans for each risk is identified and documented.
Procurement

: Most projects involve purchasing materials or services from outside. Procurement planning involves the make or buys analysis to decide whether to procure or to make in-house. In addition, the contract type, the terms, and conditions, the breach penalties are also planned, discussed and finalized.
Stakeholder Engagement:

Any person who has an interest or influence in the project can be called a stakeholder. But, not all stakeholders need to be engaged equally. For example, a stakeholder with high power and a strong influence on the project must be managed carefully. There might be negative stakeholders who are not in favor of the project, and they need to be managed appropriately.
Steps you need to take care of while project planning:
Develop Project Management Plan

Plan Scope Management

Collect Requirements

Define Scope

Create WBS

Plan Schedule Management

Plan Cost Management

Plan Quality Management

Plan Resource Management

Plan Communications Management

Plan Risk Management

Perform Qualitative Risk Analysis

Perform Quantitative Risk Analysis

Plan Procurement Management

Plan Stakeholder Engagement
3. Executing
Executing is an important component of the project management process flow. It is all about doing the work of the project and building the deliverables for the customer. A project stays most of its time in this phase.
Execution draws input from the planning phase, which means the project team uses the documents and plans created in the planning phase to execute the tasks.
The project manager directs the team to execute the work, which was planned out during the planning phase using his skills of influencing and motivation. The team also focuses on gathering, documenting and managing project knowledge into various documents.
Quality check is also done during execution to ensure that the work is on par with the quality standards. As part of the execution, the project manager acquires physical and human resources and builds and synchronized high-performance teams out of the acquired human resources.
The project manager also analyses the performance of individuals and gives necessary feedback or takes action items to improve performance. Communications and procurements are conducted as per the plan in this phase.
The processes done in the execution phase are:
Direct and Manage Project Work

Manage Project Knowledge

Manage Quality

Acquired Resources

Develop Team

Manage Communications

Implement Risk Responses

Conduct Procurements

Manage Stakeholder Engagement
4. Monitoring and Controlling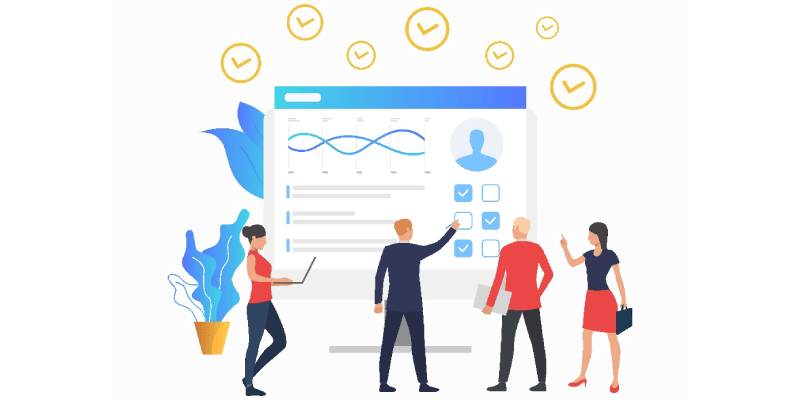 Monitoring and controlling project work deal with tracking, reviewing and regulating how the project is progressing in order to meet the quality and performance objectives. This phase often overlaps with the execution phase as they are to be done back to back. In a nutshell, this phase is about comparing the actual performance with the planned project performance to identify variances.
In case there are variances, the cause of variance is analyzed, and appropriate preventive or corrective actions are taken. As the teams execute their project tasks, they must monitor their own progress and take improvement steps.
The project manager must keep strict vigilance on the triple constraints (scope, schedule, and cost) to keep the project moving ahead smoothly. The performance measurement data that is sent out to stakeholders comes from this phase.
The main processes of this phase are:
Monitor and Control Project Work

Perform Integrated Change Control

Validate Scope

Control Scope

Control Schedule

Control Costs

Control Quality

Control Resources

Monitor Communications

Monitor Risks

Control Procurements

Monitor Stakeholder Engagement
5. Closing
The project manager can close off a project when the final deliverables are presented to the customer, and the customer has validated and signed them off. The key actions done here are:
Getting the final sign off from customer

Finalizing and closing project accounts

Communicating about project closure to stakeholders

Releasing the resource to the shared pool or other projects
The project manager also holds a project closure meeting where team members and stakeholders participate and share their experiences.
All the lessons learned are captured and finalized into a document and transferred to the organization's lessons learned repository. This ensures that similar mistakes are not repeated in future projects.
How to Implement a PM Process in Your Organization
Implementation of the PM process is extremely important for perfect project execution, but the question that comes to mind is: 'How can it be done?' Well, here are some steps to follow for implementing the project management process in an apt manner:
Check out the project type
Check out the type of your existing projects by conducting surveys, as it will help you to come up with effective strategies later on. Measure how long it will take to complete the project, analyze whether you have hard deadlines or not, figure out the purpose of each project, and so on.
Once you get clarity about the project type, you'll be able to implement the PM process in the most suitable manner.
Focus on every detail of the project
After analyzing your project's type, it's time to focus on those details that matter for success. Zeroing in on the project's details will guide you regarding how to proceed further to attain desired deliverables.
Talk with your project team members regarding what tools they want during the development process.
Identify areas of improvement
During the project development process, you leave many loose ends. Well, this is hard to accept, but that's the reality. Generally, inexperienced project managers think that they are proceeding perfectly in each phase of the project, but they forget that there's always been room for improvement.
Instead of dealing with annoying consequences in the later stages, identify areas of improvement and take necessary steps to ensure a smooth path for your project team. You can invite your team to get their feedback with regards to the proper implementation of the project management process.
Execute the PM Process with Templates & Tools
If you have executed the above-mentioned 3 steps properly, you are pretty close to the perfect execution of the project management process.
All you need to do is to put project templates in place and make sure all the necessary tools are at your disposal, as it will help you carry out all projects with perfection.

Conclusion
Project Management seems simple to the outside world, but only a project manager understands the delicate intricacies in getting a project to successful completion. As per the standards from the Project Management Institute, a project is divided into five phases, and each phase has several processes to get things done in that phase. We hope this article has detailed out how project management is done methodically using phases and processes.
---
FAQs:
Q. How do you plan a project from start to finish?
For the completion of any project, you must jot down which factors are important to take care of during the project life cycle. The best way to do project planning is to solicit suggestions from project executives, as they are the one who is going to work on project activities. Hence, they can offer better insights.
Q. What is the difference between the project life cycle and the project phase?
Project life cycle means working on a project until it gets completed, while the project phase is just part of the life cycle like initiation, planning, execution, managing, and closing.
Q. What are the characteristics of project phases?
Four major phases deemed as the characteristics of project phases are:
Initiation
Planning
Execution
Project closeout
Q. How many processes are there in project management?
There are 7 processes in project management:
Phase management
Planning
Control
Team management
Communication
Procurement
Integration
Q. What is the project process?
It's self-explanatory. A process that is followed to complete certain project-related work activities, during the project life cycle, is called the project process. Project process components include:
Project start
Project preparation
Project planning
Project implementation
Project completion
Do you want a free Project Management Software?
We have the #1 Online Project Management Software starting at $0