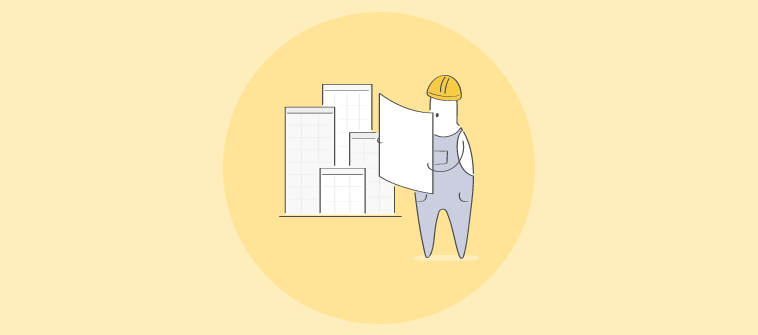 Handling construction projects can be an uphill task. With verbal task delegation, unclear responsibilities, and inadequate modes of communication, projects are bound to go beyond the set timelines and budgets. On top of that, maintaining the scope and storing crucial information for easy access demand robust management systems. Not to forget the constant updates you need to fill your clients, contractors, and builders with.
Here, it's essential to understand that real-time collaboration, data-driven decision-making, and efficient progress monitoring are the building blocks for a successful construction project.
No wonder businesses are looking for the best construction project management software to plan, design, and deliver their construction projects.
This blog will dig into ten robust construction project management software and its features, pros, and cons.
List of 10 Best Construction Project Management Software
With so many tools promising the desired results, it can be challenging to choose just one. But we've made things easier!
We've curated this list of the best project management software for construction businesses, complete with the tools' key features, pros, cons, and pricing.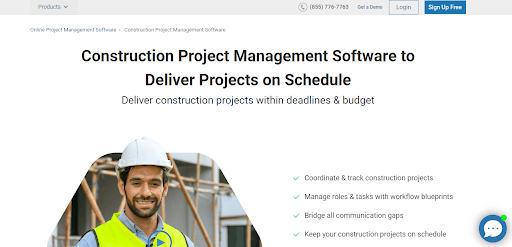 ProProfs Project is a top construction management software and an all-in-one project management solution. Its visual dashboard helps keep track of all your projects, timelines, priorities, and task dependencies in one place. You can coordinate team efforts and deliver projects on schedule. Also, its robust reporting capabilities allow you to analyze key metrics and make smart business decisions for improved construction outcomes.
Key Features of ProProfs Project:
Break tasks down into subtasks for better management
Get real-time notifications for work updates
Share files on the go
Reply to a task comment via email
Integrate with your favorite apps anywhere, anytime
ProProfs Project Pros:
Its interactive Gantt, Kanban, Calendar and List views help monitor work across various job sites and office locations.
The flexible and scalable platform enables you to complete projects within the defined timeline and budget.
The tool's simple and intuitive interface keeps things organized and on track.
When priorities change or requirements evolve, you can quickly customize workflows with a drag-and-drop action.
You can assign a task to an individual or a group/team.
Get accurate billable and non-billable hours for team members.
Create reliable invoices with time tracking.
ProProfs Project Cons:
Milestone tracking is missing.
Its mobile application can be enhanced.
Pricing:
Priced at $39.97/year.
Read More: Gantt Chart Dependencies: Types and Importance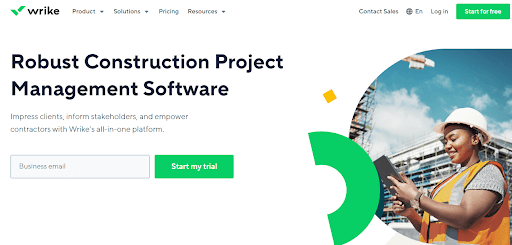 Wrike is one of the best construction project management software for teams of all sizes. With powerful time tracking, you can log contractor hours and ensure optimum team efficiency. Also, you can stay on top of how work is progressing with its interactive Gantt charts that display project timelines and task allocation.
Key Features of Wrike:
Automate repetitive tasks and save time
Adjust workflows using the drag-and-drop builder
Create individual timesheets for team members
Use readymade templates to get started on construction projects instantly
Create custom workflows to suit unique team needs
Wrike Pros:
Avoid project overruns with real-time project monitoring.
Manage resources with complete transparency of workflows.
Keep stakeholders informed about project progress with detailed project reports.
Wrike Cons:
There's no note-taking feature for storing critical information.
Users often complain of difficult onboarding.
It's not easy to prioritize tasks within Wrike.
Pricing:
Starts at $9.80/month.
Read More: Top 20 Wrike Alternatives for Easy Project Management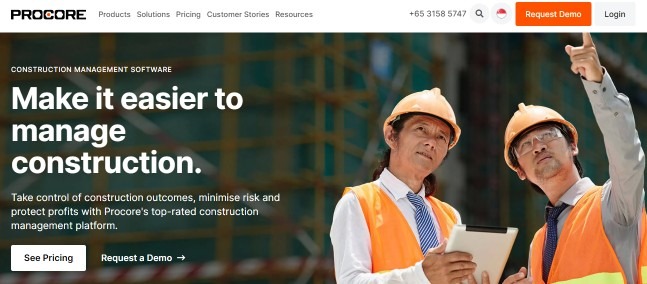 One of the best construction project management software, Procore lets you manage construction projects from start to finish. Stay up-to-date with how and where work stands across construction sites and offices with real-time notifications. Its comprehensive status reports provide insight into projected costs, estimated completion costs, and more.
Key Features of Procore:
Standardize templates for workflows that you deploy regularly
Extract any project information you need with mobile access
Enjoy live technical support when you need it
Manage data with secure document management
Integrate with 400+ applications
Procore Pros:
Access critical and historical project data securely from multiple devices.
You can track financial information and manage budget spending appropriately.
Its project overview allows you to course-correct proactively.
Procore Cons:
It has an outdated UI.
It's not an easily scalable solution.
It would be great to be able to markup docs in the future.
Pricing:
Get in touch with the company for a quote.
Aconex is an excellent project management software for the construction industry. Its powerful dashboard gives a detailed view of ongoing and scheduled processes, costs incurred, etc. You can share data with key stakeholders to ensure that projects develop as expected through their lifecycle.
Key Features of Aconex:
Handle construction drawings and documents in a secure spot
Receive notifications for work updates
Export documents into an excel sheet
Track time and manage time effectively
Integrate with useful external tools seamlessly
Aconex Pros:
Collaborate with owners, contractors, and subcontractors easily using the tool.
It is highly configurable and perfect for complex projects.
It gives you complete control and visibility over work, ensuring teams deliver the best efficiency for successful construction projects.
Aconex Cons:
Its markup tool is challenging to adapt to.
Its cost estimation capabilities can be enhanced.
Users often face issues with permission settings.
Pricing:
Get in touch with the company for a quote.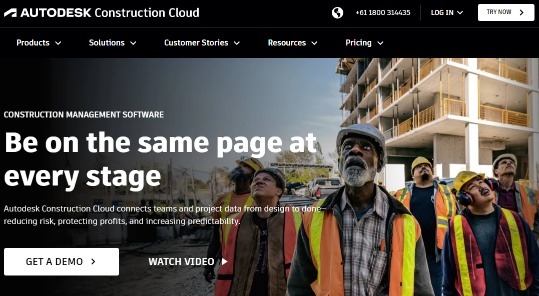 Autodesk Construction Cloud is one of the best construction management platforms. It promises to connect teams, workflows, and data on a single platform. You can create and share project schedules with office and field teams, leading to improved collaboration and minimal disputes.
Key Features of Autodesk Construction Cloud:
Configure workflows the way you want
Organize and access meeting records within the tool
Use easy-to-use punch lists for effective work compliance
Collect insightful data with customizable forms
Access project data across web and mobile apps
Autodesk Construction Cloud Pros:
Generate and share actionable project reports with builders and other construction team members.
Manage multiple projects simultaneously with increased workflow visibility.
Leverage predictive analytics for better construction results.
Autodesk Construction Cloud Cons:
The tool is not easy to onboard and navigate.
More automation features must be incorporated.
File management can be improved.
Pricing:
Get in touch with the company for a quote.
Checkout: 17 Best Project Scheduling Tools for 2022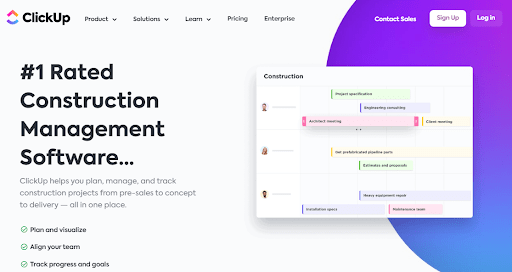 ClickUp is a free construction project management software for construction managers and builders to manage everything on a single source of truth. You can create workflows and monitor progress using Gantt, List, and Calendar views. Also, you can collaborate with everyone by adding comments, tagging them, and engaging with them via chat.
Key Features of ClickUp:
Visualize data using 10+ project views
Customize workflows on the fly
Save status templates for future projects
Save and share attachments with clients with controlled access
Discuss and ideate construction projects using Whiteboards
ClickUp Pros:
Add markups to documents effortlessly.
Manage team workload with effective resource management.
Send custom forms for 'request for information' to contractors.
ClickUp Cons:
Lacks good reporting capabilities.
Too many features can be overwhelming for users.
Needs a better mobile application.
Pricing:
Starts at $0.
Read More: 16 Best ClickUp Alternatives & Competitors (Features+Comparison)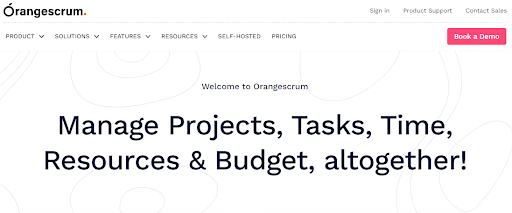 Among the popular construction project management tools, OrangeScrum is a user-friendly tool to centralize workflows and complete multiple construction projects on time. It lets you in on real-time team availability, skills, and utilization. This way, you delegate work that you can achieve effectively without the last-minute rush.
Key Features of OrangeScrum:
Track billable hours for employees
Customize task types and labels
Get started immediately with project templates
Integrate with the best external tools easily
Get notifications for real-time updates
OrangeScrum Pros:
Its Team Utilization Report gives you access to the team's actual workload data.
Manage work using tasks, subtasks, and checklists.
Visualize progress using Gantt, Kanban, Sprint, and List views.
OrangeScrum Cons:
The layout is not easy to adapt to or customize later.
It needs to integrate more collaboration ability.
Pricing:
Starts at $0.
Checkout: 15 Best Workload Management Tools for Teams in 2022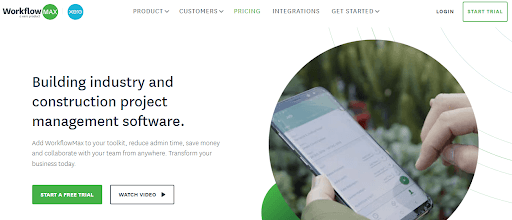 WorkflowMax is one of the best project management software for construction projects. It is purpose-built to cater to builders, contractors, and property owners looking to bring visibility and transparency into their workflows. Using the tool, you can automate construction invoices depending on time, costs, flat rate, or percentage of the quoted value.
Key Features of WorkflowMax:
Manage project data with document management
Add custom fields to sort data
Design custom templates to suit your unique needs
Integrate with popular tools for more functionality
Stay on top of things via the mobile app
WorkflowMax Pros:
It allows you to automate invoice generation using timesheet data.
Rich project reports throw light on which projects are most profitable.
Keep everyone on the same page with custom notifications.
WorkflowMax Cons:
Customized branding is not very impressive.
Its search functionality is not good.
The dashboard design could be less clunky and cleaner to make it more visually appealing.
Pricing:
Starts at $45/3 users/month.

One of the best construction management platforms, Smartsheet is versatile and easily scalable. You can optimize resource allocation and prevent potential burnout while delegating work across construction sites and offices. Its reports help pull all relevant information, enabling faster decision-making and better profit margins.
Key Features of Smartsheet:
Automate routine tasks within seconds
Set up dependencies within the Gantt chart
Integrate with the best third-party tools
Capture work insights from anywhere, anytime
Use templates to access a ready project layout
Smartsheet Pros:
The tool allows you to maintain transparency between clients, contractors, and site workers.
Visualize progress using Grid, Calendar, and Gantt views.
Monitor where your construction projects stand from anywhere, anytime.
Smartsheet Cons:
Its alerts and notifications can be enhanced.
It has a slightly high learning curve.
Pricing:
Starts at $0.
Read More: 15 Best Smartsheet Alternatives and Competitors of 2022

CoConstruct is among the top construction management software in the market. Transform your everyday business practices by bringing clients, builders, and team members together to discuss and execute ideas. Lay out the project budget and schedule, ensuring project requirements and responsibilities are clearly defined.
Key Features of CoConstruct:
Control dashboard permissions for clients and contractors
Share construction site photos and files on the go
Send automatic notifications for tasks
Set reminders for project clients
Track time across job sites
CoConstruct Pros:
Run payroll reports using our efficient time-tracking system.
Track project finances and make adjustments to workflows if needed.
Track jobsite activity via the tool's powerful and comprehensive dashboards.
CoConstruct Cons:
Setting up dashboards can be a bit tedious for beginners.
Mobile functionality can be enhanced.
Need more customization options.
Pricing:
Starts at $339/month.
Why Do You Need a Construction Project Management Software?
Here is why you need construction project management tools for your business:
To ensure the project does not exceed the budget, project scope, or timeline
To streamline both on-site and office team efforts
To establish a clear channel of communication
To optimize team workload across various job sites
To keep clients and other stakeholders in the loop
Spot roadblocks timely and keep projects on track
Apart from these key reasons, construction project management tools also come in handy in generating accurate invoices by tracking time for employees. Another reason is getting KPIs via these tools for effective decision-making.
Read More: Overcome Risks Using Comprehensive Risk Management Plan
How to Choose the Best Construction Project Management Tool?
Now that you know why you need construction project management software to run your business successfully, let's consider some things before selecting best project management software for your needs.
Here we go!
1. Simple & Intuitive Interface
A tool must be simple and easy to use. Imagine if the tool you are using to manage your everyday activities is clunky and difficult to use. Instead of simplifying operations, it would induce discrepancies and chaos right into your workflows. A good tool offers a simple, intuitive interface for quick task scheduling and adjustments.
2. Long-Term Affordability
Sometimes, you might be tempted to onboard a tool for its impressive features, even if it surpasses your budget. Is that right? Certainly not. Choose a tool you can sustain in the long term, even when you run into losses for a brief period. This is because abandoning a tool abruptly later due to its budget will throw off everything you managed to streamline using it earlier.
3. Listed on Top SaaS Websites
Look for a tool listed on some of the top SaaS websites, such as G2, Capterra, and SoftwareWorld. This lends credibility to the given tool. These sites host some of the best market tools and offer reliable data about them. You can scroll through these tools' information and decide after thorough analysis.
4. Recent & Honest Reviews
While going through the SaaS websites, you must also dive into user reviews as they give you first-hand experience of using these project management tools for construction. The reviews also provide insight into a particular business's problems and which tool helped them overcome them. You can tie these to your management problems and analyze if the tool will work for your business or not.
5. Secure Platform
You are basically dealing with company data when it comes to using a tool to manage your everyday workflows and processes. For this reason, your chosen tool must offer a safe platform. It must come equipped with all the encryption capabilities, ensuring data security regardless of which city or country you are operating from.
Read More: How to Implement Strategic Alignment In Project Management
The Must-Have Features for a Construction Project Management Platform
While selecting a tool, you must also look out for features that ideal project management tools for construction must boast.
1. Task Management Capabilities
The right tool allows you to set up construction workflow blueprints. So you can delegate tasks and activities, define timelines, prioritize tasks, and make schedule adjustments easily. This also helps establish accountability and ensures that work gets done on time, ensuring that teams do not exceed the project budgets.
2. Collaborative Ability
The best project management software for construction offers features that ensure communication flows within the team. This eliminates misunderstandings and miscommunication, enabling you to plan, design, and execute given projects as desired. Using task comments for exchanging feedback and sharing files are some key collaborative features to look out for.
3. Progress Tracking Views
As a construction project manager, you must ensure that work is completed on time to stay within budget. Now, construction projects involve both on-site and off-site activities. A tool's project views, such as Gantt, Kanban, and List, let you monitor ongoing and scheduled work across various job sites in real-time.
4. Actionable Reports
Robust construction project management tools provide rich project reports that collate and categorize data to help you infer how things are going. With these reports, you can anticipate a potential risk on time. This ensures teams move in the right direction and achieve the desired construction outcomes.
5. Time-Tracking Ability
For construction projects, time is money. Even the slightest delay can throw your budget out the window. The best way is to track how productive your team members are, whether working from the office or on the construction site. Tracking their productive time via a tool will help you keep a tab on their activities and enable you to make work adjustments if required.
Read More: 15 Essential Project Management Tips for a Successful Project
Run Successful Construction Projects Effortlessly
For construction projects, the balancing act of delivering work on time without exceeding the budget is of primary focus. Miss the deadline, and there goes the contract out the window. These projects deal with time-intensive tasks. Teams must complete work on time and within the defined budget. So, procrastination is not really an option!
The blog discussed the ten best construction project management software that help unite construction teams and deliver work as expected.
You can try ProProfs Project for its robust project visualization, collaboration, and reporting capabilities. Its detailed dashboards offer everything you need to view, analyze, and manage data easily. Try its 15-day free trial version to see if it suits your construction project management needs.
Do you want a free Project Management Software?
We have the #1 Online Project Management Software for effective project management.