A robust project management and billing software enable you to:
Manage multiple running tasks with ease
Bring team members together to collaborate and get work done
Generate invoices that are both reliable and easy to read
As a project manager, a few of your KRAs include creating project schedules, assigning tasks, prioritizing them, and monitoring their progress. As if managing all of these things wasn't enough, there is always more to add to the list, such as creating monthly client invoices.
The mere thought of generating invoices is bound to scare many project managers away. But, don't worry. We're here to help!
Adopting a simple project management software for your everyday task management and invoice generation needs is a reliable way to simplify billing and invoicing. With project management software you can enable automatic invoices with minimal effort, simply by clocking in the accurate productive hours input by team members.
This tool makes project management and invoice creation a breeze, which is a win-win for both you and the clients.
Keep reading to learn more about the 10 best project management software with invoicing facilities.
What Is Project Management and Billing Software?
Project management and billing software let you manage tasks and accomplish projects to ensure they do not surpass the pre-set project timeline and budget. The billing capabilities of such software help generate painless invoices while keeping track of expenses incurred in real time. This enables you to control finances and adjust workflows if required.
Simply put, an ideal project management software for billing and invoicing ensures that invoices are created and shared with clients without any inconsistencies regarding employees' productive work hours.
10 Best Project Management Software with Invoicing Facilities
Let's look at the top project management and invoicing software that you can choose from to deliver consistent project success with reliable and on-time invoice generation capabilities.
Let's dive in!
ProProfs Project, a feature-rich project management software for billing and invoicing, enables smooth client billing. You simply need to set the pricing for a project or a task. Then, as your project incurs an expense, the amount is automatically added to the project invoice.
You can also create employee timesheets and get billable and non-billable hours for each team member. This allows you to generate reliable and hassle-free invoices with maximum ease.
Key Features of ProProfs Project:
Automate invoices for clients
Customize invoices in no time
Share files with team members and stakeholders on the go
Enable invoices, estimates, and expenses using the add-ons menu
Personalize dashboard with a drag and drop action
Give instant feedback via task comments
Share presentation-ready reports with clients instantly
Get alerts and notifications for upcoming deadlines
ProProfs Project Pros:
It simplifies customer billing by allowing you to extract accurate billable hours.
It gives a 360° view of all your tasks, resources, and deadlines using a single dashboard.
Actionable reports provide rich insight into your projects progress and team performance.
The tool is easy to adopt and use by teams of all sizes.
ProProfs Project Cons:
Milestone settings are not available for tasks.
It lacks advanced collaboration features.
Pricing:
Starts at $2/user/month.
Everhour, a project billing software, boasts a robust reporting engine that helps gain insight into time spent on tasks and the duration of breaks taken by each employee. Get alerts when you reach a certain percentage of the project's budget. The tool allows you to view team allocation and instantly gather how busy or available a team member is.
Key Features of Everhour:
Integrate with your favorite third-party applications
Organize tasks into dedicated sections and define priorities
Add time estimates for each task
Start and stop the timer for recording activities
Connect easily with QuickBooks, Xero, or FreshBooks
Everhour Pros:
It lets you choose a suitable billing method such as non-billable, time, or fixed fee.
It allows you to track work-related expenses to reimburse employees.
The tool syncs data instantly, always providing you access to the latest data.
Everhour Cons:
Mobile version could use improvement.
Software loading takes significant time.
System for displaying estimated time for tasks isn't intuitive.
Pricing:
Starts at $8.50/user/month.
Harvest is an excellent time billing and project management software for seamless billing and invoicing. You can capture accurate hours spent on tasks without affecting the smooth running of tasks and projects. Its reporting ability gives you rich insights on project budgets, time spent on tasks, team capacity, project cost breakdowns, and more.
Key Features of Harvest:
Start and stop task timers with a simple click
Sync the platform with QuickBooks and Xero
Get started immediately using ready-to-use templates
Track time using the browser, desktop, and the mobile app
Get visual reports on hours worked and project costs incurred
Harvest Pros:
Harvest lets you create instant invoices with time tracked.
Use the tool to receive fast online payments.
Automate reminders for consistent time tracking.
Harvest Cons:
It has no functionality for batch-assigning time.
It lacks flexible options for billing increments.
Their customer support is not quick, delaying query resolution significantly.
Pricing:
Starts at $0.
Read More: What Is Cost Management in Project Management
Another excellent tool for project management with invoicing capabilities, Plutio lets you track time, create pain-free invoices, and receive payments via different payment methods. Its branded client dashboard access helps involve clients in real-time. Also, you can collaborate with team members, clients, and stakeholders via chat messages.
Key Features of Plutio:
Secure data on a reliable platform
Customize templates within minutes
Create eye-catching proposals with ease
Collect information using responsive forms
Connect with third-party app data instantly
Plutio Pros:
Use the tool to extract information on progress interactive graphs, charts, goals, metrics, etc.
View everything from task due dates, agenda, and next appointments at a glance.
Leverage project, invoice, and form templates to start work head-on.
Plutio Cons:
Plutio's notification system is not very useful.
Requires a high learning curve.
The tool does not integrate with email.
Pricing:
Starts at $19/month.
Avaza is a collaborative solution for managing projects while generating accurate bills and invoices. You can analyze data and schedule resources optimally so that no resource faces work overload or burnout at any project stage. You can even access flexible billing options for hassle-free invoicing.
Key Features of Avaza:
Discuss work using team chat
Filter and group projects tasks for easy visibility
Access various project budgeting and billing methods
Convert emails into tasks instantly
Schedule and edit assignments with a quick drag and drop
Avaza Pros:
You can easily manage project expenses and generate invoices.
Create project estimates and quotes within minutes.
Switch between Gantt, Kanban, and List views to analyze ongoing tasks and projects.
Avaza Cons:
Importing data from third-party apps can be inconvenient, often delaying actions.
To see an image in chat you have to download it. A simple screenshot display would have been better.
The dashboard is not easy to customize.
Pricing:
Starts at $0.
Oracle NetSuite, an accounting and project management software, provides user-friendly financial dashboards that offer critical financial data. You can track labor costs and expenses to ensure that your project does not cross the budget right under your nose. The tool also details the real-time status of order lines and inventory data.
Key Features of Oracle NetSuite:
Connect with various first-party and third-party tools
Consolidate invoices for faster payment processing
Send targeted promotional offers to customers
Intuitive and scalable platform for teams
Access pre-configured dashboard and analytical reports
Oracle NetSuite Pros:
Access financial forecasting with KPIs right on the tool's dashboard.
Its pricing management ability lets you maximize profits by managing and controlling project pricing.
Automate accounting and finances across the organization.
AvazaOracle NetSuite Cons:
It has a steep learning curve.
Customer service is not impressive.
The dashboard and reports are not easy to customize.
Pricing:
Get in touch with the company for a quote.
Paymo provides a powerful project time tracking platform where you can turn your timesheets into invoices and get paid for every productive hour. You can create project workflows, assign users, and set due dates. Its spreadsheet, Kanban, to-do list, and task calendar view allow you to monitor progress right from the start.
Key Features of Paymo:
Attach files to tasks
Leave comments on tasks for quick feedback
Create subtasks for easy task management
Prioritize the critical tasks and get work done
Automate workflows to save time and effort
Paymo Pros:
Transparent time tracking creates accurate invoices that account for every productive hour of team members.
Use a team scheduler to check team members' availability. Also, manage their time off and leave days quickly.
Set up milestones and track progress in real-time.
Paymo Cons:
UI can be confusing in the beginning.
The mobile version is not very useful.
It's challenging to set up duplicate or recurring projects.
Pricing:
Starts at $0.
Read More: How to Do a Cost Benefits Analysis in Project Management
Cenchu Passion App offers a platform where team members can come together to collaborate and get work done as expected. It lets you automate client proposals and allows them to accept and pay for them simply with a click. Its clutter-free interface ensures you plan, manage, and deliver project deliverables using one platform.
Key Features of Cenchu Passion App:
Export your expenses as a report
Set up reminders for lead management
Customize lead statuses right away
Keep track of team attendance with attendance tracking
Keep clients in the loop via the Client Portal
Cenchu Passion App Pros:
Share professionally-designed invoices with clients and receive payments via popular payment applications instantly.
Its Expense module keeps an easy-to-access record of project expenses in one spot.
Its Lead Management system allows you to store and access lead notes, contact logs, and chat logs for easy sales operations.
Cenchu Passion App Cons:
No free trial version.
Can't easily access data across mobile and desktop.
It lacks useful third-party applications for added functionality.
Pricing:
Starts at $8.99.
Taimer, a reliable tool for project time tracking, lets you manage the entire sales pipeline effortlessly. You can create customizable pipelines to optimize them for your business requirements. The platform gives you a complete overview of all your sales operations and includes accurate hours and easy-to-read invoices.
Key Features of Taimer:
Integrate with third-party apps within seconds
Sync memos, files, and documents easily
Send invoices using PDF format and in mail
Access recurring invoices for clients
View progress using Gantt charts and Grid views
Taimer Pros:
Get performance reports and improve overall efficiency.
Extract billable and non-billable hours with its built-in time tracking capabilities.
It provides resource planning capabilities that ease resource allocation across tasks.
Taimer Cons:
It does not offer a free version.
Pricing:
Starts at $0.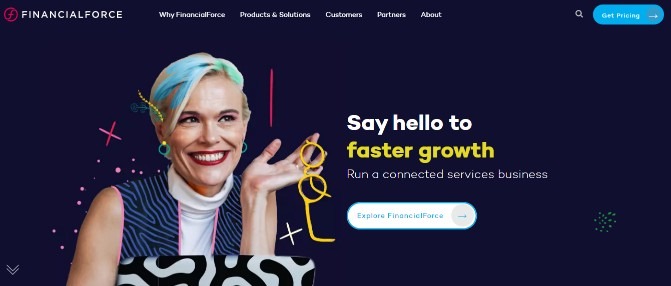 FinancialForce.com, a feature-rich project management platform, enables you to manage your teams, projects, and financials in one place. You can access project reports, which provide insights into your project expenses and business performance. Also, you can keep stakeholders engaged via Customer and Partner Portals.
Key Features of FinancialForce.com:
Get help immediately with their responsive customer support service
Tackle routine tasks with automation
Secure, cloud-based platform
Automate billing for clients
Set start and end dates for tasks
FinancialForce.com Pros:
It provides critical information on resource utilization, project margin, revenue, etc.
Gain access to its built-in audit trials to save time.
It allows you to set task status as 'Planned,' 'Deferred,' or 'Started,' etc.
FinancialForce.com Cons:
Users complain about the tool's poor customer support team.
The tool encounters frequent lagging issues.
Invoice editing can be complicated.
Pricing:
Get in touch with the company for a quote.
How to Choose the Best Project Management and Invoicing Software
Here are some criteria you can consider while selecting the best project management and billing software for your business.
1. Useful Project Management Features
A typical project management software is equipped with adequate task and project management features, including Gantt, Kanban, and List views. It may also include insightful reports and collaboration features. With these, you can instantly connect with team members, analyze progress, and address roadblocks faster. Also, you must be able to prioritize and set task dependencies using the tool.
2. Seamless Billing & Invoicing Capabilities
Project time tracking capabilities are crucial aspects of adopting a good project management software that eases invoice generation. Time tracking simplifies invoice management by tracking billable and non-billable hours for team members. You simply have to set up timesheets to record productive employee hours without a hitch. You can even customize and automate these invoices within seconds.
3. Honest & Recent User Reviews
It's better to learn from others' experiences if given the opportunity, right? Thus, look for genuine and recent user reviews of invoicing tools on sites like G2, Capterra, and SoftwareWorld. These sites help you gain insight into the first-hand experience of using a tool and provide sufficient information on whether the tool's functionality will work for your unique requirements.
4. Free Trial Version of the Tool
It's better to try something before buying it. And a trial version of project management and invoicing software does just that! It gives you access to its features to analyze whether the tool will benefit your business. This helps you make an informed leap of faith without regretting the decision to onboard a particular tool too soon.
5. Reasonably Priced
Before onboarding a tool, you must ask yourself a few questions. Will I be able to invest in the tool, say, four years down the road? Or will I still be able to pay for the tool if the business runs into minor losses in the near future? The answer to these questions will help select the right tool for consistent project success and profitability.
6. Simple & Easy to Use
A good billing and project management software is one that team members adopt without a learning curve. It must be easy to onboard and navigate. It must offer a user-friendly interface that lets everybody plan, track, and monitor progress within minutes. Also, a tool's drag and drop functionality enables you to adjust workflows to cater to real-time needs effectively.
Read More: How to Overcome Risks Using a Comprehensive Risk Management Plan

Comparison of Project Management and Billing Software
Here's a final showdown of the best project management and billing software.
| | | | | | | | |
| --- | --- | --- | --- | --- | --- | --- | --- |
| Software | Pricing (Starts at/user/month) | Project Management Capabilities | Billing & Invoicing Capabilities | Interactive Project Views | Actionable Project Reports | Real-Time Alerts & Notifications | Access to iOS/Android App |
| ProProfs Project | $2 | Yes | Yes | Yes | Yes | Yes | Yes |
| Everhour | $8.50 | Yes | Yes | Yes | Yes | Yes | No |
| Harvest | $0 | Yes | Yes | Yes | Yes | Yes | Yes |
| Plutio | $19/month | Yes | Yes | Yes | Yes | No | Yes |
| Avaza | $0 | Yes | Yes | Yes | Yes | Yes | Yes |
| Oracle NetSuite | Get in touch with the company for a quote. | Yes | Yes | Yes | No | Yes | Yes |
| Paymo | $0 | Yes | Yes | Yes | Yes | Yes | No |
| Cenchu Passion App | $9.99 | Yes | Yes | Yes | Yes | Yes | No |
| Taimer | $0 | Yes | Yes | Yes | Yes | Yes | Yes |
| FinancialForce.com | Get in touch with the company for a quote. | Yes | Yes | Yes | Yes | Yes | Yes |
Simplify Work Using a Reliable Project Management and Billing Software
A good project management and billing software can tick off the most time-consuming and repetitive activities for you and your team. It helps manage your projects and generate painless client invoices across multiple projects.
If an all-in-one solution is what you're looking for, then ProProfs is an exceptional tool. It allows you to create, track, and deliver tasks with increased visibility and collaboration. It also allows you to generate automated invoices by tracking accurate, productive hours for team members. You can also opt for Harvest for its incredible time tracking abilities. Paymo is an excellent tool that helps maintain transparency throughout the project with its strong team scheduling and invoice generation ability.
Do you want a free Project Management Software?
We have the #1 Online Project Management Software for effective project management.