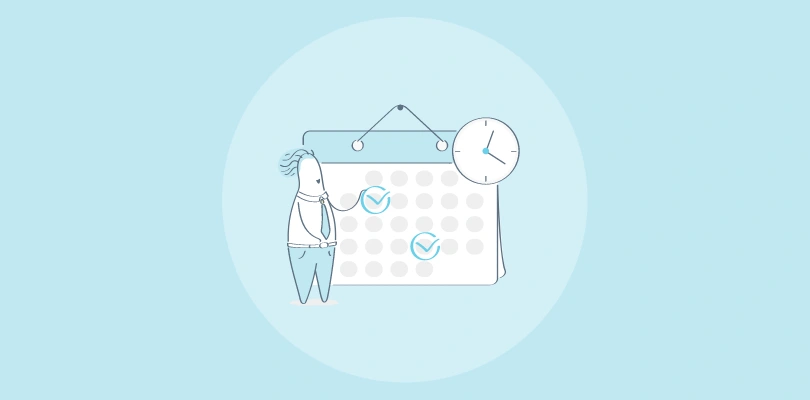 Not creating a schedule before initiating a project can have rippling effects on team performance and project progress.
Realistic project scheduling helps set a clear path for project execution. By setting time durations, priorities, dependencies, and assigning resources, you can see your project take shape step-by-step. This helps team members work with a sense of direction and lets you stay on top of everything effortlessly.
This blog will explore project scheduling, its benefits, and examples. We will also learn how to create a realistic project schedule to maximize team performance and ensure project success.
What Is a Project Schedule?
A project schedule gives a general overview of all your tasks, their timelines, priorities, and dependencies in a single timetable. It also indicates the resources assigned to each task, sub-task, or activity.
With a detailed project schedule, you can monitor how your resources are being utilized as the project unfolds. Since the tasks are lined up in a definite sequence, it becomes easy to monitor real-time progress effortlessly.
So a project schedule gives you instant insight into:
Which tasks need to be taken up and when?
Which resources are assigned to a particular task?
What are the start and end dates for various project tasks and activities?
Which tasks should be taken up on priority?
Which tasks are interdependent?
Why Create a Project Schedule? Isn't Project Planning Enough?
Project scheduling and project planning are often used interchangeably. However, both terms indicate different things.
While project planning focuses on selecting the methodologies and the policies to accomplish the project deliverables, project scheduling dives deeper to provide a detailed overview of how things will proceed from project initiation to closure.
So, while project planning gives you the big picture of how things will move forward, project scheduling will elaborate on which tasks are to be completed step-by-step from day one.
Read More: 17 Best Project Scheduling Tools for 2023

Steps in the Project Scheduling Process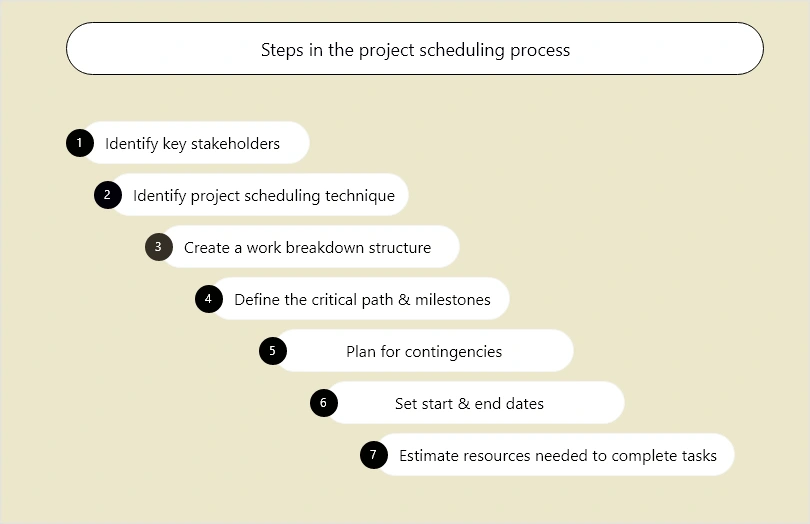 Follow these seven simple steps to develop a project scheduling process with ease.
1. Identify Key Stakeholders
To initiate a project, identify the key stakeholders of the project. The stakeholders you identify will be actively involved in the project development process.
Stakeholders will help you create a project outline that fits their expectations. They will also be the ones who will request changes until you achieve the desired outcomes. So, identify the right stakeholders and ensure that you adequately involve them in the project development process to optimize both efforts and final project results to their liking.
2. Identify the Project Scheduling Technique
The project scheduling technique you decide to go ahead with will depend on the nature of the project. For example, if achieving key milestones on time is important for your project, you can select the Critical Path Method. If you wish to compare your actual project schedule to a set baseline schedule, the Gantt technique is what you need.
3. Create a Work Breakdown Structure
Once you have selected the technique, it's time to break down the project into manageable pieces. For this, start by defining the deliverables of the project.
This will enable you to establish the step-by-step tasks needed to accomplish those deliverables.
So, define the tasks and set the sequence between them. While doing this, also zero in on the interdependent tasks. So define task dependencies and develop a clear path for project execution. The clear-cut dependencies will help you let team members know which tasks you must take up first so that the consequent tasks do not get stuck at any point. Also, there will be some tasks that you can carry out parallelly. You can delegate tasks to team members and see work progress across different tasks simultaneously.
Read More: 10 Task Management Tips for Higher Productivity

4. Define the Critical Path & Milestones
Defining the critical path in your project timeline is a good idea. Which phase of project execution do you believe to be essential to the completion of a project?
For example, if you're managing a construction project, setting the concrete and allowing it to dry will come under the critical path. The process usually takes 24 to 48 hours. All other construction activities will halt within this time, and you can only continue once the concrete is set.
While defining the critical path, it is important to define milestones. For example, creating the first draft and getting approval can be two milestones if you're handling a design project. Milestones help establish a vital checkpoint within the project's lifecycle. This way, you can track progress and estimate how well your project performs at a glance.
5. Plan for Contingencies
While planning schedules for projects, it's a good idea to plan for contingencies. Risks can appear at any stage of the project. The more prepared you are to tackle uncertainties, the better you will be able to overcome them when the time comes. So weigh your risks and prepare a reliable risk management plan to mitigate any risk you encounter.
Think about it. Even if a couple of your team members decide to quit, it's bound to throw your scheduled timeline out of the window. Thus, keep some buffer while estimating the project timeline. Also, what if the market evolved rapidly and integrated new technology to accomplish a specific goal? In such a scenario, embracing the latest technology and working towards the goal proactively is a good idea.
6. Set Start & End Dates
Your schedule is incomplete without setting the timeline of each project task, subtask, event, and activity.
To create a close estimate of action items, reference lessons learned with previous projects. Analyze whether the estimates you made of earlier projects were accurate or did you cross the deadline, delaying the project. This will give you a fair idea of how much time you spent on a particular task.
While estimating timelines, it's also essential to take team leaves and holidays into account during the entire timeline of a project. This will further help you in creating accurate estimates for time durations.
7. Estimate Resources Needed to Complete Tasks
Now that you've estimated the time durations, you must also estimate the resources required to complete various project tasks and subtasks.
Project resources include manpower, equipment, budget, tools, etc. Assess how many resources need to be allocated to a task and create the best estimate for required resources.
Note that it's never a good idea to overestimate or underestimate the required resources. If you overestimate resources, your resources may end up sitting idle most of the time. If you underestimate resources, you may cause resource burnout, ultimately affecting the project quality. Again, you can reference lessons learned from previous projects to create accurate estimates.
And that's it! It's easy to create a project schedule. Just go step by step, make accurate estimates, and you're all geared to accomplish a project on time.
What Are the Project Scheduling Techniques?
Here are the most commonly used project scheduling techniques that you can choose from.
1. Gantt Charts
A Gantt chart is a bar chart that illustrates the tasks and their timelines. It has a list of tasks, subtasks, and events on the left side of the chart. The right side of the chart displays the individual bars of the tasks on the left. These task bars visually represent the start and end dates of the tasks. This way, you can clearly see which tasks are scheduled and when.
Using a Gantt chart, you also get a clear idea of which tasks overlap and how you can reschedule them to best utilize resources.
2. Task Lists
Creating a task list is among the simplest ways to schedule a project. List the tasks chronologically, put start and end dates, and assign tasks to resources. You can also list the subtasks under a task.
While this technique is easy to implement, it is not ideal for large and complex projects. This is because the list does not help visualize multiple dependencies. It also lacks the ease of adjusting schedules without creating the list from scratch. Thus, task lists are most suitable for small projects.
3. Project Calendars
A project calendar helps visualize your project's schedule at a glance. You can organize your tasks, subtasks, and events across the calendar. The calendar makes it easy to grasp the project timeline and track progress on the go.
You can view the calendar and schedule future tasks and meetings accurately. This helps you prevent overlapping work items. Using the calendar, you can also schedule personal events and prevent them from conflicting with your work schedule.
4. Critical Path Method
The Critical Path Method is a project scheduling technique that helps you identify the most crucial tasks in the project schedule. The path represents the longest sequence of tasks and activities that must be completed for successful project completion.
The tasks within the critical path are dependent on each other and must be accomplished as per the fixed schedule.
5. Resource Leveling
Resource leveling refers to strategically allocating resources to tasks while avoiding underutilization or overuse. This helps prevent scheduling conflicts and ensures optimal utilization of resources throughout the project's lifecycle.
With resource leveling, you can avoid poor planning, maintain output quality, and keep your projects on track, leading to timely project completion.
Benefits of Project Scheduling
Let's quickly look at some benefits of project scheduling to understand the role of project scheduling in management.
A schedule gives you a detailed overview of what needs to be done and when.
It allows you to monitor and control the project schedule in real-time.
It is a single source of truth for all your project tasks, subtasks, events, and milestones.
It helps establish task accountability with clear-cut task responsibilities.
You can track which tasks are interdependent and which are on priority.
You can keep track of team performance and make adjustments if needed.
It helps identify gaps and potential risks timely.
It lets you stay up-to-date with project progress.
You can manage workload across different tasks and work items.
You can adjust schedules easily when requirements evolve.
It enables better team collaboration.
Without project scheduling, it can be time-consuming and challenging to track where your project stands. Using a project schedule, you can monitor key metrics and steer your project in the right direction for sure-shot success.
Project Schedule Examples
Scheduling in management is inescapable. Suppose you initiate a project without establishing a clear-cut schedule that defines tasks' sequence, duration, deadlines, priorities, dependencies, and milestones. In that case, you're setting your team up for inefficiency.
Your team can perform their best only when they have a schedule to follow. Without direction, they're bound to fail at delivering work on time and as expected.
To help you create ideal project schedules, here are a few easy-to-understand project scheduling examples. We've supported the scheduling examples with ProProfs Project's project views to help you understand the examples better.
Let's take a look.
1. Building a Tower

2. Launch a Social Media Campaign
Design team: Design the ProProfs Kanban board. Following are the details.
Name of 3 workflows: To-do, Under Review, Completed
Tasks under To-do:
-Check mentions and replies
-Conduct audience analysis
Tasks under In Progress:
-Track campaigns results
-Boost well-performing posts
Tasks under Completed:
-Research trending social media topics
3. Schedule an Event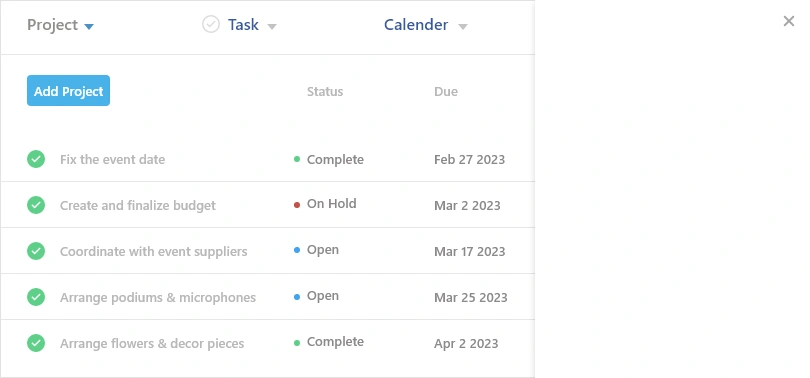 Drive Project Success with a Robust Project Schedule
By now, you should have a fair idea of project scheduling, its benefits, and the steps that will help you create a realistic schedule. The project scheduling examples will help you quickly develop a project schedule.
Using a project scheduling tool such as ProProfs not only helps you create a schedule but also helps you monitor the schedule effectively. It lends impressive capabilities to let you prioritize tasks and set task dependencies. Also, its collaboration capabilities allow team members to connect seamlessly. Moreover, its smart reports offer rich insights into how your projects are progressing and what are the real-time indicators of project health. So you can adjust schedules and get your project back on track effortlessly.
Do you want a free Project Management Software?
We have the #1 Online Project Management Software for effective project management.