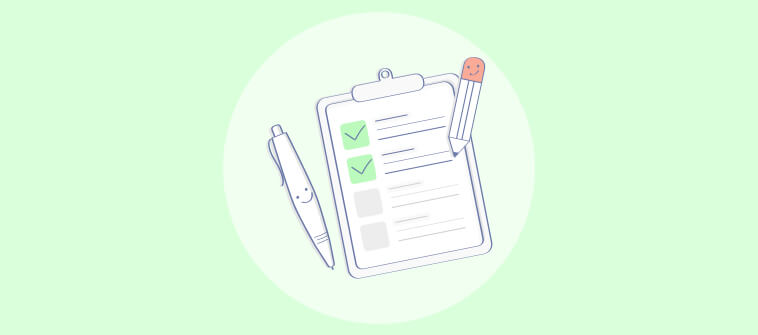 Making projects successful is the key to success for all business owners. And it is imperative to complete projects according to SLAs to build strong brand value in the market.
Usually, project management gets more stringent during the execution stage, because you are just one mistake away, and things start slipping from your hands like sand. At this point, the need for a well-developed project management checklist amplifies, as it helps to boost team productivity and reduces the possibilities of errors and unnecessary expenses.
44% of projects fail due to a lack of alignment between business and project objectives
Having a project checklist while proceeding with the development process is instrumental. In this blog, we will discuss how to develop an ideal project management checklist.
12 Factors You Must Keep in Mind While Creating a Project Management Checklist
✅ Understand Your Role
The primary reason for developing a project planning checklist is to ensure that each team member is doing tasks as per the given role, right?
Before planning things for others, you must ask yourself: 'What's my role in the project?'
A project manager has the responsibility of leading the project through the ups and downs successfully. When your team members look up to you for help, your actions must highlight your credibility to keep their trust throughout the project life cycle.
The four major responsibilities that project managers must take care of are:
Lead and manage the project team

Provide regular updates to upper management

Manage the quality of deliverables

Keep a contingency plan ready
✅ Share Your Project Vision
If you are running a client-centric business, you can understand how much it is important to deliver deliverables as per SLAs. You and your team must be on the same page to meet client expectations. Don't take this factor lightly, as you will end up spinning your wheels if your team works with a different mindset.
Share your ideas on task execution with your team before jumping to the initiation phase. This practice is not only limited to outsourced projects, as you would definitely like to achieve a certain quality with your in-house ones as well.
Make these three things to your team while explaining the project vision:
Project goals and objectives
Availability of resources
Client expectations
✅ Identify the Stakeholders
Identifying the right stakeholders and carrying out constant communication implies a strong foundation for smooth project execution. The task just doesn't end at identifying, you also need to document it all – stakeholders, their interests, perspective, negative and positive impact on the project.
To put it simply, anyone who can impact or can be impacted by the project, qualifies to be a stakeholder. Identifying the stakeholders is not a one time process, it continues throughout the lifecycle of the project. In Fact having a proactive stakeholder approach helps in handling change requests and other challenges during the scope of the project without much hassle.
Stakeholders could include:
Clients

Project Managers

Higher Management

Team Members

Vendors

Leaders in other departments
✅ Use WBS to Set Crystal-Clear Goals
A project consists of trivial and complicated tasks, and you must organize each of them in such a way that not only leads to timely project delivery but also keeps the quality and budget intact.
Here, the significance of work breakdown structure snowballs, as it helps you ensure that every small task is covered in your project requirements checklist. With the help of WBS, you can secure three things:
Complicated tasks can be divided into small segments for proper delegation and execution
Better resource utilization
In short, there will be no scope of flaws and project derailment when the goals set are crystal clear. As a result, you will enjoy better quality and on-time project delivery.
✅ Create an Ideal Budget
Setting an ideal budget should be one of your main priorities while developing a project planning checklist because your team won't be able to perform activities righteously if your project isn't backed financially.
Budget is a crucial component of the project management triangle, which is enough to understand that the quality and deadlines of deliverables would be jeopardized if there's not enough investment in the project.
Setting an ideal budget won't be challenging if you analyze three factors:
Check project requirements against available resources
Evaluate how short a time window you have
Use historical data to find common budget loopholes
✅ Determine Direct and Indirect Costs
Determining direct and indirect costs is imperative to develop an ideal project management checklist. There are several costs involved in a project, which you must control to prevent budget overrun and make the desired profit.
Handling such costs inappropriately generally leaves you with two options: 'Shift your focus from the quality factor' and 'Compromise with economic benefits.' Choosing any of these is not good for your business's overall health.
Direct costs involve:
Raw material costs
Software licenses
Labor cost (wages)
Indirect costs involve:
Equipment expense
Overheads
Admin expenses
Read Also: What Is Cost Management in Project Management
✅ Follow RACI Matrix
Project success is the result of combined efforts because you will end up spinning your wheels if your team doesn't work as per their roles and responsibilities.
So, follow the RACI matrix to make an ideal project management checklist. It will certainly help you get tasks executed as per your plan. This matrix charts:
Who is

R

esponsible

Who is

A

ccountable

Who is

C

onsulted

Who should be

I

nformed for each task
With the help of the RACI matrix, you gain better clarity, which, in turn, helps to delegate tasks effectively and keeps the project on track until its completion.
✅ Keep Plan B
Your project management checklist won't be complete without Plan B, because there will be times when you encounter unexpected problems and start losing control over things.
For instance, some project executives could opt for unplanned leaves in emergency scenarios or may fall ill, and this will surely affect the momentum of the development process. And this is where your potential as a project manager will be tested, as you will never be able to meet project expectations if you can't handle such types of setbacks.
This is what you must be doing if the need of using Plan B arises:
Bring extra resources to put the project back on track

Explain why deadlines cannot be revised so that your team tries harder to complete tasks at hand

Shift priorities to the most important and time-sensitive tasks
✅ Keep a Room for Change Requests
Nothing could be more annoying than receiving change requests from clients, especially when the project is in full swing. Be that as it may, you cannot refuse to change requests, as client relationships are at stake.
So, keep room for change request management while developing a to-do list to ensure that your project schedule doesn't get affected too much. Before saying 'Yes' to clients, explain the impact of change requests on the project development process to get some leeway with regard to deadlines.
Here's how you can handle change requests:
Make sure that your team understands the priority of each change request

Divide change requests uniformly, so the increase in workload isn't felt

Conduct small fun activities at times so to keep the team motivated
✅ Set an Ideal Frequency of Communications
Unarguably, communication is fundamental to make projects successful and prevent chaotic situations. But at the same time, you must remember that the way of providing inputs also matters for a smooth project development process.
Over-communication not only ruins the effectiveness of the conversation but also creates a sense of insecurity back in mind. That's why setting an ideal frequency of communications is imperative to keep the momentum of the project right.
Here are some tips you can follow for effective project communications:
Hold a standup meeting every Monday to quickly discuss tasks for the entire week

Send status reports via email at the end of the week to share performance insights

Connect with remote workers over video conference call instead of inviting them to office
Read Also: Why Is It Important to Have a Project Management Communication Plan in Place?
✅ Be Prepared for Risk Mitigation
Generally, projects get exposed to unidentified risks, which, in turn, leads to unacceptable deliverables or failure. No matter how disheartening this fact is, risks have always been part of projects. Therefore, you must list down risk mitigation strategies while developing a project management checklist.
Remember that wiping out potential risks from the root is extremely important, as leaving loose ends will only create obstacles during the project development cycle.
Here are a few ideas you can take into consideration:
Monitor closure reports of previous projects to identify common risk factors

Go through project requirements with a fine-tooth comb

Always solicit inputs from experienced and top-performing executives while

developing risk mitigation strategies
✅ Give Attention to Documentation
Last but foremost, giving proper attention to the documentation process should be one of the major tasks that you must add to your project management checklist. It will definitely help you roll the success ball for a long time.
How so?
Well, every project teaches you something, so you must capitalize on good strategies and streamline trouble-causing factors while working on the next project. This could be the reason why holding a final meeting with proper documentation is deemed the most crucial part of the closure phase.
Here's what you should be doing during the project closure stage:
Discuss ups and downs with your team to come up with a positive conclusion

Give due credit to top-performing project executives to inspire others to lay down the marker next time

Archive finalized documents into the company's database for future reference
✅ Bring Reliable Project Management Software Into Operations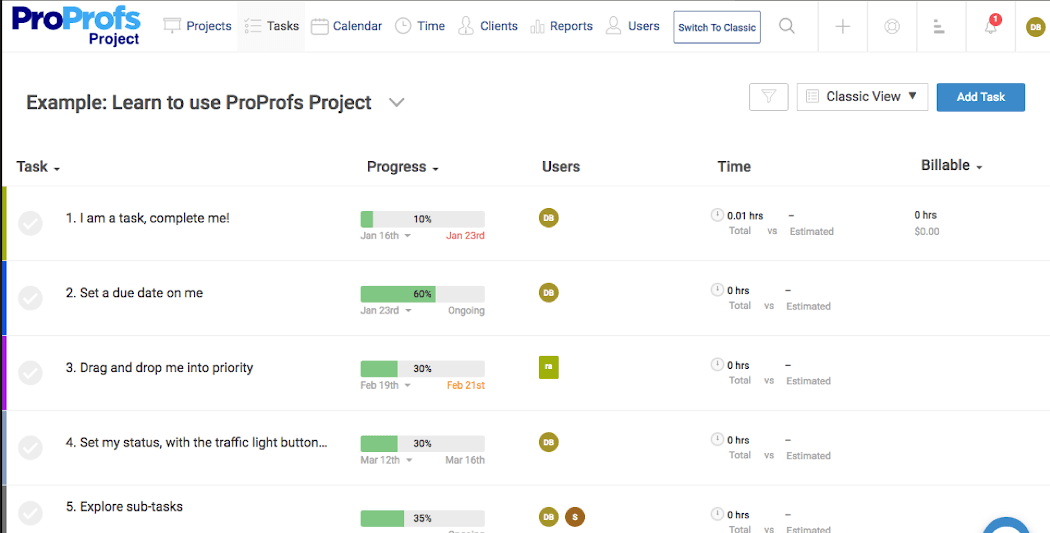 You will definitely come up with an ideal project management checklist if you keep the aforementioned pointers in mind. But, will it make any difference if you don't execute it properly?
Of course, not!
Therefore, you must bring reliable online project management software like ProProfs Project into your business operations to get tasks done as expected. Features that will help you execute the project checklist aptly are:
Task priorities:

Prioritize crucial tasks so your team have a clear idea of what needs to be done first

Task comments:

Share your ideas with your team by leaving a comment on each task. With better insights, each executive will complete assigned tasks with perfection

Calendar view:

Plan project tasks for the entire week or month by using the 'Calendar view' feature to maintain the momentum throughout the development process

Gantt charts: Check out the project's progress through Gantt charts and improvise your strategies if needed
Please note that a project management tool would be a boon for you if it matches your business requirements and shoulders the bottom line. Plus, you must ensure that your team is comfortable with the tool. So, it would be great if you conduct a survey first by using tools like Qualaroo and then take the deployment decision.
Are You Ready to Excel Now?
Handling projects has never been easy, as challenges come out of the blue and leave you scratching your head. But if you stick to the basics, most of the project management pain points will automatically vanish for good.
Making big strides during the project execution phase won't be tough if you have planned things upfront. By means of an in-detail project management checklist, you not only enable your team to meet deadlines but also improves the odds of securing high-quality deliverables.
Besides working on an ideal checklist, deploy a project management tool to tie up loose ends (if any) for the perfect execution.
Thanks for reading!
FAQs
---
Q. What are the key project management documents?
The key project management documents are:
Project charter

Work breakdown structure

Risk management plan

Progress reports

Change request log
Q. Why is a checklist important?
A project checklist is important because it lets you organize assignments for the development process. It dwindles the chances of errors and promises consistency.
Q. What is a checklist assessment?
Checklist assessment is a way to evaluate whether you've planned things righteously or not. It is vital for project success because if you don't know what to do next, meeting deadlines and desired quality standards will be very tough.
Q.What is the use of the checklist method?
The use of the checklist method is to ensure that all tasks are completed in a systematic manner so that SLAs stay intact and client relationships grow persistently.
Do you want a free Project Management Software?
We have the #1 Online Project Management Software for effective project management.