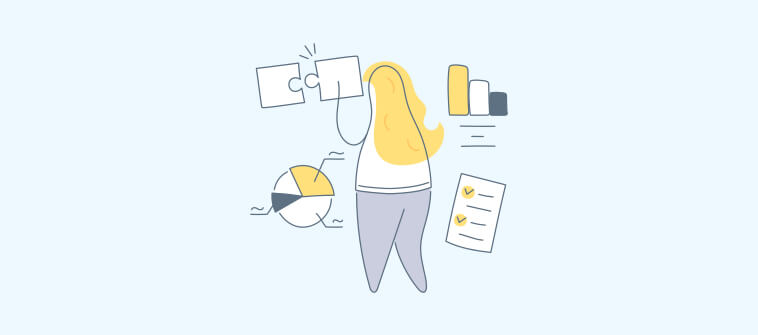 Has it ever happened to you that even after working on a project with all your might, all you receive in the end is – client disappointment?

This can be disheartening, especially when the final output is high quality and within the anticipated time and budget.

A situation like this can seem out of the blue if a project has been running smoothly since the start, with no specific complaints from the client.

Then what probably could cause a client to be dissatisfied with the final result?

Mismatched and unrealistic expectations can be the possible reasons!

Lofty expectations not conveyed in the beginning, or a difference in expectations can be the root cause of project failure and a withered relationship between you and your client.

Managing project expectations at the very beginning is pivotal to project success. It keeps things crystal clear, with no scope of unnecessary assumptions at both ends.

Setting expectations right and managing them throughout the process is not as easy as it sounds. This blog explains everything about how to successfully manage project expectations from the start to finish.

It's time to lead your project to success!
What Are Expectations & Why Are They Important?
Expectations arise from assumptions or past experiences. It is human nature to make assumptions and have expectations with everything in life – our favorite restaurant, the eCommerce store we frequently shop from, the nearby coffee shop, and the list goes on.
The same logic applies to project management.
You have certain expectations from a project, and your customers also carry various expectations when they select you for the project. Even a little mismatch between these expectations can result in:
Increased confusion and misunderstanding

Decreased trust in each other

Wasted hours and reduced team productivity
This can hamper the project's performance, setting your project for failure. It is therefore important to set project management expectations right from the very beginning. When you know what your customer wants, and when the customer knows what you have promised, there will be no scope of disappointment or shocking surprises.
A simple act of setting expectations right infuses transparency in the process and saves you from hassles and headaches later.
Let's now quickly look at some tried and tested ways to manage project expectations.
How to Manage Project Expectations
1. Talk to Your Clients Before Project Planning
'Do you know what annoys most of the time while working on projects?'
A continuous request for changes!
It happens when you don't discuss clients' expectations thoroughly before plunging into the planning phase. Consequently, there is a to-and-fro of emails regarding project changes, which, in turn, leads to frustration. It also puts a question mark on your credibility and influences your relationship with clients.
Therefore, it is crucial to discuss the expected deliverables and then move to the planning stage. It would keep last-minute changes at bay and help you meet or even exceed customer expectations if everything moves smoothly.
In case you feel that clients have unrealistic project management expectations from you and your team, discuss it right away. Be proactive and find common ground to avoid time sinks and wastage of resources.
This will require you to be transparent during discussions and clearly convey your team's capability, availability of resources, and the output you can practically deliver. The more transparent you are, the easier it will be to create a win-win situation.
Read More: A Step By Step Guide To Project Planning
2.
Build the Right Team
A team can make or break a project. If you have the right members in your team, it can give a tremendous boost to your project performance. On the contrary, having an inexperienced or incompetent team can result in project breakdown.
The right team manages client expectations well and gives you the confidence that the final deliverable will be awesome. So, be very careful while selecting members for your project team and assigning them responsibilities.
Go back to the history of team members, look for their strengths and weaknesses to identify the right fit for your project and who have shown decent sincerity and diligence in previous projects. This will make team-building easier and better for you.
Break your project into small chunks and assign them to each team member. In case a task requires multiple members, assign it to only those who can work in a collaborative environment. Analyze how well they gel up with their colleagues and how inclined they are to work collectively before assigning the task.
Here are a few hacks that might help you build the right team for your project:
Choose individuals who go along well with one another

Be sure about the strengths and weaknesses of all your team members

Explain job responsibilities thoroughly in the initial team meeting

Convey goals and expectations right at the very beginning
Read More: How to Manage a Project Team: 6 Ways You Didn't Know Helped
3. Communicate Regularly
You don't want assumptions and expectations to create unwanted chaos during the project execution phase, right?
To avoid that, it is essential to communicate often with your customers as well as your project team.
Communication starts at the planning stage and should continue throughout all stages till the project is finally delivered. Conduct regular one-on-one meetings with customers after you have achieved a milestone. If meeting your client often is not possible, use emails or phone calls to convey the progress. Ask as many questions as you have, and even encourage the client to give suggestions on the achieved tasks.
Ensure that you keep a record of every discussion with your client. An ideal way to do that is to create 'Minutes of Meeting' after every discussion and share it with your client and project team. In the end, if your client questions anything, you should have logical reasons for all the important decisions you took while working on the project.
Communication is equally important when it comes to your project team. Whenever there is a development or any change in the current scheme of things, communicate clearly to your team.
Have regular meetings with your team, or if you feel meetings eat up your time, emails are the best option. When all project members are on the same page, they are able to work collectively towards the project's success.
In case it is a big project, and a lot of stakeholders are involved, a better option would be a project management tool like ProProfs Project. It makes project management and team collaboration extremely effortless. You can track and prioritize projects, share files, initiate discussions with your team – all on a single dashboard.
This video explains everything you should know about a project management tool.
Read Also: Why Is It Important to Have a Project Management Communication Plan in Place?
4. Do Not Overpromise
Be realistic and promise only what your team can deliver. If you over-promise certain things in excitement, it is your team who will have to bear the brunt and slog day and night to meet those unrealistic goals.
This is not a healthy practice.
Agree to only those goals which you feel your team is competent to deliver. Once you and your customer mutually agree on project goals, ensure that they are delivered on time and to exceptional standards.
A good practice is to consult with your project team and take every member's suggestions before giving your consent to a deadline. Your team will do a major part of the work, so it is advisable to take their inputs before deciding the deadline.
Making false promises to your customer is futile. It will only make customers question your credibility if the promises are not fulfilled. So, promise only what you can deliver well!
5. Things Can Go Wrong at Times. Be Honest About Them
Projects are prone to risks, and the fact is you cannot help it. There will be times when things go haywire, and the situation seems out of control. There will be days when a little lag on your side may result in blunders.
Does that mean you should suffer in silence and keep your customers and higher management in the dark?
Mistakes are inevitable. It is better to accept them, convey them to the right stakeholders, find out a way to fix them, and move forward.
There is nothing wrong with being honest about the mistakes. It will only fortify stakeholders' trust in you. They might show frustration initially, but they will also give you the time to rectify and continue with the project.
It is true that mistakes slow down a project, but a bigger mistake will be not conveying the situation to your customer or your seniors. Sometimes, being honest and transparent opens other doors for you, which you didn't even know existed.
For instance, if you communicate about the issue to your immediate senior, he or she might come up with a quick and practical solution you couldn't have thought of.
Being honest in the initial stage prevents mistakes from aggravating further.
6. Be Prepared for Conflicts
The members of your project team might be working on other projects too. They will have to manage time according to the urgency of tasks and project requirements.
This is where conflicts arise. Other project managers will want a member to put more time into a particular project, while you will want them to do the same for your project. A conflicting situation like this can jeopardize project deadlines.
Just because you are worried about the deadlines doesn't mean you should bombard your team members with loads of work. This would again be unhealthy both for your team and the project.
What you really need to do is understand the scenario. Talk to other project managers about project priorities and timelines. Then, talk to your team about how much time they can dedicate to your project. Understand their workflow and be informed of the distractions they face due to other projects.
Keep all these things in mind, and come up with a pragmatic solution. Be systematic in your approach. Craft a strategy that allows your team to seamlessly switch between projects without affecting their performance.
7. Set Milestones Accurately
Setting the right milestones is imperative when you start working on a project.
They give clarity on how a project will progress and keep things transparent between both parties. Your clients can visualize the time each milestone will take and the path your project will follow, making it easier for them to give suggestions even before the actual work starts.
Milestones also act as a driving force for project members. Your team members do not get overwhelmed when they see the entire project divided into easily-achievable milestones. Achieving one milestone makes your team confident about their abilities and keeps the project development on track.
Meeting customer expectations gets a lot easier when your project, no matter how big or small, is divided into manageable milestones.
Here are a few tips that can help you with milestone setting:
Identify critical tasks on which project success depends and set them as milestones. Have a proper deadline for each task.

Do not label every task as a milestone.

Time your milestones. Don't keep them too close to one another, as that will make the work burdensome for your team.
To set milestones and track their progress, consider using a decent project management tool that offers features like Shared Calendar and Gantt Charts. They help you set, manage, and track milestones on a single dashboard. You can easily check milestone progress and monitor who is working on which milestone – all from a single place.
8. Create a Practical Schedule
Managing project expectations is a breeze, provided you have a realistic schedule.
Last-minute hassles or making important changes at the twelfth hour can impact the final deliverable. If you want things to move at a smooth pace and some buffer time to make urgent changes, consider creating a practical schedule.
For instance, if the deadline for a project is after five weeks, create the schedule for four weeks.
Give your team a buffer of 1 week so that they can make final changes, finetune the project, and stay relaxed as the deadline nears. It is also possible that your team completes the project well before time, i.e., within four weeks.
If that happens, nothing like it. If not, they will still have enough time left to make final tweaks without being in a rush.
9. Guide Your Team
Expecting your team to meet project management expectations without proper guidance is unfair and can only lead to poor project performance.
As soon as the project expectations are set, and deadlines are decided, pass this information to your team. Do rush to get started with the project. First, have a briefing session with the team, where you explain and discuss everything about the project in detail.
Be honest and transparent about what kind of performance you expect from your team. Convey communication requirements, the kind of risks involved in the project, and the quality standards you personally want to achieve.
Guide your team on how they are expected to work, collaborate, and communicate while working on the project. For instance, if you want a team member to send weekly reports to the client, convey it clearly during the meeting.
Assign tasks and sub-tasks to each team member, initiate discussions to keep things transparent and give feedback on team performance regularly.
ProProfs Project can help you achieve this. It allows you to divide your projects into tasks and sub-tasks, assign them to relevant team members, and get real-time updates on project progress.
Manage Project Expectations & Get Ready for a Successful Take Off
Expectations are an inevitable part of a project's progress and delivery. In fact, having certain expectations from a project is a good practice. It keeps you driven and focused throughout the project scope.
The problem arises when expectations aren't managed well, or there is a significant mismatch between your and your clients' expectations. That is when the downfall begins, leading to dissatisfied stakeholders, demotivated teams, and a dent in your credibility.
You can avoid this by doing some simple things right. Before you start working on a project, talk to your customers. Try to keep everything transparent. Show them what your team is adept at and what falls beyond the range of your team's capabilities. You should not over promise and under deliver. Make practical commitments that you are confident that your team can achieve.
Set your project expectations right today to avoid confusion and misunderstandings in the future. Opt for ProProfs Project & get ready for a successful take-off!
FAQs
---
What are the expectations of a project manager?
Customers expect project managers to deliver projects on time and with exceptional quality. They require a project manager to:
Prevent time sinks

Keeping project budget under control

Utilizing resources effectively

Mitigate risks

Be honest and transparent about project progress
Is a project manager accountable or responsible?
A project manager is responsible for overall project delivery. He or she assigns tasks, communicates goals, and guides the team on how to work on different tasks. The top 3 responsibilities of a project manager are:
Project planning and execution

Completing projects within the promised time

Ensuring high-quality deliverables

Managing conflicts

Managing project expectations
What are some team expectations?
Here are some of the things that teams expect from their project managers:
Clarity related to each assignment

Feedback after each achieved milestone

Proper guidance

Confidence and trust in the team

Regular communication with the team

Work-life balance
Do you want a free Project Management Software?
We have the #1 Online Project Management Software for effective project management.