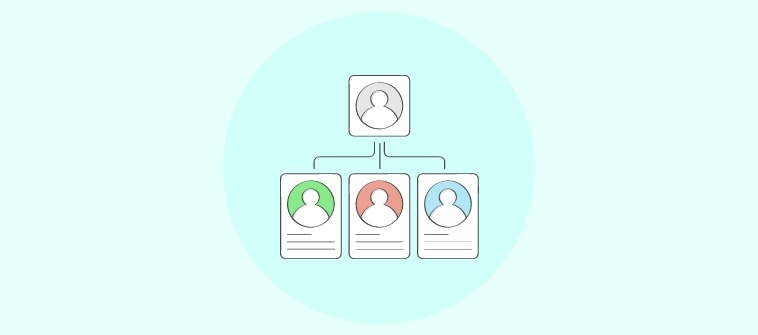 Have you been hearing the buzzword, 'workflow automation' too much lately, wondering what it can do for your business?
Well, workflow automation in project management is definitely not a new concept. Project managers globally have embraced it over the years with arms wide open. Integrating automation into our daily routine helps simplify everyday work management and achieve more in less time.
Automating workflows effectively reflects in:
Increased everyday efficiency
Improved team accountability
Reduced human errors
Thus, it becomes more important to automate workflows using a workflow management software.
If you're looking to understand how workflow automation can impact your business in more ways than one, you're at the right place. In this blog, we will answer all your questions and help you automate your workflow with maximum efficiency and ease.
What is Workflow Automation in Project Management?
The term 'workflow automation' undeniably speaks about its meaning itself.
Workflow automation in project management lets you automate workflow processes that are repetitive or time-consuming. By offloading such tasks, you, as a project manager, are left with more time to spend on work that demands your absolute and undivided attention.
Thus, this way, you can direct your expertise to high-level tasks owing to automated and better project workflows.
However, let's try and understand its meaning and utility with an example.
Picture this. You are a project manager handling multiple projects and tasks. As a project manager, you are not just responsible for assigning tasks and tracking their progress but also for devising the best work strategy and analyzing the project outcome. That's a handful of roles, right? Here is exactly where workflow automation comes into play.
Why Do You Need to Automate Workflow Process?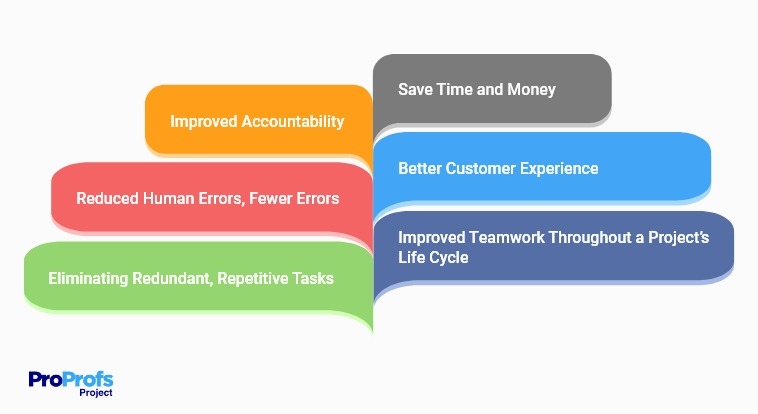 Before you sit down to automate workflow processes, it is crucial to understand the 'why' behind automated workflows in detail. Understanding this will enable you to automate workflows with a better sense of purpose.
So, let's dive right in and get familiarized with the benefits of an automated workflow system.
1. Improved Teamwork Throughout a Project's Life Cycle
Communication is the pillar that holds a project together. Without the seamless flow of communication, your project is bound to encounter unmet deliverables, delayed deadlines, and deviated workflows.
On the other hand, when you automate workflows, you set your team up for a well-defined path of project execution. This, in turn, serves as the medium through which team members work together and hit the ground running. This way, you can streamline workflows and bridge the communication gap. It enables team members to approach bottlenecks with better coordination and efficiency, creating a workspace that is agile and productive at the same time.
Read More: Why Is It Important to Have a Project Management Communication Plan in Place?
2. Reduced Human Errors
Managing a project means managing truckloads of data related to project tasks, resources, timelines, files, etc. If you think handling this data manually for multiple projects across multiple departments will enable you to scale easily, you're signing up for a sure-shot failure.
Managing data manually might be okay if you're looking at small projects and a shorter time period. Projects with shorter timelines and small resources may not demand that much effort and strategic planings. However, if big projects and scalability are on your mind, you need to take a u-turn right away.
For handling such large amounts of data, workflow automation is the route to take. It significantly contributes to fewer mistakes both in terms of feeding the data and interpreting it. Thus, automate your workflows for high precision and reliability of data right from the start.
Read More: Top 20 Workflow Management Tools for Improved Project Outcomes
3. Improved Accountability
Workflow automation creates tasks and assigns users to them. This helps define how a specific team member will be involved in the project execution cycle.
By setting up tasks for team members and specifying them via a well-defined project workflow, automation contributes to improving accountability within the team and the organization. This way, there is no discrepancy regarding task responsibilities, and work can be achieved within the defined time and budget.
4. Eliminating Redundant, Repetitive Tasks
We all come across a good number of tasks and processes that are repeated in almost every other project. Setting up these tasks becomes almost mechanical after a point. However, it does take effort to repeat the same procedure for similar tasks.
The solution lies in automating workflows such that minimum effort is required to set up these lower value, mundane, and repetitive tasks. This way, you can direct your focus to only the most essential tasks that demand your unhindered attention.
Read More: How to Delegate Tasks Effectively to Get Work Done
5. Save Time and Money
A project is deemed successful if it is accomplished within the set timeframe and if it has resulted in significant profit.
Automating workflows means that your projects are flowing smoothly, which further translates to improved work visibility and greater employee satisfaction. Thus, when things are going as planned, it is imperative that you will end up achieving more than previously set parameters, both in terms of time and money.
6. Better Customer Experience
The holy grail of any business strategy is to win over customers, right?
Workflow automation ensures that work is handled in the most efficient and optimized way within the organization. When this is achieved, the effect is bound to rub off on customers, ensuring an exceptional customer experience throughout the project's life cycle.
Read More: A Complete Guide to Creative Workflow Management
How to Implement an Automated Workflow System?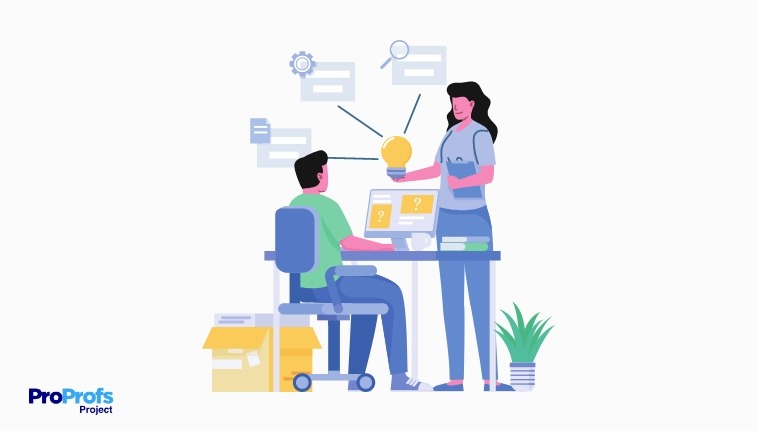 Implementing an automated workflow system is easier than you think! Let's go step by step and understand how you can set up an automated workflow for your projects with maximum ease.
Step 1: Identify Repetitive Tasks That Can Be Automated
Whichever management methodology you choose, be it Agile, Kanban, Waterfall, or Scrum, the first step will be to create a visual representation of the project workflow. For this, jot down the project scope and break the entire project down into smaller, manageable tasks.
Then, determine the tasks that can be set up for workflow automation in project management. These tasks can be low-level, mundane, repetitive, and time-consuming tasks that are similar across many projects and processes.
Step 2: Establish the Automated Workflow
Next, establish the workflow. But, before doing this, you also perform quick risk management to identify potential gaps and bottlenecks.
After this, you get down to creating the workflow. For this, you must bring in a good workflow automation software. With this, you can create workflows in an easy-to-access place. Then, you can assign team members to tasks, set due dates, prioritize tasks, and even set task dependencies.
Thus, such a software helps ease team communication and maintains your project data in a secure place. And yes, you can set up recurring tasks so that you do not have to consume time and money on tasks that can be solely handled by the tool within seconds.
A simple tool like ProProfs Project is excellent to set up workflows and automate recurring tasks instantly. It is easy to onboard and navigate. It lets you view which tasks are pending, where your resources are engaged, and which tasks are on priority at a glance using Gantt charts, Kanban board, and more.
Step 3: Involve Team Members Actively
Once the workflow is set, do not forget to involve your team members in its correct implementation. While you may have created the workflow after thorough analysis, how it will benefit overall execution will depend on how well team members are able to work with it.
So, ask your team members for suggestions and tweak the workflow as desired. After all, automation ought to work best for the ones who carry the project on their shoulders from start to finish.
Read More: 15 Essential Project Management Tips for a Successful Project
Step 4: Measure Relevant Metrics
Workflow is set. Teams are adequately involved. Tasks are running smoothly. But, there's one thing that's missing – Analyzing workflows in real-time.
This is necessary as tasks may be going smoothly from one stage to the next, but they might not be adhering to defined project goals and objectives. Thus, it becomes imperative to track, monitor, and analyze key project success indicators.
Step 5: Keep Optimizing Workflows
Now that you have analyzed the key project metrics, you can work your way to optimizing the workflow effectively.
Keep an eye on how things are progressing and optimize workflows to minimize waste of time, effort, and resources. See where you can direct more attention to and accomplish projects delightfully!
Automate Workflows to Drive Better Efficiency
Workflow automation in project management is much more than putting up a few recurring tasks on automation. It refers to involving team members in every step of the way, analyzing key metrics, and optimizing automated workflows effortlessly.
So, the next time you automate workflow processes for your business, remember why you're automating workflows in the first place and what benefits is your organization looking for.
Power up your project management practices with effective workflow automation and a workflow automation software in place. Time is running away. It's time to start automating your workflows right away!
Do you want a free Project Management Software?
We have the #1 Online Project Management Software for effective project management.