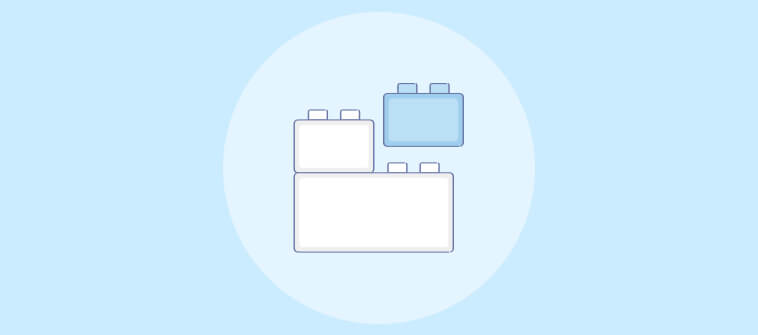 Gantt Charts: They can either make or break a project and business operation.
To finish a project successfully, you must manage many activities and ensure they're on schedule. As a project manager, it's essential to see the details of each activity, its task, and its deadline.
That's where Gantt Charts comes in. Gantt charts visually represent this information. They provide an outline view of all of the project's tasks and their sequence against a timetable. It gives you a quick overview of a project, its tasks, subtasks, and tell you when these must be completed.
Today, Gantt Charts have become an irreplaceable part of project management and are used in various industries and multiple projects, whether big or small.
In this blog, we will explore 15 Gantt chart examples for different project types. You can use these ideas as an easy starting point for creating simple Gantt charts for your different projects.
But first, let's start with the basics: What are Gantt Charts?
What is a Gantt Chart?
A Gantt chart is a visual illustration of a project's progress across a specified timeline. It helps you keep track of the project's tasks as well as their dependencies.
In layman's terms, a Gantt chart is a bar graph depicting the progress of various project tasks. It is one of the essential tools of efficient project management.
A standard Gantt project chart has the name of individual tasks or group tasks on the Y-axis. The X-axis has a timeline divided into days or weeks.

Basically, a Gantt Chart provides us with the following information:
Start and End Date of Project that is project duration.
Task duration: Start and completion of individual tasks
Individual task responsibilities
Project Timeline
Task descriptions
Task Dependencies
Set Project Priorities
What is Gantt Chart Used For
Gantt charts are basically used for project planning and management. More specifically, project managers use Gantt charts to:
Monitor project progress
Recognize potential bottlenecks
Adjust project schedule
Prioritize activities and outline dependencies among them
Optimize the complete process structure
Estimate delays
Keep all project participants on track
Monitoring progress to ensure completion on schedule
15 Gantt Chart Examples
Initially, Gantt Charts were exclusively used in the industrial production process when they were developed.
However, that is no longer the case. Gantt charts are now used in various professional spheres, from manufacturing plants to creative firms. You can think of any project with a fixed deadline and task dependency, and Gantt Charts can come to your rescue!
Here are some best Gantt chart examples to help you plan for your project and understand how it can help you throughout a project life cycle.
The most common application for Gantt charts is in the domain of project management.
For all sorts of projects, Gantt charts are required. It is a helpful visual that helps break down your project strategy and actions on a daily or weekly basis so that the projects can be completed within the deadline.
The image below illustrates Gantt Chart Examples for Project Management.

In the above image, the timeline depicts the primary and crucial project information:
The project's name
Start and End Date of Project
Tasks/subtasks and their duration
Task Dependency
Workload
And, because everything is plotted directly on the chart, neither your team nor your clients will need to contact you for project updates.
Read More: How to Make a Gantt Chart: Step-by-Step Guide for Beginners
2. Human Resource
When it comes to human resource planning, you may be surprised at how much work is involved. In case you are working as an HR professional, you are responsible for:
Assessing current staff requirements
Employee onboarding
Employee offboarding
Recruitment process
Employee payroll
Managing and updating all company policies
Maintaining employees record
Taking care of employee training and development
To execute all these tasks seamlessly, you have to plan properly. It entails being ready for any changes that might happen within the organization. This is where the Gantt Chart comes in.
A Gantt chart is ideal for human resource planning since it provides numerous strategic possibilities. Using charts, you can simply document progress on projects and HR processes such as employee evaluations, interviews, selections, job postings, etc. Given below is the sample Gantt chart example in the field of Human Resources. All HR tasks are clearly illustrated with their subtask and deadline. For instance, the Forecast task depends on assessing personnel demand, examining market supply, and balancing forecasted personnel demand with supply.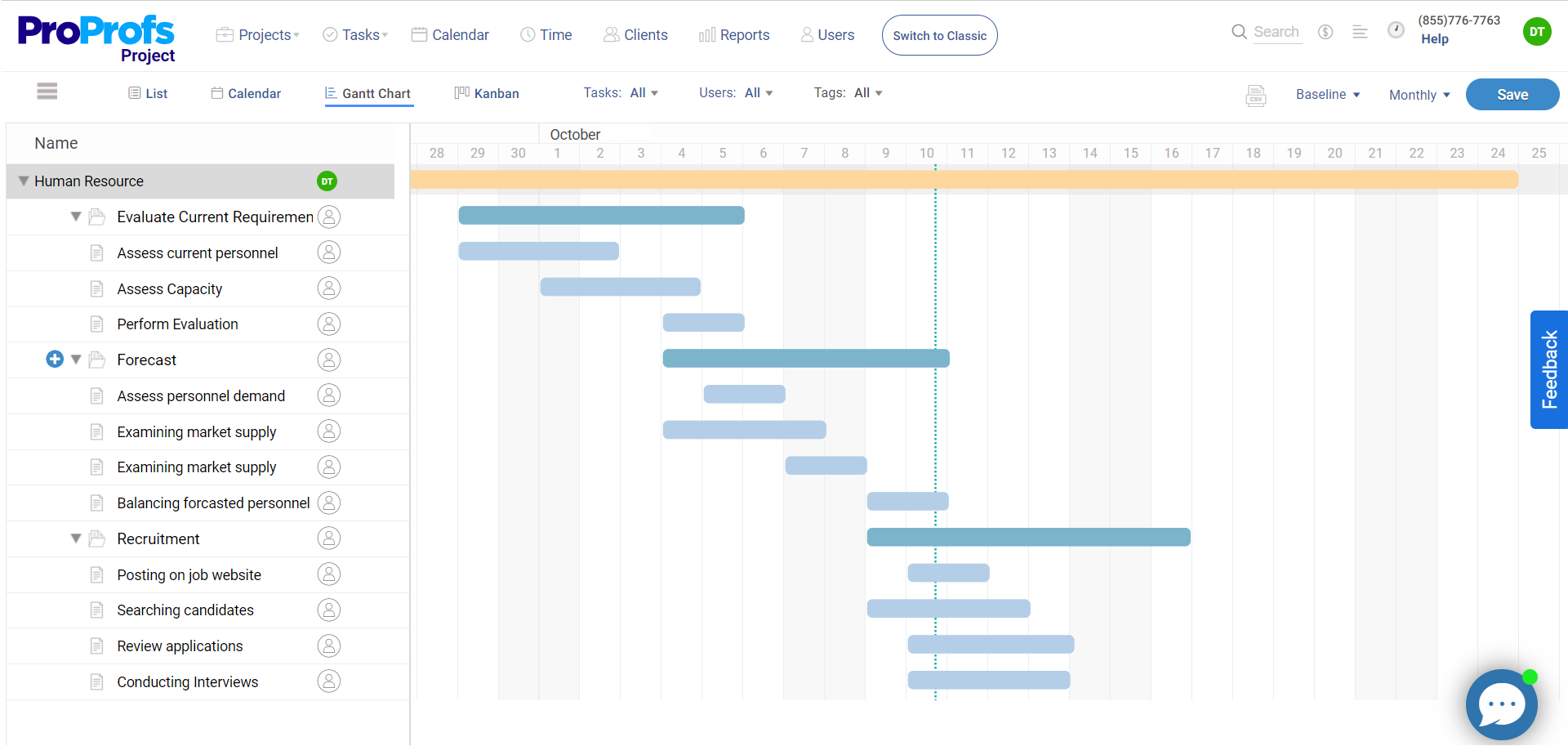 Read More: Advantages and Disadvantages of Gantt Chart
3. Business Plan
Are you thinking of starting a new business? You will need a descriptive plan with lots of information like market analysis, product research, competitors' analysis, company description, financial estimation, etc.
Processing all this information without visual representation becomes baffling. Don't worry. A Gantt chart is an excellent way to schedule and plan your project and ascertain the steps you'll require to take before going to market.
For instance, in the below example of the Gantt Chart, you can see that before researching the market and competitors, you will need to define your business vision and perform SWOT analysis.
This way, you can build a proper business roadmap and visualize every detail.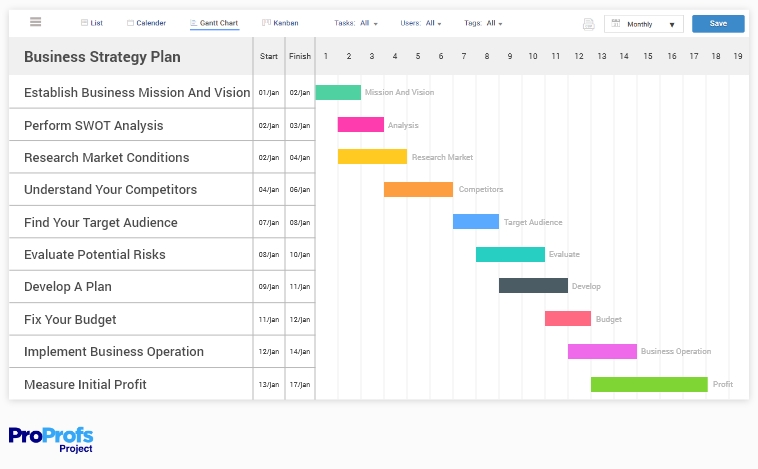 4. Sales Process
Cold calling, reaching out to a lead, follow-up calls, making the sales presentation, sending emails, video conferencing, etc. – being a Sales Rep is not an easy task.
If you don't keep track of all of these things simultaneously, you risk losing a lot of money and sales. That is not something you want when it comes to acquiring more customers for your business.
With Gantt Chart, you can streamline the sales process and feel a lot better about how well you're keeping track of things. There's no need to be concerned about something sliding through the gaps because the Gantt chart has all of the information you need.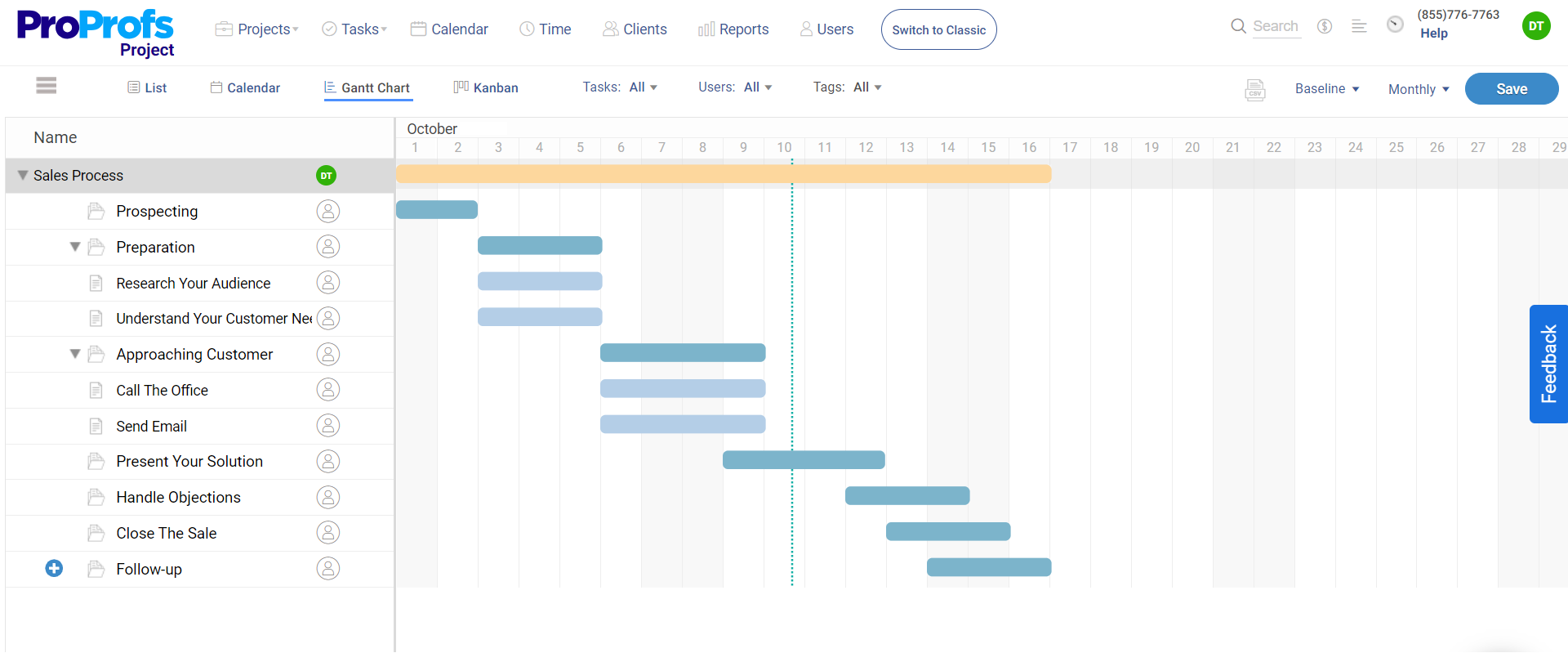 Read More: 14 Best Gantt Chart Tools to Grow Your Business
5. Marketing
A marketing campaign can quickly devolve into chaos if teams and tasks are not effectively managed. Using a Gantt chart for marketing projects assists teams in keeping their tasks on schedule. It provides them with a practical plan for achieving their campaign objectives.
The following is an example of a Gantt chart in the marketing field: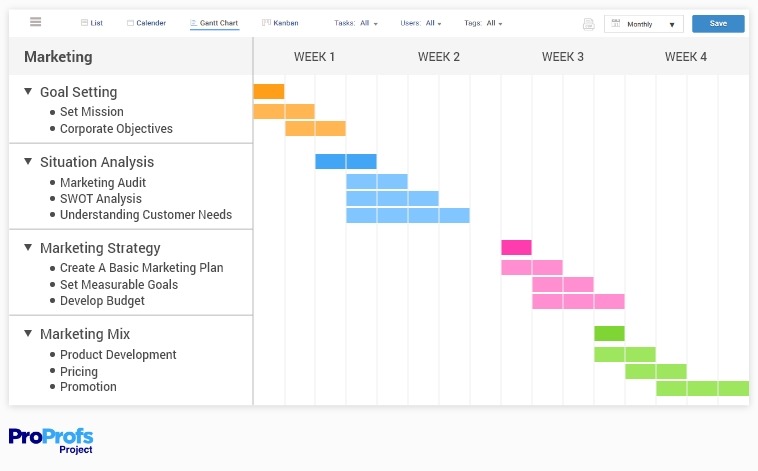 6. Product Management
One of the most prominent verticals that use the Gantt chart is project management. These charts assist project managers in identifying the tasks involved in each project, creating a timeline for each activity, and assigning dates, tools, and status updates to each of the project's tasks.
Here's a Gantt Chart example of a product development roadmap: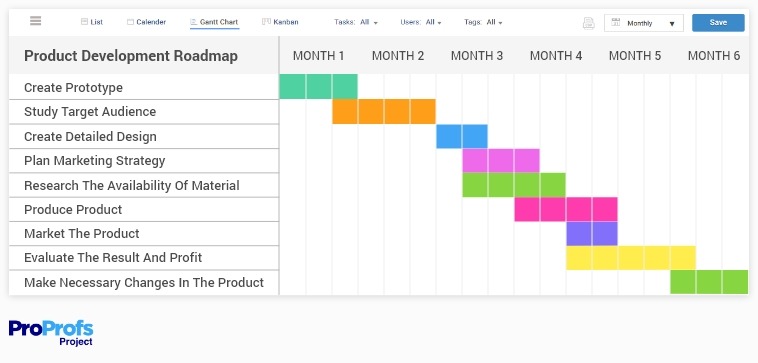 Read More: 14 Best Product Roadmap Software to Streamline Project Management
7. Media
Gantt charts are helpful for media teams as well. Let's see how.
Using Gantt chart, media teams can easily:
Plan video content brainstorming sessions
Allocate production activities
Plan release dates
Make a schedule for all of the content you want to publish in a week or month.
Monitor the progress of departments such as music, writing, casting, video editing, etc.
Here's a simple Gantt Chart example for video production:
8. Construction
The construction business makes considerable use of Gantt charts.
Individual tasks in construction plans are highly dependent on one another. For example, you can't begin working on the ceiling until you've mounted the pillars. And you can't work on the bath floor until the roof is made.
Here's a sample Gantt Chart example for a Construction Project:

9. Social Media
If you work in a social media team, you need to keep track of your postings, content, and a lot more. You also need to take care of your posting schedule: what, when, and where are you posting. You may also want to ensure that you can keep track of what is working well and what isn't in the process.
How do you do it without being overwhelmed?
All you have to do is make a Gantt chart, and you'll have no trouble getting things done.
These charts allow you to set up task details of what you want to post so that you know when to post it, where to post it, and who is in control of the post. Furthermore, you are less likely to miss a post because everything is planned out for you and easy to remember. All of this will make it easier for you to attain your social media goals and ambitions.

Read More: Is Social Media Productive or Destructive?
10. Event Planning
Gantt charts are also used for event planning or by teams that arrange events. Whatever the nature or style of the event, there is some planning involved and a schedule and timescale that should be adhered to.
Fortunately, a Gantt chart makes it simple to manage and group tasks for efficient event planning. It also allows you to create relationships between tasks and assign dependency among them.
For example, in the image given below, we can see that general event planning is divided into numerous tasks like budgeting, reserving Facility, and organizing decoration. Also, a task has interdependent subtasks, like we cannot sign the contract and provide payment until the venue is finalized.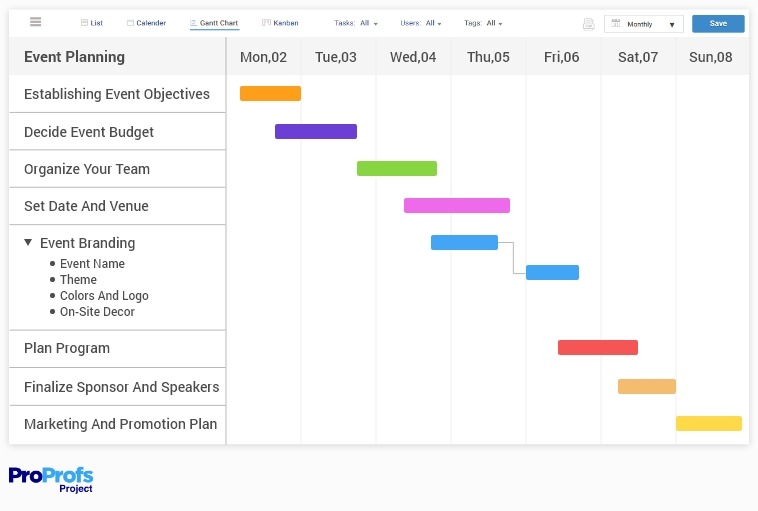 11. Consultants
If you are a consultant managing various projects and tasks, you need to have a Gantt chart.
A Gantt chart can demonstrate to your clients that you have a practical plan for success.
With the help of the chart, you can easily divide all the tasks between your team and the client's team. You can also refer to the chart during weekly huddles with the client to ensure you both are on the same page.
The following is an example of a Gantt chart of a Consulting firm.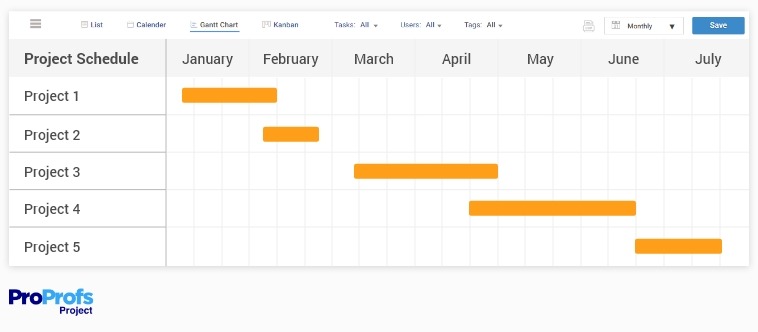 Read More: 14 Best Gantt Chart Tools to Grow Your Business
12. Design Project
A Gantt chart comes in handy in designing projects like creating a website or launching a new creative marketing campaign which are mainly creative project management.
Most of the tasks in design projects are interdependent. For instance, if you're designing a new website, you'll most likely follow a well-established procedure:
1. Create a wireframe for the user interface
2. Make a mockup in Photoshop
3. Create a webpage
4. Test Website
All these tasks are interdependent. Like, your designers would undertake user research and incorporate the results into their preliminary mockups. The prototypes would subsequently be finalized using various wireframing techniques. Based on the wireframes, the designers may generate various mockups in Photoshop.
A Gantt chart is used to track all of these tasks.
Here's an example of a simple web design Gantt chart: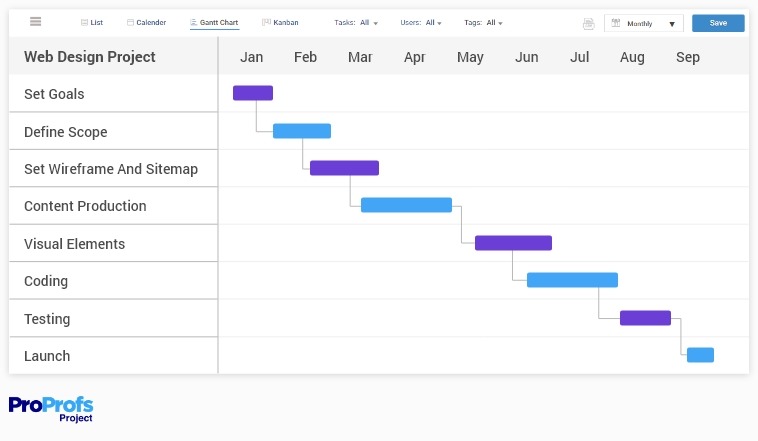 13. Mobile App Development
‍Creating a mobile app is a critical step for almost all businesses. After all, there are more smartphone users today than ever before. It's even more important to get things right if you're establishing an application as a business.
With a Gantt chart, you're going to have the ability to layout the steps that it takes to create your app. That includes everything from designing the functions of the app to launching it in the app store.
When you use a Gantt chart, you increase your chances of completing all the tasks correctly and quickly. That's the purpose, isn't it? You will want to make sure that everything is done in a way that ensures a successful launch.
Here's a sample Gantt Chart example for a Mobile App Development Project: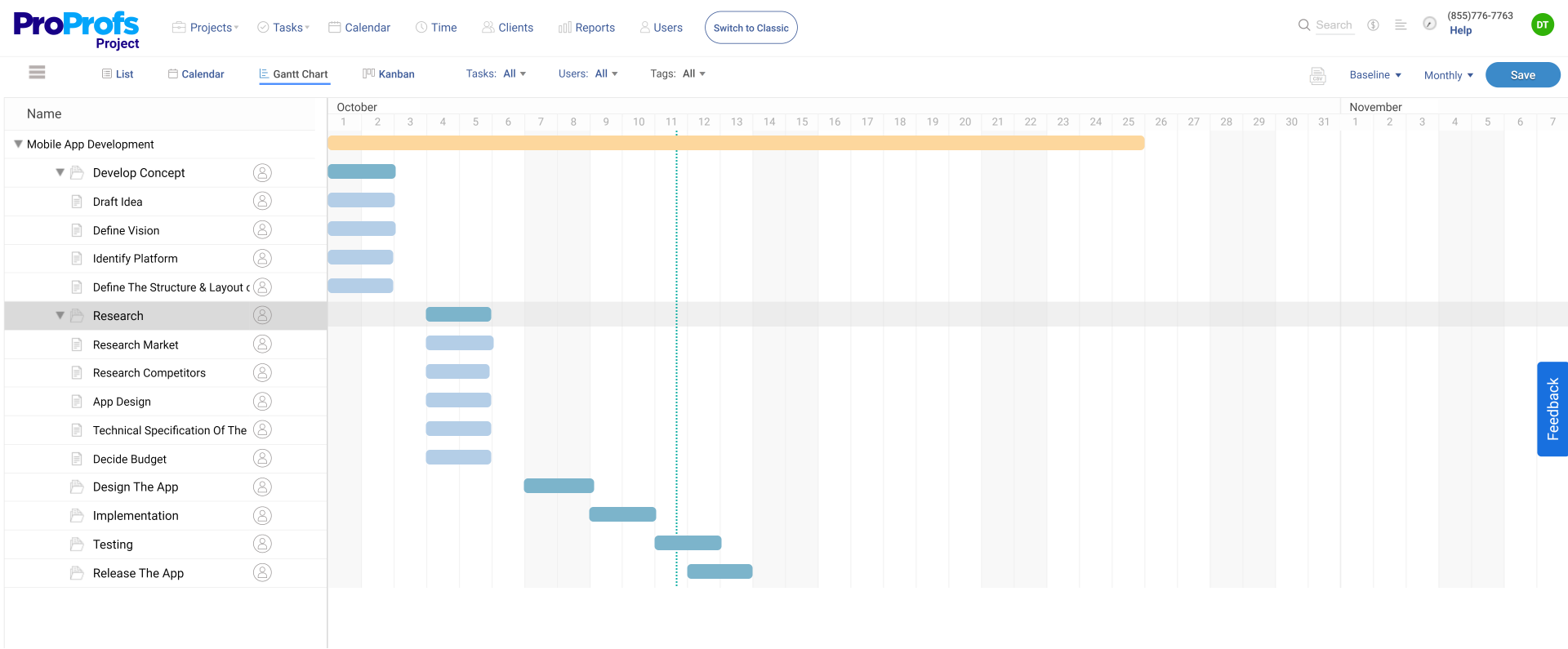 Read More: Why Choose Agile Project Management Software for Mobile App Development Projects?
‍14. Email Marketing
Are you an email marketing professional? Yes, then you must keep track of your email marketing efforts. You must keep track of which content is performing well and which is not, and you must ensure that you are informed of what is going on in your business. It entails keeping track of a plethora of dates, times, contacts, subjects, and so on. However, strategizing on your own can be far more challenging than you might have imagined.
The idea is to use a Gantt chart to remain on top of everything. If you do not keep track of everything linked to your emails and contacts as an email marketer, you could miss out on many sales opportunities. Not to mention the possibility of losing connections and leads.
So, it is better to use a Gantt chart to manage your tasks, which should include follow-ups, plans, resources, activities, and much more. All of these factors will make it easier for you to get started and stay on track.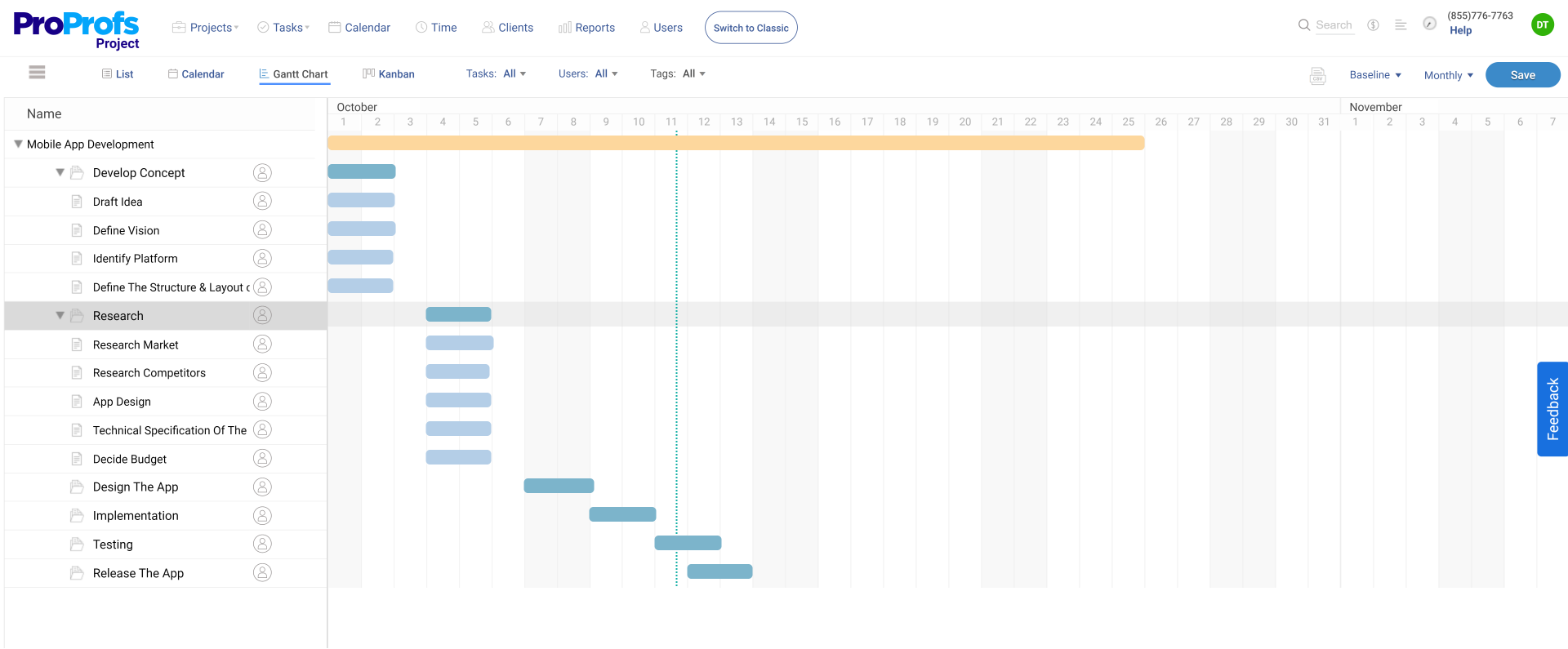 15. Software Development
There is no other way to put it: Gantt charts are a dream come true for software development teams. The flawless execution of the agile project management technique is a primary highlight in a Gantt chart for the software development process.
Using Gantt Chart in software Development projects, you can oversee :
Project management tasks
Planning of activities
Development
Implementation
Testing
Deployment and maintenance
The following is an example of a Gantt chart for a software Development Lifecycle plan.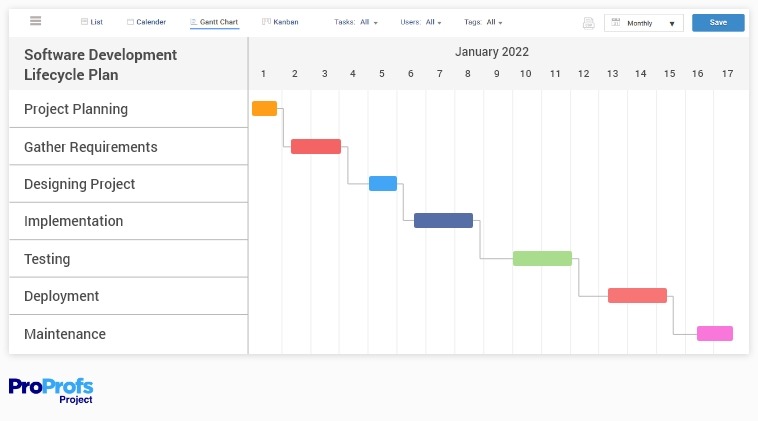 Create Your Own Gantt Charts & Reduce Workload
Gantt charts are an essential tool in project management. You can benefit from integrating a Gantt chart in your project regardless of its size or sector. A well-designed chart can hold your entire team accountable, enhance tracking, and make project management more effortless.
Nothing beats using a dedicated project management tool such as Proprofs Project to create Gantt Charts.
Proprofs project will provide you with all the features and options required to make Gantt charts work for you. Whether you've used them before or not, you'll be able to make one in no time, thanks to its simplicity and easy-to-use interface. The user-friendly and customizable features will ensure you have nothing to worry about when designing the type of chart you and your team need.
Do you want a free Project Management Software?
We have the #1 Online Project Management Software for effective project management.