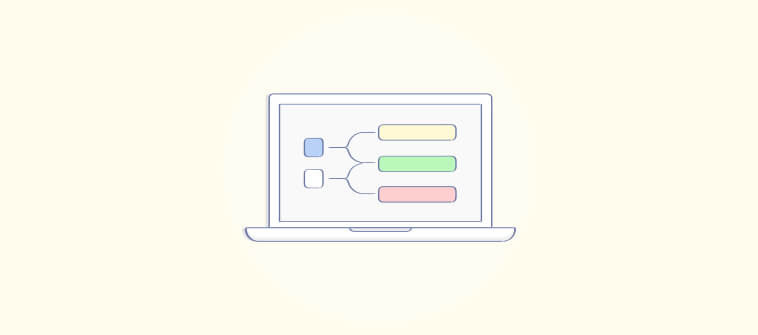 "Can you brief me about the progress on that project?"
"Oh, was there a defined due date for the task?"
"Well, I was too busy to grasp how the project was moving forward."
Do you often get to hear such things at the workplace and can't help but deal with these issues that affect the quality and progress of a project?
Imagine how easy and convenient it would be if you and your team could effortlessly get a visual overview of all your project tasks and activities in a few clicks.
Well, this is where a solid Gantt chart comes in handy. A few clicks, one glance at the dashboard and you can instantly gather all information related to your project.
It helps you to plan and accomplish your projects within the specified timeline, ensuring that you stay on top of your projects round-the-clock. With its interactive bar chart, you can access start and end dates, track milestones, and know who is working on what from anywhere and anytime.
This blog explores the uses and the advantages of Gantt chart along with its disadvantages to help you understand how adopting a Gantt chart can benefit your organization and lead projects successfully.
Why is a Gantt Chart Important?
Gantt charts are widely used for collating all project data into one place. The purpose of a Gantt chart is that it helps store, process, and measure all information with the established baseline.
It illustrates the lifecycle of a project, right from initiation to closure, providing up-to-date status of each task and subtask clearly. With such a detailed summary of the project, it helps enable robust project visualization, team collaboration, and task and resource management, right from its intuitive dashboard.
Who Uses the Gantt Charts?
Anybody can utilize a Gantt chart for gaining an overview of project progress. A Gantt chart allows you to track your workflow and identify gaps if any.
It helps monitor performance and improves the overall progress both in terms of quality and speed.
A Gantt chart can be used across industries such as manufacturing, business, public service, construction, etc. by project managers, stakeholders, and team members alike.
Advantages of Gantt Charts
A Gantt chart is a powerful tool with significant advantages for managing projects like a pro. Let's look at a few of these advantages of Gantt chart in project management.
1. Interactive Data Visualization
A Gantt chart offers the easiest way to create and visualize project schedules, bringing transparency into everyday workflows. Its bar charts allow you to measure project progress in a quick overview. By representing the entire project schedule, the visual tool helps identify task relationships and task dependencies at a glance.
2. Efficient Time Management
You can save time and effort simultaneously with crystal clear Gantt charts that help you track tasks, milestones, and deadlines accurately. This way, you can gain perspective of how the project is progressing. Also, you get insights into whether you need to intervene in the set workflow to adjust the task deadlines for the best possible project outcome.
3. Effective Resource Allocation
With Gantt charts, you can ensure that your resource allocation is optimized in a way that the right resources are allocated to the right task throughout the life cycle of a project. It also helps avoid resource overload, ensuring the best utilization of resources according to their unique capacity.
4. Enhance Team Productivity
Having a centralized platform that provides project details helps improve team communication and collaboration. With it, team members enjoy seamless interaction for project tasks and activities, enabling enhanced team productivity and superior project results.
5. Manage Multiple Projects Simultaneously
What can be better than having all your projects' data clearly fed and managed from one platform? This is exactly what a Gantt chart does! It distinctly stores data of all your projects with its easy access from anywhere and anytime.
6. Set Realistic Deadlines and Project Expectations
A Gantt chart, with its accurate data visualization, allows you to set deadlines that can be achieved with the set workflow. Also, you can monitor project progress to ensure that you reach the project finish line within the set timeframe, without compromising the project quality.
7. Aids Faster and Better Decision-Making
The Gantt charts provide an easy overview of all project information, making decision-making informed and accurate. Thus, the tool is a respite for project managers and stakeholders alike to analyze and plan future projects with a clear understanding of how existing projects are progressing.
8. Manage Remote Teams Successfully
Gantt charts serve as the simplest way for remote teams to come together and achieve a shared common goal. It provides a space where remote team members can effectively track, coordinate, and stay updated on their key tasks and responsibilities. This helps them stay on top of projects and deliver expected project outcomes smoothly, despite being geographically dispersed.
9. Creates a transparent work environment
Making beautiful Gantt charts that are easy to read, team members across the organization enjoy transparency in the everyday workflow of projects. And, with increased transparency comes better communication and engagement, enabling an easy flow of everyday tasks. This way, you can accomplish multiple projects at the same time without having to approach co-workers for the minutest project details throughout the projects' life cycle.
10. Fosters a sense of accountability
A Gantt chart defines the stage of completion of a project. It also defines which resources are allocated to which tasks and what is the timeline of a specific project. Having the entire project status clearly laid out on interactive Gantt charts helps establish a sense of accountability. It instills ownership in team members and gears them to achieve set goals and objectives in a timely and efficient manner.
Disadvantages of Gantt Charts
A Gantt chart is a sure-shot tool that ensures project success in sync with expected business outcomes. However, it also comes with its set of challenges. Let's take a look at them.
Setting up the Gantt charts can get tedious – Creating, assigning, and prioritizing multiple projects can get tedious and unnecessarily time-consuming for large and complex projects.
Access to the software is mandatory – Without access to the software, it is impossible to update, assign, and track project tasks and activities, causing a technological barrier midway project execution.
Maintaining bar charts for complex projects is not ideal – When a project requires setting up and working with too many tasks and subtasks, managing the project can often go for a toss.
Four Best Gantt Chart Software Tools
Gantt charts enable project data visualization from start to finish, displaying each task and subtask with its specified resources and timelines. It is the most convenient way to stay organized while never losing focus on how your projects are progressing.
Here, we have narrowed down the best Gantt chart software that you can try to effortlessly measure project progress and deliver projects on time.
1. ProProfs Project
ProProfs Project is a feature-rich online Gantt chart tool that enables enhanced project schedule visualization. Its intuitive interface lets you manage multiple projects on a single dashboard from anywhere and anytime. You can track milestones and accomplish projects faster by setting reminders for approaching deadlines.
The tool offers solid collaborative capabilities such as providing instant feedback with task comments and discussing roadblocks with threaded replies. Also, its time tracking ability allows you to monitor team performance and ensure on-time project completion. Moreover, you can generate actionable reports for implementing the best project execution strategy as per the existing project and team needs.
Features:
Drag and drop functionality
Automatic invoicing and billing
Task permissions
Real-time alerts and notifications
Customizable dashboard
Pricing:
Essentials – $2/user/month
Premium – $4/user/month
2. Smartsheet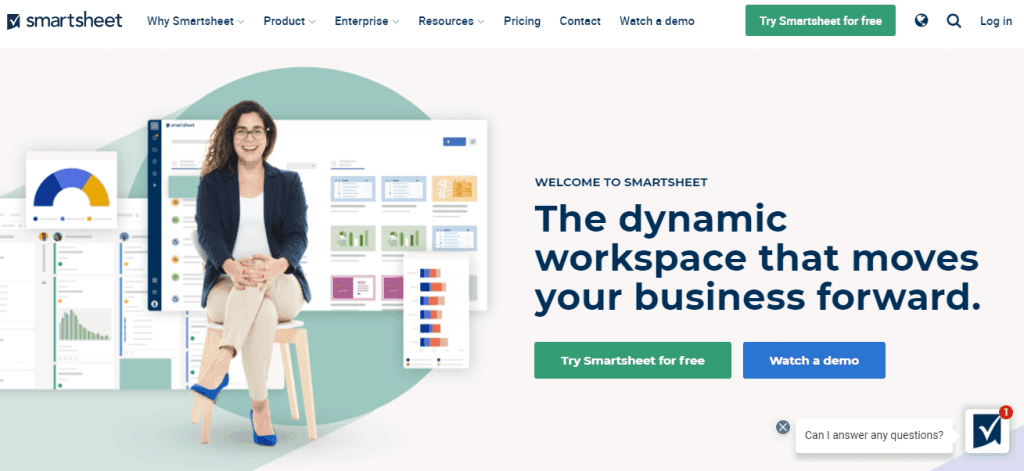 An easy-to-use tool, Smartsheet offers solid Gantt chart visualization. It provides you with a platform to organize and schedule tasks across teams and departments. You can set project start and end dates in just a few clicks.
The tool allows you to view task dependencies and analyze the critical path of multiple projects effortlessly. You can even add color to the Gantt bars as per your liking for easy observation. Also, its mobile-friendly ability allows you to stay updated on project status on the go.
With its advanced integrations, sharing project progress with internal and external stakeholders is a matter of minutes.
Features:
Customized notifications
Pre-built templates
Seamless data sharing
Unlimited automation
Pricing:
Pro – $7/user/month (min. 3 users, up to 25 users)
Business – $25/user/month (min. 3 users)
Enterprise – Available on request
3. GanttPro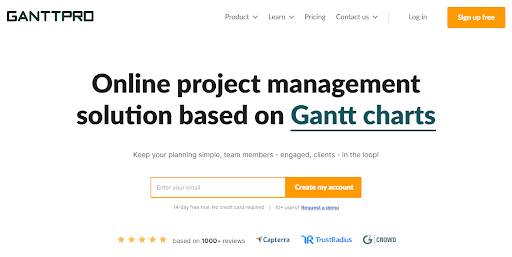 This online Gantt chart maker ensures that everyone is on the same page about how the project is moving forward. It helps create, schedule, and organize the project along with its resources and deadlines.
The tool's drag and drop functionality lets you create and assign tasks and resources like a breeze. You can get started immediately using its custom templates that save time and effort in creating a project schedule from scratch.
Features:
Drag and drop interface
Comments and mention capabilities
File sharing
Task time tracker
Pricing:
Individual – $15/user/month
Team – $8.90/user/month
Enterprise – Available on request
4. Mavenlink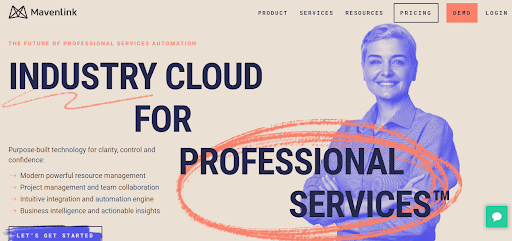 Mavenlink is the ultimate project management solution, equipped with interactive Gantt charts that convey the visual timeline of your project right away. It displays the relationship between tasks, providing real-time insights into the project.
You can view each project task and milestone with the tool's dashboard-like view. Also, on timeline or scope changes, its 'Cascade Changes' feature immediately changes the status of all dependent tasks to display the changes made in the preceding tasks in real-time. The tool also provides a framework for conducting an efficient critical path analysis.
Features:
Simple and intuitive interface
Workflow automation
Third-party integration
Project column filters
Pricing:
Available on request
Stay on Top of Your Projects With a Solid Gantt Chart
Gaining real-time updates of how your project is moving forward is half the battle won. It helps you obtain a real-time perspective of project workflow and prepares you to take corrective action timely in case of any gaps.
An ideal Gantt chart offers all this and more. It offers a host of advantages and empowers you to stay aligned with your team on project progress. Using its colorful and intuitive bar charts that convey the entire timeline of a project within seconds, you never have to miss a deadline again!
Do you want a free Project Management Software?
We have the #1 Online Quiz Maker Software for effective project management