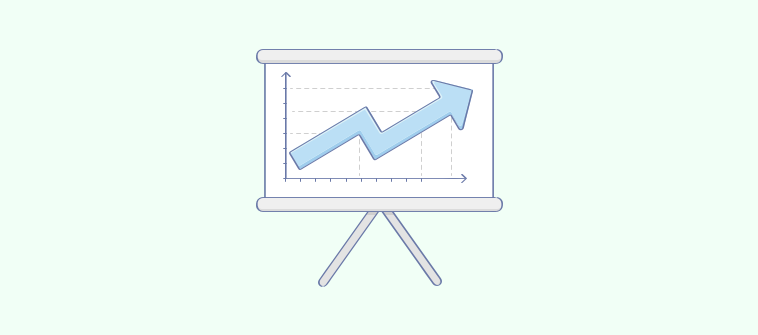 We all know that an organization has multiple departments.
Right from HR to IT, every department has several teams and projects they need to handle.
Now, if I ask you what's the process of hiring an employee in your organization, what would you say?
Some of you wouldn't know the entire process in detail, while some of you might have an idea but don't really know how the HR team goes about it.
In general, teams who require a replacement or an additional resource raise a request to the HR team. After receiving the request, the HR team goes on a candidate hunt and selects some that fit the requirement.
The HR team schedules interviews according to the availability of the other teams' project manager. And, so on.
This is just one example of how every department in your organization is dependant on other departments.
So, it is clear that without a centralized system, none of these departments can function correctly.
But, before I dig deep into the need for project management for IT projects and a centralized system, it is essential to understand the concept of business processes.
What are Business Processes?
Business processes can be defined as:
A collection of tasks that, together, aim to end the delivery of a product or service.
Another way to define business processes is:
A set of tasks or activities that work towards achieving a common organizational goal.
It is essential to understand that a business process always has multiple inputs that are clearly defined but only one output.
Now that we have a basic idea of business processes, let's break it down further.
What is a Task in a Business Process?
We said business processes are a set of tasks. But what are these tasks?
Let's take an example:
You are searching online for a pair of light blue, skinny fit jeans.
You look at a few choices and finally find the perfect pair.
What do you do?
Add it to the cart,

Put in the delivery address,

Select the appropriate delivery time, and

Pay for your order?
What goes behind the scene?
After you have paid for your order, the order is processed, packed, shipped, and ultimately delivered to the destination.
Once you receive the order, if you don't like it, you have the option to exchange it or return it for a refund.
This entire process, in its entirety, is a business process. Below is a flowchart to demonstrate the business process flow.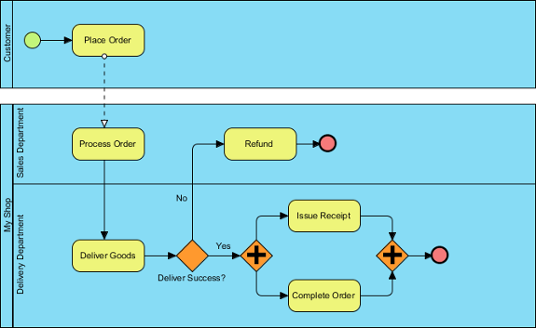 Here, the tasks in the business process are:
Placing Order

Processing Order

Delivering Goods

Refund Generation

Issuing Receipt

Completing Order

Closing
Every department in an organization follows a business process. This process has a set of tasks it needs to follow and complete to reach the end goal.
How to Improve Business Processes?
Before I dig into "how to improve business processes?", let us first understand what it is.
What is Business Process Improvement?
Business process improvement can be defined as:
An exercise usually carried out by the top management, wherein the managers use different methodologies to:
Analyze their products

Identify areas that need to be improved

Evaluate efficiency or effectiveness

Redesign the entire process with the needed changes.
The business improvement process is tricky as every process has its own milestones and ways to go about dealing with day-to-day transactions.
But, even though it's tricky, it doesn't mean it is impossible.
Here are the business process improvement steps you need to follow:
Define what you want to achieve
Identify your target audience
Map out the current processes
Redesign the processes for increased efficiency
Implement the new processes
Keeping all these steps in mind, the best solution to ensure you always stay on track and implement the steps as defined is to deploy an IT project management system.
What's that, you ask?
IT Project Management System: Definition
IT project management software can be defined as:
A tool that is used for IT project planning, implementation, monitoring, improving, and closing.
An IT project management software is also useful in:
Resource Allocation & Management

Change Management

Team Collaboration

Client Management

Stakeholder Management

Quality Management
So, how does an IT project management software help improve business processes?
Let's cover a few business process improvement examples to get an answer to this question.
What Business Processes Can IT tools Streamline and How?
Before we dive into how such tools help improve business processes, we will cover a few examples to showcase how an IT tool helps streamline business processes and improve them further.
Supply Chain Management – United Parcel Service
UPS or Uniter Parcel Service is a messenger company in the US. Founded in 1907, UPS has made its way to the top and has grown to become a multi-billion-dollar corporation.
How?
Focusing on their primary goal: Enabling eCommerce across the globe

Deploying the right tools to streamline their business processes
UPS was one of the first companies to adopt DIADs (Delivery Information Acquisition Device). This device not only helped them track their orders but keep the entire supply chain management process in check.
Among the many tools they deployed, recently in 2019, UPS came up with an update to their On-Road Integrated Optimization and Navigation (ORION). The update, UPSNav, helps the company:
Determine the optimal order for local UPS car drivers

Give directions to all participants in the supply chain process, such as loading docks and delivery address

Provide their drivers with a new level of precision and accuracy, thereby increasing efficiency
Organizational Engagement – IBM
Headquartered in New York, IBM (International Business Machines Corporation is a multinational IT company. The company was founded in Endicott, New York, in 1911. Since then to now, the company has become one of the top IT companies across the globe.
IBM uses a software, IBM Connections, to enable organizational engagement across their customers, employees, and other partners. It helps in:
Understanding the technical capabilities needed to deliver enterprise collaboration solutions

Providing a platform for customers, employees, and partners to connect.
All in all, IBM Connections infuses social into all business processes.
Read More: Agile Software Development Life Cycle (Ultimate Guide 2022)
IT Project Management Software: 5 Features You'll Need
When looking for the right IT PM software, there are a few features you need to keep in mind, including:
Single Dashboard View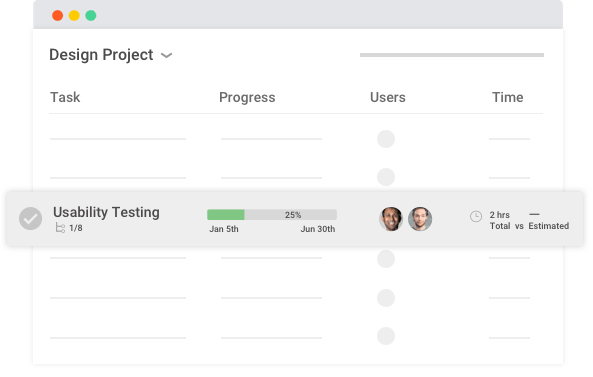 Multiple tasks are being implemented simultaneously in one business process. With so many ongoing tasks, it becomes challenging to keep track of what's happening, by when it must be finished, and who is working on finishing it.
With a robust IT project management system, you can monitor all tasks in any business process on a single dashboard. Not only that, but you can also see:
Who is working on what

How much work is completed & what portion remains

The start & end dates of tasks
With all this information on a single platform, it becomes easy to know everything you need to in one glance.
Team Collaboration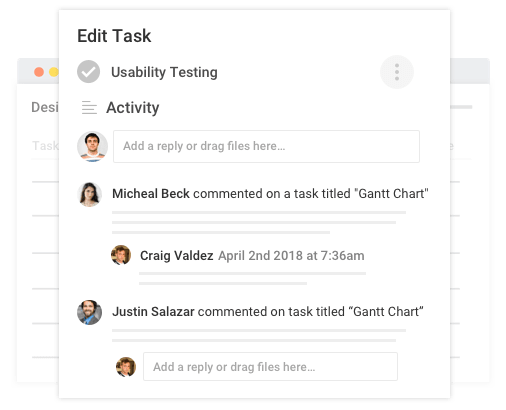 Having teams on the same page and ensuring all team members know exactly what needs to be done is a little too optimistic.
But is it?
ProProfs Project, an IT project management software, comes with a series of team collaboration features. These features not only help in bringing teams together but also keep them in the loop during the entire task completion process. A few team collaboration features include:
Task Comments

File Sharing

Shared Calendar

Milestone Visualization

Email Notifications
Read More: How to Build High Performing Teams (10 Ways)
Task Management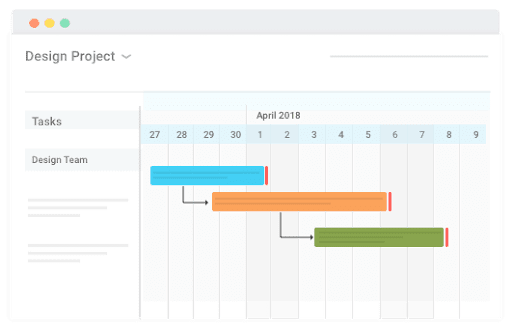 Organizations have multiple business processes, and each business process has ample of tasks that need to be completed in order to complete one cycle of a business process.
Imagine thousands of tasks running simultaneously, without any supervision or idea of what's going on. This would lead to a complete disaster!
An IT project management software is the best solution and ensures efficient task management. How?
It offers features like:
Task Dependencies

Task Assignment

Task Tracking
Reporting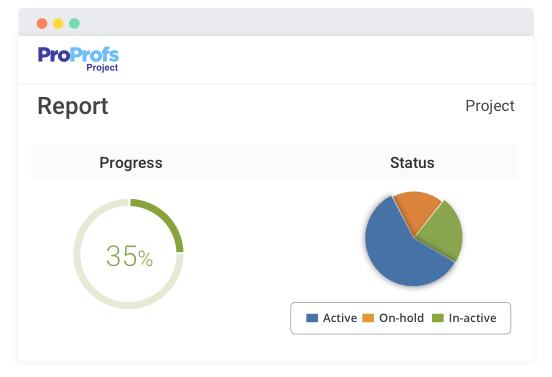 Monitoring and finishing all cycles in your business processes without any problems isn't the only aspect you must consider. It is important to know how to improve business processes. That's where reporting comes into the picture.
ProProfs Project offers a robust reporting feature that helps you:
Check whether all processes are implemented properly

See what needs to be improved

Evaluate project, process, task, and team performance
Invoicing
Invoicing is a part of a number of business processes and, if done manually, it can give rise to a number of problems. But, streamlining the entire process makes it easy, convenient, and accurate.
A complete project management system that offers an invoicing feature helps you:
Bill your clients easily

Save all your invoices on a single platform

Keep track of all payments

Never miss a payment again

Download invoice template PDF
Adopt an IT Project Management Software & Streamline Business Processes!
Streamlining business processes is easy with project management software. Right from initiating a business process to monitoring all the tasks in a process to its closing, everything can be streamlined using the right project management software.
ProProfs Project, a simple project management software, is an excellent solution for streamlining any business process. Not only does it have all the features needed to get the job done, it is also a really affordable option.
---
Now that you know the basics of the business process, let's answer a few FAQs regarding IT project management software:
Q1. What is project management software?
Project management software is a tool that helps companies create, monitor, and close projects, tasks, and business processes effortlessly. It also helps with team collaboration and billing clients.
Q2. How do you compare project management software?
While comparing project management software, you need to have a list of considerations. A few things to include in this list are pricing, features, benefits, interface, and customer reviews.
Q3. How do I choose a project management software?
Choosing the right project management software might feel difficult, but it isn't. After you compare your options, shortlist three of the best choices. Then, compare these choices with your requirements. The option that ticks all the boxes is the best fit for your organization
Do you want a free Project Management Software?
We have the #1 Online Project Management Software for effective project management.