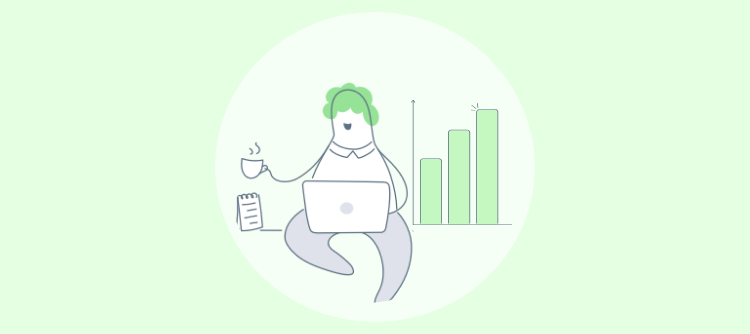 Since the commencement of the Industrial Revolution of the 18th century, technology has been the driving force behind improved workplace productivity.
Fast forward to a few years, and all of us are carrying highly smart and advanced computers in our pockets or wearing them on our wrists.
Whether you have to attend an online meeting with overseas team members or track your productivity using an app- technology has made our lives easier.
The highly capable and efficient productivity driver aspect of technology comes from two pieces – first, we have 24X7 access to advanced computational devices. Second, these devices can seamlessly and effortlessly connect with an endless number of other capabilities.
So, when the contemporary work environment is evolving rapidly and becoming highly mobile, more accessible, and global, it is evident that technology and productivity will go hand-in-hand.
Let's together decode how technology can improve your workplace productivity.
The Relation between Technology and Productivity
Technology offers various communication and collaboration tools, both of which, drive the major business functionalities. It enables knowledge workers to do their jobs efficiently via tools such as spreadsheets, presentation software, bookkeeping tools, data processing tools, calculators, etc.
Moreover, technology offers seamless collaboration across the in-house and outsourced teams via web conferencing, communities, and team rooms, etc.
Technological innovation has given rise to some of the smartest business applications, such as CRM, ERP, HR systems, and expense claims that have allowed teams to spend their working hours doing productive work. It has made crowdsourcing possible and easy via forums, polls, surveys, and ideation platforms.
Technology has inspired a huge change in the global workplace culture, and online collaboration tools have become dominant. Empowering workforces across three verticals, namely – connections, communications, and collaboration has injected productivity with vitality.
Let us find out some excellent ways you can use technology to improve efficiency at your workplace.
10 Ways Technology Can Boost Workplace Productivity
1. Replace Emails With a Shared, Collaborative Inbox
The following image shows the recent Email stats worldwide:
With so many email communications being shared, sent, and read, they have become a considerable trade-off between technology and productivity. While every email received from your customer is important, and every email thread needs an acknowledgment, using smart technological solutions such as shared inboxes can help you rise above a cluttered inbox.
Takeaway:
Shared inboxes allow you to collaborate with your entire team without cluttering the personal inboxes and enable instant collaboration. When coupled with even advanced technology such as AI and ML, automated emails allow you to deliver instant replies to your senders and use language processors to find out what the entire email is about! This is one of the ways of enhancing productivity at the workplace.
Read More: 10 Shared Inbox Best Practices for Lightning Fast Email Support
2. Declutter the Collaboration and Communication
Recent times (especially the COVID-19 pandemic) have given us many ingenious ways of using technology to improve efficiency in the workplace under all circumstances. Apps, software, and plug-ins developed specifically for internal collaboration and workplace communication have made it possible to separate personal and professional communications.
This has, in turn, enabled the management to create separate channels for different types of needs. For example, storyboards for different departments and teams where the employees can share the anecdotes and separate collaboration dashboards for separate teams that make it possible to create, design, discuss and share ideas simultaneously across the entire team.
Takeaway
De-clutter the communication channels and make sure to incorporate the random channels for personal chatter and casual banter of your employees. Making use of apps and software for better internal collaboration and communication boosts productivity by minimizing the need for individual communication.
3. Track Your Projects with a Project Management Tool
A smart and intuitive project management tool, such as ProProfs Project, allows you to keep a firm overview of all the project development activities. You can track your workflows, add users, set deadlines, collaborate with multiple teams, track the progress, and prioritize different projects.
An intuitive project management tool enables discussions and allows you to share ideas and status reports etc. with clients. You can create delightful reports and tap into actionable insights anytime you want. The intuitive dashboard allows you to get a real-time view of employee performance, and you can track who is working on what.
Takeaway
Project management software is one of the best options to consider when it comes to technology and productivity. An efficient project management tool enables better visualization, better tracking, and impeccable monitoring.
Read Also: What is Project Management Software and Why Do You Need One
4. Simplify and Optimize the Daily Tasks
From accessing password encrypted files to sharing reports and bookkeeping – there are countless mundane tasks in an organization that simply eat-away your productive time.
While you might not put a lot of emphasis on them in routine, these hours add-up in the long run. In due course of time, these tasks become habits, which are lethal to the health of a workplace.
Simplify the mundane daily tasks and optimize the way your teams work. Using password manager tools for secured file access, and report generators for daily status reports are some of the excellent cases of using technology to increase productivity at the workplace.
Takeaway
Simplifying the daily mundane tasks and automating them gives you an edge over the competitors that are still reluctant to adopt the technology. You can save time spent on non-productive activities and also motivate your employees towards a productive working style.
5. Embrace Automation
While we touched this subject slightly in the previous section, AI-enabled automation at the workplace is something that needs its own space for discussion.
As per the stats, 99% of business leaders believe adopting automation at the workplace offers advantages.
Bringing automation to the workplace is a long and daunting process because not only you have to achieve the right integration of human and technological resources, but you also have to fill or bridge the skill gap.
However, once it is in place, automation gets rid of redundancy and makes the most effective use of technology in the workplace to deliver unparalleled performance.
Workflows, process tracking, task assignment, email replies, invoicing, reminders, calendars, and mundane tasks such as bookkeeping, attendance, and inventory management, etc. are some of the areas where automation can find basic implementation. AI-powered chatbots and augmented business intelligence tools are some examples of advanced workplace technology.
Takeaway
Automating mundane and routine tasks keeps your hands, minds, and days busy with things and tasks that matter! You can invest your time and resources where they are needed the most and drive consequential results.
6. Get Your 'Remote' Game Sorted!
The modern-day workplaces are not foreign to the concept of remote working, and the COVID-19 pandemic has made this culture one of the many 'new normals'. Remote working is gaining tremendous popularity.
According to the Buffer State of Remote Work 2020, 97% of remote employees are willing to recommend remote work to others.
Companies that have remote employees should embrace new processes, such as online onboarding, online management, online knowledge repositories, etc.
This reduces many steps taken by the company and the employee during the first few months. However, this also calls for a well-compiled suite of tools and software that allow effortless remote working and smooth remote collaboration. Having tracking or monitoring software for remote team/employee management, software for performance measurement, remote collaboration tools, and cloud-based systems are some of the best types of technology used to increase employee productivity.
Takeaway
Remote teams, employees, and resources also need proper technological support for delivering the best performance. Invest in proper software and tools etc. that act as a unitary tool to manage your teams and projects effortlessly.
7. Work on Self-Service Aspects
Automate the learning in the organization by opting for online knowledge repositories and public knowledge base. This way, the employees have instant access to the company's data, historical projects, and numerous tutorials, etc. The onboarding process also becomes easier, and the time spent on asking higher-ups for information is reduced as well.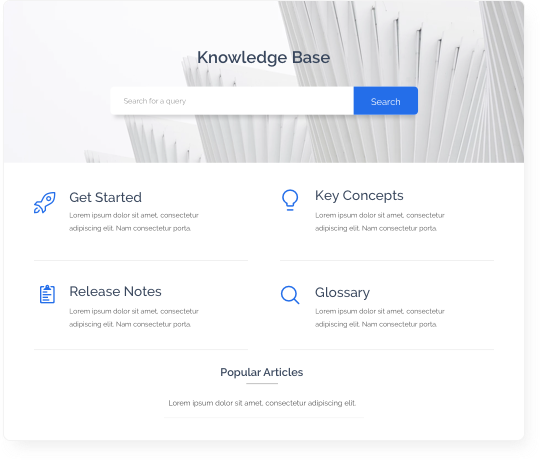 Empowering your teams with self-service options and databases helps your organization reduce costs and save everyone's valuable time, which is another way of enhancing productivity.
Takeaway
Train your employees such that they don't have to depend on someone to get work-related information and look into the company's historical work records. You can also host some learning and training modules online on the internal server and minimize the time spent on learning activities. This leads to developing a culture that favors independence and self-reliance, which are core values behind productive teams.
Read More: How to Create an Internal Knowledge Base
8. Conduct Training & Webinars
Educate your employees on a regular basis and work on their skills regularly. Encourage healthy competition by organizing contests from time to time. Make the free certifications available online on your internal server and take steps to motivate your employees to take them.
Organize webinars and host online training sessions to help your employees become well-versed with the emerging technologies at the workplace. Technology and productivity go hand-in-hand, and consistent efforts towards knowledge acquisition is a must.
Takeaway
Work towards bridging the gap between innovative technologies or trends and your human resources. Educating and motivating towards learning keeps them relevant to the job markets as well.
Read More: 6 Benefits of Employee Training No One Told You About
9. Work on Employee Engagement Aspects
Fostering an engaging work culture is a must to have happy employees. There are many tools, such as online survey makers, that can help you do a thorough pulse-check of your teams and their satisfaction quotient. You can also use open anonymous feedback and information sharing portals to find your employees' honest reviews regarding your organization's work culture.
Takeaway
Using technology to improve efficiency in the workplace and boosting employee engagement levels depends on your creativity. From polls to confessions, surveys to happiness quizzes and feedback, etc. – you can opt for many different ways.
10. Prioritize, Track, and Deliver
Modern workplaces are highly dynamic and everyday people have a long to-do list. Technology offers many efficient tools that allow you to plan your calendars and to-do lists impeccably. Managers and team leaders can prioritize urgent tasks, allot them efficiently, and track them effortlessly. They can also track and monitor WFH employees using technology.
Time tracking, employee tracking, agent monitoring, and incentivizing accordingly – technology makes it possible to foster an organizational culture that is fair, engaging, and rewarding.
Delivering happiness to your customers requires an immaculate understanding of their expectations and preferences. You require a holistic customer database that empowers you with deep insights into their behavior.
Takeaway
Using tracking and monitoring software empowers the management with real-time digs into the employee performance and keeps a thorough check on every task. The management can handle the incentives, rewards, and other such employee-related tasks better by using such tools.
Ready to Become a Technology-Driven Team?
Technology and productivity are conjoint. Business owners who can understand and embrace the latest technology can work wonders to keep their organizations relevant in the ever-changing markets. Adopting technological disruptions in a timely and wise manner breathes life into your business models and keeps the revenue kicking!
So, organize brainstorming sessions, discuss the technological needs, and incorporate the right tools and software into your workplace to make your employees your new productive heroes!
FAQs:
---
1. Why is technology important in human resources?
Technology enables the management to offer the latest working resources to all the teams, gain actionable insights into their work, decode the best work practices, and streamline the work processes. It facilitates efficient tracking and employee monitoring and gathering actionable data insights.
2. Is new technology hurting our productivity?
No. As per a story featured in the World Economic Forum, technology-driven productivity is more than we actually realize. Understated government data and failure to measure the full contribution of technology makes people feel that technology is hurting productivity. Technology and innovation give an immense boost to productivity.
Do you want a free Project Management Software?
We have the #1 Online Project Management Software for effective project management.