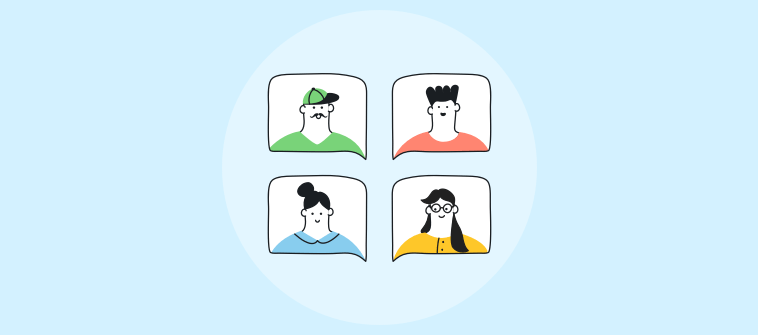 Engaging with team members from all over the world can be confusing, complicated, and hectic. While some team members may struggle with being productive, others might face a communication gap. As a project manager, you may even find yourself struggling to track time effectively and deliver successful projects.
These are common challenges faced by remote teams. But, guess what the solution is? The key to collaborating remotely is to set clear goals and maintain transparency. It involves being able to connect and address roadblocks anytime and anywhere. You may be located in a different place or even a different time zone; however, it is undeniable that you cannot compromise productivity at any stage of the project's life cycle.
So again, how do you ensure that you achieve the expected business goals while operating with a remote team?
Collaboration between remote teams can be effortless, provided they are backed by a robust remote collaboration tool. A collaboration tool is a must-have to synchronize the workflow of dynamically spread team members. The tool will not only help streamline everyday workflow but will also facilitate improved efficiency.
Track overall project progress and achieve the defined common goal while collaborating seamlessly with your remote teams on a software's single dashboard.
Here are 15+ remote collaboration tools that promise seamless collaboration for remote teams smoothly. Let's explore.
What are Remote Collaboration tools?
Remote collaboration tools enhance communication and collaboration among team members located in geographically different places. They ensure effortless coordination and seamless interaction between team members for project execution. These tools are powerful enough to support teams of all sizes in helping them achieve business goals even if they're sitting far away from each other.
Type of Remote Collaboration Tools
Over 80% of company leaders plan to permit remote work after the pandemic. With this statistic, it is clear that remote work is here to stay and become the primary work culture.
To manage remote teams, you require a tool that helps streamline team activities and makes working remotely hassle-free. There are a few tools for remote teams that you can onboard as per your business and team requirements.
Let's take a look at the types of tools.
1. Project Management Tools
Project management tools ensure smooth collaboration among team members while making sure that time, resource, and effort optimization is met. Such tools help you achieve predefined business goals and ease your workflow by automating and prioritizing most tasks as per need. They offer multiple views and provide insightful reports that help lead the project in an informed manner. Stay on top of your team's activities with feature-rich project management platforms.
2. Document Sharing Tools
Document sharing is essential to execute any project. Teams require sharing images, videos, gifs, and templates frequently to get approval and complete projects. Thus, a document-sharing tool provides a robust platform where teams can collaborate for accessing and sharing files on the go. These tools offer seamless file sharing that helps deliver projects faster and better.
3. Video Conferencing Tools
The need for video conferencing tools has never been more crucial than in the present. While remote workers have always embraced video conferencing to ensure better coordination, the world has increasingly turned to such tools since the pandemic hit our lives. Such tools facilitate a personal touch with the person that you are working with. These tools are great for holding online seminars, conferences, and meetings. Additionally, its chat and screen sharing features are a favorite among teams.
4. Shared Calendars
Shared calendars are excellent for organizing and managing the workflow of your projects efficiently. They help you sync the activities of all team members while keeping track of each task and subtask of your project. It helps tackle project scheduling challenges and helps teams keep track of each other's workload and availability. These calendars also offer real-time alerts and notifications each time you are assigned a new task or scheduled for a meeting.
5. Instant Messaging Tools
Instant messaging tools are indispensable for keeping team members up to date and ensuring effective communication. Interaction between team members may be in the form of text, group chat, file sharing, or video chat. Such tools facilitate one on one collaboration among team members and help them connect from anywhere within seconds. For round-the-clock instant messaging for your team, this tool is a must-have.
6. Whiteboards
Like physical whiteboards in classrooms, digital whiteboards help segregate and organize basic ideas that can turn into actionable plans. For digital collaboration across team members, whiteboards are practical for idea mock-ups and visualizing the final goal to move forward with. They allow team members to brainstorm ideas and plan the path to execute those ideas collaboratively.
Read More: 10 Efficient Ways to Manage Work with Remote Teams
How to Choose the Remote Collaboration App
While selecting the right tool for your team, don't forget to count in a few features that every tool should boast. The lack of these features may result in posing challenges for smooth work efficiency. Here we explore a few of these features. Let's get started.
1. User Friendly
A tool should be simple and user-friendly. When a tool is easy to navigate, it has a greater possibility of being adopted instantly by all team members. As a project manager, you must ensure that any tool you decide to onboard should have a short learning curve.
2. Collaborative Tool
Collaboration involves being able to work together towards a shared business goal to achieve set business targets. It is the act of coordinating, exploring, and managing ideas to deliver outcomes that are their collective responsibility as a team. Select a tool based on its proven collaborative abilities for projects that flow easily towards successful delivery.
3. Pricing
A tool may have all the features that you need but not be affordable, while another might be inexpensive but lack basic features and functionality for remote team collaboration. Thus, it becomes vital to find the right tool and the right balance that makes a tool perfect for collaboration while being economically feasible.
4. Business Requirements
Each business has its unique set of challenges. Since no business has the same difficulties, thus each business requires a tool that befits its specific requirements. While some businesses may require instant messaging functionality, others might require seamless file sharing capabilities. It is best to outline your business requirements and choose a tool that fulfills that requirement for you.
5. Customer Support
Having robust customer support 24/7 is a must for teams that are not located in one place. Customer support comes in handy for geographically dispersed teams when they cannot discover a particular feature or face operational issues. Good customer support ensures smooth functioning regardless of the occasional hiccups.
6. Security
When you're working with a distributed workforce, security becomes the prime concern. If neglected, it may result in misuse of project information and may even lead to project failure. All project data is confidential and should be secured from external threats. Ensure that your team's tool is compliant with data security laws and does not compromise your project's integrity.
Read More: Top 11 Challenges of Remote Working You Can Possibly Encounter
List of Best Remote Collaboration
Now that you have understood the types and features of an excellent remote collaboration tool, let's explore the top 15+ collaboration tools for remote team members. Here we go!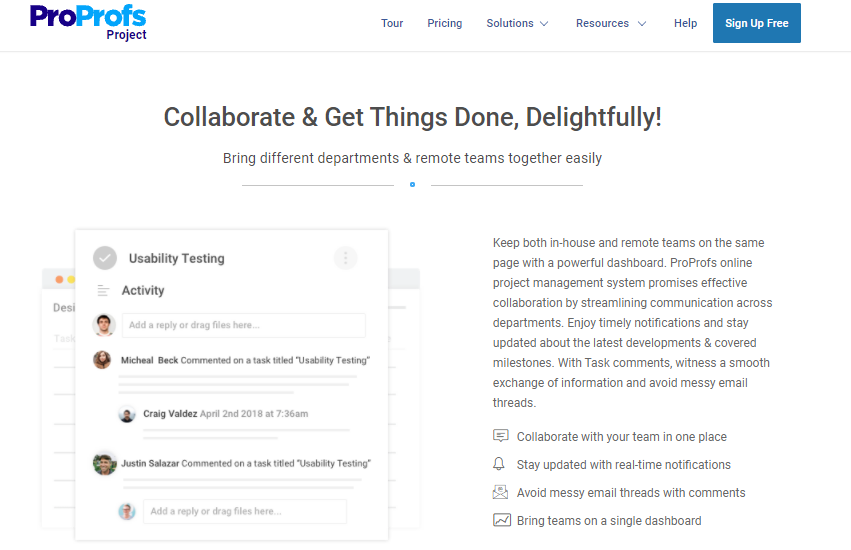 ProProfs Project is a project management tool that offers seamless collaboration between remote teams. The tool's intuitive and user-friendly interface ensures easy software adoption among all team members across departments. It automates workflow by creating dependencies and allocating resources. Its document sharing ability makes it exceptionally easy to share files on the go. Packed with a powerful dashboard, ProProfs is perfect for bringing teams together in one place.
Features:
Insightful workflow reports
Gantt charts and Kanban board
Alerts and notifications
Drag and drop functionality
Accurate timesheets
Pricing:
Starts at $39.97/month.
Best for: The best remote team communication and collaboration tool.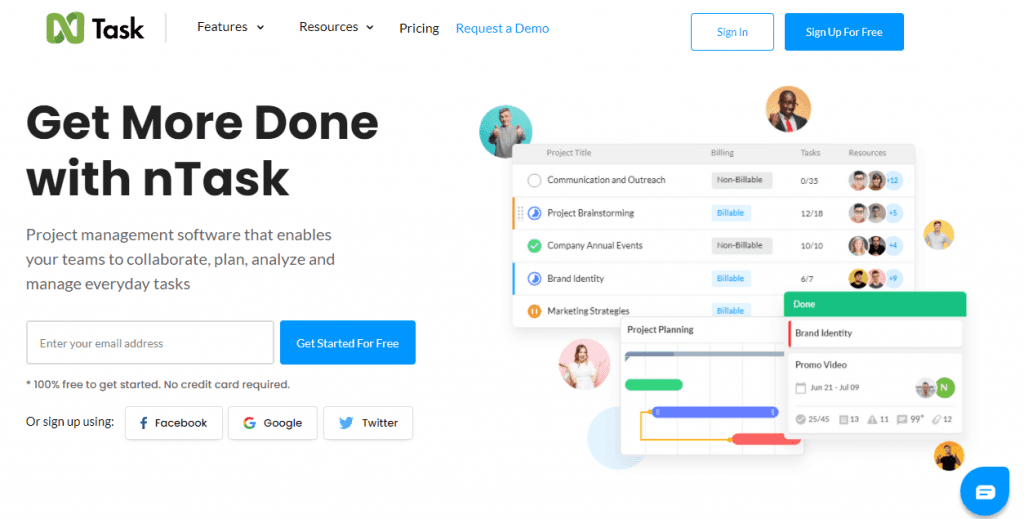 nTask organizes workflows with its super intuitive interface to suit team members located anywhere in the world. It allows you to set milestones and track progress. You can also set custom statuses that ensure that you get an overview of how the project moves forward at a glance. Moreover, its meeting features include developing a clear meeting agenda, linking a particular meeting to a task, and easy addition of the attendees to a meeting.
Features:
Task management
Multiple views
Timesheets
Issue tracking
Resource allocation
Pricing:
Basic – $0
Premium – $2.99
Business – $7.99
Enterprise – Available on request
Best for: The best tool for task management capabilities.
HubSpot CRM is a powerful tool for remote marketing teams that offers a host of helpful automation. The cloud-based customer relationship management software is available on both desktop and mobile, so work never skips a beat. Stay up-to-date with each of your customer relationships with a personalized task and calendar, so every team member is their most productive.
Features:
Detailed sales productivity reports
Thousands of integrations
Visual real-time sales pipeline
Automated contact record-keeping
Prospect task management software
Free email, landing page, and form templates
Pricing:
Free – Core features
Starter – $45/month
Professional – $800/month
Enterprise – $3,200/month
Best for: Customer relationship management and marketing.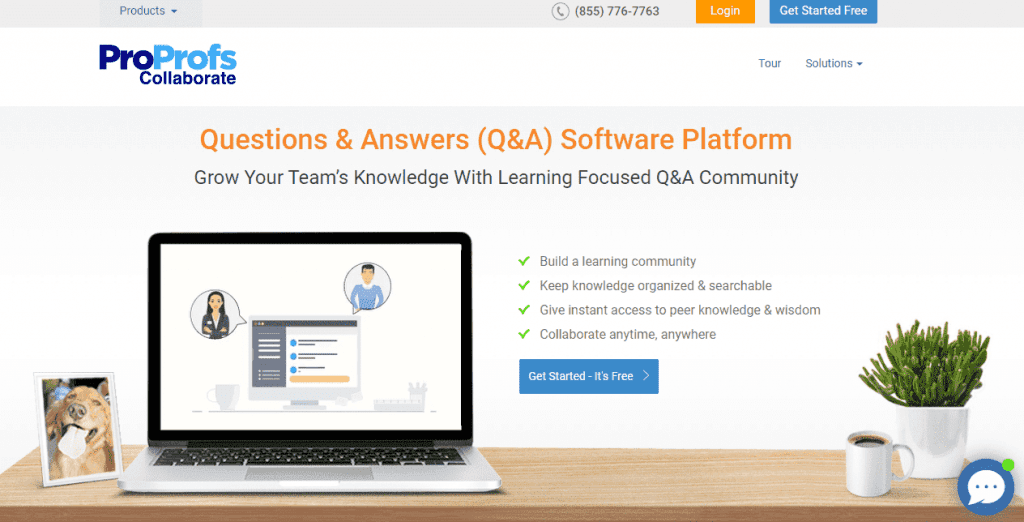 ProProfs Collaborate helps remote teams collaborate in real-time, even if they are in different parts of the world. The software enables Q&A discussions that facilitate communication. You can create unlimited private and public groups to hold discussions and resolve roadblocks. Equipped with manuals, articles, and onboarding documents, the tool's knowledge base makes accessing crucial information easy.
Features:
Q&A discussions and chats
Unlimited groups
Alerts and notifications
Mobile-friendly
Access files and documents
Pricing:
Available on request
Best for: The best Q&A discussion platform.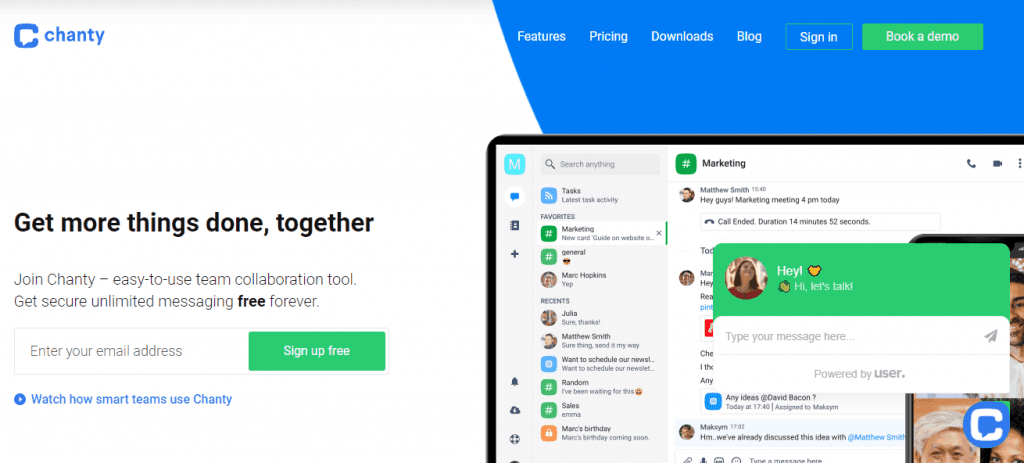 Chanty ensures effective communication among remote users throughout the project. The software's Teambook feature works well to organize tasks and resources in one place. You can access, manage and analyze activities seamlessly.
Stick to set deadlines and deliver expected outcomes with timely alerts and notifications. Its 24/7 customer support makes reaching out for technical support at any given time super accessible.
Features:
Easy to use
Short learning curve
Kanban board view
Custom roles and permissions
Voice messages
Pricing:
Free – $0
Business – $3/user/month
Best for: The best workflow management tool.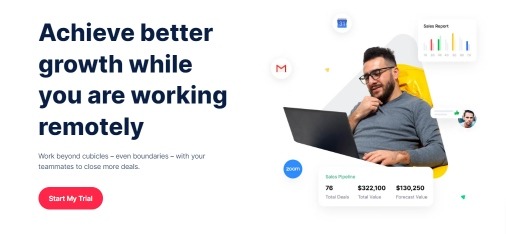 Salesmate, excellent CRM and customer journey platform. You can automate your sales, marketing, and customer support activities.
It is a smart CRM equipped with user-friendly features that boost customer interaction, assist in developing effective marketing plans, simplify the sales process, and manage all of your customer data in one location.
You may create highly targeted emails with email automation, which can improve the way you interact with your clients and prospects. Additionally, you may automate your client outreach and establish connections depending on their behavior and activities.
You can automate many tasks using Salesmate's very sophisticated marketing automation function, including lead scoring, sending email blasts, gathering NPS data, A/B testing, and much more!
Overall, Salesmate offers comprehensive sales and marketing solutions.
Features:
Salesmate provides strong features including marketing and sales automation.
The use of live chat, chat journeys, and meeting scheduling tools improves customer engagement.
Quality leads can be collected using effective online forms.
Power dialer and integrated dialing both assist in making calls more productive.
Gives access to a single database where all contacts can be managed.
A 360-degree perspective of your complete sales pipeline is provided.
Over 700 apps can be integrated with Salesmate.
Pricing:
Salesmate offers a 15-day free trial.
Salesmate offers Starter, Growth, Boost, and Enterprise premium plans. The annual fee for the paid version is $12 per month.
Best for: Best tool remote sale.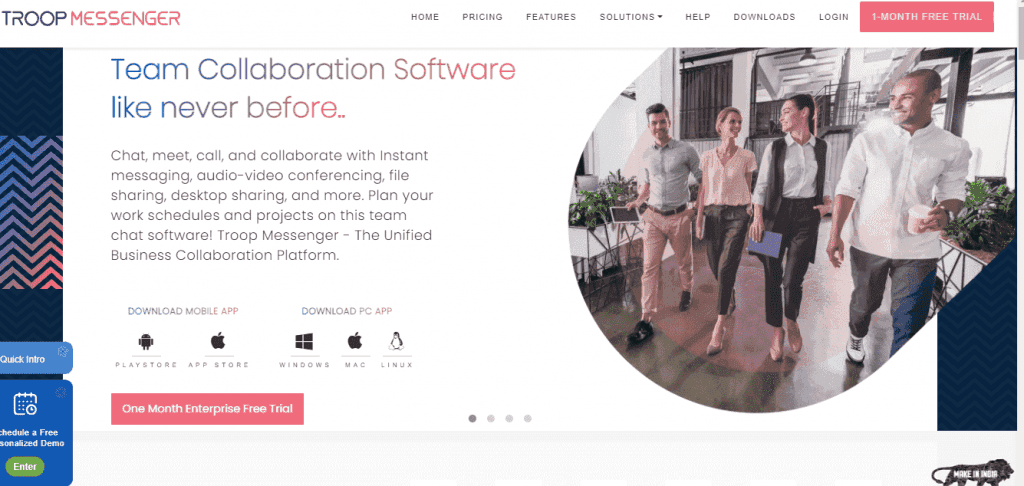 Troop Messenger is an instant messaging tool with a one-on-one messaging feature that helps exchange information with remote team members. The tool allows you to copy, reply, forward and recall conversations quickly and easily. You can customize your interface by changing the wallpaper and the fonts. Its dashboard lets you add new team members or new tasks in a few clicks and within minutes. It even has the option to allow team members to chat in private mode.
Features:
HD audio/video calling
Desktop sharing
Third-party integrations
File sharing
Live chat support
Pricing:
Premium – $1.33/user/month
Enterprise – $3.02/user/month
Superior – $6.71/user/month
Best for: The best instant messaging tool.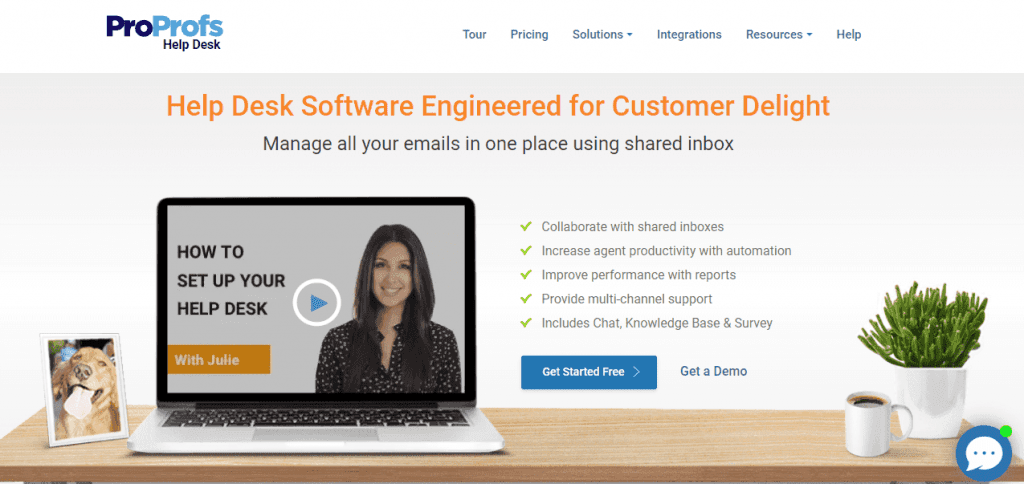 The tool supports remote workers with its collaborative and automated 360-degree support. Set up your help desk in minutes with the ProProfs Help Desk. It initiates faster responses with its canned responses for emails and chats. Its simple G-mail-like interface makes it easier to retain customer emails. Also, the tool allows users to measure their performance or measure their performance as a team.
Features:
Shared inbox
Insightful reports
Automated tasks
Canned responses
Alerts and notifications
Pricing:
Free – $0
Essentials – $10/user/month
Premium – $15/user/month
Best for: The best help desk software.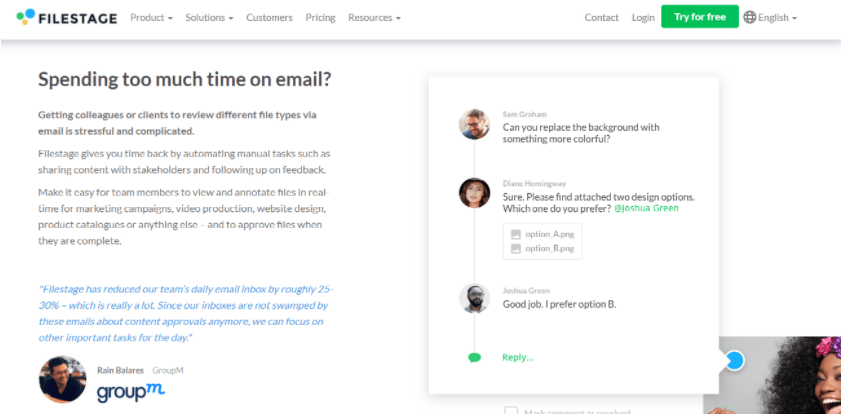 Filestage, a document-sharing platform, offers unlimited file storage on the platform. Review videos, audios, images, and all other files in one place. It makes seeking feedback and approval for all your files seamless. You can add attachments to comments and track file versions until the final approval. Get access to custom projects to access and review each file. Its review reminders ensure that you never miss a deadline and complete deliverables on time.
Features:
Secure storage
Project templates
Priority support
Private comments
Custom team roles
Pricing:
Essential – $9/seat/month
Advanced – $19/seat/month
Professional – $39/seat/month
Enterprise – Available on request
Best for: The best file sharing tool for accessing and managing documents.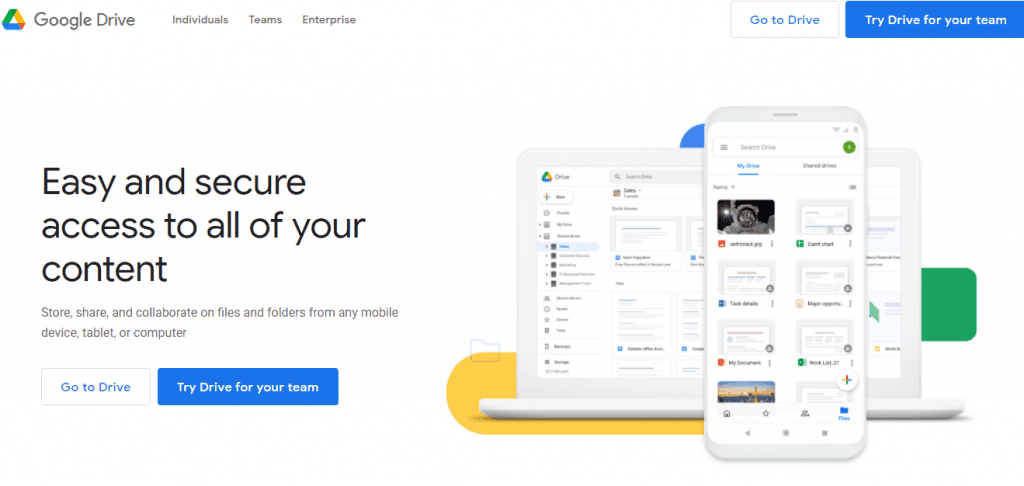 Google Drive is one of the most popular file sharing platforms. It integrates easily with google docs, sheets, and slides. Equipped with powerful search functionality, it offers praise-worthy speed and performance. Connect and collaborate with team members located far away in just seconds.
The tool ensures that you access and share files hassle-free. It keeps your files organized and allows easy updates when needed.
Features:
Cloud storage
Easy to store
Secure storage
Mobile-friendly
AI and search enabled
Pricing:
100 GB plan – 1.74/user/month
200 GB plan – 2.82/user/month
2 TB plan – 8.72/user/month
Best for: The best file storing software.
InVision is a whiteboard tool that ensures easy visualization and implementation of your project's life cycle from start to finish. Its interactive dashboard lets remote team members streamline the overall project process faster. Brainstorm ideas and plan everything effortlessly with the tool. Its templates enable you to make the best use of your time by immediately starting project execution on beautifully built templates.
Features:
Digital whiteboard
Virtual appointments
User friendly
Real-time updates
Pre-built templates
Pricing:
Free – $0
Starter – $15/user/month
Professional – $25/user/month
Team – $99/user/month
Enterprise – Available on request
Best for: The best whiteboard tool for planning.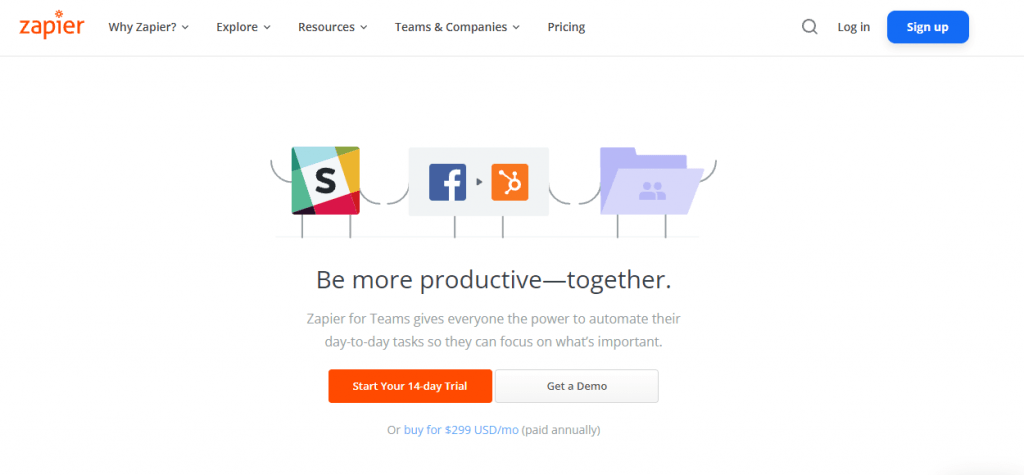 Zapier is a versatile and flexible project management tool for communication among remote team members. The tool offers customized workflows to assign and prioritize tasks in seconds so that you can focus on only the most essential tasks.
Automate recurring tasks and create dependencies hassle-free with Zapier. Get instant notifications for new form submissions and easy access to unlimited zap templates with shared folders for team collaboration.
Features:
Easy automation
Third-party integrations
Unlimited Zap templates
Customer support
Intuitive interface
Pricing:
Free – $0
Starter – $20.44
Professional – $50.10
Team – $305.68
Company – $612.39
Best for: The best automated workflow tool.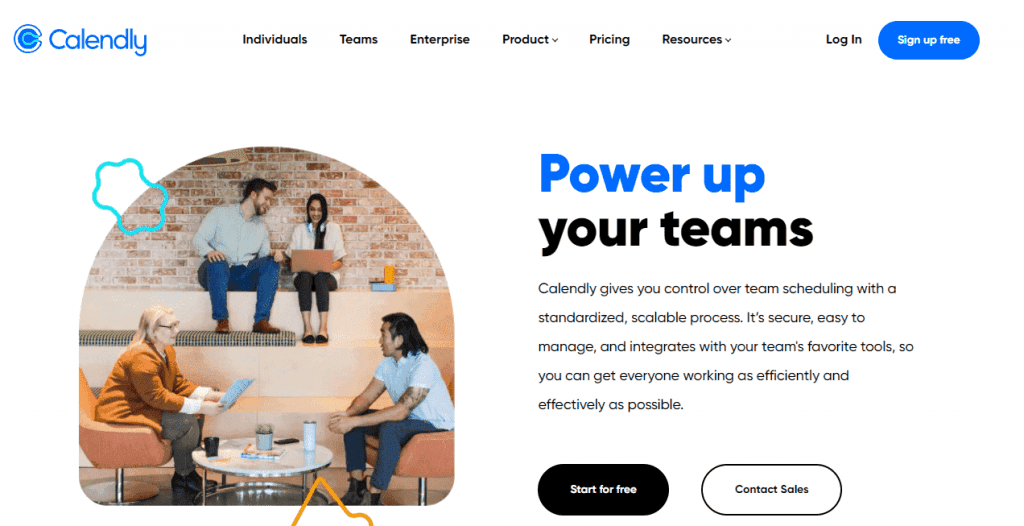 Eliminate long threaded emails and incorporate scheduling meetings with Calendly. Working efficiently in remote teams is made easier with the tool's automated workflow. Optimize time, effort, and resources with more intelligent communication. It also gives you the ability to personalize reminders, check-ins, and follow-ups for everyday tasks. The smooth and quick onboarding process makes the overall experience amazing.
Features:
Custom SMS and email notifications
Live chat support
Onboarding and training
Meeting scheduling
Automatic reminders
Pricing:
Basic – $0/user/month
Premium – $8/user/month
Pro – $12/user/month
Enterprise – Available on request
Best for: The best team scheduling software.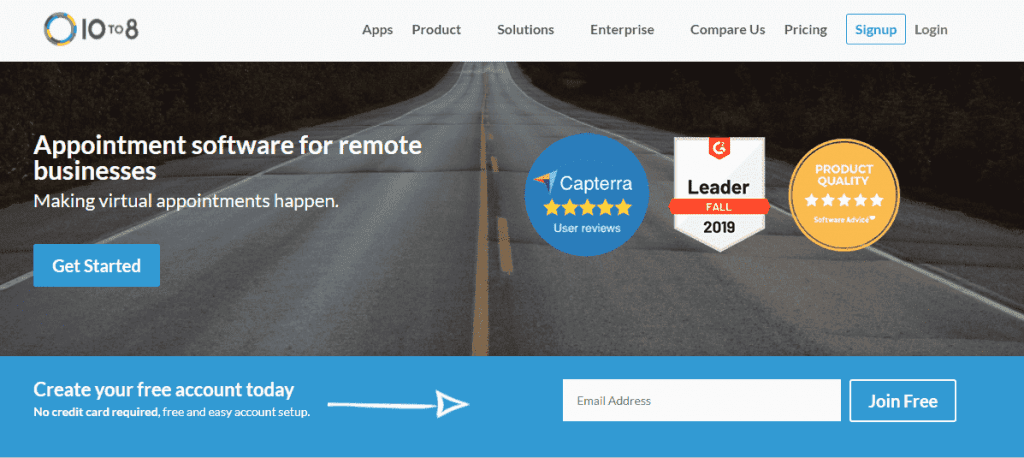 Running a remote team becomes easier with 10to8. The tool offers seamless scheduling of appointments and meetings. Interact with the teams and stakeholders over video call or chat. It is simple to set up and get things done. Remote workers widely accept its user-friendly interface to help them stay on the same page with project progress. 10to8 software befits businesses of all team sizes.
Features:
Video appointments
Simple to use
Integration with Zoom
Notifications and reminders
Calendar sync with other tools
Pricing:
Free $0
Basic $9.6/2 users/month
Grow $20/3 users/month
Bigger Business $40/6 users/month
Enterprise Available on request
Best for: The best video appointment software.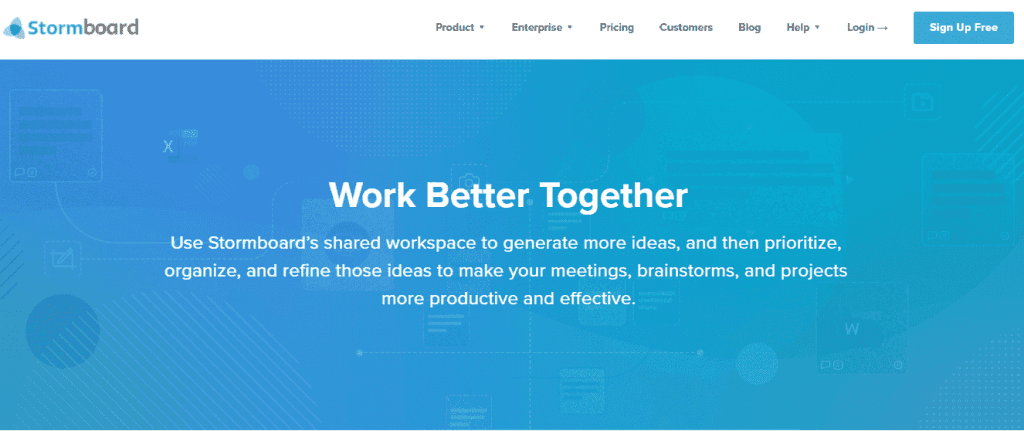 Transform the way you get things done with Stormboard. The tool allows team members working remotely to resolve issues and challenges by ideating comprehensively on the software. Track, organize and prioritize your project ideas to accomplish business objectives. Setting up deadlines and milestones is a cakewalk with its user-friendly dashboard. It has a short learning curve, making the tool's adoption easier.
Features:
Data security
Meeting notes
Minimal onboarding training
Actionable ideation
Third-party integrations
Pricing:
Personal – $0
Business – $10
Enterprise – $16.67
Best for: The best project ideation tool.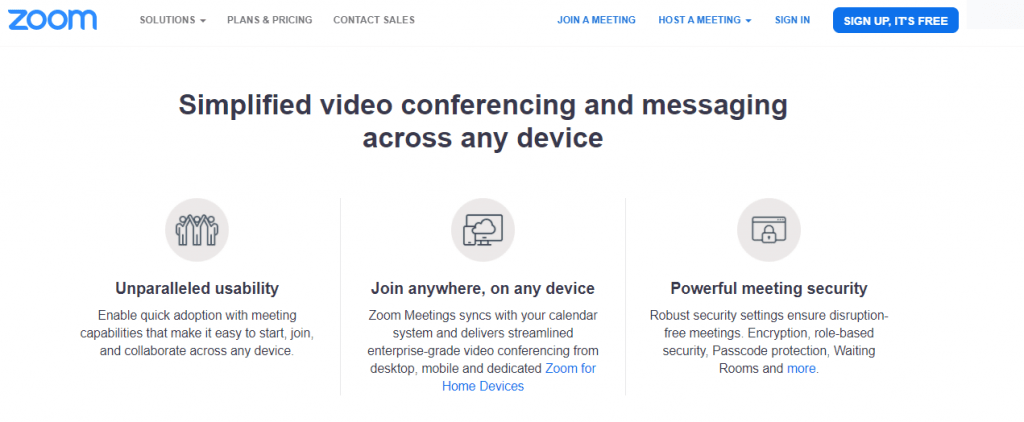 Zoom is great virtual collaboration software for reaching out to team members and having one-to-one conversations. Automatically schedule meetings and connect with your remote teammates in just a few clicks to get work done faster. View the active speaker on your screen and bring teams closer from anywhere. It offers easy screen sharing features that simplify understanding the context of the conversation.
Features:
Video webinars
Video conferencing
Collaborative tool
Video recording
In-meeting chat
Pricing:
Basic – $0
Pro – $177.11/license/year
Business – $241.51/license/year
Enterprise – $289.81/license/year
Best for: The best video conferencing tool.

For high-performing remote teams, G Suite is a savior. Simplify your work tenfold with the suite's wide range of products under its wings like Gmail, Google Calendar, Google Drive, and Google Sheets.
This one suite is all you need to create forms, schedule meetings, share files and get on a video call with your team members. It effectively manages all files and provides secure storage for all your project data in one place.
Features:
Secure cloud storage
Video meetings
Customer support
Management controls
Custom emails
Pricing:
Business starter – $1.68
Business standard – $9.02
Business plus – $16.91
Enterprise – Available on request
Best for: The best cloud storage tool.
Do you want a free Project Management Software?
We have the #1 Online Project Management Software for effective project management.