Are you struggling with completing projects on time? Or are you dealing with the after-effects of poorly allocated resources?
Defining tasks, setting due dates, and allocating resources across projects is only half the job done.
As a project manager, you need to take the reins of controlling the entire project life cycle, right from its initiation to its closure. This means you manage the project in its totality, including its tasks, resources, timeline, scope, cost, quality, risks, and clients.
Sounds overwhelming?
Don't worry. We've got you covered!
In this blog, we will look at the project life cycle, its different stages, and why you must understand and implement a robust life cycle for your projects.
What Is the Project Life Cycle?
The project life cycle, also known as the project management life cycle, refers to all the phases and the list of actions necessary to fulfill a project's goals and objectives successfully.
Whether you're handling smaller or multi-million dollar projects, you and your team invariably move in a sequential path involving planning, execution, monitoring, and much more.
Thus, the project management process includes a series of project life cycle phases that you must follow to achieve work in an organized manner. This helps bring both transparency and consistency to everyday workflow, leading to sure-shot success.
5 Stages of the Project Life Cycle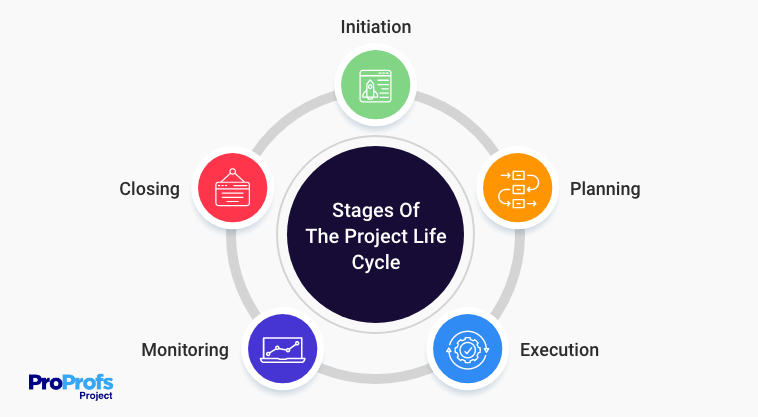 The above project life cycle diagram outlines the five stages of a project's life cycle. These stages are:
Initiation
Planning
Execution
Monitoring
Closing
As a project manager, you lead your team through every phase of the project. While the steps to be taken may be pre-defined, you must be on your toes to take control and adjust your workflows as per the current need of the project.
Now, let's cover the different project life cycle phases one by one and see what they're all about!
1. Initiation
The project life cycle process starts with initiating the project. In this phase, you clearly outline all the basic goals and rules. As a team, you must be aware of the final goal behind executing a project in the first place. This goal can either be a product, a service, or a certain problem you need to tackle and resolve.
To start with, you'll come up with different ways to fulfill these needs. You'll look for proven rules to help solve all the potential problems while inching toward project completion.
So, as a project manager, it will be up to you to brainstorm and 'sell' these ideas by presenting them to your superiors or investors. This requires thorough research and studies, identifying the project's scope, and developing a business case, among other things.
Here are the steps you need to take during the project initiation phase:
Undertake a feasibility study: Zero in on the central problem, and analyze whether your project will be able to deliver the desired result.
Identify project scope: Lay out the project's tasks, goals, and objectives so that work boundaries are clear right at the beginning.
Identify project deliverables: Define what project deliverables you need to deliver to ensure your project is a success.
Identify project stakeholders: Identify the stakeholders that will be involved in the project. Stakeholders are the people concerned about project progress and outcomes.
Develop a business case: Develop a business case to compare potential costs and benefits if you move forward with the project.
Develop a statement of work: Jot down the project's objectives, scope, and deliverables you need to accomplish during the development process.
That's all! Chart out these essentials, and you're ready to move on to the project's next life cycle phase.
Read More: Project Resource Management 101: For Flawless Project Journeys

2. Planning
The next phase in line for robust project life cycle management is planning. Planning helps provide a clear direction to achieve the set deliverables on time and within budget.
During this phase of the project management life cycle, you dissect the project into smaller tasks to make project execution easier and more manageable.
For effective planning, you need to define the right structure and hierarchy of the project's workflow.
What will be the sequence of the defined tasks?
Which team member will work on which tasks?
Which tasks must be taken up on priority?
These are some of the questions you need to answer while curating your plan of action.
Here are the steps you need to take during the project planning phase:
Create a project plan: To create a project plan, you develop the blueprint of your project. This includes identifying the tasks, milestones, timelines, and risks associated with the project.
Estimate budget: This is where you'll need to sort out the budget and define all the potential costs. To create an appropriate financial plan, you must have a clear idea about the funds to sustain the project's resources, equipment, and indirect costs, if any.
Estimate resources required: To make your project execution journey delightful, you must bring in the right amount of resources equipped with the right set of skills and expertise. Onboarding good resources to a project is the secret recipe for project consistency and success.
Anticipate risks on time: Identifying a project's potential risks is essential. This will help team members calmly approach a roadblock and mitigate the risk at the earliest opportunity.
Conduct a kickoff meeting: Hold a kickoff meeting with your team members and discuss all the rules, explain prioritized tasks, assign job responsibilities, and get started with project execution smoothly.
Remember, these steps may change depending on the current project and team needs. However, moving ahead with a set plan is your best bet to achieve the expected outcomes efficiently.
3. Execution
And here comes the juicy part – the execution. This is the most important phase where your plan will be put into action.
In this phase, team members commence working on tasks. As the project manager, it is your duty to look out for discrepancies and address them right away.
For example, midway through a project, you might notice that a resource is overburdened with tasks. Here, you step in and re-allocate tasks for optimal distribution of resources.
You must also keep an eye on the current work progress to analyze whether your team is on the right track or not.
In this phase, adopting the best project management software, such as ProProfs Project, will come in handy. It helps streamline workflows and enables you to run projects with greater transparency, accountability, and efficiency.
Here are the steps you need to take during the project execution phase:
Build project workflow: Break down complex tasks into subtasks to manage them better. Assign these to team members and define a timeline for each. Also, organize tasks into sections depending on their category.
In ProProfs Project, you can easily create tasks, assign users, and set deadlines and progress percentages for each.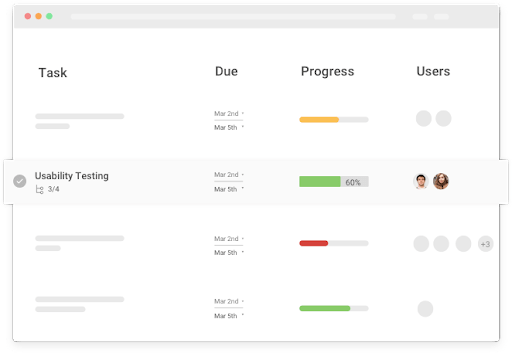 Using the tool, you can create multiple subtasks within a task in a couple of clicks. Simply click on the Subtask button next to the task title and fill in the subtask's name, due dates, etc.

Also, to club a bunch of tasks into a dedicated section, you simply have to create a section by clicking on the Add Section button and drag and drop the task from the project's dashboard into the desired section.
This is how it's done:
The resulting sections will appear like this: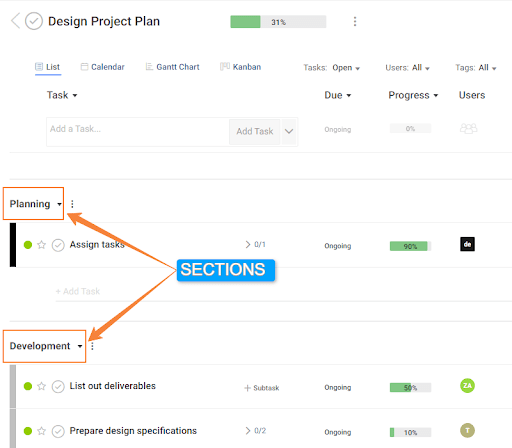 Define task priorities: Project execution often involves accomplishing certain tasks first. With ProProfs, you can use tags to define priority for tasks. You can also define a certain task as important by clicking on the star icon next to the task title.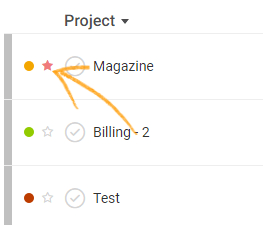 This will help establish a task's importance and let team members know the task needs their undivided attention.
Communicate to maintain transparency: For smooth project execution, you need to communicate with your team members, stakeholders, and clients on a regular basis. Here too, a tool helps discuss tasks and give/receive feedback via task comments. You can also share files using a tool.
Run quality control: Maintaining quality throughout the project development process is extremely important. Carry out the quality control process periodically to keep things in check.
Manage project budget: Keep a close eye on your expenses to stay away from running into a budget overrun. Track your project estimates and expenses using a tool like ProProfs Project. You simply need to enable the features, and you'll be able to track time spent by team members on a task and how much that will cost your business.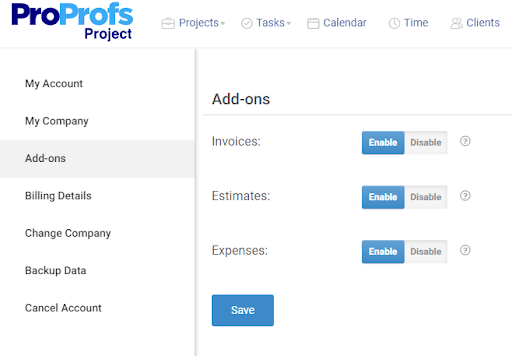 Read More: Simplifying Project Human Resource Management – A 101 for Managers

4. Monitoring
Your work does not end with implementing your action plan. Your project may encounter challenges you didn't believe you would face. For this, you need to monitor work in progress.
ProProfs offers some useful views to help you analyze progress and spot roadblocks. Let's take a look at them below.

This is the Gantt view that gives you a bird's eye view of all your tasks at a glance. Using it, you know what the timelines for each task are. It also helps you spot if there are any overlapping tasks to adjust and reschedule workflows appropriately.
This is the Kanban view that offers you increased visibility into all your tasks across workflows. The task cards represent the task assignees, their due dates, file attachments, and task descriptions. So, you can access any information you need in a matter of seconds.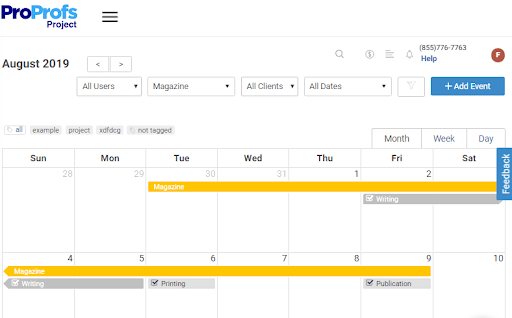 This is ProProfs Project's Calendar view. It gives you an overview of your tasks in a simple manner, avoiding confusion regarding which tasks need to be done and when.
5. Closing
Once you complete all the tasks, attain goals, and resolve problems that occurred during the project development process, it's time for you to draw the line. So, sum things up, and determine the success rate of your big project.
Some may think that the job here is done for good, but certain tasks must be done after the monitoring phase.
Here are the steps you need to take during the project closure phase:
Analyze project performance: Analyze whether your project was a success or not. Were you able to accomplish the project within the set timeline and budget? Is the client satisfied with the output or not? Consider these questions while determining how well your project fared.
Evaluate team performance: Scrutinize the performance of your team members. Analyze whether they were able to deliver their work on time. Did they meet the quality standard? Find answers to these questions to evaluate your team's performance.
Document everything you've learned: Maintain a report comprising all the details about steps and tasks involved during the project's life cycle.
. Pen in any lessons you learned while managing the project. This will help you create a better project life cycle in the future.
Allocate remaining resources: In case any resources are left idle, allocate them for the completion of future projects.
So yes, you can celebrate and relax only after the closing phase. Remember, don't ignore the closing phase. This phase will equip you to lead better projects with accurate budgets, timelines, and resources in the future.
Read More: Project Closure Steps and Checklist: The Ultimate Guide
Importance of Working With a Project Life Cycle Process
Wondering why you need to incorporate project life cycle management to take your projects to the finish line?
Well, a project's life cycle clearly outlines the project's roadmap, the roles and responsibilities of the team members, and the steps to take in case of a hitch.
As a productive project manager, you need a systematic approach that you can rely on. Working with a project life cycle helps chart out minute details related to the project. It sets the foundation for crystal-clear transparency throughout project execution.
This way, you bring greater efficiency and consistency to your workflows. Tasks are clearly defined. Task responsibilities are well laid-out. Checking projects for roadblocks is in check. Overall, your project stands a better chance of achieving success within the set timeline, scope, and budget!
Run Better Projects From Start to Finish
Running a project comes with its revolving door of challenges. Sometimes, resources fall short, and sometimes, budgets overrun their estimation. But don't lose hope. As a manager and leader, you can try your best shot at accomplishing projects as desired by implementing a robust project life cycle.
Walking your team through the five project life cycle phases will help you stay on track and maintain consistency throughout the project.
And yes, regardless of the field you're working in, rules stay the same. So, go on to build your project's life cycle and deliver successful projects effortlessly.
---
FAQ
Let's answer some of the most popular questions regarding this topic now.
Q. What is the traditional project life cycle?
The traditional project life cycle refers to the life cycle we described above. It's a series of events occurring in every project. Peruse a set of rules defining all the phases of a project of any type. The project life cycle is divided into four project life cycle phases – initiation, planning, execution, and closure.
Q. What are the key elements of project management?
Elements of project management include a variety of topics and disciplines. The key elements are planning, requirements, scope, costs, time, resources, communication, logistics, quality, procurement, integration, risk, change control, ethics, and governance.
Q. What is the most important phase of the project management life cycle?
Each phase of a project life cycle should be respected with equal care. It's like a chain of events where the next one can't occur if the previous one wasn't done successfully and in time. However, some would argue that the execution is the most important one – since all of the actual work and most of the resources are spent during this phase.
Do you want a free Project Management Software?
We have the #1 Online Project Management Software for effective project management.