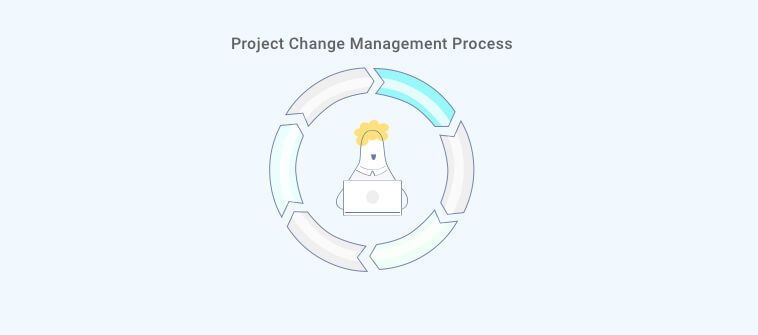 In the business world, nothing is more pleasant than a flourishing client relationship. To ensure long-term client relationships, you have to be at your best to deliver projects on the promised time.
Whenever you fail to meet the delivery date, your brand is likely to face the heat afterward. Generally, businesses, especially small ones, miss the project delivery date due to two factors:
Tight Time Window
Dearth of Requisite Budget
Besides these two, there is the 3rd factor that usually goes unnoticed!!
What is it?
'Unexpected changes in project activities.'
This factor cannot be taken lightly because unplanned changes not only shift your priorities but also cause delays. As a negative consequence, you miss the project delivery date and lose the clients' trust you earned after putting in a lot of hard work.
That's why change management in project management is deemed as a crucial element. One of the recent industry reports doing rounds on the internet also supports this fact by revealing, '56% of projects succeed, thanks to the proper talent and change management.'
Here's a well-developed guide on the change management in project, which will help you understand the significance of it and how it is related to project success. So, don't get distracted while perusing the following details.
What is Change Management in Project Management?
Change management in project management is the factor on which business growth relies. Unanticipated changes usually make a big impact on the aligned tasks, project processes & structures, and job functions. Managing such changes is vitally important; otherwise, projects struggle to attain the objectives and end up at the wrong end of the road.
The major benefit of investing time and effort in the change management in project is you prepare your teams for unplanned events. This will help your project teams to be adaptable to surprises. It goes without saying that when your teams don't lose their confidence in tough scenarios, you are likely to witness impeccable business growth.
The importance of change management with regards to project management isn't going to drop anytime soon, as changes are an inevitable part of the lifecycle of projects. So, it wouldn't be wrong to say that companies should start considering the change management process as a crucial business practice.
What are The Types Of Change Management in Project?
Till now, we have talked about the significance of the change control process. But there are two distinct change management models in project management, which every business owner should know for the sake of attaining project success. Let's discuss the two major types of change management in project one by one:
Individual Change Management
As we know, changes are a constant part of the lifecycle of projects. However, changes don't please teams working on projects, and this makes your job more demanding with respect to project management.
If your project executives are not ready to accept unexpected changes, there will be no point in making modifications in the current work procedures, because you are likely to encounter the problem of project mismanagement.
Therefore, you should train your project teams in such a manner that helps them accept changes in project activities positively.
Organizational Change Management
Organizational changes always hamper the progress of projects, because teams sometimes are asked to start work on shelved activities. A continuous change in priorities creates a chaotic situation, which further triggers unnecessary problems.
Hence, it is significant for you to organize all project tasks in such a manner that causes no hassle. Simply put, if you create a perfect plan and your teams stick to it, the odds of attaining project success will rise for sure.
Top 3 Factors Should Consider in Change Management in the Project?
That's a pretty good question!
In case you don't know which factors should be aimed for, then you are unlikely to get success regarding change management in project .
Change management in project management is all about taking care of three constraints: 'Scope,' 'Budget,' and 'Quality.'
These three factors are directly related to project success. It is because you can ensure long-term client relationships only if you complete projects on time, in the set budget, and without compromising the quality factor.
Of course, there will be times when clients demand change in the current progress of projects; it's totally up to you to manage the factors mentioned above. You must have a plan in place if anomalies are there to hamper the project delivery date.
To safeguard all the three constraints, you need to perform the integrated change control. It is nothing but a process of reviewing, managing, and approving all change requests. It is imperative to remember that the integrated change control should be performed quickly, because if you don't take it seriously, then there is a possibility that your project can go off the track in the later stages.
Needless to mention, when you approve change requests, your project objectives will change for sure. And you need to convey new goals so that your project teams won't be in any sort of dilemma.
8 Steps to Safeguard Change Management Process in Project Management
To secure a seamless project change management process, you need to follow these steps:
1. Urgency Creation
You need to create urgency if you really want proper execution on the requested changes. Otherwise, your project executives don't take the changes seriously and stick to their own priorities.
2. Develop a Team
As we have already said, changes are part of every project. Therefore, you should build a team, which comprehends the situation and stays positive while working on changes in project activities. Make sure you lead your team from the front, as that's the key to secure an effective project change management process.
3. Have the Right Vision
Having the right vision is central, after being approached for changes with regards to project activities. It is because your project teams only understand why they need to work on new changes immediately when you make contact with them with a focussed objective.
4. Communication is Vital
To match the client's expectations, you need to involve in a meaningful dialogue with project teams regarding change management. Remember that a lack of communication generally gives an invitation to unnecessary problems.
5. Wipeout Obstacles
With every new change in project activities, you face new obstacles. For example, some of your project team members can deny shifting their work priorities, or your work procedures may not be suitable for the requested changes. Thus, you need to wipe out such obstacles aptly for the sake of proper change management in projects.
6. Aim for the Small Changes First
Completing small changes first is the best way to get momentum because quick wins instill confidence in your project teams to take care of major changes aptly and swiftly.
7. Let the Change Process Complete by 100%
By and large, change initiatives end up in failure because project managers declare a victory without completing the job. However, when loopholes are identified in the later stages, it discourages project executives from continuing the work. So, it is better to let the change process complete by 100%.
8. Integrate the Change Process
Resisting new changes is the part of human tendency, and you cannot reshape this until you make your project teams believe that the occurrence of such changes is a common thing. So, integrate the change process as a part of the projects' lifecycle.
How Does ProProfs Project Help in Change Management?
Once you accept the demanded changes, you will definitely feel the need for a tool that helps you do tasks related to planning, scheduling, tracking, etc. perfectly. ProProfs Project has always been known for giving delightful experience to its users. Let's take a deeper look at how ProProfs Project helps in change management:
With ProProfs Project, you get access to Gantt charts, which show a clear picture of your change process. Owing to this, you quickly analyze the order and progress of each assigned task, and this will enable you to estimate the project delivery time.
Needless to say, if you get to know that you need more time to deliver projects after implementing the new changes, you can easily request clients to increase the timeframe, instead of making excuses later on. Most of the time, clients agree to reschedule the project delivery date.
On the off chance that clients want the project to be done on the promised date, you can at least take necessary measures to maintain your business's integrity.
So, the Gantt charts feature of the ProProfs Project helps you enjoy seamless change management in project management.
Changes are not welcome, no matter how much you were convincing in the team meetings. However, you cannot tell this to clients, as this will ruin your relationship with them. So, the only option left for you is to get the demanded changes done by hook or by crook. Seamless tracking is fundamental to achieve this goal.
By deploying ProProfs Project, you get an intuitive dashboard, which lets you keep a close eye on the progress of all projects. You cannot rule out the significance of this factor, because real-time tracking shows how exactly work is being done on the discussed changes.
As a positive result, you will find out those team members who are not following the project plan properly, and you can take measures to correct the whole process.
Once you have conveyed the changes to the project executives, there is a possibility they have to go off the book to secure the desired results.
Being a business owner, you must keep a tab on everything, which isn't an easy thing to accomplish. When you use ProProfs Project, you enjoy the luxury of automated email alerts, and that keeps you updated about every small change.
Straightforwardly, new changes in project activities increase the workload, but it doesn't mean that you can miss the delivery date. So, the best way to live up to expectations is to bring agile employees in different teams together. Simply put, you need to secure collaborative work.
ProProfs Project lets you secure teamwork, as it offers features like internal notes, task dependencies, and so forth.
By means of such features, you ensure collaborative work with ease, and this leads to positive brand equity.
Final few Words to Conclude
It would be easier to secure project success if there are no risks and demands for changes. Sadly, this is not possible, at least for now. For client-centric companies, it is important to complete projects on time and in the promised budget. Refusing to accept new changes in project activities isn't even an option, as it will break the relationship with your invaluable clients and bring down curtains on your business.
So, one thing that you need to keep in mind is if the client asks for changes, you have to accept them, regardless of the project stage you are in.
With the help of this blog, we have just told you what change management in project management is, which factors you need to take care of, what steps you need to follow, and so forth. In addition, we revealed the project management tool (ProProfs Project) you need to deploy to get the upper hand on your competitors.
Thanks for reading!
---
Q. What is the difference between project and change management?
Project management is all about focusing on those processes and activities that are critical for project completion and success.
Change management is taking care of changes that clients want in project activities. Managing these changes is imperative for overall success of a project.
Q. How do you evaluate change management projects?
Following steps should be followed for proper evaluation of change management:
Urgency creation

Develop a team

Have the right vision

Effective communication

Wipeout obstacles

Aim for the small changes first

Let the change process complete

Integrate the change process
Q. Why is change management important in project management?
Change management is important in project management because if you don't handle requested changes in an appropriate manner, there is a high possibility that the progress of your projects will get hammered down in the later stages.
Q. How will change management benefit the project?
The major benefit of change management is you can prevent the hassles related to project management to a large extent. Apart from this, you can ameliorate the quality of work and attain high productivity levels.
Do you want a free Project Management Software?
We have the #1 Online Project Management Software for effective project management.