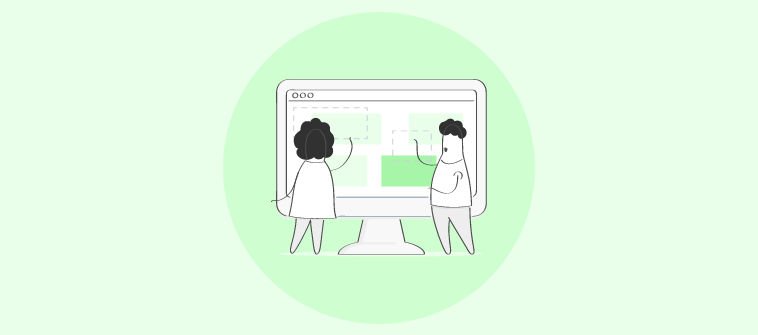 Change management in project management can be complex, especially when handling multiple projects simultaneously. Adjusting a project's schedule, scope, cost, resource distribution, and more can affect another project's workflow and outcomes.
Calling the shots on seamless change management empowers you to improve transparency, flexibility, and collaboration, leading to a smooth transition. And this is possible only when you know the nuts and bolts of your projects!
This blog will delve into managing change in project management by understanding how it is different from project management and what are its types and factors. We will also dive into some tips you can use to deliver high-quality projects.
What Is Change Management in Project Management?
Change management in project management refers to incorporating organizational changes without impacting the ongoing workflows and strategies. This involves transitioning to a new plan of action to handle unanticipated changes.
The project changes due to new requirements can invariably impact the aligned project tasks, project priorities, dependencies, and more.
Managing change in project management implies planning, implementing, and managing the change for a project.
A straightforward transition helps:
Adapt to new changes proactively
Optimize workflows to sustain rescheduling and adjustments
Control costs incurred due to new project development
Mitigate risks owing to new project requirements
Change Management vs Project Management
'Project management' and 'change management' are often used interchangeably. However, the terms are different and imply different things.
Project management refers to:
A well-documented discipline
Tasks, milestones, timelines, and final deliverables are defined
People focused
Aims to accomplish specific project goals and objectives
Change management refers to:
An informal discipline
Tasks, milestones, and timelines are not defined
System focused
Aims to manage organizational change
Thus, change management supports project management by managing the human side of organizational change.
Read Also: How to Implement Strategic Alignment In Project Management
Types of Change Management in Project Management
Change management in a project can be of different types. Let's take a look at these below.
1. Anticipatory
As the name suggests, this type of change management is done in anticipation of a change. This means that you stay prepared with a ready plan of action to tackle the modifications that are bound to arise in the future.
This can occur when you know a new business process model that the company will implement in the next quarter. Or it can also happen when a person is leaving the organization, and somebody else is going to take over management.
2. Reactive
You must be ready to implement a reactive change management plan when the situation calls for it. While nobody wants to be hit with a sudden change of plans, sometimes that is the only option at hand. In reactive management, you must devise a plan immediately and implement it soon to minimize the undesirable effect.
3. Incremental
Sometimes, the required changes are not too urgent, i.e., the company must implement these over a period of time, step by step. These changes are made for the continuous improvement of operations. For example, the installation of new computer software for better efficiency within the organization.
4. Strategic
Strategic changes are well-analyzed developments required to boost the competitiveness of the company or project. These changes significantly impact the business and result in almost an overhaul of existing processes.
For example, a magazine publisher realized that the audience is moving towards the digital medium to get their daily dose of news and entertainment. The publisher thus decides to shift its operations to cater to a digital audience, providing information and entertainment via online communication tools.
Why Do We Need to Incorporate Change Management at Project Level?
Before we start managing change in project management, it is crucial to understand why we need to incorporate change management at the project level.
1. Vision Alignment Within the Leadership
Sometimes, the leaders of the project and organization are not convinced about why there is a need to make changes. They might think changing any aspect of the project execution plan will disturb the existing resource distribution and push the budget beyond the pre-decided limit. Here, it becomes crucial to explain the need for change management and how it will impact the project's outcome. If the reasons are genuine, they are bound to agree to the change and even be confident of its promised results.
2. Transform Employee Resistance
When working on projects, team members are bound to resist a change in the ongoing workflows and processes. In such a scenario, you need to explain to them the purpose of implementing the change and what value the organization will derive from it. When the reasons are clear, they will be willing to adapt to the change and implement the new strategies with a better sense of ownership.
3. Establish a Well-Analyzed Plan of Action
Once the team is geared to implement the change, it needs a comprehensive plan that it can adhere to. Here, you must provide the team with a detailed framework of how things need to be adjusted. The framework must outline the tasks, new task priorities, and task dependencies that must be paid attention to. This will help support a smooth transition for a seamless change management process.
4. Keep Things on Track
Change management does not stop at delegating new responsibilities to the team. You must keep an eye on how things are going. Are the new changes working to your advantage, or do they need a review? If, at any stage, you spot that the changes will not lead to the desired results, be prepared to rethink the changes and tweak adjustments wherever required.
Read Also: Workflow Diagram: What, When, Types & Steps to Create One
What Are the Top 3 Factors You Should Consider for Change Management in a Project?
Here are the top 3 factors you should consider for implementing change management in a project.
These three factors are directly related to organizational and project success.
But how do these factors impact change management for project managers like you?
These factors are crucial as project managers need to consider these three constraints while performing integrated change control. The process requires you to review, manage, and approve change requests. It is also essential to achieve this change on time because if you delay the transition, there are chances that your project may go off track, and the effects may be irreversible.
Needless to say, when you approve change requests, your project objectives will change for sure. And it would be best if you conveyed new goals to your team to make them more acceptable to the transition.
Tips to Integrate Change Management into Project Management
We understand that change management for project managers is not a piece of cake. We have curated a list of the top tips you can use to integrate change management into project management practice.
1. Align Change Management with Your Business Goals & Objectives
A key role of managers in change management is to ensure that the new developments in projects are in sync with the overall business goals and objectives.
So your change management strategies must be such that they support the pre-defined goals and not contradict them in any way.
2. Deploy a Structured Approach to Change Management
A structured approach will enable you and your team to pursue change management successfully.
Convey how you aim to implement change management for the project.
Define the multiple tasks that need to be completed.
Establish which tasks must be done on priority.
Set up dependencies between tasks for clear-cut workflows.
3. Define Clear Team Responsibilities
As project leaders and managers, it is essential to ease your team into changing the current flow of operations. Some might be confused, and some might be resistant.
What can help is how you portray the change as. Why is the change needed? How can everybody as a team achieve it? Explain these things to your team, and they'll be ready to implement change head-on.
Once they're ready, chart out clear roles and responsibilities. Don't leave any room for assumptions. Delegate work with well-defined priorities, dependencies, and timelines.
4. Tweak Your Approach
Your change management plan changes based on the ongoing scenario. If a plan worked for your team previously, it's not a certainty that that same plan will complement all your future requirements. So, analyze your current needs, develop a unique action plan, and get set to overcome any challenge.
Read Also: Workflow Optimization – 10 Ways to Streamline Your Systems to Get More Done
How Does ProProfs Project Help in Change Management?
ProProfs Project offers some excellent features that can help in effortless change management for your project. Let's have a look at these.
1. Offers an Intuitive Dashboard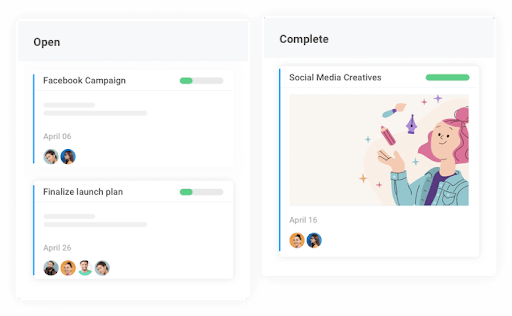 For successful change management, you need a system that allows you to plan, schedule, and track changes in real-time. And this must be as easy as pie.
Imagine if you and your team have to change the course of activities midway and face issues with the resources you are utilizing. That would be a nightmare!
ProProfs Project offers simple and intuitive dashboards that allow you to do everything from a single platform. The tool is easy to navigate, making change management a breeze. Also, you can drag and drop tasks across the dashboard and customize workflows to suit project needs on the fly.
Using the tool, everyone in the team can keep a close eye on the project's progress. It lets you monitor how work is progressing on the discussion changes. In case you spot a roadblock, you can immediately rectify it.
2. Access Gantt Charts, Kanban board & More
ProProfs' interactive project views clearly show how the change process is rolling out. Is it on track? Should you make some adjustments? You can go to a view you prefer and quickly analyze the progress of assigned tasks.
If things are moving as planned, it assures you of a timely project delivery without any hiccups.
Thus, with detailed, clearly laid-out views, you enjoy seamless change management in project management.
3. Get Email Alerts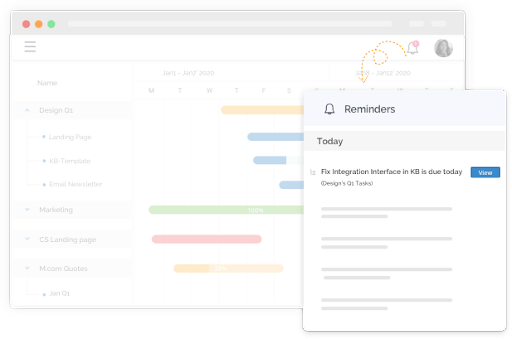 While implementing change management, you must stay up-to-date with real-time changes.
For this, ProProfs offers email alerts that notify you about any changes in the project. This eliminates micromanaging and helps you stay informed of everything in the project, saving time and effort.
4. Leverage Collaboration Features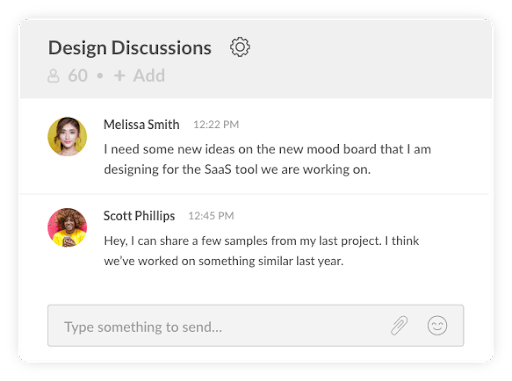 Without a collaborative team, you cannot execute a change management plan.
ProProfs gives you the platform you need to bring team members together. It helps simplify collaboration by providing a single source of truth to everybody. This way, everybody can track what needs to be done and when.
The tool also lets you give and receive feedback via task comments. This significantly eases feedback tracking and helps implement changes on time. Also, team members can attach files to tasks and share them with everybody for easier access to relevant information related to a specific task.
Drive Change Management for Your Projects Effectively
While working on a project, you may run into new requirements. As a project manager, to fulfill these requirements, you must integrate change management in project management.
At first, project management and change management might sound similar. However, they are different and confusing; the two may impact your final project results or even bring down the curtain on your business.
When new requirements come in, you must be prepared to implement a change management plan immediately. This will empower you to cater to new developments and deliver projects as expected, regardless of which stage the new requirements come in at.
So, develop a robust plan and accomplish your projects without a hitch!
Do you want a free Project Management Software?
We have the #1 Online Project Management Software for effective project management.