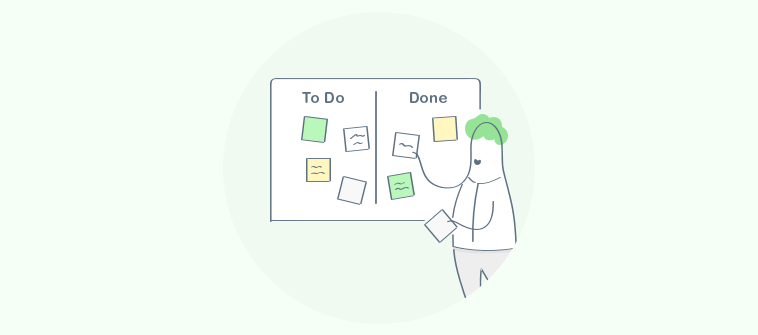 Have you faced difficulties in presenting your project visually to your team?
Understand that you're not alone. A lot of managers and project ideation teams face the same challenge. As a result, 37% of projects fail due to lack of defined project objectives and milestones visually.
That's why your vision of the project needs to be clear from start to finish. Moreover, you need to avoid the "just get thing done" mentality because what really matters is how you get your things done. You need a workflow like Kanban project management that helps you understand how your project will proceed, the resources needed, their need of allocation and shifting and the amount of time required to complete each milestone.
In case you're new to this project management methodology, then we're here to help you out. In this blog, we'll help you understand the following:
Without further adieu, let's get started.
What is Kanban Project Management & its Origin
Kanban project management is another methodology that helps you visualize your project milestones or tasks as per their status of completion. Kanban approach is perfect for you to keep a track of your workflow and manage task completion in a more efficient manner.
Here's how the project kanban board looks like: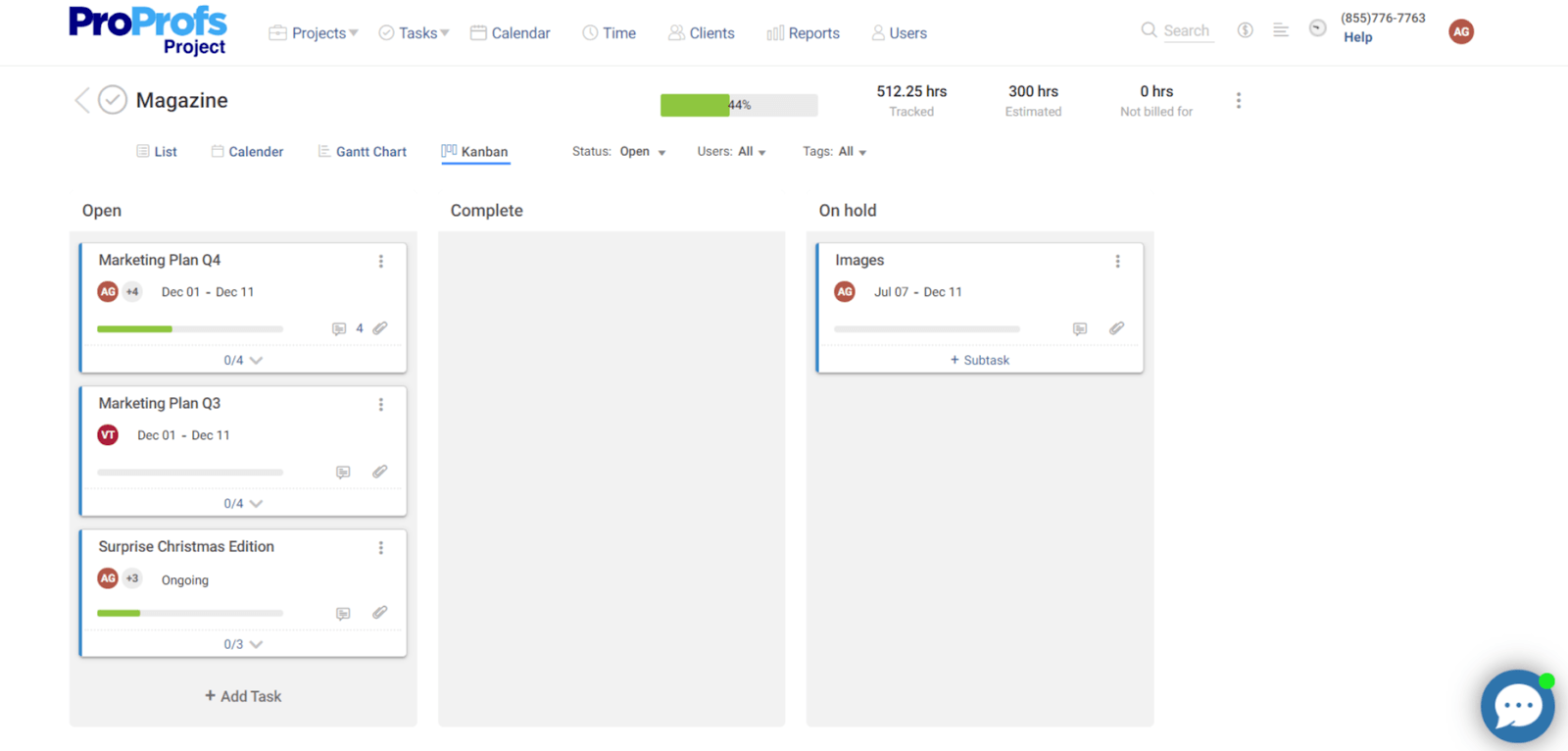 Kanban technique originated from Toyota's "just-in-time" (JIT) production system and created by Taiichi Ohno who wanted a simple planning system in place to help them manage and control the production process efficiently.
According to Toyota, they achieved a more flexible and effective production control system that enabled them to not just monitor all activities but also improve productivity among all teams. That's not all. Kanban project management also helped them reduce the cost-intensive inventory of raw materials, semi-finished materials, and finished goods.
However, after 1940 David J. Anderson was the first person to implement this kanban approach to project management to their IT, Software Development, and knowledge work in 2004. David even built on the methodology to define the kanban method and released a book in 2010 called "Kanban: Successfully Evolutionary Change for your Technology Business".
How Kanban Works
Simply learning about the approach won't help you understand how Kanban works. Kanban board helps you see what's more important and enables your project teams to improve productivity.
Let's try to understand the Kanban board view with the ProProfs Project below.
In this view, you can see tasks under the Content Plan project that are at various stages. Some are under review, some are open or complete and some are on hold. With the help of this view, you can observe the following:
Who is managing the individual task under a project

How are ongoing tasks managed through their status bar?

How many files are attached to a task

How many subtasks are created under each task

How collaboration has taken place over comments

When is the due date of a task?
What's more, you can create a new task from the same view rather than shifting to another. You would also notice how tasks appear as a card. As if you are looking at a whiteboard with multiple tasks on it. And that's not it. The moment you will drag and drop a card to another status field, you'll see a change in the progress bar too.
It's basically a whiteboard with multiple cards under different status columns. You get to know which tasks to prioritize and how to prioritize them. That's how kanban works.
Learn: How to Use Kanban Board
Why Use Kanban Project Management Methodology
Using Kanban for project management can help you achieve multiple benefits that we'll go through in this section.
It helps you increase project flexibility


One of the reasons why this project management methodology was formulated was because of its flexibility. As a fluid model, it helps you avoid phase durations and simply focus on the top priorities of your project.

It helps you get started easily


It is intuitive in nature, therefore helping managers assist their team members understand how task priorities work and how they should get started with each task.

It helps you reduce bottlenecks
Kanban-style project management helps you focus on reducing upcoming bottlenecks or project pitfalls that may hamper your progress. You can identify them faster and avoid delaying the project's outcome.
It helps you avoid spending resources unnecessarily


The Kanban project management process helps you focus on reducing your efforts on activities that aren't necessary, therefore allowing your teams to become more productive.
While these benefits look quite convincing, there are some downsides of this project management process that you should consider before settling for it right away. Let's take a look at some of the disadvantages below to help you get clarity.
It makes you lose track of time


One of the biggest downsides of kanban project management is it only tells you what's important and helps you track the progress of each task. However, it fails to show its users by when they should be completed. This can even lead to delays in deliverables.

It's whiteboard can get complicated


If tasks aren't completed on time and more tasks get added to the whiteboard, then you are likely to see it get complicated. This may also lead to confusion for other team members and may complicate the management process for the manager.
No doubt that there are more benefits over disadvantages, still they can't be ignored. But if you're really looking into this approach, then you must be planning to use it for your projects. That's why it is also important to see who can use kanban for their projects. Let's check that out in the next section.
Read More: 12 Best Project Management Techniques to Use for 2022
Who Uses Kanban?
With time, the use of the kanban approach has become wide-spread. So much that it is being used for other projects besides software development. Let's breeze over areas where its use is becoming prominent.
Managing Private Tasks


A lot of people have started using a kanban board to manage their private tasks in day to day lives. They create a to-do list and divide them into in progress and completed tasks.

Coordinating Sales Process


Sales team to use a kanban approach to manage and track all their sales processes. This helps them meet their monthly goals and improve company profits.

Managing Legal Cases


Lawyers also use the kanban board to keep a track of their ongoing and under review cases. This helps them track the progress of each case and keep their clients informed of the upcoming schedules too.

Managing School Assignments


Believe it or not, but school and college students find the use of the kanban approach quite resourceful for managing their assignments and projects. It helps them divide the work and deliver them before the deadlines.
Besides these, kanban project management is quite common for the development community. They get to measure their coding performance with this approach. This gives you a pretty good idea about who makes the most out of this project methodology.
4 Core Principles of Kanban
Now we know who can use it, if you fall into any of these categories, then you need to brush up on the four core principles of kanban project management methodology. Let's get started.
Principle #1: Never Lose Sight of What You Do Now
With kanban, it's easy to keep on doing what has been successful for you in the past projects as well. That means you can continue doing what's beneficial for you while adopting this methodology. That's because it won't impact your existing practices of implementing a certain procedure in a task, but will help you what needs to be done on priority.
Principle #2: Accept Incremental Changes
Big changes can induce the feeling of uncertainty among your team members as they won't know if your project can be completed within the deadline and as per the decided objective. This will also induce resistance and may hamper the progress of your project. That's why you need to focus on encouraging small incremental changes that simplify the work process and keep other team members motivated to keep up with their tasks.
Principle #3: Preserve the the Current Processes, Roles & Responsibilities
The kanban approach is very much accepting of the existing responsibilities, process and roles as they have value and are worth preserving. However, it does not prohibit people from making changes to your current process. That's why in this case you need to assess the current processes, responsibilities and roles that benefit all your ongoing projects and, if removed, then shouldn't hamper the work process either. This way you'll be able to preserve those that work out for you.
Principle #4: Encourage Leadership at Every Step of Your Project
Encourage your team members to be more accepting of improvement mindset to reach their best performance at team or even company level. Take into account their suggestions when there is a sudden change in plans of a certain task. Appreciate ideas that indicate a solution which takes into account the sudden change and let them take ownership of such tasks with you for idea implementation.
6 Best Practices of the Kanban Method
As David Anderson worked further on the kanban approach, he defined six best practices for the project management methodology for its successful implementation. Let's take a look at these six best practices of the kanban method below:
1. Create a Healthy Workflow
It is important to keep a track of the workflow you create to make sure that it doesn't pressurize your team members during the implementation of a task. The workflow needs to be healthy. Also, you need to make sure that every task hasn't been micro-managed. To avoid the micro-management of each resource, you can implement the use of a Kanban project management tool like ProProfs Project to help you assign tasks to each team member as per their workload.
You can use the calendar view to see what all tasks are assigned to them and what's the duration of each task that they are a part of.
Based on their task lineup, you can switch back to the kanban view and add your team members to tasks that are supposed to take place later on. This will help them stay productive consistently too.
Also, this approach will allow you to focus your energy on other important tasks like managing the work process and how to get work done before the deadline within the limited number of resources.
Learn More: How to Use Calendar View
2. Make Workflow Visualization Possible
To make your workflow more visual for your team, you need to first understand the current process that takes place for assignment and who excels at completing which roles and responsibilities during a project. This will allow you to get started with the kanban approach faster.
Now to visualize your process better, you need a kanban board like the one in the image above. It will help your project team members to see which tasks are ongoing, which have been put on hold and which are already complete. This way you can track progress of the ongoing project and identify bottlenecks.
3. Make Feedback Loops Mandatory
To become agile, it is important to implement the feedback loops. This will enable the task manager and his team members to keep a track of all the improvement comments they receive from the project head and make the changes before the deadline of their task arrives.
This helps you avoid review meetings at both ends as the manager can add the feedback in comments and even attach files to the task visible in the kanban board.
4. Avoid Keeping Multiple Tasks in Progress Section
You need to make sure that there are a manageable number of tasks for your team members. That's because too many tasks or subtasks can overwhelm them too. If anything, too many task cards under in progress status will only be pulled to the next stage if the team members are working to full capacity with the right knowledge of the task assigned.
Also, make sure you do not assign tasks that clash with their ongoing tasks and end up hampering their productivity. Remember that as great multitasking sounds, it's not a good option in the long run and increases inefficiency among team members.
5. Clearly Define Process Policies for All
Familiarization with a common goal is essential for all team members in a project. This would enable them to think of a solution faster for a positive outcome. This is one of the reasons why you need to clearly define the process of your project and discuss it as clearly as possible. This way you can boost association with the project among all the team members and encourage equal participation.
6. Keep Shared Vision Alive with Consistent Collaboration
The last practice that you need to put into action is making consistent collaboration a habit. This will enable your team members to always work towards the same goal and help your business to reach the objective before time.
Understand that when your teams get to stay on the same page, their understanding of the end goal of the project, your workflow, and unforeseen risks becomes broader. What's more, they can come up with a solution together that helps you avoid the delays in the project deadlines.
Read More: How to Make a Gantt Chart: Step-by-Step Guide for Beginners
Stay Focused on Important Tasks with Kanban Board
There are multiple ways to see how your project is progressing, but not all project management approaches will help you focus on what's important and should be prioritized first. It's only the kanban approach that helps you do that.
This simple yet powerful project management methodology helps you see which tasks are still in progress, on hold and completed to help you get a clear picture of the ongoing progress of your project. Besides that, there are multiple core principles that you should keep in mind as and when you plan to implement the use of kanban project management approach. Some of these include always starting with what you always start, always trying to make incremental changes rather than sweeping changes, and encouraging the act of leadership among all team members.
And while you're at these principles, you also need to make sure that you implement the right practices. From workflow streamlining to improving collaboration for better transparency, you need to implement them all to make your efforts at using the kanban board a success.
If this quick guide helps you work seamlessly with your kanban board and complete projects without delays, then write to us in the comments section below. Do share your thoughts and if there is more to add in this guide.
Happy reading!
FAQs
---
Q1: Is Kanban better than scrum?
Definitely kanban is better than scrum as it helps you visualize your work and move more tasks from in-progress status easily. Kanban is also perfect for people who keep getting new tasks on priority. It helps them set the priority. Whereas scrum requires a lot of control over the scope of the project and makes it difficult for the teams to flow with the incoming tasks too.
Q2: What is the difference between a Scrum board and a Kanban board?
The Scrum board is more methodical. They require more preparation time and organization from the project manager, therefore taking up a lot of time from them and losing track of what's more important.
The Kanban board is more about helping teams work as the work flows. They are great at making the visualization of the project clear for every member.
Q3: Does kanban have daily standups?
No they don't actually. Kanban is about streamlining the work process and workflow for project teams. There is no standard for kanban teams to have daily standups. Also, having regular standups can be time consuming and may impact productivity at one point for team members who believe they are more productive in the morning.
Q4: Can kanban and scrum work together?
Yes, they can work together. Scrum teams can use kanban view to prioritize tasks as well and remain agile while working towards the completion of the project. What's the best part here is that scrum teams can use both scrum and kanban views at the same time.
Do you want a free Project Management Software?
We have the #1 Online Project Management Software for effective project management.