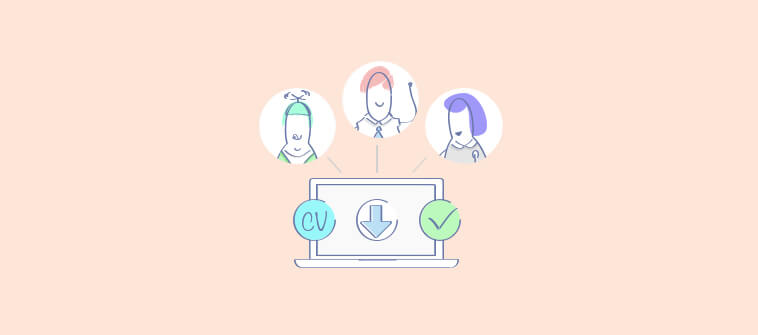 Have you ever been in the middle of a project and suddenly a key team member goes on leave? Or struggled to form a team with the right skill set for a project?
These scenarios can be all too familiar for project managers and significantly impact project success.
That's where project human resource management comes in.
In this blog, we'll explore what human resource management is, why it matters, how to run an HR project, and more.
What Is Project Human Resource Management?
Project human resource management implies managing every human resource or stakeholder related to any ongoing project and ensuring that they work efficiently until the project delivery.
Its primary goal is to manage human resources in project management such that the project's timeline, quality, and budget are not disturbed or affected.
In simpler words, project human resource management involves organizing, acquiring, motivating, and managing a company's resources to effectively meet its expectations and goals. It also includes maximizing the productivity of the people working on a project and all stakeholders.
But why is project human resource management important?
Let's find out!
Why Does Project Human Resource Management Matter?
Project human resource management is an essential aspect of any project, and it matters for several reasons. The success of a project depends on the ability of the project manager to lead and manage the human resources in project management effectively. After all, if the people working on a project are not appropriately managed, the project is bound to face delays, disruptions, and even failure.
Effective human resource management ensures that the right people are assigned to the right tasks with the necessary skills, experience, and expertise. This helps maximize the team's productivity, minimize conflicts and misunderstandings, and meet the project deadline and objectives. It also helps to create a positive work environment that fosters teamwork and collaboration.
Moreover, project human resource management helps to identify and manage potential risks and issues that may arise during the project. This allows for timely resolution and prevents these risks from escalating into more significant problems that could impact the project's success.
Read More: Project Risk Assessment: All You Need to Know About
Human resource management is executed in stages to ensure the smooth delivery of the project. Here is how it goes.
4 Simple Steps to Perform an HR Project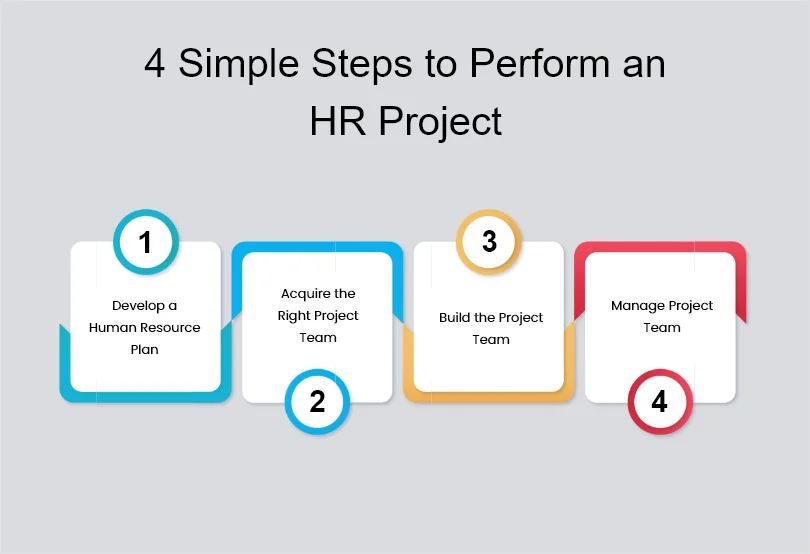 Follow these simple steps to streamline your HR processes and run projects successfully.
1. Develop a Human Resource Plan
Creating a human resource plan is initiated in the early stages of a project. It involves identifying and documenting various roles, responsibilities, required skill sets, and reporting relationships. Creating staffing management plans and assigning roles to multiple people or groups is also an essential part of this process. The output of this process is a comprehensive human resources management plan that involves:
Identifying the training needs
Devising team-building strategies
Establishing rewards and recognition programs
Deciding measures for ensuring safety and compliance
In essence, a human resources management plan offers guidance on staffing, management, forming teams, controlling all the stages of development, and finally, project release.
A well-planned human resources management plan conveys:
Authorities to monitor various tasks or persons
Competency details such as skills or capabilities required for project completion
Role clarities and tracking methods
One of the key components of an HR plan is the staffing management plan. It describes how and when the project human resources are met. It can be formal, informal, broadly framed, or highly detailed, depending on the project's needs. It also has information on staff acquisition, resource calendars, training needs, staff release, etc. Moreover, recognition or rewards after project completion, compliance with government policies, and safety assurance are also planned and decided in this stage of the human resource plan.
Another critical component is the project organization chart, a graphical display of the project team members and their professional relationships during the project lifecycle.
To manage the complex and strenuous project human resource management processes and their planning, various smart and intuitive software options are available. One such option is the ProProfs HR project management software. The tool is easy to use and configure and has many functionalities. This powerful aid can help project managers streamline human resource planning and manage their teams effectively.
For example, you can track all your job applications from a single dashboard. Also, you can prioritize applications with a simple drag-and-drop action.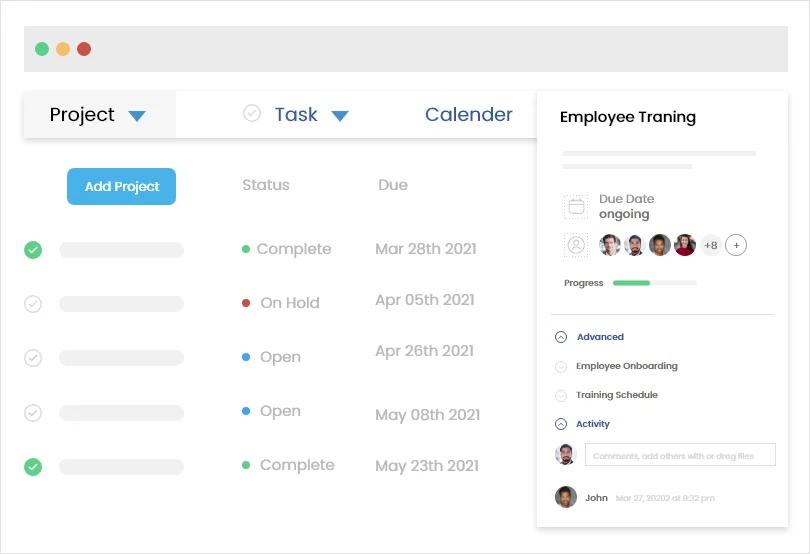 A tool's dashboard also allows for seamless collaboration with co-workers. Simply add a specific person in a comment, and they will be notified instantly. This feature promotes real-time communication and helps team members stay informed and engaged throughout the project's lifecycle.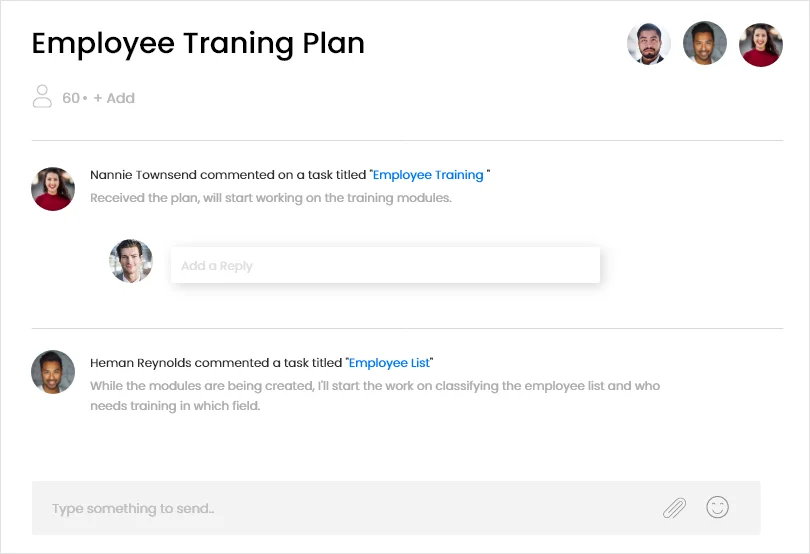 Additionally, if you struggle to extract key information on project and team performance, a tool's AI-powered project reports are all you need. A quick glance at these reports will lend you the visibility you want into how various HR projects are progressing.
2. Acquire the Right Project Team
In this process, the manager confirms human resource availability and collects the entire human resource necessary for project development.
Project managers must keep several factors in mind while acquiring the project team. They must:
Effectively communicate and negotiate with the sources of required human resources, especially if the acquisition includes freelancers or outsourcing.
Keep Plan B ready in case the acquired people or team fails to accomplish the assigned task for any reason.
Keep the alternative resources and people ready in case anyone leaves or is unavailable for some time.
To acquire the project team successfully, the manager employs techniques such as Virtual Teams, Acquisition, Negotiation, and Pre-assignment. These techniques ensure that the project team is efficiently and effectively assembled to meet the project's needs.
Once this process is complete, the manager receives several outputs such as:
Assignments of Project Team
Resource Calendars
Project Management Plan updates
These outputs are critical in managing the project team and ensuring the project is executed according to plan.
3. Build the Project Team
During this process, the competencies and interactions among the team members are established and enhanced to improve the project's performance.
The objectives of developing a project team are:
Enhancing the knowledge and skills of human resources involved in a project
Establishing trust and mutual agreement among the teammates
Enhancing the bonding of the teammates so that individual and team productivity is improved
To achieve these objectives, the project manager employs various team-building techniques such as enhancing interpersonal skills, organizing team activities, implementing rewards & recognition programs, establishing ground rules, and providing feedback to the team members.
4. Manage Project Team
This process covers the core managing aspects of project human resource management. So, it comprises providing feedback, tracking team, and individual performance, managing the changes, and optimizing the project performance.
During this stage, the manager should manage any evident or hidden conflicts, resolve the issues and observe the team's behavior.
The various objectives of this process are:
Updating the human resource plan to reflect any changes in the project team's composition or requirements
Submitting change requests to modify any aspect of the project plan that impacts the project team
Conducting performance appraisals to evaluate individual and team performance against the project's objectives and goals
Adding a "lessons learned" document to the organization's database to improve future project management processes and practices
Resolving issues that may arise during the project execution phase, such as conflicts between team members, resource constraints, or technical challenges
Speaking of conflicts, let's briefly look at how to handle conflicts while managing human resources.
Handling Conflicts While Managing Human Resources
When more than one person is involved in something, conflicts are bound to happen. This applies equally to human resource management in projects, as team clashes are inevitable in project progress. But this doesn't mean conflicts will stay forever and can impact the project negatively.
Different types of conflicts can be handled differently depending on the situation and the desired outcome. Primarily, there are five ways to handle conflicts across the lifecycle of a project.
Let's look closer at the modes of handling conflicts while managing human resources and planning various stages.
Withdrawal: Retreating from a potential disagreement situation.
Compromising: Bargaining and arriving at satisfactory solutions for the parties involved in a conflict.
Smoothing: Avoiding the differences and work, keeping the agreements in mind.
Confrontation: Handling conflicts directly and approaching a problem solution effectively.
Forcing: Exerting your viewpoint.
The major reasons for conflicts in an organization are schedules, technical resources, procedures, human resources, priorities, costs, and personalities. It's best to keep all these factors in mind to ensure conflicts can be avoided in time and tackled adequately when needed.
Now let's also look at some examples of HR project management to understand the workflow and process better.
HR Project Management Examples
Let's break down the different types of HR management processes and explore simple HR project management examples.
Hiring New Employees for Different Roles
Here is how it goes.
Initiation: Hiring new employees starts with identifying the need for a new employee. This could be due to growth, turnover, or a new project. The HR team will work with the hiring manager to determine the role, responsibilities, and qualifications required for the position.
Planning: Next, the HR team will create a job posting and determine where to post it to attract the right candidates. They'll also decide on the screening criteria and interview process. Here, the hiring manager will create interview questions and review resumes.
Execution: This is where the HR team and hiring manager review resumes, conduct phone screens, and interview candidates. They'll evaluate each candidate based on their skills, experience, and fit for the company culture.
Monitoring: Throughout the process, the HR team will keep track of the candidates' progress and provide updates to the hiring manager. They'll also stay in touch with the candidates to keep them informed of the process and answer any questions they may have.
Closure: Once the hiring manager has decided on the top candidate, the HR team will extend the job offer and negotiate the terms of employment. When this offer is accepted, HR will initiate the onboarding process to get the new employee up to speed and ready to start their new role.
And there you have it! Recruiting new members is a multi-stage that requires collaboration between the HR team and the hiring manager to find the best candidate for the job.
Optimizing Virtual Onboarding
Take a look at the process.
Initiation: The process starts with identifying the need for virtual onboarding due to remote work requirements. The HR team will work with the hiring manager to determine the best virtual onboarding approach based on the company culture and the new employee's needs.
Planning: The planning process includes developing an onboarding plan comprising the necessary equipment, technology, and resources required for the new employee to succeed. They'll also create an onboarding schedule that outlines the training, orientation, and introduction to team members and company culture.
Execution: In this stage, the HR team and hiring manager will work together to ensure the new employee can access all necessary equipment and resources. The employee will also be provided training on company-specific software or processes and introduced to their team members.
Monitoring: The HR will keep track of the new employee's progress and provide support and guidance as needed. They'll also solicit feedback from the new employee to make any necessary adjustments to the onboarding process.
Closure: For this, the HR team will provide ongoing support and resources to help the new employee integrate into the company culture without any hiccups.
Read More: Top 11 Challenges of Remote Working You Can Possibly Encounter
Hold Training & Development Programs
This is what the process looks like.
Initiation: This is where you identify the need for training and development within your organization. This may be prompted by a lack of skills or knowledge in a particular area or a desire to upskill your workforce.
Planning: In this phase, you'll want to identify the goals of your training program, the skills or knowledge you want to impart, and the appropriate training method or approach to achieve those goals. You'll also need to decide on the logistics of the training program, such as the location, duration, and cost.
Execution: This is the phase where you actually deliver the training program. Ensure that the program is delivered in a way that engages your learners. Also, ensure that they have the opportunity to practice and apply the skills or knowledge that they're learning.
Monitoring: During the monitoring phase, keep an eye on your learners' progress and the training program's effectiveness. You may gather feedback from your learners and adjust the training program as needed.
Closure: In this final phase, evaluate your training program's success against the goals you set in the planning phase. Document the training program and its outcomes so that you can use this information to inform future training programs.
Drive Business Growth with Streamlined HR Processes
Project human resource management is a critical function that helps HR managers plan, execute, and monitor everyday HR initiatives. You can achieve better business outcomes by building strong working relationships, optimizing daily HR processes, and prioritizing key objectives. Also, with the help of project management, HR managers can ensure that their initiatives are delivered efficiently and effectively, resulting in a more engaged, productive, and diverse workforce.
Not only can this lead to significant cost savings, but it can also improve overall business efficiencies.
So leverage the best HR practices and onboard an efficient HR project management system to ace your projects and see your business thrive!
---
Check out some frequently asked questions on project human resource management:
Q. What is the role of human resources in project management?
The human resource is of the utmost importance in project management as it is the sole driving factor in the process. Identifying the team members, talent and skill-sets, forming teams, assigning roles to them, and acquiring new talents or outsourcing – all these components are highly crucial for the project management and involve human resources. So, human resource is the heart and soul of project management.
Q. Why is human resource management so important during project execution?
Human resource management ensures:
Timely delivery

Successful project completion

Acquiring proper teams and developing them. so that project development is not affected

No delays or conflicts are encountered

Brilliant team members are lauded and praised

All the project activities are completed on time and milestones are not affected; and lots more
Hence, during the project execution, careful management of human resources is a must!
Q. What are the common roles in a human resource project?
The most prominent roles in a human resource project are as follows:
Identify the correct people required for project development and completion

Acquiring team with people having a variety of skill levels required for any project

Ability to comprise a team with members who complement each other and work with the united goal in mind

Analyze work history and educational background to complete the project properly

Ability to constitute a plan for the entire project lifecycle and allot human resources as well as other resources for the plan which is called resource calendar
Do you want a free Project Management Software?
We have the #1 Online Project Management Software for effective project management.