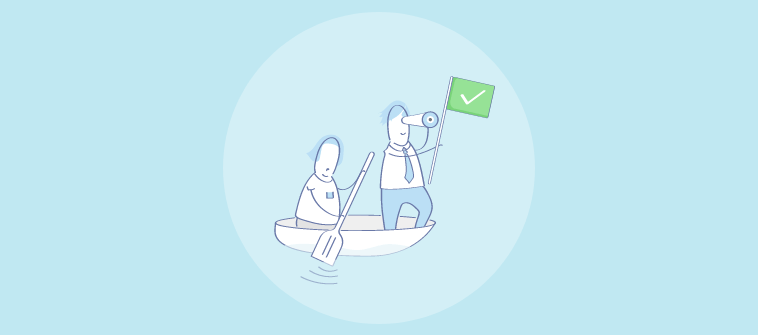 As a business manager, some of your goals may include completing the deliverables on time and within budget, checking project quality, and exceeding the last quarter's results.
But there's something not quite right with these goals that would prevent you from achieving them. These goals lack a clear-cut, measurable aim. No wonder it's hard to shoot at moving targets!
This is where SMART goals come in. These goals are quantitative and actionable and help drive a more significant impact.
Simply put, SMART goals are specific, measurable, achievable, relevant, and time-focused.
This blog will look at SMART goals, their benefits, and how to write them effectively. We will also look at some SMART goals examples to help you manage your projects better.
What Are SMART Goals?
The SMART acronym stands for:
S: Specific
M: Measurable
A: Achievable
R: Relevant
T: Time-Bound
SMART goals refer to goals that are transparent, measurable, and realistic. Also, these must be set for a specific time, i.e., you must achieve these within a predetermined time frame.
As someone leading a team, you must understand how to set these goals to extract the outcomes your organization aims to achieve. Note that your goals must not be vague, ambiguous, or without a clear timeline.
We'll learn more about SMART goals as we progress. Keep reading!
What Are the Benefits of SMART Goals?
1. Actionable Goals
When setting SMART goals, you outline how things will move forward from beginning to end. This roadmap defines the straightforward list of activities you wish to take to achieve the outcome. Thus, responsibilities are clearly defined, and work can move consistently.
2. Boost Team Collaboration
Vague goals may cause misunderstandings and miscommunication within the team. Think back to when a team member was unaware that a specific task was allocated to them? Or when the project outcome did not fulfill the client's requirements? There seems to be a clear case of poor team communication in both of these scenarios.
Team members did not communicate regularly, which led to outcomes that could have been reversed on time.
With clear-cut workflows and processes, while creating SMART goals, team members are more likely to connect and collaborate on work. This enables them to discuss tasks, address roadblocks, and attain goals faster.
3. Easily Track KPIs
Setting SMART goals implies that you work actively with key project metrics.
This way, you can track the real-time performance of your projects and teams, ensuring that you stay on track throughout the project lifecycle.
Take a scenario where your team members login 9 hours a day, but their work does not speak for the time put in. That's where you need to step in and motivate them to perform better. You may also have to provide them with the essential equipment or training to see visible results.
Thus, by setting SMART goals, you are better positioned to change the ongoing course of action and take steps to improve a lagging metric.
4. Better Sense of Direction
With a clear goal in sight, everyone involved in a project can work together towards a shared mission. Also, working with SMART goals gives team members a sense of accountability, gearing them to achieve work faster.
All in all, setting these goals helps eliminate overlapping work while overcoming ambiguity at the workplace.
5. Enables Time Management
While setting SMART goals, you give a timeline to every task. This helps team members work with clear deadlines, preventing task delays.
Also, you list urgent and important tasks as priorities. This ensures that team members first work on tasks that need immediate attention. This further enables you to manage time effectively.
6. Helps Identify Areas for Improvement
Since SMART goals are measurable, it helps us spot whether we need to improve our workflows and processes for better performance and outcomes.
Sometimes, you may need to prioritize new tasks midway through the project. Or you may have to remove resources from a project owing to over-allocation. These are needs or improvement opportunities that you may have to implement per the real-time demand of the project.
7. Helps Manage Workload
SMART goals ensure that you optimize resource allocation right from the beginning. This means there are fewer chances of facing resource shortage midway through the project.
Resource management also ensures that no resource is either underutilized or overworked at any given time.
By now, you may have a fair idea of the benefits of SMART goal planning and implementing the SMART goal framework for your projects.
Read Also: 15 Best Workload Management Tools for Teams in 2023

How to Write a SMART Goal?
Wondering how to write precise and relevant goals? Don't worry. We're here to help!
Here's a rundown of what each letter in the SMART Acronym stands for.
S: Specific
The goals you set must be specific. Why? Because if your goals are wide-ranging, trying to cover a plethora of business goals with one project may soon become overwhelming.
Your goals must be such that they answer these three questions:
What needs to be accomplished?
Who's responsible for achieving the results?
What steps are required to achieve it?
The answer to these questions will frame your project's roadmap or action plan.
M: Measurable
Smart goal planning is only effective when you can measure results. The key metrics of a project help gain insight into how successful a project is.
The metrics you set for analyzing success can vary from project to project. You can measure results by quantifying the time taken to complete a goal, analyzing the number of milestones achieved in time duration, etc.
Remember, the following factors should answer the benchmark you set for measuring your goal:
How much do you aim to improve?
How well do you wish to perform?
Which tasks do you want to get done by the end?
For example, if you're managing a software project, you can measure the goal by analyzing the number of bugs you solve in a week. If you're managing a marketing agency, you can measure your goals by evaluating the number of clicks your email got.
A: Achievable
You create a smart goal to achieve your larger business goals. Once you specify and measure SMART goals, you must know how to achieve them.
Do you have a reliable system to track your progress?
Will you be able to finish work within the defined timeline?
Will you require more resources to accomplish the tasks?
These are some questions that you must contemplate before establishing realistic goals.
Yes. We understand it isn't easy to track the results while you're also managing everyday project tasks and activities. And that is precisely where good project visualization and goal-setting software comes in.
The right tool offers interactive Gantt charts and Kanban boards that enable you to set up your project dashboard and make the work trajectory easier.
Let's see how you can create, track, and achieve your tasks in ProProfs Project.
Step 1: Click on the 'Project' tab to add a new project. Then click on '+Add Project.'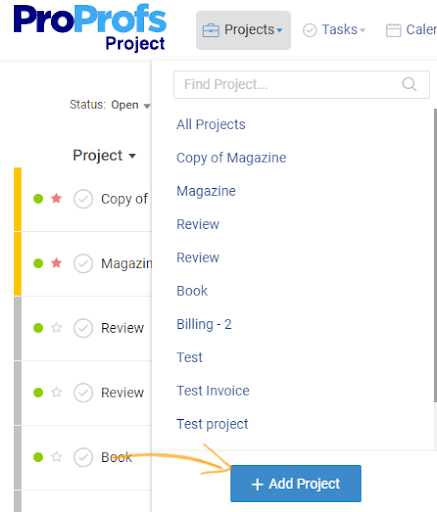 Fill in the details. Enter the project's name, description, due date, tags, and users assigned to the project. You can also edit the Advanced settings as per the need.
Next, you add tasks to the project. Refer to this video to learn how to add a task and other details.
You can also create subtasks within tasks for more convenience. Further, you can set dependencies within tasks.
This will help team members store all task information in a centralized space, enabling better efficiency at work.
Now that you have set your dashboard, you must also delve into how you can track project progress in real time.
You can visualize a Gantt chart to get a high-level view of all your tasks in one place.
This is an example of a Gantt chart view.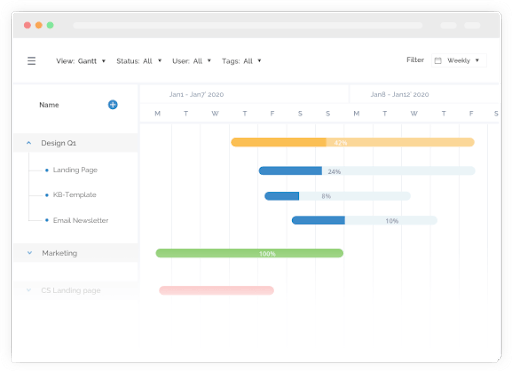 This Gantt chart depicts all the tasks and subtasks of a project. The horizontal bars display the timeline of a task and the progress made within each.
You can also switch to a Kanban view to get a detailed picture of your tasks.
This is an example of a Kanban board view.

This Kanban board lays out the task cards under each workflow. The task cards display information about the task title, due date, file attachment, task progress, and much more. Looking at this, you quickly understand which task is at which stage of completion.
You can also refer to a tool's List and Calendar views if you want more project visualization options. Together, these views also help you spot potential roadblocks so that you can take proactive steps to dodge them on time.
Lastly, you can watch this quick video to learn how to choose the best software for your needs:
Read Also: Project Management KPIs to Track in 2023

R: Relevant
While setting up your smart goal framework, consider the following:
Is the project goal aligned with the overall organizational goals?
Is your team ready to work together toward a common goal?
First, your project goal must not cater to a need that does not contribute to fulfilling the broader organizational goals. If they do, they might either be irrelevant or even contradictory. Thus, set goals that help attain the organizational goals faster.
Second, determine whether your team members have the relevant resources, equipment, and skills to achieve set goals. This will help you examine whether the goals that you select are attainable. Because only when the team members are prepared to give their best towards a common purpose will they be able to accomplish success effectively.
Simply put, your team must direct their efforts to a relevant goal. The relevancy defines the importance of goal setting and leads you on the right path.
T: Time-Bound
A key component of setting SMART goals is defining a fixed time interval within which you wish to achieve a goal.
A goal can be specific, achievable, measurable, and relevant, but your efforts are up for a toss if you fail to define an accurate timeline for reaching your goal.
Thus, refer to similar projects that you and your team accomplished previously and integrate lessons learned while defining a timeline for your project.
And that's all! That's how you effortlessly move step by step to set SMART goals.
Read More: Project Management KPIs to Track in 2023

SMART Goal Examples
Now that you're familiar with SMART goal setting, we can enlighten you with a few examples for better understanding.
Here we go!
If you manage a project, you must be setting goals already. Know what will make a difference? Yes. Making them SMART!
Look at these examples:
| | |
| --- | --- |
| Goal | SMART Goal |
| I want to increase my sales. | I want to double my sales within the next six months. |
| I aim to improve team efficiency this quarter. | This quarter, I aim to upskill my team with skills like time management, introduction writing, and official communication etiquette. |
| I will increase my lead conversion rate. | I will integrate a chatbot tool within ten days for people who reach out through the website. This way, I will have more time on my hands and can give better attention to customers, leading them to become our customers! |
| I will eliminate team burnout. | I will adopt a time-tracking software within a month or two. This will help me track which tasks are taking up more time and enable me to delegate work optimally such that no team member faces burnout to complete a task within the deadline. |
| Prepare for product launch. | Prepare a launch checklist of tasks, deliverables, due dates, and stakeholder approvals. |
| I'm going to launch a mobile app. | I'm going to launch a marketing campaign to create awareness around my product's mobile access. I should be able to develop the app by the 3rd quarter and record over 10K+ installs within two weeks from launch. |
We hope these examples help you understand the SMART concept better, keeping you one step ahead of the curve.
Read More: Common Project Risks and How EPM Software is a Great Solution

Set SMART Goals for Improved Project Management
So that is how you make your goals truly smart! Setting SMART goals helps you define achievable tasks and work on them with a specific timeline in mind. Without a fixed timeline, you may set out to achieve your month-long goal in more than three months! Yes. That does not sound very impressive!
Also, note that your SMART goals should be limited. You must refrain from integrating every task objective into the broader business goal. After all, don't forget – SMART goals are specific, measurable, achievable, relevant, and time-bound.
Now, get set to create your SMART goals and reach them earlier than expected!
Do you want a free Project Management Software?
We have the #1 Online Project Management Software for effective project management.