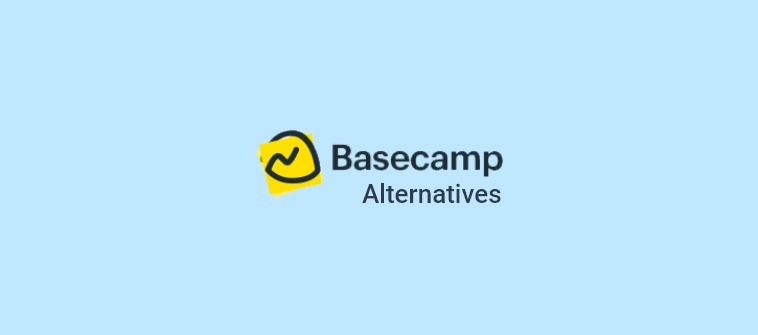 Are you in search of the best Basecamp alternatives that hold the potential to transform your project management etiquette for assured project success?
Well, you're at the right place then!
Basecamp is an excellent tool that allows team members to collaborate seamlessly to get work done faster. It is simple to navigate and provides solid task management capabilities.
But guess what? It falls short on some key features that are essential for managing projects. It fails to offer time tracking to track employee productivity and create accurate invoices. It also does not let you customize your workflow the way you want, making it impossible to handle agile projects. Moreover, it lacks adequate project views to monitor project progress.
The lack of these features can be enough reason for you to switch to another project management tool for managing project tasks and activities.
But, don't worry.
We're here to help you discover the best project management solution for your unique project and team needs so that you can deliver your best work effortlessly.
So, let's dive in and look at the top alternatives to Basecamp along with their key features, advantages, and disadvantages.
What is Basecamp Software?
Basecamp is a project management and collaboration tool that helps manage multiple projects on a single platform. It lets you schedule tasks, assign users, and deliver projects regardless of where your team members are located. You can collaborate with team members instantly via message boards, group chats, and more.
Choose Basecamp for: Collaboration features, Ease-of-use
3rd party integrations allowed: Yes
Basecamp Suited for: Small businesses, Personal projects, Remote teams
Case Study:
Not applicable.
Why look for Basecamp Alternatives?
Basecamp lacks some key features that can hamper project execution and lead to frequent project delays or even failure. This can undeniably send you looking for an alternative software for Basecamp.
Let's look at the tool's drawbacks below.
A. No Time Tracking
Basecamp does not come with a time tracking feature. Wondering why you need a time tracking feature while managing projects?
Well, did you know that nearly 90% of staffers admit to wasting a lot of their work hours on unproductive activities.
So, how can time tracking help?
Time tracking provides accurate and reliable information on how your team members are spending their work hours. It tells you which tasks they are working on and how much time they take to complete those tasks. This proves as an effective way to track team productivity right from the tool's dashboard. Besides, time tracking also lets you in on an employee's exact billable and non-billable hours, enabling you to create accurate invoices for client billing easily.
Read More: Top 25 Time Management Software to Grow Your Business
B. Inadequate Project Customization
While handling projects, you encounter changes in the project objectives that may require you to tweak the workflows in real-time.
For example, you might have to prioritize a particular task or assign a task to a different team member depending on their workload. To do this, you need solid customization options that allow you to alter the project workflow in just a few clicks.
Basecamp does not provide good options for customizing project workflows, leaving you confused as to how to run projects while managing changes. This may prove to be even more cumbersome if you're dealing with agile project management, throwing you off the set path.
C. Limited Project Views
If you're looking to track your tasks and projects while managing them from one place, then Basecamp is not the right fit for you. Basecamp does not provide multiple views that you can use to track tasks wherever you are. Its popular Hill chart view is great but not the best when it comes to tracking tasks and projects.
So, if you want a tool that allows you to monitor your projects to deliver them successfully, switching to an alternative tool is your best bet.
The Features That Basecamp Alternatives Must Have
While basecamp may be apt for small and personal businesses, it may not be suitable for businesses on the other side of the coin.
So, if you're looking for more advanced features in a tool, then here are some key features that you should consider in Basecamp competitors.
Workflow customization options to create, assign and prioritize tasks on the go
Time tracking capabilities to monitor team productivity and create hassle-free invoices
Workflow automation for recurring or time-consuming tasks
Managing multiple tasks and projects from one easy-to-use platform
Solid team collaborative features such as messaging and file sharing
Gantt charts, Kanban boards, Calendar views
Actionable reports to track key project metrics
Our Selection Criteria for Alternatives to Basecamp
We have done all the heavy lifting to bring to you the very best tools that befit being an alternative to Basecamp. We have adhered to strict criteria to identify the best alternative to Basecamp.
a. Key Features:
Apart from offering basic Basecamp features, the tool must also offer advanced project management and collaboration features such as time tracking, project views, and project reporting.
b. Minimum of 20 user reviews on credible SaaS platforms:
First-hand user experiences provide insight into a tool's efficacy. Look for reviews on top SaaS platforms such as GetApp and Capterra.
c. High 'likelihood to recommend' rating:
Ensure that a tool boasts a high 'likelihood to recommend rating. This will help you grasp whether a tool worked for most users or not at a glance.
d. Ease of Deployment:
Extensive training for employees that takes up several days may end up costing you considerable time and money. This is why you need a tool with a minimal learning curve and easy deployment that can be easily integrated into your existing processes, without putting your operations on hold for a long period of time.
e. Instant vendor support:
Support provided at the time of onboarding a tool is not enough. A tool's vendor support must be extended as long as the user is using the tool. Also, the support system must be quick to respond to the user's query.
f. Affordability:
Evaluating the pricing model of the tool is essential to finding an affordable solution. The tool should have a transparent pricing structure with no hidden costs involved. This prevents any budget overruns and helps you obtain the maximum value for your money.
Read More: How to Choose the Best Collaboration Software for Your Organization
What are the Best Basecamp Competitors?
We have researched hundreds of tools and narrowed down the list of the top alternatives to Basecamp for you. You can go through these Basecamp competitors and choose a tool that suits your team best.
List of Alternatives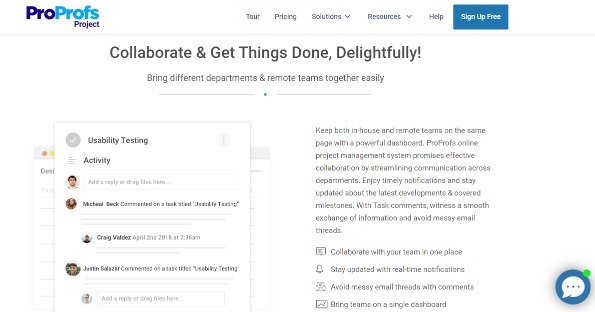 ProProfs is a feature-packed tool that offers solid task management capabilities for managing agile projects. It provides a platform that lets you discuss ideas and tasks via instant messaging and give instant feedback via task comments for seamless collaboration. Its reporting ability helps you gain insight into project progress and team performance with just a few clicks.
Key Features of ProProfs Project:
Solid task management capabilities
Dashboard customization to adjust project workflows
Time tracking ability to monitor team performance
Actionable insights into project progress
Multiple project views such as Gantt charts, Kanban boards, and more
Milestone tracking to stay on track throughout the project
Seamless collaboration via instant messaging, task comments, and file sharing
Pros
Cons
1. Create project schedules and prioritize tasks within minutes
2. Easy workflow customization
3. Interactive project views, i.e., Gantt charts, Kanban boards, Calendar view, and more
4. Task automation for recurring tasks
1. It offers very basic third-party integrations.

2. The mobile application needs a revamp
Pricing:
Basic plan starts from $2 per month for 1 user.
Choose it for: Task management, Multiple project views
3rd party integration allowed: Yes
Suitable for: Small businesses, Large organizations, Remote teams
Case Study:
Joshua Latha, the owner of Pxlvue, a boutique post-production studio, was on the lookout for a simple project management tool that would help reduce time spent on tracking shoots and notify clients about project progress. Also, he wanted a solution that offered calendarized timelines, easy invoicing, and automated email notifications.
With ProProfs, Joshua is able to schedule his projects and stay organized throughout. He is now able to track his daily schedule with ease. Also, vendor support is quick and convenient. Moreover, both his creative teams and clients love using the tool.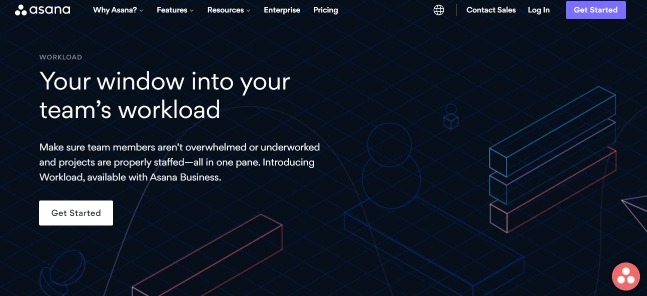 Asana, being one of the popular Basecamp competitors, is a feature-rich project management tool. It provides team members a platform where they can collaborate to manage their projects with ease. You can set up multiple projects and track them using Asana's list and board views. Its task management capabilities let you plan, create, organize, and prioritize tasks easily, making it perfect for managing remote and distributed teams.
Key Features of Asana:
Dashboard customization to alter project workflows
Workload view to optimize resource management
Unlimited tasks, projects, and dashboards
Milestone tracking to stay on track
Pros
Cons
1. An easy-to-use interface
2. Organize and track multiple projects on a single platform
3. Seamless collaboration within teams
4. Get reports that help monitor team efficiency
1. Lacks good time tracking ability

2. Not apt to handle multiple complex projects
Pricing:
Basic – $0
Premium – $13.49/user/month
Business – $30.49/user/month
Choose it for: Task management capabilities, Remote team management
3rd party integration allowed: Yes
Suitable for: Small businesses, Personal projects, Remote teams
Case Study:
When Gregory Daniels joined as a project manager at Zoom to lead IT project and program management teams, teams were struggling to collaborate through various mediums like spreadsheets, emails, and work management platforms. The uncoordinated activities just weren't working for them.
Greg began searching for a tool that would unite technical and business teams, boasting seamless Jira integration, and allow different teams to follow unique workflows.
With Asana on board, they found everything that they were looking for. They have been able to centralize all work, helping everyone in the organization stay on the same page with everyday progress. With easy collaboration and Jira integration, they are delivering projects much faster. Now, they are able to save 133 work weeks per year and connect technical and business teams in one platform.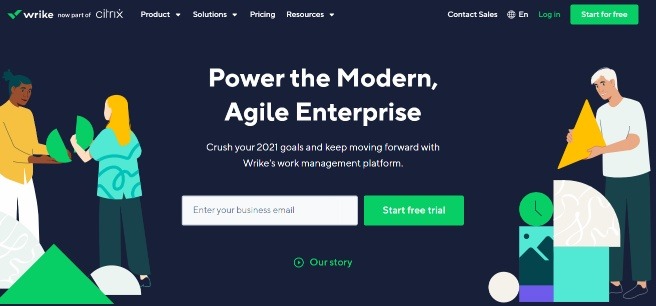 One of the prominent alternatives to Basecamp, Wrike helps bring team members together and deliver multiple projects without a hitch. It lets you hit the ground running with its professionally designed project templates. Within minutes, you can tweak the project and task names and get started with a ready project layout. Also, its customizable reports help gather key project information and make informed business decisions easily.
Key Features of Wrike:
File management for organizing files
Activity dashboard to track who is working on what
Forms and requests to fulfill project tasks
Task prioritization for tasks and subtasks
Pros
Cons
1. Role-based resource management ability
2. Visual timelines to track project progress
3. Real-time project reporting for informed decision making
4. Comments and notes for easy access to project information
1. Setting up projects initially can be complicated

2. Customer support needs to be improved
Pricing:
Free – $0
Professional – $9.80/user/month
Business – $24.80/user/month
Enterprise – Available on request
Choose it for: Project views, Collaborative features
3rd party integration allowed: Yes
Suitable for: Large organizations, Enterprises
Case Study:
Monumental Sports & Entertainment, one of the leading sports and entertainment groups in the United States, was facing project and team management challenges. They had no tool that could help them gain insight into team performance. They also wanted a design-specific tool that would help them manage the creative request process.
Wrike proved to be the right solution for their needs. It helped them centralize every step of the creative process and streamline incoming requests, bringing clients and designers together to deliver projects faster. Designers are able to gain better visibility for their assignments and priorities, gaining a better understanding of what the overall progress is and what needs to be done.
Read More: Top 10 Wrike Alternatives for Easy Project Management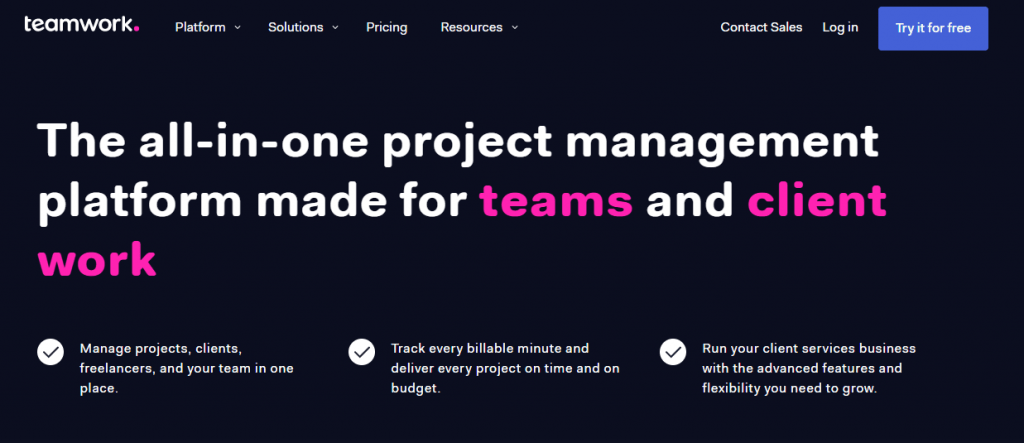 If you are looking for a tool for managing teams to complete projects on time and within budget, then Teamwork is just what you need. It provides a collaborative space where you can create tasks, assign resources, and track tasks effectively to hit your goals faster. It lets you organize all your work in an easy-to-access space, leading multiple projects to the finish line easily. Also, the tool's powerful dashboard can be customized to suit unique project requirements.
Key Features of Teamwork:
Messages to collaborate instantly
Milestone tracking to track progress
Time tracking to create accurate invoices
Resource scheduling for optimized project management
Pros
Cons
1. Integrated team chat to discuss ideas and projects
2. Ready-to-use project templates
3. Custom fields to suit project needs
4. Gantt charts to track overall progress
1. Need more advanced customizations

2. Reports are not very insightful
Pricing:
Free Forever – $0
Deliver – $12.25/user/month
Grow – $22.5/user/month
Scale – Available on request
Choose it for: Resource management, Team collaboration
3rd party integration allowed: Yes
Suitable for: Small businesses, Personal projects
Case Study:
Ohio (USA) based boutique web agency, ipsoCreative offers effective web aesthetics and leads edge functionality on open source technology.
The team at ipsoCreative wanted to ease client communication and deliver projects on time. For this, they adopted Teamwork. With Teamwork, they were able to enhance team functionality. It helped chase complicated workarounds with a system that improved workflow efficiency. The team now shares an easy-to-access project workflow with clients with scheduled tasks and milestones. Also, they are able to customize the workflow when needed and keep clients in the know always.
Read More: 17 Best Team Management Software for 2022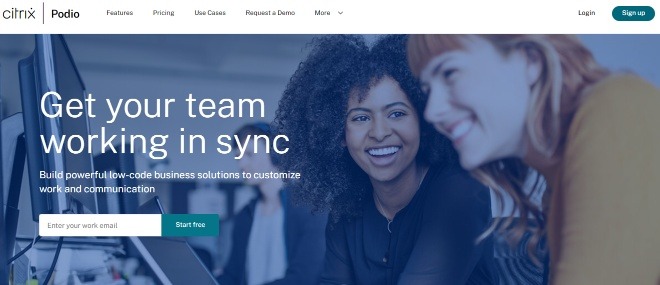 Podio is a feature-packed project management tool for managing and collaborating with team members across departments. It offers transparency into project workflows, enabling coordinated team activities and aligned team efforts. You can easily structure your workflow by creating tasks, allocating resources, and setting task deadlines within a few clicks. Also, you can customize the dashboard and choose the features you like most.
Key Features of Podio:
Built-in chat to connect with team members
Filters for easy access to required information
Post a comment and get task status instantly
Mobile application to stay updated on the go
Pros
Cons
1. Get an overview of all your task status and deliverables in one place
2. Project documentation for future reference
3. Effortless task management across projects
4. Automated workflows to offload tasks that do not require dedicated expertise
1. Frequent lagging issues

2. Lacks good third-party integration
Pricing:
Free – $0
Basic – $9/month
Plus – $14/month
Premium – $ 24/month
Choose it for: Workspace dashboard, Project scheduling
3rd party integration allowed: Yes
Suitable for: Small businesses, Personal projects, Remote teams
Case Study:
Not applicable.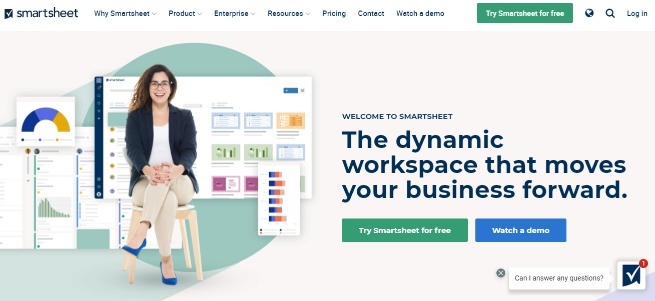 Smartsheet is an excellent tool for managing teams and projects. It helps visualize all the moving parts of your projects in one place and accomplish projects sooner than expected. Also, getting started with its professionally designed templates is a quick and easy way to begin your projects within minutes. Moreover, its performance reporting ability lets you gain key insights to improve team performance.
Key Features of Smartsheet:
Grid, card, calendar views to map progress
Activity dashboard to track task status
Management dashboard to schedule tasks and assign users
Task comments and file sharing with team members and stakeholders
Pros
Cons
1. Flexible tool, ideal for teams of all sizes
2. Interactive project views to always stay up-to-date
3. Capture key project data with customizable forms
4. Seamless team collaboration
1. Needs a user-friendly upgrade

2. Not ideal for handling complex projects
Pricing:
Pro – $7/user/month
Business – $25/user/month
Enterprise – Available on request
Choose it for: Project views, Task management
3rd party integration allowed:
Suitable for: Small businesses, Large organizations
Case Study:
Domino's, a popular food chain, with its operations in over 86 global markets, often had to deal with information overload. Also, many times the same information was being sent out multiple times, leading to chaos and confusion across its corporate offices.
After switching to Smartsheet, Domino's has been able to streamline marketing operations and simplify cross-functional collaboration across its offices and franchises.
The team at Domino's is now able to share timely updates and alerts both with its corporate employees and its franchise owners. Improved visibility into scheduled tasks and activities has enabled everybody to get more done in less time without putting in too much effort.
Freedcamp is one of the best basecamp alternatives. Its Gantt charts and Kanban boards allow you to get a bird's eye view of all your projects and tasks in one place. So, whether you want to manage people, processes, or projects, Freedcamp is a platform that will help you achieve all this and more. Also, its time tracking ability makes client billing a breeze.
Key Features of Freedcamp:
Track issues and manage projects easily
Set up milestones and deliver projects on time
Store documents in an easy-to-access 'Wiki'
Impressive third-party integrations
Pros
Cons
1. Set up personal tasks as private
2. Create custom widgets for easy accessibility
3. Save hours with ready-to-use templates
4. Split a project into tasks and subtasks for easier management
1. Does not have an intuitive interface

2. Steep learning curve
Pricing:
Free – $0
Pro – $1.49/user/month
Business – $7.49/user/month
Enterprise – $16.99/user/month
Choose it for: Workflow management, Smart templates
3rd party integration allowed: Yes
Suitable for: Small businesses, Personal projects, Remote teams
Case Study:
Not applicable.
Read More: What is a Project Charter? How to Write It (Examples Included)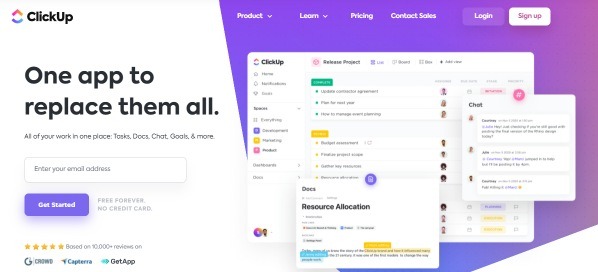 ClickUp, a free alternative to basecamp, offers a dynamic workspace for projects across industries, be it marketing, HR, product development, or software development. Backed by solid reporting capabilities, the tool is perfect for agile project management. Using ClickUp, you can easily organize projects and delegate tasks to team members. Moreover, the tool lets you adjust work schedules on the go, allowing you to quickly adapt to changing project requirements.
Key Features of ClickUp:
Customizable tasks for ever-evolving projects
Real-time chat for instant collaboration
Workflow automation to ease project management
Time tracking to monitor team performance
Pros
Cons
1. Mind maps and whiteboards to plan and organize project tasks
2. 20+ project views to track progress
3. Easily customizable dashboard
4. Excellent to manage simple as well as complex projects
1. High learning curve

2. Needs better reporting capabilities
Pricing:
Free Forever – $0
Unlimited – $5/member/month
Business – $9/member/month
Business Plus – $19/member/month
Enterprise – Available on request
Choose it for: Workspace customization, Project visualization
3rd party integration allowed: Yes
Suitable for: Large organizations, Enterprises, Remote teams
Case Study:
Mindshare Digital is a boutique thought leadership marketing agency. It helps people brand and market their products or services.
Prior to implementing ClickUp, the agency was using Todoist. But, they soon realized that they needed a tool that is built for handling complex projects across teams and departments. Also, ToDoist did not cater to their remote team members, making collaboration a difficult task in itself. Moreover, the tool did not offer Custom Statuses for tasks.
After implementing ClickUp, they were able to address all of their concerns. They found the solution to all their project management hiccups in one place – ClickUp! Now, with ClickUp, they have access to advanced features such as Custom Statuses, assigned comments as tasks, and time tracking.
Also, their team has established 'Spaces' based on team functions or the clients that they are working with, which helps them create and track a structured workflow to accomplish projects on time.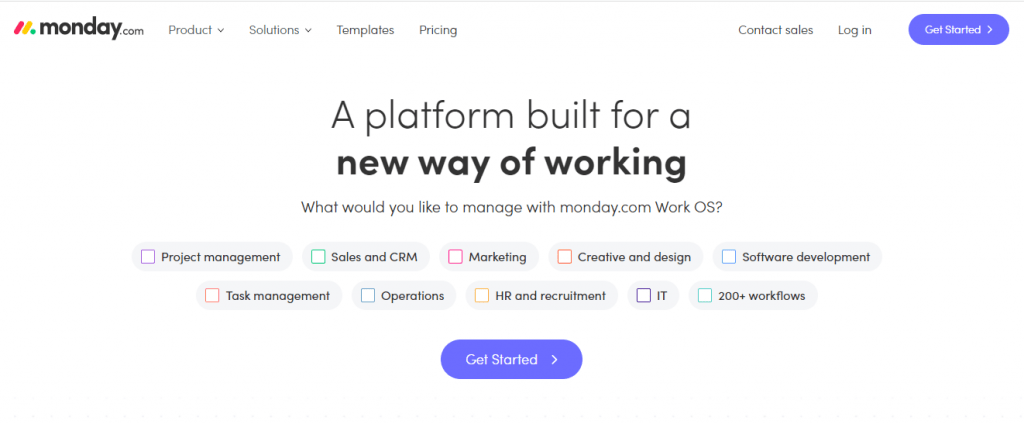 monday.com is a flexible and versatile project management tool, ideal for managing projects across cross-functional teams and departments. Its project views offer full visibility into everyday project tasks and activities right from the tool's dashboard. Built for high-performance teams, it offers advanced features that allow you to scale your projects at ease. Its simple and intuitive interface allows you to set up your project and get started in minutes.
Key Features of monday.com:
Built-in time tracking
Third-party integrations to sync project data
Timeline and Gantt views to track progress
Task automation for time-consuming tasks
Pros
Cons
1. Impressive data visualization to stay up-to-date with project progress
2. Seamless team collaboration
3. Advanced reporting and analytics
4. Mobile application to manage projects on the move
1. Complex to navigate for beginners

2. Doesn't offer good options to customize alerts and notifications
Pricing:
Individual – $0
Basic – $24/month
Standard – $30/month
Pro – $48/month
Enterprise – Available on request
Choose it for: Powerful project dashboard, Increased task visibility
3rd party integration allowed: Yes
Suitable for: Large organizations, Enterprises, Remote teams
Case Study:
Yaav Banai, Vice President of Customer Engagement at a leading music streaming service, Deezer, found it chaotic to collaborate with cross-functional teams. As the company grew, managing projects and finding information that they were looking for in Google Suite with Google Slides and Google Sheets became increasingly difficult. Consequently, it was hard to figure out the status of any task.
He and his team found monday.com to be great for managing projects and collaborating with each other. It helped increase project transparency and improve team communication for better efficiency. Yaav was able to bring biz dev teams together from around the world and streamline work across the organization. Also, with monday.com, it became easier to track project progress from anywhere and anytime.
Read More: 16 Best Visual Project Management Tools for 2022

Mavenlink is a robust platform to align all team members on a single source of truth. It offers a simple way to coordinate all your project activities in one place. Its automation capabilities allow you to replace manual processes, enabling you to save time and work on only the most important tasks. Also, its 'project pulse' feature provides real-time insight into project status no matter which device you are on.
Key Features of Mavenlink:
Robust automation engine for project workflows
Reports that offer actionable insights into project performance
Track billable and non-billable hours
Public and private communication
Pros
Cons
1. Powerful resource management for best resource optimization
2. Real-time project monitoring with project reports
3. Visualize and customize project data
4. Create, assign, and track tasks with ease
1. Third-party integrations can be enhanced

2. Custom reporting can be worked upon for better project insights
Pricing:
Available on request
Choose it for: Project visibility, Reporting capabilities
3rd party integration allowed: Yes
Suitable for: Small businesses, Large organizations, Remote teams
Case Study:
The team at Huge Inc, a digital agency, was using a project management system that did not allow the company to scale at ease. It limited efficiencies across a variety of processes.
After adopting Mavenlink, the team was able to extract real-time data on projects, enabling better decision making. It was able to standardize business processes which led to enhanced efficiency across the organization. Also, with Mavenlink, Huge could get easy access to project information, eliminating the need to spend hours to compile project data.
Comparison of Best Alternatives of Basecamp
Here, let's look at the key features of alternatives to Basecamp.
| Software | Price (starting price per user per month) | Time Tracking | Multiple Project Views | Workflow Customization | Task management | Collaborative features | AI-powered Reports |
| --- | --- | --- | --- | --- | --- | --- | --- |
| Basecamp | $0 | No | No | No | Yes | Yes | No |
| ProProfs Project | $2 | Yes | Yes | Yes | Yes | Yes | Yes |
| Asana | $0 | No | Yes | Yes | Yes | Yes | Yes |
| Wrike | $0 | Yes | Yes | Yes | Yes | Yes | Yes |
| Teamwork | $0 | Yes | Yes | Yes | Yes | Yes | No |
| Podio | $0 | Yes | Yes | Yes | Yes | Yes | Yes |
| Smartsheet | $7 | Yes | Yes | Yes | Yes | Yes | Yes |
| Freedcamp | $0 | Yes | Yes | Yes | Yes | Yes | Yes |
| ClickUp | $0 | Yes | Yes | Yes | Yes | Yes | No |
| Monday.com | $0 | Yes | Yes | Yes | Yes | Yes | Yes |
| Mavenlink | Available on request | Yes | Yes | Yes | Yes | Yes | Yes |
Final Verdict: Which Basecamp Alternative Should You Go For?
Basecamp is an outstanding tool that allows you to:
Manage projects and teams on one platform
Collaborate with team members instantly
Create project schedules
Get alerts and notifications
Store and share files with clients and stakeholders
If you wish to go ahead specifically with a team collaboration tool, then you may want to choose Asana or Teamwork.
But, if you're looking for a tool that offers more advanced features along with solid project management and collaboration capabilities, then ProProfs Project is one of the Basecamp alternatives that should work for you.
This project management solution provides an all-in-one platform for managing multiple teams and projects effortlessly. It offers much more than just key Basecamp features such as instant messaging, file sharing, and task management. You can create project schedules, assign resources, and define task deadlines in just a few minutes. The tool's additional features are time tracking, multiple project views, workflow customization, and AI-powered reports, making it just the 'right project management solution' for you and your team.
Do you want a free Project Management Software?
We have the #1 Online Project Management Software for effective project management.