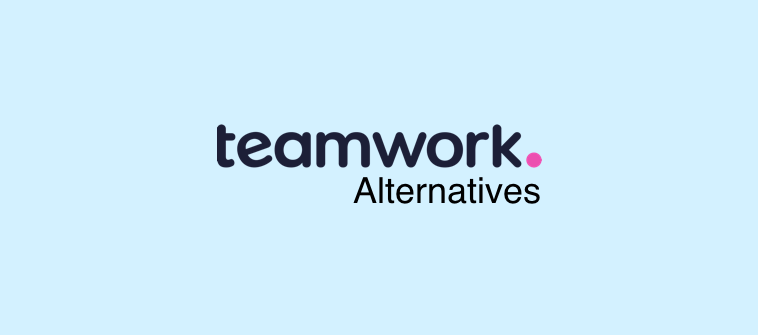 When talking about great project management software, Teamwork is the most popular choice. It is simple enough to be widely adopted and powerful enough to be the only platform you need to successfully deliver multiple projects with cross-functional teams. The tool is customizable and has everything that robust project management software should have.
But, let's be real. The tool's features might not befit every business' needs. While pricing may concern some users, its mobile application may be too cumbersome to use for others. Users often complain about its complex display. Moreover, its steep learning curve is a deal-breaker.
So, how do you zero in on a Teamwork alternative that incorporates its benefits and compensates for its shortcomings?
Well, we're here to help you navigate through the best alternatives of Teamwork that you can choose from to suit your business requirements.
Before we start exploring the alternatives and their best features, we'll quickly go through Teamwork in brief. Let's dive in.
What is Teamwork?
Teamwork is an agile project management tool that's designed to be flexible and versatile. Its impressive collaborative and time tracking features along with easy resource scheduling capabilities are ideal for managing projects across teams and departments. It lets you handle multiple complex projects independently, allowing you to scale your business effortlessly.
Why Look for Teamwork Alternatives?
Between 2017 and 2018, the percentage of organizations using spreadsheets to manage their agile projects dropped from 74% to 67%. Instead, these organizations moved to specialized PM tools.
A specialized project management tool such as Teamwork is excellent for handling cross-functional teams and visualizing the entire project life cycle. While it may be a feature-rich tool, it might not be the best fit for every business. The tool has some limitations. Let's look at a few of them.
Users find Teamwork's display too cluttered and complicated. Unable to visualize project information at a glance, extracting project data and analyzing the pace and progress of the project is inconvenient.
Also, for users who may not be part of the team like clients, vendors, etc., the interface is complex and challenging to navigate.
Moreover, the tool's mobile version is not as user-friendly as the web. The search functionality is flawed.
Another limitation is Teamwork's non-flexible pricing. Though it comes with a Free Forever Plan, its non-flexible pricing for higher updates may be a concern for many.
If you are looking for a Teamwork alternative, the chances are that you must have encountered the above limitations while using the tool. But, you needn't worry because we have also collated a comprehensive list of the best Teamwork competitors that you can choose from to suit your project requirements.
The Features Teamwork Alternatives Must Have
While looking for a Teamwork alternative, there are a few features that the alternative tool must offer to match up and exceed the expectations of a robust project management tool.
Here are a few must-have features to look out for.
Quick task creation and resource allocation
Automation capabilities for workflow efficiency
Seamless document sharing ability to share files, images, videos on the go
Insightful reports for better decision making
Customer support for 24/7 reliability
Easy customization as per unique team requirements
Multiple views to access information at a glance
Our Selection Criteria for Teamwork Alternatives
Selecting an alternative tool is challenging and no less than crossing a rocky terrain. But, don't worry.
We have a few features narrowed down for you that you must consider while choosing a Teamwork alternative.
Let's take a look at the features that made it to the list.
1. Core Features
A Teamwork alternative should comprise of advanced project management features such as collaboration, scheduling, automation, and workflow management.
2. Listed on Top Review Sites
The alternative should be featured on popular software review sites such as Getapp, SoftwareWorld, and Capterra. It brings credibility to a tool.
3. Recent & Honest User Reviews
Make sure that the reviews are genuine and recent. Consider a minimum of 10 user reviews for the tool that you select. These will familiarize you with a tool's pros and cons.
What Are the Best Teamwork Alternatives?
The best Teamwork alternative is a tool that offers the core Teamwork features and has proven reliability owing to being recommended by top software review sites. The tool should be user-friendly and easy on the pocket.
List of Tools Like Teamwork
Let's now quickly look at the best Teamwork alternatives along with their features, pricing, pros, and cons.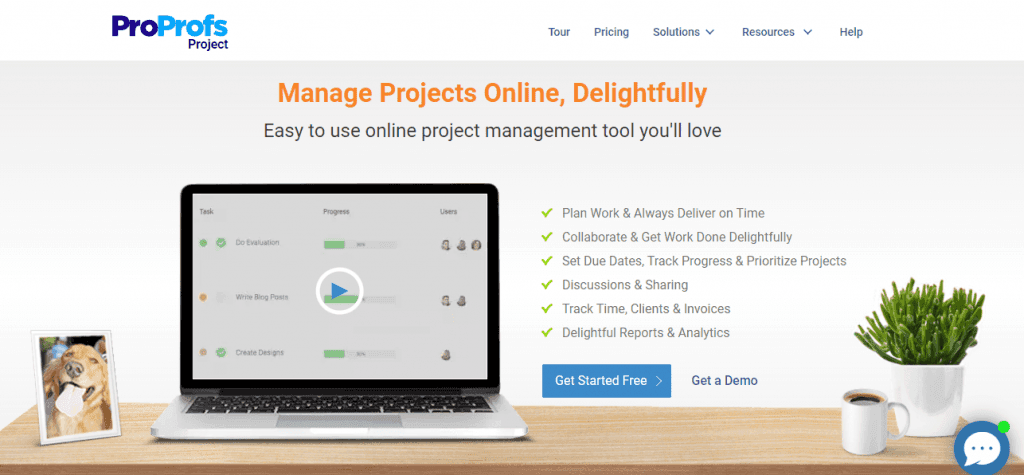 ProProfs Project is a great Teamwork alternative. It is a feature-rich tool that promises effortless project management with its super intuitive interface. Being an intuitive tool, its dashboards offer everything you need to keep team members on the same page with the project status. Stay on top of team workload with multiple views such as Gantt charts, Kanban board, calendar view, and list view. For hassle-free project delivery, the tool provides solid milestone tracking features along with real-time notifications.
Features:
Create tasks and manage resources in just a few clicks
Share files with stakeholders and other team members on the go
Collaborate easily with task and subtask comments
Extract insightful reports on employee hours, project status, and much more
ProProfs Project comes with two pricing tiers:
Essentials $2/user/month
Premium $4/user/month
Pros & Cons of ProProfs Project
Pros:
Fantastic workflow customization
Mobile-friendly tool
Easy task and resource management
Useful project templates
Cons:
Lagging issues should be paid attention to
App integrations can be improved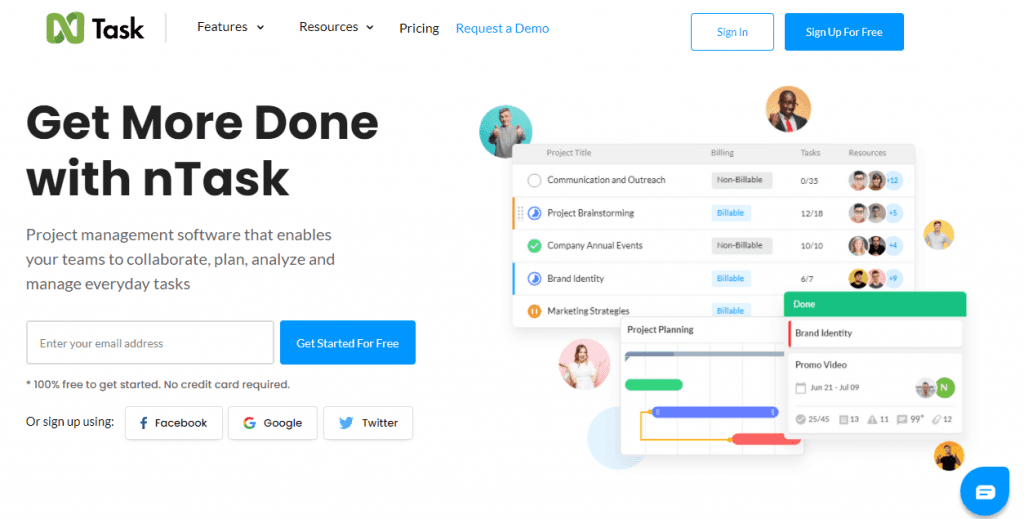 Ntask is a great tool to track and monitor project progress. With advanced features such as meeting scheduling, analytical report generation, and task dependencies, the tool ensures fantastic collaboration among teams of all sizes.
You can create tasks and set priorities for multiple projects and multiple teams. Always be up-to-date about team activity with its user dashboard that offers comprehensive data regarding resource allocation and overall project progress. The tool is compatible with both Android and iOS apps.
Features:
Manage team workload with interactive views
Assign tasks and prioritize them for timely delivery
Schedule recurring meetings hassle-free
Track time with its mobile application
Pricing:
Ntask comes with four pricing tiers:
Basic $0
Premium $2.99/user/month
Business $7.99/user/month
Enterprise Available on request
Pros & Cons of Ntask
Pros:
Unlimited Kanban boards
Seamless meeting management
Easy navigation for internal and external users
Lots of collaboration functionality
Cons:
Less configuration with external apps
Better document sharing ability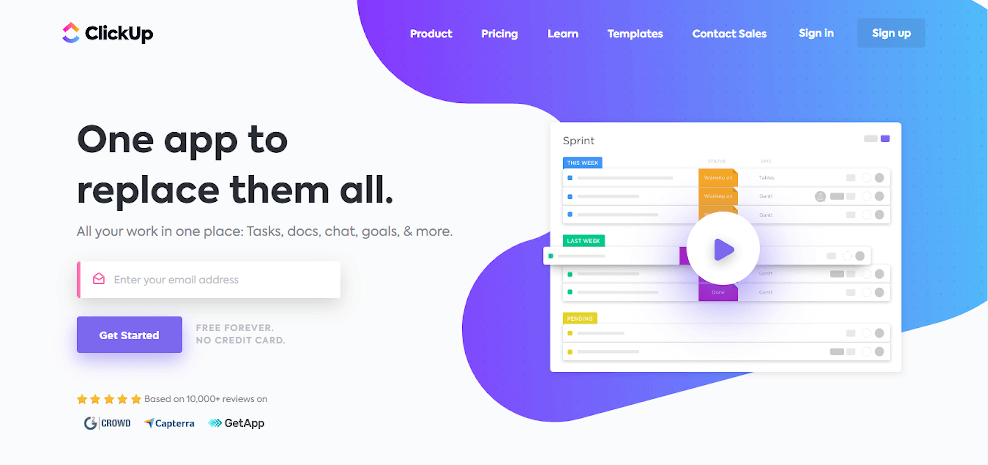 ClickUp is a great online collaboration tool. It offers a single place to organize and coordinate workflow as per team requirements. For instance, it allows you to fast-track task management with interactive visualization and task prioritization.
You can even create checklists within tasks. Its automation is easy to set up and instantly sets the ball rolling. Catching the deadline is never a concern with ClickUp since it measures and tracks goals, providing timely updates for approaching deadlines or even delayed milestones.
Features:
View daily tasks and monitor them easily
Create emails and share them within the tool
Capture screenshots and record videos
Automate your entire workflow within minutes
Pricing:
ClickUp comes with two pricing tiers:
Free $0
Unlimited $5/user/month
Pros & Cons of Clickup
Pros:
Customize and create your own views
Useful filter and search functionality
Built-in templates that are easy to use
Importing from other apps is a breeze
Cons:
Not so great reporting features
It has a learning curve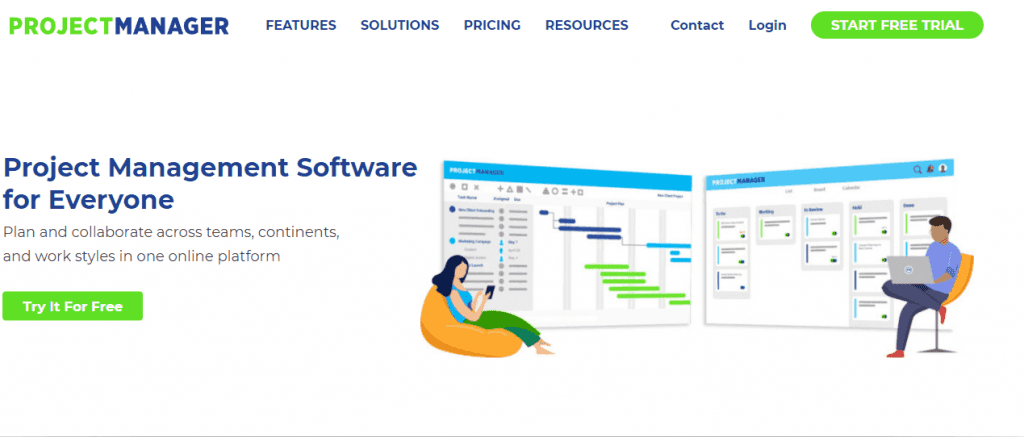 Run your projects from start to finish with an agile project management tool. ProjectManager.com offers advanced features that ease collaboration among team members. It is excellent for teams that strive to align task management and scheduling. Schedule work and manage team availability right from its dashboard. Whether you are a freelancer or an enterprise, the tool is perfect for teams of all sizes. Scale your projects with ease with ProjectManager.com.
Features:
Forecast project budget with data-driven decision making
Start your project on the tool's useful project templates
Store files online and access them from anywhere, anytime
Access its incredible support team 24/7
Pricing:
ProjectManager.com comes with four pricing tiers:
Starter $0
Team $14
Business $25
Enterprise Available on request
Pros & Cons of ProjectManager.com
Pros:
Perfect for small and big teams
Gantt charts for real-time project updates
Setting custom roles and permissions is easy
Project baselines ensure accurate project tracking
Cons:
File storage for free plan should be increased
Better third-party integration needed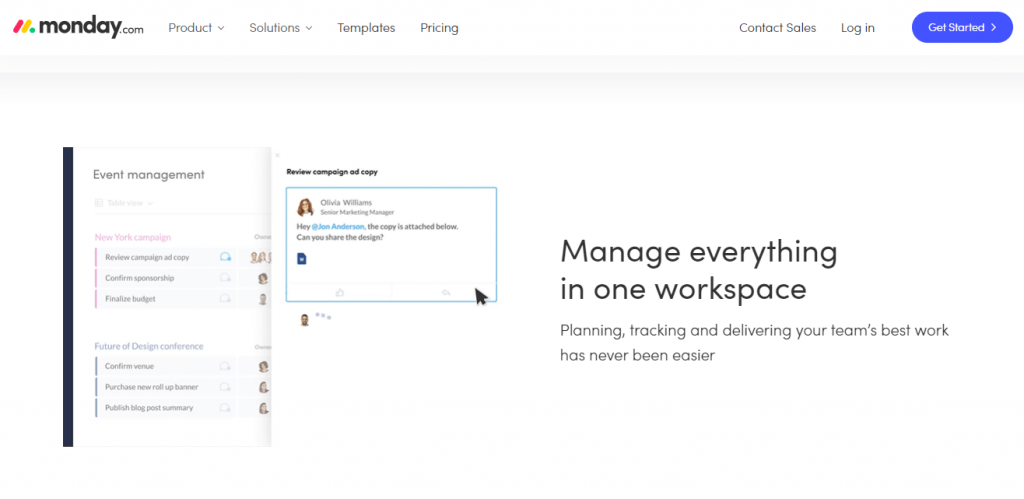 Monday.com, a free alternative to teamwork, is a powerful platform that holds the ability to manage diverse projects . It is a collaborative solution for teams to monitor and manage workload in one place.
For easy team alignment, Monday.com offers project updates that help team members stay on the same wavelength as others. Maximize your team's productivity with the tool's task and resource management capabilities. Assign tasks, allocate resources, and prioritize tasks, all in seconds.
Features:
Build and scale team workflows easily
Customize dashboards to suit team needs
Visualize all project data effortlessly
Simplify project execution with its intuitive interface
Pricing:
Monday.com comes with five pricing tiers:
Individual $0
Basic $8/seat/month
Standard $10/seat/month
Pro $16/seat/month
Enterprise Available on request
Pros & Cons of Monday.com
Pros:
Incredible task management features
Amazing in-app automation
Tons of workload flexibility
Keep a check on inventory the smart way
Cons:
Lacks effective portfolio management
Overly complicated pricing plans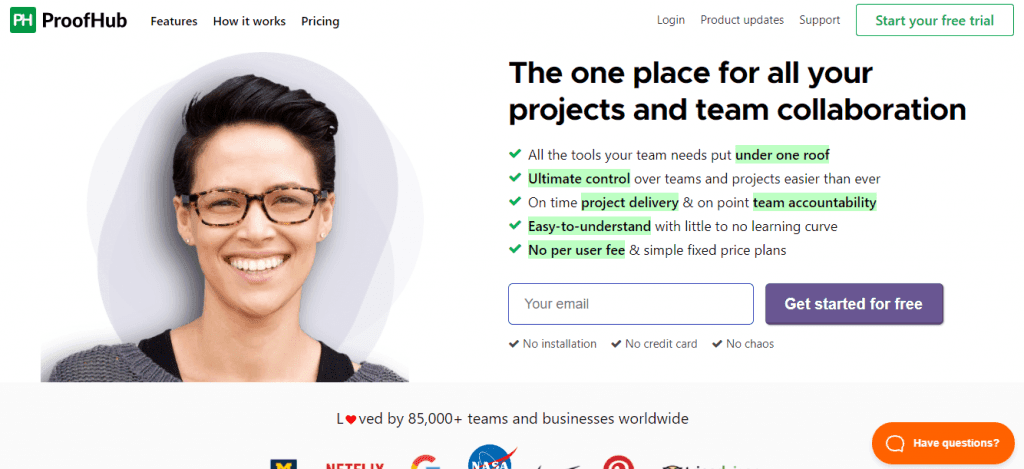 Proofhub is a one-stop-shop for carrying all team communication in one centralized place. It offers the easiest way to manage team processes and monitor project progress. Do away with lagging issues and fast-track team productivity with flexible project management software. From small businesses to enterprises, its Gantt charts and Kanban boards enable teams to assess project progress within minutes.
Features:
Leverage its custom workflows for easy team management
Collaborate and deliver projects within deadlines
Assign tasks, allocate resources, and set deadlines
Eliminate long email threads with task comments
Pricing:
Proofhub comes with two pricing tiers:
Essential $45/month (billed annually)
Ultimate control $89/month (billed annually)
Pros & Cons of Proofhub
Pros:
360-degree visibility into project's life cycle
Great tool with a short learning curve
Its seamless user experience is a plus
Praise-worthy file sharing ability
Cons:
Customizable notifications should be offered
Limited integrations can be an issue sometimes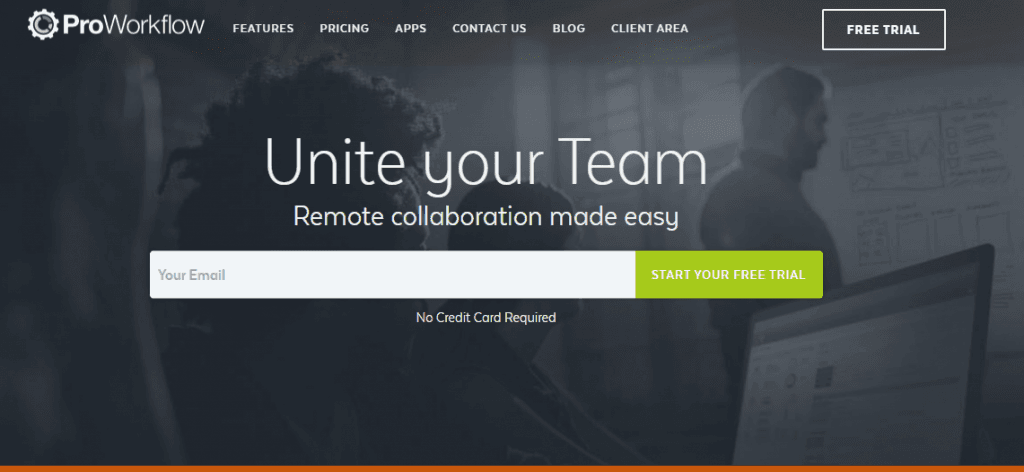 ProWorkflow, with its highly user-friendly interface, makes it easy to collaborate across teams and projects. Ensure on-time project delivery with the tool's Active Staff Mode that enables tracking how each task is progressing.
To simplify complex tasks, you can create subtasks and allocate resources accordingly. Empower your projects with ProWorkflow's unique feature that allows you to invite clients to a specific project. This way, they don't get access to the complete business information, and project data is secured.
Features:
Customized templates for recurring projects
Attach files to messages seamlessly
Get easy access to project information on the tool's web and mobile version
Collaborate with multiple teams across departments
Pricing:
ProWorkflow comes with two pricing tiers:
Professional $20/user/month (No user limit)
Advanced $30/user/month (Minimum 5 users)
Pros & Cons of ProWorkflow
Pros:
Incredible messaging tool
Single page project dashboard
Reliable time tracking ability
Easy-to-use mobile application
Cons:
Not a visually appealing interface
Not ideal for agile projects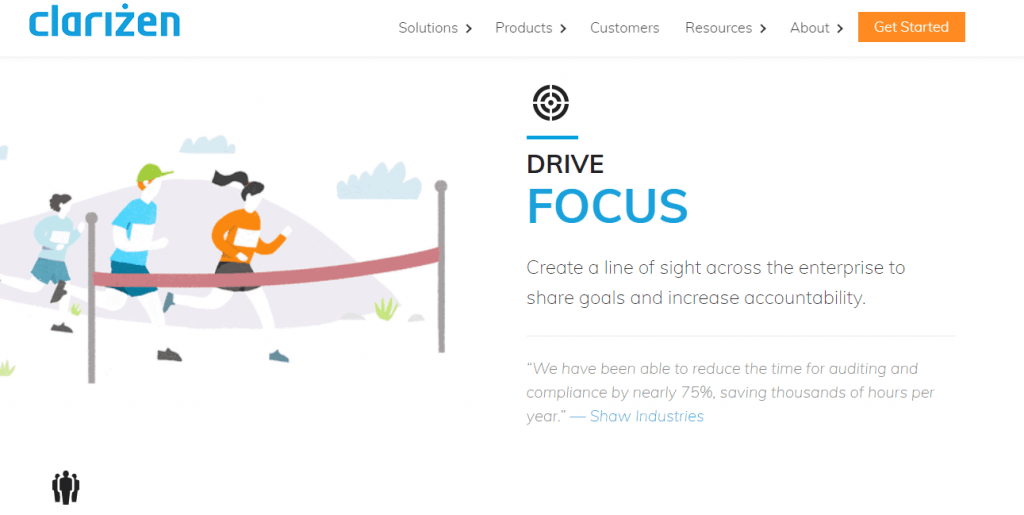 For teams that want to work smart, Clarizen is the sure-shot project management solution. Built for effortless collaboration, the tool ensures that team members across departments are always up to date with the project's life cycle. Say goodbye to complicated project views and advance your project objectives with better transparency. It accurately determines resource availability and allocates them to tasks as per project requirements.
Features:
Enable teams to collaborate and communicate easily
Simplify work to achieve project goals
Make an impact with its workload management solution
Increase productivity by simplifying resource management
Pricing:
Clarizen comes with two pricing tiers:
Enterprise edition Available on request
Unlimited edition Available on request
Pros & Cons of Clarizen
Pros:
Pre-built templates are very useful
Portfolio management is fantastic
Real-time project insights help enable informed business decisions
Aligning tasks with resources is just a click away
Cons:
Reporting features should be enhanced
Better configuration is recommended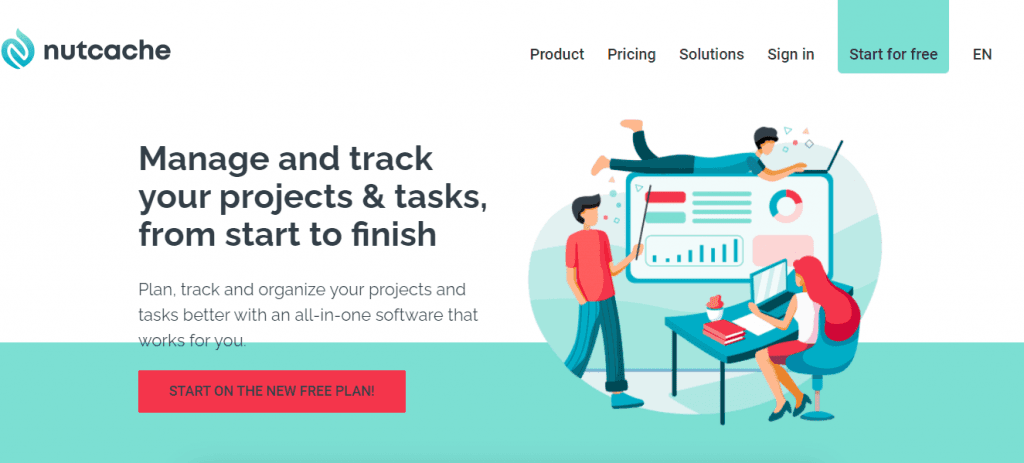 Rollout projects faster with an interactive NutCache dashboard. The tool brings teams together with its easy onboarding that requires no special training. It offers the ability to organize tasks by due dates and projects.
NutCache allows advanced management features, enabling time tracking and invoice generation. It integrates seamlessly with third-party applications. Its mobile version is also user-friendly and helps teams to stay organized with daily workflow.
Features:
Advanced features that ease everyday task management
Use the Gantt view for a comprehensive look into project status
Get notifications for budget overruns
Visualize multiple projects in one place
Pricing:
NutCache comes with three pricing tiers:
Free $0
Pro $6/user/month
Enterprise $12/user/month
Pros & Cons of NutCache
Pros:
The onboarding process is quick and smooth
It is an all-in-one software for managing teams
Setting up timers is a breeze
Easy time tracking and invoice generation
Cons:
Time log should be made a little more flexible
Lacks data-driven reports to track project progress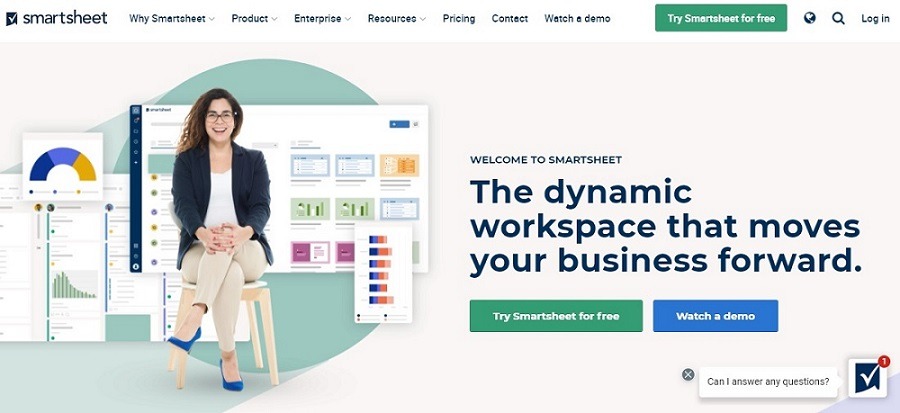 Smartsheet is modern collaborative software that is suitable for any project type or business. With a fully customizable interface, it helps create tasks, assign resources, and set deadlines effectively.
Smartsheet stands out for its intelligent workflows and secure process management. You can automate processes and execute deliverables from start to finish with Smartsheet's feature-rich dashboards. Moreover, all project information is managed securely with its data access governance.
Features:
Access multiple data viewing options – Grid, Gantt, or Calendar view
Scale your project easily with its flexible interface
The tool is very easy to use with a short learning curve
Assign and monitor tasks anywhere anytime
Pricing:
Smartsheet comes with three pricing tiers:
Individual $14/user/month
Business $25/user/month
Enterprise Available on request
Pros & Cons of Smartsheet
Pros:
It has remarkable automation features
Custom solutions that ease project management
It saves time by automating most repetitive tasks
Real-time collaboration is a huge advantage
Cons:
Its interface either freezes or slows down for some time after upgrading
Document uploading ability needs improvement
Comparison of Best Alternatives of Teamwork
| Software | Price | Task Management | Reports & Analytics | Workflow Management | Dashboard Customizations |
| --- | --- | --- | --- | --- | --- |
| ProProfs Project | $2/user/month | Y | Y | Y | Y |
| Ntask | $0/user/month | Y | Y | Y | Y |
| ClickUp | $0/user/month | Y | N | Y | Y |
| Projectmanager.com | $0/user/month | Y | Y | Y | Y |
| Monday.com | $0/user/month | Y | Y | N | Y |
| Proofhub | 45/month (billed annually) | Y | Y | Y | Y |
| ProWorkflow | $0/user/month | Y | Y | Y | N |
| Clarizen | Available on request | Y | N | Y | Y |
| NutCache | $0/user/month | Y | N | Y | Y |
| Smartsheet | $14/user/month | Y | Y | Y | N |
| Helpscout | $20/user/month | Y | Y | Y | N |
Final Verdict: Which Teamwork Alternative Should You Go For?
Teamwork offers compelling features like:
Cross-project dependencies
Accurate scheduling
Document management
Forecast budgets
Its email integration and real-time project updates seamlessly help collaborate across teams and projects. Being an agile project management tool, it comes equipped with some amazing time tracking and task management features.
However, the tool might not be compatible with your business requirements.
So, if you're looking for an alternative to Teamwork, ProProfs Project can be the right tool for you and your team. The tool is power-packed with rich features that ease managing multiple projects across multiple teams. It integrates the core Teamwork features and offers robust solutions for Teamwork limitations.
Undeniably, ProProfs Project can be the smarter choice and the best alternative to Teamwork project management capabilities.
Do you want a free Project Management Software?
We have the #1 Online Project Management Software for effective project management.