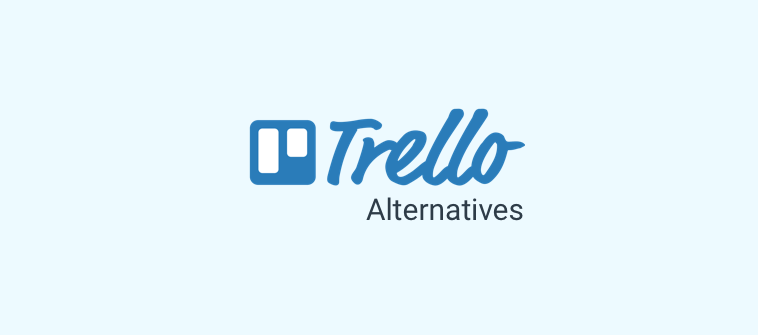 If you have landed here, you are more than likely looking for the best Trello alternative. It can be difficult to comb through a ton of research and try various tools to find the perfect one that meets your business needs.
When it comes to numbers, there is a number of project management tools that are popular in the market. Most of these tools support Kanban boards, which is why you probably tried Trello and are now looking for more advanced and efficient tools to boost your productivity.
To make things easier for you, we have examined and tried a long list of Kanban project management tools and have narrowed it down to a more manageable list of top 11 Trello alternatives.
We'll be covering all the important aspects like features, plans, pricing, and how these alternatives to Trello are better! But first, let's check out a bit about Trello and why people look for Trello alternatives?
What is Trello?
Trello is an interactive and easy-to-use project management and collaboration tool that is often referred to as Pinterest for business (all credit goes to the user interface). The tool lets you manage your tasks and deadlines into visual Kanban-style boards that can be customized with colors, labels, and much more.
Why Look for Trello Alternatives?
Trello is a good Kanban tool, but it isn't perfect. With a limited set of functions and a lack of in-depth reporting, the tool is simply not ideal for many project managers. On the one hand, when it seems easy to use, its user interface can get messy for big teams and projects.
Trello mainly performs well because of "power-ups." These are no magical powers but third-party integrations that add wings to the basic model of the Trello application. Eventually, these power-ups will cost you around $9.99/user, and that is when project managers start looking for tools similar to Trello to meet their unique needs better.
Here's why people generally look for Trello alternatives!
Simple Interface

: A simple interface is Trello's biggest marketing strategy. Then why is a simple Kanban interface troubling? Well, that's all it got. A limited view with limited functionality and inadequate data. It might be sufficient for small teams or some departments. But when it comes to large teams, Trello simply doesn't fit in.

No Multiple Views

: As we mentioned above, a simple interface is the only interface that Trello got. Users can't switch between different views and have to force their process to follow the Kanban approach even if it's not effective for a particular project.

Poor Team Management Features

: While managers look to find an efficient way to manage their teams via project management tools, Trello makes it difficult to do so. There is no option for adding multiple assignees to a task, and managers can't see their team's workload at a single screen due to poor overlay.

Costly Power-Ups: Complex project management requires additional features. For these, Trello relies on power-ups/add-ons like Gantt Charts, Priorities, Calendars, etc. While these add-ons can get the job done, why should one pay for these power-ups to manage their projects?


Your project management software should have those features in-built, right? Well, add another drawback here. If you are not Trello's gold or business user, you're simply limited to a single power-up.

No Task Dependencies

: Trello can't track or display task dependencies, which causes a lot of confusion among team members. Task dependencies are crucial for obtaining the project path information, and Trello's inability to do that causes trouble.
Realted Read: Asana vs. Trello: Which Project Management Tool Should You Choose
Our Selection Criteria for Trello Alternatives
We tried a lot of programs like Trello to check how efficient and fruitful they can be for different businesses and projects. Finally, we came up with 11 Trello like apps, and these are the criteria we followed:
Core Trello Features

: The tool has to offer core functionalities like Kanban boards, customizable workflows, easy integrations, and reporting features.

Minimum 20 user reviews published on Getapp and Capterra in the last two years

: Recent reviews about the tools tell us a lot about the pros and cons.

High Recommendation Rating

: The tool should have an average recommendation rating between 8 and 10 on a scale of 10 on Getapp and Capterra.

High "Features and functionality" rating

: The product should have a minimum rating of 4 out of 5 stars on Getapp and Capterra.
ProProfs Project vs Trello
Features
ProProfs Project
Trello
Pricing

Starts at

$0/month

Starts at

$50/month

Storage

Unlimited

15 GB, 100 GB

Hosting

Free Hosting

(World-class hosting on IBM)

On-Premise

(Carries a bill)

Designed For

Startup, Business, Entrepreneurs

Business, Marketers, Professionals

Installation & IT Support

Not required

(Cloud-Hosted)

Not required

(Cloud-Hosted)

Project Planning

Recurring Tasks

Yes

Yes

Customizable Gantt Chart

Yes

Yes

Multiple Resources Per Task & Subtask

Yes

Yes

Allocate resources in hours & %

Yes

No

Inter-Project Dependencies

Yes

No

Project Tracking

Universal Dashboard

Yes

No

Project Updates

Yes

Yes

Project Reminders

Yes

Yes

Project Execution Comparisons (Estimated V/S Actual)

Yes

No

Project Budgeting

Project Budget Estimation

Yes

No

Budget Tracking

Yes

No

Revenue Estimation

Yes

No

Revenue Tracking

Yes

No

Billing Models

Yes

No

Milestone-Based Billing

Yes

No

Resource Management

Job Roles

Yes

Yes

Project "Guests"

Yes

No

Managerial Segmentation

Yes

No

Estimated V/S Actual Resource Usage

Yes

No

Team Collaboration

Task Comments

Yes

Yes

File Management & Sharing

Yes

Yes

Notifications & Alerts

Yes

Yes

Email Participation

Yes

Yes

Calendar View

Yes

Yes

Client Portal

Yes

No

Project Expense Tracking

Billable & Nonbillable Hours

Yes

No

Custom Expense Codes

Yes

No

Time Tracking

Log Times

Yes

Yes

Timesheets

Yes

No

1-Click Approval

Yes

No

Project Reporting

Automated Email Reports

Yes

No

Dynamic Reports

Yes

No

Drill-Down

Yes

No

Coding & Customization Knowledge

Designed for all skill-levels

Requires Expertise

Data Security & Permissions

Workspace

Yes

No

Project Overrides

Yes

No

Project Permissions

Yes

No

Scalability

Yes

(future proof & scalable infra serving millions)

You're on your own

24/7 Support

Phone Support

Yes

(24/7 human support)

No

Chat Support

Yes

No
Top 11 Trello Alternatives
Let's explore the top 11 alternatives to Trello: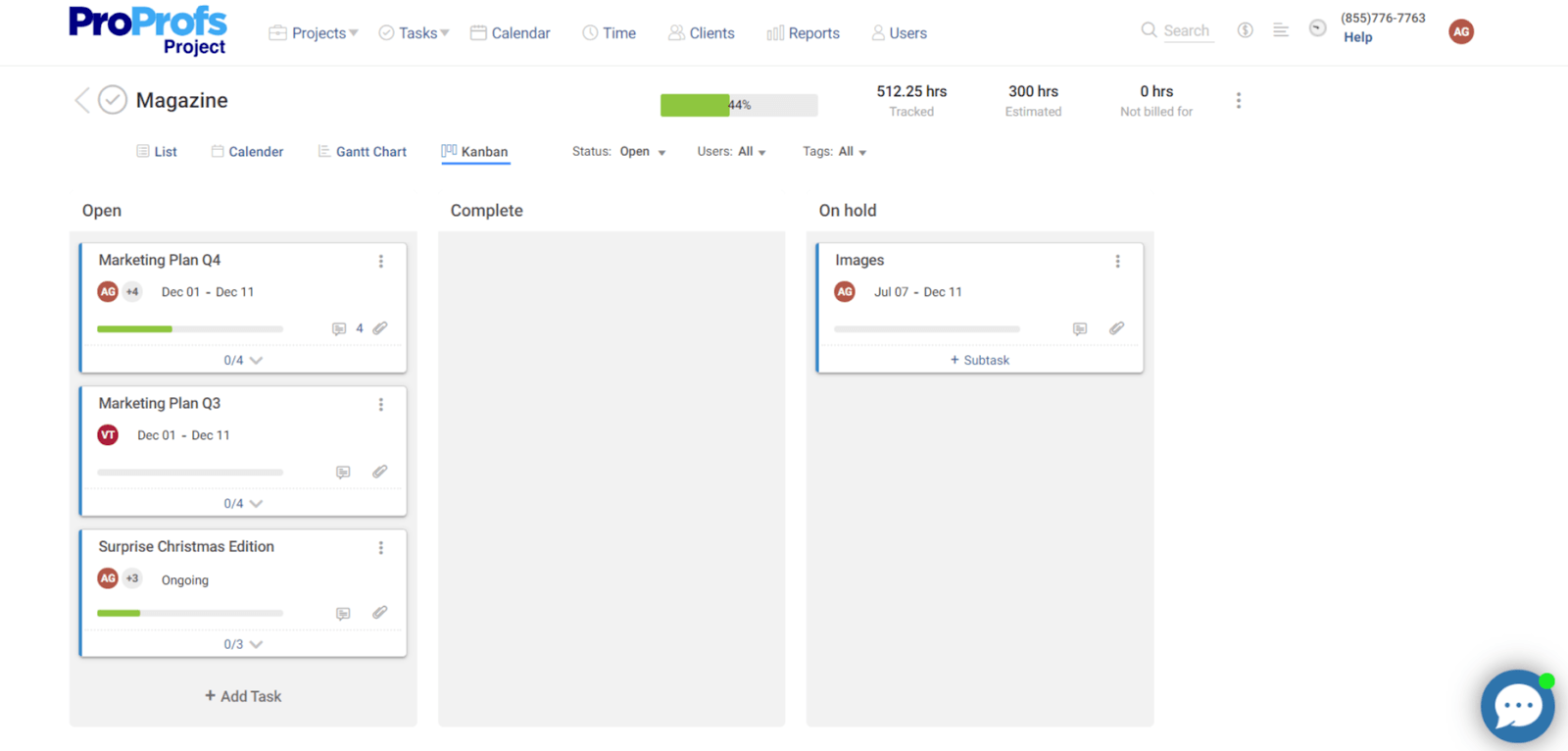 ProProfs Project is an easy-to-use online project management tool that aims to provide a delightful experience to users. The software is used and trusted by users from different domains and proves to be a perfect alternative to Trello. While you are limited to basic features and views in Trello, ProProfs Project is packed with a ton of useful advanced features and supports multiple views for efficient project management.
Features
Add tasks, sub-tasks, deadlines, and change the status of tasks easily for better organization.

Use Kanban boards, Gantt charts, calendar views to plan and strategize projects.

Team collaboration shared calendars, and task commenting features.

Generate invoices and customize bills with simple functions.

Create in-depth reports and use analytics to plan projects.

Drag and drop functionality for easy task management.

Receive real-time notification updates and track projects over mobile apps on the go.

World-class customer support over the phone and live chat.
Pricing
Free – no charge freemium plan

Essentials – $3/user/month

Premium – $6/user/month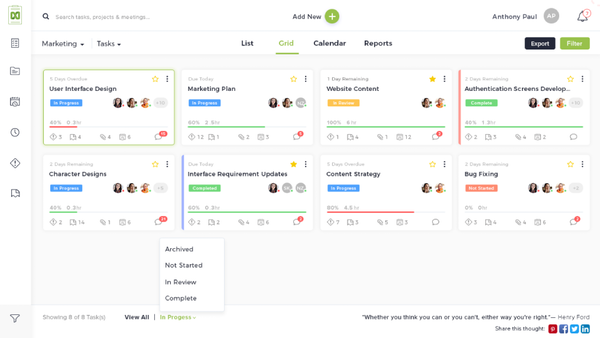 nTask is a powerful project management application that helps streamline your project planning, execution, resource tracking and management, task dependencies, invoicing, and project deliverables management. With a user-friendly and interactive interface, get things done smartly and quickly by collaborating with different teams easily. nTask' simple interface is not limited to basic features as you saw in Trello, which makes nTask a clear choice for a project managers and companies.
Features
Team chat, task comments, and dedicated workspaces for seamless collaboration.
Customizable Kanban boards and cards to manage work effectively.
Resource allocation, budgeting, and milestones tracking to keep priorities in focus.
Efficient timesheet management tool.
Sync meetings with calendars and assign follow-up actions, discussion notes, etc.
Issue tracking and risk management to minimize the chances of failure.
Pricing
Basic – $0 (Free forever)
Premium – $3.99/user/month
Business – $11.99/user/month
Enterprise – Custom quotes on request.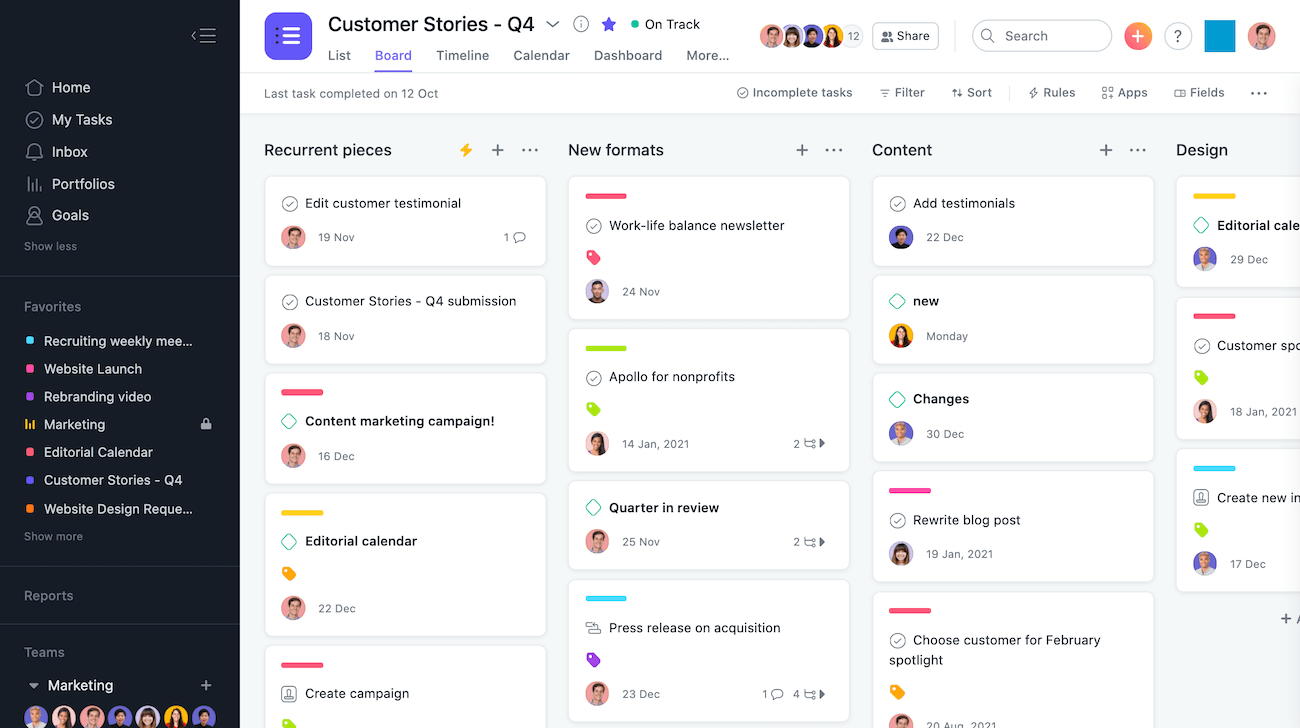 Asana is a popular project and task management software that aims to offer smooth team collaboration and communication. With Asana running the show, you can effortlessly assign tasks, manage timelines, share information, and check reports on a daily basis in this feature-rich application. The tool is widely praised by small and medium businesses as it makes project management a breeze for project managers and team members, where Trello lacks.
Features
A customizable dashboard view to fit different project needs.

Create projects, assign tasks, and move projects forward by checking project status.

Get timely insights and reports on what's happening in the team.

An intuitive design with support for multiple third-party integrations.

Add attachments of size up to 100 MB with unlimited storage.

Kanban styled Trello interface that lets you switch between different views.
Pricing
Basic – $0

Premium – $13.49/user/month

Business – $24.99/user/month

Enterprise – Custom quotes on request.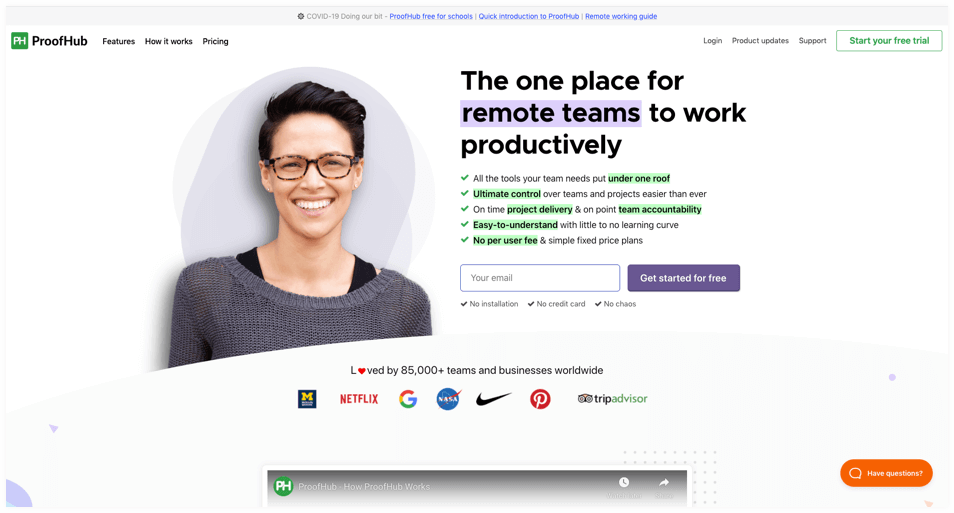 ProofHub is a versatile Trello alternative that has a bouquet of helpful features to make team collaboration and project management super simple. The best thing about this tool that makes it better than Trello is the pricing plan, as there is no per-user fee charged by ProofHub. Users can access multiple tools from a centralized location to manage projects smartly and effectively. The easy-to-understand interface with an almost zero learning curve makes it a good choice.
Features
Pre-designed project templates to plan and start a project from scratch.

Task management, time tracking, and task prioritization.

Visualize tasks in different views with Gantt charts.

Better team collaboration with easy file sharing options and group chat/discussions.

Supports multiple languages and third-party integrations.

Clear insights and reporting to track project progress and speed up.
Pricing
Essential – $50/month (unlimited users)

Ultimate Control – $99/month (unlimited users)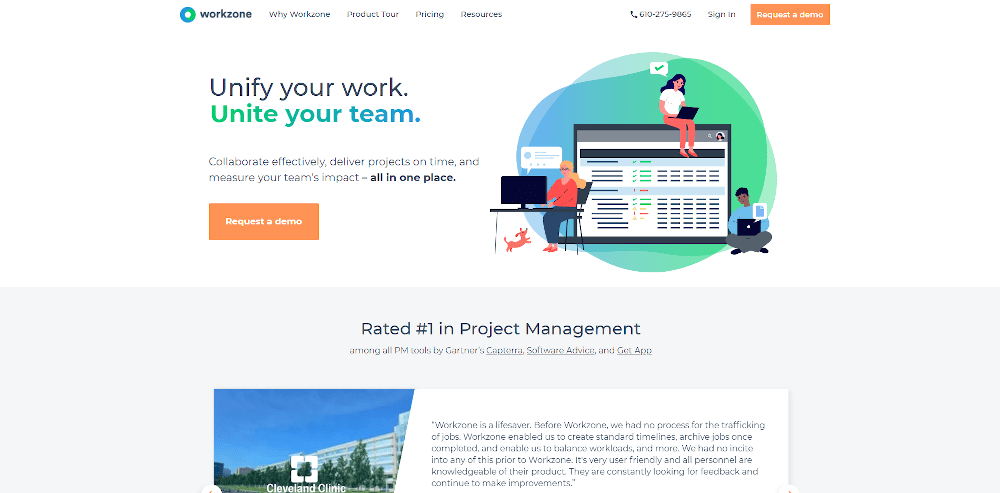 Workzone is a great project management solution that focuses on useful project management features mixed with an intuitive interface. The software is best known for its real-time collaboration tools that will boost your team's productivity. It is more robust than most of the basic software like Trello and is less complicated than powerful applications like Jira and Microsoft Project, making it the "just right" solution for your teams and projects.
Features
Lots of customization options available.

Break down large projects into small to-do lists and segments.

Share files, track time, collaborate on documents and communicate with teams.

Graphical reports (customizable) to get a quick overview of the progress.

Gantt charts and useful Scrum management features.

Real-time email notifications to keep all team members on the same page.
Pricing
Team – $24/user/month

Professional – $34/user/month

Enterprise – $43/user/month

Custom quotes also available for small and large teams.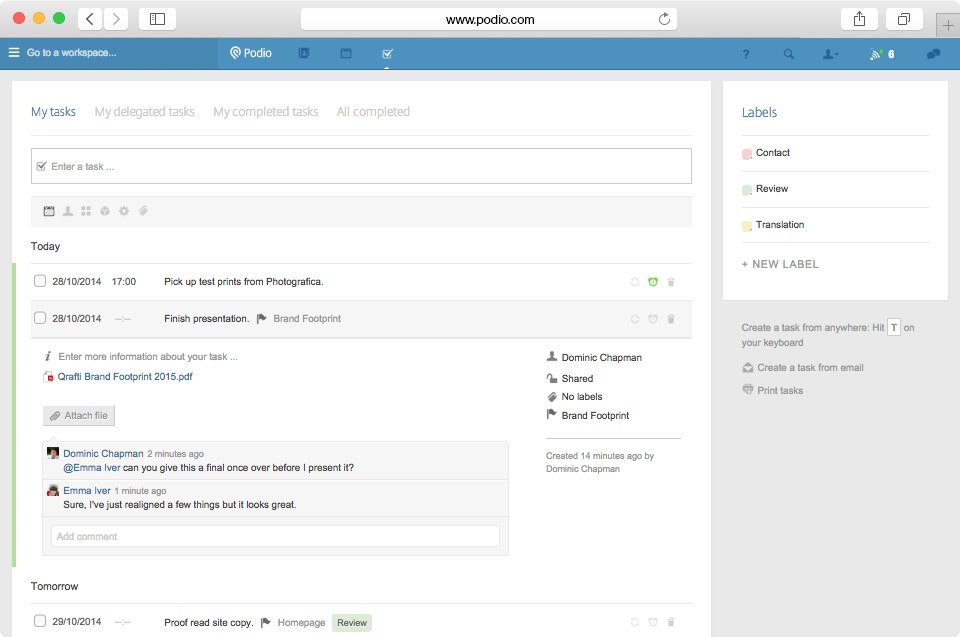 Podio is a unique project management tool that allows you to customize your dashboard and select from various applications to design your system as per your business needs. Users can create their own apps in a stable and intuitive interface. The pricing and features of this smart tool make it a good fit for startups, small businesses, and freelancers, especially developers and software companies.
Features
Tons of add-ons like messaging apps and file sharing tools.

Organized workflow management for better productivity.

View task status, add comments and attach files to any project.

Powerful API that lets you add your own integrations.

Integrated chat messenger and built-in shared calendar for better collaboration.

Real-time sync across all devices to stay connected with your team.
Pricing
Free – $0 (5 users)

Basic – $9/month (unlimited users)

Plus – $14/month (unlimited users)

Premium – $24/month (unlimited users)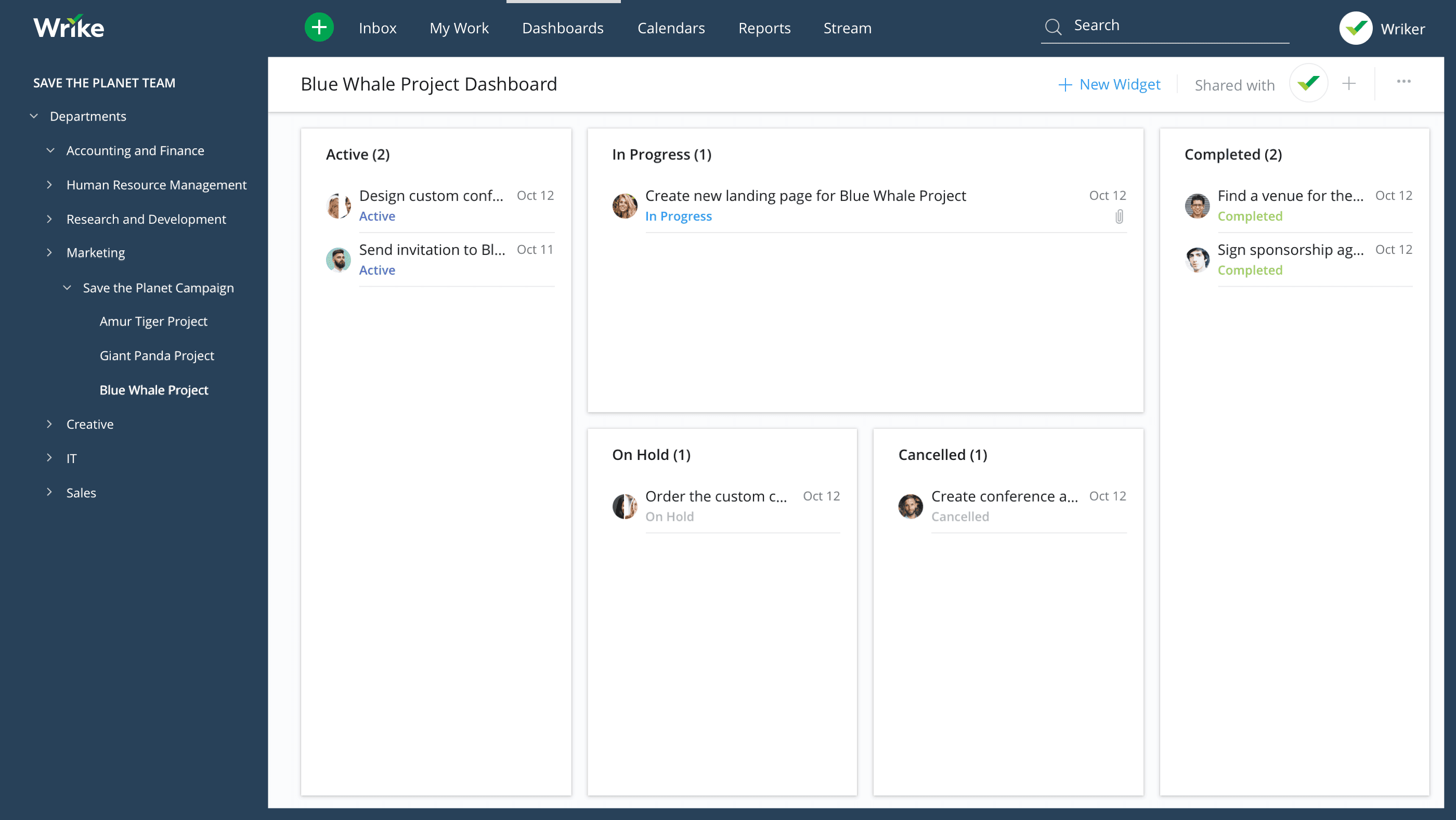 Wrike is a good option if you are looking for a free Trello alternative. The project management tool comes with some really amazing, enterprise-level features to help project managers and teams in managing tasks and projects. From the planning stage to completion, Wrike offers a lot of customization options with a user-friendly interface for easy collaboration and work management. Simply a great solution for large teams and extensive projects!
Features
Real-time reports to get visibility into projects.

Live activity stream to give you a bird's-eye view of project progress.

Gantt chart view of all your projects.

Create workflows for different projects using preloaded templates.

Advanced resource management to maximize team productivity.

Discussion platform for easy collaboration in one place.

Email integration to convert emails into tasks on Wrike.
Pricing
Free – $0 (5 users)

Professional – $9.80/user/month

Business – $24.80/user/month

Enterprise – Custom quotes on request.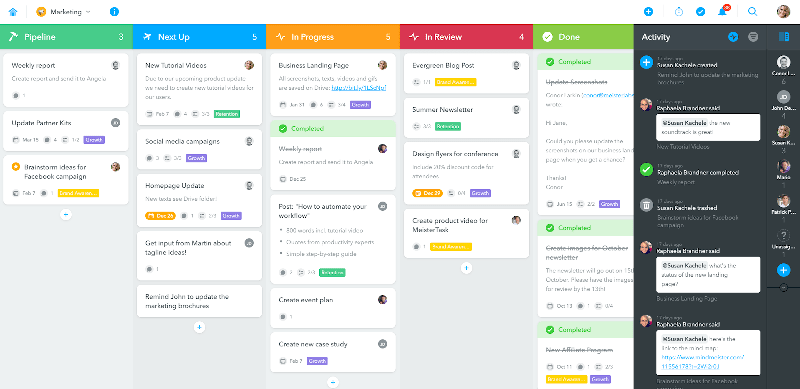 MeisterTask is an ideal tool for Kanban project management as it comes with powerful and customizable Kanban boards. A neat, systematic, drag and drop interface makes it easy for teams to plan, manage, and execute tasks in an efficient way. While Trello lacks in a simplified team collaboration, MeisterTask is the right collaboration tool that supports tagging in comments for real-time communication.
Features
Easy task management and time tracking in an intuitive view.

Customizable project boards and activity stream for team collaboration.

Built-in notepad to attach important stuff related to work.

Tons of integrations for messaging, social media apps, and file sharing.

Generate insightful reports based on current/previous project statistics.

Scrum features for agile teams.
Pricing
Basic – $0

Pro – $4.19/user/month

Business – $10.39/user/month

Enterprise – Custom quotes on request.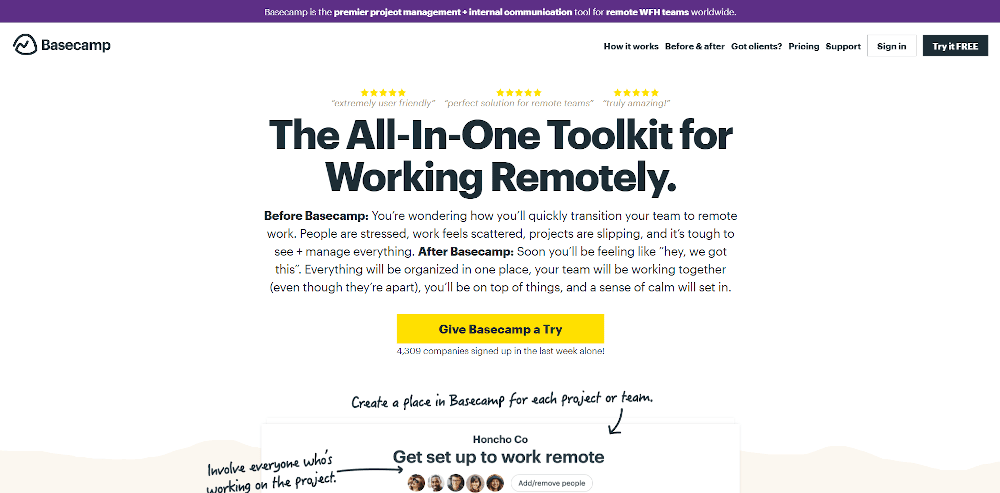 Basecamp was one of the first companies to introduce cloud project management and has improved its services regularly. The tool offers a 360 degree, centralized view of all project tasks, progress, deadlines, and much more for effective project management. The main tools that Basecamp incorporates are message board, to-do lists, chat rooms, file sharing options, deadlines reminder, and automatic check-ins for project reports. That's where Basecamp edges past Trello.
Features
Simplified view to plan a project, create to-do lists, and track milestones.

Real-time updates and notifications on project progress.

Message boards to keep all conversations on a single page.

Group chats to discuss projects with team members and clients.

Hill charts with realistic views of where your project stands.

Centralized space to store company documents and other information.
Pricing
Personal – $0 (3 projects, 20 users)

Business – $99/month (unlimited)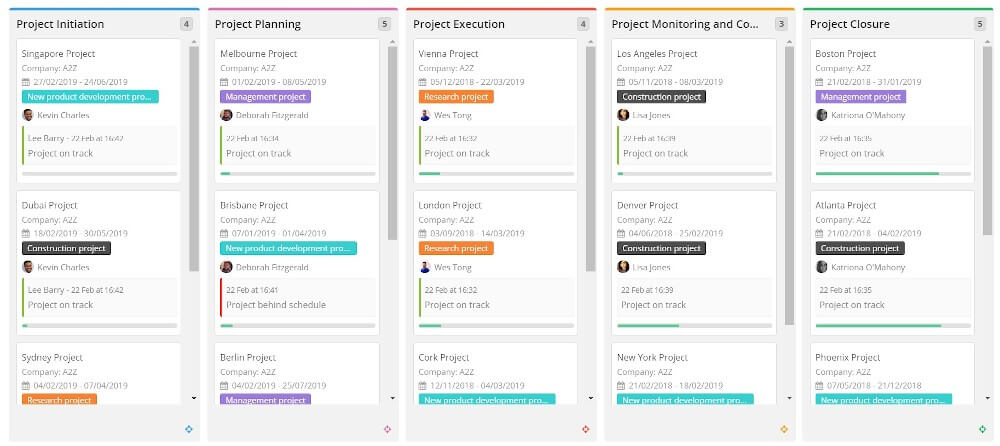 Teamwork is another online project management software full of robust features. This free alternative to Trello allows users to efficiently manage projects, collaborate with teams, communicate openly, and handle customer/client service requests as well. The set of tools that Teamwork offers is sure to keep you organized with increased productivity. Definitely, an all-in-one solution for your project and business needs!
Features
Built-in file storage, chat window, and messaging apps.

Time tracking and task management features.

Automate manual reminders and generate custom reports for tracking project progress.

Resource tracking to make data-driven decisions.

Reallocate tasks, resources, and milestones.

Customized invoices of tracked time and expenses.
Pricing
Free – $0

Pro – $12.50/user/month

Premium – $22.50/user/month

Enterprise – Custom quotes on request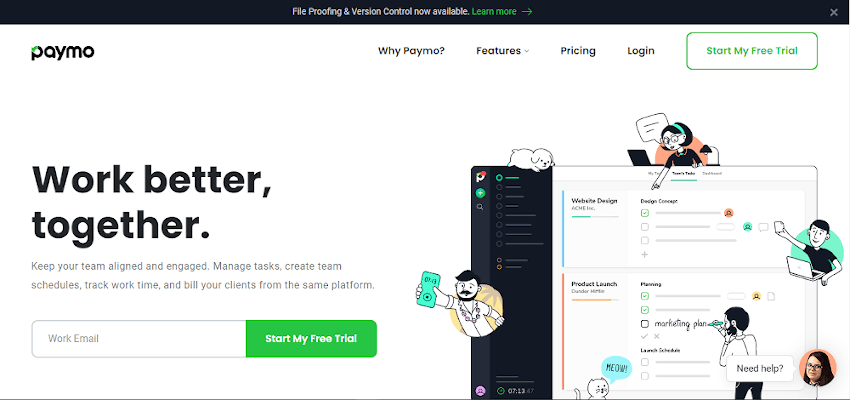 Paymo is a modern and easy to use work management tool that helps teams to manage projects from start to finish happily. From freelancers to startups and big agencies in different domains, Paymo is trusted by everyone and is known to improve performance by boosting productivity. While you have to pay for different app integrations in Trello, Paymo offers tools for planning, collaboration, reporting, and invoicing in a single bundle.
Features
Keeps track of time and generates reports.

Store all files related to the project at a single location for project visibility.

Track expenses and time for generating invoices per client.

Gantt charts to manage project tasks.

Multi-user task assigning for easy collaboration.

Different task views, including Kanban boards for different projects.

Task prioritization, reminders, and recurring tasks.
Pricing
Free – $0

Small Office – $11.95/user/month

Business – $18.95/user/month
How to Choose the Correct Trello Alternative?
It surely is hard to pick the right Trello alternative as all the above-mentioned software are great for project management and have their own unique features.
Like any other team, your team also has a workflow pattern, budgets and deadlines to maintain, and unique needs. We are sure that you have got a lot of information regarding different project management apps and what are their core features.
Let's sum up the basic requirements that users expect in a Trello alternative.
Project Planning

: Not everyone has a plan in mind to execute it in the project management tool. There should be good features to help in project planning and scheduling various things. You can look for a tool that comes with different views like Gantt charts, Kanban boards, etc.

Team Communication & Collaboration

: An ideal alternative to Trello should have features and integrations to help different teams work together with ease to increase productivity. Open communication where everyone can present their ideas is always fruitful for a project's success.

Task Management

: The most important part of any project is to manage the on-going and upcoming tasks in an effective and efficient way. You should look for features like time tracking, multiple assignees, recurring tasks, task dependencies, and reminders.

Project Reporting

: Insightful reports throughout and at the end of the project help in getting a good idea and understanding of the project's progress and success. Look for a tool that tracks the analytics and creates in-depth reports.
Comparison of Best Alternatives of Trello
| | | | | | | | |
| --- | --- | --- | --- | --- | --- | --- | --- |
| | Pricing (Starting/month/user) | Storage (per user) | Time Tracking | Team Collaboration | Project Reporting | 24/7 Support | iOS/Android Apps |
| Trello | $0 | Limited | Yes (With integration) | Yes | Yes (With integration) | No | Yes |
| ProProfs Project | $0 | Unlimited | Yes | Yes | Yes | Yes | Yes |
| nTask | $0 | Limited | Yes | Yes | No | No | Yes |
| Asana | $0 | Unlimited | Yes (With integration) | Yes | Yes | No | Yes |
| ProofHub | $50 (unlimited users) | Limited | Yes | Yes | Yes | Yes | Yes |
| Workzone | $24 | Limited | Yes | Yes | Yes | Yes | No |
| Podio | $0 | Limited | Yes (With integration) | Yes | Yes | Yes | Yes |
| Wrike | $0 | Limited | Yes | Yes | Yes | Yes | Yes |
| MeisterTask | $0 | Limited | Yes | Yes | Yes | Yes | Yes |
| Basecamp | $99 (unlimited users) | 500 GB | Yes (With integration) | Yes | Yes | Yes | Yes |
| Teamwork | $0 | Limited | Yes | Yes | Yes | Yes | Yes |
| Paymo | $0 | Limited | Yes | Yes | Yes | No | Yes |
Which Trello Alternative You Should Choose?
As you now know, what are your requirements and what are the features that you should look out for? Here begins your evaluation journey. There are some great free alternatives to Trello and some at reasonable prices on the list above. It's time for you to quickly review the tools.
If you ask our personal favorite, we will go with ProProfs Project as it comes with everything your team needs to deliver top-quality projects on time. What's more? ProProfs Project is easy to get started with, and your team will enjoy working every day.
Do you want a free Project Management Software?
We have the #1 Online Project Management Software starting at $0