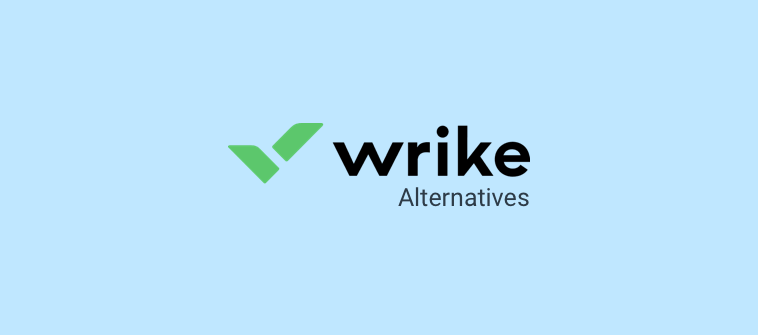 With an ever-increasing global reach, Wrike has undoubtedly secured a place in one of the best project management tools list. But since you have found yourself here, you're definitely wondering if it truly is all sailing smoothly in the market. Or you might be looking for a more robust solution for your project requirements?
Some people find the lengthy Wrike user manual insane; others find the interface overwhelming. Another common issue is with the Wrike pricing, which isn't suitable for a lot of businesses. Well, that brings you here.
There had to be better Wrike alternatives, right? There had to be a better solution to manage projects seamlessly. There certainly are better solutions, and when it comes to the alternatives to Wrike, there is an abundance of software. If only there were a quick and simple way to compare the best from the bunch of alternatives at once…
Yes, there is.
In this blog, we'll study the crucial facts together, and then you can decide which Wrike alternative really fits your bill.
What is Wrike?
Wrike is an online project management software designed to give control and visibility over tasks and projects. It is a unified platform where users can manage multiple projects and work productively in a collaborative environment. Wrike majorly focuses on automating complex tasks, accelerating performance, and delivering better results for successful project completion.
Why Look for Wrike Alternatives?
No product is perfect, and there are certainly essential areas where Wrike can be improved. Many Wrike competitors do offer better and improved services that might be perfect for certain businesses to manage their projects.
Users generally have a complaint with the learning curve to get started with Wrike as it is hard for different teams to adapt to. While working on project management software, people look for simplicity and no complications.
The software also lacks an in-built chat feature, making it difficult for team members to communicate. In a project management tool, collaboration and communication is the key to productive and effective work.
The user interface is not intuitive as the layered folder navigation within Wrike is something that's not so user-friendly! Time is wasted on support calls to navigate through the application, and it seemed like Wrike was built for engineers, developers, and highly logical thinkers.
Finally, the pricing of Wrike (per user) is much higher than the competitors offering a more user-friendly solution with better support.
Rather than sticking to Wrike that has its own set of limitations, exploring new software is the best way to find new features and functionalities that you didn't even know you needed. Let's have a look at some of the must-have features of Wrike alternatives before moving to the list.
The Features Wrike Alternatives Must Have
Wrike has a long list of features, yet some important functionalities are missing in it. Although the feature requirements can vary from team to team, some common features are basic and should be considered while looking for the best Wrike alternative. Let's check out these features.
Project planning, scheduling, shared team calendar, and task prioritization.
Team collaboration features like task comments, file sharing, and email integrations.
KPI dashboards and customer data center.
Insightful reporting and customizable dashboards for analysis at critical milestones.
Resource management feature to divide the project resources for efficient resource planning.
Quick access to data with easy documentation and navigation.
Time tracking, budget reports, billing, and automated customized invoicing to save time and complete the project effectively.
24/7 support from the service provider in case of bugs and issues.
Read More: 14 Best Product Roadmap Software to Streamline Project Management
Our Selection Criteria for Wrike Alternatives
We tried different project management software, which helped us create a list of top 10 Wrike alternatives. To make it to our list, the software has passed the selection criteria mentioned below.
Core Wrike Features: The product has to offer core features like multiple project management, advanced reporting, customizable workflows, resource management, and team management.
Comparable Pricing: We have included products that are priced similar to or less than Wrike.
High "Features and functionality" rating: The product should have a minimum rating of 4 out of 5 stars on Getapp and Capterra.
High Recommendation Rating: The tool should have an average recommendation rating between 8 and 10 on a scale of 10 on Getapp and Capterra.
Minimum 20 user reviews published on Getapp and Capterra in the last two years: Recent reviews tell us a lot about the pros and cons of the Wrike alternatives.
Best Wrike Alternatives
Let's take a look at the best Wrike alternatives along with their features, pricing, pros, and cons.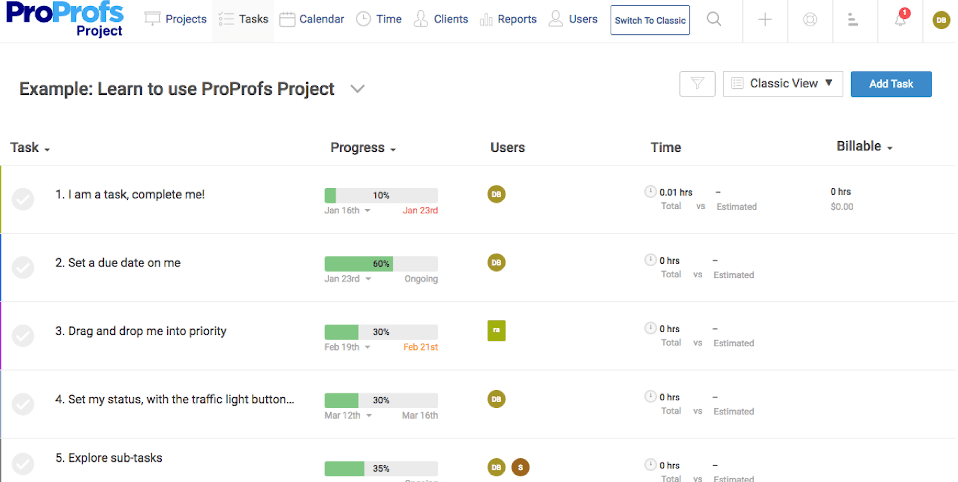 ProProfs Project is a simple project management tool that makes life easier for project managers and teams. Users can delightfully manage their projects, tasks, schedules and can deliver work efficiently on-time and within budget. From project planning to execution and completion, ProProfs Project offers various functionality like task prioritization, documentation, team collaboration, time tracking, detailed reporting, invoicing, and much more to keep you and your team on the top.
You can use ProProfs Project to:
Plan projects and schedules and document them at a centralized location.
Track time, progress, and prioritize tasks with real-time notifications.
Collaborate with teams, share files, and provide feedback for a delightful experience.
Create insightful reports and analytics with an intuitive interface.
Generate customized accurate invoices and bills on the go.
Free – no charge freemium plan
Essentials – $3/user/month
Premium – $6/user/month
Pros
Cons

Manage projects smartly at affordable prices.

Easy to use interface and all project info in a single place.

Team communication is easy.

Advanced tracking and reporting.

Idea management and portfolio management are missing.

Lagging issues can be improved.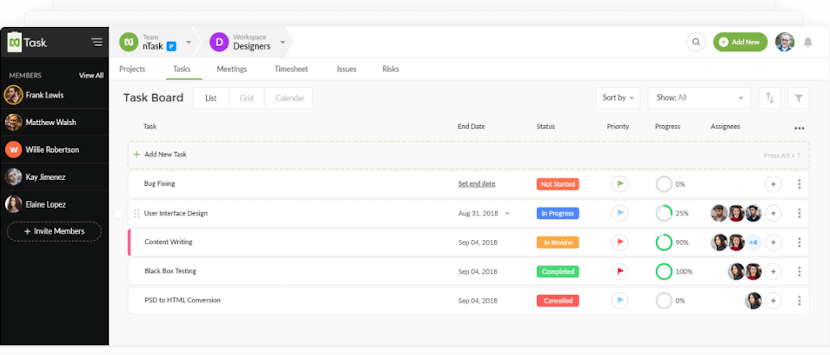 nTask is an easy-to-use online task management tool, designed for teams of all sizes. The simple interface and comprehensive features and modules make it an ideal solution for project management. The easy navigation and visibility of tasks for all users help keep track of who is working on what. It also eases the workflow and improves team collaboration.
You can use nTask to:
Easily share checklists and other project information to outside clients via public links.
Use Gantt charts for a 360-degree view of your complete project schedule.
Monitor the time spent on each task for each team member with timesheets.
Get alerts, notifications, and reminders to stay updated on the project.
Identify the potential risks and their chances through pie charts and a risk matrix.
Pricing
Basic – $0 (Free forever)
Premium – $3.99/user/month
Business – $11.99/user/month
Enterprise – Custom quotes on request.
Pros
Cons

Beautiful and responsive design, perfect for new users.

Risk assessment feature is a big plus.

Assigning tasks and navigation is super easy.

Ton of features at minimum cost.

No templates to get started.

Fewer customization options.


Limited third-party apps integration.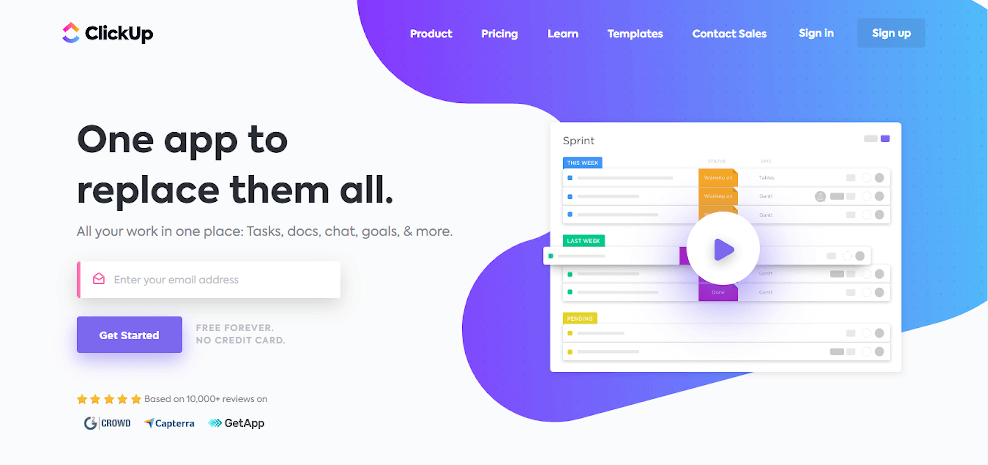 ClickUp is a creative online project management software designed for all your teams to manage their projects. Users can easily customize their workflows, and because of the sleek user-friendly interface, it is a great choice for managing different teams and projects. Apart from the design, you get many useful features that will make project management a breeze.
You can use ClickUp to:
Track time, schedule & manage tasks.
Generate advanced reports for in-depth analysis.
Easily navigate and manage projects using drag and drop interface.
Collaborate with team members using task comments for easy communication.
Analyze and manage projects in different dashboard views.
Pricing
Free – $0
Unlimited – $9/user/month
Business – $19/user/month
Pros
Cons

Clean and sleek interface.

Multiple views and custom fields.

Super easy navigation and task management.

Intuitive mobile applications.

Reporting and analytics need improvement.

Limited third-party apps integration.
Read More: 14 Best Resource Management Software & Tools Of 2022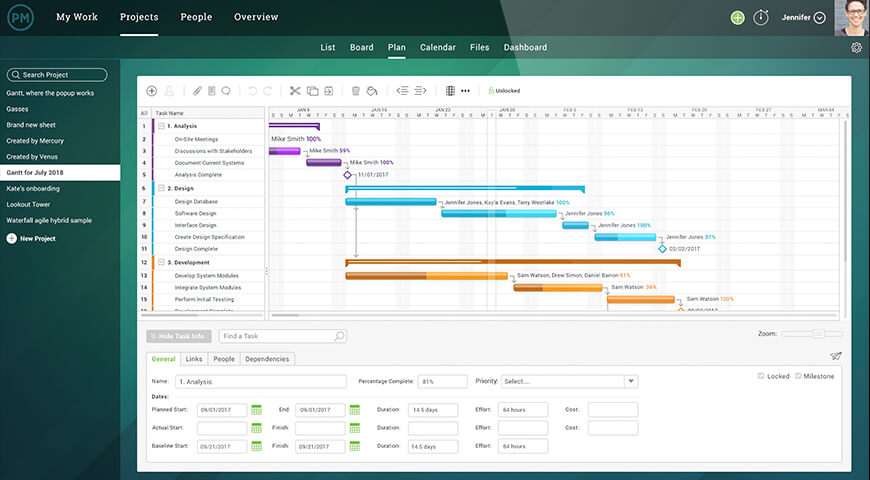 ProjectManager is a cloud-based project management solution that offers an intuitive platform for project planning, robust collaboration, and effective scheduling to ensure the successful delivery of projects. It is a trusted project management software across the globe and helps in achieving time and cost-efficiency.
You can use ProjectManager to:
Compare the planned progress of the project.
Reallocate resources and tasks based on the requirements.
Generate valuable insights on the budget and schedule of the project.
Track tasks and resources using a real-time dashboard.
Streamline project budgeting and payroll.
Pricing
Personal – $15/user/month
Team – $20/user/month
Business – $25/user/month
Enterprise – Custom quotes on request.
Pros
Cons

Effective in planning.

Advanced reporting and analytics.

Advanced features for complex projects.

Great for managing multiple projects.

Limited customizable options.

User interface has some glitches and issues.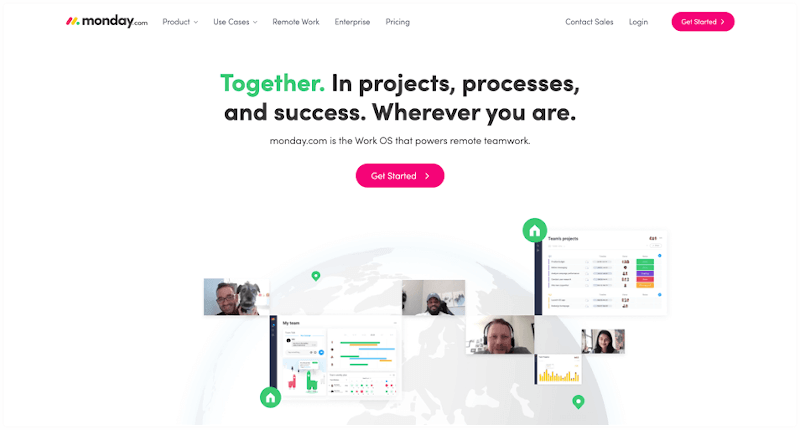 Monday.com is a popular project management tool that helps teams manage simple and complex projects with ease. Users can smoothly streamline workflows and collaborate with different teams to get work done efficiently. It offers powerful features for project planning and execution, making it an ideal Wrike alternative to manage projects.
You can use Monday.com to:
Manage tasks and resources from a single dashboard.
View project progress and track time.
Customize task boards as per project requirements.
Upload attachments, mention teammates and comment on tasks.
Automate processes with workflow automation options.
Pricing
Basic – $10/user/month
Standard – $12/user/month
Pro – $20/user/month
Enterprise – Custom quotes on request
Pros
Cons

Built-in time tracking.

Multiple board views.

Easy-to-use interface.

Gantt charts to visualize project progress.

Lacks powerful task dependencies.

Limited activity logs.

Lacks idea management features.

ProofHub is a simple and versatile alternative software for Wrike that brings together project managers, team members, clients, and decision-makers to create project plans and deliver projects as planned. With great features like Gantt charts, discussion boards, Kanban, files, notes, timesheets, etc. ProofHub provides a platform to make project management more effective and productive.
You can use ProofHub to:
Organize tasks in one central place.
Plan projects using Gantt charts and Kanban boards.
Get ultimate control with custom roles.
Track time smartly and prioritize tasks.
Create customized and detailed reports easily.
Pricing
Essential – $50/month (unlimited users)
Ultimate Control – $99/month (unlimited users)
Pros
Cons

Simple and easy-to-use interface.

Great proofing features for faster approvals.

Powerful file management.


Gantt charts to visualize project progress.

Missing task comments and messages.

Too many unnecessary notifications.

Limited integration options.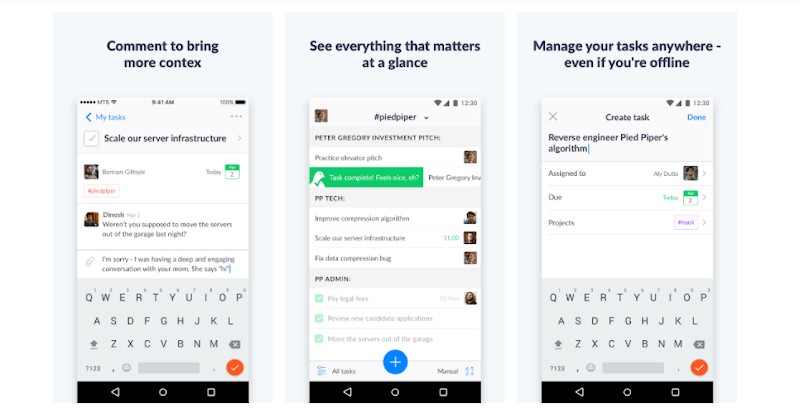 Sendtask is an under-development, Wrike free alternative, ideal for individuals and small teams to collaborate and get work done easily. Users can quickly set up tasks, upload files, add team members, set deadlines, and configure settings to receive real-time notifications & reminders.
You can use Sendtask to:
Organize all your projects and to-dos.
Manage tasks, subtasks, and due dates.
Communicate with team members using Slack and other email clients (integrations).
Schedule meetings and send auto-reminders.
Store all your project information at a central location.
Pricing
Free – Forever free plan
Enterprise – Custom quotes on request
Pros
Cons

User-friendly interface.

Easily create recurring tasks.

Automatic task reminders.

Perfect for small and individual teams.

Kanban board and timeline view is missing.

No multiple task assignees.


Limited integration options.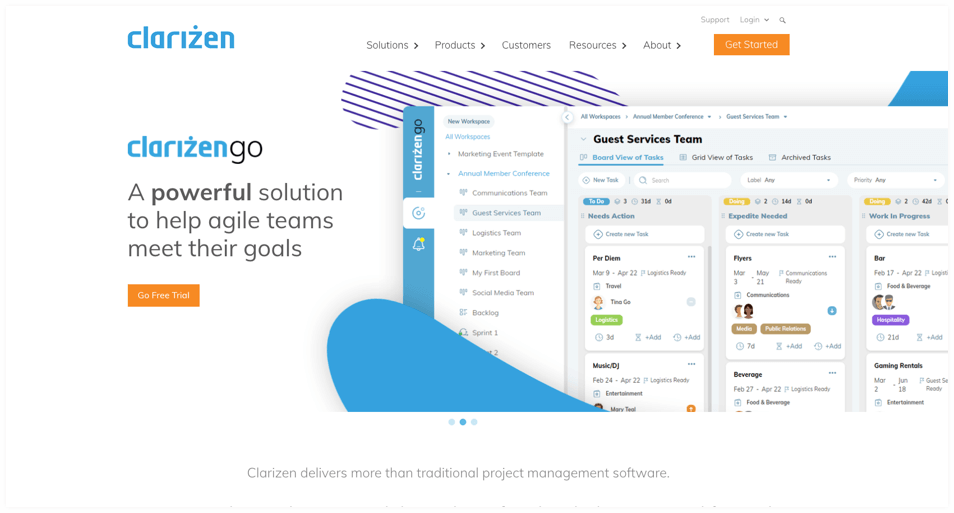 Clarizen is a popular enterprise-level project management tool, with a personalized interface and project visibility to all stakeholders. The SaaS solution helps large organizations simplify their workflow, streamline communication, and manage multiple simultaneous projects. From project planning to tracking the progress and generating reports, it is a great tool for large teams.
You can use Clarizen to:
Interact with your team members directly on relevant tasks and projects.
Generate risk and work estimates for different departments.
Visualize projects using Gantt charts.
Track time and status of the project at each milestone.
Get in-depth reports and analytics.
Pricing
Enterprise – Custom quotes on request.
Pros
Cons

Effortless collaboration.

Customizable reporting with graphs & charts.

Email/API integrations.

Lots of custom fields.


Steep learning curve and not for beginners.

Not ideal for small and medium teams.


Glitches during navigation.
Read More: 11 Best Product Management Software in 2022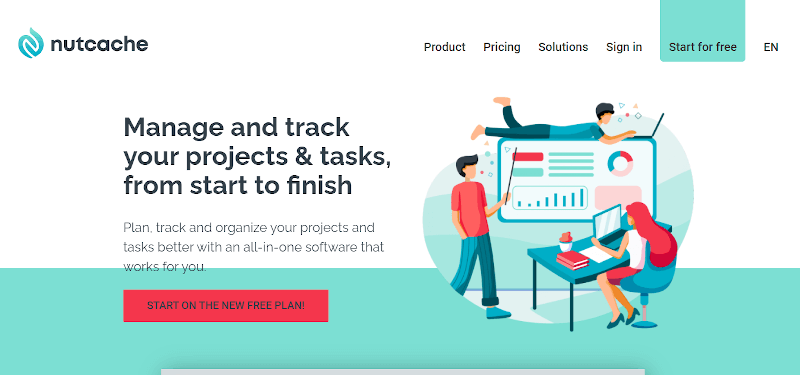 NutCache is an online project management solution with the focus to help you achieve your goals efficiently. With a simple approach: Team up, organize, track, & deliver, NutCache proves to be an ideal choice for teams looking to manage their projects. It is the right software for accurate billing and invoicing, especially for teams who charge clients by the hour.
You can use NutCache to:
Gather all your team's projects and resources into a central location.
Track time and expenses to bill your clients easily.
Share ideas, notes, and documents to collaborate with the team.
Track and measure project progress with various KPIs and reports.
Set up a project budget with alerts to make informed decisions.
Pricing
Free – Freemium plan
Pro – $8/user/month
Enterprise – $16/user/month
Pros
Cons

Billing and invoicing are super easy.

Organize and track project progress.

Intuitive and easy-to-use interface.


Project dashboards and reports.

Mobile apps lack some features.


Issue with editing logged hours.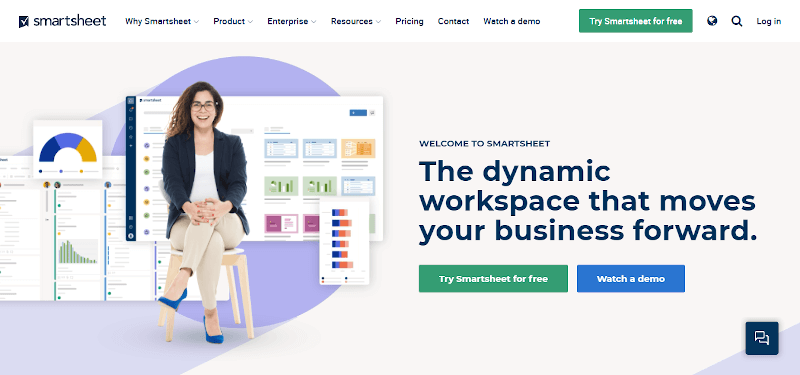 Smartsheet is a powerful Wrike alternative that comes with a robust set of features. Businesses can easily rely on Smartsheet for automating project processes and delivering output on time and within budget. The traditional spreadsheet view of this software makes it easy to generate reports, track tasks, and manage resources.
You can use Smartsheet to:
Collaborate with team members in real-time.
Generate customized reports and advanced analytics.
Collect any data using forms in a structured format.
Visually manage workload using live data and metrics.
Organize projects using real-time dashboards.
Pricing
Individual – $14/month
Business – $25/user/month
Pros
Cons

Intuitive real-time dashboard.

Customizable advanced reporting.

Drag and drop interface.

Forms to collect important information.


Lack of time tracking feature.


Limited calendar view.
Comparison of Wrike Alternatives & Competitors
| Software | Pricing (Starting/month/user) | Storage (per user) | Time Tracking | Team Collaboration | Project Reporting |
| --- | --- | --- | --- | --- | --- |
| Wrike | $0 | Limited | Yes | Yes | Yes |
| ProProfs Project | $0 | Unlimited | Yes | Yes | Yes |
| nTask | $0 | Limited | Yes | Yes | No |
| ClickUp | $0 | Unlimited | Yes | Yes | Yes |
| ProjectManager | $15 | Limited | Yes | Yes | Yes |
| Monday | $10 | Unlimited | Yes | Yes | Yes |
| ProofHub | $50 (unlimited users) | Limited | Yes | Yes | Yes |
| Sendtask | $0 | Limited | Yes | Yes | No |
| Clarizen | Custom | Limited | Yes | Yes | Yes |
| NutCache | $0 | Limited | Yes | Yes | Yes |
| Smartsheet | $14 | Limited | Yes | Yes | Yes |
Final Verdict: Which Wrike Alternative Should You Go For?
Wrike is a powerful and popular project management tool that lets you:
Manage projects and tasks
Allocate resources and track progress
Generate detailed reports
Provide feedback on tasks
Display project in multiple views
Customize project templates and work forms
But, according to your business and project requirements, you might be looking for a more robust solution with easy-to-use functionalities. You can consider some factors before choosing the best Wrike alternative for your organization.
What is the size of your team and how the team members communicate?
The features that you surely want for managing your projects.
Your preferred workflow or project management methodology.
Wrike is definitely complex for beginners and is not the ideal project management solution for many businesses. The software that we would suggest for your business is ProProfs Project as it offers customizable dashboards and multiple views for different projects and teams. The user-friendly interface is easy to navigate, and all the features are useful to make the project management process a breeze. To check out if it is the perfect fit for your project, try the free trial and explore all the features!
Do you want a free Project Management Software?
We have the #1 Online Quiz Maker Software for effective project management