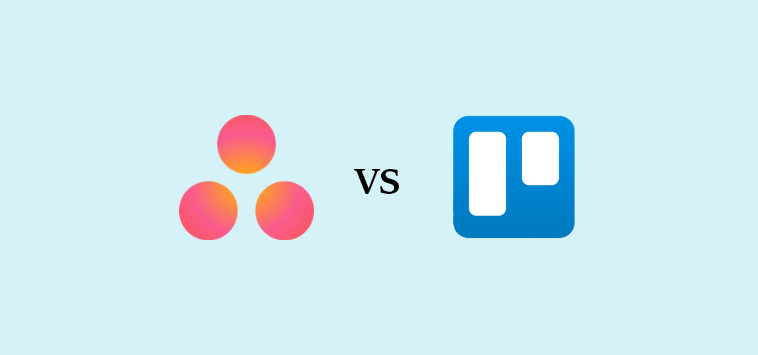 When it comes to project management, we have come a long way. From writing down a to-do list on a sheet of paper, we have evolved to using professional tools to manage and execute projects.
PMI's 2014 Pulse of the Profession report reveals that inefficiency can cost businesses a whopping $109 million for every $1 billion they invest in a project.
This clearly emphasizes the importance of proper project management: from analyzing employee productivity to evaluating potential timeline pitfalls and delays.
Fortunately, these days, both companies and individuals have several options when it comes to project management software. All that is left to do is make the right choice. This choice, however, is not particularly easy.
Choosing the right project management tool can be a complicated task that involves multiple parties. The tool must be effective on various levels and be suitable for both in-house and remote teams.
While the market is replete with project management tools, we're here to make your job easier. This blog focuses on the two popular project management solutions: Trello and Asana. We will explore their features, positive aspects as well as potential weaknesses.
We will also talk about other alternatives that you can consider and then come to a thoughtful decision as to which tool is the best for you.
Dive into this blog to learn which tool gets the crown in the end.
What Is Trello?
Trello is a project and task management software based on the Kanban productivity system.
Initially designed to improve the manufacturing process at Toyota, the Kanban method quickly attracted the attention of individuals who wanted tools to track their productivity and efficiency.
This productivity method is centered around the Kanban board, which is a visual representation of work at various stages. Visualizing workflows can help people better understand the processes involved in achieving goals.
Trello lets you create a digital Kanban board that visualizes assignments, helping them get things done quickly. The software has steadily grown in popularity ever since its inception and now has over 35 million users worldwide.
Trello Key Features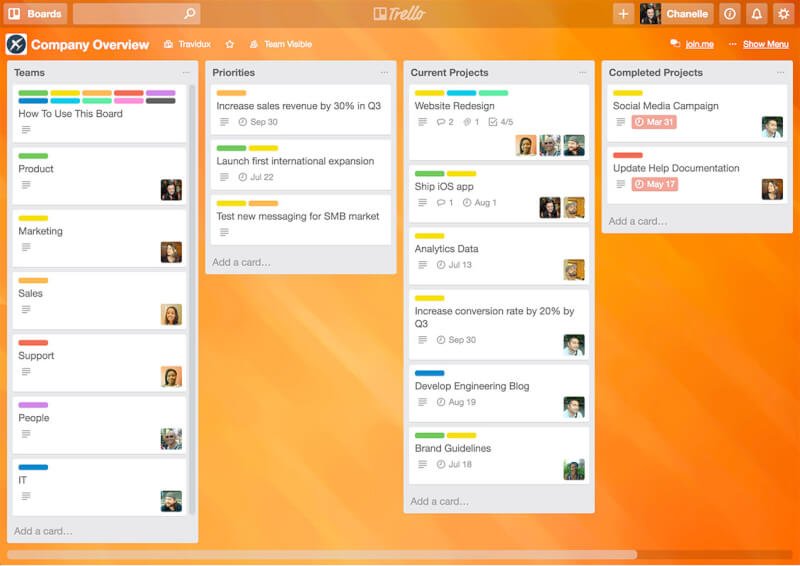 So, what does Trello bring to the table? With the Kanban system at its core, Trello offers a clear visual picture of projects.
The tool includes four main visual board cards: Ideas, To Do, Doing, and Done. You get to invite as many participants as you want to your board for free, which is great for larger teams.
Here are some of the key features of Trello:
User-friendly interface—Trello uses a digital whiteboard that lets teams see who is doing what. Plus, the simple and clear organization through boards, lists, and cards makes the tool unintimidating for first-time users.
Task management and project tracking

—As team members complete tasks that are assigned to them, they can then move these work cards to the next list, representing the succeeding stage in the process. This way, everyone attached to the card will see their work progress, including what has been done and who completed it.

Cross-platform integration and Power-Ups

—A great thing about Trello is that it syncs all your data across devices. Plus, you can purchase Power-Ups that extend the functionalities of your board. You can also integrate it with other software like Jira, Slack, Mailchimp, and so many more.

Data safety

—Trello gives you full control over who can see your board. What's more, the software uses an SSL/HTTPS connection for secure data exchange.
Pricing
There are three price levels of Trello:
Free

–

You get the most basic features, and the app promises to keep this free option for as long as it exists.

Business

– This one is priced at $10/month/user (billed annually). It comes with more features and is meant for small to medium businesses.

Enterprise

– The total fee depends on the size and needs of your team. You'd have to contact Trello's Sales team to get a quote.
Read More: List of 20 Best Project Management Software
What Is Asana?
Founded in 2008, Asana is a relatively new tool that has already gained popularity as a task management solution.
In Asana, everything is focused on projects and tasks. Every new project you create can be subdivided into tasks and subtasks. You can then prioritize, assign and manage them at your convenience.
One of the tool's main strengths is collaboration. It lets you keep all your assignments in one place and makes it easy to have all the related conversations in the same place.
Asana Key Features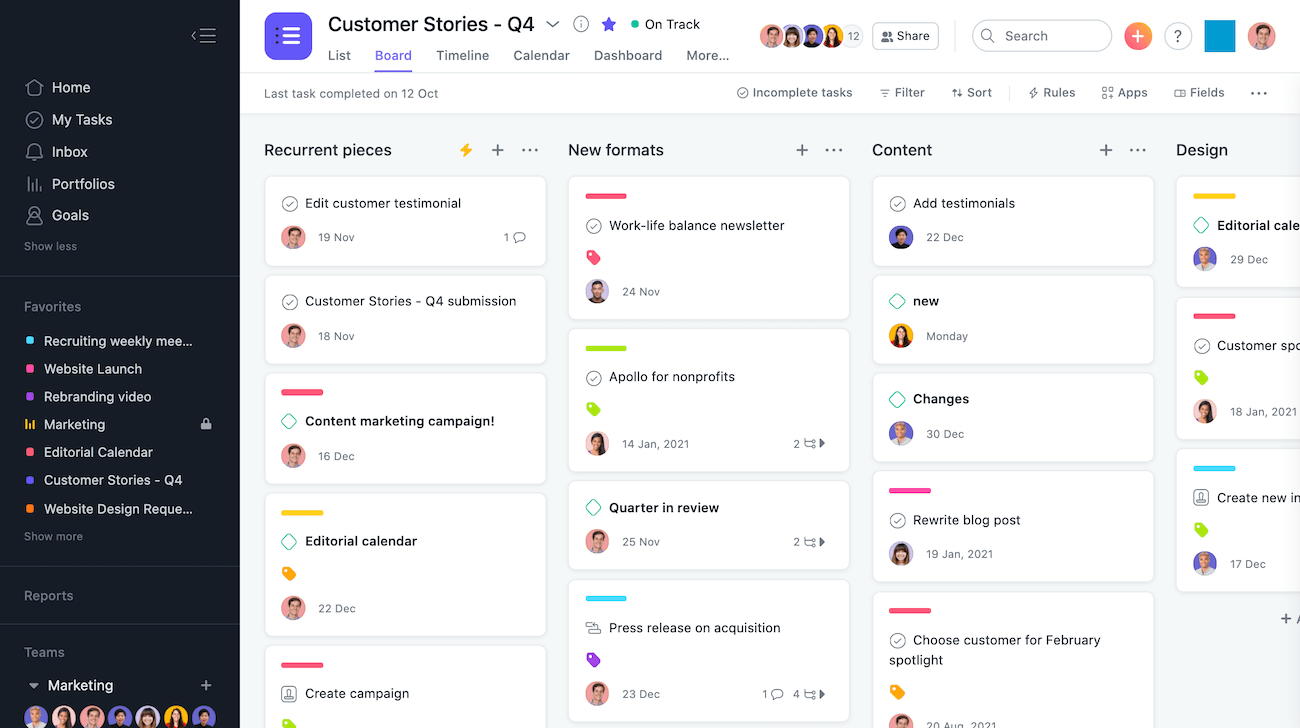 Asana is an advanced project management tool designed to handle complex projects. It is also based on the board layout of the Kanban productivity system. With this tool, you get to visualize your work and clearly evaluate its progress. However, while Trello is centered around the board system, in Asana, this is just one of the many features.
Here are some of the other great features that Asana offers.
Task dependency

—In Asana, you can mark a task as a prerequisite for another task. Once the said task is completed, the concerned members will get a notification that they can take up the next tasks and proceed with their work.

Timeline

— Create a plan and set a timeline for each task to see how various parts of a project fit together. You can use it to check how tasks are mapped out over the project duration. Manage scheduled and unscheduled tasks, dependent and overlapping tasks easily.

Calendar view –

This feature lets you view projects and tasks in calendar mode. This way, you can organize your work and keep an eye on what's complete and what's due.

Portfolios

—This feature provides a bird' eye view of all projects in the portfolio on a centralized dashboard. This is very helpful when working on several projects at the same time. You will also be able to check KPIs and other key information for each project.

Workload

—The Workload feature is focused on each team member and lets you manage the workload for individuals separately. Analyze the bandwidth of each person, assign tasks and balance the workload among team members.
Pricing
Asana offers four price levels:
Basic plan

– This free plan is meant for individuals or small teams and helps you get started with project management.

Premium plan

– This plan costs $10.99/user/month if billed annually and $13.49/user/month if billed monthly. The premium plan is designed for teams that want to go beyond project management basics.

Business plan

– The Business plan is aimed at larger teams and organizations that need to manage several projects at a time. It costs $24.99/user/month if billed annually and $30.49/user/month if billed monthly.

Enterprise plan

– This plan is designed for larger organizations that need extra support, security, and control features. The price is calculated based on your needs.
Read More: Buyers Guide: How to Choose the Project Management Software
Comparing Trello and Asana
Trello and Asana offer similar functionalities and goals. Both of them help your team create a visual representation of the status of your projects. As such, it simplifies task management and allocation.
Even so, Asana and Trello have their advantages and disadvantages. If you want a Kanban-style project management tool that is visually appealing and perfect for smaller teams, Trello is the better option. However, we cannot forget that projects can grow, and the columns on the board can expand. When this happens, it can be difficult to monitor tasks on Trello. This is where Asana's strength lies. This tool may seem daunting at first, but it is ideal for bigger teams that need a more powerful and comprehensive solution. Asana is efficient in assigning tasks in bulk and managing multiple projects under one roof.
| Features | Trello | Asana |
| --- | --- | --- |
| Shared Calendar | ✔ | ✔ |
| Mobile Apps | ✔ | ✔ |
| Free Trial | ✔ | ✔ |
| Views | Dashboard, Timeline, Calendar, Workspace table view | Kanban, List, Timeline, Calendar |
| Dependencies | ✖ | ✔ |
| Collaborations (free plan) | Unlimited | Up to 15 teammates |
| Integrations | ✔ | ✔ |
Top Alternatives to Trello & Asana
While Trello and Asana are two of the most popular project management tools out there, they are not the only ones. So, if you are looking for something more or need niche capabilities, here are a few other tools that can help you organize and manage projects.
Here are our top picks:
ProProfs Project

Monday.com

Basecamp

Traqq

ProofHub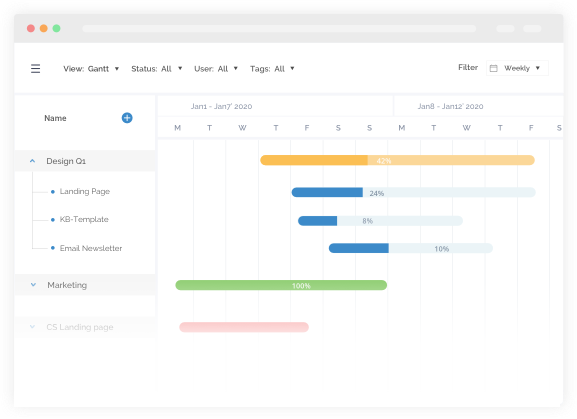 ProProfs Project is cloud-based project management software that helps you organize several projects and tasks under one roof. The tool offers an easy way to plan, assign, manage and execute tasks across projects.
You can choose from a variety of views – list, calendar, Kanban, Gantt chart to manage your projects. Each view has its own advantages, so depending on what suits you best, you can select the view and get started with project management.
ProProfs Project is one of the simplest tools out there, with a short learning curve. Its intuitive interface and user-friendly features allow you to manage projects from start to finish. Your teams can even collaborate while working on projects, get instant notifications on project developments, and stay on the same page as the project progresses.
Key Features
Shared calendar – ProProfs Project lets you plan projects and allocate tasks on a shared calendar. You can navigate a number of projects and tasks conveniently with this feature.
Real-Time Notifications – The tool comes with a reliable notification system that provides timely alerts and updates about the latest developments, approaching deadlines, and covered milestones.
Comments – It allows you to comment on tasks, which allows for smooth feedback exchange and helps avoid messy email threads.
Insightful Reports – The tool's built-in reports give useful insights into project progress and team performance.
Timesheets – Team members can use this feature to enter the approximate time it took them to complete a task or project. This feature helps calculate billable and non-billable hours and generate invoices.
Pricing
Starts at $39.97/month.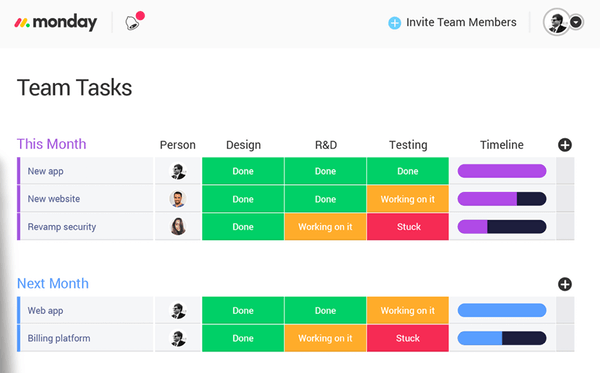 Monday.com is a cloud-based collaboration tool that helps you track and organize your work.
The tool uses color-coded boards that let you quickly identify which projects are completed, which are still in progress, and which are experiencing some difficulties. You can also select to see your task board based on Status, Text, Person, Timeline, or Date.
Key Features
Centralized board-based task management

—The tool helps you manage tasks by putting them out on a board. Team members can add tags to current projects like "Done," "Working on it," or "Stuck."

Visual organization

—Monday.com lets you easily see the status of each project by color-coding tasks. This helps you quickly identify delays and other related issues and address them on time.

Client invitations

— Your team members can invite clients to view specific task boards so that they can track the progress of their projects firsthand.

Advanced search

—The software gives you the option to search projects by image, update, assignments, and more.
Pricing
There are four pricing levels:
Basic plan

– The plan is priced at $8/user/month.

Standard plan

– This plan costs $10/user/month.

Pro plan

– This is the more expensive plan at $16/user/month. This plan is meant for complex workflows with a lot of automation.

Enterprise

– This plan is specifically designed for larger organizations that need enterprise-grade security and support. Pricing can be discussed with support managers.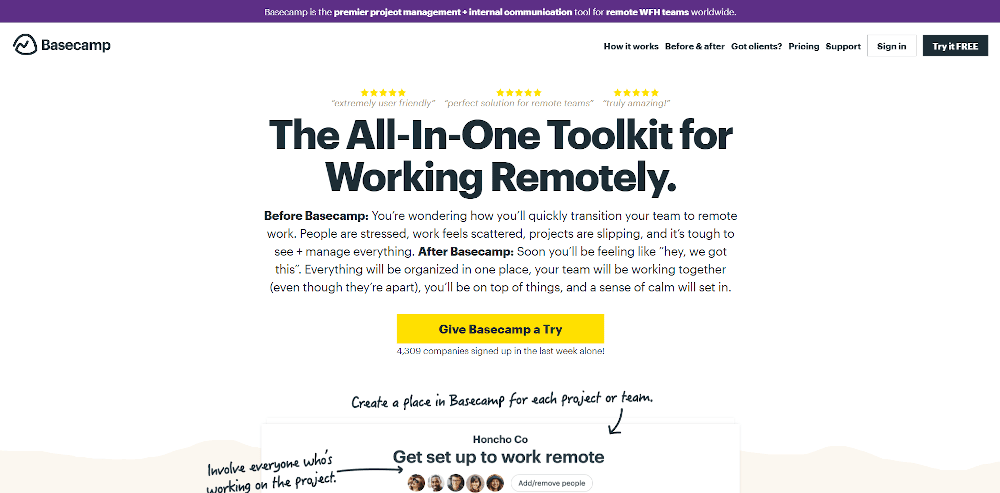 Basecamp is a powerful online project management tool that lets you organize your work and collaborate with teammates. You can track tasks, deadlines, files, discussions, and updates related to their projects easily with this software.
Basecamp focuses more on collaboration than actual project management. The software stresses the importance of communication at every stage of the project. Besides, it has a more flexible structure than most other tools in this list.
Key Features
To-do lists

– Just like most of the other project management software, Basecamp lets you create to-do lists, split tasks into sub-tasks, assign them to team members, and set deadlines.

Chat platform

– Basecamp allows for group communication and supports private messaging. This feature is great for casual discussions, quick questions, and file exchange. Every project on Basecamp gets a chat room where you can mention people, attach documents, and more.

Reports

– Basecamp offers quick insights into who is working on what and how it is going through its reporting system.

Hill Charts

– Basecamp has a feature called Hill Charts that helps you track project progress in real-time. It can be used to keep an eye on large projects and eliminates the need for daily meetings.
Pricing
Basecamp has two very straightforward pricing plans.
Personal

– This is the app's basic plan that is free to use.

Business

– This plan is meant for larger teams and is priced at $99/month for an unlimited number of users.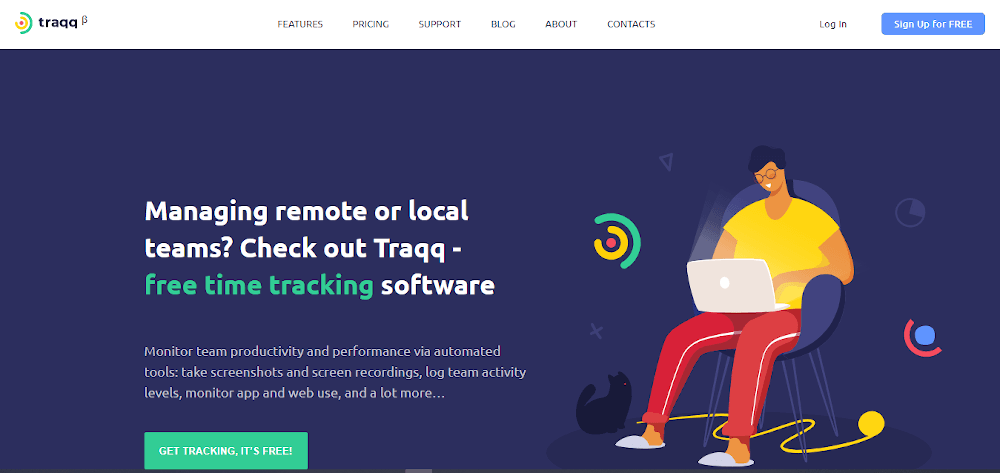 Traqq is an employee monitoring and time tracking software. It is a program that will help you improve overall team performance.
Traqq smoothly and efficiently monitors employee productivity and attendance by taking screenshots and recording desktop screens without causing any distractions. The software is pretty lightweight and doesn't cause any disturbance to the employees' systems. Plus, it can work in offline mode.
The software allows you to track the work of an unlimited number of teams. It also simplifies invoice processing as it generates timesheets automatically.
Key Features
Time tracker

– Traqq tracks employee productivity both online and offline. The app also sends out alerts and notifications that will get you back on track and help you focus on your work.

Screenshots and videos

– Traqq lets you monitor user activity via automated screenshots and videos. All screenshots are taken in the background and cause no distractions to ongoing work. The tracking feature is fully customizable. You can choose which member/members you want to track or disable this option altogether.

Ethical tracking

– When Traqq takes screenshots and videos of employees' screens, the quality of these images and videos is intentionally reduced. This is done to make sure that sensitive and personal information is not legible.

Activity levels

– Based on the collected data, Traqq creates activity levels for everyone in your team, helping you identify your best-performing employees. This information can also be used to determine profitability.

Security and privacy

– With Traqq, you are the only one who has access to your encrypted data. Plus, the multiple layers of protection ensure the safety of your data at all times.
Pricing
Traqq is currently offered in the beta version and is absolutely free — with no feature limitations.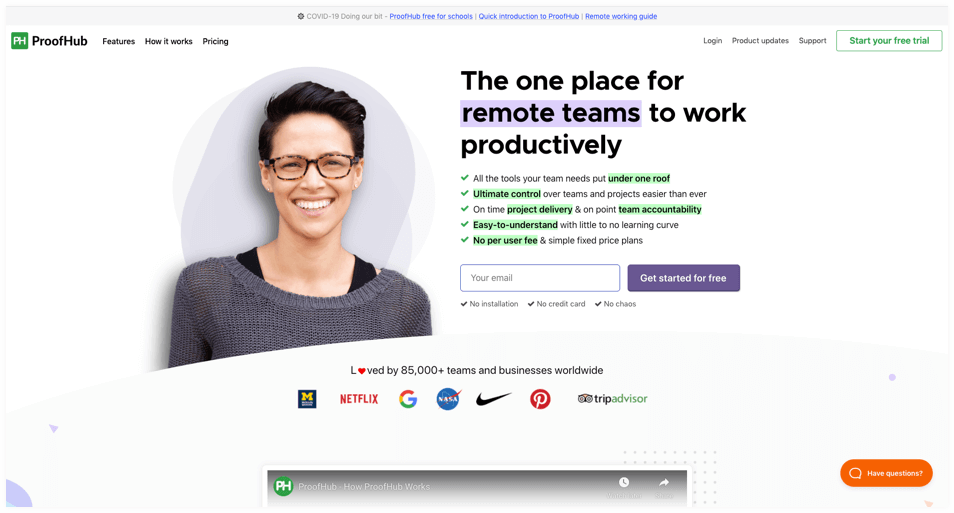 ProofHub is designed to help teams organize, track the status of projects and collaborate on assignments. The software allows you to track multiple projects, create dependencies among tasks, get time estimates, and perform a host of other activities.
This easy-to-understand tool offers a table, Kanban, and Gantt Chart view. You can set custom workflows, custom roles, and gain ultimate control over all your projects, tasks, and teams.
Key Features
Table view

– ProofHub lets you arrange tasks and assignments in a way that's most suitable for your team. You can then filter and view data based on priority and keep all the essentials front and center.

Custom roles

– The software lets you create custom roles, assign them and grant different access levels to team members based on your organizational workflow.

Labeling

– You can personalize your ProofHub account to match the look and feel of your brand. Pick a custom domain, add your brand logo and choose a theme color.

Reports

– ProofHub sends you detailed project reports in just one click. You can get custom reports based on the parameters of your preference and easily visualize the progress of your projects.

Discussions

– The tool offers a great platform for collaboration. It lets you hold discussions with team members and clients in one place and quickly resolve project issues.
Pricing
There are two pricing plans with ProofHub.
Essential plan

– This plan costs $45/month when billed annually and $50/month when billed monthly. You get to have an unlimited number of users in both cases.

Ultimate Control plan

– This is a more advanced project management solution. It costs $89.00/month when billed annually and $99/month when billed monthly.
Realted read: 17 Workflow Management Softwares
Make the Right Choice
Choosing the right project management tool is a very personal decision for every company.
It all comes down to your goals, the nature of your business, and how your workflow is organized. If you are not sure which tool to go for, it may be a good idea to invest some time into trying out different solutions. This way, you will be able to make an informed final decision based on the results and employee feedback.
Trello is ideal for small businesses with clear, linear processes. Asana is tailored towards larger organizations working on multiple projects at the same time. Basecamp keeps things really simple, and Traqq is focused specifically on time tracking and employee productivity.
ProProfs Project is the optimal project management solution for both small and big teams.
It brings all the essential features under one roof without overcomplicating things with rarely used extras. With that, there is a strong platform for managing both in-house and remote teams in the same place — which can be especially useful in our current working environment.
Remember that anything you choose should offer the best-in-class features and a good bang for the bucks you invest. It should score high on simplicity, features, integrations, and overall experience.
The free trial version of each of the tools listed above will help you dig deeper and explore features, helping you make an intelligent decision.
Do you want a free Project Management Software?
We have the #1 Online Project Management Software for effective project management.