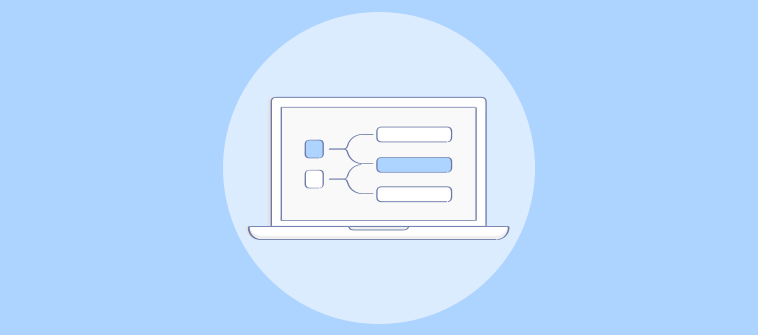 Ever seen a knife juggler in action? Think about how difficult, and dangerous, it would be to juggle multiple sharp knives at the same time. You'd have to be extremely cautious (not to mention extremely skilled) and need to keep an eye on all the knives at the same time while knowing precisely when to let go of one to latch on to another. Every movement needs time to perfect. If you miss just one, it would not only spoil your entire performance but potentially cause some damage as well.
Welcome to the world of project management!
Project management is no different from juggling multiple sharp-edged knives. In order to execute a project successfully, you not only need to control multiple activities at the same time but also ensure that they're completed on schedule.
Miss one deadline or take longer than planned to complete a task, and the entire project could be compromised. You risk not only missing the project delivery deadline or ballooning costs but potentially losing the project.
That's precisely why it's so useful to be able to see every little task that needs to be completed, and knows, exactly, when each activity needs to be completed, in one glance.
What is a Gantt Chart?
The first thing one much know is: what is a Gantt chart?
In case you haven't heard of it before, a Gantt chart is a visual representation of the project activities (tasks and events) scheduled overtime. Typically, a Gantt chart will contain a list of the activities on the left and a suitable time scale along the top.
Gantt charts are one of the most popular and useful ways of planning projects of all sizes. They are a very intuitive way of visually indicating which tasks are scheduled to be completed on a specific day and within what timeframe. They also let you see the start and end dates of a project in one simple view.
In the example image above, you can see that all activity is represented by a horizontal bar- the position and length of the bar reflect the order of the tasks, their start date, duration as well as end date.
What is the Importance of Gantt Charts?
Now that you know what is a Gantt chart, it is essential to know its importance.
Over the past years, managing the projects in the right fashion to reach the deliverables has become a necessity. That's why when Gantt Charts came into the picture, managers realized their importance. With Gantt Chart, you can:
Organize and schedule tasks
Set durations and dependencies
Collaborate with comments
Identify critical path
Set alerts and reminders
Store files and key information
Track milestones
Determine the resources needed for successful project completion
Determine how much time will the project take to finish
The list can go on, but one thing is clear – with so many features, a Gantt Chart allows the successful completion of a project. And these have made the managers realize the importance of Gantt Charts
History of Gantt Charts
Believe it or not, but people have inked plans on paper and even used colored blocks in the past to represent tasks in a manner similar to the one outlined above.
In fact, prior to the advent of project management software equipped with Gantt chart display, Magnetic blocks and Legos™ were regularly used as Gantt planning tools.
The first Gantt chart was created by Karol Adamiecki, a Polish engineer, in the mid-1890s. Adamiecki operated a steelwork in southern Poland and was keen on improving management techniques.
About 15 years after later, Henry Gantt, an American engineer, and a project management consultant, took Adamiecki's concept to the next stage and created his own version of the chart. The method soon became very popular in western countries and its usage spread.
The first Gantt charts were prepared almost exclusively by hand – a laborious and time-intensive process. And every time project guidelines changed, it became necessary to recreate the chart.
This was a major drawback in those early days and limited the usefulness of Gantt Charts since change is usually the only constant in most projects. Today, however, with the advent of computers and sophisticated project management software, Gantt charts can be created, edited, and printed easily.
Who Needs a Gantt Chart?
The short answer is – just about anyone.
Today, anyone who needs a better way to organize and visualize their tasks can use a Gantt chart.
Since most of the difficult work (designing the chart) is carried out by software applications, most people can take advantage of Gantt charts to create even simple to-do lists, with start and end dates.
Most companies, however, use it for managing much more complex projects, get an instant overview of the project status, its associated tasks, and associated timeframes.
Gantt charts are effective tools for people with the following roles:
Project Managers

Team Leads

General Managers

Operations Managers

HR Managers

Scheduling managers

Work Managers

Marketing Managers

Designers

CEOs & CTOs
… and anyone else who needs an instant view of a project timeline.
Gantt charts are no more toys meant exclusively for the formally trained project managers. With the advances in project management software technology, today anyone might be found using Gantt charts online, or for their personal task management.
What are the Advantages of the Gantt Chart?
Gantt Charts are the ideal way to pan out a project. From defining the project execution process to analyzing work progress, everything can be visualized using a Gantt Chart. A few advantages of the Gantt Chart includes:
Easy representation of project activities and schedules

Accurate visualization of tasks, sub-tasks, project activities, and milestones

Clear definition of time frames

Ensures efficient time management

Helps in planning out project activities in a daily, weekly, monthly, quarterly, or yearly structure

Helps in efficiently managing different teams

Easy to see who is working on what

Tracking work progress effortlessly

Seamless team coordination
Nowadays, managers use robust project management software, like ProProfs Project, that features a Gantt Chart tool to not only plan out projects properly but also generated detailed and insightful reports.
Related Read: 13 Best Gantt Chart Tools
How to Use a Gantt Chart?
Step 1: Identify Essential Tasks
Gantt charts will be rendered useful only when they include every activity needed for successful project completion.
So, the first course of action, obviously, is to list all of these activities. Break down your project milestones into individual units to establish what the various tasks are. Then, for each task, decide its start date and the estimated duration.
Example: You have been awarded the contract for a SaaS application development, and as the project manager, you have made a decision to use a Gantt chart to view all of the tasks and to evaluate the likely timeframe for delivery.
You can start by listing all of the tasks that are necessary for project completion as well as the time frame for each task.
Step 2: Identify Task Relationships
A Gantt chart clearly shows the relationship between all the tasks in a project. Most projects have task dependencies that require some tasks to be completed before others.
In this example, server-side packages cannot be installed before installing the server itself.
These task dependencies are called "sequential" or "linear" tasks.
Other tasks, that are not dependent on other tasks, run in "parallel" – i.e. they can be initiated at the same time as other tasks.
So, at this stage, it's important to identify which of your project's tasks are sequential and which ones are parallel.
Tasks can be dependent on one another for several reasons. If you're making marketing collateral for your social media page, for example, that task would be dependent on the content strategy. That has to be completed first. Another reason a task can be dependent on another is if it shares a certain resource. Coming from our previous example, all your graphic design tasks would be dependent on the completion of every other task if you only have one artist to work on all of them.
Wherever tasks are dependent on others, make a note of the relationship between them. This will provide you an in-depth understanding of how to organize the project better, and help you make important decisions regarding the scheduling of tasks.
Step 3: Create the Project
To view the progress of each task, it's time that you create a project in a simple project management software.
Once you've created your project add all your designated tasks with due dates, users responsible for their completion, and deadlines for each task. This helps you record the progress of each task hassle-free.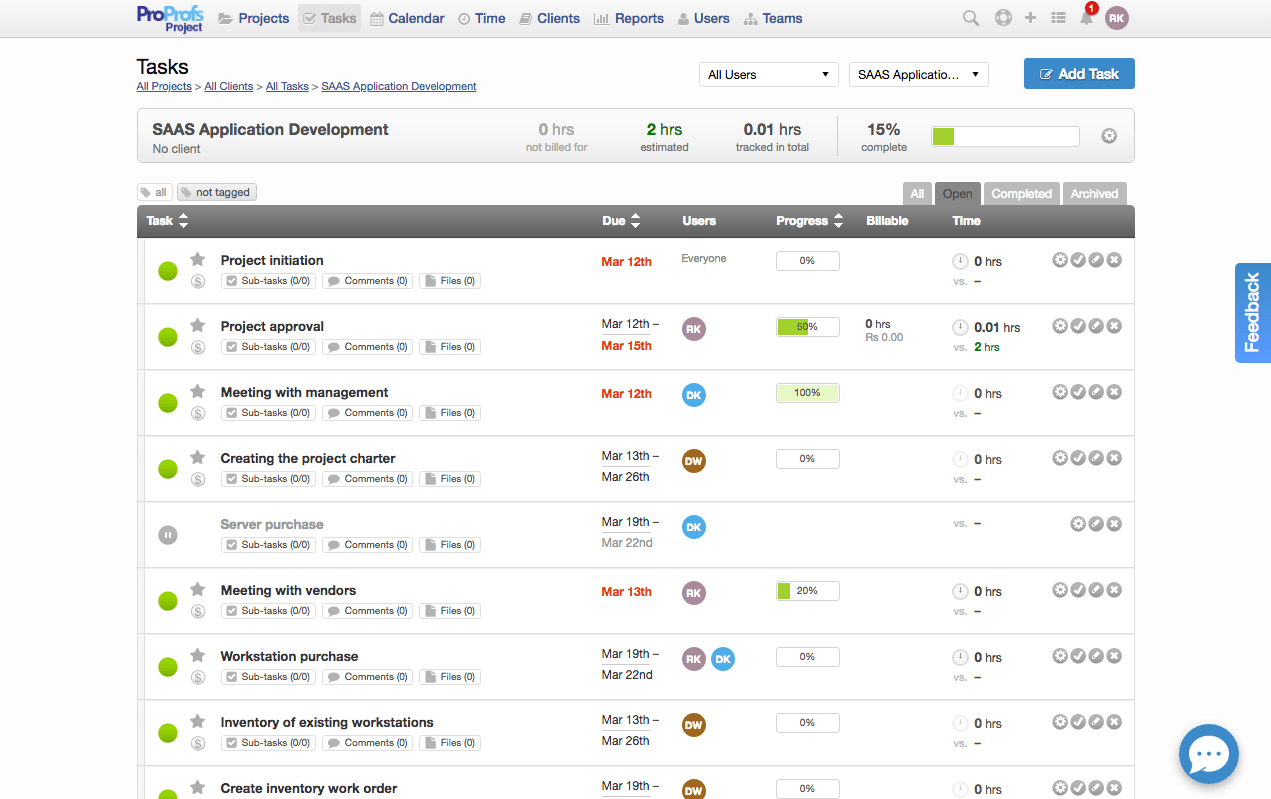 Read More: How to Make a Gantt Chart: Step-by-Step Guide for Beginners
Step 4: Gantt Chart View
Once you've created all tasks, it's time you view their progress through a Gantt Chart view. It'll help you track the progress of a project, its tasks, and sub-tasks.
You can also edit or add both tasks and sub-tasks. You can easily view which all tasks need immediate attention and are still pending with your team.
This will later help you inform your stakeholders on the progress of the project, therefore increasing the importance of Gantt Chart View for both parties.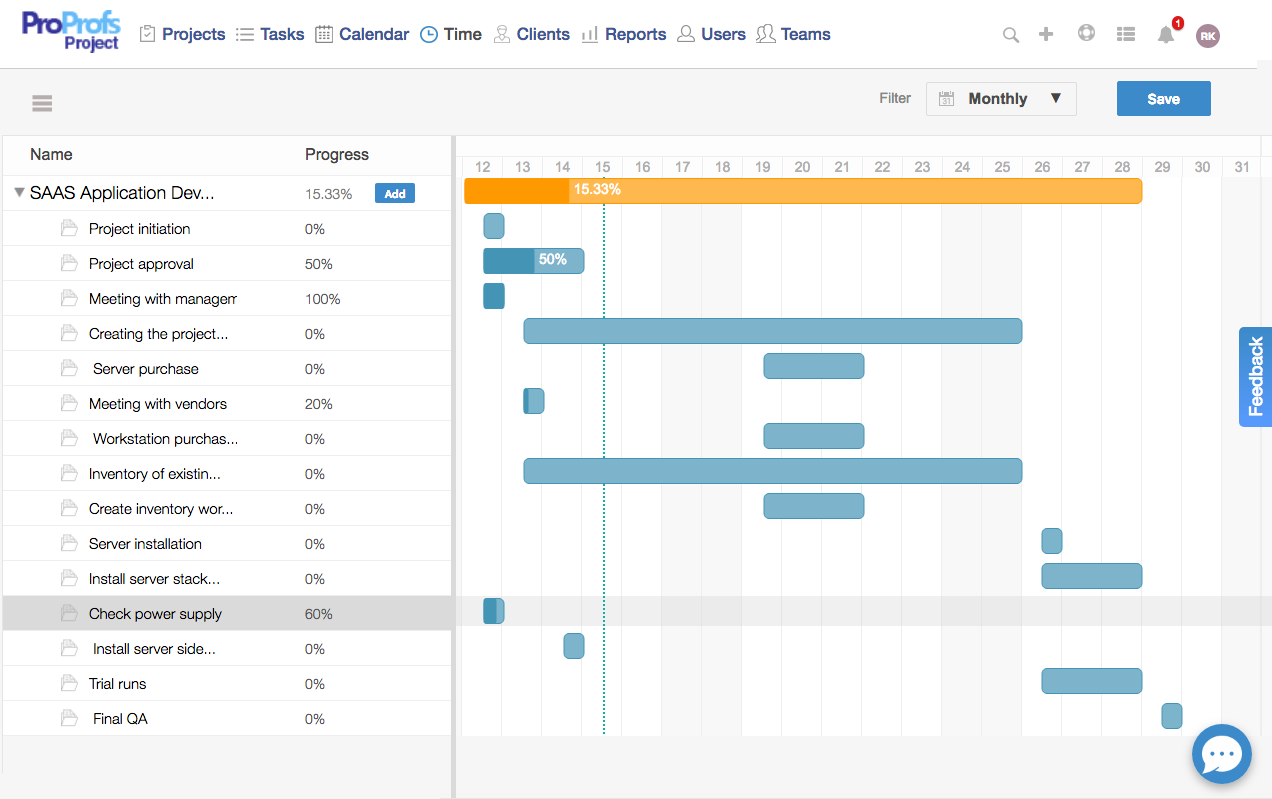 Bottom Line
As a manager, you are required to be a multi-tasker. But while you multitask, it can become a challenge for you to make sure that every activity is completed on time without hitches. So, how do you make sure that all tasks are being completed on time?
A Gantt Chart View will help you accomplish this objective.
With a quick Gantt Chart View, you can easily track the tasks and their progress rate. This will also help you inform your team to complete their tasks or sub-tasks to achieve the goal of the project easily.
Do you want a free Project Management Software?
We have the #1 Online Project Management Software for effective project management.