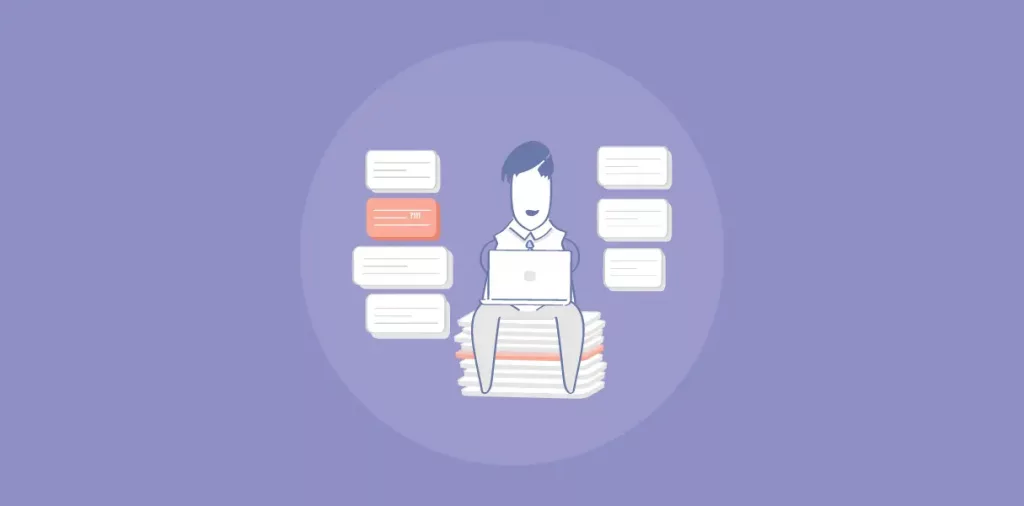 Zoho Projects has established itself as a reliable and feature-rich solution for businesses seeking streamlined collaboration and efficient project execution.
This software offers a wide range of features such as task tracking, collaboration features, Gantt charts, and time tracking[, allowing your teams to effectively plan, execute, and monitor projects.
However, Zoho does have a few areas where it falls short.
One limitation is its complexity as a platform, which can overwhelm teams seeking a simpler project management solution. Additionally, the user interface may not be as intuitive as some competitors, resulting in a steeper learning curve.
Another drawback is the absence of extensive customization capabilities that may hinder the ability to adapt the software to industry-specific requirements.
But guess what?
The market is replete with hundreds of Zoho alternatives, offering you a diverse range of options to choose from!
In this blog, we will look at the top 10 alternatives of Zoho, highlighting their key features, pros, cons, and pricing.
What Is Zoho Projects?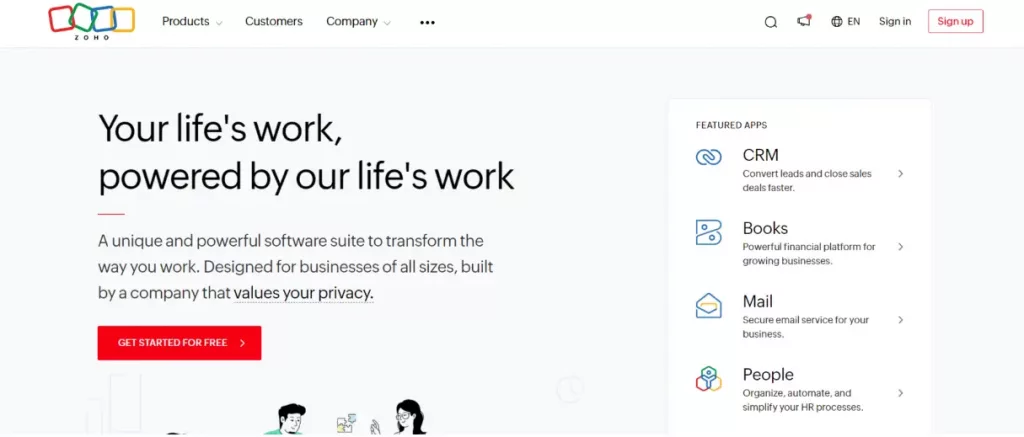 Zoho Projects is a powerful project management software that empowers teams to collaborate, plan, and execute projects seamlessly. It comes with a user-friendly interface and offers a centralized platform for task management, document sharing, time tracking, and milestone tracking.
The software enables teams to streamline communication, assign tasks, and monitor project progress effectively. With Gantt charts, Kanban boards, and customizable workflows, Zoho Projects provides flexibility to adapt to various project management methodologies.
It also integrates with popular third-party apps such as Slack, Zapier, and Dropbox. Whether you're a small team or a large organization, Zoho Projects effectively caters to your project management needs with its comprehensive set of tools and functionalities.
Why Look for Zoho Alternatives?
Are you looking for software that addresses the shortcomings of Zoho?
You're not alone!
Zoho may not be suitable for all businesses due to multiple reasons. Let's explore why many are seeking an alternative to Zoho.
Complex interface: Zoho offers a comprehensive suite of features, which can be overwhelming for businesses looking for a simple, straightforward solution. Navigating multiple features and settings may have a learning curve and potentially hinder productivity.
Customization limitations: Although Zoho provides a wide range of functionalities, customization options are limited compared to other platforms. This may be a restriction for businesses with specific requirements for tailoring the software to their exact needs.
Inadequate customer support: Some users have reported difficulties with Zoho's customer support, citing delayed responses and inadequate assistance. This could be a concern for businesses seeking prompt and reliable support for technical issues or inquiries.
Expensive pricing levels: Zoho's pricing structure may not align with the budgets of small or emerging businesses. Though it has a free plan and different subscription options, accessing advanced features often requires expensive higher-tier plans, which may not be affordable for some organizations.
Understanding these cons alongside the benefits of Zoho will help you decide whether it aligns with your specific business needs or if exploring alternative options is more suitable for your goals.
When considering alternatives to Zoho, it's crucial to identify the key features that make a software solution stand out.
Essential Features Zoho Alternatives Must Have
Here are some important features that top-notch Zoho alternatives should possess to meet the diverse needs of businesses:
Advanced Reporting & Analytics
Powerful reporting and analytics features provide deep insights into project performance, resource allocation, and team productivity. All Zoho alternatives should offer comprehensive reporting capabilities and visual dashboards to empower businesses to make data-driven decisions for optimized project performance.
Seamless Integrations
Integration capabilities are essential for smooth data flow across different systems. Zoho alternatives should support seamless integrations with popular third-party applications, enabling teams to collaborate and access data from various sources within a unified platform.
Time Tracking
A critical feature that Zoho alternatives must possess is robust time-tracking functionality. This feature allows you to accurately monitor and record the time spent on tasks and projects. With built-in time-tracking features, your teams can log their work hours, track project progress, and generate insightful reports.
Collaboration Capabilities
Effective collaboration and communication are the backbone of successful project management. Zoho alternatives should provide robust collaboration features, including real-time messaging, file sharing, task commenting, and team activity feeds.
These features promote transparency and facilitate teamwork, ensuring everyone stays connected and informed.
We now know the key features to consider while selecting a Zoho alternative, but what should be the criteria for evaluating these tools? Let's find out!
Criteria for Evaluating Project Management Tools
When assessing project management tools, it's important to consider specific criteria that determine their effectiveness for your business needs.
Here are four key criteria to evaluate when selecting a project management tool:
Core Project Management Features
A reliable tool should provide essential project management features such as task management, project scheduling, collaboration, and document sharing. These features ensure your teams can plan, execute, and monitor projects efficiently, fostering effective communication and task coordination.
Integration Capabilities
Seamless integration with other business tools is crucial for efficient data exchange and streamlined workflows. Look for project management software that plays nicely with communication platforms, file storage, or customer relationship management (CRM) systems.
This enables teams to work cohesively across different platforms and access relevant information in one centralized location.
User Experience & Interface
A user-friendly and intuitive interface is key to quick software adoption and simplified project management. Consider tools with a clean and intuitive design that simplifies navigation and promotes ease of use. A well-designed user interface reduces training time and improves overall user satisfaction, leading to higher productivity and engagement.
Ease-of-Scalability
As your business grows, the project management tool should be able to accommodate expanding portfolios and teams. Look for tools that offer scalability, allowing you to add more projects, users, and resources without compromising performance. Scalability ensures the tool can grow with your organization and meet evolving project management needs.
Assessing project management tools against these criteria will help you identify the most suitable solution for your business.
Top 10 Zoho Project Alternatives for Project Management Success
Now, let's delve into the heart of the matter and discover the finest alternatives to Zoho available in the market.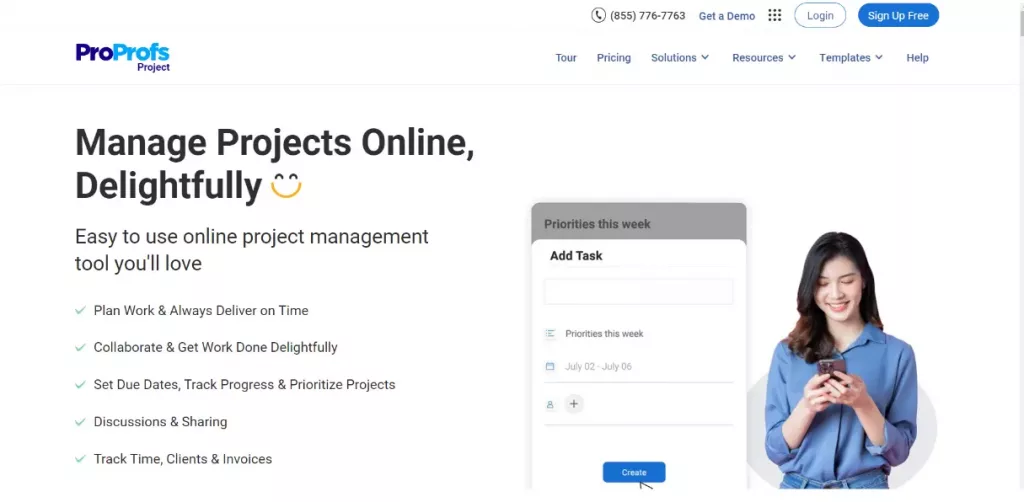 ProProfs Project is a power-packed tool that helps you simplify project workflows with its easy-to-use task management system. This enables teams to assign, track, and prioritize tasks effortlessly. You can visualize project timelines and dependencies using interactive Gantt charts, providing a comprehensive overview of project progress and resource allocation.
When seeking a Zoho Projects alternative, ProProfs Project stands out as a robust project management solution. With its intuitive interface, versatile features, and simple collaboration options, it empowers your teams to streamline projects and achieve remarkable outcomes.
Key Features of ProProfs Project:
Monitor project timelines and track team productivity with integrated time tracking
Stay up-to-date with real-time project progress using Gantt, Kanban, and more
Foster seamless collaboration via task comments and file sharing
Customize workflows with an easy drag-and-drop action
ProProfs Project Pros:
The user-friendly interface of ProProfs Project simplifies adoption and minimizes the learning curve, ensuring teams can hit the ground running.
Its customizable templates help you get started with ready workflows within minutes.
ProProfs Project Cons:
While ProProfs Project offers essential integrations, it may have a more limited range than other project management tools.
3rd party integrations allowed: Yes
Suited for: Small to large-sized businesses, Enterprises, Personal Projects, Remote Teams
Price:
Starts at $39.97/month.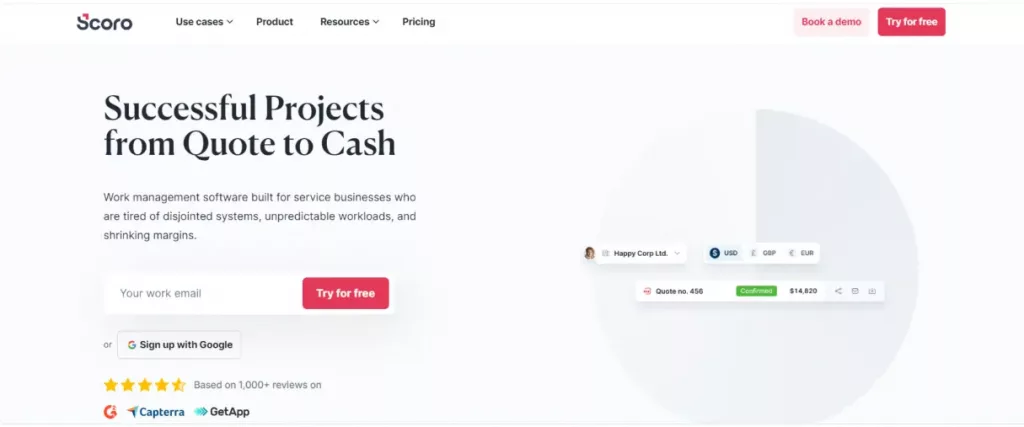 Scoro is an exceptional alternative to Zoho Projects that offers a comprehensive set of project management tools to streamline workflows and drive success. With its all-in-one platform, Scoro equips teams with the necessary features to manage projects effectively.
Its powerful dashboards help combine sales, delivery, and financial information in one place, lending a complete overview of results and progress in real time.
Key Features of Scoro:
Optimize resource allocation and scheduling with advanced resource planning feature
Gain complete control over project budgets, expenses, and invoicing via its Utilization report
Stay informed with real-time project dashboards
Streamline communication with shared calendars, document management, and task comments
Scoro Pros:
Seamlessly integrates with popular business tools, allowing users to connect and sync data with ease.
Comprehensive reporting capabilities that enable detailed analysis of project performance and resource utilization.
Scoro Cons:
Due to its extensive feature set, Scoro may have a steeper learning curve than other project management tools.
Configuring the platform to specific requirements may require some technical expertise.
3rd party integrations allowed: Yes
Suited for: large-sized businesses, Enterprises
Price:
Starts at $26/user/month.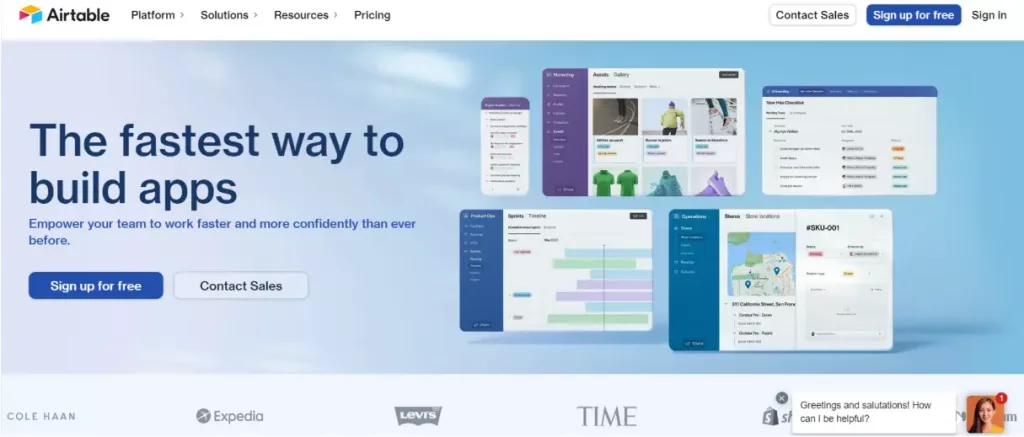 Airtable is a game-changer in the project management landscape that provides an innovative and flexible platform for teams to collaborate and manage projects effectively.
With its unique combination of spreadsheet-like functionality and database capabilities, Airtable empowers you with creativity, streamlined workflows, and project success, making it a compelling alternative to Zoho Projects. This tool uses native AI components to create workflows with just a few clicks.
Key Features of Airtable:
Use customizable fields, data types, and views to adapt to unique project requirements
Embrace visual project management with Airtable's Kanban boards
Facilitate collaboration via real-time comments, task assignments, and file attachments
Connect data and automate workflows effortlessly
Airtable Pros:
Airtable offers visually appealing charts, graphs, and gallery views to present project data in an engaging and easily understandable format.
Airtable simplifies importing and exporting data, allows seamless integration with other tools and enables efficient data management across platforms.
Airtable Cons:
While Airtable offers basic reporting features, users requiring advanced analytics and in-depth reporting may need to leverage external tools.
As project complexity increases, setting up complex workflows in Airtable may require a deeper understanding of its capabilities.
3rd party integrations allowed: Yes
Suited for: Medium-sized businesses, Remote Teams
Price:
Starts at $10/seat/month.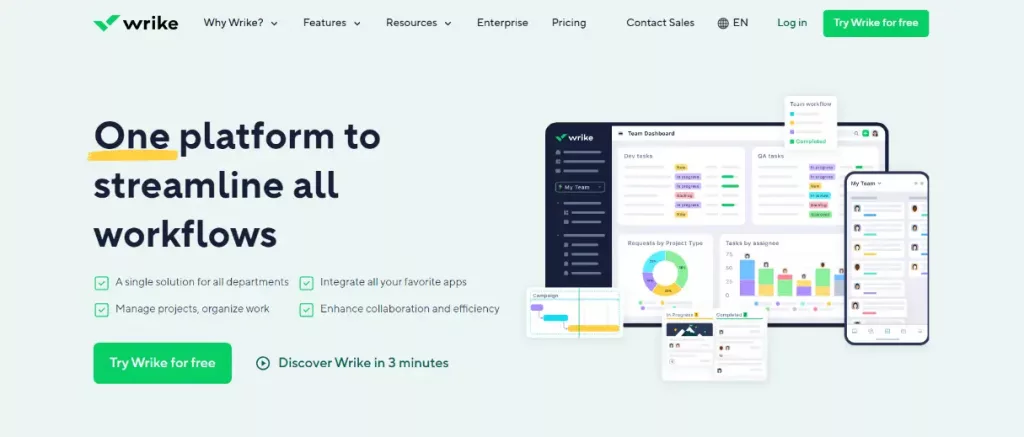 Wrike empowers teams to collaborate effectively, adapt to changing project requirements, and achieve remarkable project outcomes. With flexible task management, real-time collaboration and resource management, Wrike is an exceptional alternative to Zoho Projects, streamlining workflows for project success.
Key Features of Wrike:
Enable real-time collaboration via mentions and comments
Analyze project performance with powerful reporting capabilities
Effectively allocate and manage resources with workload tracking
Stay on top of everything happening within projects via Kanban and Gantt views
Wrike Pros:
Wrike supports agile project management methodologies with features like Kanban boards and agile templates to enhance team agility and adaptability.
Wrike seamlessly integrates with popular business tools, allowing teams to connect their project management workflows with other essential applications.
Wrike Cons:
Mastering the full range of Wrike's advanced features may require some initial learning and training.
Lacks good automation capabilities.
3rd party integrations allowed: Yes
Suited for: Small to large-sized businesses, Personal Projects, Remote Teams
Price:
Starts at $9.80/user/month.
Read More: Top 20 Wrike Alternatives for Easy Project Management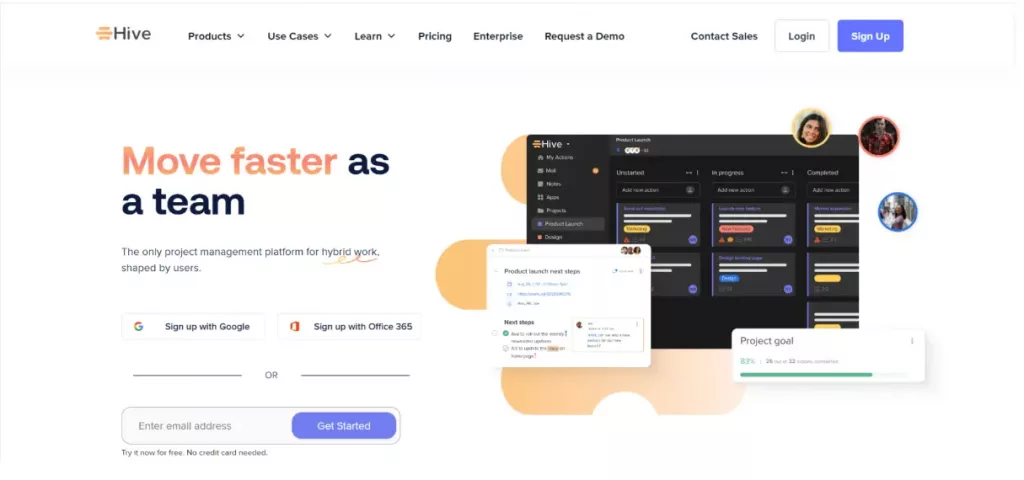 Hive emerges as a powerful Zoho Projects alternative that comes with a comprehensive collaboration and project management platform designed to enhance team productivity. It empowers teams to collaborate effectively, automate workflows, and achieve project success with its robust features and user-friendly interface.
With its unified messaging, customizable automation, and analytics capabilities, Hive is a dynamic alternative to Zoho Projects.
Key Features of Hive:
Leverage collaborative document editing for seamless collaboration
Automate repetitive tasks and streamline workflows to save time and increase efficiency
Get a clear overview of project timelines and dependencies
Get useful insights into project performance, task completion rates, and resource utilization
Hive Pros:
Leverage advanced features such as subtasks, task dependencies, and priority settings to effectively manage tasks.
Hive's file-sharing and collaborative document editing features help reduce version control issues.
Hive Cons:
While Hive offers customization options, users with complex project management needs may find certain advanced customization capabilities lacking.
As the feature set expands, Hive's pricing structure may become more costly, potentially limiting access to advanced features for smaller teams.
3rd party integrations allowed: Yes
Suited for: Medium to large-sized businesses
Price:
Starts at $12/user/month.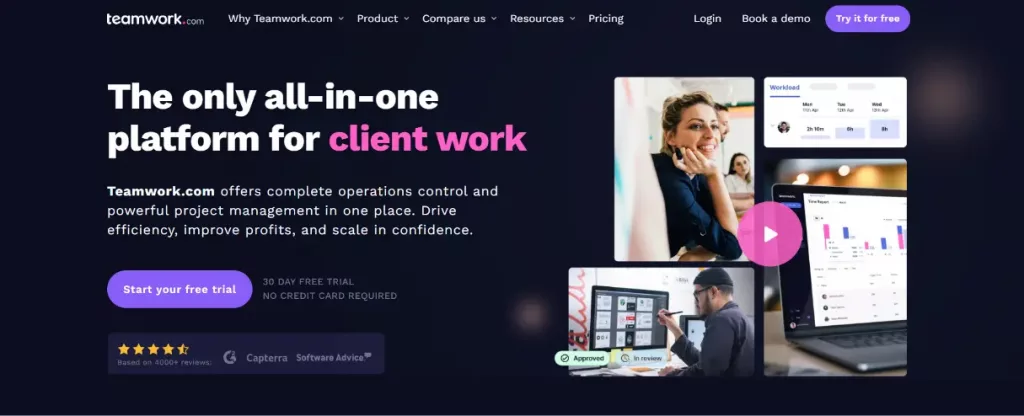 As a top Zoho Projects alternative, Teamwork offers a comprehensive project management tool designed to elevate team collaboration and streamline project workflows. Its intuitive dashboard helps you track the tasks lined up for you and the specific number of days left to complete those tasks. You can set the 'Health' of a task as 'Good,' 'At Risk,' or 'Needs Attention' to help you identify the status of tasks and focus on the ones that really matter.
Key Features of Teamwork:
Keep everybody up-to-date with the latest developments via team chat
Keep a check on team productivity with built-in time tracking functionalities
Use ready-to-deploy workflows with pre-built templates
Control team workload with burndown reporting
Teamwork Pros:
Allows for intricate task dependencies, enabling teams to define relationships between tasks and ensure smooth project progress.
Offers comprehensive reporting and analytics features that provide valuable insights into project performance, resource utilization, and task completion rates.
Teamwork Cons:
Some advanced features and functionalities in Teamwork may only be available in higher-tier plans, which could limit access for teams with budget constraints.
Not suitable for large and complex projects.
3rd party integrations allowed: Yes
Suited for: Small to medium-sized businesses, Personal Projects
Price:
Starts at $5.99/user/month.
Read More: 15 Best Teamwork Alternatives for 2023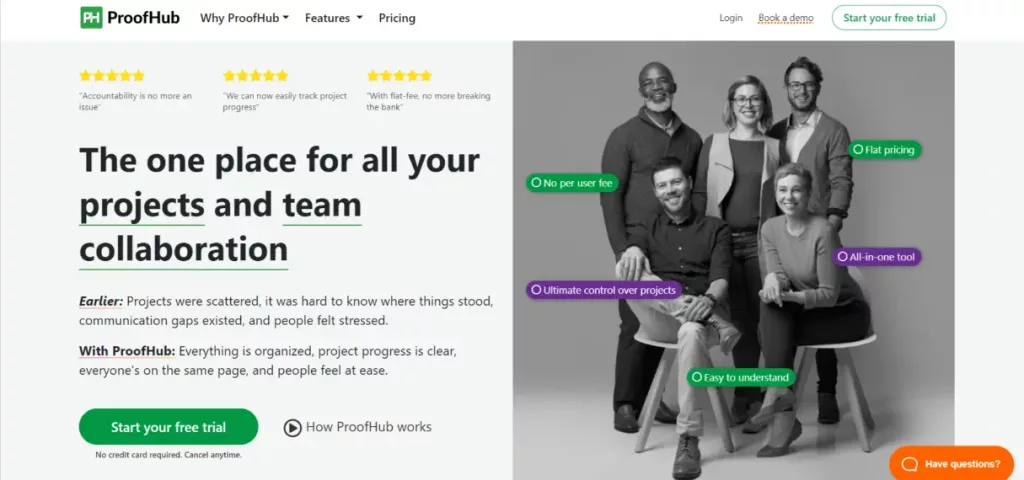 ProofHub is a reliable alternative to Zoho Projects, offering a feature-rich platform for collaborative project management. With project planning, task management, team collaboration, and reporting capabilities, ProofHub empowers teams to streamline workflows, enhance collaboration, and drive project success through its intuitive interface and comprehensive features.
Key Features of ProofHub:
Create simple project plans by defining tasks, assigning responsibilities, and setting deadlines
Easily collaborate on documents, images, and designs by sharing, reviewing, and approving files directly within the platform
Track task progress by setting task stages as "Complete," "In Pipeline," and "To-do"
Stay on top of all discussions and keep things on track with a Discussions board
ProofHub Pros:
With its extensive range of features, ProofHub provides a complete project management solution, eliminating the need for multiple tools and enhancing team productivity.
ProofHub provides a robust file management system, allowing teams to store, organize, and share project files in a centralized location.
ProofHub Cons:
Limited customization options for industry-specific requirements
While ProofHub offers a mobile app for on-the-go project management, some users find that certain features and functionalities are not as robust as in the web version.
3rd party integrations allowed: Yes
Suited for: Small to large-sized businesses, Remote Teams
Price:
Starts at $45/month.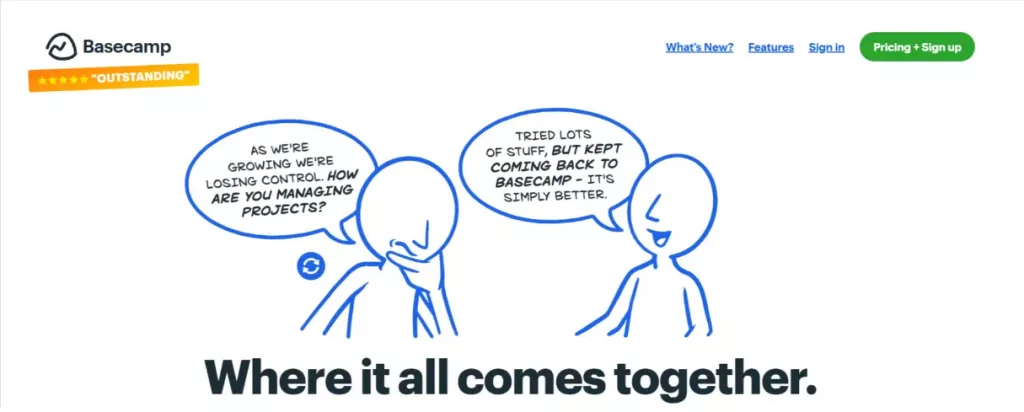 As a top contender among Zoho Project alternatives, Basecamp revolutionizes team collaboration and project management. With its user-friendly interface and innovative features, Basecamp empowers teams to work together seamlessly and streamline their projects.
Its versatile features include a message board for centralized discussions, a card table for organizing tasks and deadlines, and Campfire for real-time group chat and collaboration.
Key Features of Basecamp:
Share files, documents, and resources securely within Basecamp
Create and assign tasks, set due dates, and track progress using Basecamp's user-friendly to-do lists
Collaborate and share updates with your team on a centralized message board
Engage in real-time group chats, quick discussions, and brainstorming sessions with Campfire
Basecamp Pros:
Basecamp provides a secure and centralized platform for document storage, allowing teams to easily upload, organize, and access project-related files.
Basecamp's unique client access feature enables seamless collaboration with external stakeholders, providing them with limited access to project updates, tasks, and discussions.
Basecamp Cons:
Basecamp limits the number of projects and storage space available, which may pose challenges for larger teams or organizations with extensive project portfolios.
Its reporting capabilities can be improved.
3rd party integrations allowed: Yes
Suited for: Small to medium-sized businesses Remote Teams
Price:
Starts at $15/user/month.
Read More: 10 Best Basecamp Alternatives to Use in 2023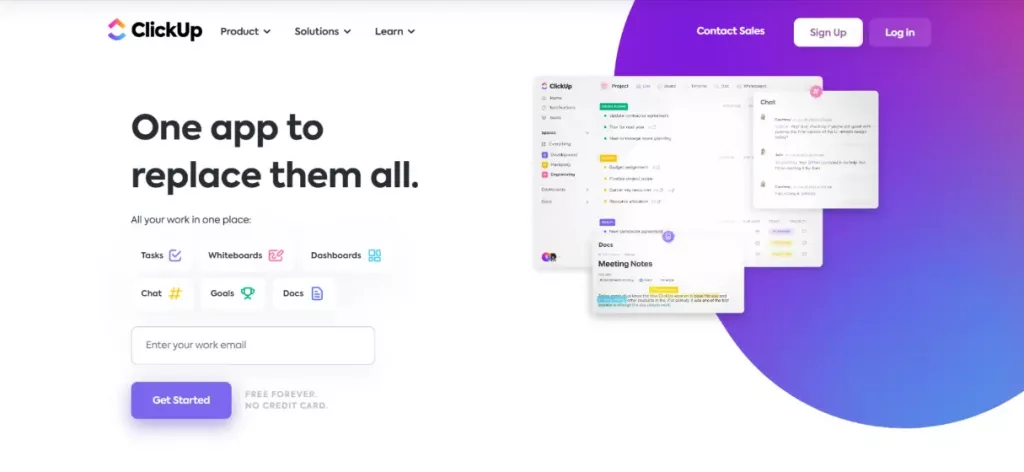 ClickUp is an excellent project management software that combines task management, collaboration, and documentation in one platform. The tool allows you to add visual widgets for team members, tasks, sprints, and more. You can even leverage the tool for remote team collaboration by setting clear roles and responsibilities right at the onset. Overall, it's a user-friendly platform, enabling seamless project execution.
Key Features of ClickUp:
Visualize project workflows, plan tasks, and brainstorm ideas using interactive Whiteboards
Set clear objectives, track progress, and align team efforts with ClickUp's Goals feature
Centralize project-related documents, knowledge bases, and resources within ClickUp's Docs
Work in your preferred layout using a range of customizable task views
ClickUp Pros:
ClickUp provides a wide range of customizable task views, including Kanban boards, Gantt charts, and more, catering to your diverse project management needs and preferences.
The built-in real-time chat feature fosters instant collaboration and communication, eliminating the need for external messaging tools and promoting efficient teamwork.
ClickUp Cons:
ClickUp's extensive feature set may require some time for users to fully grasp the tool, particularly for those new to project management.
While ClickUp is suitable for small to mid-sized teams, larger organizations with complex project structures may find scalability limitations.
3rd party integrations allowed: Yes
Suited for: Small to large-sized businesses, Personal Projects, Remote Teams
Price:
Starts at $5/member/month.
Read More: 16 Best ClickUp Alternatives & Competitors (Features+Comparison)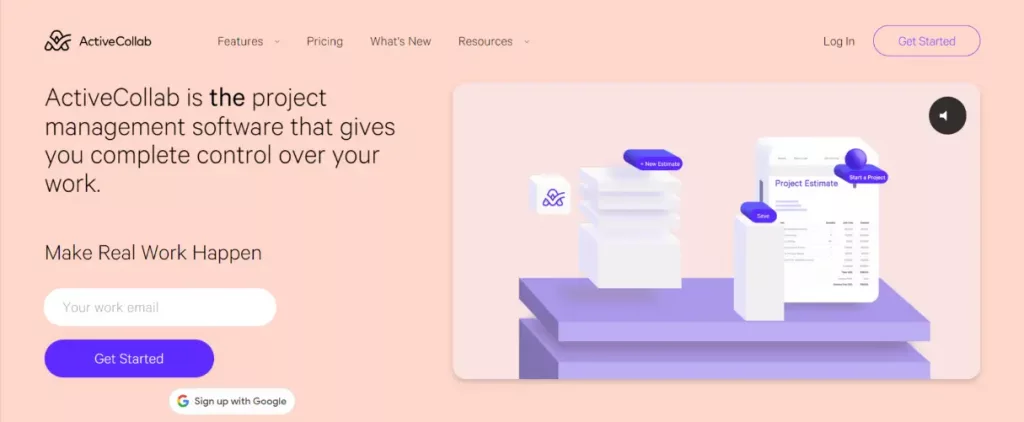 If you're looking for a software like Zoho with better dashboard capabilities, ActiveCollab is a good choice. It is a feature-rich platform that enables you to manage tasks, automate scheduling, and collaborate effectively. With its array of powerful features, including multiple task views and drag-and-drop functionality, ActiveCollab simplifies project management and boosts productivity. The platform also offers ready-to-use project templates, allowing you to kickstart your projects immediately.
Key Features of ActiveCollab:
Save time by setting up repetitive work as recurring tasks
Keep project budget in check with its project profitability report
Connect and streamline your workflow by integrating with popular tools like Zapier, Slack, and more.
Stay on top of everything via the tool's mobile and desktop apps
ActiveCollab Pros:
ActiveCollab's time tracking and management capabilities enable teams to monitor and analyze their time spent on tasks, improving productivity and ensuring accurate project billing.
Its resource management features empower teams to allocate resources effectively, reducing the burden of team members and enhancing overall project efficiency.
ActiveCollab Cons:
The complexity of ActiveCollab may pose a challenge for users new to project management tools. It might require them some time and effort to get familiarized with the platform.
Compared to some other tools, ActiveCollab has limited collaboration features, which could hinder seamless teamwork and communication.
3rd party integrations allowed: Yes
Suited for: Medium to large-sized businesses
Price:
Starts at $8/member/month.
Choosing the Right Zoho Alternative
While Zoho offers a range of robust features, it's crucial to consider other options that might better suit your specific needs.
By looking for Zoho alternatives, you open yourself up to a world of possibilities, discovering innovative tools that may offer better customization, seamless integrations, and enhanced user experiences.
By exploring Zoho alternatives, you can discover the perfect fit for your business and find a tool that has a more intuitive interface, advanced reporting capabilities, and cost-effective pricing plans.
Taking advantage of trial versions is advisable to evaluate if a tool provides the relevant features and functionalities for your business.
So, prepare to explore options and find the ideal match for your unique business needs!
Do you want a free Project Management Software?
We have the #1 Online Project Management Software for effective project management.