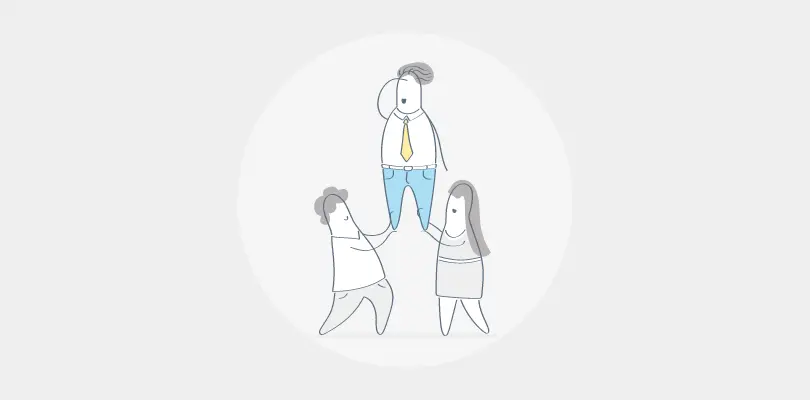 Finding the perfect software solution that suits your business needs can be both exhilarating and overwhelming.
Bitrix24 has undoubtedly established itself as a powerful SaaS platform, empowering teams to streamline their workflows and drive productivity. However, it has its own set of limitations in terms of its setup and usage, along with an overcrowded user interface and restricted visibility into the task workflow.
From small startups to enterprise-level organizations, we've curated a list of options to suit every team's requirements. Whether it's intuitive task management, seamless collaboration, or extensive integrations, these alternatives hold the potential to revolutionize the way you work.
In this blog, we will explore the 12 best Bitrix24 alternatives to help you find the perfect match that aligns with your unique business objectives.
What Is Bitrix24?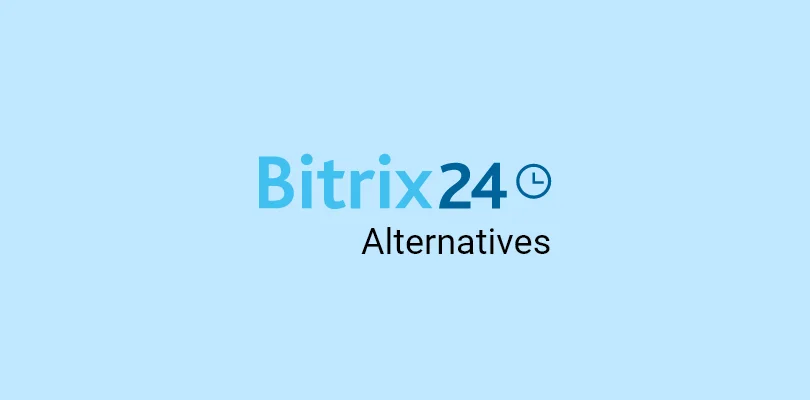 Bitrix24 is a comprehensive SaaS platform designed to enhance team collaboration and streamline your business processes. With its intuitive interface and customizable workflows, Bitrix24 empowers teams to work efficiently, improving productivity and communication across your organization.
From task management to document sharing and team collaboration, Bitrix24 provides a centralized hub for all your business needs. Whether you're a small team or a large enterprise, Bitrix24 offers a scalable solution to optimize your operations and drive success.
Why Look for Bitrix24 Alternatives?
While Bitrix24 may be a suitable solution for certain businesses, it may not meet the specific needs of every organization, prompting them to seek alternatives.
Here are a few reasons why businesses are exploring other tools.
Challenging Setup & Usage
Bitrix24's initial setup can be complex, requiring technical expertise. The learning curve is steep, especially for non-technical users. This barrier hinders software adoption and overall efficiency.
Overcrowded User Interface
The user interface in Bitrix24 can feel cluttered and overwhelming, especially for users seeking a more intuitive and streamlined experience. This can lead to confusion, decreased efficiency, and slower task execution.
Limited Visibility into Task Workflow
Bitrix24's task management system has a limited range of predefined statuses. This can restrict flexibility in tracking progress, impeding workflow management and making it difficult to tailor processes to specific project needs.
Absence of Comprehensive Agile Tools
For teams following agile methodologies, Bitrix24 might fall short. The platform lacks features, such as Kanban boards and sprints, which are crucial for agile project execution and collaboration.
Expensive Subscription Plans
Bitrix24's pricing structure, especially for advanced features and larger teams, can be a significant financial commitment. The higher costs might not align with the budgetary constraints of smaller businesses or startups.
Unleashing the Must-Have Features of Bitrix24 Alternatives
Now, when businesses seek an alternative tool, they often prioritize specific core features offered by Bitrix24.
Let's explore these essential functionalities below.
Robust Task Management Capabilities
Bitrix24 alternatives should offer comprehensive task management features that enable your team to create, assign, track, and prioritize tasks effortlessly. You should look for solutions that provide intuitive interfaces, customizable task statuses, task dependencies, and advanced collaboration options for seamless project execution.
Effective Communication Features
Bitrix24 alternatives should provide chat functionalities, video conferencing capabilities, and shared workspaces to foster real-time collaboration. Look for solutions that prioritize clear and efficient communication, allowing teams to connect, exchange ideas, and stay aligned to achieve collective goals.
Intuitive Project Views
The best alternatives to Bitrix24 should offer multiple project views. Project views provide you with diverse options such as Gantt charts, Kanban boards, and task lists that make visualizing and managing projects more effective. By embracing various project views, you can adapt to different work styles, enhance collaboration, and gain a comprehensive overview of project timelines and progress.
Accurate Time Tracking
Time tracking is another vital feature that Bitrix24 alternatives should have. Ensure that the tool you select offers robust time tracking capabilities that allow you to monitor task durations and measure productivity accurately. By enabling effective time management, you can enhance efficiency, meet project deadlines, and drive successful project completion.
Powerful Project Templates
Bitrix24 alternatives should enable you to create reusable templates for recurring projects or tasks, saving your valuable time and effort. This functionality allows you to effortlessly replicate project structures, workflows, and checklists, ensuring consistency across projects and maximizing overall productivity.
By prioritizing these essential features, you will be better positioned to select a tool that aligns perfectly with your specific requirements.
Decoding the Key Criteria for Evaluating Project Management Tools
In addition to the key features, it is crucial to consider specific criteria when selecting an alternative to Bitrix24.
Let's delve into these considerations.
User-Friendliness: An intuitive and user-friendly interface is crucial for seamless adoption and minimal learning curve. The tool should be easy to navigate, with clear instructions and customizable settings to accommodate different user preferences.
Scalability: As your projects grow, so should your tool's capacity to handle increased demands. Ensure the selected tool can accommodate your team's size, project complexity, and future growth without sacrificing performance or functionality.
Integration Possibilities: Seamless integration with other essential tools and platforms is vital for streamlined workflows. Check if the project management tool integrates with popular applications like CRM systems, project collaboration tools, and file storage platforms.
Cost-Effectiveness: Consider the tool's pricing structure and whether it aligns with your budget and anticipated return on investment. Look for transparent pricing models, affordable plans, and the value it brings to your projects.
Customer Support: Responsive and reliable customer support ensures smooth implementation and assistance when needed. Evaluate the tool's support channels, documentation, and availability of training resources.
By evaluating project management tools based on these criteria, you can choose a software that aligns with your team's requirements, enhances collaboration, and drives project success.
Now, let's dig into the list of best Bitrix24 alternatives!
Unleashing the Power-Packed Bitrix24 Alternatives: Top Picks for Project Management Tools
With the multitude of tools available in the market, it can be overwhelming to explore each one individually.
However, there's no need to worry.
We've done all the heavy lifting and curated a list of top-notch alternatives to Bitrix24.
Let's go!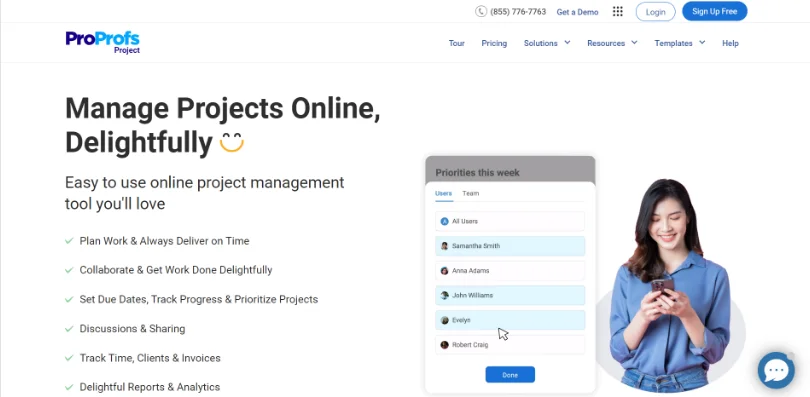 One of the best Bitrix24 alternatives owing to its simplicity, ProProfs Project lets you manage tasks, resources, and deadlines on a single platform. You can start building your project dashboard from scratch or deploy professionally-designed templates and get started within minutes. These templates are available for various use cases, such as sales planning, project scheduling, event planning, and more.
The tool's reporting capabilities help you make informed decisions based on reliable timeline and financial summaries. These reports are presentation-ready and can be shared with key stakeholders instantly.
Key Features of ProProfs Project:
Prioritize tasks using tags
Stay up-to-date with real-time notifications
Track accurate time spent on tasks and create quick invoices
Exchange work feedback or discuss ideas via task comments
ProProfs Project Pros:
It offers a simple and intuitive dashboard, perfect for managing multiple projects at once.
Monitor progress the way you like using Gantt charts, Kanban boards, shared Calendars, and List views.
ProProfs Project Cons:
It offers a short trial period of only 15 days.
Its collaboration capabilities can be enhanced.
3rd party integrations allowed: Yes
Suited for: Small to large-sized businesses, Enterprises, Personal Projects, Remote Teams
Price:
Starts at $39.97/month.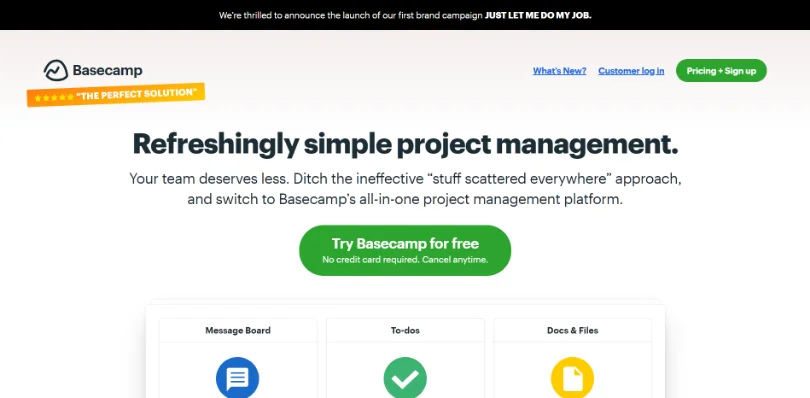 Basecamp's user-friendly design and emphasis on simplicity make it an ideal alternative for teams seeking seamless project coordination and efficient communication. With its intuitive interface, Basecamp offers a centralized hub for teams to communicate and stay organized.
Its message board feature fosters transparent discussions, while the storage space ensures easy access to files and documents. Additionally, the card table enables visual project tracking and task management.
Key Features of Basecamp:
Visualize all your tasks using To-dos
Share relevant docs and files within the tool
Integrate with modern third-party applications
Plan your workflow using comprehensive Schedules
Basecamp Pros:
Its real-time group chat feature, Campfire, allows team members to have instant conversations and discussions.
It offers good collaboration features, making it an excellent tool for remote team collaboration.
Basecamp Cons:
Lacks good customization options.
Lack of granular user permissions
3rd party integrations allowed: Yes
Suited for: Small to medium-sized businesses, Remote Teams
Price:
Starts at $15/user/month.
Read More: 10 Best Basecamp Alternatives to Use in 2023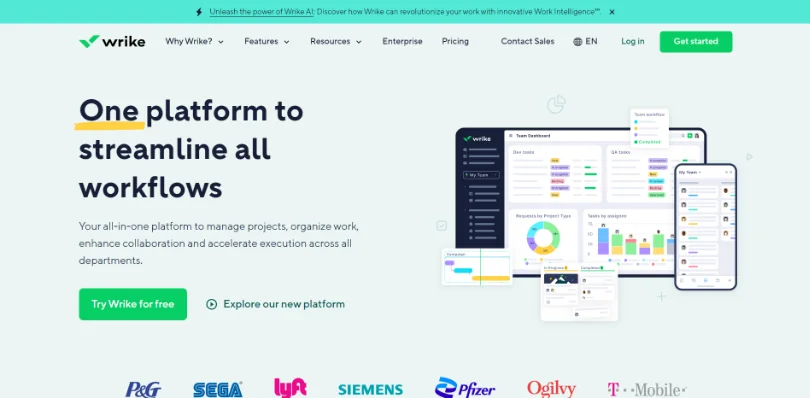 Wrike, is another software like Bitrix24 that helps teams organize daily work, streamline processes, and improve productivity. It provides a centralized platform where your team members can plan, track, and manage projects, tasks, and deadlines.
Wrike also enables real-time collaboration among team members using task commenting, file sharing, and discussions. It also supports @mentions to notify specific individuals or groups about project developments.
Key Features of Wrike:
Streamline workflows with automated task assignment and tracking
Foster collaboration with real-time communication and file sharing
Gain visibility into project progress with interactive Gantt charts
Increase productivity through customizable task lists and prioritization
Simplify project planning with intuitive drag-and-drop scheduling
Wrike Pros:
Enhances team collaboration and communication with centralized project management.
Provides a flexible and customizable platform to adapt to varying project needs.
Wrike Cons:
Steeper learning curve for new users due to the tool's extensive features and functionality.
Limited customization options for reporting and analytics compared to other project management tools.
3rd party integrations allowed: Yes
Suited for: Medium to large-sized businesses, Enterprises, Remote Teams
Price:
Starts at $9.80/user/month.
Read More: Top 20 Wrike Alternatives for Easy Project Management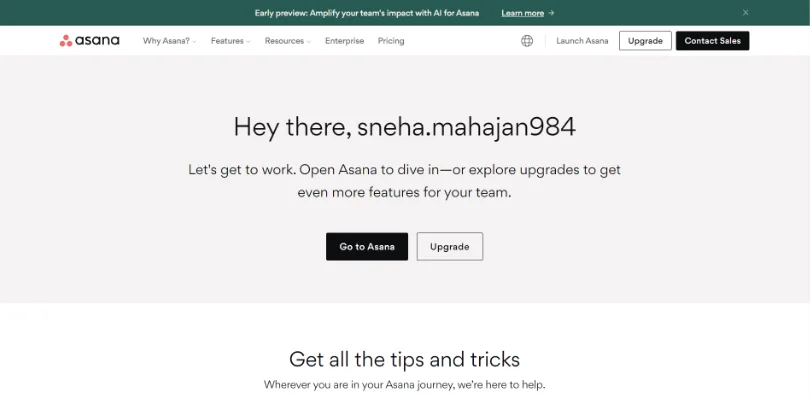 Asana brings organization and collaboration to the forefront of project management, making it one of the best Bitrix24 alternatives. With Asana, teams can seamlessly organize and prioritize tasks, ensuring efficient project execution.
The unique timeline view provides a visual roadmap, enabling teams to track progress and meet deadlines with ease. Also, the software's integration capabilities with third-party platforms further enhance productivity by connecting and streamlining workflows across platforms.
Key Features of Asana:
Generate unlimited project reports for insightful analysis
Set Goals and track progress effortlessly
Efficiently manage workload and task assignments
Track project timeframes with built-in time tracking
Utilize advanced search for quick and precise task/project retrieval
Asana Pros:
It offers versatile views like list, board, and calendar, allowing users to choose the most suitable interface for their project management needs.
It provides task templates that help streamline project workflows, saving time and ensuring consistency in task creation and execution.
Asana Cons:
Asana lacks advanced reporting capabilities, making it less suitable for users who require complex and detailed project analytics.
Asana may not be an easily scalable tool for organizations with rapidly growing project management needs, as it may struggle to accommodate larger teams and complex workflows.
3rd party integrations allowed: Yes
Suited for: Small to medium-sized businesses, Personal Projects, Remote Teams
Price:
Starts at $10.99/user/month.
Read More: 21 Best Asana Alternatives For Project Management Software for 2023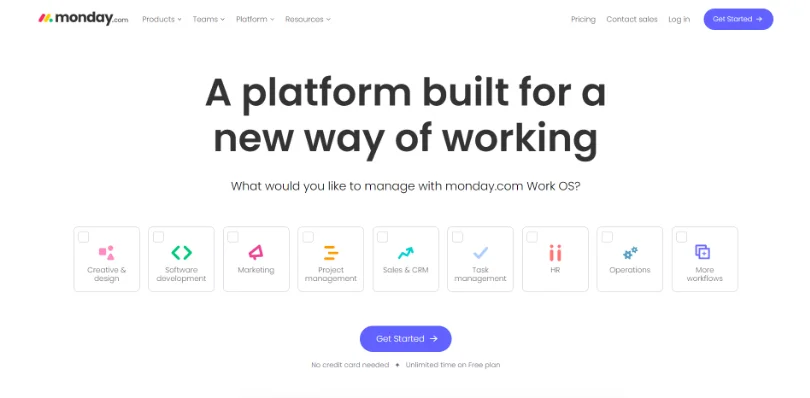 monday.com is a popular project management tool that provides a visual and customizable platform that enables teams to organize tasks, projects, and workflows in a flexible and intuitive way. With Monday.com, you can create boards to manage various aspects of your work, such as project management, task tracking, team collaboration, and more. You can also customize the board's layout and design to suit your team's needs and preferences.
Key Features of monday.com:
Access a variety of templates to jumpstart your projects with pre-designed workflows
Visualize Gantt charts to track progress, dependencies, and deadlines
Automate repetitive tasks and workflows to save your team's time
Utilize advanced reporting and analytics to gain insights into project performance
Maintain privacy and confidentiality with private boards and documents
monday.com Pros:
The platform allows you to create different columns to represent different types of information, such as status, priority, due dates, and assignees.
monday.com offers integrations with various third-party tools and services, allowing you to connect your work processes and data across different platforms.
monday.com Cons:
It has a steep learning curve.
Its mobile application lacks certain features and functionalities.
3rd party integrations allowed: Yes
Suited for: Medium to large-sized businesses, Enterprises, Remote Teams
Price:
Starts at $8/seat/month.
Read More: Best Monday.com Alternatives for Project Management in 2023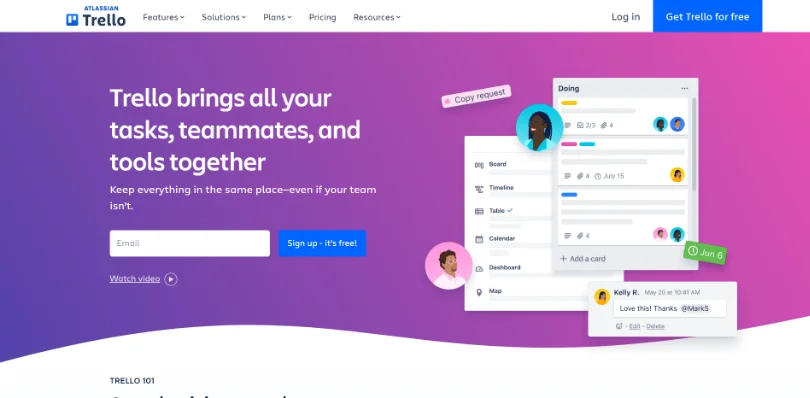 Trello uses boards and lists to categorize project stages. Each board represents a project, while lists like "To Do," "In Progress," and "Completed" help you track the status of tasks. With drag-and-drop functionality, customizable boards, and real-time updates, Trello simplifies task management and encourages seamless communication. It's suitable for both personal and professional use, offering a flexible and user-friendly solution for project organization and team coordination.
Key Features of Trello:
Create and manage tasks with customizable cards for easy organization and tracking
Label tasks for better categorization and prioritization within projects
Receive timely notifications to stay updated on task progress, mentions, and deadlines
Enhance functionality with power-ups, integrating additional tools and features into your project management workflow
Organize project information using custom fields
Trello Pros:
You can work on projects offline, ensuring productivity even without an internet connection.
Its advanced checklists allow users to create detailed subtasks and track progress within each task.
Trello Cons:
It has limited customization options, making it less suitable for users who require extensive customization and flexibility.
Trello can have a steep learning curve for complex projects.
3rd party integrations allowed: Yes
Suited for: Small to large-sized businesses, Personal Projects
Price:
Starts at $5/user/month.
Read More: 15 Trello Alternatives in 2023 (Both Free and Paid)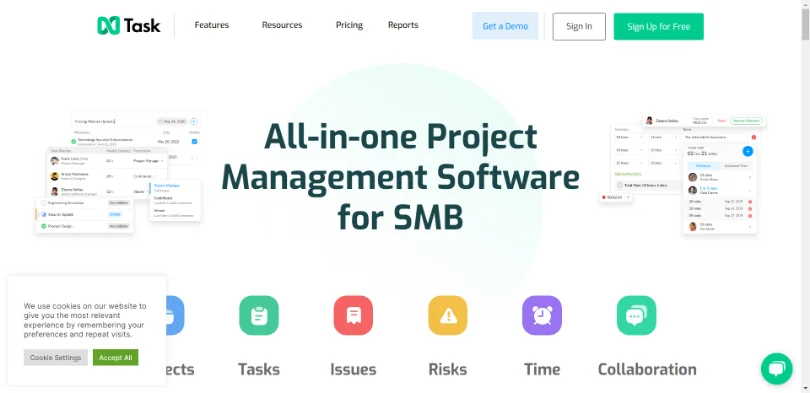 nTask is a user-friendly tool that offers all essential task management features to help you execute projects without hassles. You can break down large projects into tasks and subtasks within minutes.
Its interactive Gantt charts help visualize project timelines, dependencies, and progress. You can track the precise time spent on tasks and projects using nTask's built-in timer. This helps in monitoring project progress and productivity, and generating timesheets.
Key Features of nTask:
Assign tasks to multiple team members
Receive real-time notifications to stay updated on tasks and deadlines
Perform bulk actions to efficiently manage and update multiple tasks
Save custom filters to quickly access and view specific task sets
Schedule future recurring tasks to automate repetitive workflows
nTask Pros:
The tool offers document management capabilities, allowing users to store, share, and collaborate on project-related files and documents within it.
It provides a financial summary feature that helps track project expenses, budgets, and financial performance, enabling better financial management and decision-making.
nTask Cons:
The user interface of nTask can be cluttered and overwhelming, especially for users who prefer a more streamlined and minimalist design.
Their customers often report issues related to their support, citing slow response times or difficulty in resolving technical or account-related inquiries.
3rd party integrations allowed: Yes
Suited for: Large-sized businesses, Enterprises, Remote Teams
Price:
Starts at $3/month.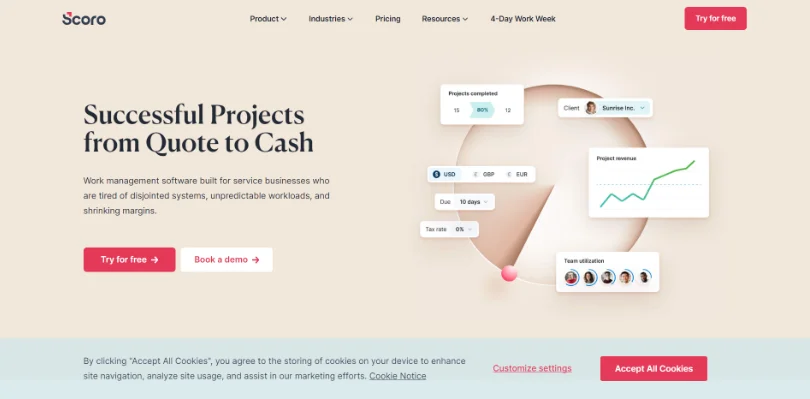 Scoro is a comprehensive project management tool designed to help businesses streamline their workflows, manage projects, and track progress. It offers a wide range of features to support project planning, collaboration, and resource management. You can assign tasks to team members, set priorities, and track the status of each task. It also provides reminders and notifications to keep everyone updated.
Key Features of Scoro:
Customize dashboards to display project progress, key metrics, and important information at a glance
Set up triggers and actions to automate task dependencies and notifications
Organize projects into phases and milestones for better planning and tracking
Create recurring tasks to automate the scheduling of repetitive activities
Utilize the task matrix feature to visualize task assignments, priorities, and dependencies
Scoro Pros:
Scoro provides detailed work reports that offer comprehensive insights into project activities, time tracking, and resource utilization.
It allows users to create budgets and forecasts, enabling effective financial planning and monitoring of project expenses and profitability.
Scoro Cons:
Scoro can be quite expensive, especially for small businesses or individuals with limited budgets for project management tools.
Using Scoro may have a steep learning curve, requiring significant time and effort to fully understand and utilize its advanced features and capabilities.
3rd party integrations allowed: Yes
Suited for: Large-sized businesses, Enterprises
Price:
Starts at $26/user/month.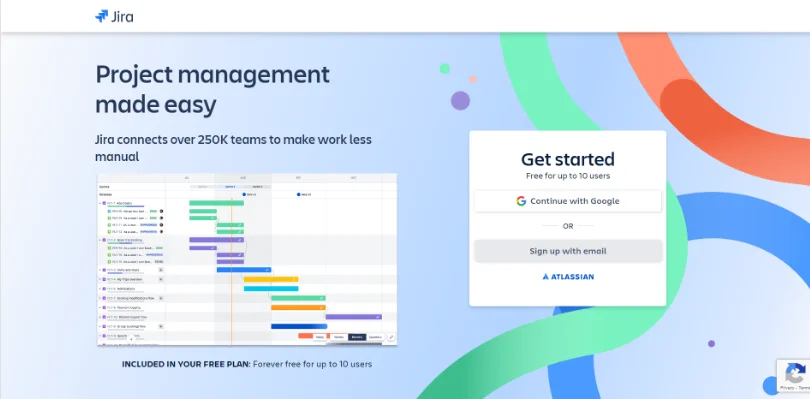 Jira allows you to create, assign, and track issues or tasks. You can define different issue types, such as bugs, user stories, or tasks, and set custom workflows for them. The tool provides agile boards, such as Scrum and Kanban boards, to support agile project management methodologies. These boards allow you to visualize your work, track progress, and manage backlogs.
Key Features of Jira:
Customize workflows to fit your project's unique processes and requirements
Create roadmaps to visualize project timelines, milestones, and dependencies
Generate comprehensive reports and analytics to make data-driven decisions
Seamlessly integrate Jira with other tools and systems to enhance collaboration
Automate repetitive tasks and processes to improve efficiency and productivity
Jira Pros:
It facilitates collaboration and communication among team members, allowing for effective coordination and seamless project execution.
It offers capacity management features, enabling teams to effectively allocate resources, track workloads, and ensure optimal resource utilization.
Jira Cons:
Some users may find Jira's user experience to be complex and overwhelming, requiring a learning curve to fully navigate and utilize its features.
Jira's pricing can be considered expensive, especially for small teams or organizations.
3rd party integrations allowed: Yes
Suited for: Medium to large-sized businesses, Enterprises, Remote Teams
Price:
Starts at $7.75/user/month.
Read More: 15 Best Jira Alternatives to Simplify Project Management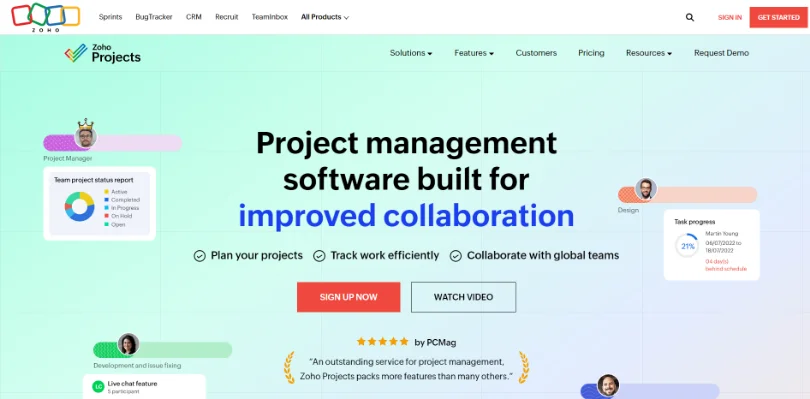 One of the best Bitrix24 alternatives, Zoho Projects provides interactive Gantt charts that offer a visual representation of project tasks, their dependencies, and timelines. This helps you visualize project progress and adjust schedules accordingly. Also, using the tool, you can share project documents, discuss tasks through forums, set up project-specific chat rooms, and send notifications and updates to team members.
Key Features of Zoho Projects:
Access over 20+ templates for quick project setup and structure
Stay updated with project feeds that provide real-time activity and progress updates
Customize task status options to match your unique workflow and project requirements
Manage inter-project dependencies with ease
Utilize built-in Kanban and Scrum boards for efficient task management and agile project workflows
Zoho Projects Pros:
Zoho Projects offers critical path and baseline features to help users identify and manage project dependencies and establish a baseline for project progress.
Users can generate comprehensive task and issue reports, providing valuable insights into project performance, progress, and issue resolution.
Zoho Projects Cons:
The search functionality may be lacking in terms of speed and accuracy.
The bug reporting feature needs improvements in terms of usability and functionality.
3rd party integrations allowed: Yes
Suited for: Medium to large-sized businesses, Enterprises
Price:
Starts at $4.27/user/month.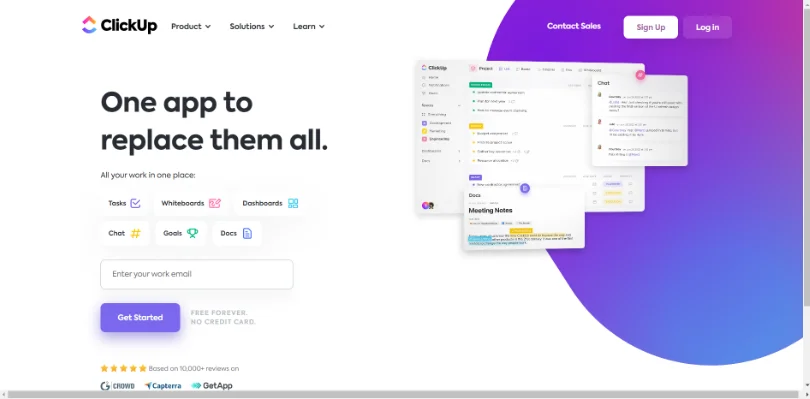 ClickUp supports agile project management methodologies such as Scrum and Kanban. You can create and manage sprints, set up agile boards, and track user stories or tasks through different stages. It offers features to facilitate collaboration within teams. You can leave comments, tag team members, and have discussions on specific tasks or projects. It also supports integration with popular tools like Google Drive and Dropbox.
Key Features of ClickUp:
Engage in real-time chat with team members for uninterrupted communication
Brainstorm ideas and visualize concepts using white boards
Leverage native time tracking functionality for accurate project time management
Record and share in-app videos to provide visual explanations and tutorials
Automate repetitive tasks and workflows with advanced automation features
ClickUp Pros:
ClickUp offers collaborative docs that allow team members to work together on documents, fostering seamless collaboration and knowledge sharing.
It provides comprehensive sprint management features, enabling teams to plan, track, and execute agile sprints effectively.
ClickUp Cons:
Users often report performance issues with ClickUp, including slow loading times or occasional lags in the interface.
The tool's extensive range of features may be overwhelming for some users.
3rd party integrations allowed: Yes
Suited for: Small to medium-sized businesses, Personal Projects
Price:
Starts at $5/member/month.
Read More: 16 Best ClickUp Alternatives & Competitors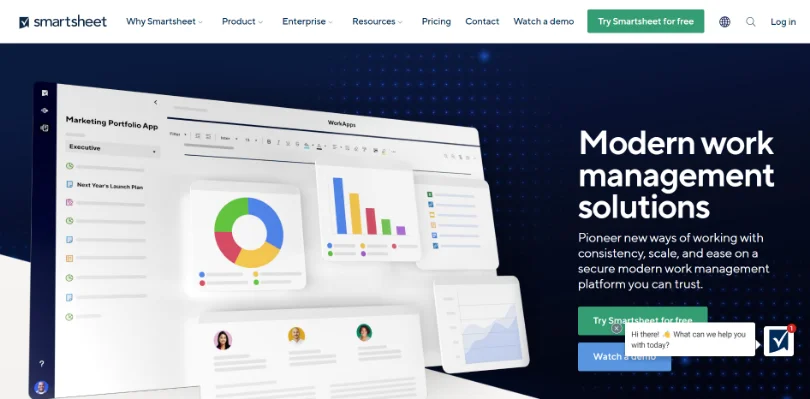 Smartsheet is a web-based collaborative work management tool that provides a flexible platform for creating and managing various types of sheets, such as project plans, task lists, calendars, and databases.
It emphasizes collaboration and enables multiple users to work on sheets simultaneously. You can invite team members, assign tasks, and set access permissions to control who can view, edit, or comment on specific sheets or cells.
Key Features of Smartsheet:
Track project baselines to establish reference points for measuring progress
Utilize proofing features to review documents, designs, and other project deliverables
Create professional documents and reports using the built-in document builder
Access an activity log to view a chronological record of project updates, changes, and user actions
Enjoy unlimited automation capabilities to automate repetitive tasks, workflows, and notifications
Smartsheet Pros:
Sheets can be customized to fit different purposes, and you can add various types of data, such as text, dates, checkboxes, and attachments.
Smartsheet offers versatile views such as Gantt, Grid, and Card, allowing users to choose the most suitable interface for their project management needs.
Smartsheet Cons:
Smartsheet has limited formatting options.
Occasional glitches with the autosave feature result in data loss or disruptions in workflow.
3rd party integrations allowed: Yes
Suited for: medium to large-sized businesses
Price:
Starts at $7/user/month.
Read More: 15 Best Smartsheet Alternatives and Competitors of 2023
Choosing the Right Zoho Alternative
In the quest for the ideal Bitrix24 alternative, overcoming challenges like a complex setup, cluttered interface, and restricted task visibility becomes paramount.
Thankfully, the realm of project management tools presents a myriad of options that excel in crucial features. Seek solutions with robust task management, seamless third-party integration, and intuitive project views. Also, evaluating alternatives based on scalability, user-friendliness, and cost is vital.
If you're looking for recommendations, ProProfs is our top pick. Its simple user interface, along with stunning task management capabilities, enables you to stay on top of real-time progress and deliver projects effortlessly. But if you're looking for Kanban-style Bitrix24 alternatives, then Trello might be your best bet! Also, ClickUp is an excellent choice if you're looking for a tool that offers robust collaborative docs.
Do you want a free Project Management Software?
We have the #1 Online Project Management Software for effective project management.